Machiya Residence Inn Ayaginu
The design of Ayaginu machiya house will reveal the care and attention to detail that was made when designing this traditional house.Delicate paper lanterns illuminate the tatami-lined rooms, kimono fabric line the inside of a lighting fixture above the stairs, and bright greenery that change color with every season within the tsubinowa garden.Incorporating the vibrant colors and exquisite textures of textiles throughout this traditional house, this private retreat will impress with its understated elegance.Orimono refers to textiles or woven fabrics, a word often used when describing kimono wear and obi belts. Requiring the skills and techniques of a team of craftsmen, and made on large traditional looms, this craft of textile arts has had a long held history in Kyoto.Kyoto boasts a textile district, known as Nishijin, where the intricately designed obi sashes, and kimono fabrics are hand-woven with incredible detail. Ayaginu machiya house celebrates the history and craft of the orimono by incorporating these designs within its light fixtures, zabuton cushions, and more.
Kyoto Townhouse Ayaginu (Non-Smoking)

No meal

Japanese futon bedding

Non-smoking

See Details
From $275.86
for 2 guests /night
- VAT is included, but bathing tax (around JPY 150 per adult) may NOT be included.
- Price in USD is based on the exchange rate as of today and might be different from that of the booking date.
Foods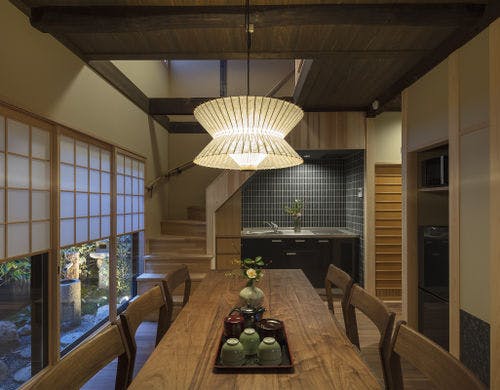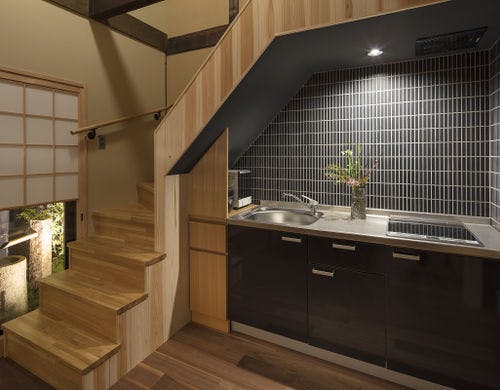 A kitchen, with all kitchen essentials, is tucked away beneath the stairs. Feel free to make light meals and relax with your group during your stay. In addition to kitchen appliances & cookware, there are enough cutlery, dining ware, cups for 8 guests.
Baths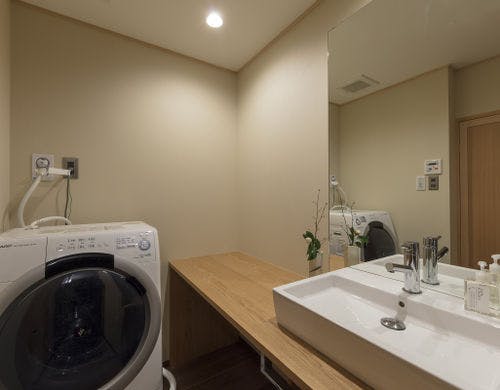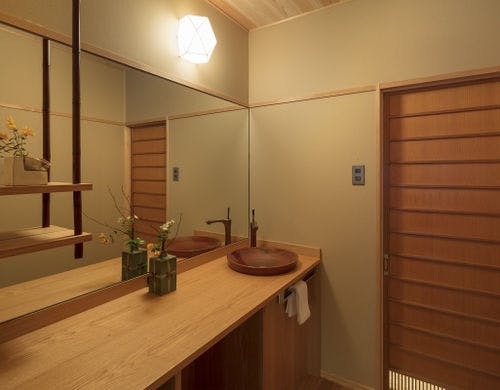 A relaxing bath and shower unit can be found on the 1st floor. Unwind after a long day of sightseeing as you look out into the garden.

★Bathroom/Shower (1F)
★ Separate Toilet Space (1F & 2F)
Access
260-2 Higashicho Shimogyo-ku, Kyto 600-8224,Kyoto,600-8224,JAPAN
From Kyoto Station to Ayaginu on Foot
-Approximately 10 minutes by Train
1.Exit Kyoto Station; Central Exit (中央出口)
2Walk to Ayaginu (Approximately 8 minutes on foot)

From Kyoto Station to Ayaginu by Taxi
-Approximately 4 minutes (Taxi fare is approximately 600 yen)
You can get to Kyoto station from Kansai International Airport by JR Express HARUKA line (approximately 80 minutes by train)


"About the Check-in"
After reservation, details such as check-in method etc. will be sent from the facility.

"Check in Time"
From 3 p.m. to 8 p.m.
This is a Japanese style accommodation as Vacation Rental. It basically offers rooms only. We ask all the guests to confirm the details of "About the Check in" and "Check in Time"

"About the Check-in"
After reservation, details such as check-in method etc. will be sent from the facility.

"Check in Time"
From 3 p.m. to 8 p.m.
Information
Check-in Time

From 3:00pm to 8:00pm

Check-out Time

Until 10:00am

Tax / Service Charge

Credit cards accepted at this property

Credit card is NOT accepted at this ryokan. Please pay by cash.
Children

For co-sleeping preschool aged children, there are no charges for up to 2 children per lodging. For children that require separate bedding, the lodging charges are the same as adults.

Pets

Pets are NOT allowed.

Parking

Nothing in particular

Other policies & conditions

Being a historic wooden building, firearms are strictly prohibited inside the premises, and smoking is prohibited./Being a private reservation machiya, no staff is stationed there. Emergency contact information is registered on the provided dedicated mobile phone./Because the accommodation facility is a renovated town house which was originally used as a private home, the surrounding neighbourhood has residents living there. Please be considerate of the fact when you use the facility./Depending on how the guests use the facility, there may be cases where the guests may be asked to improve their conduct. If an improvement is not observed, it may be unavoidable to have the guests vacate the house. In that case, guests are asked to take note that a refund will not offered./After reservation, details such as check-in method etc. will be sent from the facility./Everything inside the facility, including furnishings etc. can be used without extra charges. However, since the facility uses fittings that may be old, guests are urged to handle them with care./Please report in case breakage or any damage occurs.