Machiya Residence Inn Kakishibu-an
Found amongst a street lined with traditional Kyo-machiya houses, it is distinct white stucco walls, and quintessential latticed windows will welcome you into a warm and inviting atmosphere. Kakishibu-an perfectly embodies all aspects associated with a kyo-machiya while offering a new take on this traditional house.A Kyo-machiya accommodation where you are able to rent out an entire house for yourself.From the main Shijo-dori street, turn down Goko-machi street to find yourself within an atmosphere brimming with history and tradition. This particular machiya is located within walking distance of numerous sightseeing attractions, and Kyoto City's lively entertainment district. Kakishubu-an is a machiya house that exudes tranquility set to transport you a world away.
Kyoto Townhouse Kakishibu-an (Non-Smoking)

No meal

Japanese futon bedding

Non-smoking

See Details
From $268.55
for 2 guests /night
- VAT is included, but bathing tax (around JPY 150 per adult) may NOT be included.
- Price in USD is based on the exchange rate as of today and might be different from that of the booking date.
Foods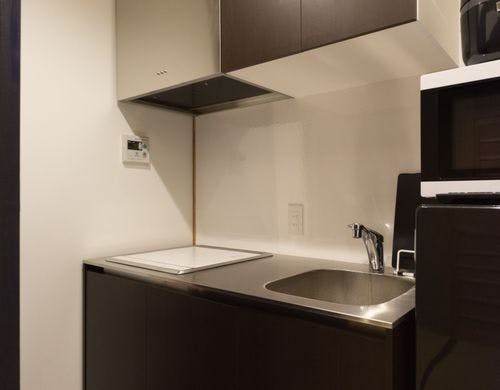 During your stay at "Kakishibu-an,"you will have access to everything necessary to fully immerse yourself in the Kyoto life. Behind the Shoji doors (paper sliding doors), you will find a fully functional kitchen, along with basic appliances, cookware, and enough dishes and cutlery for 5 guests.
Baths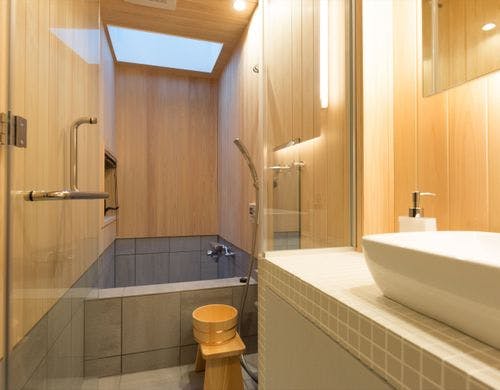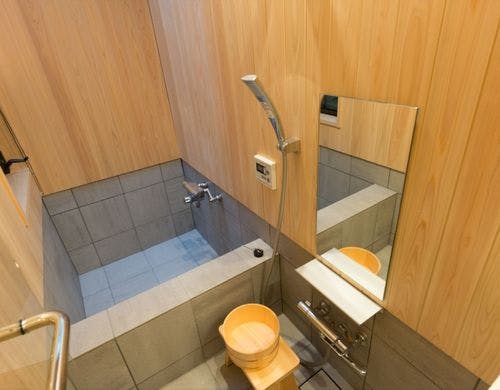 After a day of exploration, unwind in the bathroom that has been lined with "hinoki" wood. This Japanese cypress is a beautiful, light-brown cedar that gives off a relaxing aroma, and also holds a sacred place within Japanese history. It can only be found in areas of Japan where the water and air are "pure," and has been the choice of wood by countless emperors for thousands of years.
Facilities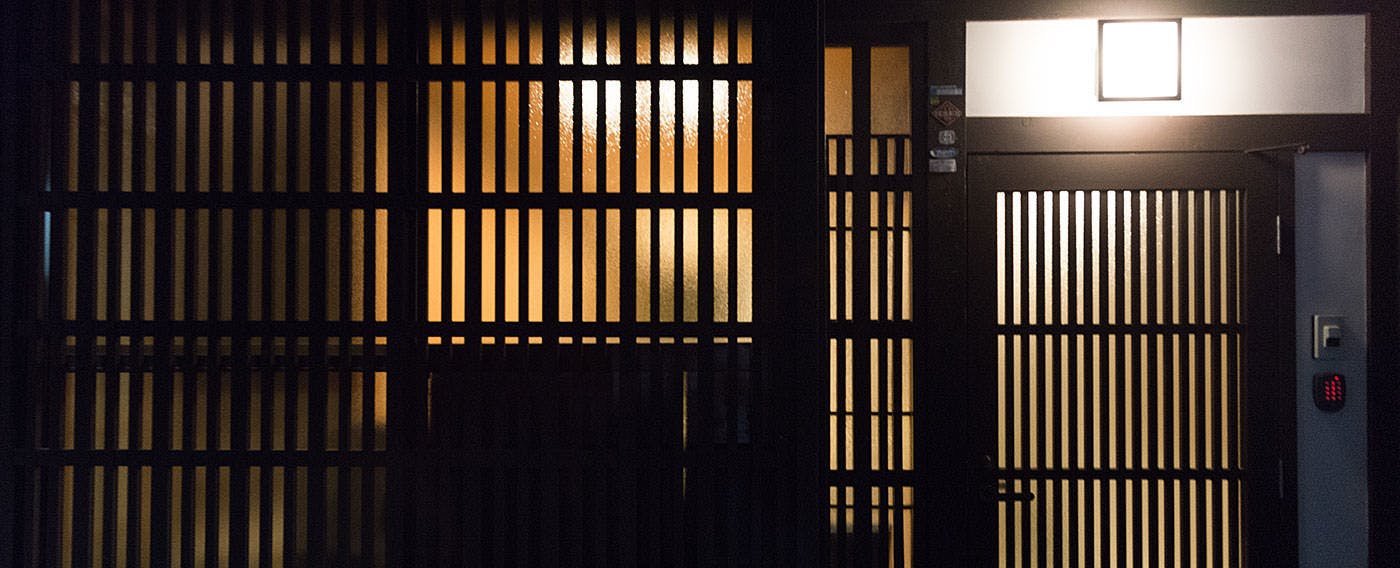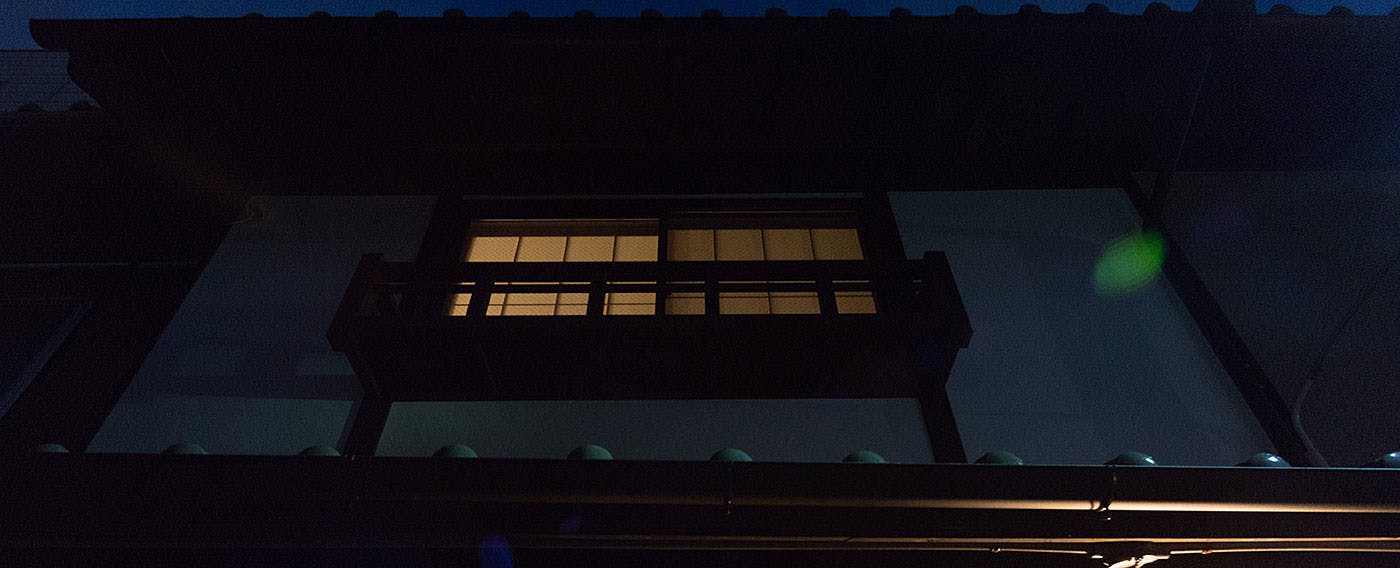 Just in the alleyway you will find rows of kyomachiya homes, feeling the life of Kyoto in an environment that is calm and quiet, it feels like the beginning of a new Kyoto sightseeing experience. The alleyway lined with kyomachiya homes has a freshness blended into the view with traditional plastered walls and latticed bay-windows. The design inherited from the kyomachi homes welcomes the customers.
Access
418-3 Maruyacho Shimogyo-ku, Kyoto,Kyoto,600-0837,JAPAN
From Kyoto Station to Kakishibu-an by Train
-Approximately 10 minutes by Train
1.Take the subway to Shijo Station
2.Get off at Shijo Station and leave the station from Exit No. 5
3.Walk to Kakishibu-an (Approximately 8 minutes by foot)

From Kyoto Station to Kakishibu-an by Taxi
-Approximately 10 minutes by Taxi (about 2.4 kilometers)
You can get to Kyoto station from Kansai International Airport by JR Express HARUKA line (approximately 80 minutes by train)


"About the Check-in"
After reservation, details such as check-in method etc. will be sent from the facility.

"Check in Time"
From 3 p.m. to 7 p.m.
This is a Japanese style accommodation as Vacation Rental. It basically offers rooms only. We ask all the guests to confirm the details of "About the Check in" and "Check in Time"

"About the Check-in"
After reservation, details such as check-in method etc. will be sent from the facility.

"Check in Time"
From 3 p.m. to 7 p.m.
Information
Check-in Time

From 3:00pm to 7:00pm

Check-out Time

Until 10:00am

Tax / Service Charge

Credit cards accepted at this property

Credit card is NOT accepted at this ryokan. Please pay by cash.
Children

For co-sleeping preschool aged children, there are no charges for up to 2 children per lodging. For children that require separate bedding, the lodging charges are the same as adults.

Pets

Pets are NOT allowed.

Parking

Nothing in particular

Other policies & conditions

Being a historic wooden building, firearms are strictly prohibited inside the premises, and smoking is prohibited./Being a private reservation machiya, no staff is stationed there. Emergency contact information is registered on the provided dedicated mobile phone./Because the accommodation facility is a renovated town house which was originally used as a private home, the surrounding neighbourhood has residents living there. Please be considerate of the fact when you use the facility./Depending on how the guests use the facility, there may be cases where the guests may be asked to improve their conduct. If an improvement is not observed, it may be unavoidable to have the guests vacate the house. In that case, guests are asked to take note that a refund will not offered./After reservation, details such as check-in method etc. will be sent from the facility./Everything inside the facility, including furnishings etc. can be used without extra charges. However, since the facility uses fittings that may be old, guests are urged to handle them with care./Please report in case breakage or any damage occurs.