Machiya Residence Inn Natsume-an
Surrounded by the Kamogawa River, Kyoto Imperial Palace, and Nijo Castle, this Kyo-machiya house is located in an ideal area for those looking to explore this historical city.This particular machiya house is located in Suemaru-cho, an area of Kyoto south of the Imperial Palace.Look towards the east and you will see Daimonji Yama a mountain that bears a large character, meaning-great, on it is mountainside.Take a stroll across the bridge over the Kamogawa River, and you will find yourself in a hub of the city of the cultural and historical neighborhood. The Kyoto Municipal Museum of Art, Kyoto City Zoo, Heian Shrine, Nanzenji Temple, and countless other sightseeing attractions.Follow the river north to explore Shimogamo Jinja, an important shrine that predates the establishment of Kyoto city itself.
Kyoto Townhouse Natsume-an (Non-Smoking)

No meal

Japanese futon bedding

Non-smoking

See Details
From $276.94
for 2 guests /night
- VAT is included, but bathing tax (around JPY 150 per adult) may NOT be included.
- Price in USD is based on the exchange rate as of today and might be different from that of the booking date.
Foods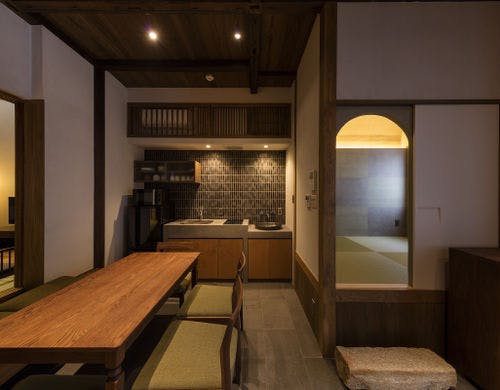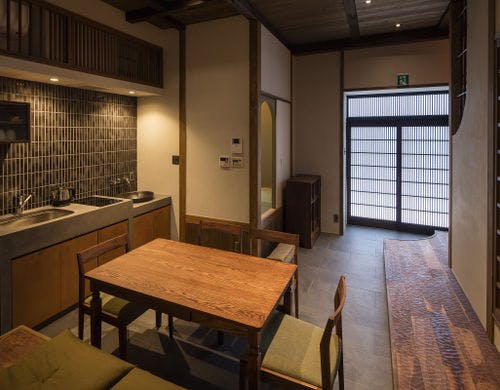 A fully functional kitchen can be found on the 1st floor. This kitchen is complete with a dining room table, 2 sinks, and all of the essentials necessary for you to make light meals during you stay. In addition, because this kitchen can be found in an open-plan area, it is an ideal space to cook together with family & friends.
Baths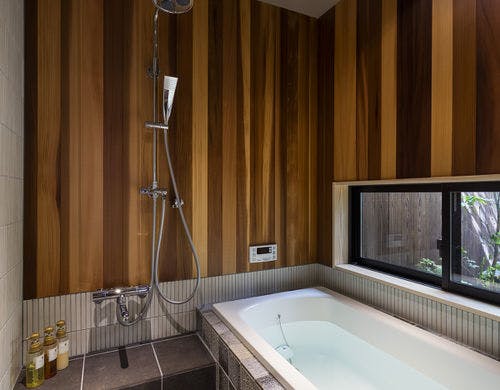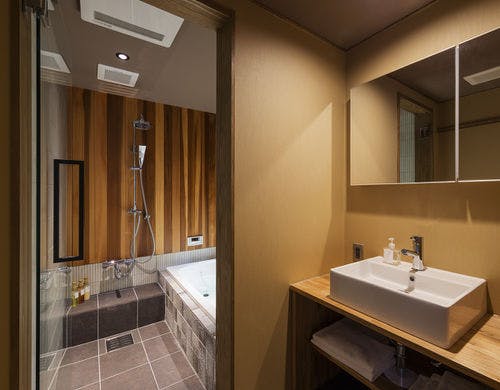 Wooden paneling, with alternating hues of dark and light brown, reflect the "natural" concept of this machiya house. A window looking out into the garden provides a view that will help you to rejuvenate after a day of exploring the city. A separate toilet space is available on both the 1st and 2nd floor.
Access
541-43, Suemarucho, Nakagyo-ku, Kyoto city,Kyoto,604-0901,JAPAN
From Kyoto Station to Natsume-an by Subway
-Approximately 22 minutes by Subway
1.Take the Keihan Subway Line
2.Get off at Jingu-Marutamachi Station (Exit 1)
3.Walk to Natsume-an (Approximately 4 minutes on foot)

From Kyoto Station to Natsume-an by Taxi
-Approximately 17 minutes (about 4.3 kilometers)
You can get to Kyoto station from Kansai International Airport by JR Express HARUKA line (approximately 80 minutes by train)


"About the Check-in"
After reservation, details such as check-in method etc. will be sent from the facility.

"Check in Time"
From 3 p.m. to 7 p.m.
This is a Japanese style accommodation as Vacation Rental. It basically offers rooms only. We ask all the guests to confirm the details of "About the Check in" and "Check in Time"

"About the Check-in"
After reservation, details such as check-in method etc. will be sent from the facility.

"Check in Time"
From 3 p.m. to 7 p.m.
Information
Check-in Time

From 3:00pm to 7:00pm

Check-out Time

Until 10:00am

Tax / Service Charge

Credit cards accepted at this property

Credit card is NOT accepted at this ryokan. Please pay by cash.
Children

For co-sleeping preschool aged children, there are no charges for up to 2 children per lodging. For children that require separate bedding, the lodging charges are the same as adults.

Pets

Pets are NOT allowed.

Parking

Nothing in particular

Other policies & conditions

Being a historic wooden building, firearms are strictly prohibited inside the premises, and smoking is prohibited./Being a private reservation machiya, no staff is stationed there. Emergency contact information is registered on the provided dedicated mobile phone./Because the accommodation facility is a renovated town house which was originally used as a private home, the surrounding neighbourhood has residents living there. Please be considerate of the fact when you use the facility./Depending on how the guests use the facility, there may be cases where the guests may be asked to improve their conduct. If an improvement is not observed, it may be unavoidable to have the guests vacate the house. In that case, guests are asked to take note that a refund will not offered./After reservation, details such as check-in method etc. will be sent from the facility./Everything inside the facility, including furnishings etc. can be used without extra charges. However, since the facility uses fittings that may be old, guests are urged to handle them with care./Please report in case breakage or any damage occurs.