Machiya Residence Inn Shoubu-an
Named after the color of the Japanese iris, a deep violet-hued flower, your stay at Shobu-an will without a doubt become a highlight of your visit to Kyoto. Located slightly South of the main city center, this machiya house is ideal for families and larger groups of friends and family.To the East is the beautifully preserved Gion District, while a short trip up North will introduce you to the Kyoto Imperial Palace. Take a bus further up North to visit the Silver Pavilion and the Philosopher Path - a picturesque road that is beautiful with every changing season.When you reserve Shobu-an, and its neighboring house Suo-an, up to 14 guests can be accommodated at the same time.Whilst maintaining the traditional appearance of a Kyo-Machiya, with its paper lanterns, earthen floors, and open-timbered ceiling, this accommodation facility has been converted into a comfortable area decorated with modern Japanese 'Wa' style design. Kyoto machiya illustrate the architectural design of old-fashioned Japanese residences,which appear small from the outside but extend further back.
Kyoto Townhouse Shobu-an (Non-Smoking) 85㎡

No meal

Japanese futon bedding

Non-smoking

See Details
From $276.94
for 2 guests /night
- VAT is included, but bathing tax (around JPY 150 per adult) may NOT be included.
- Price in USD is based on the exchange rate as of today and might be different from that of the booking date.
Foods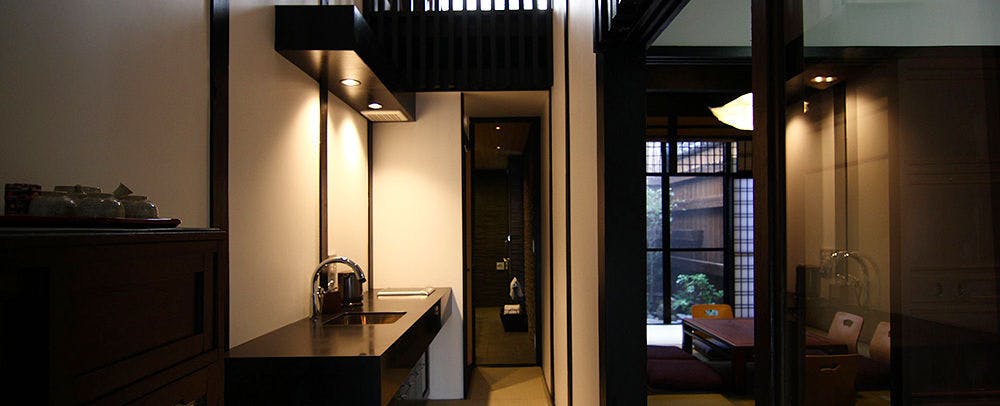 The kitchen is fitted with sleek, black counter top and modern kitchen fixtures. With enough space for you to prepare your own meals using ingredients picked up from "Nishiki Market" or the local supermarket, you will be able to cook a Kyoto-inspired home cooked meal any time.

A high, open ceiling known as "hibukuro," once used to ventilate smoke from the furnace, and modern appliances round out the kitchen space.
Baths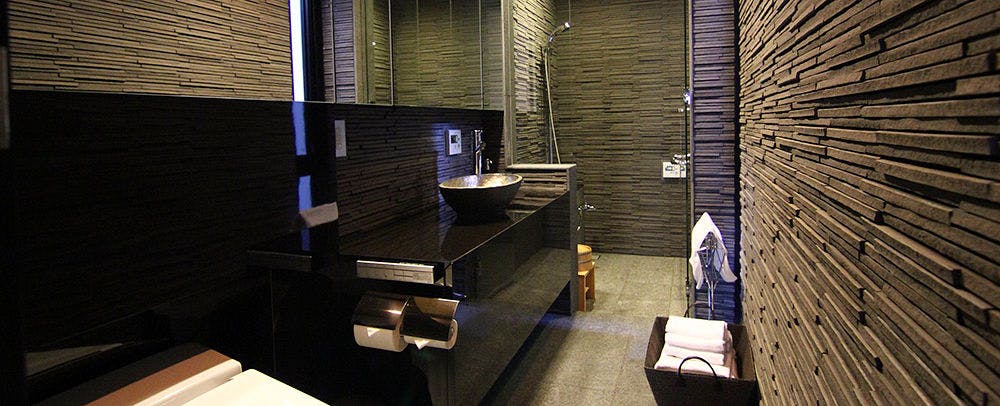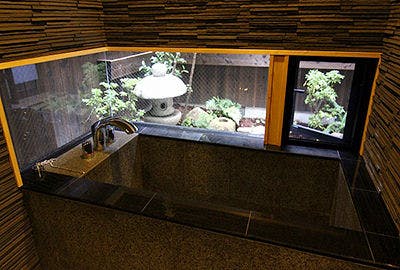 On the 1st floor, you will find a glass paned bathroom lined with black granite and cypress wood. The play with dark and light colors adds a touch of sophistication, which will allow you to relax in luxury. Known as "Hinoki wood" in Japanese, Cypress is a lemon-scented wood that is often used when building temples, shrines, and castles.

Relieve yourself of any travel fatigue as you peer out toward the garden from the bathroom window.

2 separate toilet spaces can be found on the 1st floor.
Facilities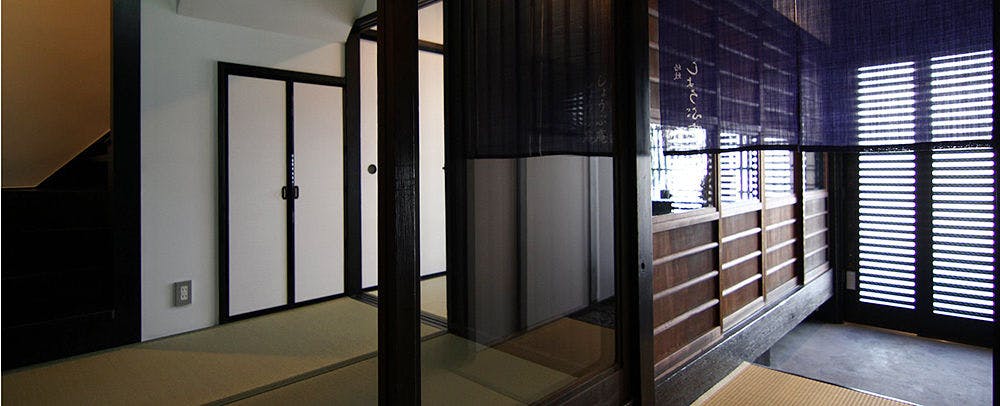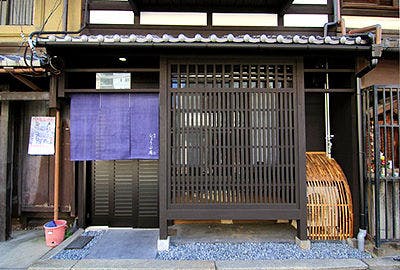 A traditional Kyoto townhouse that displays its historic appearance. The outlook seems compact while the interiors are deep, exhibiting the 'unagino nedoko' long house style typical to traditional Kyoto townhomes.
Access
240, Eiyoji-cho, Shimogyo-ku, Kyoto city,Kyoto,600-8463,JAPAN
From Kyoto Station to Shobu-an by Subway
-Approximately 15 minutes by Subway
1. Take the Karasuma Subway Line
2. Get off at "Shijo Station" and leave Exit No. 6
3. Walk to Shobu-an (Approximately 9 minutes by foot)

From Kyoto Station to Shobu-an by Taxi
-Approximately 10 minutes by Taxi (about 2.0 kilometers)
You can get to Kyoto station from Kansai International Airport by JR Express HARUKA line (approximately 80 minutes by train)


"About the Check-in"
After reservation, details such as check-in method etc. will be sent from the facility.

"Check in Time"
From 3 p.m. to 7 p.m.
This is a Japanese style accommodation as Vacation Rental. It basically offers rooms only. We ask all the guests to confirm the details of "About the Check in" and "Check in Time"

"About the Check-in"
After reservation, details such as check-in method etc. will be sent from the facility.

"Check in Time"
From 3 p.m. to 7 p.m.
Information
Check-in Time

From 3:00pm to 7:00pm

Check-out Time

Until 10:00am

Tax / Service Charge

Credit cards accepted at this property

Credit card is NOT accepted at this ryokan. Please pay by cash.
Children

For co-sleeping preschool aged children, there are no charges for up to 2 children per lodging. For children that require separate bedding, the lodging charges are the same as adults.

Pets

Pets are NOT allowed.

Parking

Nothing in particular

Other policies & conditions

Being a historic wooden building, firearms are strictly prohibited inside the premises, and smoking is prohibited./Being a private reservation machiya, no staff is stationed there. Emergency contact information is registered on the provided dedicated mobile phone./Because the accommodation facility is a renovated town house which was originally used as a private home, the surrounding neighbourhood has residents living there. Please be considerate of the fact when you use the facility./Depending on how the guests use the facility, there may be cases where the guests may be asked to improve their conduct. If an improvement is not observed, it may be unavoidable to have the guests vacate the house. In that case, guests are asked to take note that a refund will not offered./After reservation, details such as check-in method etc. will be sent from the facility./Everything inside the facility, including furnishings etc. can be used without extra charges. However, since the facility uses fittings that may be old, guests are urged to handle them with care./Please report in case breakage or any damage occurs.