Machiya Residence Inn Hatoba-an
Hatoba-an is located on Furumonzen Dori, a street that opened in 1603 and leads towards Chion-in, the head temple of the Jodo Shu , Pure Land Sect of Buddhism.This area is a mecca for those who are interested in visiting some of the world leading antique shops. You will be able to discover rare finds including Buddhist artwork, tea ceremony utensils, along with antique ceramic dishes, traditional furniture, and more. Hatoba-an will offer you a great opportunity to experience the traditional atmosphere of Kyoto.One step inside of Hatoban-an, and you will immediately be greeted with a sense of history. With exposed wooden beams, details of traditional Japanese elements, use of natural wood, and more, you will truly be able to appreciate the beauty of the machiya architecture.Exploring Kyoto is just as convenient, because of its close proximity to the Keihan Subway line, and the Sanjo Bus Terminal. Grab the one day Kyoto City Bus pass, and you will be able to explore all of Kyoto, everywhere from its most popular sightseeing attractions to hidden gems throughout the city.
Kyoto Townhouse Hatoba-an (Non-Smoking)

No meal

Japanese futon bedding

Non-smoking

See Details
From $293.73
for 2 guests /night
- VAT is included, but bathing tax (around JPY 150 per adult) may NOT be included.
- Price in USD is based on the exchange rate as of today and might be different from that of the booking date.
Foods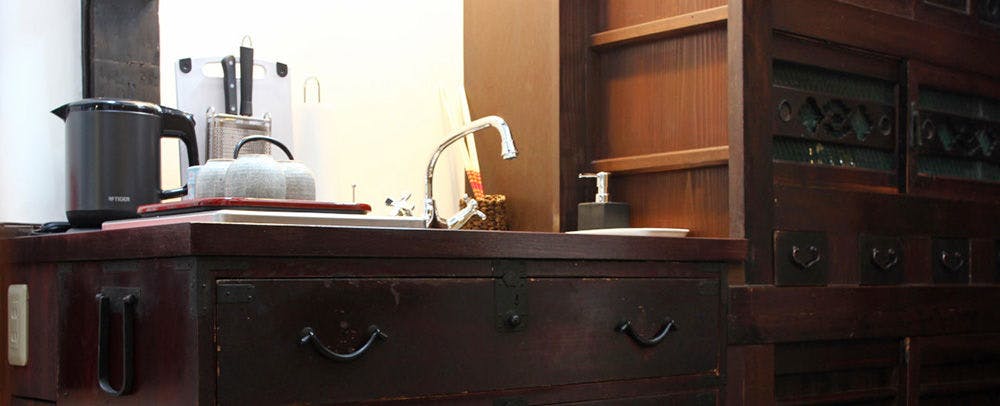 The kitchen features a "Hibukuro," or high ceiling that once served as a chimney. Now, rays of light penetrate the skylight windows to stir the imagination and evoke images of the traditions of times gone by. You will also find an antique cupboard and restored Japanese-style chest that contains traditional plates and utensils, including Japanese teacups, an iron teapot, and rice bowls are available.
Baths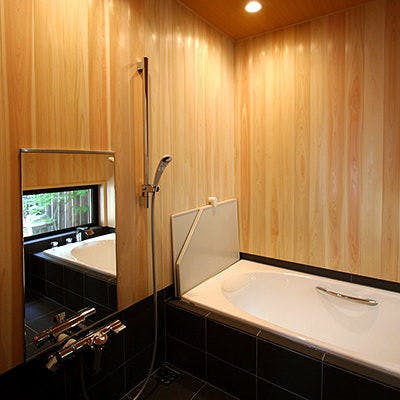 This property features a "hinoki" wood-lined bathroom that faces out towards the lush, and beautiful greenery of the courtyard garden. The "hinoki" wood has a long history within Japanese history – often used when building temples & palaces. Its produces a slight lemon scent, with properties to help you relax and de-stress as your enjoy a bath after a day of exploring Kyoto.

The toilet can be found in a separate area on the 1st floor.
Facilities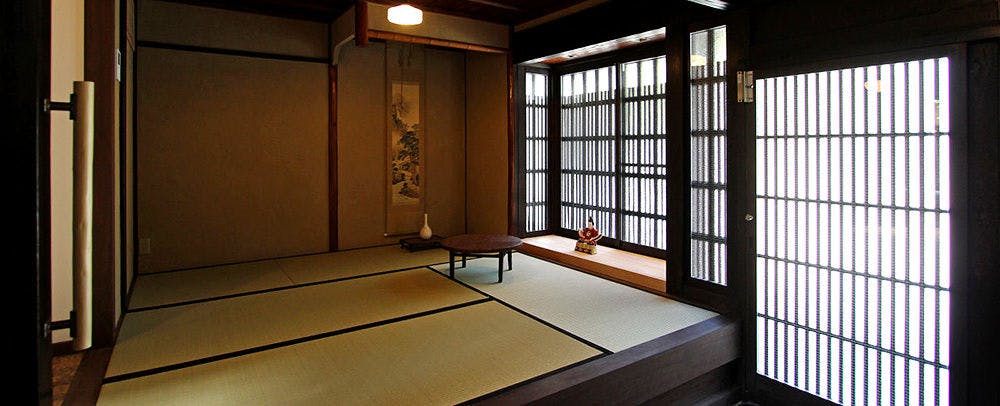 The entrance gimmers with shades of jet-black. Getting rid of partitions wherever possible and widening the available space, the place aims to provide a feeling of openness. Enjoy the subtle shades of the 'naguri' processed timber utilized in the flooring boards continuing on from the traditional Japanese room.
Access
382-12 Motomachi Higashiyama-ku Kyoto,Kyoto,605-0089,JAPAN
FROM KYOTO STATION TO HATOBA-AN BY SUBWAY
-Approximately 18 minutes
1. Take the Subway Karasuma Line
2. Get off at "Karasuma Oike" Station
3. Transfer to the Subway Tozai Line
4. Get off at "Sanjo Keihan" Station (Exit 2)
5. Walk to Hatoba-an (Approximately 2 minute on foot)

FROM KYOTO STATION TO HATOBA-AN BY TAXI
-Approximately 13 minutes (about 4.2 kilometers)
You can get to Kyoto station from Kansai International Airport by JR Express HARUKA line (approximately 80 minutes by train)


"About the Check-in"
After reservation, details such as check-in method etc. will be sent from the facility.

"Check in Time"
From 3 p.m. to 7 p.m.
This is a Japanese style accommodation as Vacation Rental. It basically offers rooms only. We ask all the guests to confirm the details of "About the Check in" and "Check in Time"

"About the Check-in"
After reservation, details such as check-in method etc. will be sent from the facility.

"Check in Time"
From 3 p.m. to 7 p.m.
Information
Check-in Time

From 3:00pm to 7:00pm

Check-out Time

Until 3:00pm

Tax / Service Charge

Credit cards accepted at this property

Credit card is NOT accepted at this ryokan. Please pay by cash.
Children

For co-sleeping preschool aged children, there are no charges for up to 2 children per lodging. For children that require separate bedding, the lodging charges are the same as adults.

Pets

Pets are NOT allowed.

Parking

Nothing in particular

Other policies & conditions

Being a historic wooden building, firearms are strictly prohibited inside the premises, and smoking is prohibited./Being a private reservation machiya, no staff is stationed there. Emergency contact information is registered on the provided dedicated mobile phone./Because the accommodation facility is a renovated town house which was originally used as a private home, the surrounding neighbourhood has residents living there. Please be considerate of the fact when you use the facility./Depending on how the guests use the facility, there may be cases where the guests may be asked to improve their conduct. If an improvement is not observed, it may be unavoidable to have the guests vacate the house. In that case, guests are asked to take note that a refund will not offered./After reservation, details such as check-in method etc. will be sent from the facility./Everything inside the facility, including furnishings etc. can be used without extra charges. However, since the facility uses fittings that may be old, guests are urged to handle them with care./Please report in case breakage or any damage occurs.