Machiya Residence Inn Konruri-an
This machiya is located in a neighborhood that will interest those who are beginning learn about Japanese culture, and history buffs alike.Located to the north of Mibu-dera Temple, this area was famous due to the Shinsengumi samurai police force - where many bloody battles once took place during the end of the Edo Period.Now, you can enjoy Medieval pantomime (a designated National Important Intangible Folk Cultural Properties) at Mibu-dera to learn about this interesting past.It allows you to experience the city's local atmosphere & is a short train ride away from the main city center.
We are sorry but we don't have any rooms available now.

Please select another Ryokan.
- VAT is included, but bathing tax (around JPY 150 per adult) may NOT be included.
- Price in USD is based on the exchange rate as of today and might be different from that of the booking date.
Foods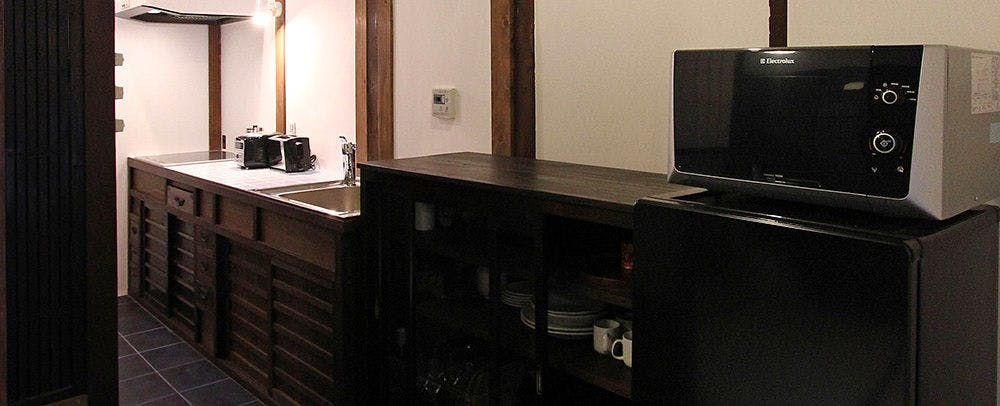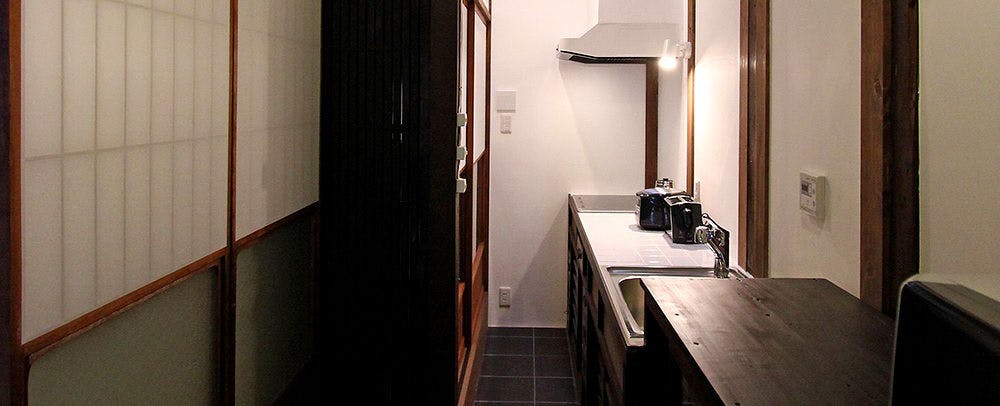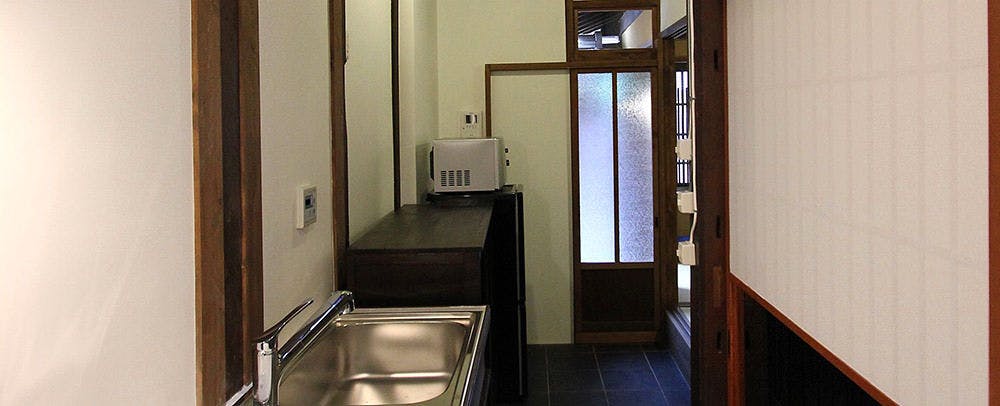 The tori-niwa breezeway hallway and earthen floors recreate the design of a traditional kyoto machiya. In this hallway is the kitchen which utilizes components of a deconstructed Japanese-style chest of drawers. The earthen floors have been updated with a fully equipped heating system for your comfort.
Baths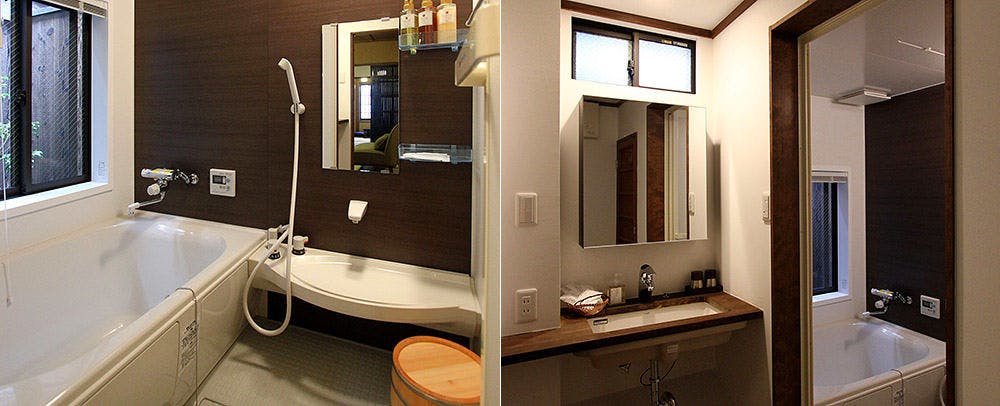 Dark, wooden fixtures decorate the washroom and bath area to perfectly complement the natural greenery of the "tsuboniwa" garden, which can be seen through the window. Soak in a relaxing bath, and look out towards this point of calm and beauty.

2 toilet areas located on the 1st floor.
Facilities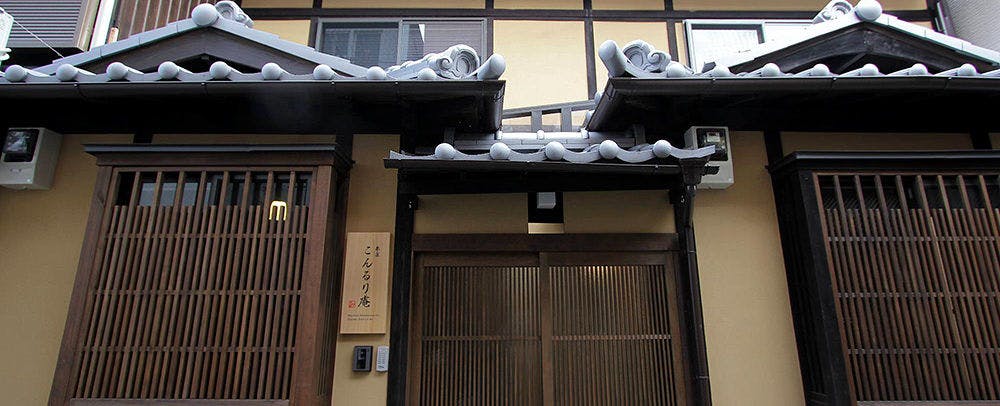 The two adjacent Kyoto townhomes made in Shimotaya-zukuri style feature impressive style with an irimoya (hip-and-gable) roof on top of a lattice-worked bay window. In the little street remains a cityscape that makes you feel like you slipped back in time, it is here that you can enjoy an elegant living experience only found in Kyoto.
Access
66-15 Mibubojo-cho Nakagyo-ku Kyoto,Kyoto,604-8804,JAPAN
FROM KYOTO STATION TO KONRURI-AN BY SUBWAY
-Approximately 20 minutes by Subway
1. Take the Karasuma Line to "Shijo" Station
2. Take a short walk to "Karasuma" Station and transfer to the Hankyu Line.
3. Get off at "Omiya" Station. (Exit 3)
4. Walk 5 minutes to Konruri-an.

FROM KYOTO STATION TO KONRURI-AN BY TAXI
-Approximately 15 minutes by Taxi (about 2.8 kilometers)
You can get to Kyoto station from Kansai International Airport by JR Express HARUKA line (approximately 80 minutes by train)


"About the Check-in"
After reservation, details such as check-in method etc. will be sent from the facility.

"Check in Time"
From 3 p.m. to 7 p.m.
This is a Japanese style accommodation as Vacation Rental. It basically offers rooms only. We ask all the guests to confirm the details of "About the Check in" and "Check in Time"

"About the Check-in"
After reservation, details such as check-in method etc. will be sent from the facility.

"Check in Time"
From 3 p.m. to 7 p.m.
Information
Check-in Time

From 3:00pm to 7:00pm

Check-out Time

Until 10:00am

Tax / Service Charge

Credit cards accepted at this property

Credit card is NOT accepted at this ryokan. Please pay by cash.
Children

For co-sleeping preschool aged children, there are no charges for up to 2 children per lodging. For children that require separate bedding, the lodging charges are the same as adults.

Pets

Pets are NOT allowed.

Parking

Nothing in particular

Other policies & conditions

Being a historic wooden building, firearms are strictly prohibited inside the premises, and smoking is prohibited./Being a private reservation machiya, no staff is stationed there. Emergency contact information is registered on the provided dedicated mobile phone./Because the accommodation facility is a renovated town house which was originally used as a private home, the surrounding neighbourhood has residents living there. Please be considerate of the fact when you use the facility./Depending on how the guests use the facility, there may be cases where the guests may be asked to improve their conduct. If an improvement is not observed, it may be unavoidable to have the guests vacate the house. In that case, guests are asked to take note that a refund will not offered./After reservation, details such as check-in method etc. will be sent from the facility./Everything inside the facility, including furnishings etc. can be used without extra charges. However, since the facility uses fittings that may be old, guests are urged to handle them with care./Please report in case breakage or any damage occurs.