Kannawaen
You reach a hot spring house harmonizing with a sense of Japanese elegance and nature. We provide some traditional Japanese facilities such as "Nohgakudo (Noh theater)" and "A tea room with a thatched roof." In our garden, there are some historical sites and two ponds where small waterfalls are running into. When you back on to the magnificent Tsurumi-dake, Beppu's hot springs with the rising steam and the splendor of Beppu Bay spread out before you.
- VAT is included, but bathing tax (around JPY 150 per adult) may NOT be included.
- Price in USD is based on the exchange rate as of today and might be different from that of the booking date.
Foods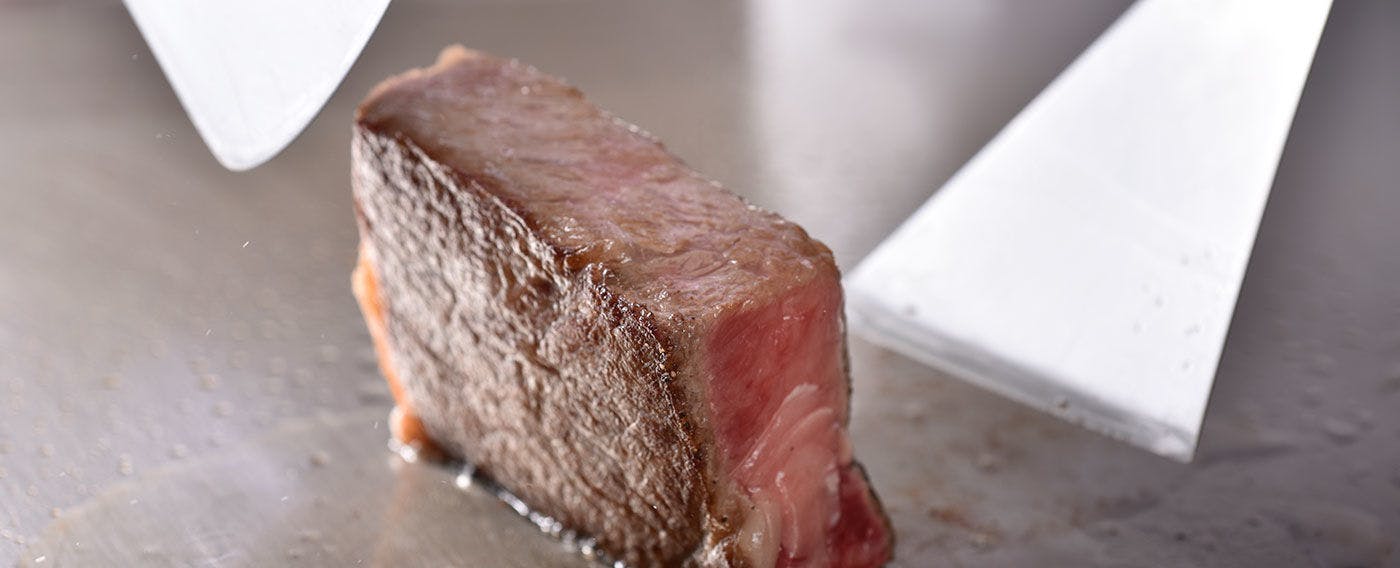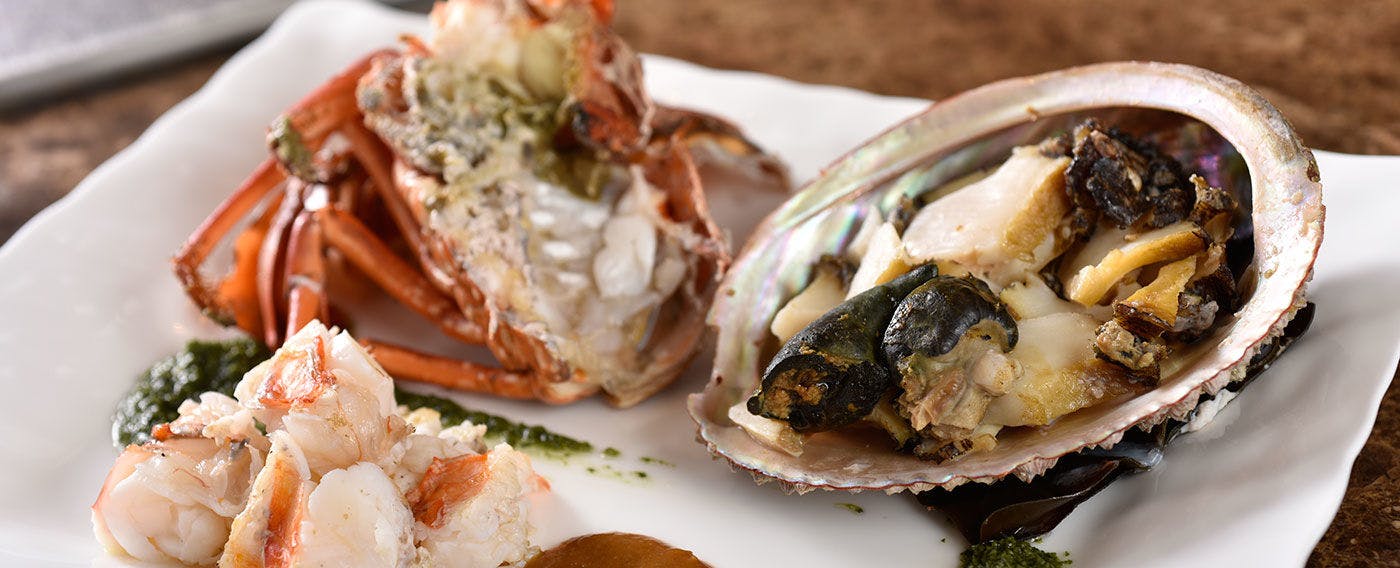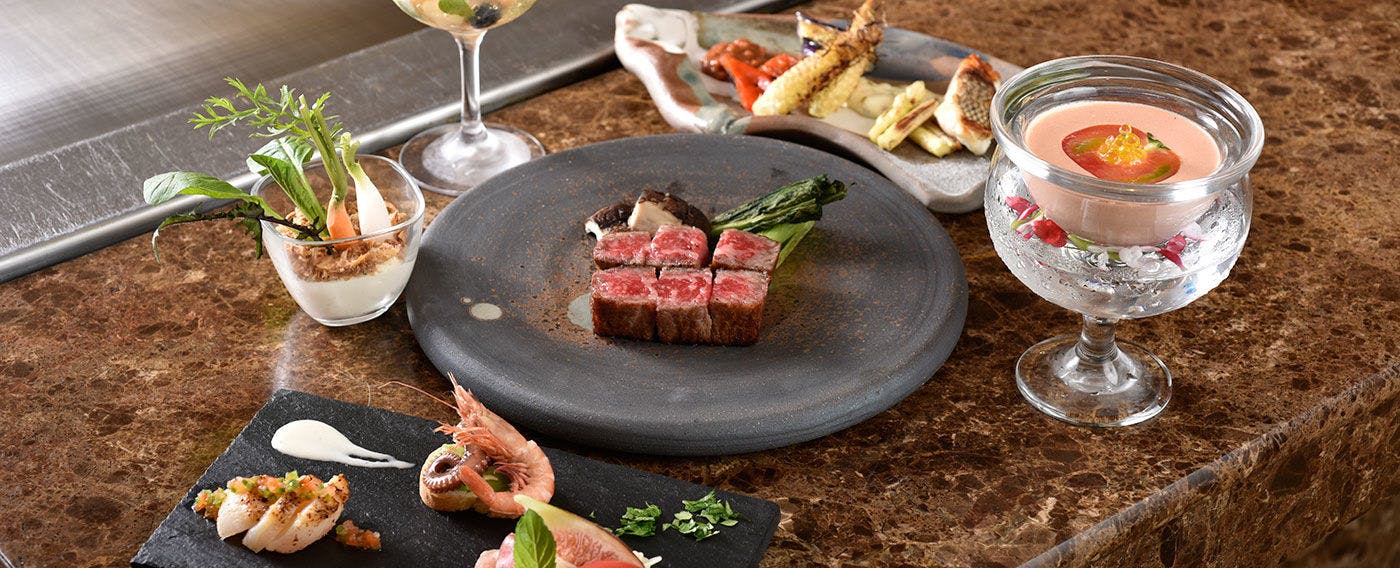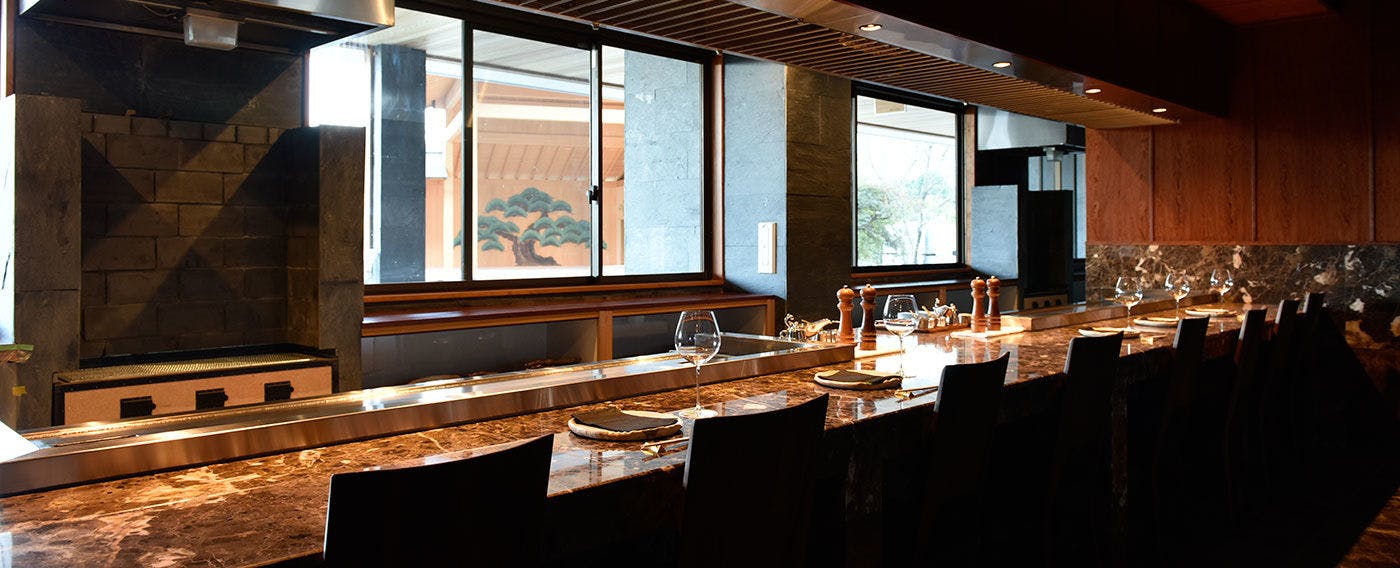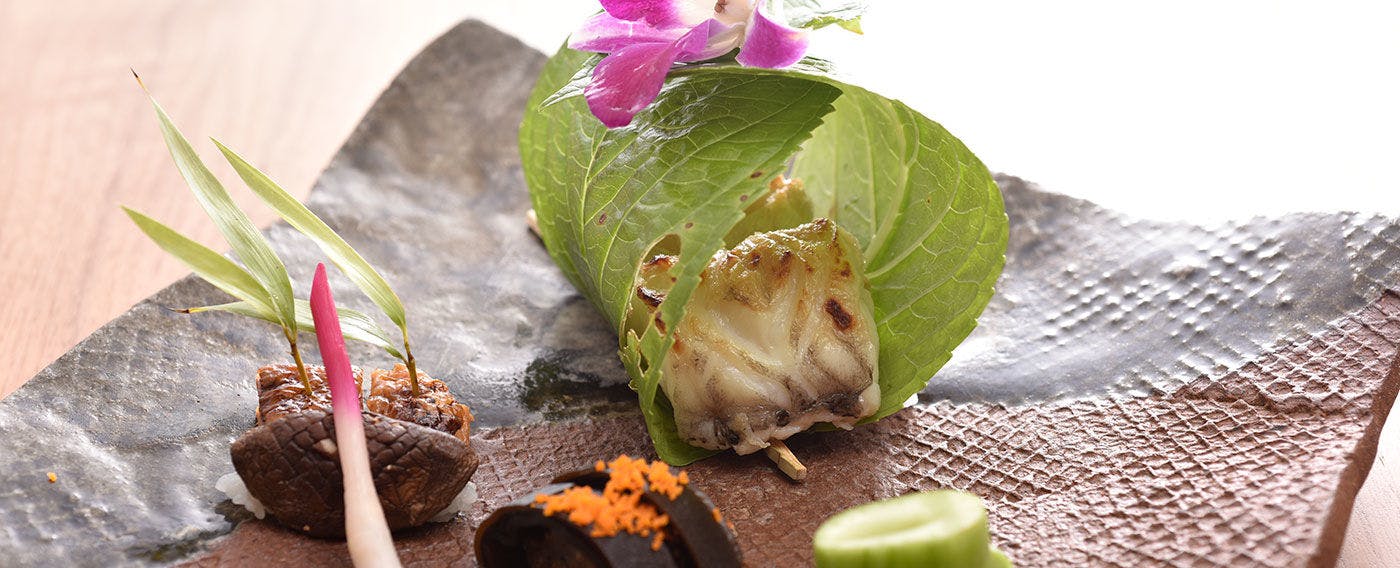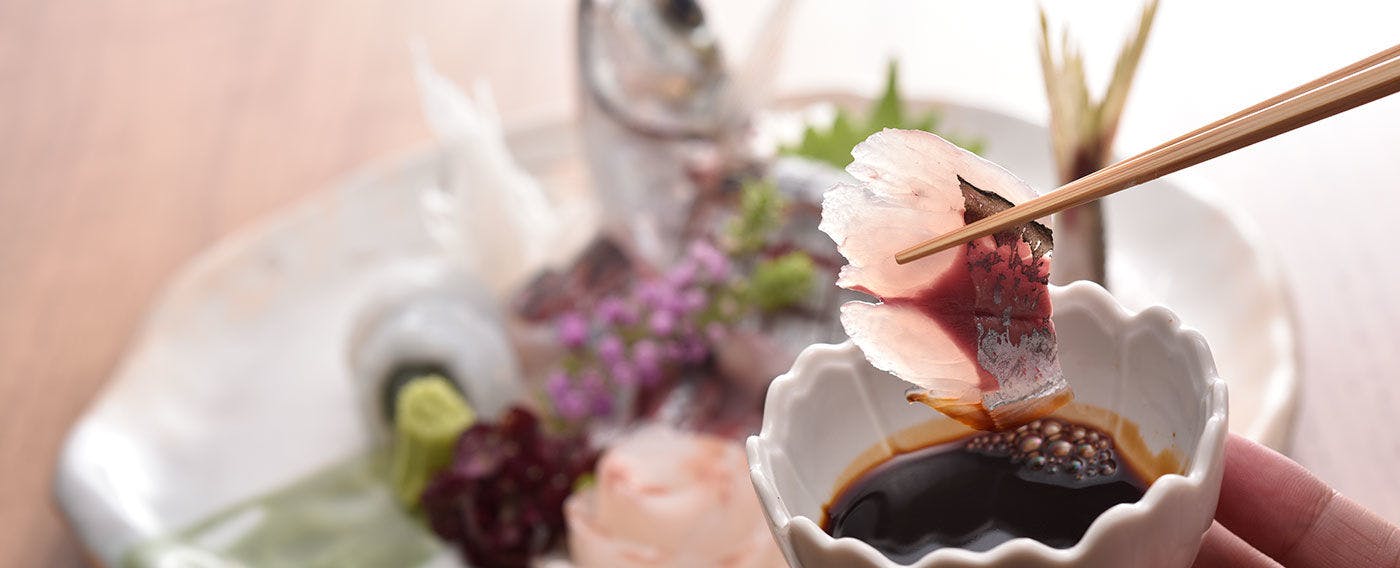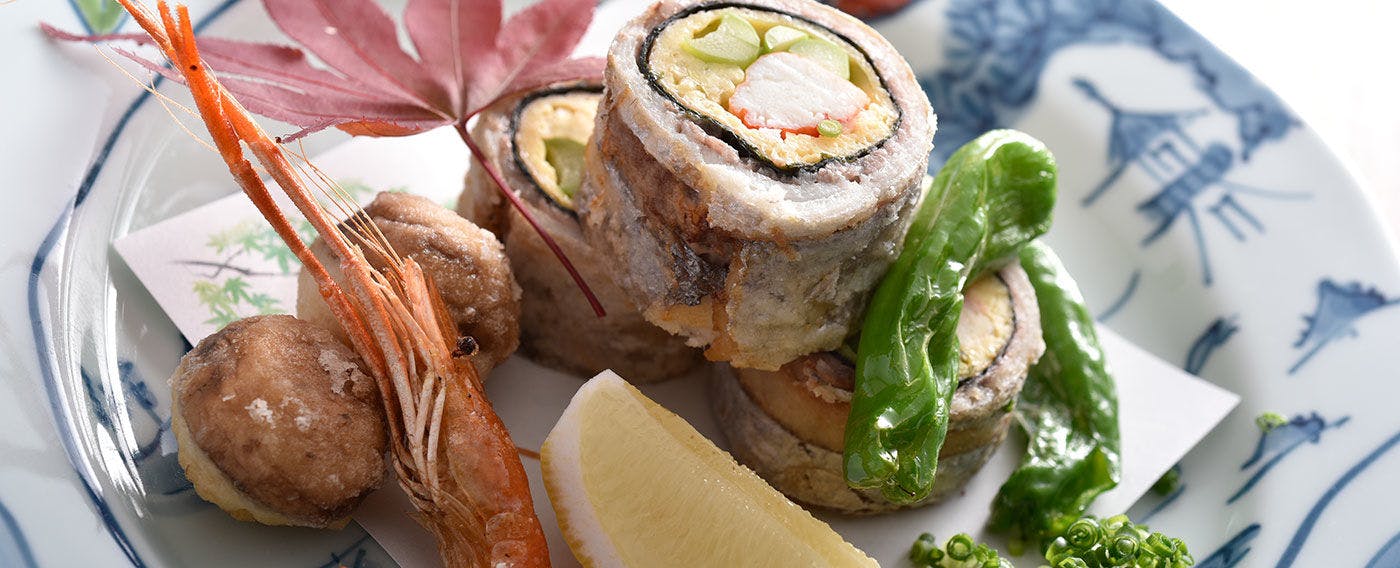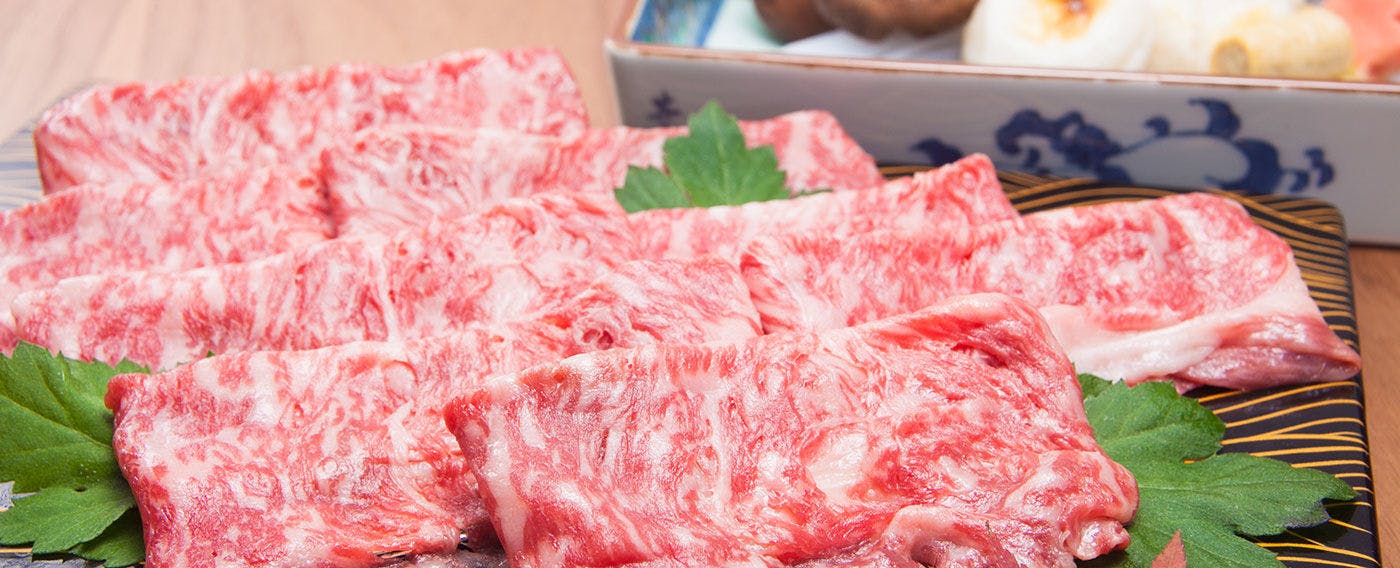 Luxurious Teppanyaki Including highest class Japanese Black beef, organically raised local vegetables and rice, we make use of fine quality ingredients stocked from reliable contracted farms.
Raised in the expansive Kyushu natural environment, first class Japanese Black beef is juicy and incredibly succulent.
One can also experience the fresh taste and delightful texture of yariika spear squid caught and delivered directly from Nagasaki.
Come and enjoy a large number of teppanyaki dishes designed to draw out the natural flavor qualities of the ingredients, especially of seasonal items available in the area, including high grade abalone and spiny lobster.

"Kaede" Teppanyaki Restaurant located in the Main Building, Floor 1
Our chef inquires about preference while preparing food in front of your eyes on the teppan grill.
With the impressive Noh stage opposite the window, the picturesque view delights the eye and the carefully selected ingredients delight the palate to create a uniquely luxurious experience only found here.

Breathtaking Kaiseki Course Cuisine
By our strict adherence to the five flavors, five colors, and five methods central to traditional cooking, we hope to share the beauty and palatability of Japanese cuisine.

Starting from the foundation of Japanese-style cooking, our dining area strives to serve kaiseki course cuisine that embodies the culinary ideal of "New concepts from past ideas."
Coupled with the delicious stock flavors produced from local seafood delivered directly from Saga, Oita Prefecture, we serve a variety of dishes that delicately balance and harmonize seasonal ingredients.
Foundational to our thinking is the idea of fully satisfying with "foods that delight the body."

Breakfast
Since breakfast is the important meal that starts a day, we carefully consider nutritional balance while cooking and serve lots of vegetables.
Help yourself to a breakfast that delights the body and pleases the eye, made from seasonal accompanying dishes and freshly cooked rice.
We are also able to serve western style breakfast, so please let us know if you are interested.
Baths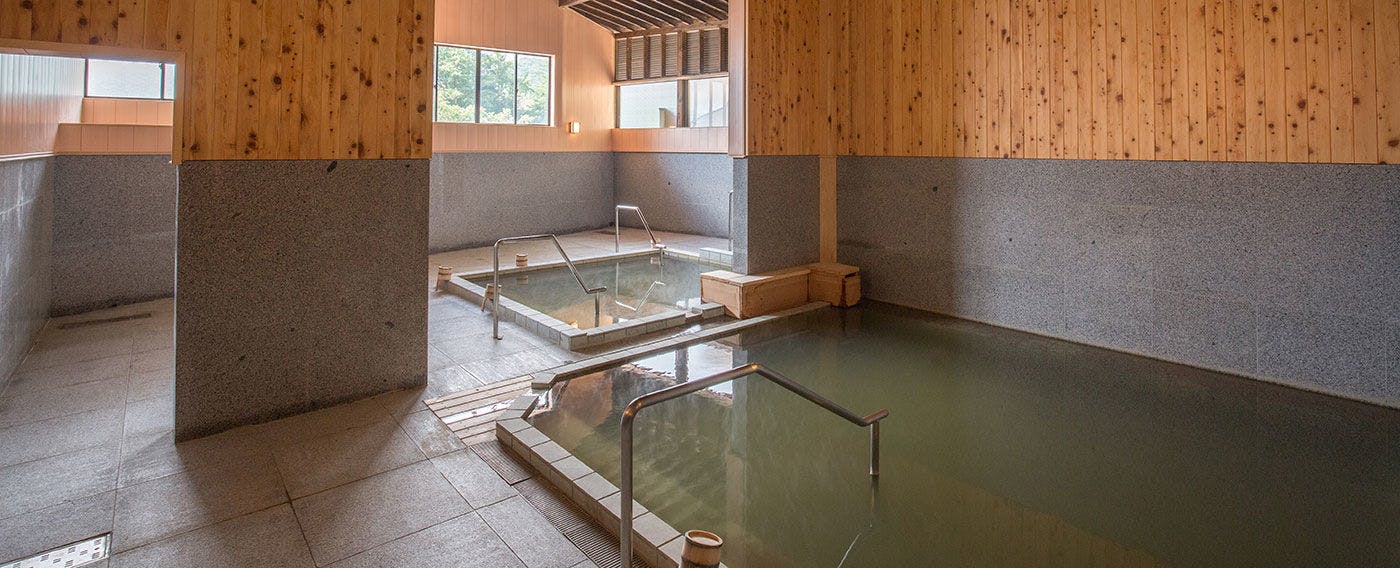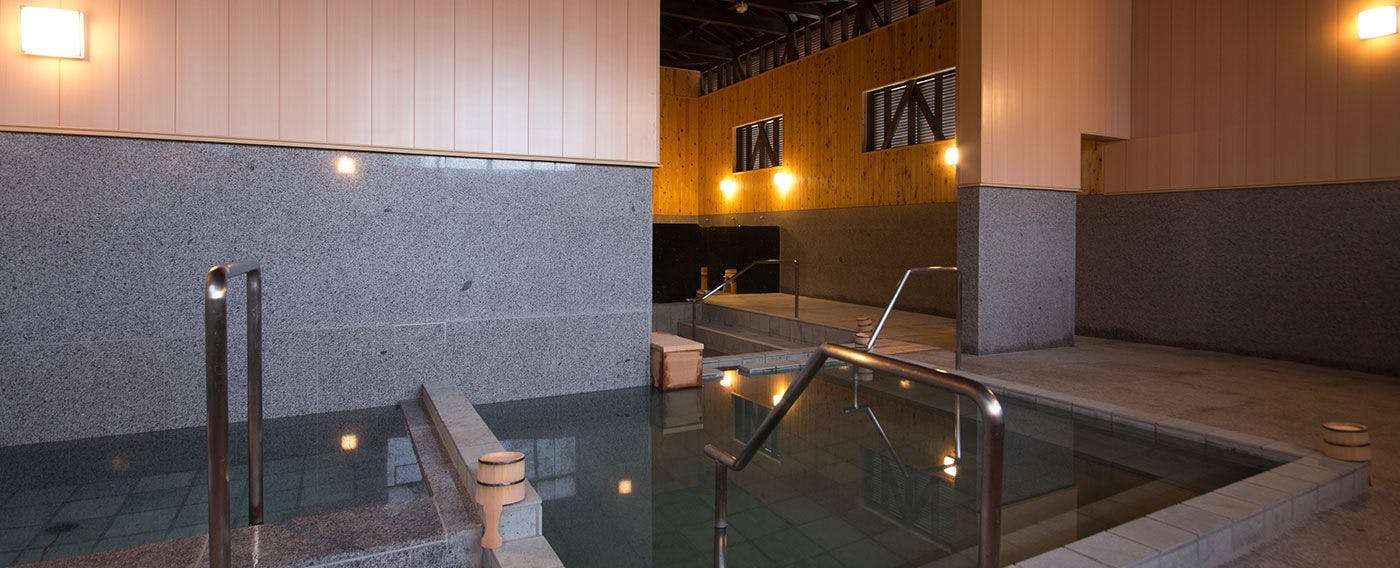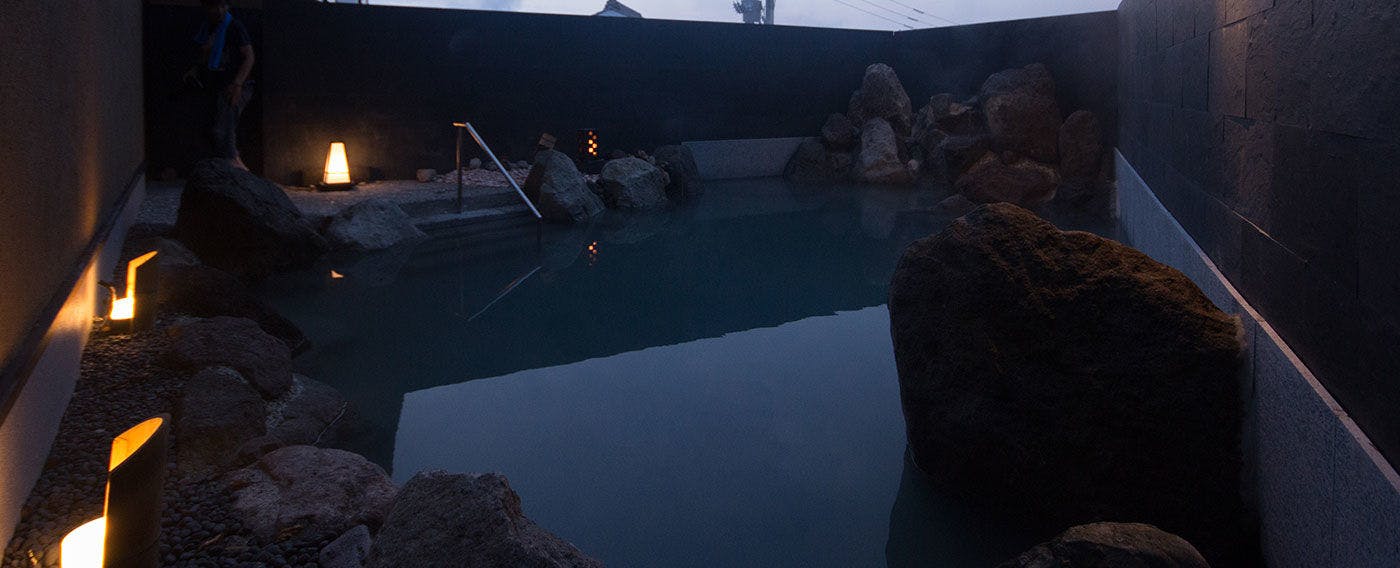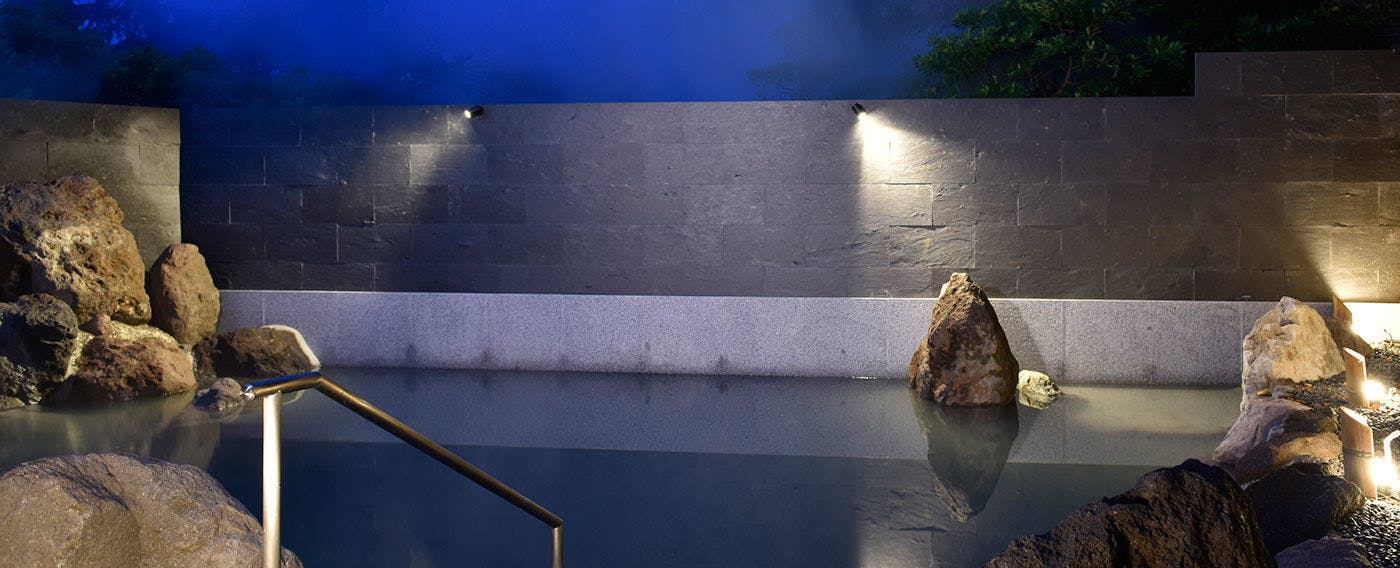 A Natural Gift that Pacifies even the Gods, Sacred Hot Spring On the property, we benefit from our own 2 hot spring sources, and every room receives free-flowing natural hot spring water that is never diluted or humidified.
Long treasured for its health treatment capabilities, the sacred spring water has also been praised as the hot spring of beauty. Resting in the water for a moment, one almost feels the strength drain from one's body as body and mind attain serenity.
While gazing through clear air at a glittering starry sky and hearing the warbling of birds enveloped by the morning sun,
one admires the green scent and unhurriedly feels the soft sunlight that filters through the trees onto the skin. The sacred hot spring is a place to let one's spirit soar.
Facilities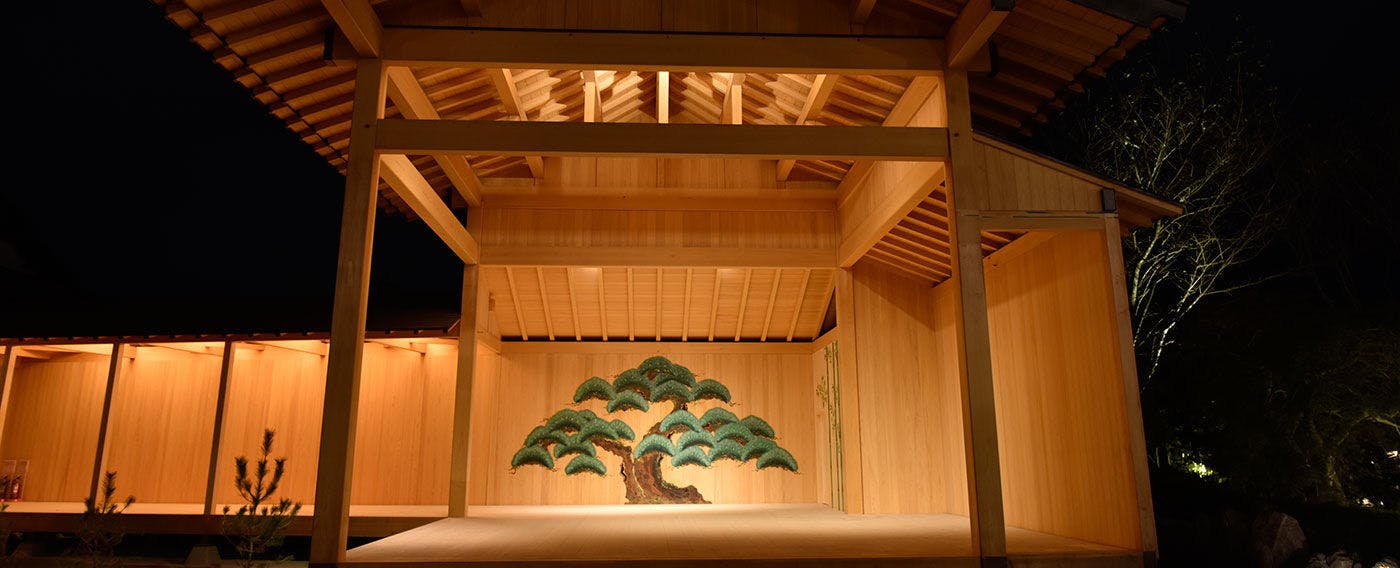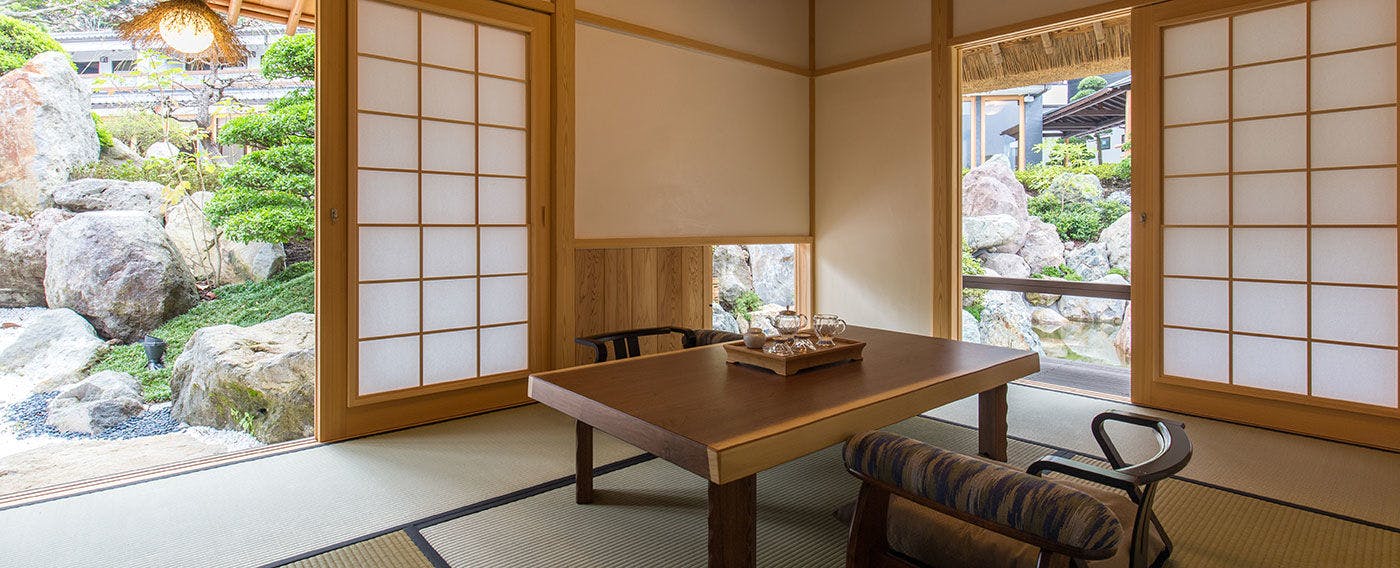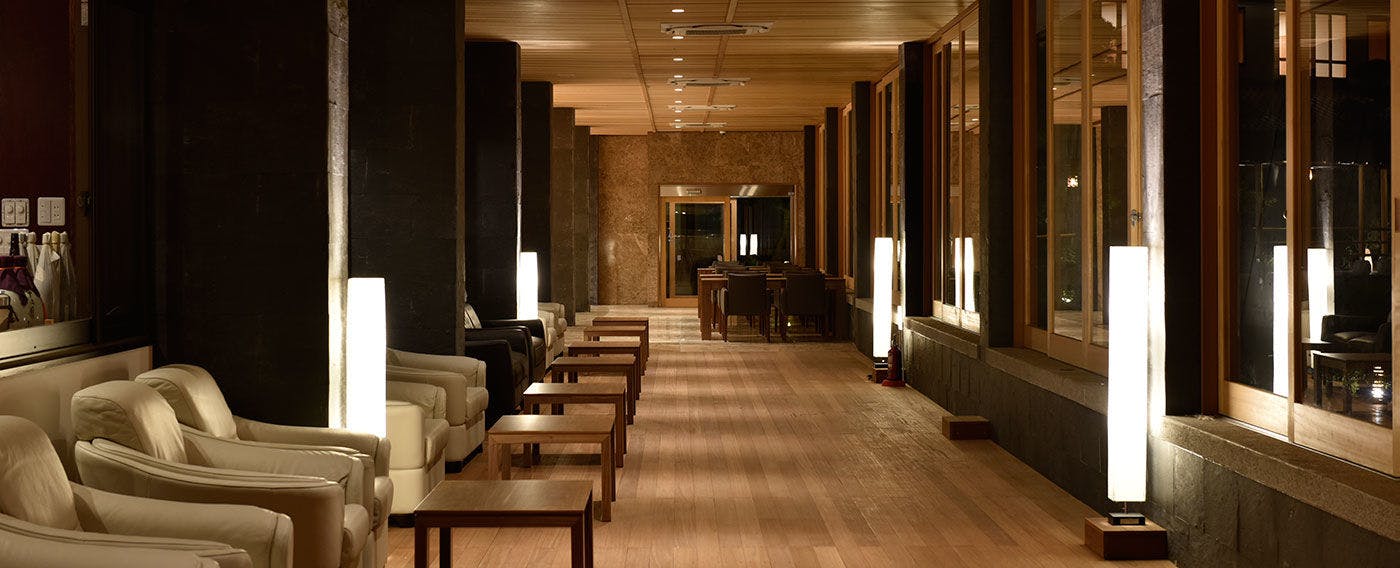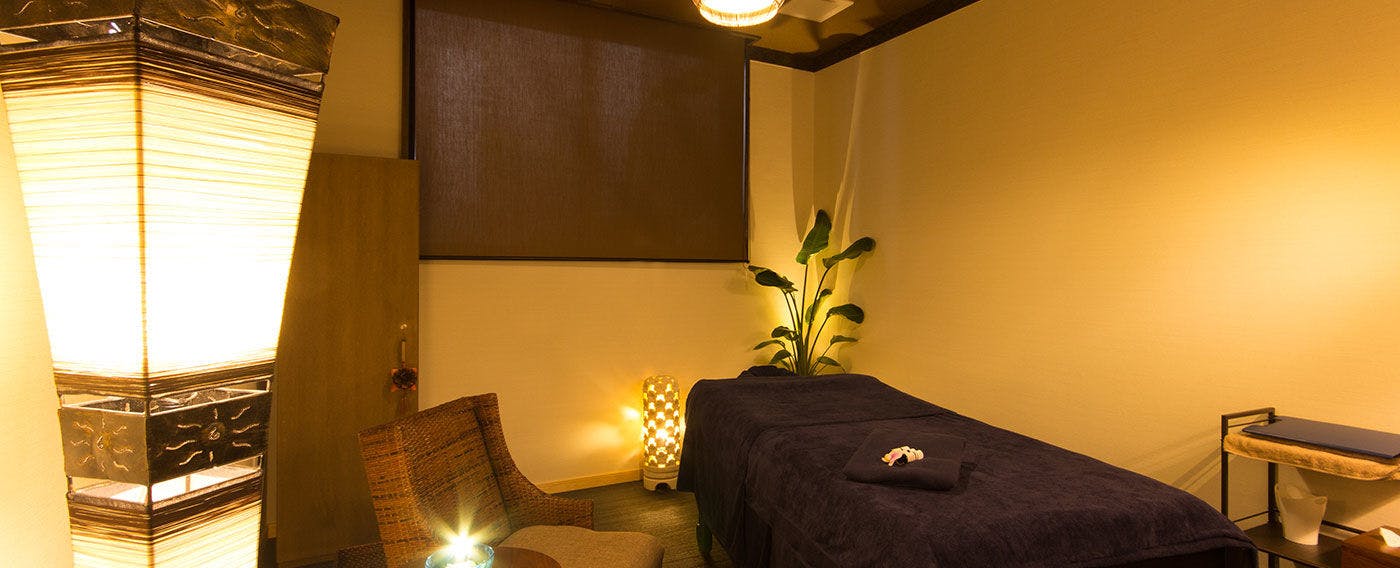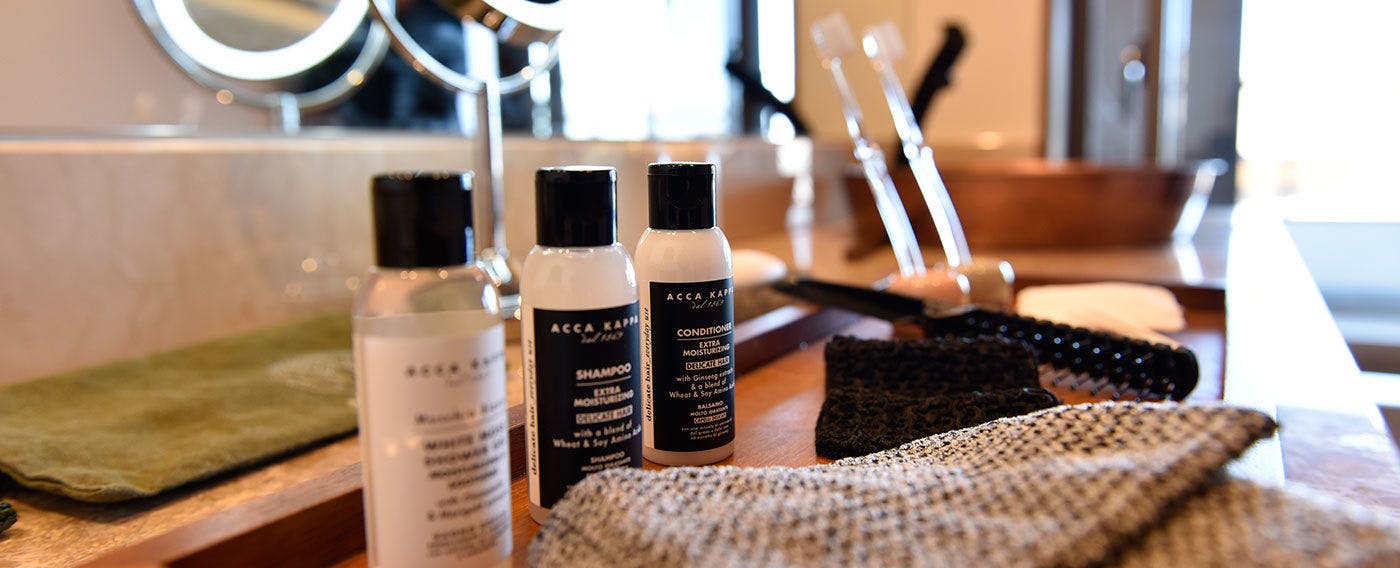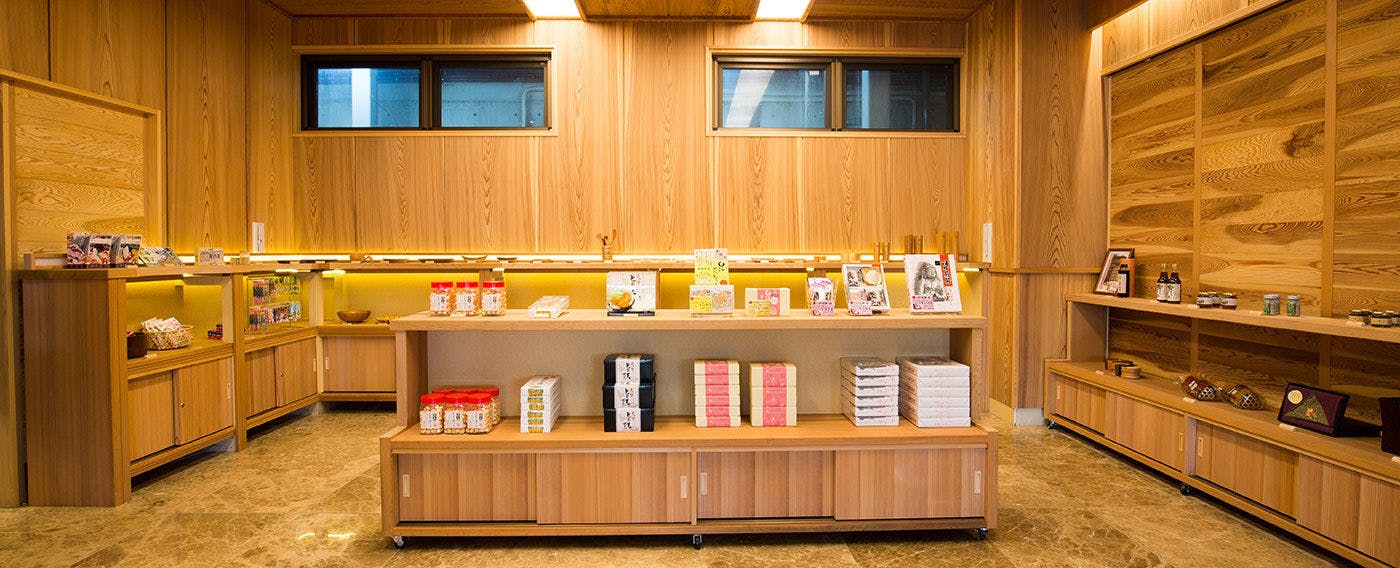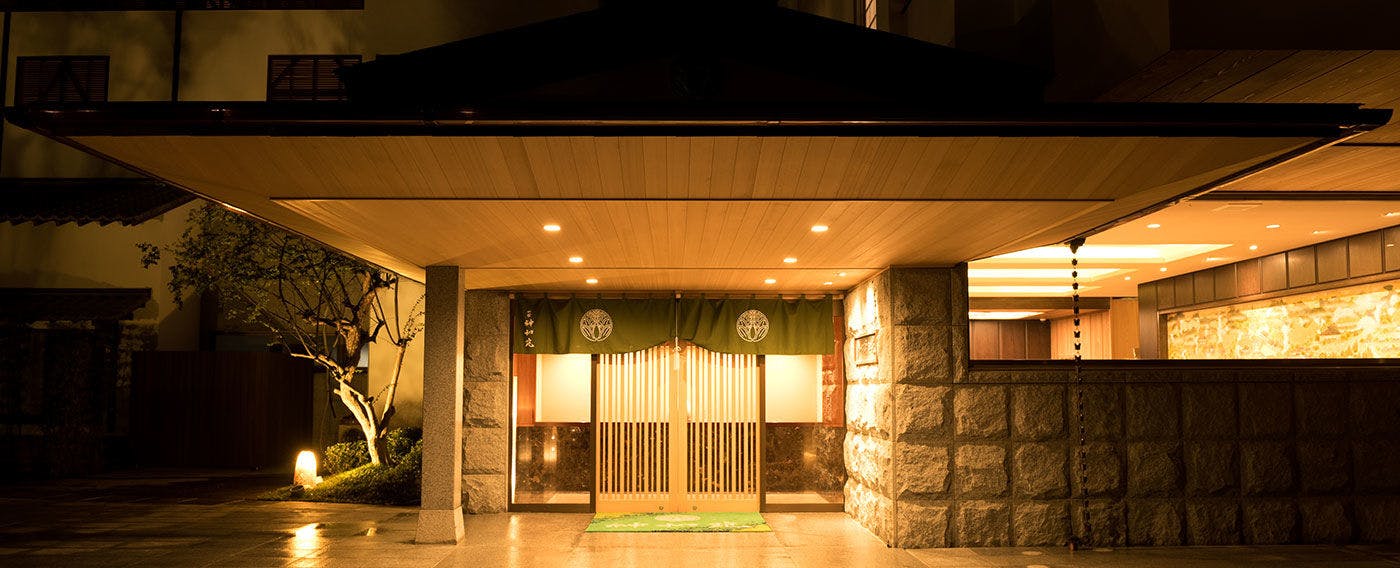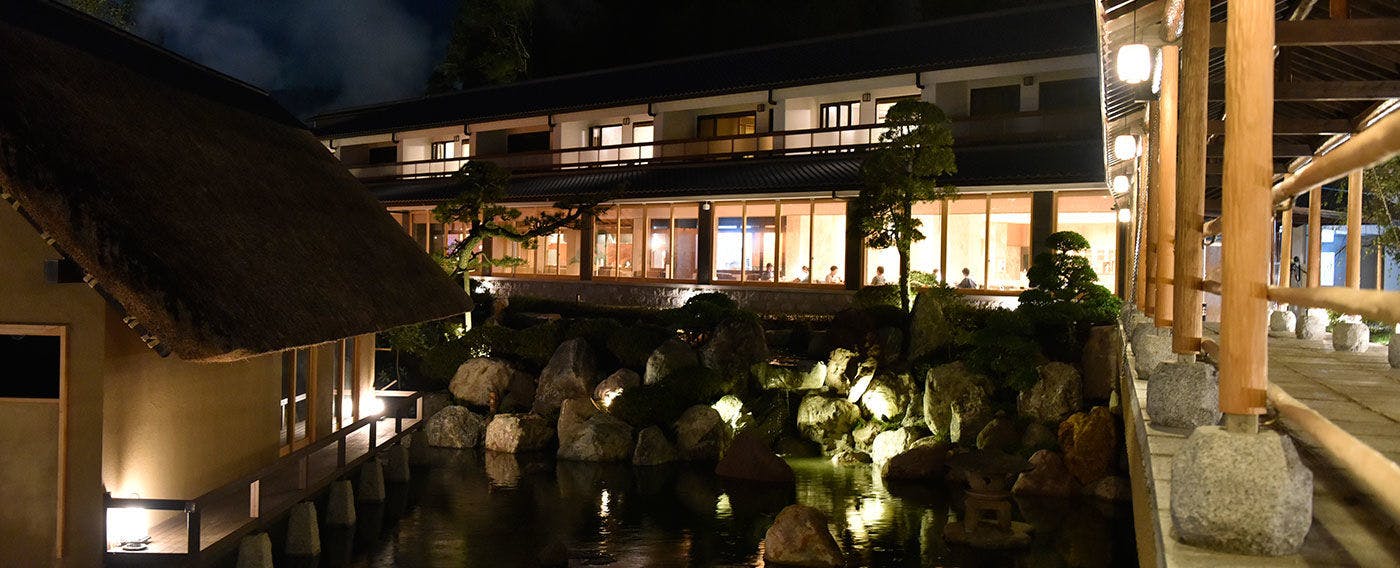 The World of Kannawaen Taking one's first step into this place, one is greeted by the impressive Noh stage and beautiful thatch roof tea house. With koi fish leaping in ponds of all sizes, the prized Japanese character is evident to behold.
Our goal is to go beyond the limits of a simple hot spring ryokan hotel, and allow guests to experience the traditional beauty of Japan. With all of the decorations and furnishing visible on the property, we also strive to provide guests with the world's best in artistic luxury. On the premises are a dining area, banquet hall, bar,
beauty salon, gift shop, and more, and from the elevated outlook one can glimpse stunning Beppu landscapes morning, noon, and night.
We do our best to ensure that in every regard, it is right here that one is able to enjoy the very best of what Beppu has to offer.
Access
345 Kannawa, Beppu,Oita,874-0045,JAPAN
From JR Beppu st. 20 min by Taxi/5 min walk from Kannawa-guchi bus stop/from Beppu I.C. 5 min by CarFrom Fukuoka:2 hours from JR Hakata st. by Express/Drive to Beppu I.C. though Kyushu Expressway, Tosu JCT, and Oita Expressway, then 5 min from Beppu I.C.From Tokyo:1 hour and a half from Haneda Airport by airplane, then 40 min by Taxi
Information
Check-in Time

From 3:00pm to 7:00pm

Check-out Time

Until 11:00am

Tax / Service Charge

Bathing Tax JPY 150 per adult is NOT included in the rates.

Credit cards accepted at this property

VISA / MASTER / JCB / AMEX / DINERS / UNION PAY
Children

Please inform us in case that only bedding, not meals are required for your children.

Pets

Pets are NOT allowed.

Parking

Free of charge for guests;Available from 15:00 to 11:00 in the next morning ;Height 2.1m; Capacity 40 vehicles; Valet Parking Service available

Other policies & conditions

- Please contact us if you arrive later than expected check-in time.- Although smoking is prohibited in the entire building, we provide a designated space for smoking. Please ask us where.- Bathing Tax JPY 150 per adult is NOT included in the rates.