Kurokawa onsen gosho Gekkoju
A resort that transcends time, in a forest that admires the beautiful moon.At a place where you can gaze at the moon of Japan in its full beauty,wanting to have a resort that's like a hiding place that nobody else knows about,with that desire in mind, we finally arrived at Kurokawa Onsen.'Kurokawa-Onsengosho Gekkouju' is an innwhere you can enjoy an open-air moonlight bath,gazing at the moon shining in the heavens.Eight buildings sole, on a land covering fifteen thousand square metres.Full of pleasant surprises, with each room having its ownunique feeling plan and unique room tags.With the sound of the wind as it passes through the forestand the sounds of little birds chirping in the backdrop,surrounded by just your favourite items and the tastiest foodswith comfort, yielding to the simple flow of time.Such is this inn, promising refined luxury.
- VAT is included, but bathing tax (around JPY 150 per adult) may NOT be included.
- Price in USD is based on the exchange rate as of today and might be different from that of the booking date.
Foods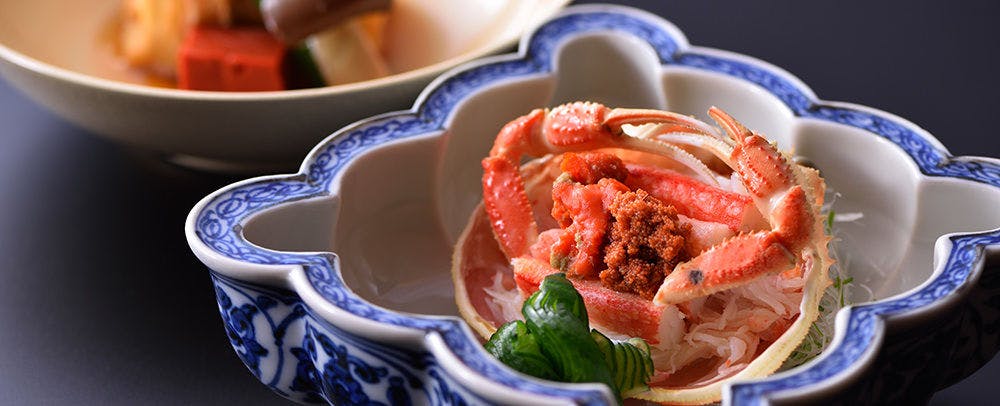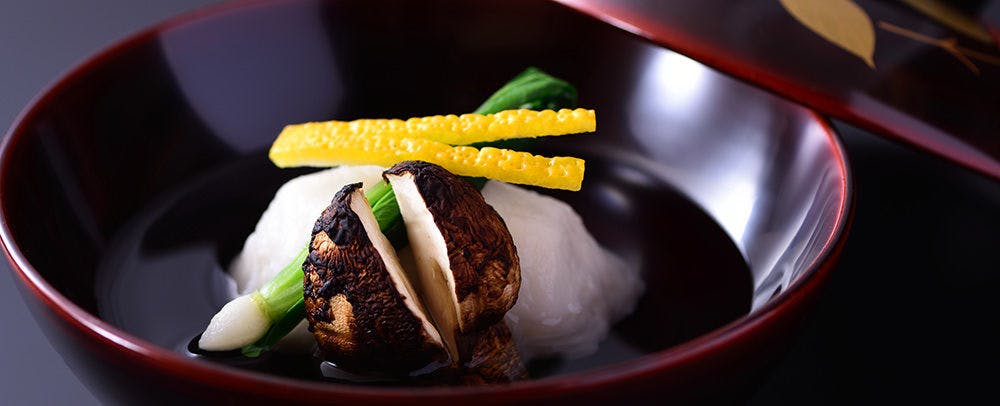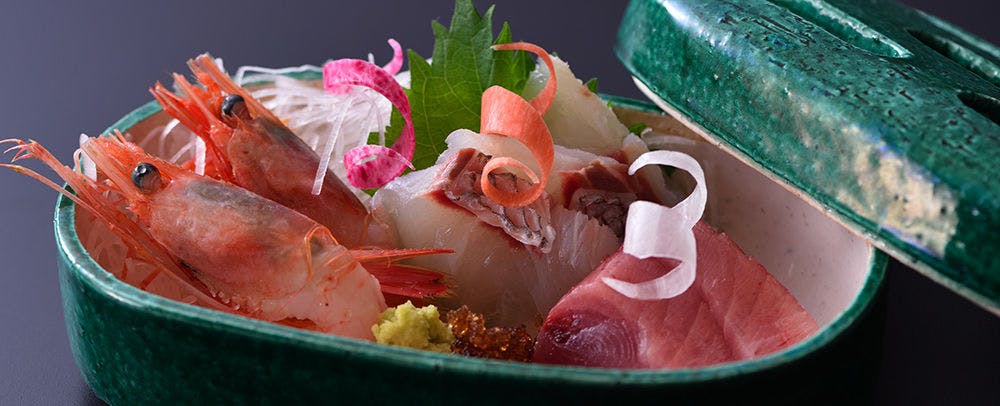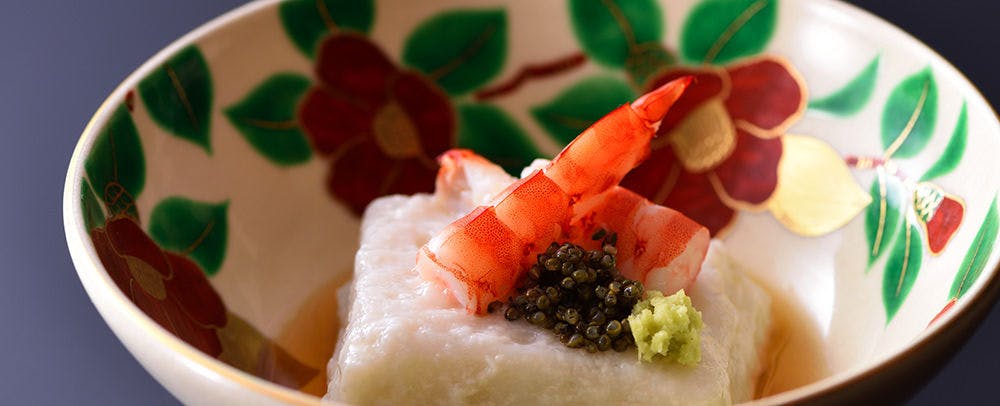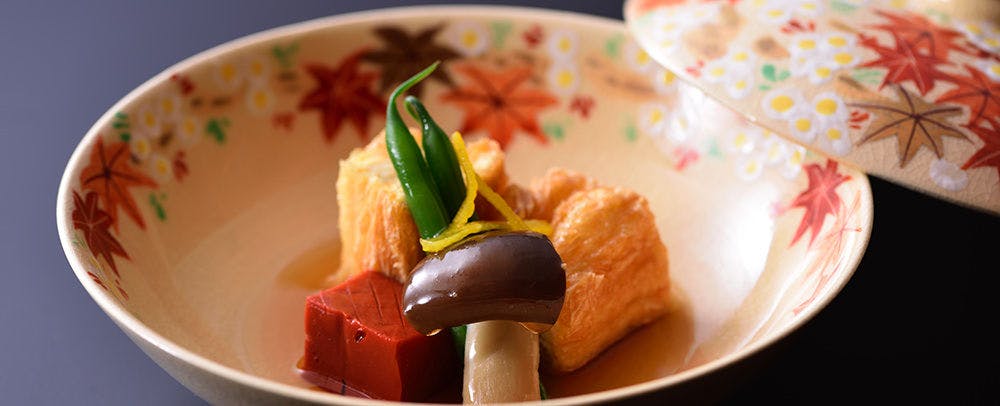 Taste all of the season from each of the four seasons of Kyushu Kyushu, a land blessed with the bounties of the mountains and sea food, is rich in ingredients that enhance your gastronomical experience, from brand beef and local vegetables to natural herbs and flowers as well.
At Gekkouju, the meals are prepared with care and devotion to bring out the best of the four seasons, using Higo beef, Aso-ō, Takezaki crab etc. the ingredients are carefully selected from the seasonal flavour that Kyushu prides in. Enjoy a variety of dishes that cherish new excitements whilst respecting tradition and legacy.

Baths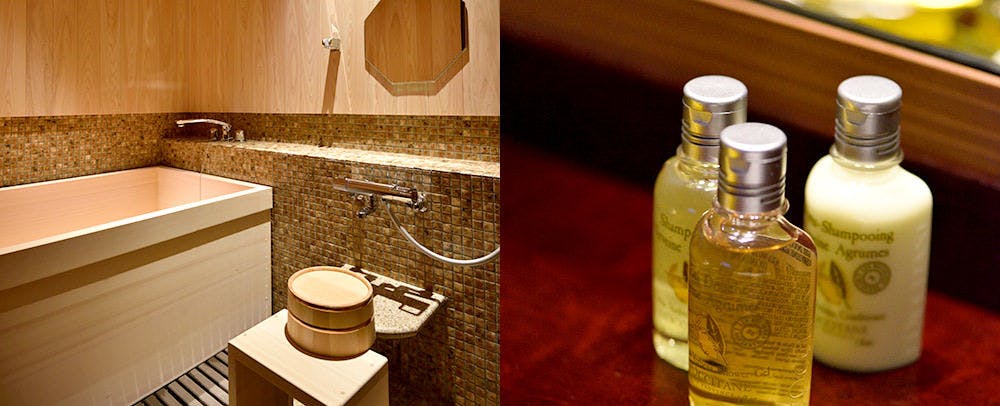 An open-air bath to watch the stars rain Apart from the indoor bath and outdoor baths with each room, on the top of the premises there is an open-air bath where you can enjoy the scenery of Kurokawa. The caldera of Mount Aso in the south and beautiful mountains of Oguni in the north,
enjoy a breathtaking 360 degree view in this with flowing hot-spring source water.
The best part is at night-time; with crystal clear air and a full sky of stars, as though showering from the heavens, immersed in the water in moments of bliss sparkling under the moonlight.
A luxurious outdoor bath embraced by the four seasons of Japan and a shining starry sky.

Facilities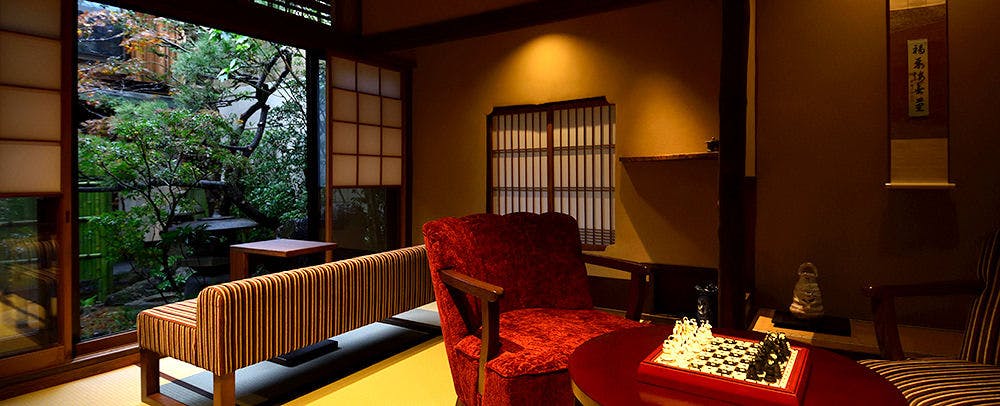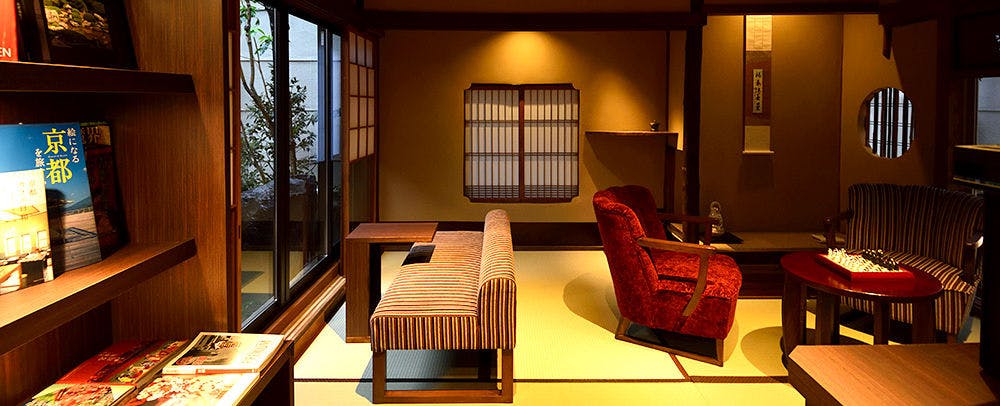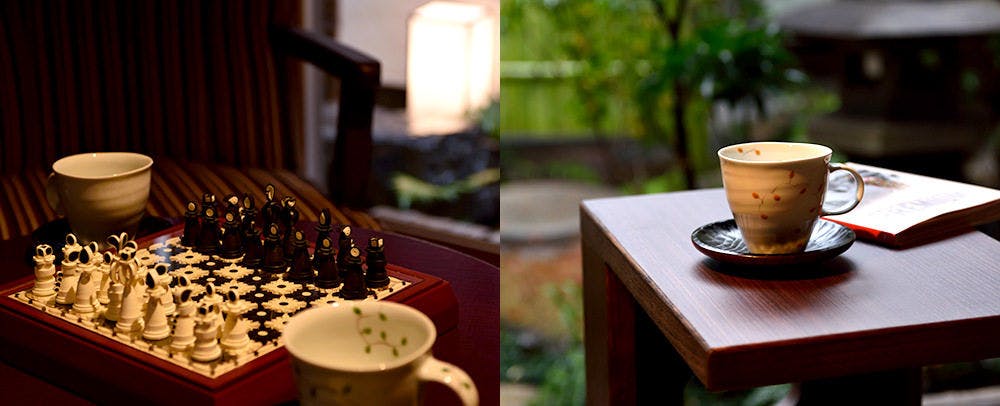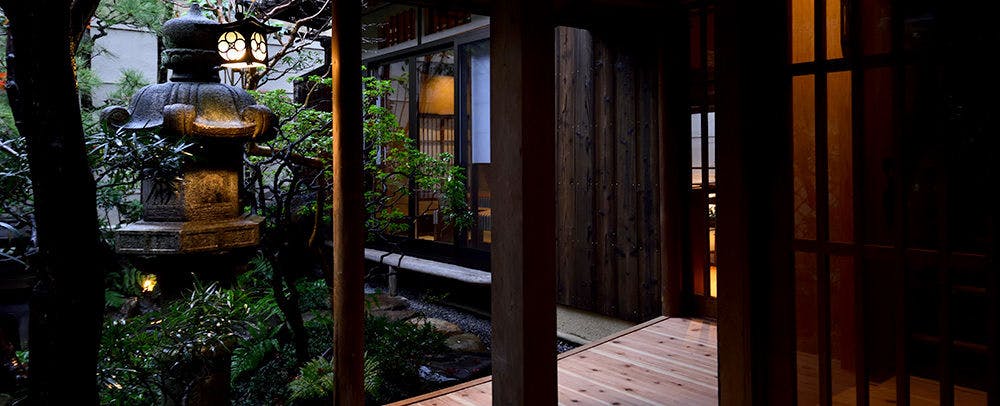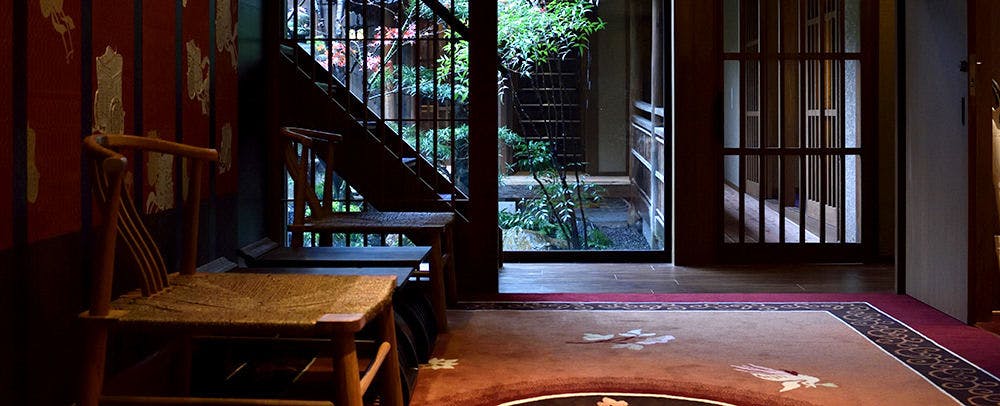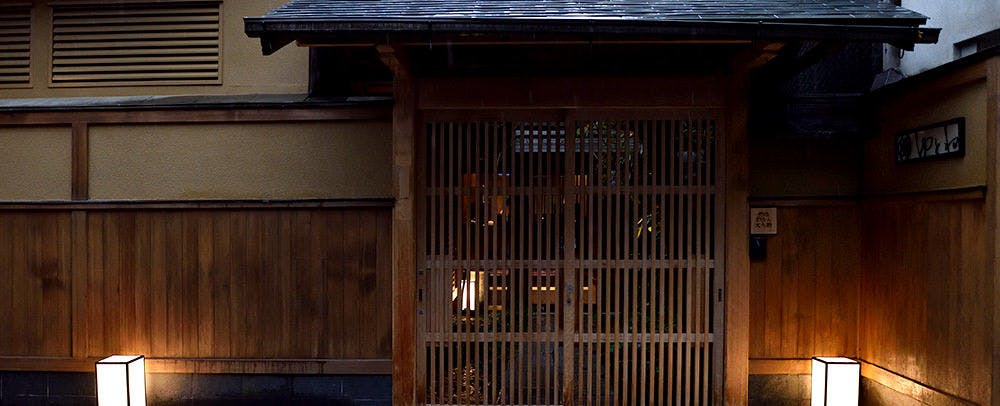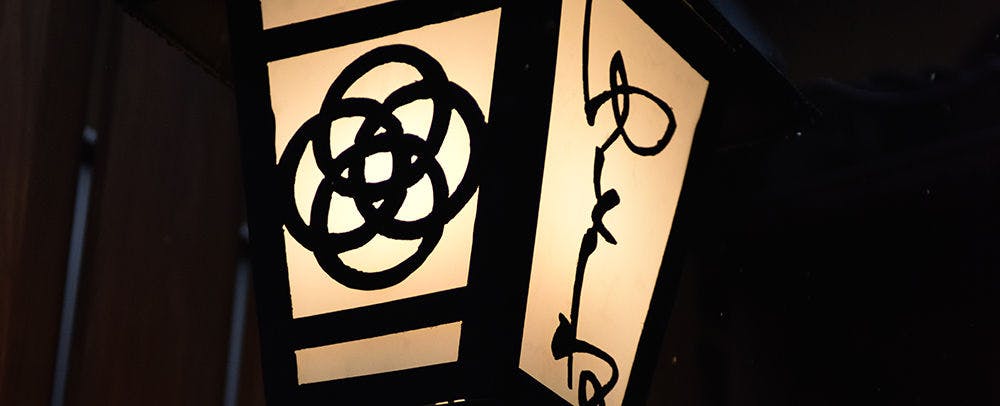 The Inn's esthe, a place of healing through the power of natural remedies After healing with crystal clear hot water, enjoy a therapeutic time, wrapped in the clear air and rich nature of Kurokawa. At 'Yūan Amatsu' on Gekkouju's premises all wholesome treatments are gently performed by hand, utilizing natural oils and remedies tailoured to the physical condition and problems of the guest. Liberated from daily stress, spend a luxurious time immersed in utmost comfort.

Yūan Amatsu
At Gekkouju you can experience 'Himalayan Therapy', rare even in the whole of Japan, a therapy centered on the mountainous plants of the Himalayas, utilizing natural remedy oils that relax the whole body. Also offered are oil lymphatic drainage, head-therapy amongst other hand massages. Enjoy from a healing menu to gently sooth the whole body.
Access
6777-2, Oaza Manganji, Minamioguni-machi, Aso-gun,Kumamoto,869-2402,JAPAN
By car
Fukuoka City → Kyushu Expressway → Oita Expressway Hita IC → National Route 212 → National Route 442 → Gekkoju (122km, approx. 2 hours 12 minutes)/ Kumamoto Airport → Prefectural Road 36 → Prefectural Road 339 → Prefectural Road 12 → National Route 212 → National Route 442 → Gekkoju (59km, approx. 1 hour 24 minutes)/ Kumamoto City → Prefectural Road 28 → National Route 57 → Prefectural Road 339 → Prefectural Road 12 → National Route 212 → National Route 442 → Gekkoju (71.1km, approx. 1 hour 54 minutes)/ Beppu City, Oita → Oita Expressway → Kuju IC → National Route 387 → National Route 442 → Gekkoju (72.2km, approx. 1 hour 22 minutes)
Reviews
I stayed here with my mom, my sister and two nephews.
We received great service, both the rooms and the bathroom, everything was spotlessly clean.
The dinner was of superb quality and the seasonings were also good. However, I think that the quantity is perfect for women, but I felt that it could feel less to some men. I am at a loss for words to describe the breakfast. Freshly cooked rice topped off with char-grilled fish, it's the best. I ended up eating too much just from the start of the day.
From check-in to check-out, we were able to relax so nicely without even needing to leave the room.
The hamburgs we got while leaving were also delicious. And they even came with fries on the side!!
I am pleased that I have found yet another resort that I'd like to revisit.
+ More
2017/06/01
This inn is almost perfect in every way. When I booked, I felt that the accommodation fee was high in terms of location, but when when coming back I was so satisfied that I thought it was rather inexpensive. I was wondering if the place deserves a perfect score, but thinking about the stairs, I can see that it could be a little inconvenient for old aged or people with movement ailments. And even I'd still like to use the facility, old as I may be.
First of all, the rooms were wonderful, the outdoor bath with the room was as extravagant as the communal bath, and the view from the room utilizing the terrain was also superb. The private bath's clear sky view was amazing as well, it made my heart feel lighter. Getting notified about the setting sun, we got a nice view of the sunset from the bath and the deck. Meals were also served in the room's irori hearth, we thoroughly enjoyed the chargrilled dishes. The time of departure also felt perfect. We was able to relax at ease just like at home in this large space thanks to the amazing service that was readily available, always ready yet never interfering We were served rice balls for midnight snacks, hamburgs for lunch, and I really appreciated the car wash provided for our dirty car. Thank you so much for everything.
+ More
2017/06/01
I stayed with my 87 and 85 year old aunties, as a group of 3.
Both of them have weak legs, so I was concerned about the steps in the hall and the interiors having many stairs, and that's why I gave the place 4-points for "facilities / equipment" . But having received the option to have both meals within the room made me feel at ease a little. There seems to be a universally-designed room, so you can opt for that and be at peace of mind.
Everything else was just perfect for us.
The sunset from the outdoor bath is wonderful, not to mention that the dishes are delicious too, the chef brought us the dishes and explained us about them, and at checkout we were given red beef burgers and drinks (which were so very tasty).
It was an inn where we felt their 'warm and sincere hospitality' through everything from the food to the service.
All 3 of us are very satisfied.
+ More
2017/05/01
Although it was raining that day, thanks to the roof on top of the open-air bath I was able to relax with peace of mind. I was really satisfied after also using the separate family bath. The room's bath and family bath were very spacious and clean. The temperature of the hot water was not too hot, it was just right. There were plenty of yukata robes and room wear, it was quite convenient. Especially the cotton bathrobe in the after bath lounge was very comfortable. Although the room was of universal-design, I think it would be nice to have a few more railings around steep places and the stairs inside. The meal was carefully made with each ingredient tasting amazing. I guess I can recommend making the rice a bit softer to suit older people. However, all the dishes were delicious, both for dinner and breakfast. Next time I'd really like to try out staying in an other room as well.
+ More
2017/05/01
We stayed for 2 consecutive nights before golden week.
Being just before popular season, we were able to enjoy Kurokawa Onsen with peace of mind.
The hotel was just opened half a year ago, so there was a feeling of freshness, but their service was perfect.
I guess it's a little whimsical of me, but the staff was on our requests right away, like we couldn't finish our onigiri, and they tended to it swiftly, and they received our order for the second day right away like they offered to serve us Oita spiny lobster teppanyaki, I was just really happy with everything. Of course, the taste of the meal was very delicious and the ingredients were used quite nicely, among which the freshly cooked rice was the best. I'm eager to see what kinds of new dishes and services they will add in the future.
Personally I feel it'd be a great addition if they could arrange for something like Jersey brand milk after taking a bath at the private open-air bath. It is nice to have some simple pleasures after a bath.
Personally I think that the inn has the potential to be the number one in Kyushu.
Perhaps the price is a bit on the high side, but really, be sure to stay here at least once if you can.
"But it feels cheap, no?" That's what you will feel after spending some great time here.
I'm looking forward to coming here again in a year.
+ More
2017/04/01
Information
Check-in Time

From 3:00pm to 6:00pm

Check-out Time

Until 11:00am

Tax / Service Charge

Bathing tax is not included (150 yen per person)

Credit cards accepted at this property

VISA / MASTER / JCB / AMEX / DINERS / UNION PAY
Children

Children meal plans are available
Please select from either option and let us know when you make a reservation

Small Kaiseki Cuisine (Japanese Traditional dishes) *Suitable for elementary school students
Children plate *Suitable for pre-school child


Pets

Pets are NOT allowed.

Parking

Free of charge for guest during stay/Capacity: 10/No valet service available

Other policies & conditions

Please be sure to contact us when your check-in time will exceed 6:00pm