- VAT is included, but bathing tax (around JPY 150 per adult) may NOT be included.
- Price in USD is based on the exchange rate as of today and might be different from that of the booking date.
Foods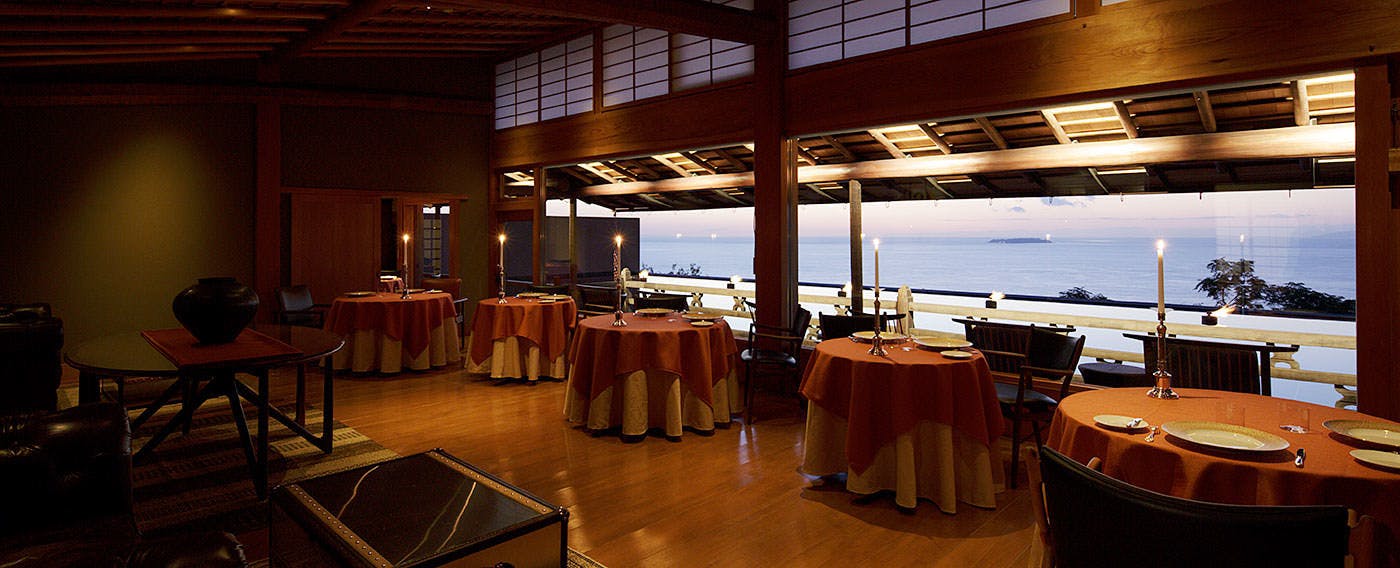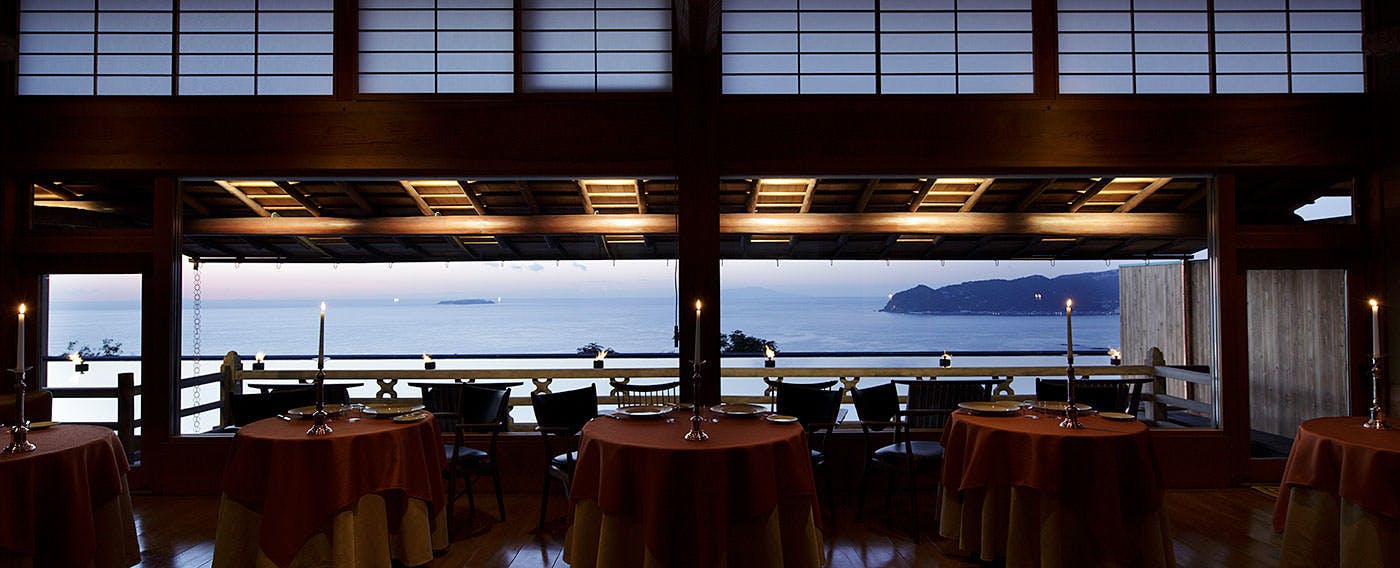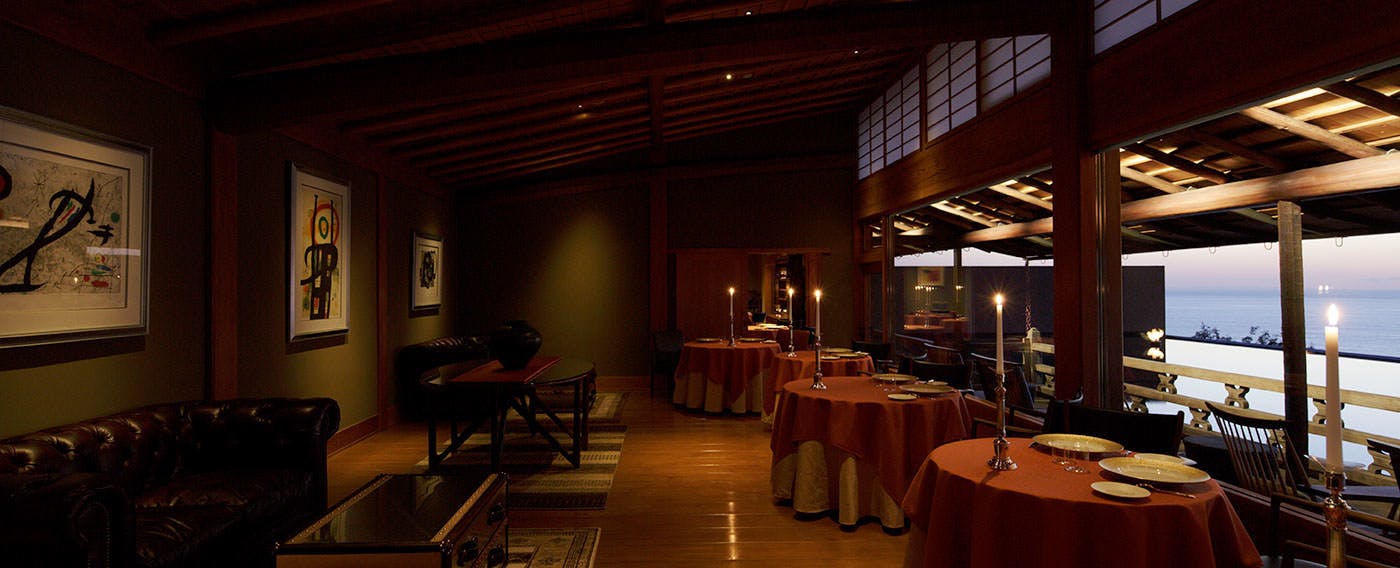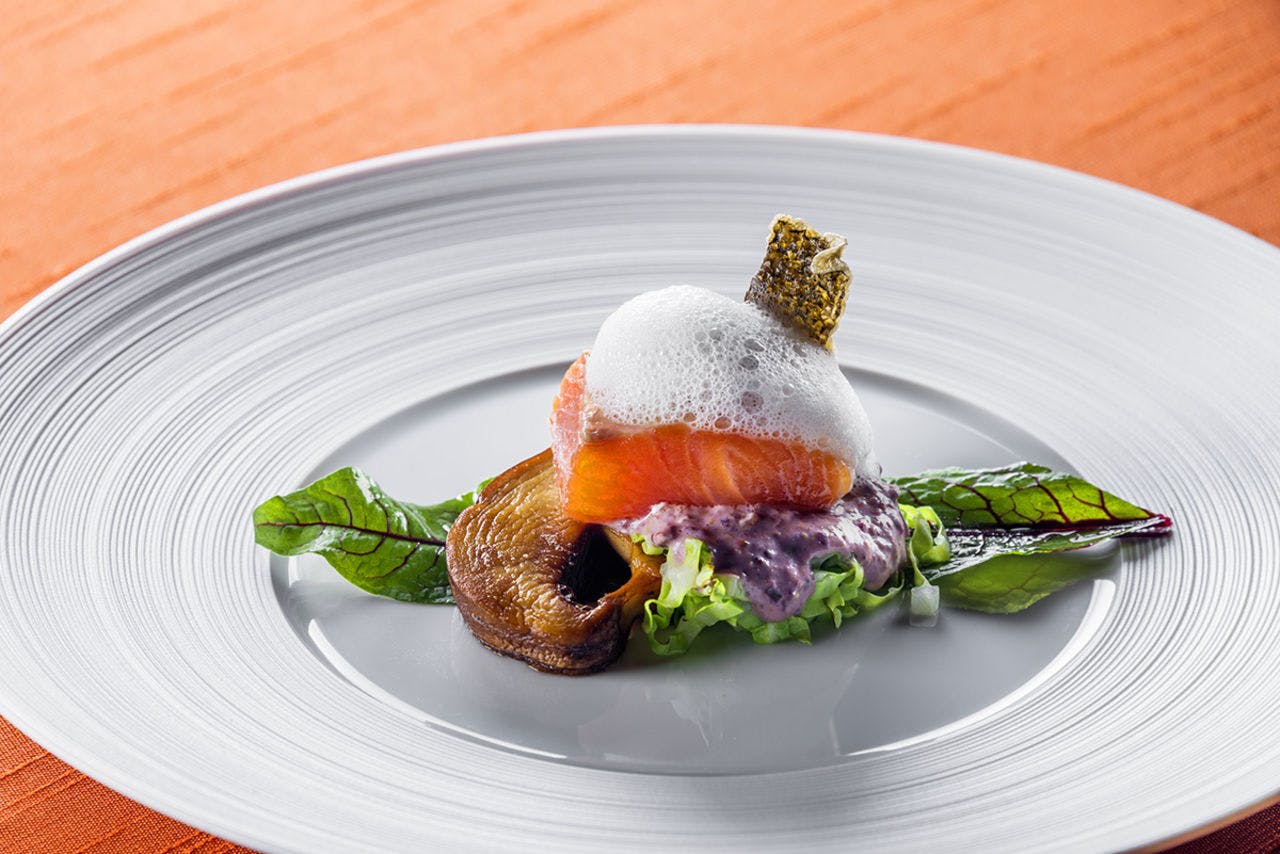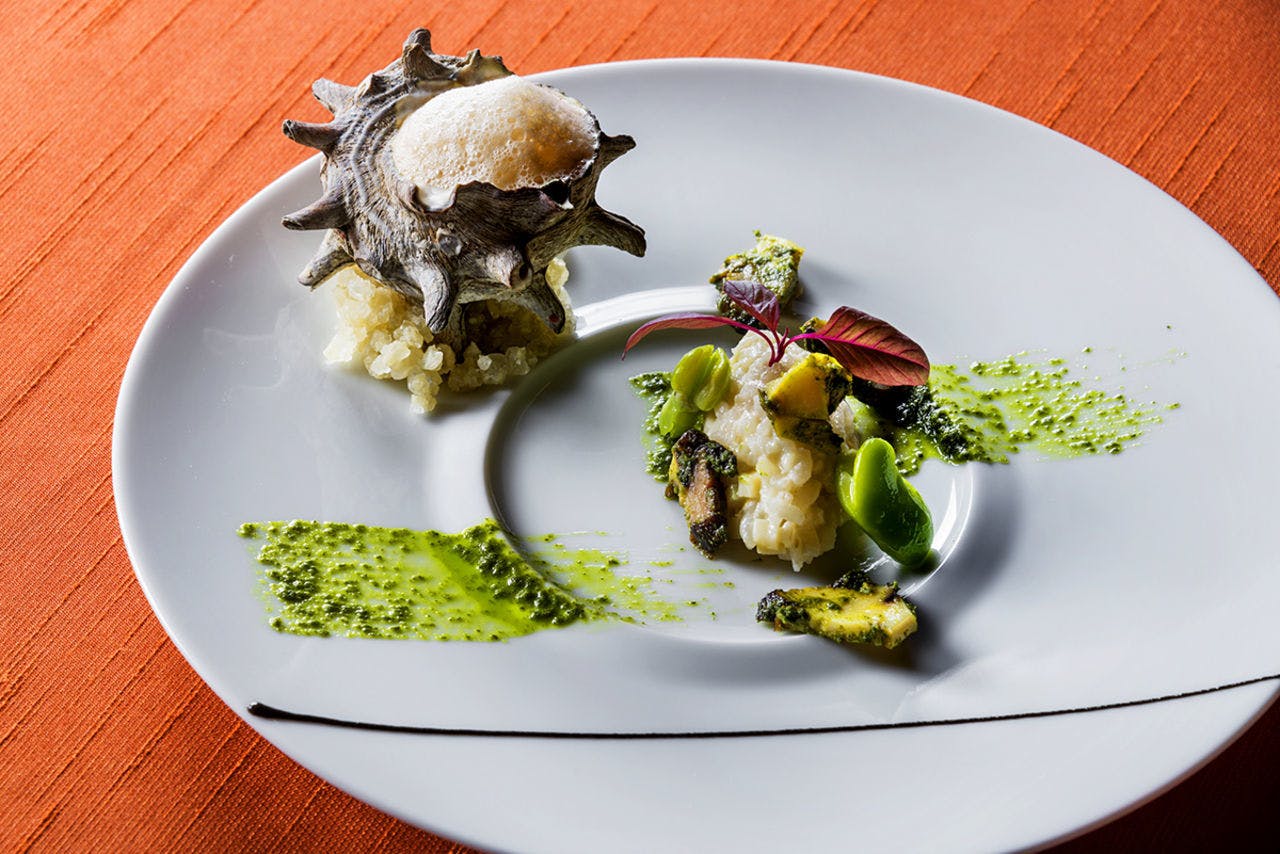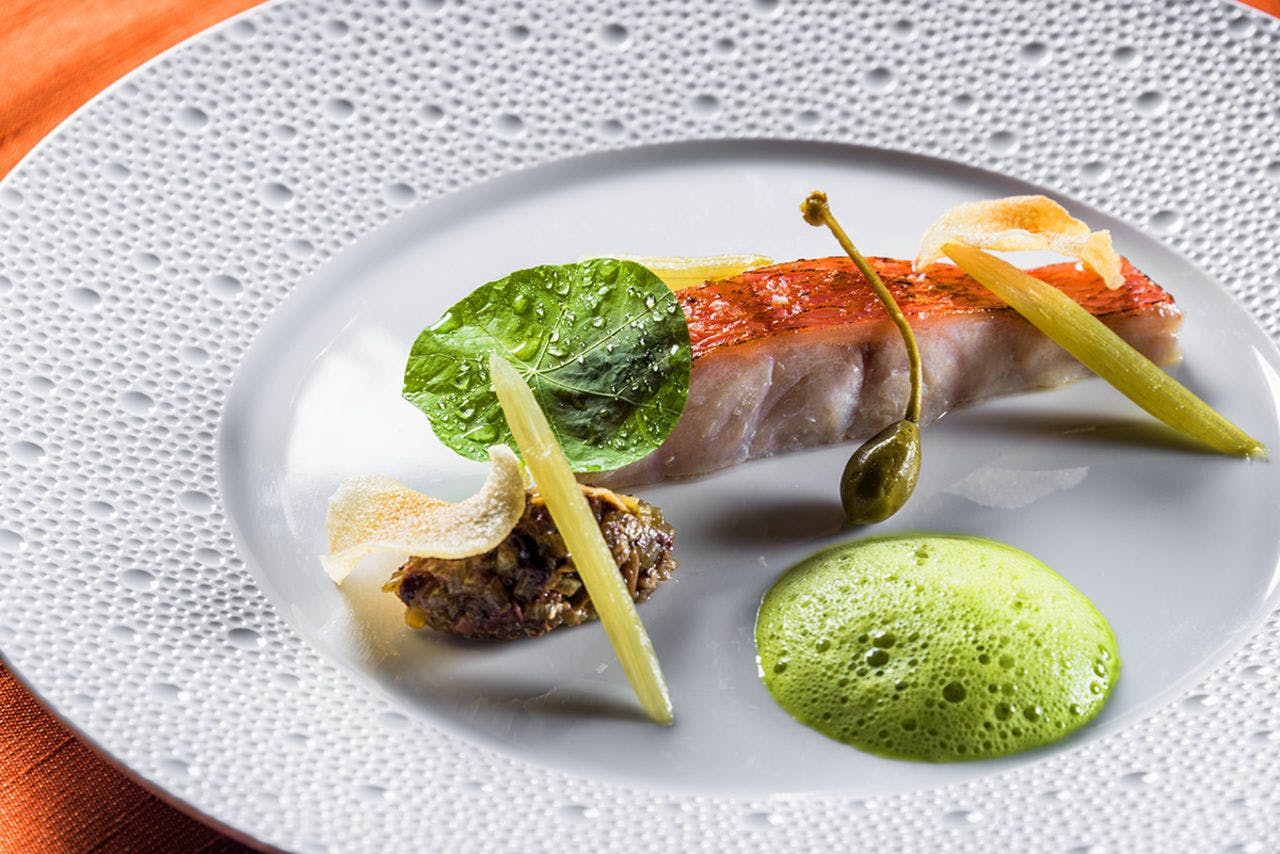 Locally produced and consumed The restaurant seeks to use local produce wherever possible. We offer sumptuous French cuisine that are not bound by a single culinary tradition but combine genres freely. Atami is famous for its fresh seafood from the bountiful waters of the Sagami-Nada Sea, but we source the finest foodstuffs from all over Japan, and prepare them according to recipes that bring out their best characteristics.
Baths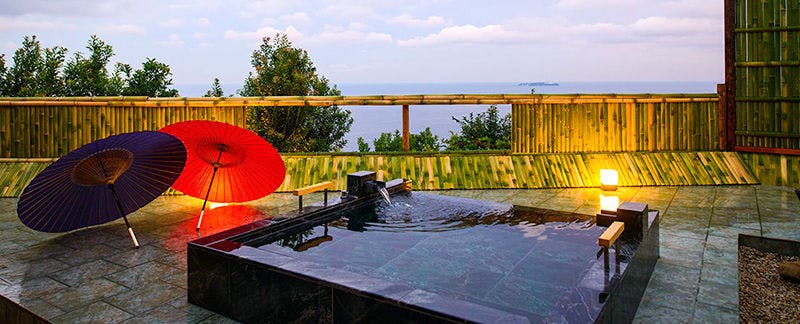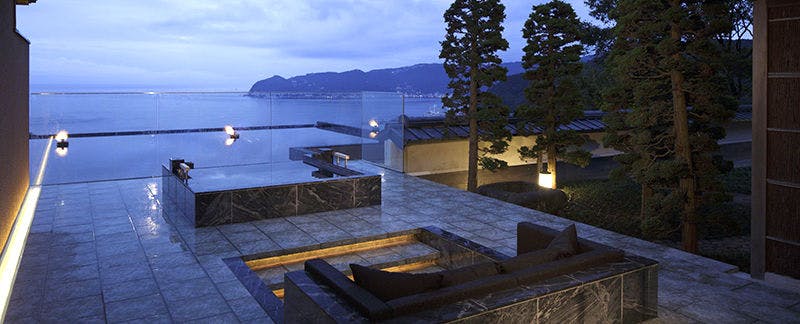 RELAX AND UNWIND in your own hot spring bath Every guest room has its own hot spring bath, allowing you to enjoy the renowned Atami springs
Facilities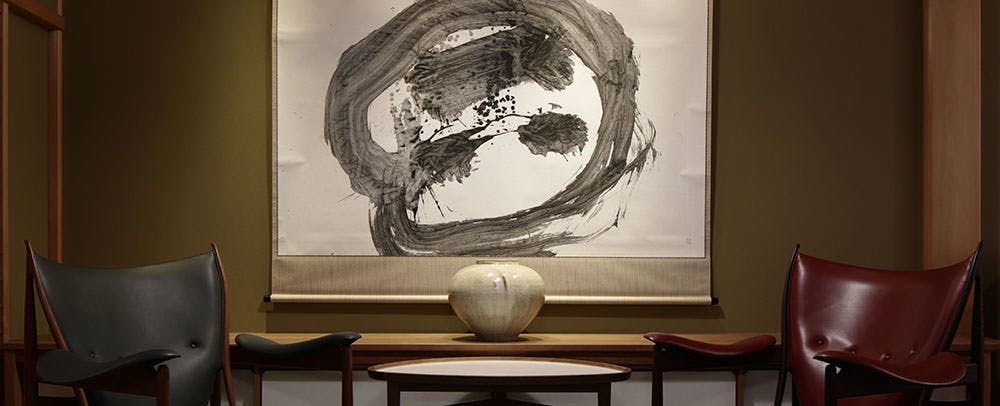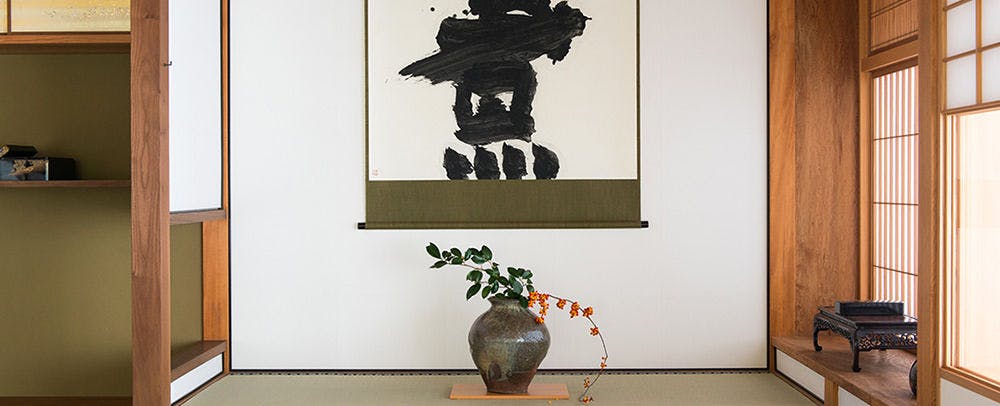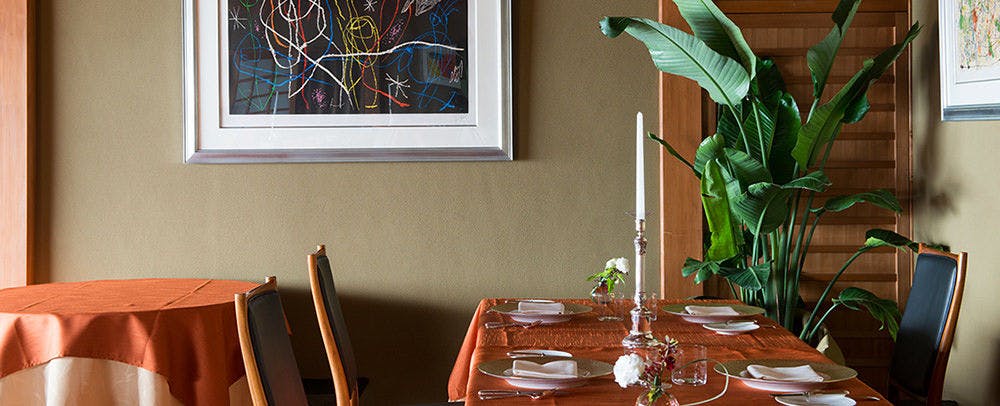 Beautiful scenery and exquisite dining experience Atami is abundant with natural blessings given from the Sagami Bay.With the boundless ocean, the calm weather and the good spring quality, it has been one of the most popular hot spring resorts, loved by many literary figures of the times. In this aesthetic landscape overlooking Hatsushima, the Izu Peninsula, Oshima, the Miura Peninsula and the Boso Peninsula, a European style ryokan opened on October 27th. The exquisite french cuisine offered by this ryokan will take you to a wonderful world of gourmet cuisine.
Access
1993-237 Atami, Atami-shi,Shizuoka,413-0033,JAPAN
CAR:
From Tokyo
Tomei Motorway and Odawara Atsugi Motorway (Approx. 90 minutes)
From Nagoya
Tomei Motorway and Mishima/Nekkan Motorway (Approx. 50 minutes)

TRAIN:
From Tokyo Station
Take the Tokaido/Sanyo Shinkansen to Atami Station (Approx. 45 minutes)
From Nagoya Station
Take the Tokaido/Sanyo Shinkansen to Atami Station (Approx. 90 minutes)

Reviews
5 Reviews
Our two nights stay at this hotel was very satisfying due to the hospitality. -Amazing dining experience; very flexible to our request -A sophisticated lineup of the wine -A spacious open hot spring; a nice connectivity with the garden -High quality amenities; felt very welcomed
+ More
2017/05/01
Stayed here last Saturday with my two sons and wife. I had been looking forward to visiting here since I've been heard this place is "an auberge" of HIRAMATSU in Hiroo. Overall, our stay was beyond our expectation; very friendly staffs with a big smile, the best combination of new and renewal spaces, a fine view from the room, and the layout of the room was very gorgeous Especially, food…As might have been expected of HIRAMATSU, this place served the best meals. Well, I felt the meat dish was a little bit salty for me however, I really enjoyed all the dishes after all. If possible, I was happier if they could serve us a bit quickly though I understand the restaurant was busy and the menu was a course style. The hospitality of the staffs was outstanding. I have never felt the same level of hospitality from other facilities' staffs as of HIRAMATSU. Every single staff has a nice smile and took care of my small sons well. We would like to stay at HIRAMATSU Okinawa once it is open.
+ More
2017/03/01
This time, we stayed here for celebrating one of my family member's birthday. We were always appreciated the hospitality of staffs of HIRAMATSU every time we stayed. We were very satisfied with the fantastic food made with the local fresh ingredients such as Japanese lobsters and red snappers. (PS: Dear Mr. A.H Thank you so much for your kind services. We will be back to this place again someday for sure!)
+ More
2017/02/01
A fantastic auberge! It is just like they brought the finest dining and service from HIRAMATSU as they are. Compared to the Hoshinoya group, I bet the quality of Hiramatsu is way better; the word-class dining and service…
+ More
2017/01/01
Very satisfied with the fantastic dishes. Regardless of the fact this resort is newly opened, the service and the hospitality of staffs were incredible. It was too bad that the size of the bath tub was not spacious enough to stretch my legs. In addition, though I had been heard the terrace was small, I never expect it was so small like 30cm long. Seems like all the rooms except the corner room at the first floor have the same style as this. Considering the quality of the food the hotel serves; the price is cost efficient. Next time, I would like to stay at room with a bigger terrace.
+ More
2017/01/01
Information
Check-in Time

From 3:00pm to 7:30pm

Check-out Time

Until 11:00am

Tax / Service Charge

Bath tax is required separately. (150 yen for adults)

Credit cards accepted at this property

VISA / MASTER / JCB / AMEX / DINERS
Children

Children under the age of 6 stay for free and will be charged for only meals.

Pets

Pets are NOT allowed.

Parking

Free of charge for guests/Capacity 13 vehicles

Other policies & conditions

Smoking is prohibited inside guest rooms (except for the terrace)