Nazuna Nijo-tei
In a location set slightly apart from the hustle and bustle of Kyoto, this is a luxuriously private space to spend time. While experiencing the natural beauty of Kyoto, the heart of Japanese culture, one can come in contact with the "Culture of Wa" including tea ceremony, kimono, and maiko dancers. Garments, Cuisine, and Lodgings that can only be experienced in this place. Hospitality that richly and deeply fills one's heart. By all means, at least once come and experience the highest caliber time.
- VAT is included, but bathing tax (around JPY 150 per adult) may NOT be included.
- Price in USD is based on the exchange rate as of today and might be different from that of the booking date.
Foods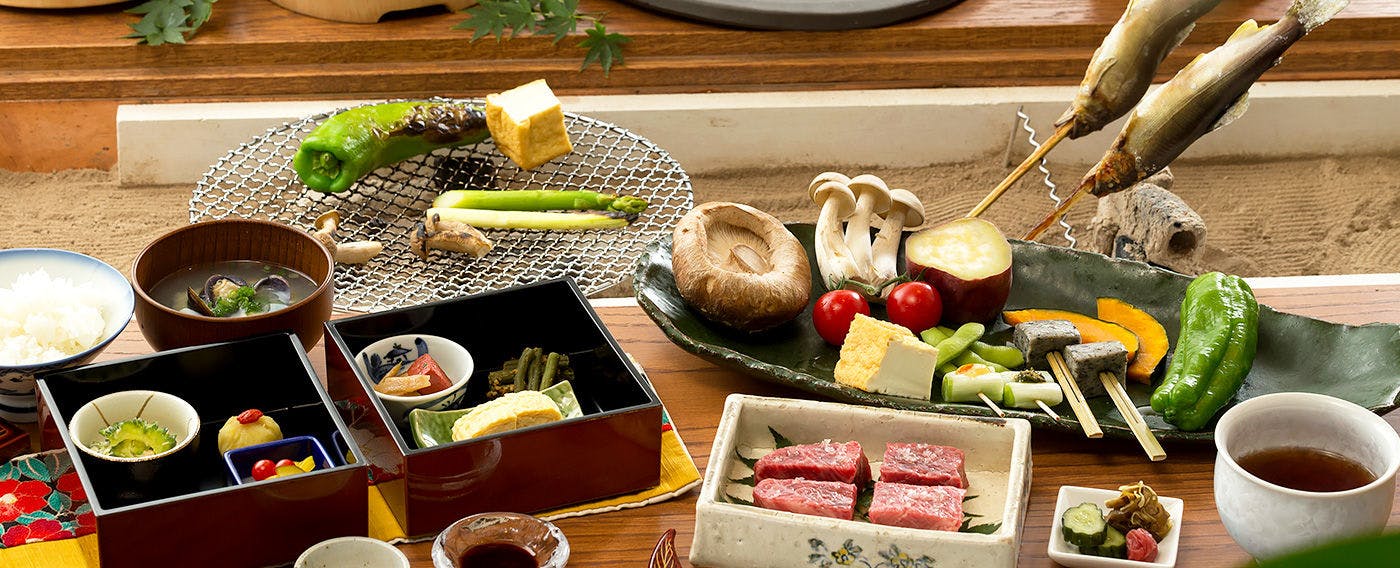 Enjoy Seasons of Japan with dining cooked in Irori Style Appreciate the local cuisine with its seasonal best ingredient.
Irori is a traditional Japanese style of cooking around a sunken hearth.
Ingredients grilled on broiling charcoal develop unique flavor and textures that are different from electronic or gas cooking.
Gather family and friends, relax and enjoy Japanese seasonal food culture.
Baths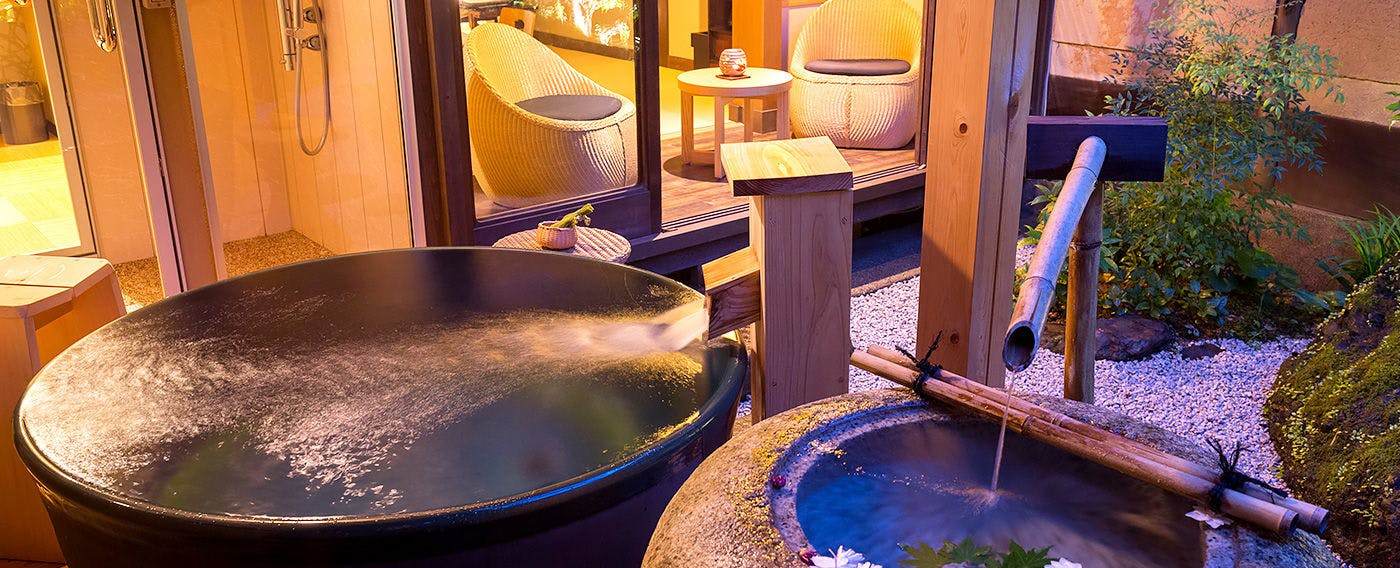 Open-Air Bath in All Rooms Each room has its private open-air bath. Enjoy a total relaxation for your mind and body without worries of time and privacy.
Facilities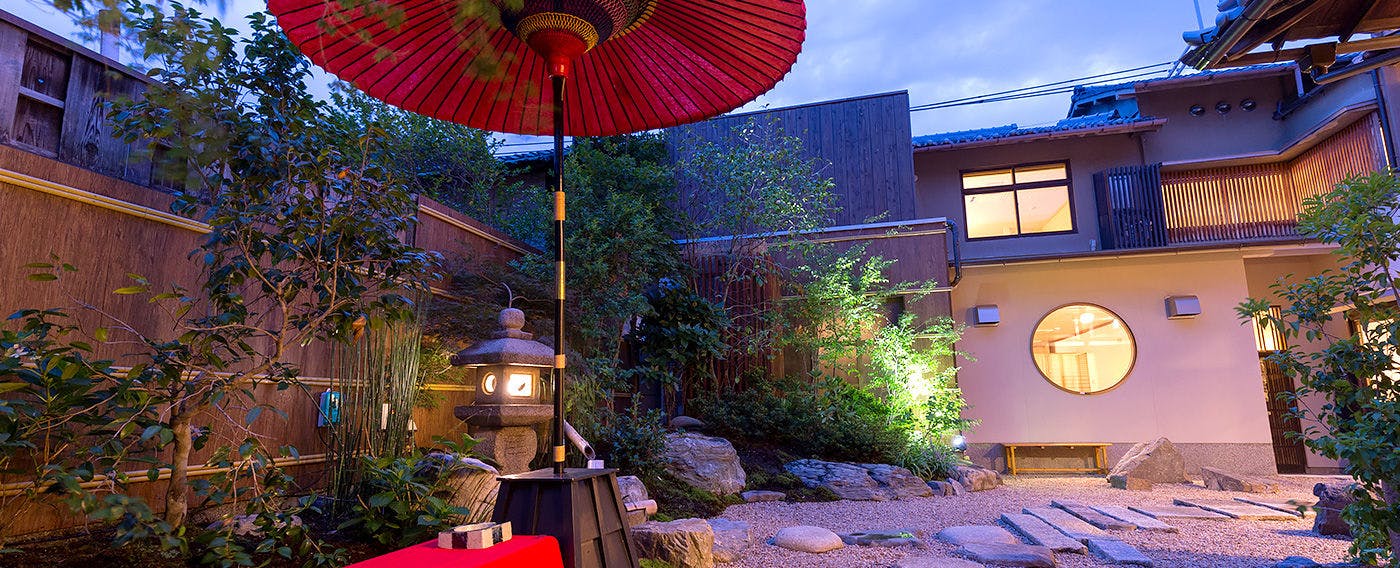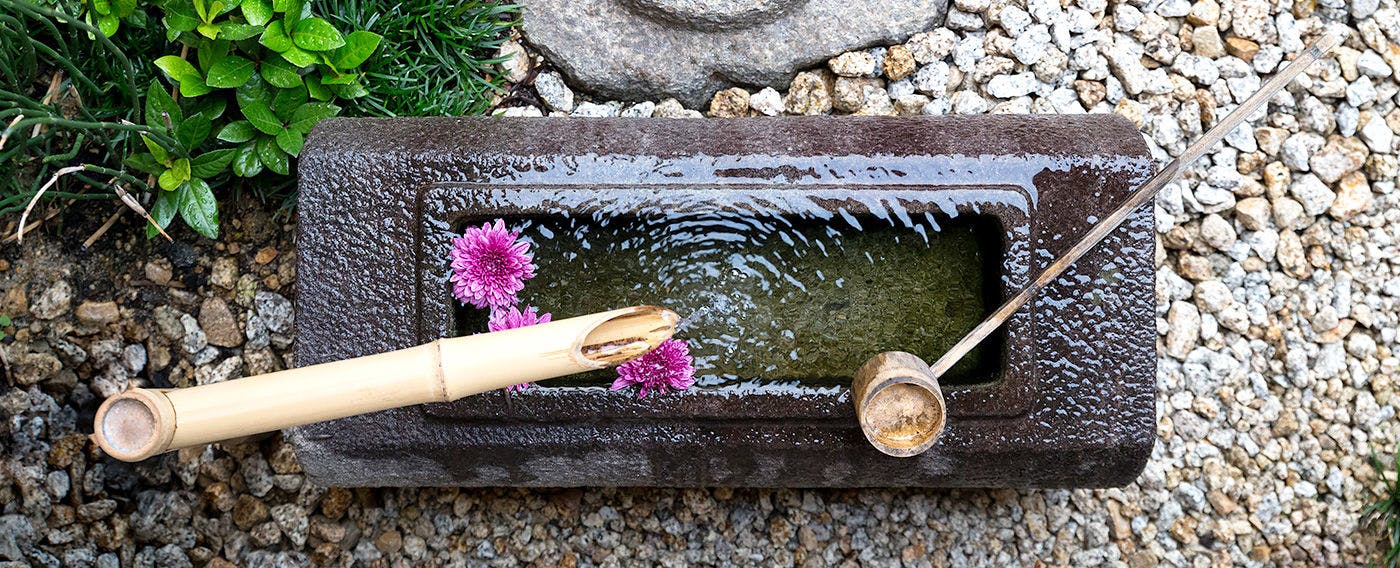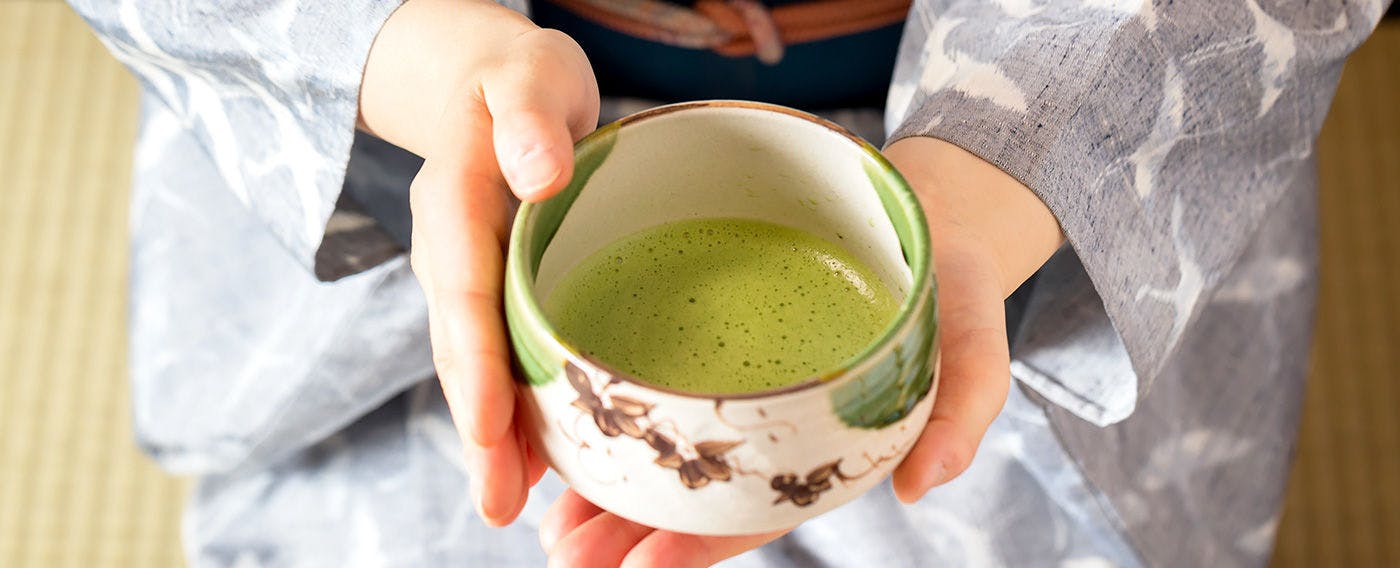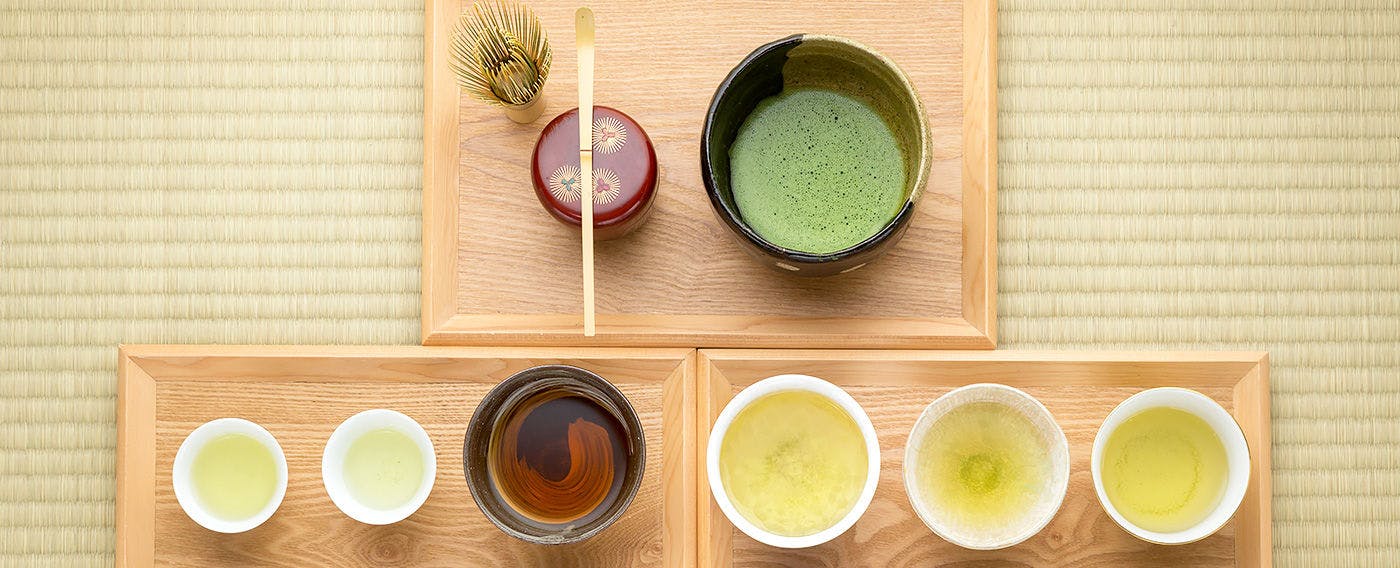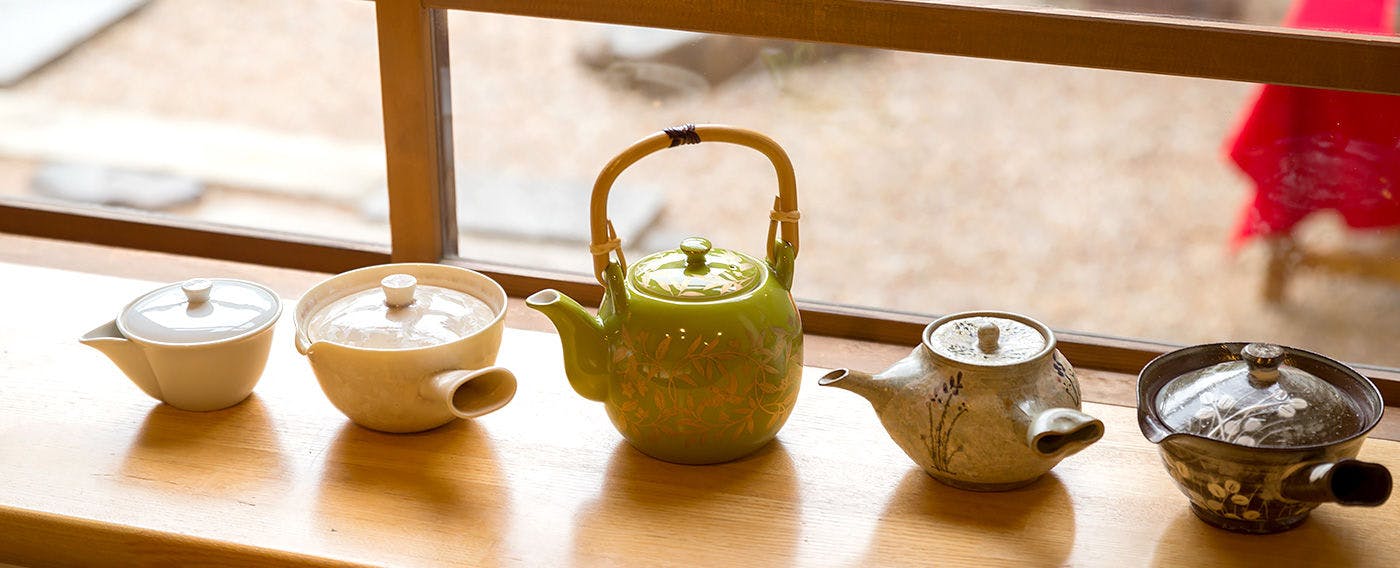 Spend blissful time in the town of Kyoto Enjoy quality time in traditional rooms which were created in Japanese wooden house design with modern comfort elements.
Futons made by Kyoto's long established store and mattresses from the well-known Simmons, ll designed to give you a comfortable stay.

Exclusive Japanese culture experience

Nazuna's concept is to provide various kinds of traditional experiences to our guest. Starts from Japanese tea ceremony, which anyone can enjoy, complimentary tea censer and tea bath are also available.
Enjoy tea, learn the etiquette, understand the history, and be surrounded by its elegant scent, while relaxing and enjoying our hospitality.
Access
580, Kusuriya cho, Aburanokoji Nijo Agaru Nakagyoku,Kyoto,604-0066,JAPAN
By Train
5 min by walk from Nijyoujyou mae Station, Exit No.2 on Subway Tozaisen Line
13 min by walk from Karasumaoike Station on Subway Karasuma Line
15 min by car from Kyoto Station on JR Line or Sanjyo Station on Keihan LineBy Airplane:60 min by car from Osaka Itami Airport

Reviews
I think the concept it solid; it's an inn that's certainly different from the other places. I'd like to stay here again.
+ More
2016/09/01
One hundred percent satisfied here. I wanted to please my boyfriend who's a foreigner, and this was the place that I decided on. The rooms were so clean, just like the photos, that my boyfriend was at a loss for words being so happy. Even the staff were so warm and courteous that we didn't really want to leave when the time came...... Such good quality for such a low price, it's really a bargain. m(_ _) m
+ More
2016/07/01
The service of the staff was polite, friendly and quite wonderful. This lodging only has a few units, each one has its own construction style, we chose the type with a bedroom on the second floor. Being a remodelled machiya townhome the furniture also seemed like antique and expensive, reminiscent of the ancient capital Kyoto. The pyjamas there are also quite comfortable, they're actually quite hard to find if you'd want to buy. We got guided on our way back. Since the inn wanted to preserve the original feel of the townhome, in our suite, the toilet was a bit far from the bedroom, there was a telephone in the bedroom, but there was no telephone in the living room, then there was some gadget to connect to something, maybe it was an intercom to the front-desk. As for the baths, there was only the open air bath along the inner garden (there was a spacious shower room in front of the bath), but all that's nothing compared to the enjoyment that we got by experiencing living in an olden machiya townhouse. One thing to mention is breakfast at the hearthside. It was very nice to cherish the food prepared with seasonal flavors of Kyoto, with a focus seasonal vegetables. I was also glad to receive the courteous service of the staff and also engage in nice conversations. I really appreciate the wonderful and luxurious time we spent there. We even got desserts after the meal, it seemed more like dinner than breakfast. All in all, we had a great and memorable lodging experience. To everyone at Nanajūnana-Nijōjō, thank you so much.
+ More
2016/06/01
Although it's just opened this year, I have to say, it is so clean and pleasant to stay. True to the name of the inn, going through the entrance, you are greeted by the scent of tea, the rooms are all unique and have tea inspired names. The staff was also very kind and courteous, they enquired about my dinner preferences and helped me plan a schedule for the next day, so I was able to spend some great time in Kyoto. They were attentive in their choice of amenities, as well as fine details down to the linens, and it made me want to just relax in my room.The atmosphere of the townhouse could be felt throughout, even though it was in the middle of the city, I was surprised by the spaciousness of the open air bath and the adjacent inner garden. They had also prepared bath towels quite neatly, and I was able to enter the bath comfortably the next morning as well. On top, they also served us some amazing breakfast with rice! Thank you very much for the nice and relaxing time. Furthermore, just to add to the comfort, I think it'd be nice if there could also be some regular room-wear along with the provided pyjamas. I felt it'd be even nicer if even the towel that I got at check-in would have the scent of tea. I would love to be staying here when I go to Kyoto next time. To say the truth, it's a place that I'd want to keep to myself for lodging like a secret, rather than commenting about it lol
+ More
2016/03/01
Being a new Ryokan (or should I say Hotel?) the whole facility is very clean. The rooms were spacious, clean and comfortable. The toilet was also quite spacious. I must also mention that the outdoor bath is so pleasant... I was able to rid my weariness calmly. Besides, the bed was also very comfortable, I could not sleep well during the trip and always woke up about an hour around waking, but here I woke up to my alarm without ever opening my eyes during sleep time. Also, a lot of the staff consists of young people. And just from out of the blue, I felt so energized like I had the feeling that I was ready to work hard for something, it felt quite pleasant. Breakfast was delicious, too. The staff grilled the vegetables in the Irori hearth and everything tasted splendid. The best part was that the whole experience was so good, right from check-in to check-out. Good luck for the future. Thank you for treating me so well.
+ More
To-roku dekinai
Information
Check-in Time

From 3:00pm to 12:00am

Check-out Time

Until 11:00am

Tax / Service Charge

Nothing in Particular

Credit cards accepted at this property

VISA / MASTER / JCB / AMEX / DINERS / UNION PAY / DEBIT CARD
Children

Children are NOT allowed.

Pets

Pets are NOT allowed.

Parking

N/A

Other policies & conditions

Children 6 and under are not allowed at this property. All guests older than 12 are welcome.Please inform us when your arrival will be after 21:00.All rooms are Non-SmokingWe prepare Japanese Style bedding for more than 3 persons.