Asaba
The great teacher of Japanese Buddhism, Kobo Daishi, is said to have bathed every morning in the Katsura river and got refreshed. A few minutes from this river, Asaba submerges you in the Japan of legends: traditional 'Noh' theatre performed by the riverside. After a game of golf in picturesque surroundings, leave your kimono behind and enjoy the pleasures of an open-air bath filled with hot spring water. The restaurant serves traditional dishes with delightful combinations of sweet and savoury flavours. In the lounge, relax in a chair designed by famous Italian-American Harry Bertoia and in the garden, be inspired by the sweet fragrances of nature.
We are sorry but we don't have any rooms available now.

Please select another Ryokan.
- VAT is included, but bathing tax (around JPY 150 per adult) may NOT be included.
- Price in USD is based on the exchange rate as of today and might be different from that of the booking date.
Foods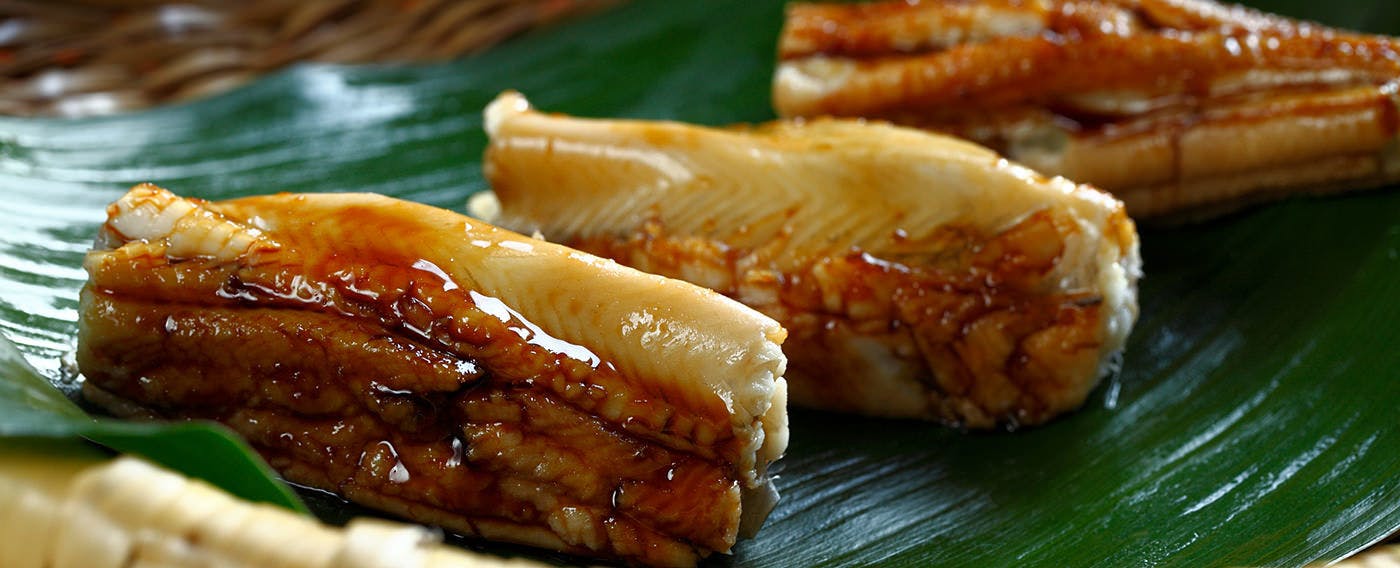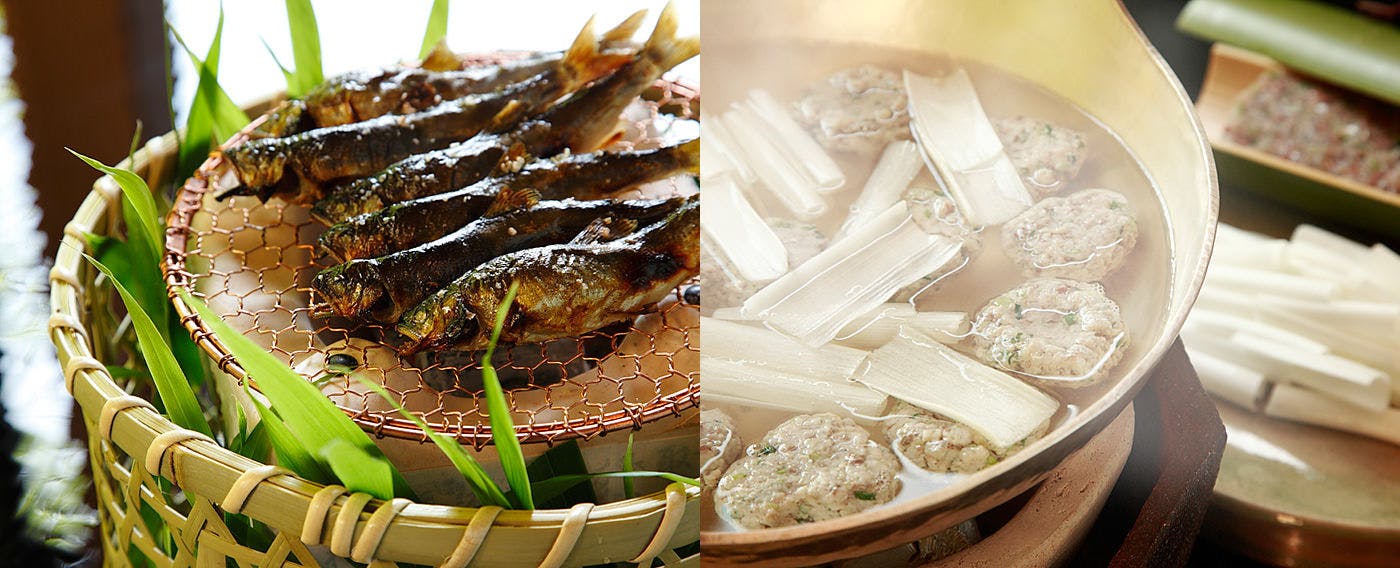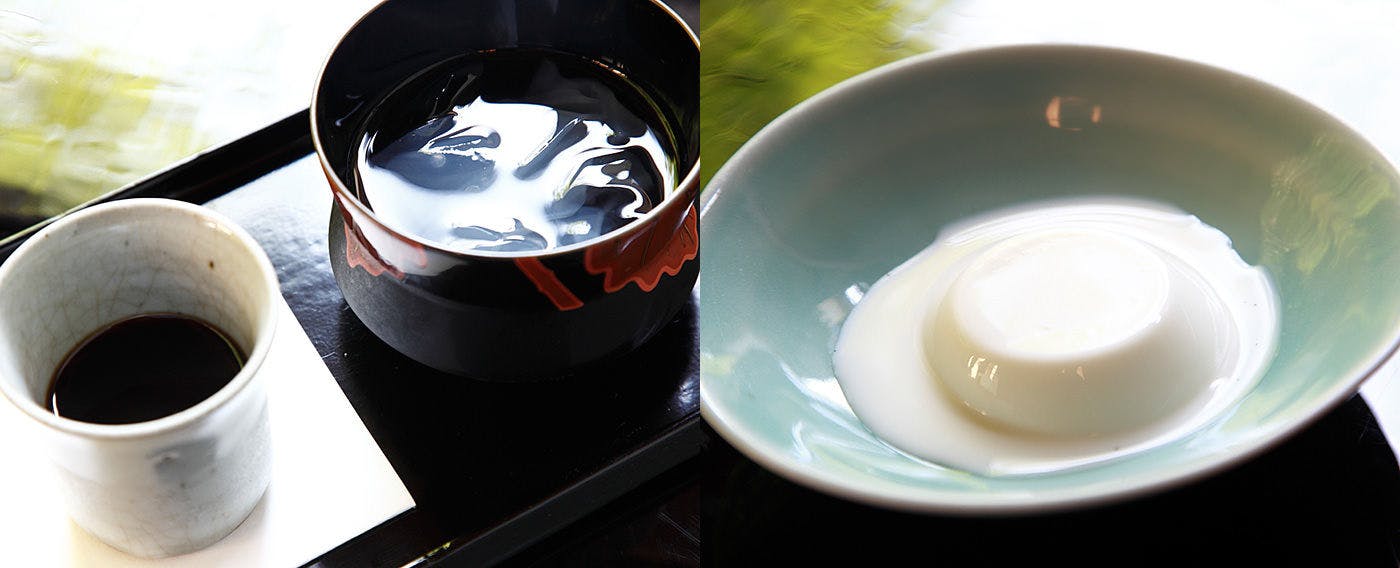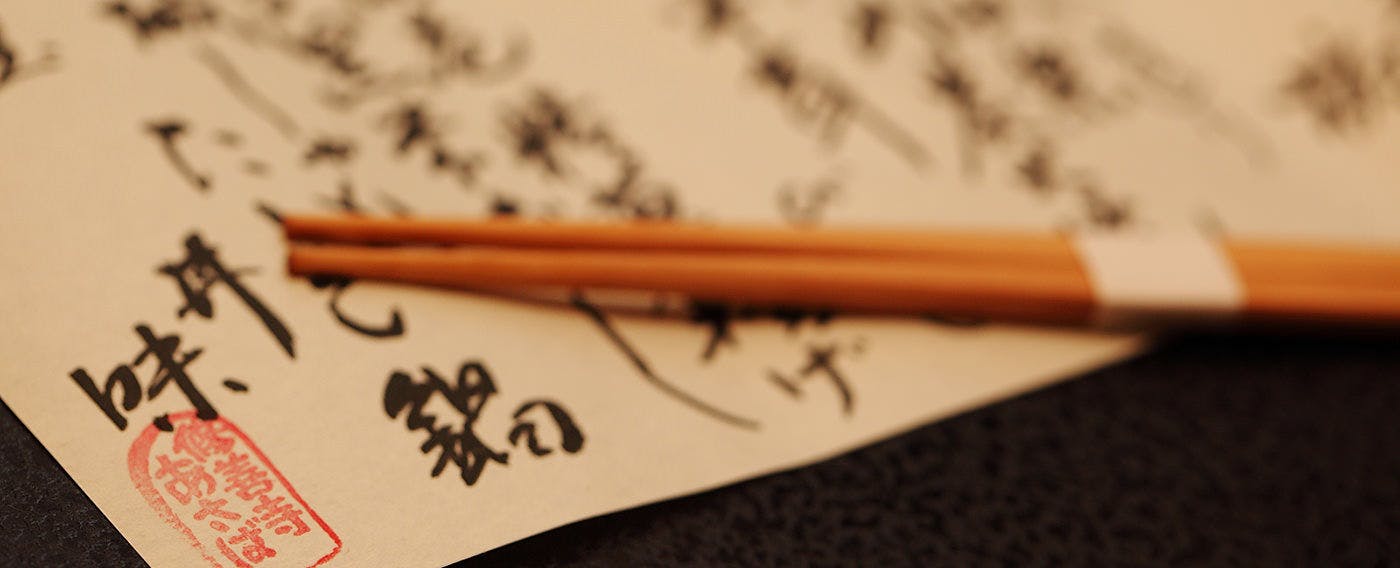 Heart in each dish "Serving a traditional Japanese cuisine using my selection of the fresh & local rich seasonal fish, vegetables and all ingredients will be delivered here on the day. Asaba has kept traditional way of Ryokan Service, as a dining can be taken in the room. What is important is to serve a meal at the right time for a guest's dining pace from our combination between kitchen and our professional butler."
- Shigekazu Noto, Chef *Western-style breakfast is also available. Feel free to ask.
Baths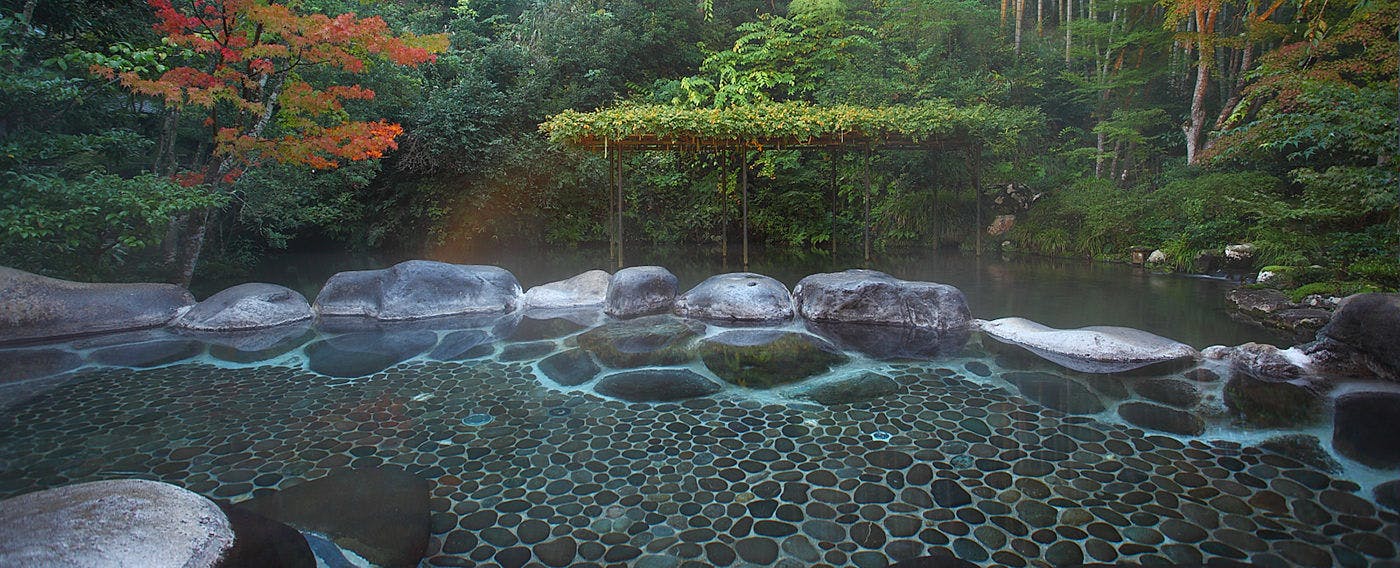 Open-Air Bath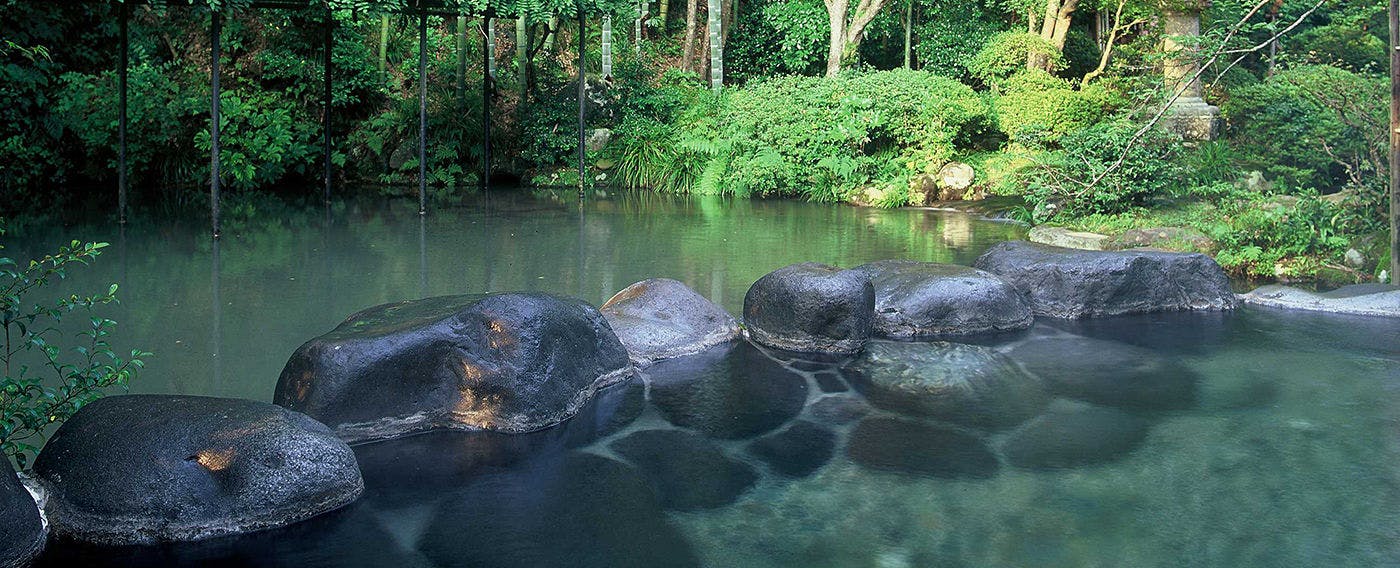 Open-Air Bath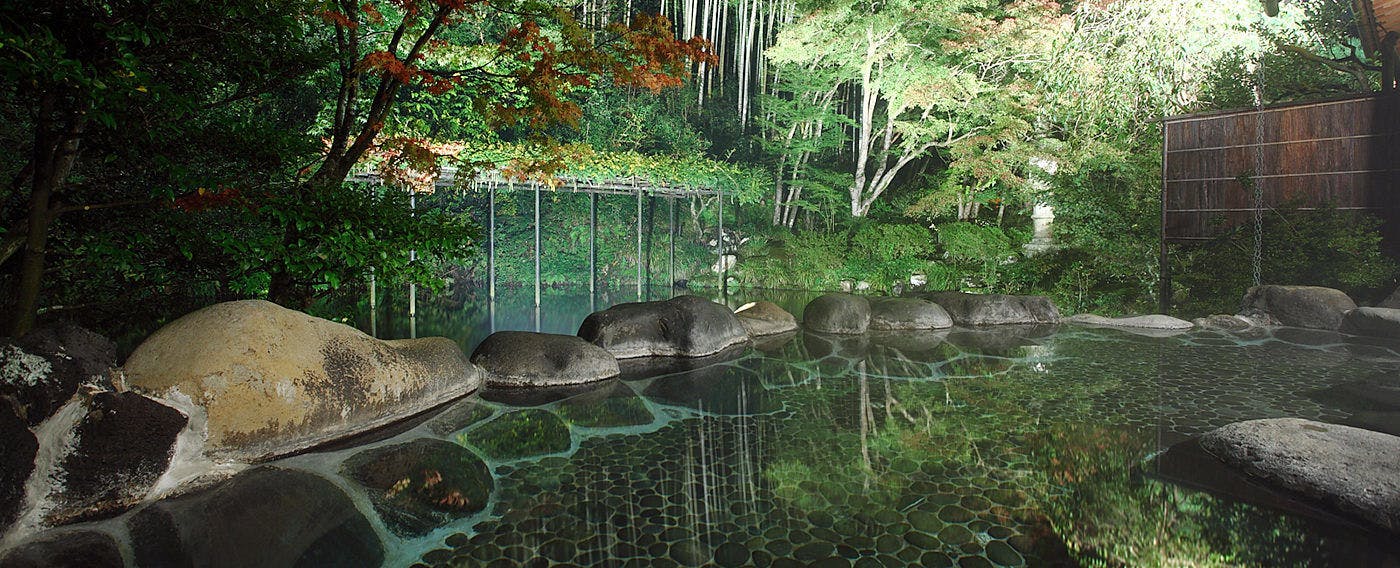 Open-Air Bath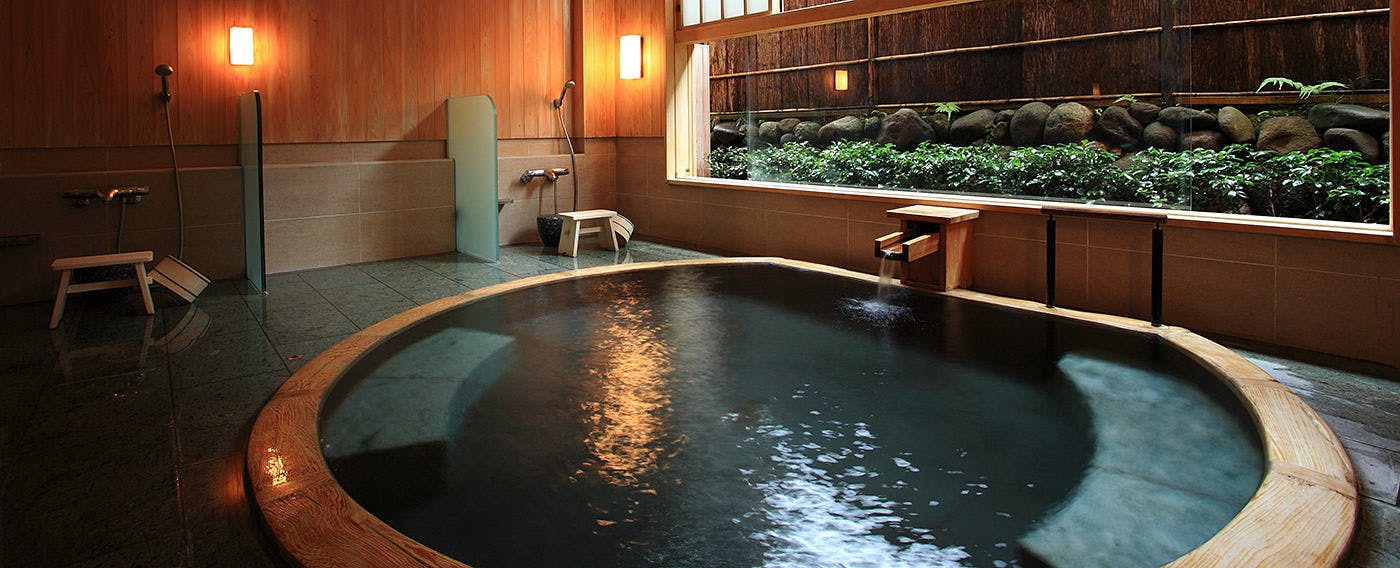 Large Public Bath (Female)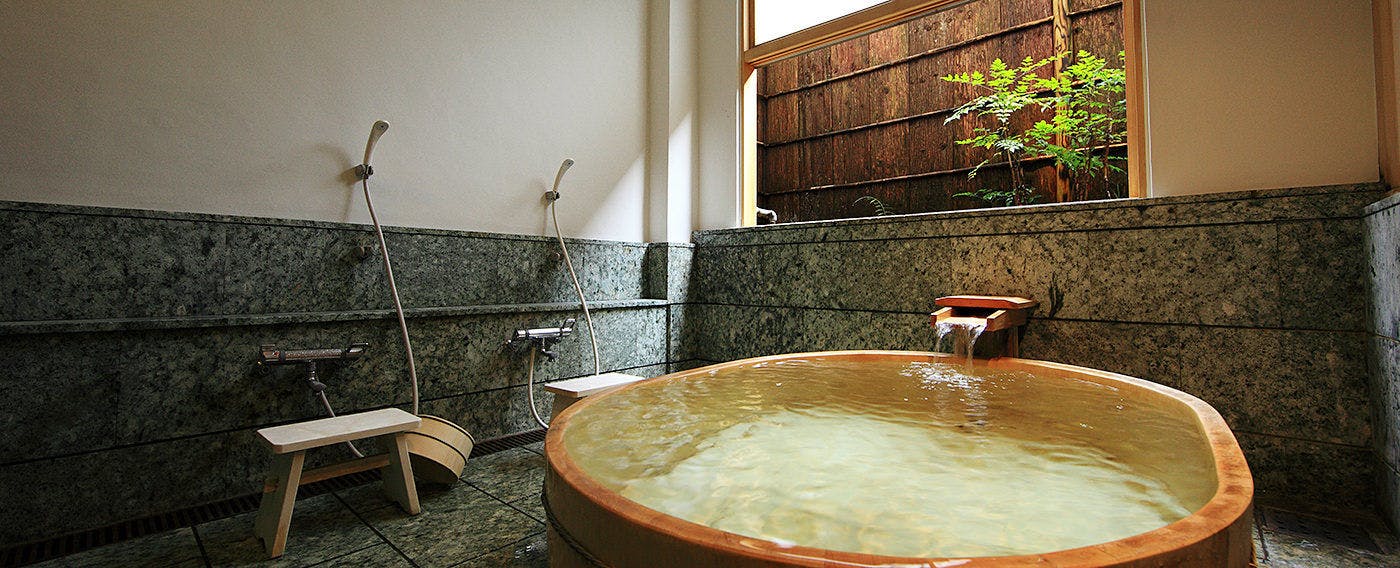 Large Public Bath for Private Use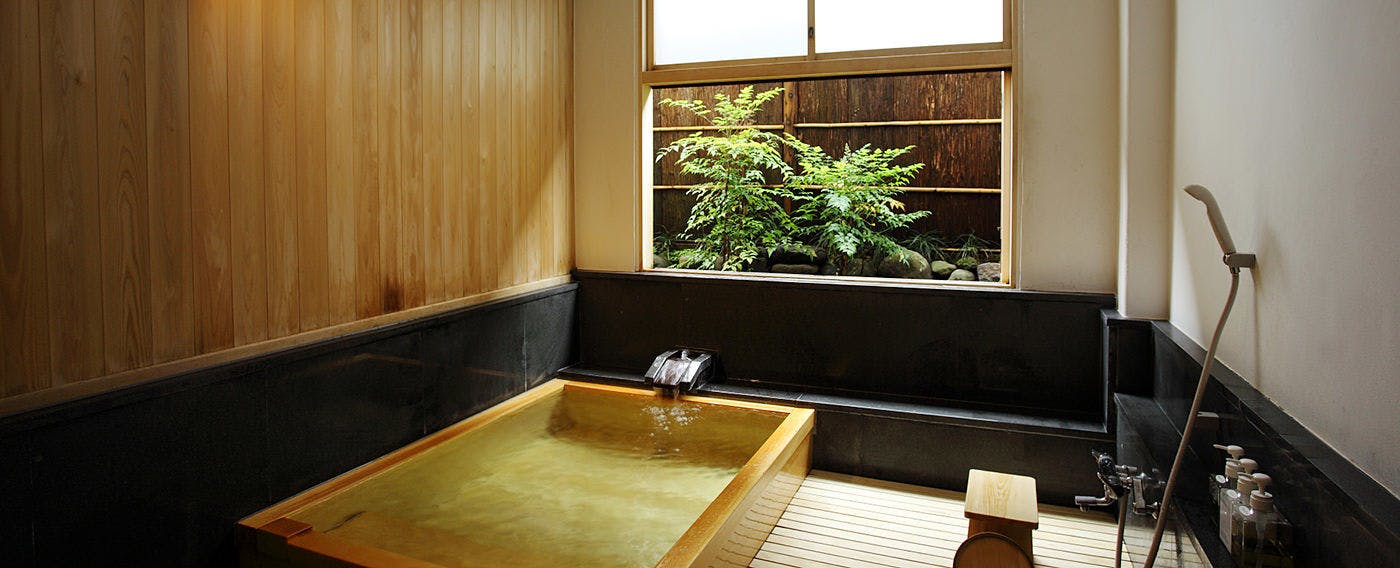 Large Public Bath for Private Use
Lavish Bath Natural hot spring bath coming from the source since the old age.
Comfortable open-air bath, where you can feel the wind coming through bamboo forest. Indoor large public bath for each of female and male. Also available for private use.
Facilities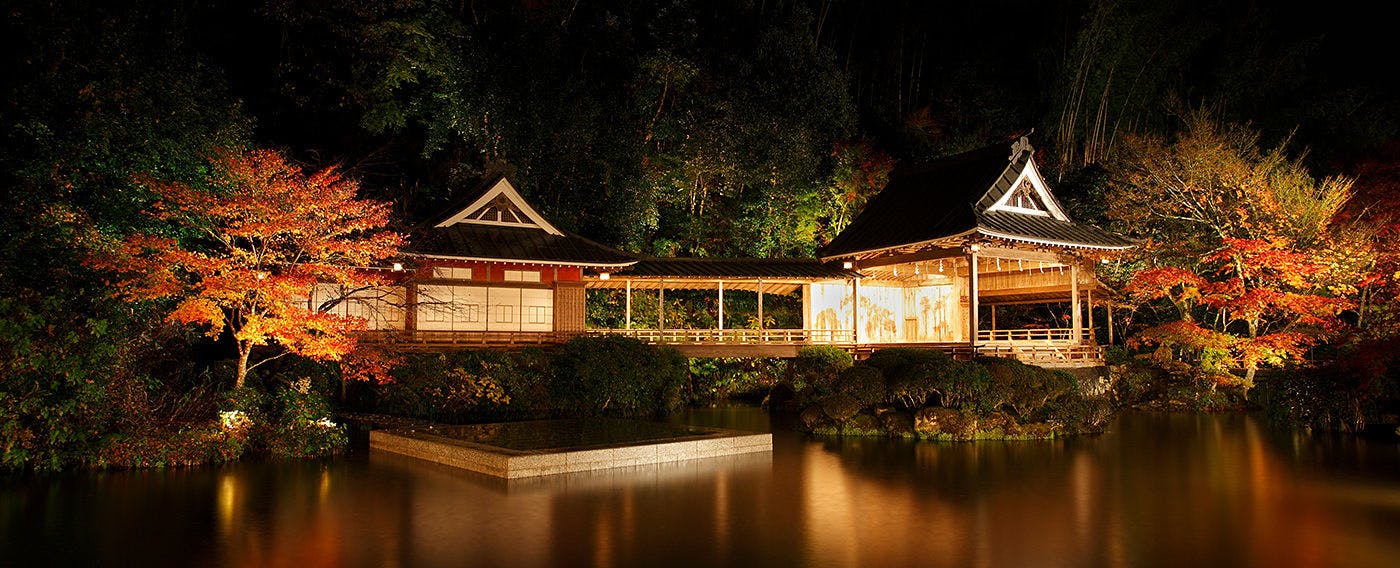 Noh Performance 'Gekkeiden'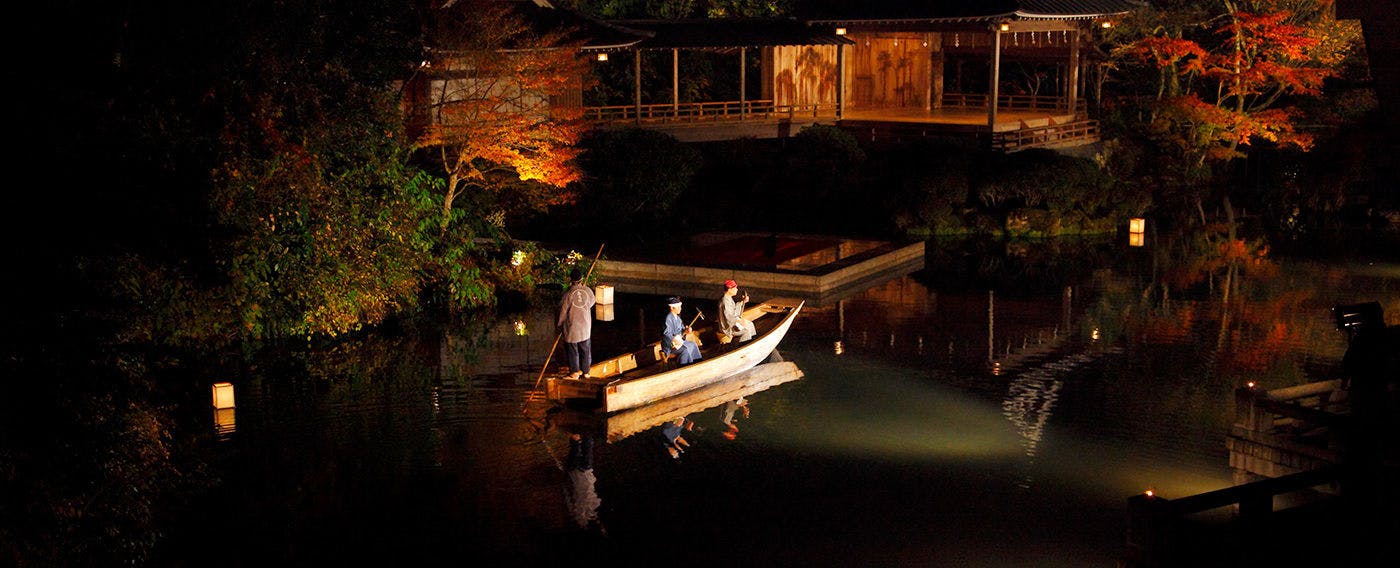 Noh Performance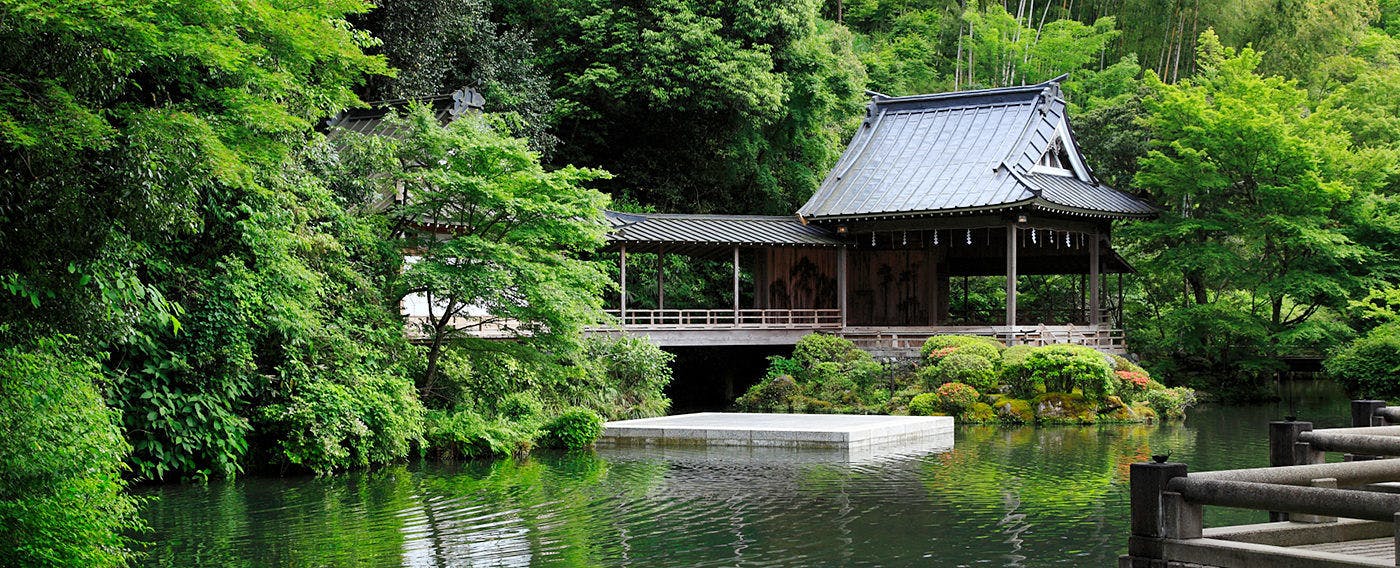 Noh Performance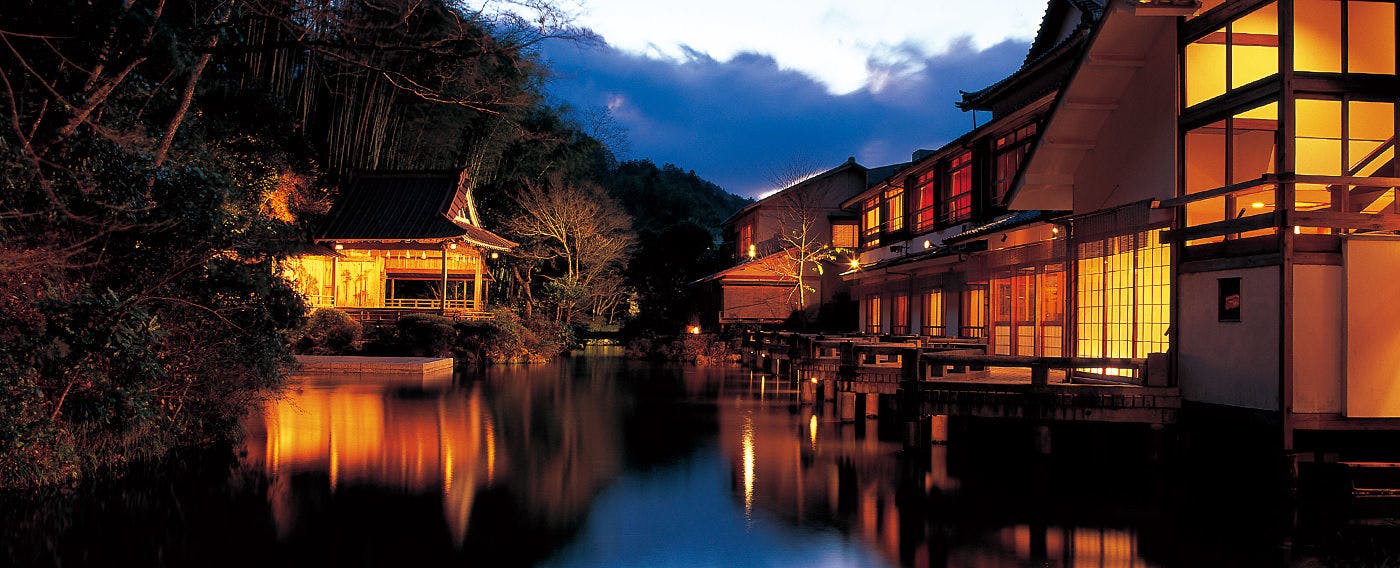 The Stage and Guestrooms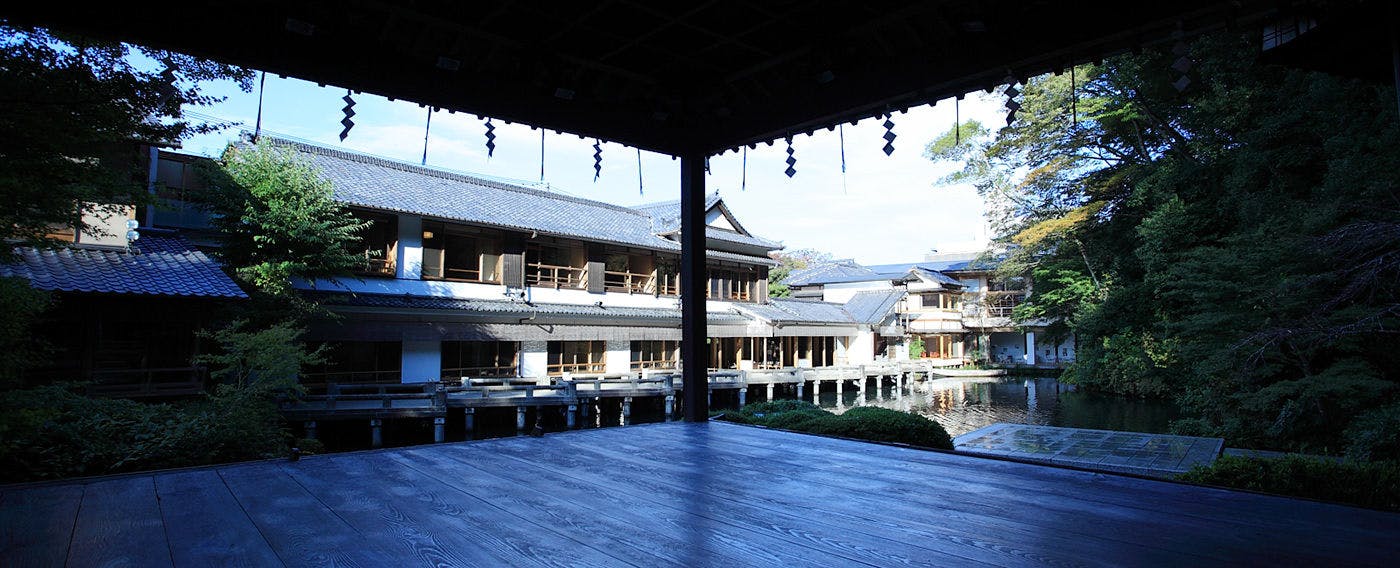 Guestrooms from the Stage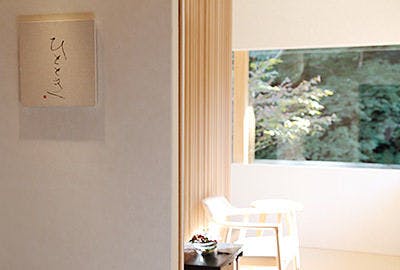 Spa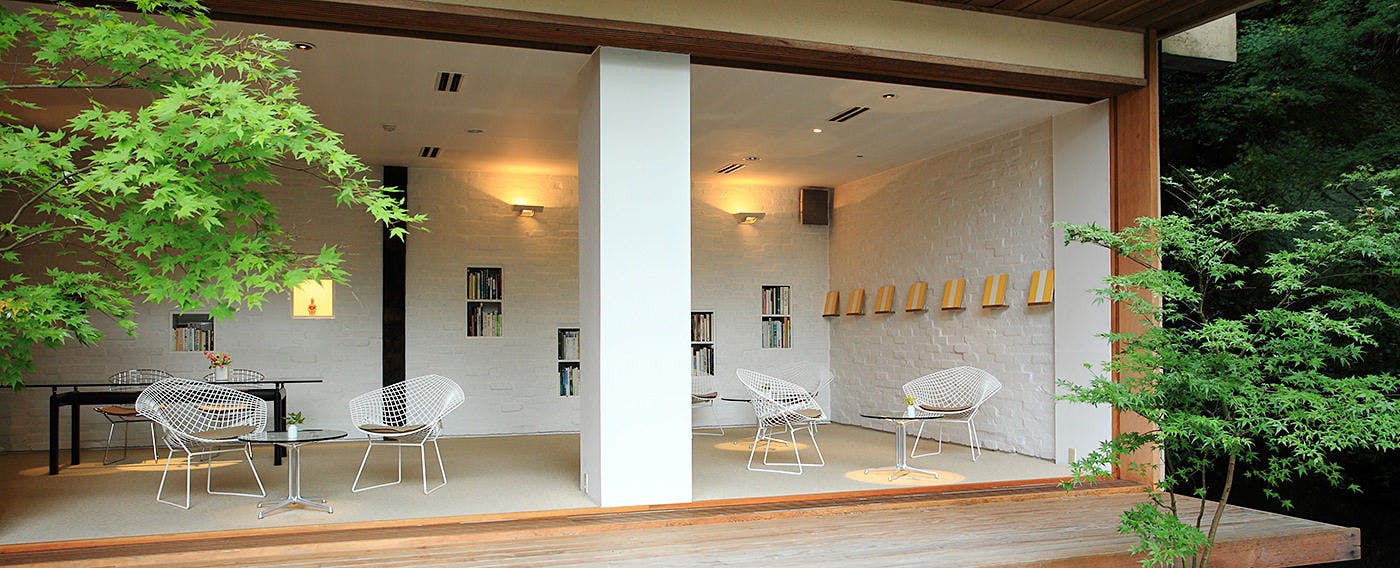 Salon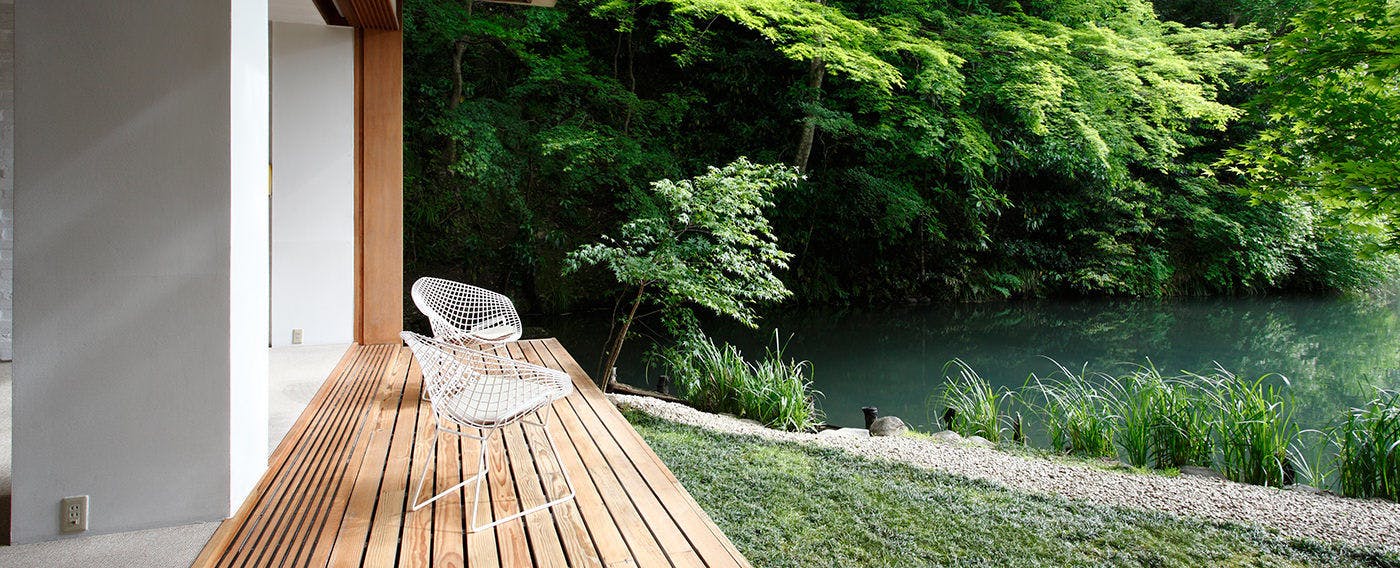 Salon faced with the Pond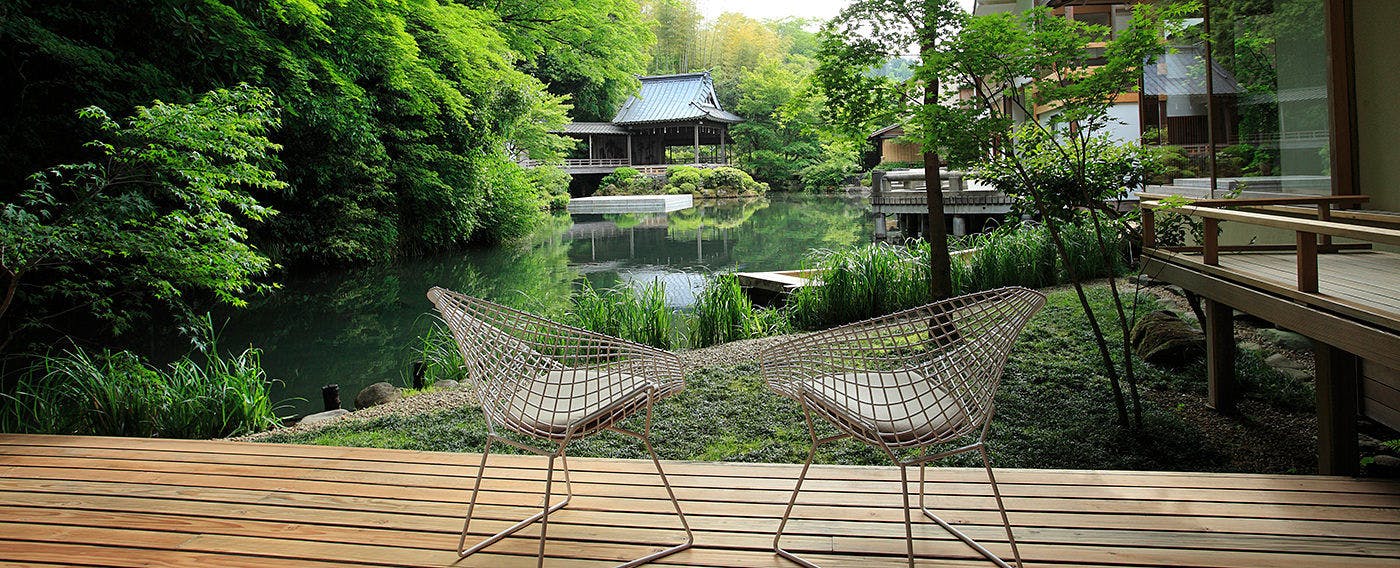 The Best Location to See the Noh Stage
Shadow thrown on the river "Japanese traditional entertainment is held in our historical outdoor Noh performance & stone stages. The gorgeous Noh performance stage was reconstructed 110 years ago from Tokyo. Almost every month we organize a different traditional performance for a guest to keep our tradition for the next generation or to the world as our mission. The experience would be profound and quiet moment of elegance."
- Kazuhide Asaba, Owner
Access
3450-1 Shuzenji, Izu-city,Shizuoka,410-2416,JAPAN
BY TRAIN
From Tokyo Station: 2hr by express train "Odoriko-go" to Shuzenji Station, and 7min by taxi. Or 45min by Shinkansen to Mishima Station, and 35min by Izu Hakone Railway to Shuzenji Station, and 7min by taxi.

BY CAR
From Numazu IC Exit (Tomei Expressway): 40min drive

Taxi can be arranged from station with fixed fee, while shuttle service is not available. Please contact the ryokan for details.
Reviews
5 Reviews
The theatre stage, which stands atop of the lake so clear you can see the bottom, looks even more sublime amidst the freezing winter air. After a bath in a refilling hot spring gently warmed my cold body, I had dinner most fitting to the cold season: yubamushi, pork, fried shirasu, fowl stew and so on. The rice after the stew had such a gentle taste I ended up asking for seconds. The breakfast next day was another wholesome meal made to appeal the Japanese stomach: ohitashi, milt, toasted nori, tamagoyaki, clam miso soup, boiled daikon and so forth. Once again I enjoyed an infinitely gentle taste. The interior has beatiful folding screens depicting weeping cherries, art objects that reminded me of red and white plum trees and souvenir hina dolls among other things. They made me feel I was in a museum and allowed to experience the spring feelings a bit early. I've spent a lot of time in the lounge during this stay and admired the beauty of twilight and sunlight in the morning. Aside from that I saw foreigners in the hotel, and they seemed to be really relaxed during their stay. As I went home and looked at Mt. Fuji from the car window I wished to visit the famous Japanese hotel again come spring season.
+ More
Feb 2016
The food quality keeps getting worse, the eels were nothing but bones and as for the famous morning tamagoyaki it may be either golden and soft or just a solid piece of yellow stuff as there's a tremendous difference between the chefs. When it comes to the mood, the choice of music and decorations for the 1st floor lounge was unbalanced. As far as serving customers goes, they don't even bother to organize the transfer, while occasionally showing their lack of professionalism by not recognizing their guests and treating them like suspicious people. Such shame. What has famous Asaba turned into?
+ More
Jan 2016
I stayed in the room that had a view of the theatre stage. It was very quiet, I forgot about my daily life and had a leisurely time. The bath was somewhat small which is the reason for 4 stars, but I did manage to relax there without dealing with the crowd. Both meals were served in the room, the food was intricately made and delicious. I would like my next visit to be at the time when the stage hosts a noh play.
+ More
Jan 2016
I was staying at the room by the "small garden". It felt really different from the ones that have a view of the stage, but the service and the food held up to my expectations as always. I was also impressed by the fact that the staff reacted to my comments from the previous time and implemented them. While I'm sure that constantly meeting the expectations is tough, I'll expect the grand champion of hotels to satisfy me next time as well.
+ More
Nov 2015
Last month I stayed at a hotel cheaper than this and it was better. They've been managing a luxury hot spring hotel for a while, but the food is third-rate, the tastes are all over the place. I asked the staff whether they knew how to match food and drinks, they replied they "didn't". I was looking forward to the garden with the pond, but there was almost nothing to look at during the night. If you need a hot spring, stick with other hotels that have better food and drinks.
+ More
Nov 2015
Information
Check-in Time

From 2:30pm to 6:30pm

Check-out Time

Until 11:30am

Tax / Service Charge

N/A

Credit cards accepted at this property

VISA / MASTER / JCB / AMEX / DINERS
Children

Children of 7 years old or older are allowed.
6 years old or younger are NOT allowed.

Pets

Pets are NOT allowed.

Parking

Free of charge for guests; Available from check-in to check-out; Capacity 12 vehicles; No Valet Parking Service

Other policies & conditions

The hotel might call you to confirm reservation details beforehand.; Please note that shuttle service NOT available.