Ryokan Sanga
Trees bud in the Spring, deep green surrounds here in the Summer, leaves change color in the Autumn, and silent snow falls in the Winter. Surround yourself in the beauty of Japan's nature. Relax in the soothing hot springs. Enjoy the warm hospitality. Welcome to Ryokan Sanga.
- VAT is included, but bathing tax (around JPY 150 per adult) may NOT be included.
- Price in USD is based on the exchange rate as of today and might be different from that of the booking date.
Foods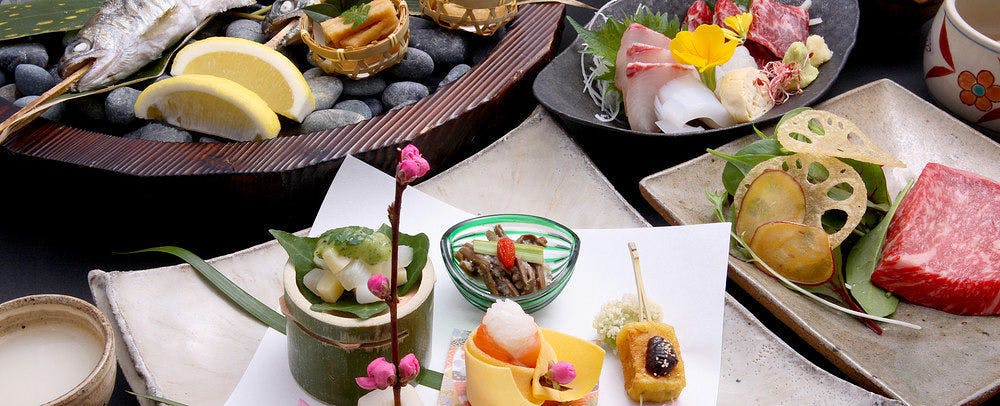 Foods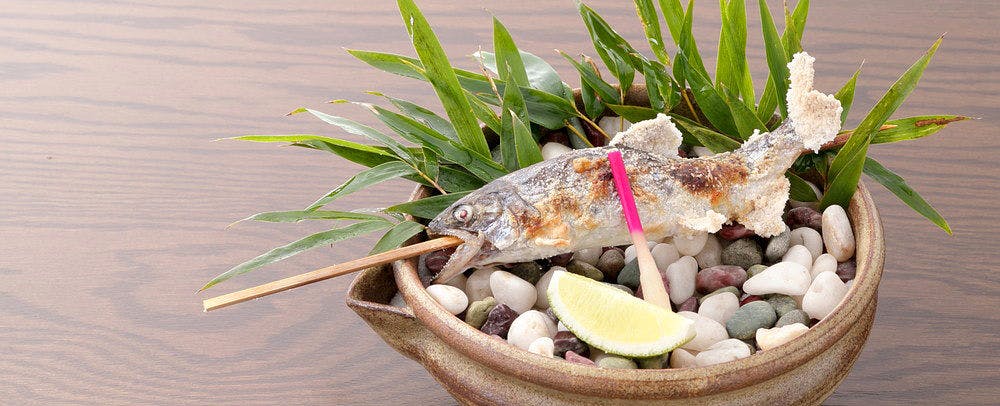 Foods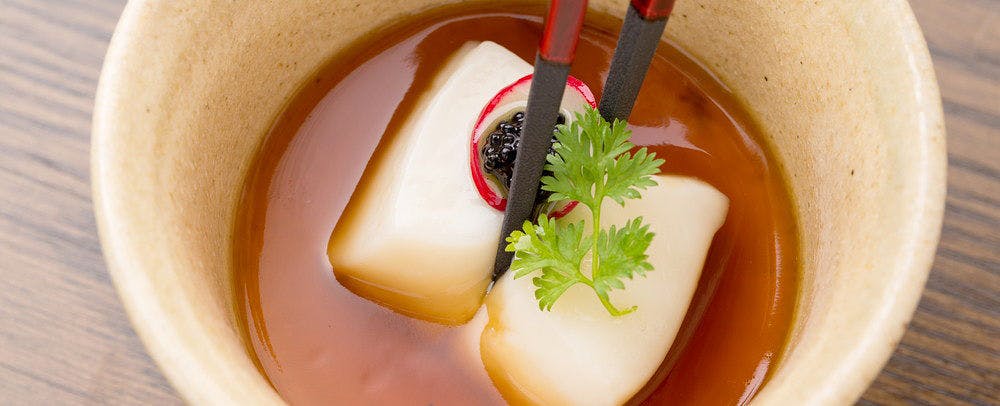 Foods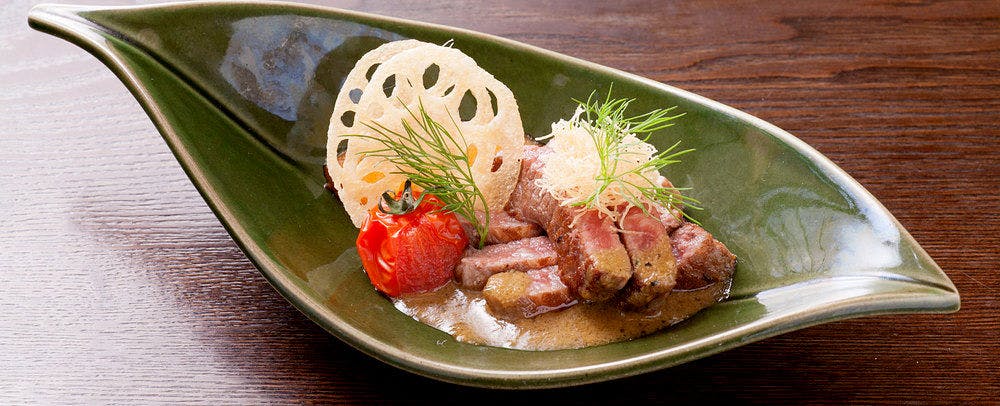 Foods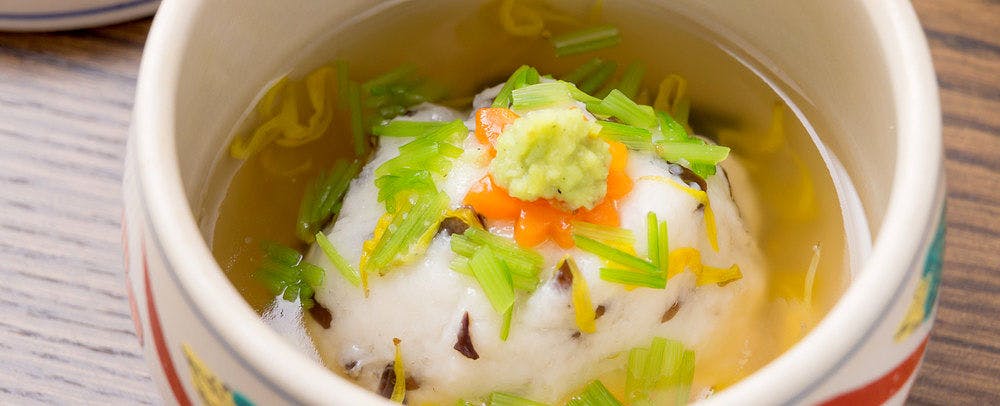 Foods
Traditional Japanese cuisine with the flavor of local foods Ryokan Sanga incorporates the finest local ingredients at their seasonal peak in our traditional kaiseki dinner. Each dish is handmade with loving care and the utmost attention to detail. It hopes that the meal does more than please your palate; it wants to move you emotionally with the dining experience. *Please inform the ryokan of any food restrictions as far in advance as possible. Ryokan Sanga can accommodate your needs.
Baths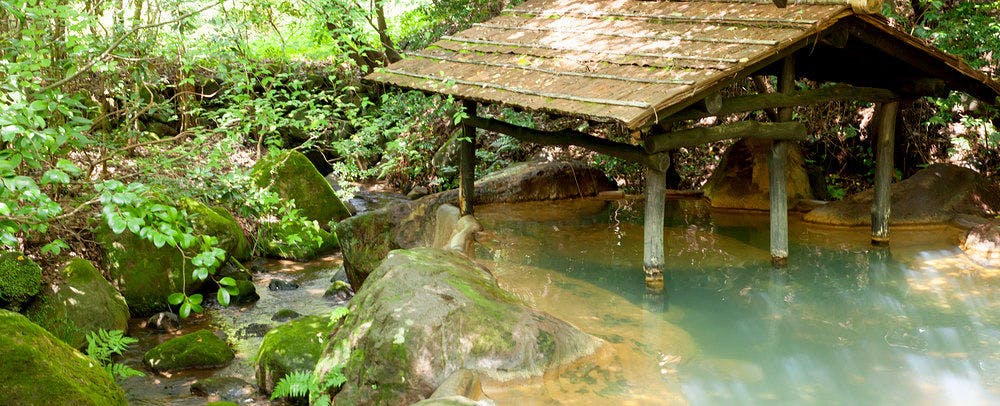 Bath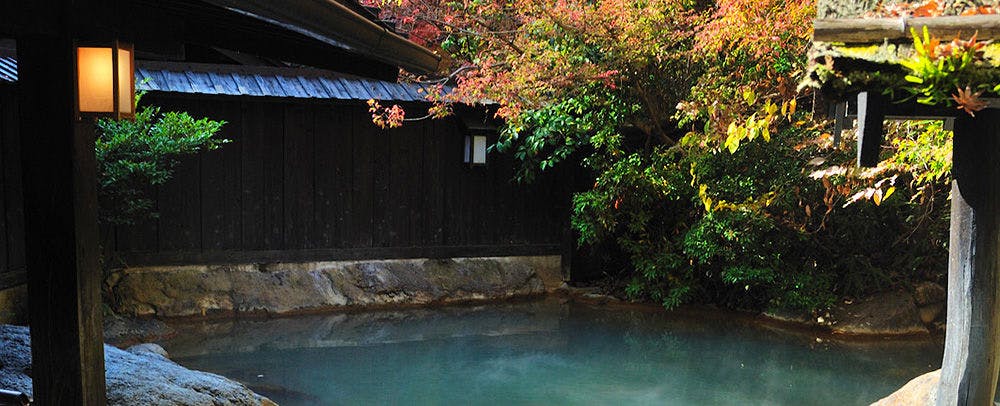 Bath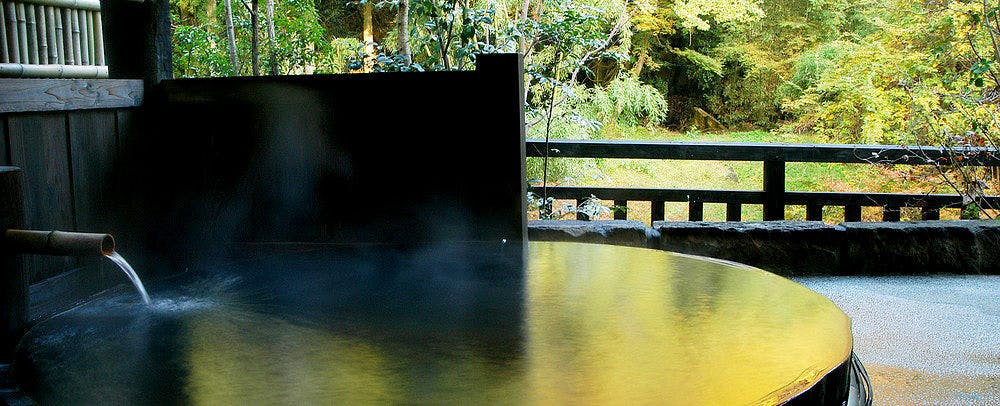 Bath
Soak in the soft hot spring water Ryokan Sanga has 2 hot spring sources. One is a medicinal bath that has been in use for generations. The other is a newer source that is good for your skin. Please enjoy the different baths. They will heal your body and soul.
Facilities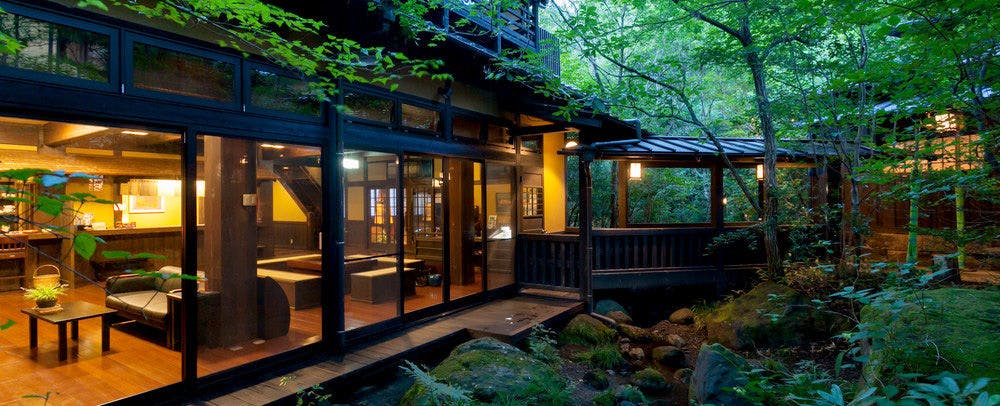 Lobby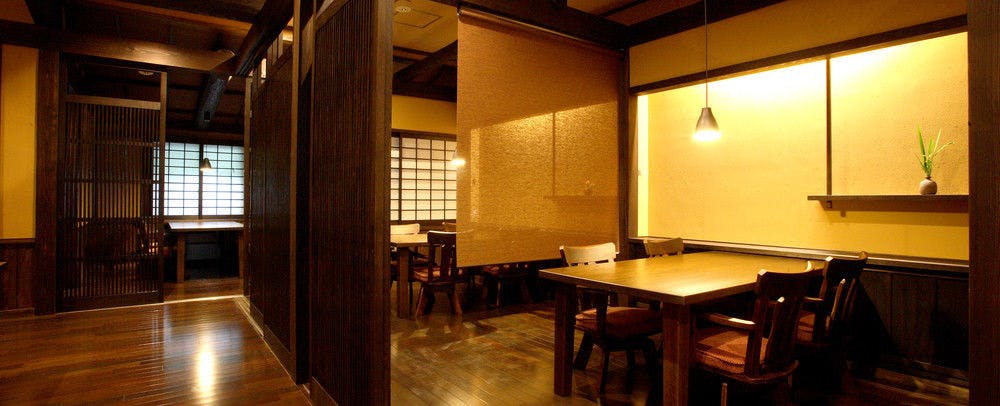 Restaurant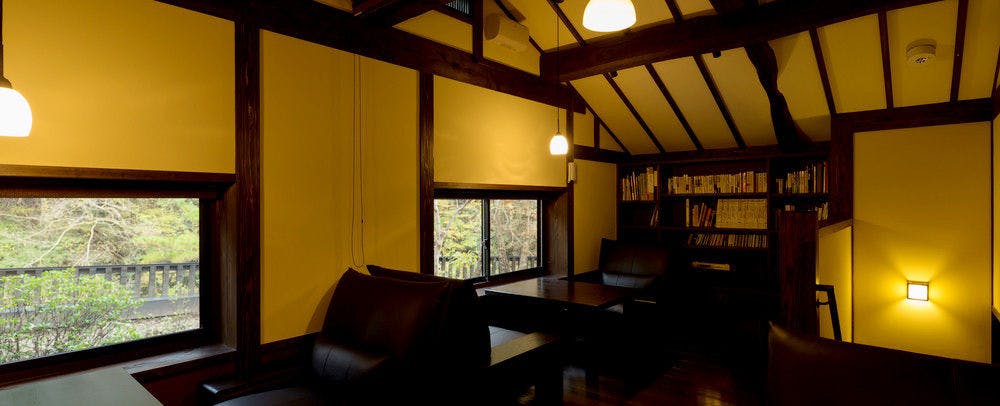 Lounge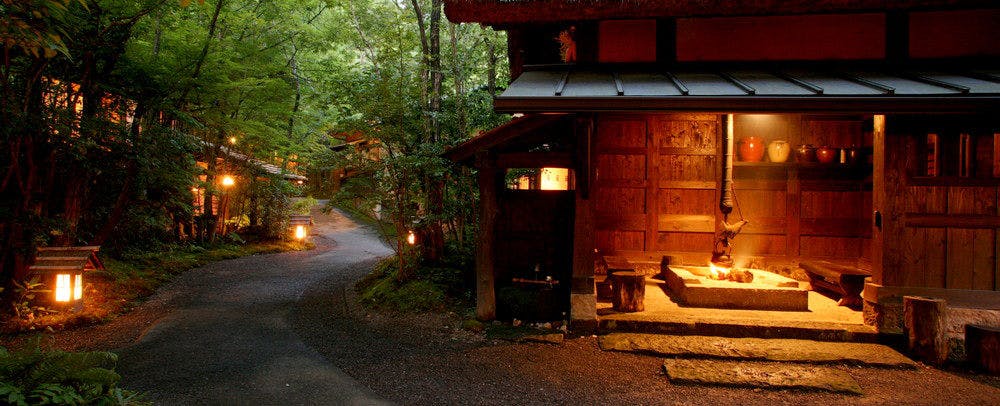 Irori Fireplace
Wonderful place to feel like talking with the nature Lobby
There is "irori", Japanese fireplace, and wood-burning stove in the lobby. While seeing the stream in the courtyard, have some relaxing time. Wi-fi is available.

Restaurant
Private dining room and open space are both available, for your relaxing dining.

Lounge "Onko-chishin"
Various books from antiquarian to picture books, magazines, and photo books of Kurokawa hot spring town. You can order drink from the lobby.

Irori house
A small house with irori is along the path to the open-air bath.
Access
6961-1 Manganji, Minamioguni-machi, Aso-gun,Kumamoto,869-2402,JAPAN
BY AIR
From Fukuoka Airport: 2hr 30min by direct bus to Kurokawa Onsen Stop
From Kumamoto Airport: 2hr 30min by bus to Kurokawa Onsen Stop

BY TRAIN
From Hakata Station: 3hr by direct bus to Kurokawa Onsen Stop
From Kumamoto Station: 3hr 20min by bus to Kurokawa Onsen Stop
From Kurokawa Onsen Stop: 5min by shuttle bus
Reviews
It was a private guest room, and the location was great. It was truly a private space, and I could relax. They made me wait at the time of the check-in, but afterwards the staffs took care of me so well that it almost made me feel sorry. I could feel the inn's service spirit to make the guests feel comfortable to stay, so I could spend my time very relaxing. The meal was prepared with local ingredients , and it was delicious and healthy. I could consume much sweetness of Kurokawa.
+ More
Sep 2015
I was so satisfied with a wonderful hot spring and a wonderful hospitality. Surely the open-air bath was so nice, but both dinner and breakfast were well prepared and so delicious too. Futon was good for my back and I was able to rest very much. I took my mother too because of Senior Citizen's Day, but she also was very touched. I really appreciate it.
+ More
Sep 2015
I used for 1 night during long vacation. I have been to many 'Nihon hitou no kai' member' Ryokan before. However, this time I went to Kumanoto and Oita(second time) for hot springs as i've already visited hot springs in Kanto area too many times. It was first time to visit Kurokawa Onsen, and it was world famous Kurokawa Onsen as expected. The unique atmosphere only Yamakawa has and the deserted feeling that doesn't make me feel it is hot spring district made me feel I was in hidden hot spring district. There were many guests from foreigner, but i can tell that the Ryokan is really attractive so it's worth coming from over seas. Yamakawa is a bit far from Kurokawa hot spring district, so it was inconvenient for access. However once I saw the stately Ryokan, I felt I was glad to visit here and made me feel to visit again. In this trip I stayed Kumamoto & Oita for 2 nights and 3 days. I chose about 8 hot springs after consideration, but both Yamakawa's open-air mixed bathing bath and separated normal bath are outstanding spring quality and atmosphere. Also dinner was really delicious. I always have dinner in Ginza district, but the dinner at there was as good as Ginza's, also added delicate technique, which cures the fatigue from trip, and experience real Japanese cuisine. when sending off, though I was relaxing at the front an hour after check out, they asked to take a photo for memory. I was so impressed their hospitality and I believe this is the good part of this Ryokan. Please keep this style after 10 years.
+ More
Sep 2015
We stayed to celebrate my father's 90th birthday and were very impressed by a number of surprises they arranged for us. I was fully content that the staff's caring attitude was superb. The hot spring bath and meals were also at a high level. It is an accommodation I really would like to recommend to others.
+ More
Sep 2015
I was worried about the weather but luckily I could see the fireflies fly and the starry sky at night. It was outside the portable telephone zone (Softbank), and I managed to spend a quiet day only listening to the quiet stream of the river and it was such a "quality time". They got the best out of the ingredients when it came to the food and it matched the atmosphere of the hotel well. I could not praise the hot spring more, there was no one at the open-air bath or the indoor bath and it was as if I reserved them just for myself and I had a very luxurious time. I could not hear the guests talk in the room next to me however I could hear the noise of the door open and close and it did bother me a little. I just came back but I'm already thinking of when to go next.
+ More
Jun 2015
The green seen during the break of the rainy season was magnificent. The meal was very tasty and the amount was just enough. I managed to see the Genji fireflies (Luciola crucial) fly near the parking lot thanks to the information from the receptionist, and it was very beautiful. There are many types of hot springs with many different temperatures and I enjoyed it. One thing that was disappointing was, although it is not the fault of the hotel, that I saw 2 women started to take photos with their smart phones when I was about to go into the open air bath in the morning. I was not fully dressed as I was just about to go in the bath so I was surprised at their lack of consideration. There was no sign for it and I think that the hotel expects the common sense of the guests, however I hope they would have consideration for the guests who would mind these things.
+ More
Jun 2015
When I was guided to the guest room...the murmuring of the stream made me feel good at once. I said that it makes me relaxed somehow. I did not plan to eat in the room however I did have dinner there. The food amount was just right for me and of course it was tasty and very satisfactory. I would like to visit again.
+ More
Jun 2015
This is my second time at Kurokawa onsen, so I chose this place as it is located far from the city center. I am very satisfied and enjoyed the various unusual baths. There were insects, but as the cleaning was thoroughly done, it didn't bother us. We were able to enjoy the abundant nature at the inn.
+ More
May 2015
I was soothed. I was impressed by not only the hot springs but also the meal. Although the meal didn't look as gorgeous as seafood, we both were impressed by the hearty dishes using ingredients from the local mountains.  
+ More
Apr 2015
I was healed. Yamakawa was a bit far from central of Kurokawa hot spring downtown but very comfortable with the "abditory" ambience. Every staff including the guide who was readily waiting at the parking, the reception and the room guide made me feel very good before having the hot bath. 3 family baths and indoor and open-air baths were all very refreshing. Every dishes at both of dinner and breakfast were fantastic. The soy milk hot pot was exquisite as well as horse sashimi. I would like to stay there at my next visit to Kurokawa hot spring again.
+ More
Apr 2015
I am glad that I chose Sanga in Kurokawa hot spring. Thank you for answering my numerous requests starting from the hand massage service... The room was great and all the food was delicious. We stayed as a party of 17 and it was favorably received by everyone. We got so excited playing the games in the separated room; it was fun. We enjoyed the hot spring saying that it was as though we were taking a hot spring tour within this hotel. They brought a souvenir picture for each of us. I was impressed. It was the best hotel in Sanga. Thank you.. I would visit the hotel again.
+ More
Mar 2015
Information
Check-in Time

From 3:00pm to 7:00pm

Check-out Time

Until 10:00am

Tax / Service Charge

Bathing Tax JPY 150 per adult is NOT included in the rates.

Credit cards accepted at this property

VISA / MASTER / JCB
Children

All children are welcome. Choose an option from followings.
- Bedding and adult meal: 70% of adult rate
- Bedding and child kaiseki meal: JPY 10,800
- Bedding and child plate meal: JPY 7,560
- No bedding and no meal: JPY 1,080 for children of 3 years old or older / Free of charge for children of 0 to 2 years old

Pets

Pets are NOT allowed.

Parking

Free of charge for guests; Capacity 25 vehicles; No Valet Parking Service;

Other policies & conditions

-Please contact the hotel in case the guest arrives after 6pm.-Bathing Tax JPY 150 per adult is NOT included in the rates.-Wi-Fi is available in the lobby and guest rooms. Please ask the front desk to know the access code.