- VAT is included, but bathing tax (around JPY 150 per adult) may NOT be included.
- Price in USD is based on the exchange rate as of today and might be different from that of the booking date.
Foods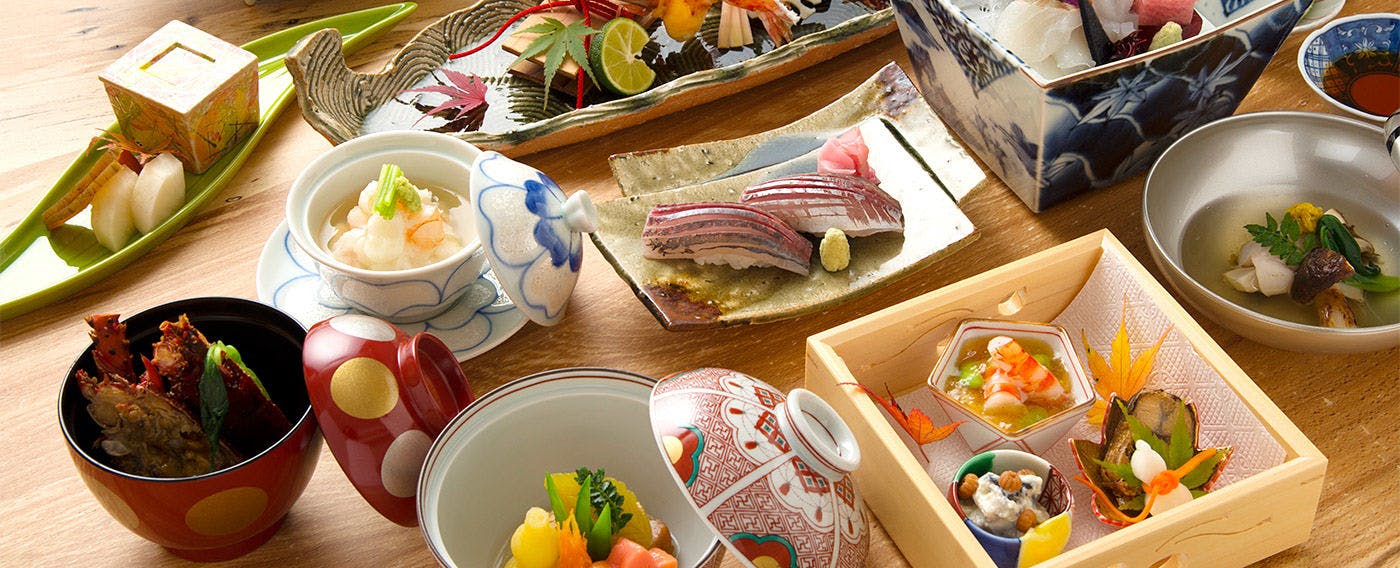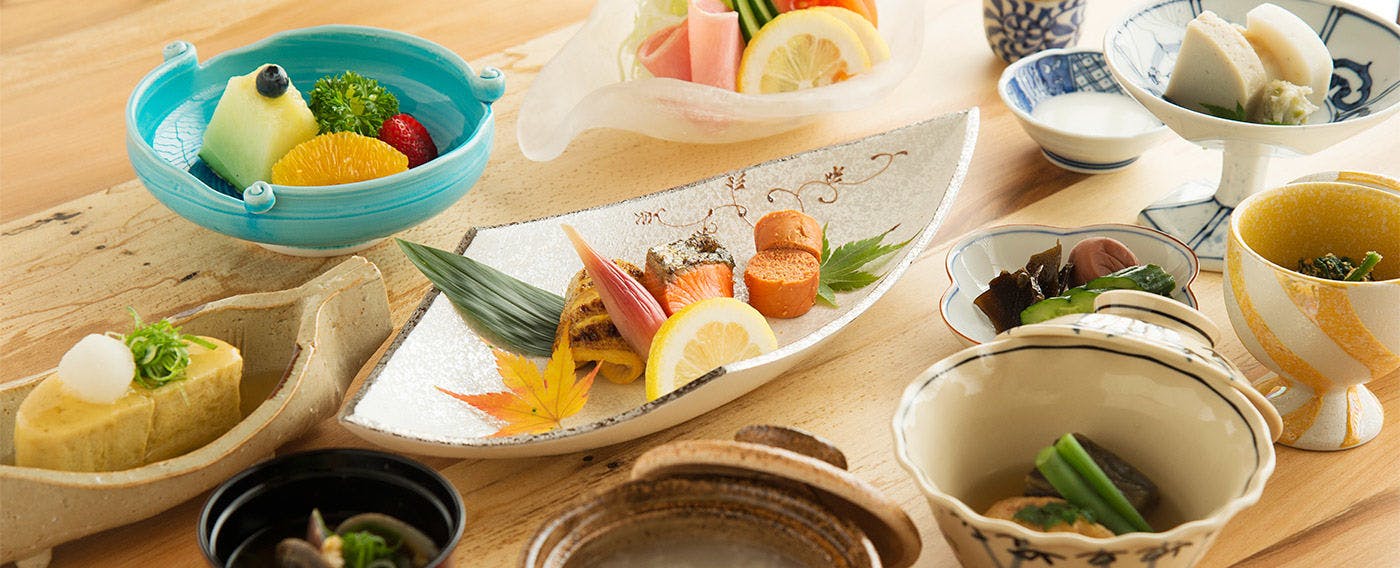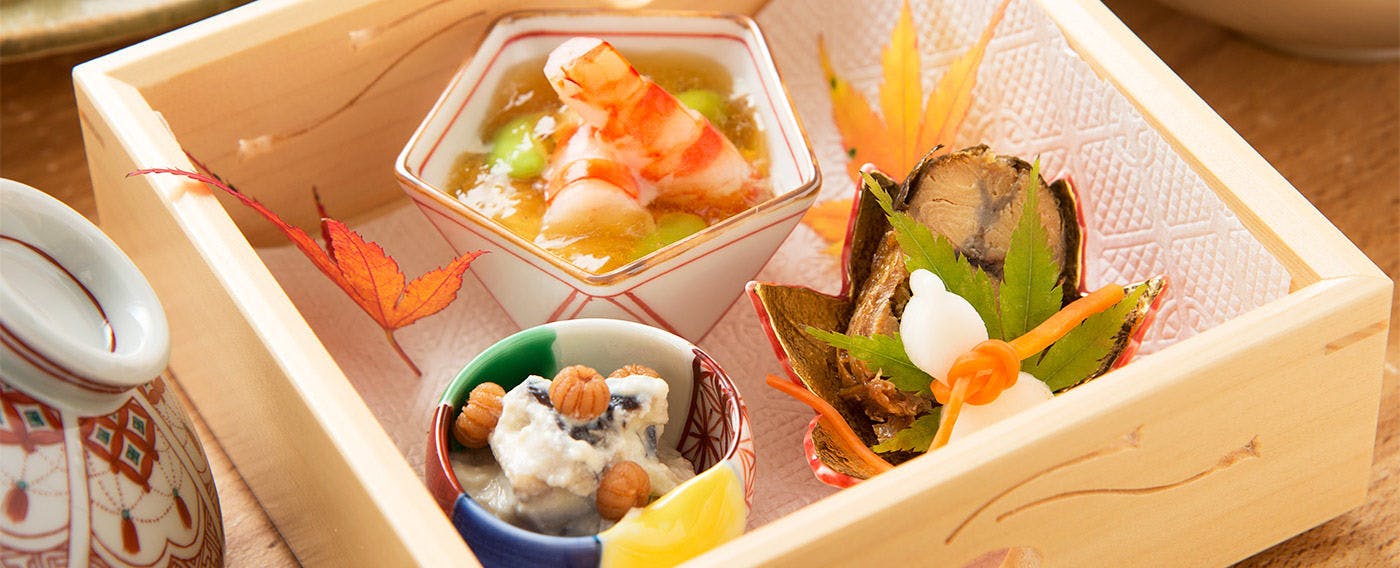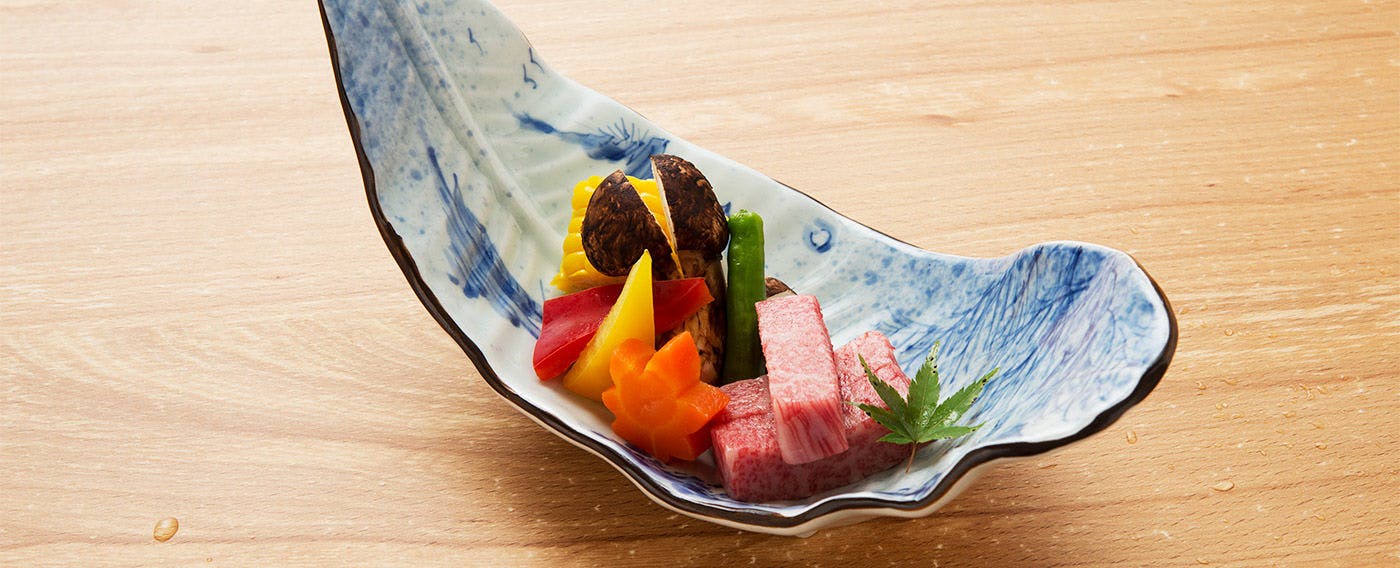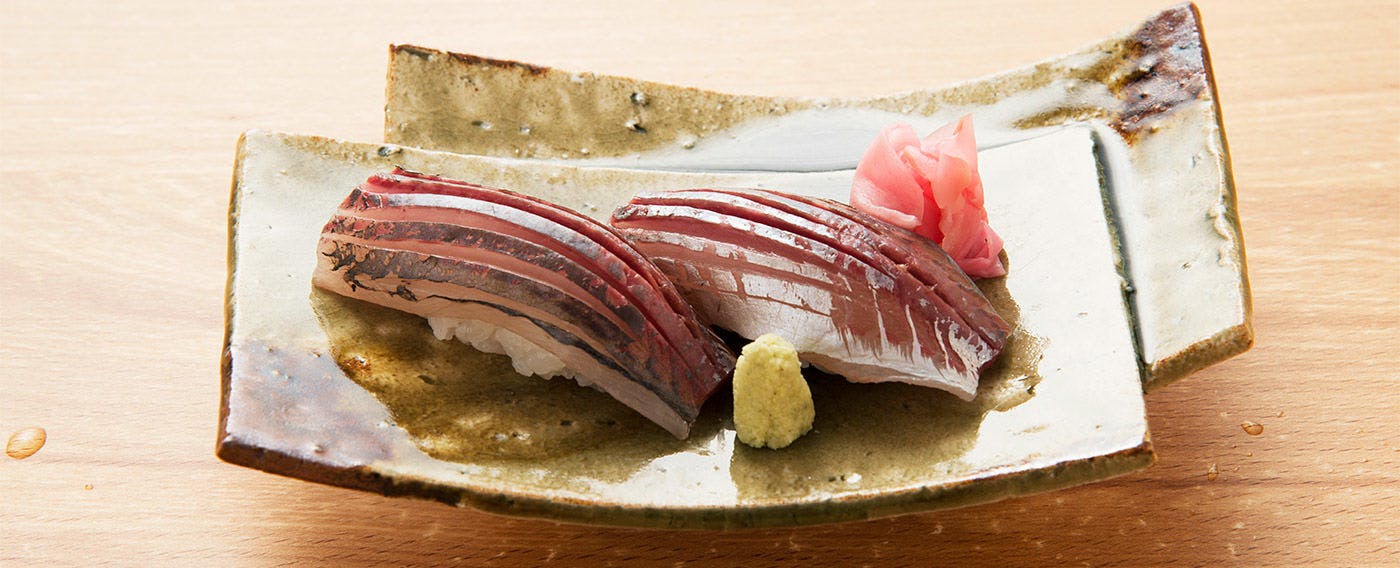 Try Hida beef, directly arrived from the farm Fresh seafoods from Sagami Gulf and vegetables and mushrooms from mountains in Hakone fascinate every guest deeply. Madoka No Mori also has a special dining area, apart from the restaurant, to enjoydishes personally arranged for you, with no menu.

Please note that Gora Hanaougi Madoka No Mori is not able to offer vegetarian or any religious meals.
Baths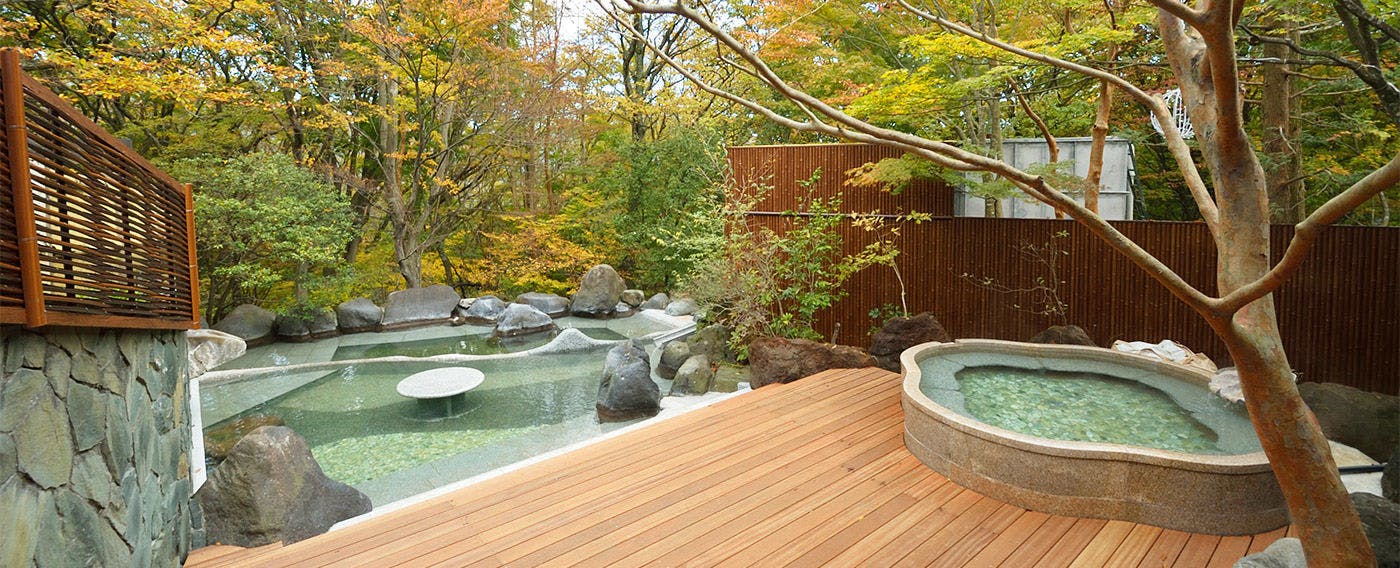 Open-Air Large Public Bath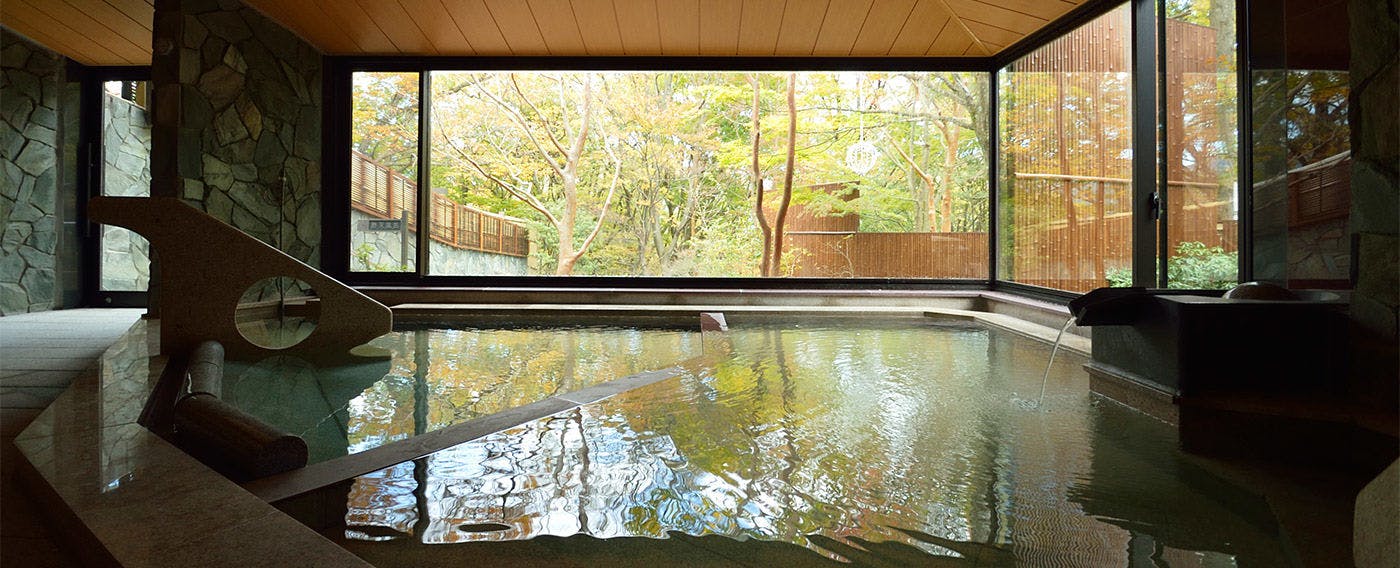 Indoor Large Public Bath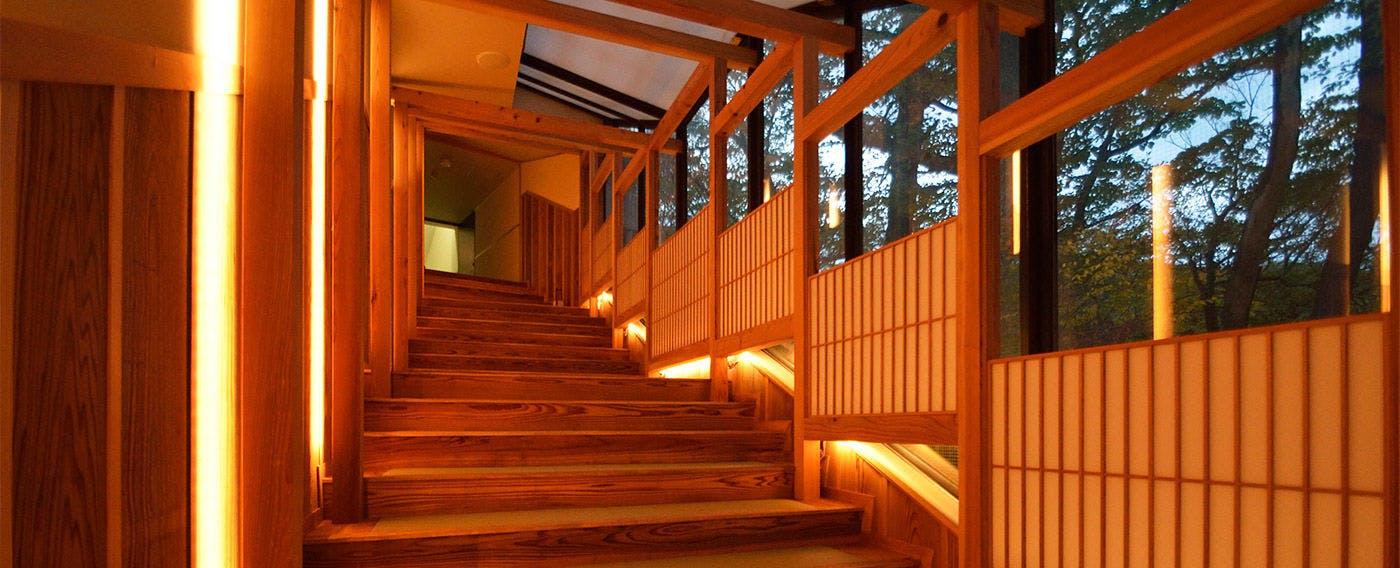 Corridor to Large Public Bath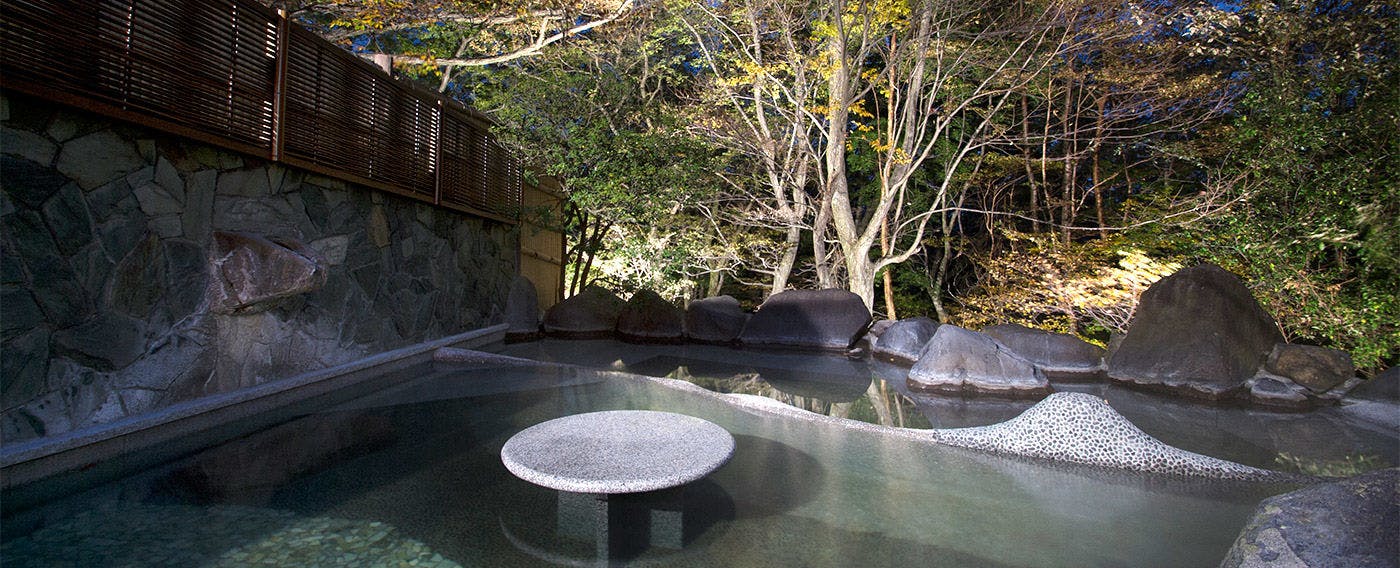 Open-Air Large Public Bath at Night
2 natural hot springs in Madoka No Mori Large public baths have the different source of hot spring from the one in private baths, so that you can feel the difference. As large public baths are in far beneath the guestroom area, among the feeling of carefully encompassed by the forest, while private baths have the feeling of hovering above the forest. Bedrock bath is available, too.
Facilities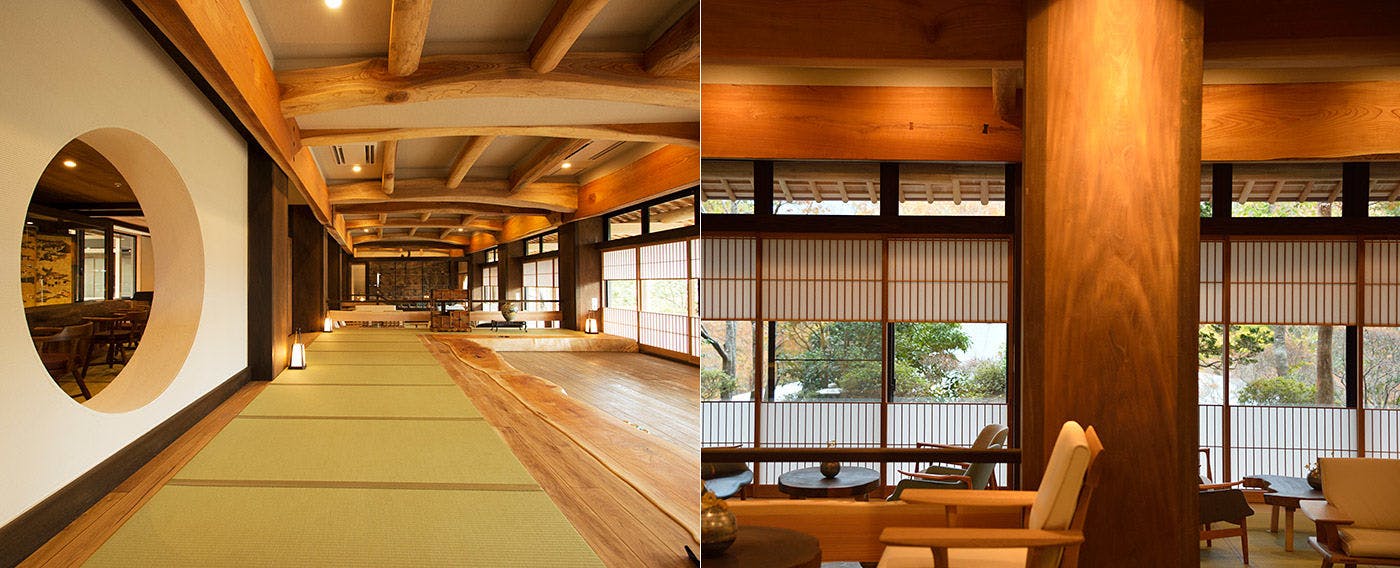 Lobby and Lounge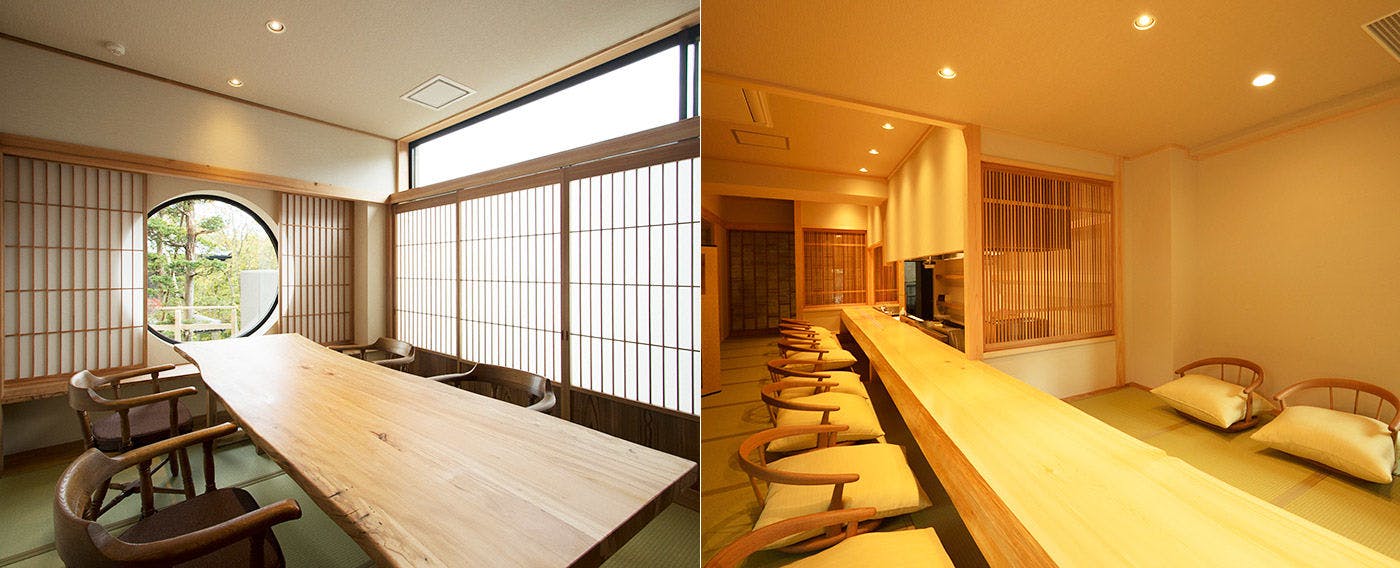 Dining
Relax in the wooden atmosphere Entering here, guests are surrounded with the feeling of selected woods. Relax with comfortable woods in every piece of Madoka No Mori, from private baths to sofa in the lounge by craftsmen in Hida, counter of Japanese Zelkova in the bar, among the forest of Hakone. That's Madoka No Mori.
Access
1320-86, Gora, Hakonemachi, Ashigarashimo-gun,Kanagawa,250-0408,JAPAN
BY TRAIN
From JR Shinjuku Station: 90min by Odakyu Line Express "Romance Car" to Hakone-yumoto Station & 35min by Hakone Tozan Railway to Gora Station & 5 stops by Hakone Tozan Cable Car to Souun-Zan Station & walking distance Shuttle service is available for free of charge from/to Gora Station or other neighborhoods.
Please note that Gora Hanaougi Madoka No Mori is not able to offer vegetarian, without seafood or any religious meals.
Reviews
Just wanted to say thank you for the amazing stay we had with you. The staff was incredibly generous and took care of all our needs, and they were especially welcoming when we arrived late in the rain. The previous night we ate at a 3* Michelin restaurant in Tokyo and the dinner we received at The Ryokan was just as good if not better. The private hot spring tub in our room was fantastic, as were the open air hot springs. This was a very memorable stay for us and I hope we get to come back in the future.
+ More
Sep 2016
We stayed here to celebrate my daughter and wife's birthdays. My wife was very happy with the calming atmosphere of the facility, the pleasant smell of the trees and the excellent meals. I was relieved because everything went very well. I was grateful that the staff was very nice and took the extra time to make sure our room was well appointed. We were able to enjoy a happy and heart warming time. Thank you very much. This was the first time that my daughter got to experience a large public bath. She was so pleased that she said "I want to go to the onsen (hot spring) again." Normally I do not get enough time to spend with my daughter, so this made me very happy. I would like to bring my parents next time.
+ More
Aug 2015
I would just like to say that I was totally satisfied with the fact that everything was well taken care of. I was able to spend a wonderful and extraordinary time here, because I felt that the staff was very attentive and thoughtful in everything, but not being excessive in any way. This place is enticing me to return, even though it is not easy on the wallet.
To the staff,
Thank you very much for sending me the things I left behind.
+ More
Jul 2015
Although my stay was during a typhoon, I was glad that I received excellent service that allowed me to relax.
The outdoor bath that came with the room was great, and the large public bath's different temperature allowed me to enjoy it for a long time.
The fact that the building was entirely floored by tatami, like Hanao, made it very comfortable, and it was excellent that I was able to go to the public bath without bringing any items.
The food was delicious.
The serving size was perfect for a couple in their 40s.
On the way home, the mountain trains were stopped due to the typhoon, but thankfully, we were provided with a ride back to Hakone Yumoto.
I was happy that I could feel their sincere solicitude in such services.
I would like to come again during a different season.
+ More
Jul 2015
I came here to spend father's day with my parents. The facilities, rooms, foods, and services were all excellent as I imagined when I made a reservation at this ryokan (Japanese-style inn), and I would like to stay here again sometime.
+ More
Jul 2015
I stayed overnight in the room 203 named Fujibakama on May 6. I understood why the hotel received so many positive feedbacks.
The private open-air bath and the large communal bath were not only new but also kept clean and I really liked the quality of hot spring water!
There was a big tree over the bath tub outside, and the blue sky I saw from the bath tub was awesome!
The dishes had delicate taste and were really good. First of all, I was happy that the dishes were all healthy and didn't include heavy and large ones.
The drink menu ranged from wine, shochu to sake, and there was also a bar where you could drink cocktail.
Also, what made me happy the most was the room attendant who took care of us. My husband and I especially might be lucky? Our room attendant was very friendly and always served us with a very nice smile no matter how she was busy. We enjoyed talking about France including wine we really liked.
The hard resources are important but the human resources are more important! Other staff members were also nice.
I believe the hotel keeps you comfortable during stay, so I can definitely recommend it to my friends and am sure that I can enjoy my stay there again.
I got really satisfied!
*The reason why I gave only 4 stars was that there was no room service available and no snacks were available in my room either. I hoped I could eat something in my room when hungry.
+ More
May 2015
My husband and I stayed two overnights from May 2.
We usually had gone overseas on Golden Week, but decided to spend relaxing time in Japan this year. Then, we chose this relaxing hotel in Hakone in the near area.
The price was not inexpensive but we both really got satisfied with the spacious room named Ebine, the private open-air bath, and impeccable hospitality, and the excellent dishes carefully cooked with selected ingredients.
I heard that all the rooms were occupied then, but we saw only a few other guests in the hotel except the large communal bath, so I also liked such a sense of privacy that the hotel created.
We had another hotel we usually stayed at in Hakone, but, the next time, we would like to come to stay here again.
+ More
May 2015
Fully satisfied with everything from facilities and guestrooms to services and foods.
My family was also really satisfied. Would like to come again. Thank you very much.
+ More
Apr 2015
Outstanding. Gora has a lot of high-end and quality ryokans, so I assume that those ryokans may be struggling.
This ryokan should be perfect if a married couple like you would like to make a relaxing trip. If you spend two nights there, it may be a good option to go to the POLA Museum of Art or another good option to spend relaxing time in the hotel. Other ryokans also cannot hang around doing nothing. It is quite normal for the luxurious ryokans around this area to arrange German high-end minivans as courtesy cars. Japanese cars such as A and E may not be appropriate as their courtesy cars. If you like alcohol, don't worry. Denshu (sake) is also available. You will not get disappointed at wine by the glass served there. I can recommend this hotel with confidence.
+ More
Apr 2015
Very relaxing, and comfortable stay I had. Services and foods were very nice, too. Loved the room and the bath. It could be even better if with esthetic treatment. Will come back with my family next time.
+ More
Mar 2015
I have stayed at almost all of the famous ryokans in Kanto area, but most of them were the ones I really felt like staying again at the first stay, but not felt like that way at the second stay. Among such ryokans, this ryokan would not betray my expectations. The cuisine was great and the landlady and other hotel staff couldn't be better. I hadn't usually written a review but I couldn't help giving a positive feedback this time as I really would like to recommend this new outstanding ryokan.
+ More
Dec 2014
Information
Check-in Time

From 2:00pm to 6:00pm

Check-out Time

Until 11:00am

Tax / Service Charge

Bathing tax JPY 150 per adult is not included in the rates.

Credit cards accepted at this property

VISA / MASTER / JCB / AMEX / DINERS / UNION PAY
Children

All children are welcome. When sharing a bed, 0 year old children is free of charge, and 1-3 years old are charged for JPY 3,240 as accommodation fee.

Pets

Pets are NOT allowed.

Parking

Free of charge for guests; Capacity 10 vehicles; No Valet Parking Service

Other policies & conditions

Bathing tax JPY 150 per adult is not included in the rates.; Please contact the hotel in case guests arrive after 6pm.; Non-Smoking throughout the property including open-air bath in guestrooms. Smoking is allowed only at designated area.; Please note that Gora Hanaougi is not able to offer vegetarian or any religious meals.
Inspiration
All The Rooms with "Tub on Balcony": Gora Hanaougi Madoka No Mori
The ryokan where you could enjoy two kinds of "Gensen Kakenagashi" hot springs
Gora in Hakone is a popular hot spring area where you could find so many luxurious ryokans (Japanese inns),especially around Gora station located at the end of the Hakone Tozan line. Five minutes away by car from Gora station is the place where "Gora Hanaougi Madoka No Mori" was opened in December 2014.

Each room features open-air bath with hot spring water. With the Hakone forest in front of your eyes, you can forget your surroundings and spend a relaxed time, and so it has gained popularity since its opening.
A blissful moment surrounded by wooden aroma
As you pass the entrance, you will be fascinated by the counter made of suprisingly long wooden 'Jindai keyaki'plank located at the front, and a beautiful gold‐leafed folding screen made by Katsushika Hokusai.

Inside of the building, the floor is totally covered with tatami-mat, and it is pleasant to walk around with bare foot.
The spacious high ceiling supported by thick Japanese zelkova beams envelops your whole body with a gentle scent of wood and provides a refreshing feeling.

All of the 20 rooms in this ryokan spread along the corridor. The wooden furniture made by the carpenters of Hida makes each room splendid, but in a way that still enables you to comfortably relax. All the rooms are non-smoking but it is possible to smoke in the space around the fireplace, so smokers can enjoy their time there.

As the name "Madoka (circle) no Mori" indicates, you can see round shapes here and there, such as in the shape of the windows and the paper sliding doors, and the absence of corners will make you feel that the ryokan wish you to spend a harmonious time.
Peaceful rooms that emphasize privacy.
There are 3 types of rooms. Firstly, there are 5 Suites which are equipped with dining room, 7 Deluxe rooms which provide more than 50 ㎡ of large and comfortable space, and 8 Standard rooms that are basically for the use of one or two people.

For the Suite rooms and the Deluxe rooms equipped with a dining room, you could choose to take your meal at the restaurant or have it serve in your room. Every room is designed as Modern-Japanese with the floating scent of wood, which provides an relaxed atmosphere that will free you from your daily busy life.

At Madokano mori, they select a wide variety of unique amenities such as bath goods and skin lotions, but they also use "SASAWASHI" toothbrushes, stated as an high class item in Japan. As your room wear, you can choose between a Japanese yukata and a "Samue" made from soft double gauze fabric.
Open-air bath in the great nature
Madokano mori is an unusual ryokan in Hakone having two hot springs of their own.Because of this, you can enjoy two different types of hot springs in your room and the large public bath.Basically all of the hot springs are over flowing most of the time but depending on season, they may add extra water to adjust the temperature.

The hot springs in the rooms are weak alkaline salt spring, which is a gentle spring with not much skinstimulation. It is also a good spring to soak in for a long time.

The large public baths are a sulfate spring and hydrogen carbonate spring and is usually called a hot water of beauty, it will heat your body temperature up in a short time and will make your skin smooth.

The scenary from the large public bath is filled with green and will make you feel as though you are bathing in the forest. The large public bath is stocked with ample amount of fresh towels, which is great for those of you that want to bathe many times."
Meals are served in a private room, with no one else to bother you.
The meals are a signature of Madokano Mori, Kyo kaiseki style meals using fresh seafood from Sagami sea and local vegetables grown in the area. The Okami-san (host lady of Madokano mori) was born in the Hida-Takayama area, so she selects the specialty, "Hida Beef," Prime A5 quality beef as a main dish. The juicy beef and the flavor of the fat is really impressive.
Breakfast will be served as a full course Japanese breakefast called "Washoku-zen". Using many products from the maountains and the sea, you will be able to feel the seasons while eating the breakfast. You can also select rice prorridge instead of rice dependng on how you are feeling.
Bar, Stone Sauna, and the well-equipped Spa Treatment
"Kodama", a bar renovated from an old style Japanese warehouse, is a must visit spot before or after your dinner. Behind the heavy doors, there lays a dimmered space for you to enjoy a drink or two. The drink you have in this space will sure add a great memory to your travels.
At Madokano mori, they have two stone saunas set at different temparetures, one at 50 degrees and the other at 45 degrees, you must reserve them (45 minutes for one reservation) and can be used as a couple too.

At the esthetic salon "MORI" (meaning forest in Japanese) located in the forest, you can receive treatment such as a detox massage or a lymphatic massage and maternity oil massages using organic oils. They are a wide variety of massages available for all ages and will sooth your body and soul.

Hakone is a popular Onsen desitination being fairly close from Tokyo. And Madokano mori is an attractive destinations being able to enjoy the extraordinary experience in the forest and its natural atmosphere.
+ More