Miyagawacho Yoshii
Be carefree and enjoy your Kyoto stay at "Yoshii", the very centre of Kyoto. "Kyono Koshuku Miyagawacho Yoshii" is located to the south of Kawabata street from Minami-za, facing Shijo street.There are only three rooms, one that faces the inner garden, one that overlooks Kamogawa and one with a view of the merry Kaburenjo. Preserving the relaxation style true to Kyoto, featuring jet baths and Hinoki wooden baths in each room produce a scene full of the spirit of a trip to Kyoto.
- VAT is included, but bathing tax (around JPY 150 per adult) may NOT be included.
- Price in USD is based on the exchange rate as of today and might be different from that of the booking date.
Foods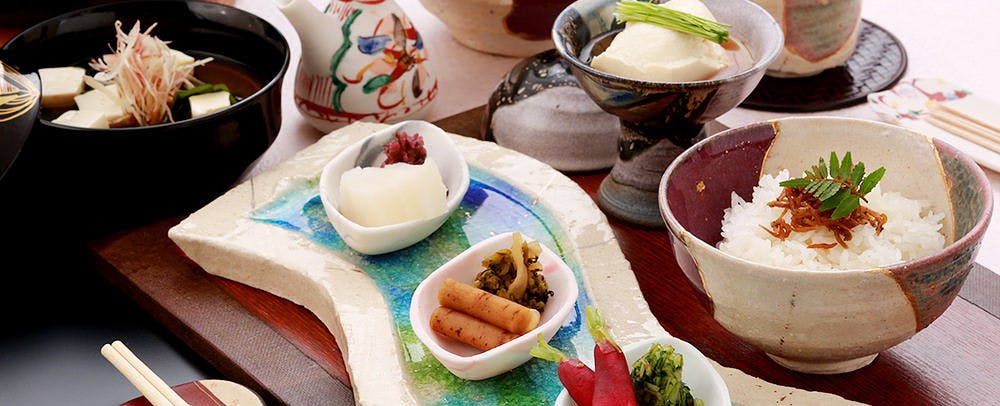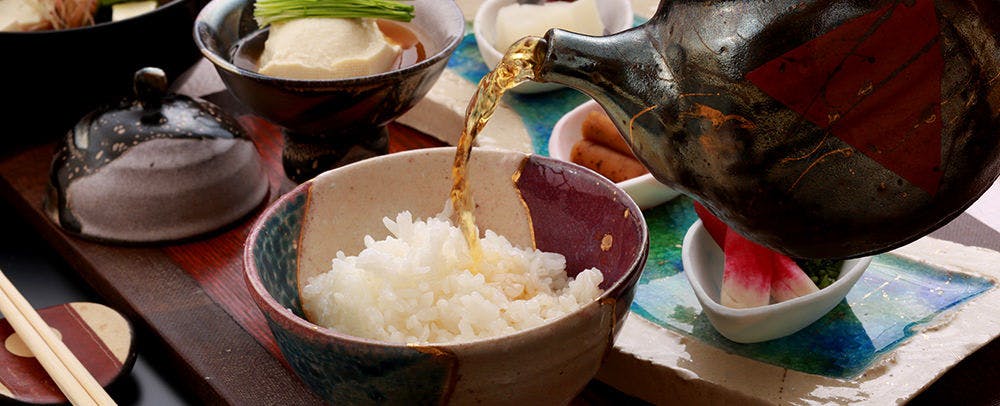 For breakfast, the inn serves Kyoto's bubuzuke. "Pickles" are an important part of Kyoto's culture. At Yoshi, the inn prepares a bubuzuke breakfast with Kyoto style pickles. The inn uses pickles from the well-established pickle maker "Masugo" from Kyoto's kitchen "Nishiki Market" and the dish is specially prepared using white rice inside a hagama pot serving by serving. Kyoto pickles with freshly made rice, it is a perfect way to start off your morning for the perfect the Kyoto experience.
Baths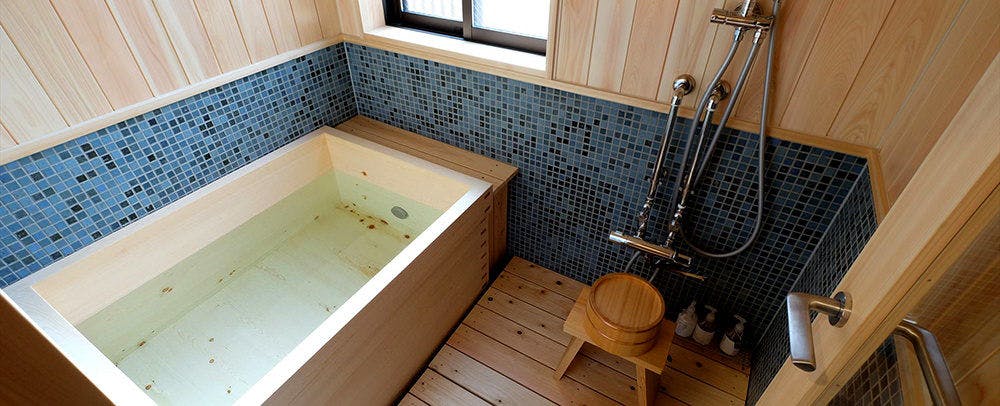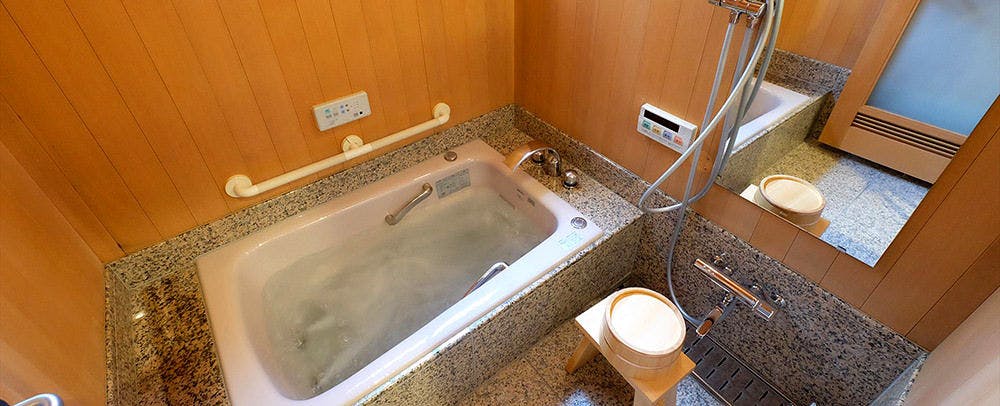 A time that truly heals travel weariness, bathing time. Bathing time is when you are truly healed from travel weariness. The baths include a bath where you can enjoy the pleasant scent of hinoki cypress or a jet-bath that takes away travel tiredness. Everyone is welcome to reserve a bath that they would like to enjoy. Also, all the rooms are equipped with a multifunction shower that also has a rain shower mode. Enjoy a nice shower time with the latest air-in showers.
Facilities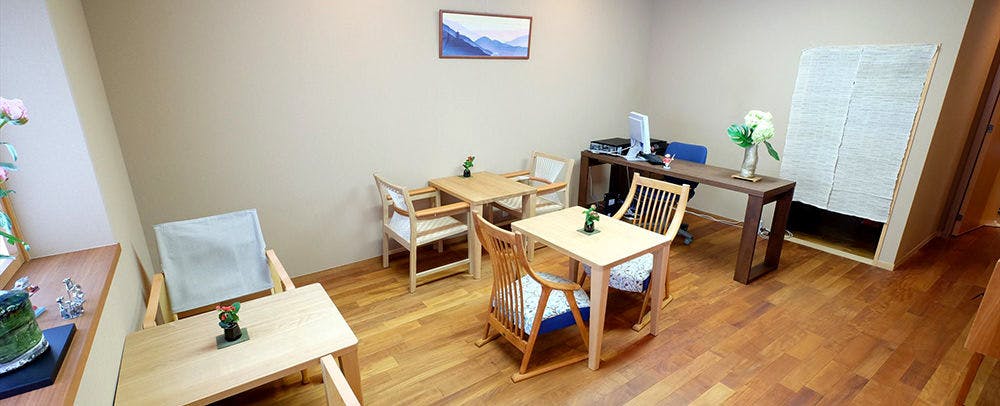 Various furniture are arranged inside the building at Yoshii carefully selected from all over the country. Made in nordic Europe or made at a small workshop "Kyōno Koshuku Yoshii" has a cute collection of chairs that suit its atmosphere. Enjoy a nice luxurious time being and relaxing there.
Access
4-307-3, Miyagawa-suji, Higashiyama-ku, Kyoto city,,Kyoto,605-0801,JAPAN
When arriving by public transport
The inn is approximately 15 minutes by taxi from Kyoto station. You will find out when you tell it's "Kaburenjōmae, Miyagawa-Cho". The nearest station Shijō station on the Keihan line. The place is about 250 metres after you exit the Shijō station from the 1st exit.
Reviews
It was my first time in Kyoto in autumn, but I really think that I stayed at a very nice accommodation. I did a smart thing creating a handmade map of Rurikoin. Because it felt so homely, I thought that I would like stay with my child next time, if possible.
+ More
2016/11/20
It was a wonderful stay. I had a desire to spend some time relaxingly in Kyoto before marriage just with my mom. The room was very clean and easy to relax in, I felt the commitment to design in the interior such as a coffee table whose legs are lamps, hand-made glasses. Pine was put on pebbles along with the message that was in the room, and they handed out "talisman of travel" at checkout... It became a very tasteful lodging. The Japanese cypress bath was also wonderful. I discovered that not only is the smell good, but also that the body warms up very much. Reef & Botanics of the amenity is a good companion with the smell of the cypress, a pleasant bathing experience. The reason why I was most pleased was that my mother used a spare pillow in the closet, "I want a low pillow..." she asked on the evening of the first day. But I did not say anything to anyone in particular. Although I was satisfied with the extra pillow, as I went out and came back, the pillow which was even slightly smaller than the one before was gently prepared on my mom's bed. It was my first time to receive such heart-warming service. I was taught the meaning of "entertaining". In addition, when I told the schedule of the next day, I examined all the recommended restaurants, restaurants, timetables, maps around the inn (and moreover they're handwritten!) In the vicinity and handed them out when I go out. Thanks to you, I was able to go to play with confidence. When staying in Kyoto, I definitely will come stay here again. Thank you very much.
+ More
2016/05/20
It is a cozy inn that is one corner of Hanamachi. Although the noise of the second floor is a little worrisome, it was just like a feeling that we stayed at a friend's house. Pickled bubuzuke of breakfast was very delicious, and we enjoyed all of the meals.
+ More
2016/08/20
I admired all the services of the hotel. I felt that this is how service is supposed to be. It's really like I learned how to be more thoughtful and courteous to other just being there. I think that I will stay there when I come to Kyoto again. Thank you very much for everything.
+ More
2016/03/20
The place is very quiet in a location just a short distance from Shijyou Ohashi. The atmosphere is very attractive in all 3 rooms. From the room you can view Kamogawa from the window. The bath is toasty with the scent of hinoki. Perfect for couples or people with children. I had tempura for dinner in Pontochou. Even though I was about 40 minutes late I was able to spend the time happily with friendly company. Breakfast is pickles and rice. It's tasty and delicious, it's a classic I thought it might be good if I could have grilled eggs and grilled fish etc. The meal was very tasty. It was awhile since I'd had smoked food.
+ More
2015/04/20
Information
Check-in Time

From 3:00pm to 9:00pm

Check-out Time

Until 11:00am

Tax / Service Charge

Nothing in particular.

Credit cards accepted at this property

Credit card is NOT accepted at this ryokan. Please pay by cash.
Children

Children are NOT allowed.

Pets

Pets are NOT allowed.

Parking

No parking lot is available at the hotel, while public parking is introduced to guests.

Other policies & conditions

We accept only cash. Sorry for any inconvenience it may caused.