Satoyama Jujo
"Where you starts a new story of your own' Satoyama province, surrounded by rich natural environment that unfurls various stories within for each day.Shining, pitch-black posts and beams, that have born the heaviest snowfall for decades. Modern designer furniture, that marvelously suits to Kominka, Japanese traditional architecture.Contemporary art works, that urge you for another creation. And above all, food and its culture, that directly conveys the dynamism of the nature...This place is not an isolated retreat nor service-oriented gorgeous hotel.'Redefine luxury.' Satoyama Jujo offers you plenty of experience and discovery as the real affluence."
- VAT is included, but bathing tax (around JPY 150 per adult) may NOT be included.
- Price in USD is based on the exchange rate as of today and might be different from that of the booking date.
Foods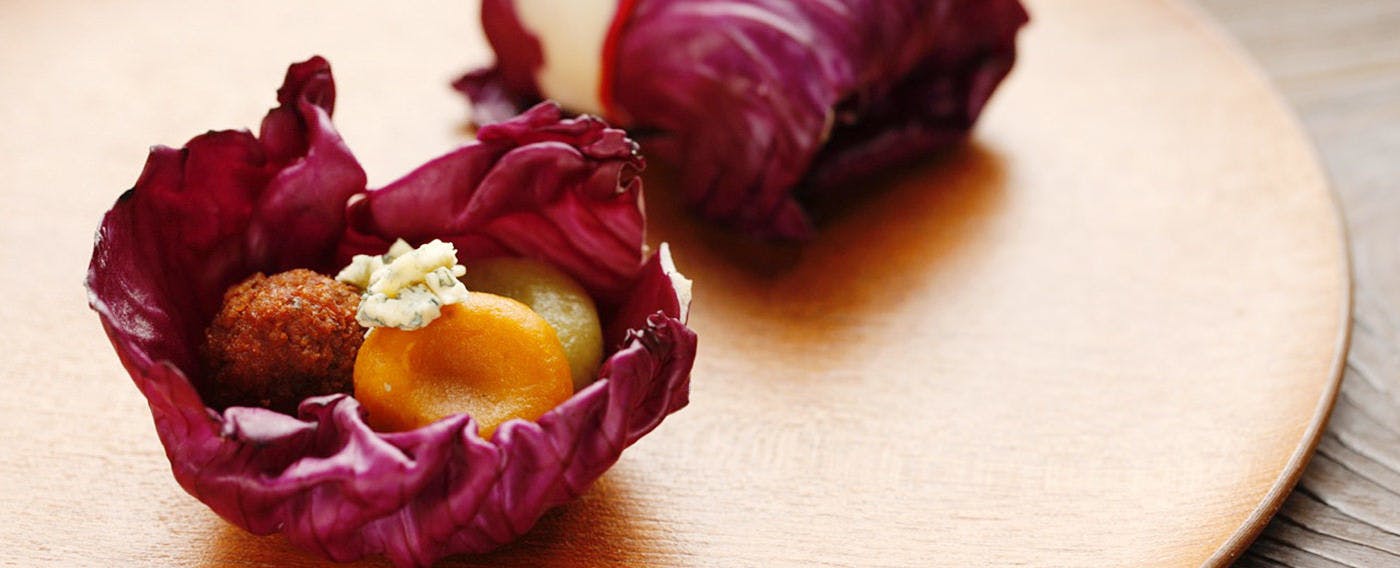 Foods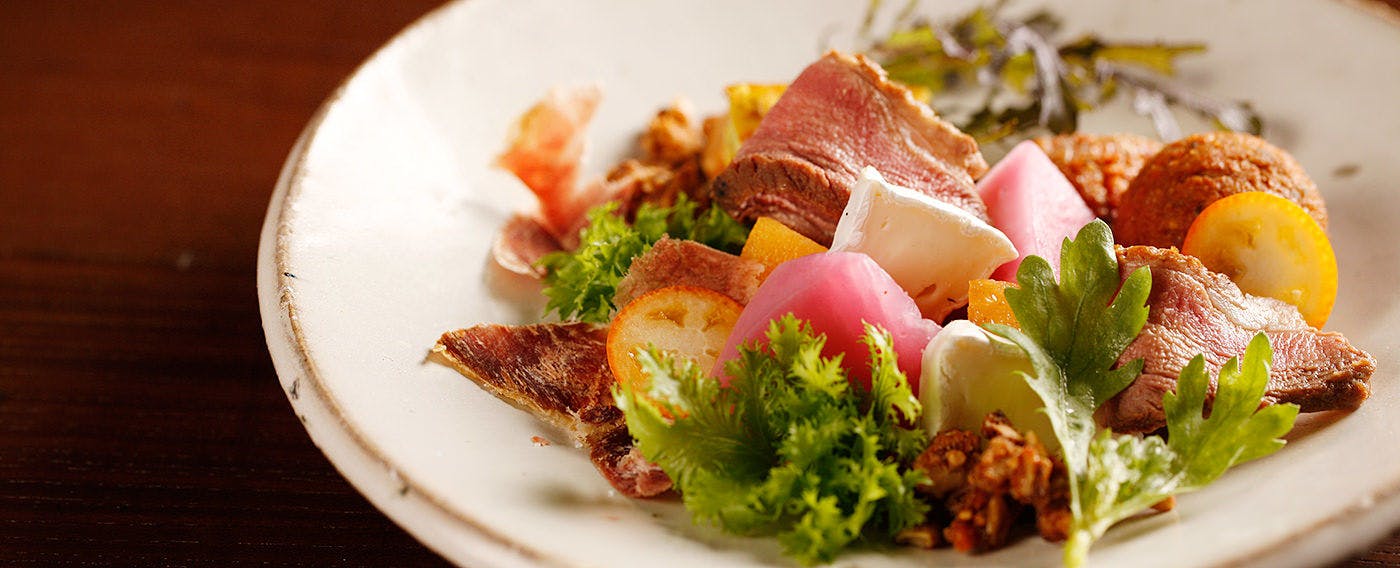 Foods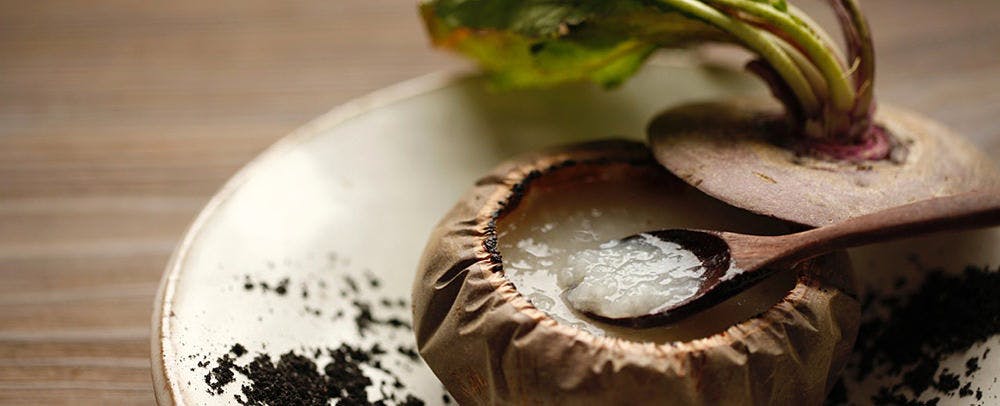 Foods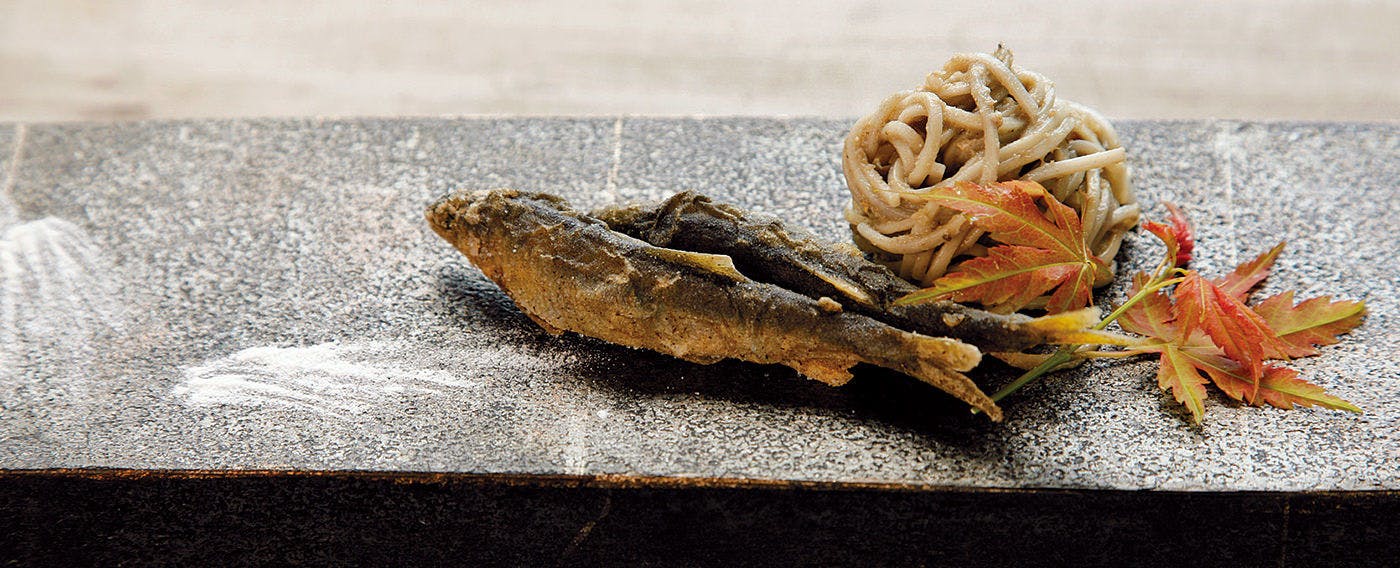 Foods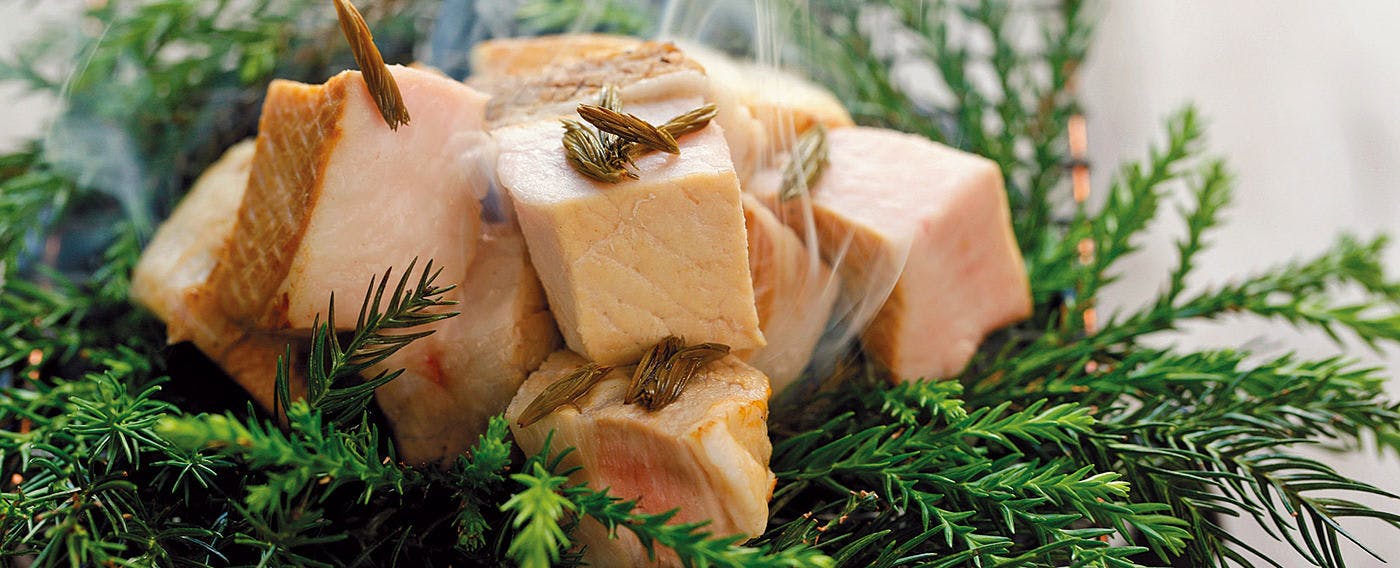 Foods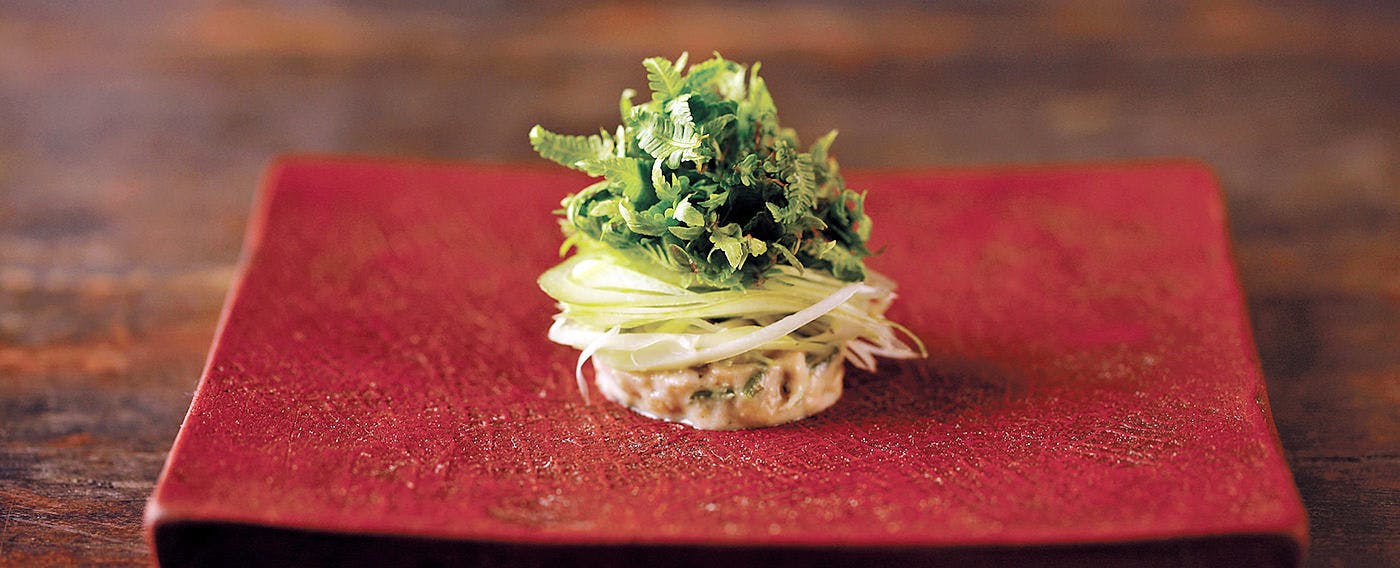 Foods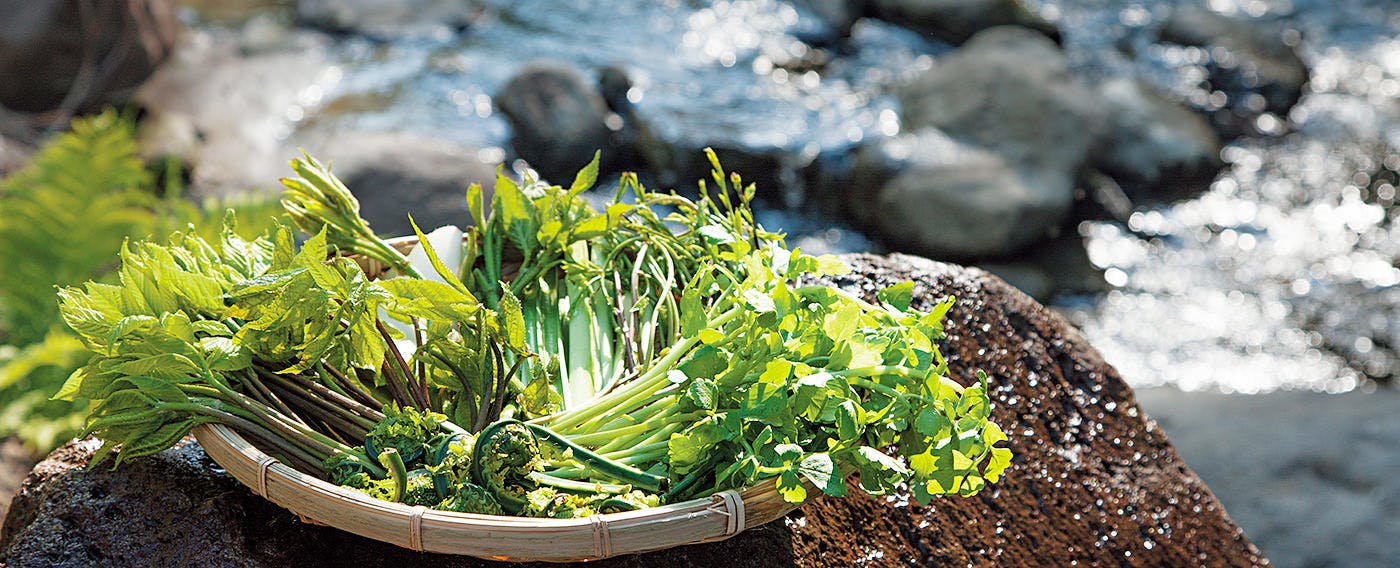 Foods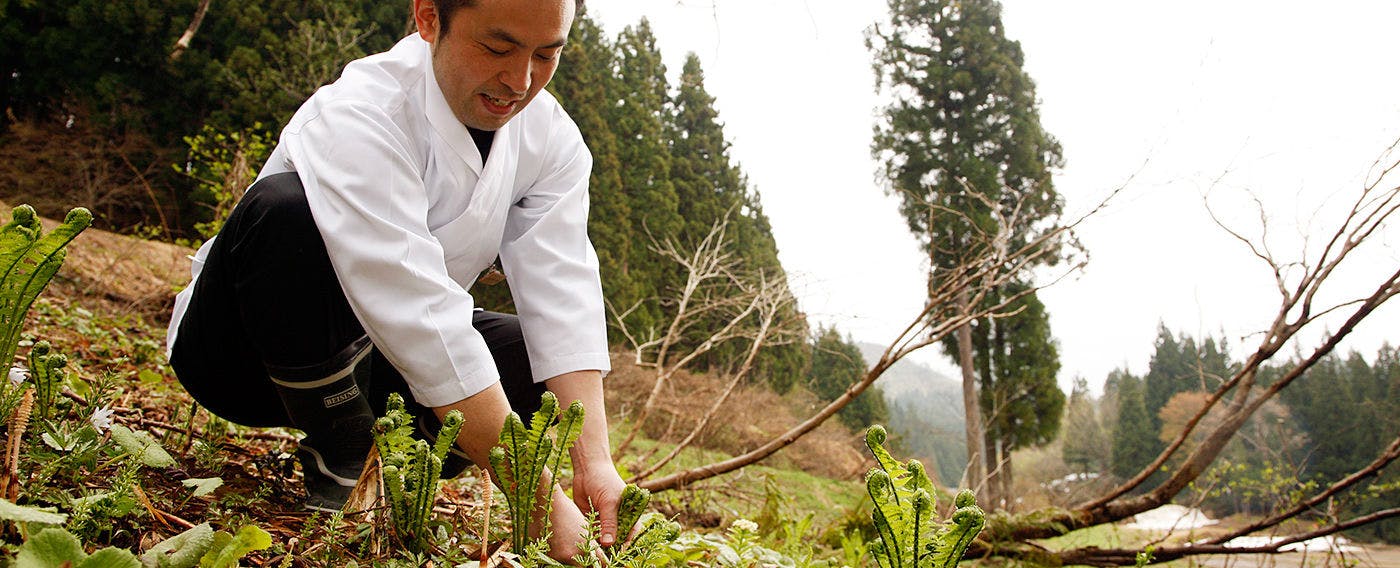 Foods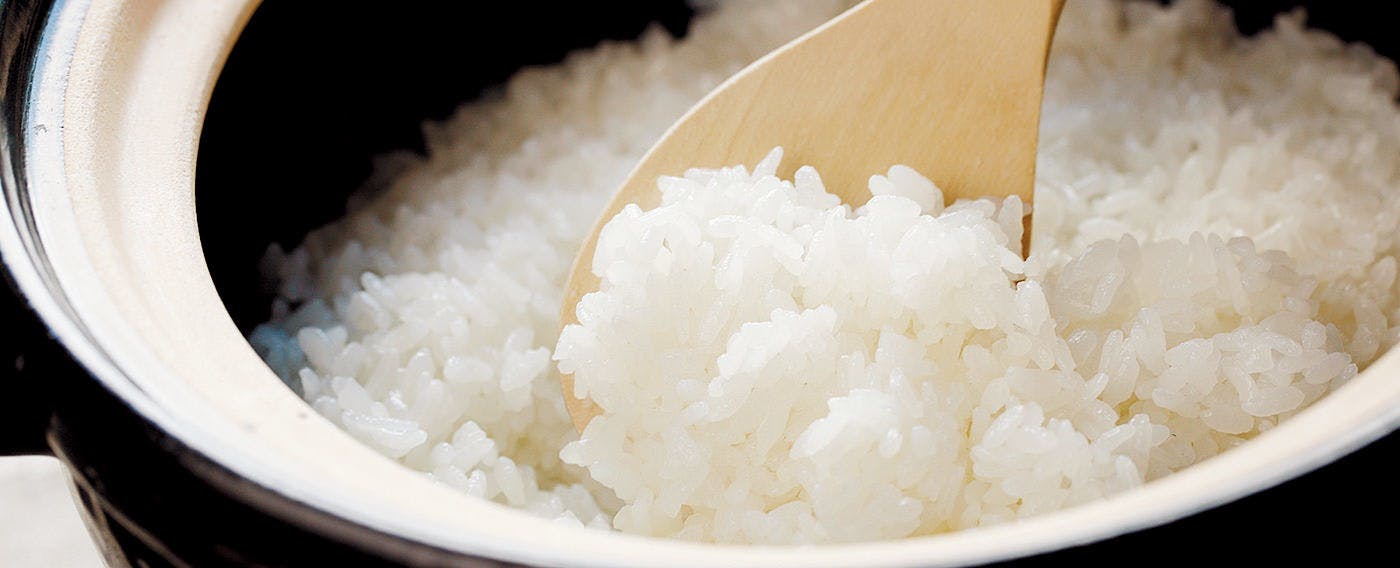 Foods
Organic & detox dining 'SANABURI' SANABURI ---- a Japanese word that signifies the feast after the rice planting so as to pray for an abundant harvest and to thank everyone who, in a custom way of that times, have co-worked. Our restaurant -SANABURI- values such cultural traditions, while offering a modern way of 'wine and dine' cuisine.

With every bite or sip, we trust you will realize the wealth of our mother Nature and the innate power that genuine foodstuffs are born with.

If you feel a bit short of inosinic acid, some additional beef or pork menus are available. Also, various type of vegetarian menu are available (3 days prior reservations necessary).

At traditional Japanese ryokans, dinner and breakfast are both included in every rate. But, as Satoyama Jujo is a little different from the tradtional style, its standard is the rate with breakfast, while rates with dinner and breakfast are also available.
Baths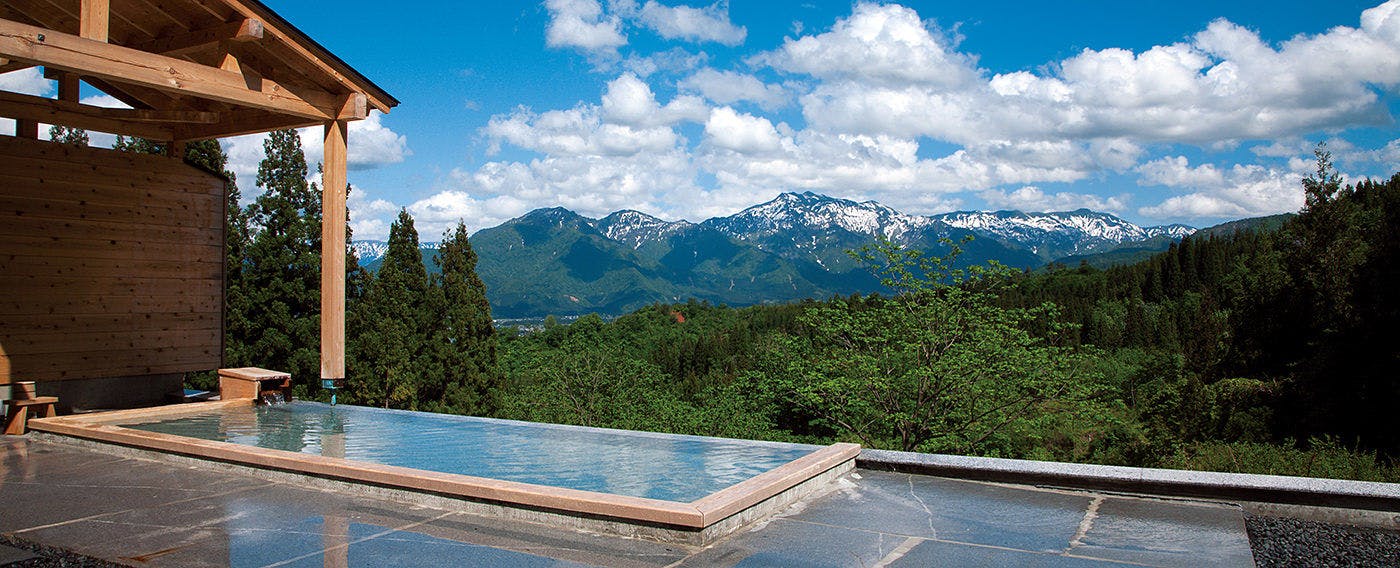 Large Public Bath 'Amanogawa'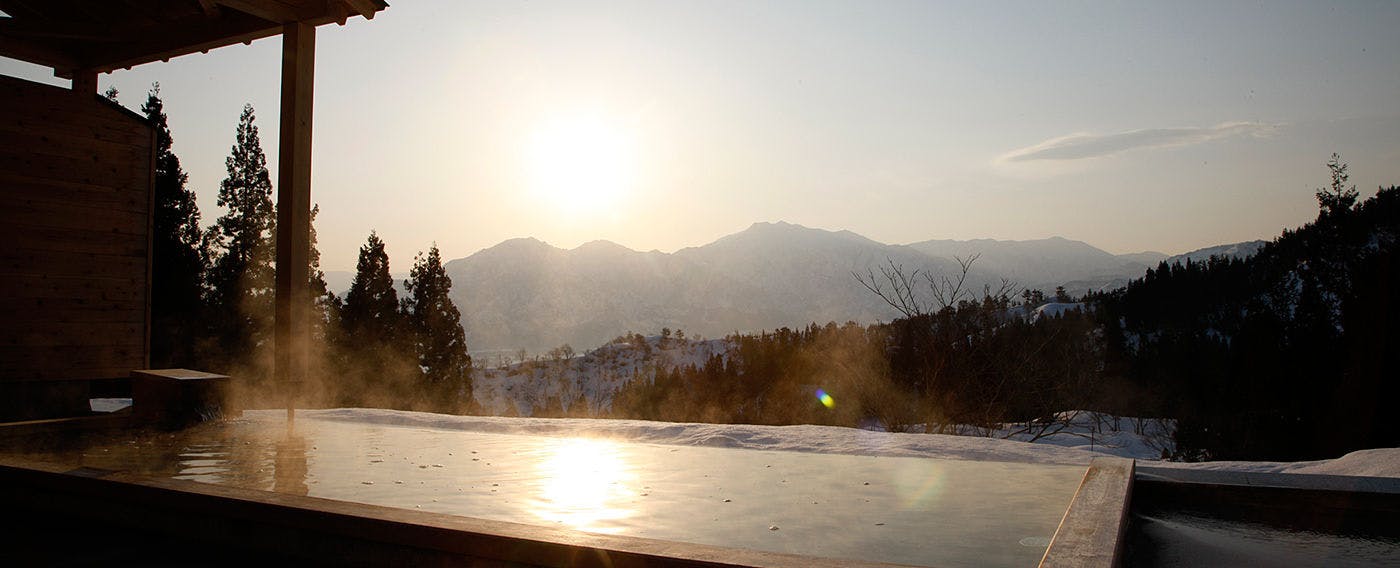 Large Public Bath 'Amanogawa'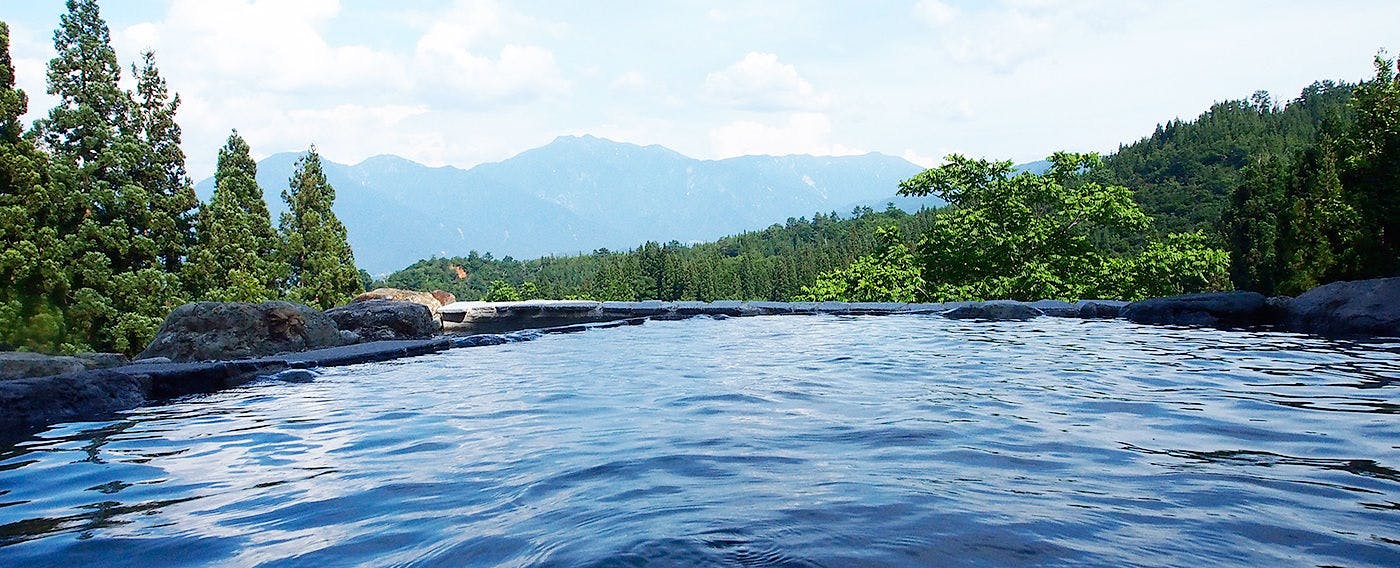 Large Public Bath 'Amanogawa'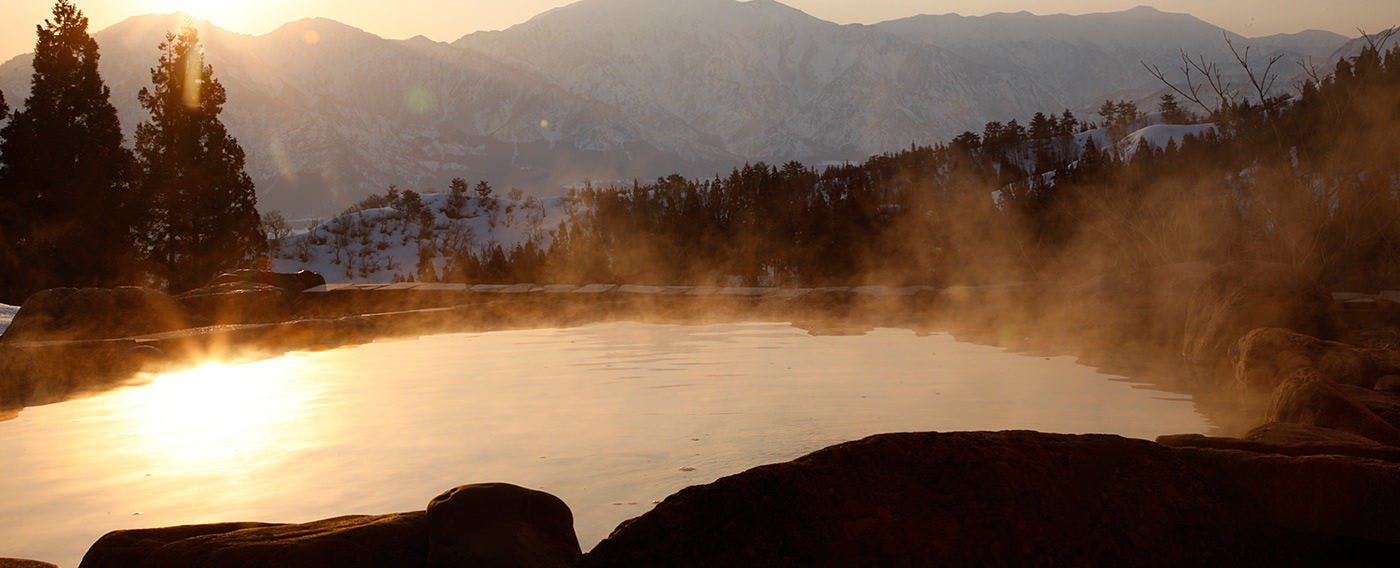 Large Public Bath 'Amanogawa'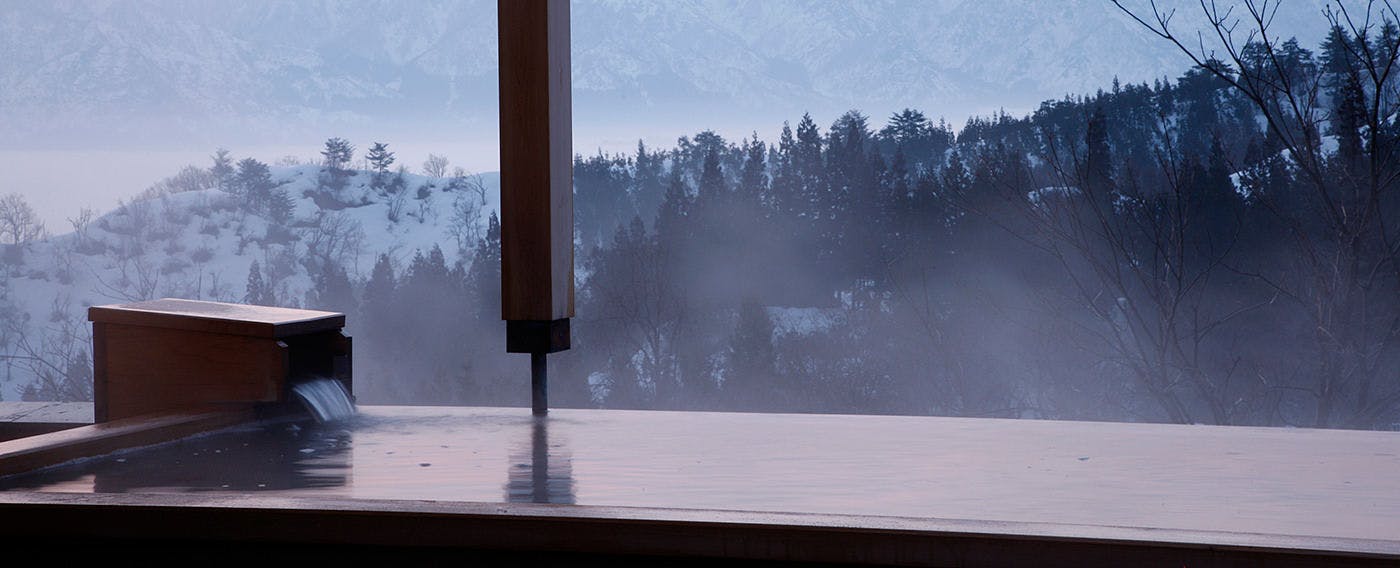 Large Public Bath 'Amanogawa'
Large Public Bath 'Amanogawa'
Large Public Bath 'Amanogawa'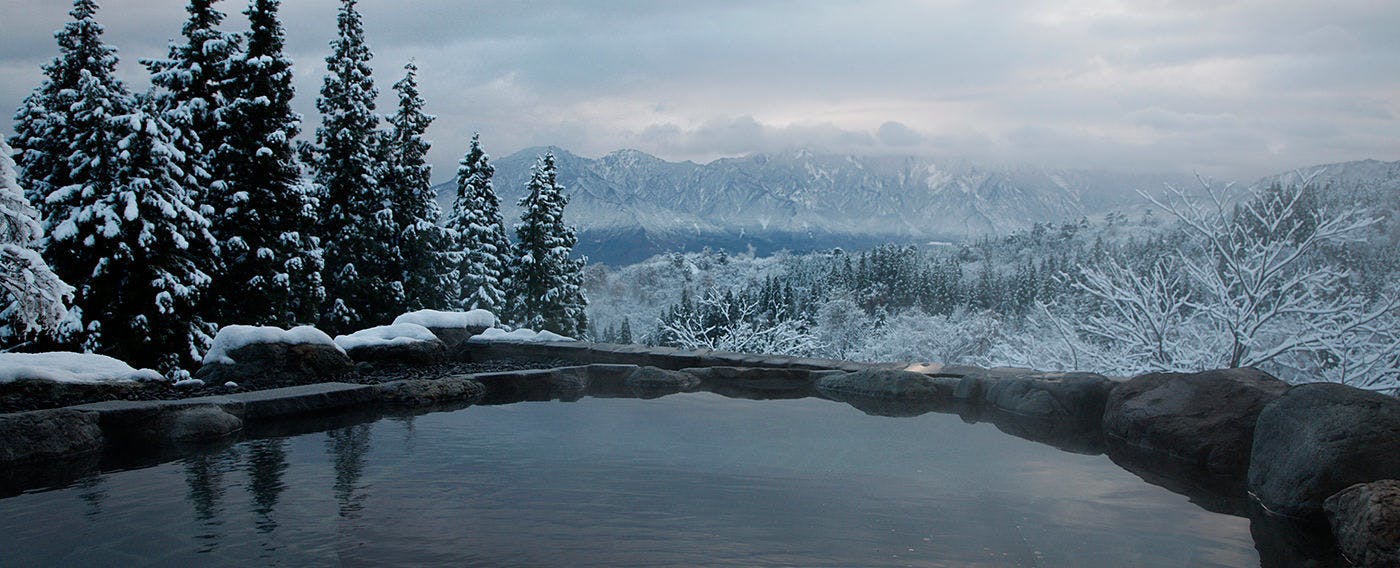 Large Public Bath 'Amanogawa'
Large Public Bath 'Amanogawa'
Starry sky, and fantastic sunrise… Large public bath 'Amanogawa' From the large public bath 'Amanogawa', you can view the mountains of 2,000m-height, such as Mt. Makihata, one of the best 100 mountains in Japan. Spring, when some snow is left on the peaks, and from late autumn to early winter, are the greatest seasons to enjoy the view. Also you can see the fully-starry sky and the Milky Way above from the bath.

Available from 3:00pm to 10:00am.
Male bath and female bath are switched at 10:00pm.
Facilities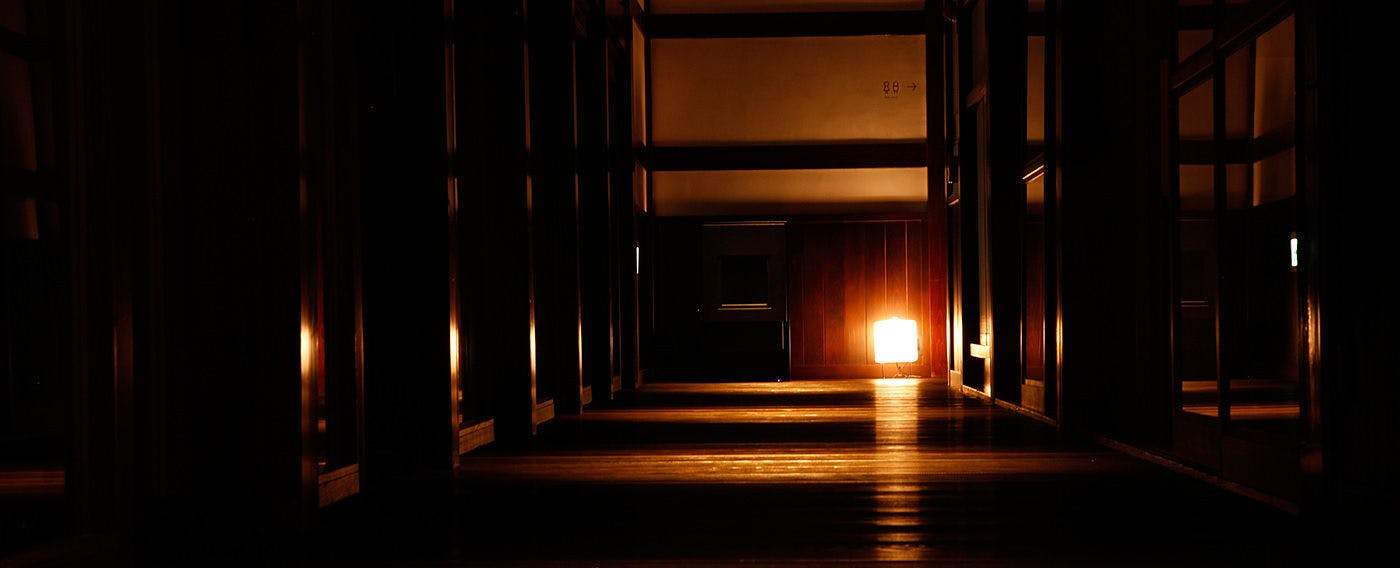 Corridor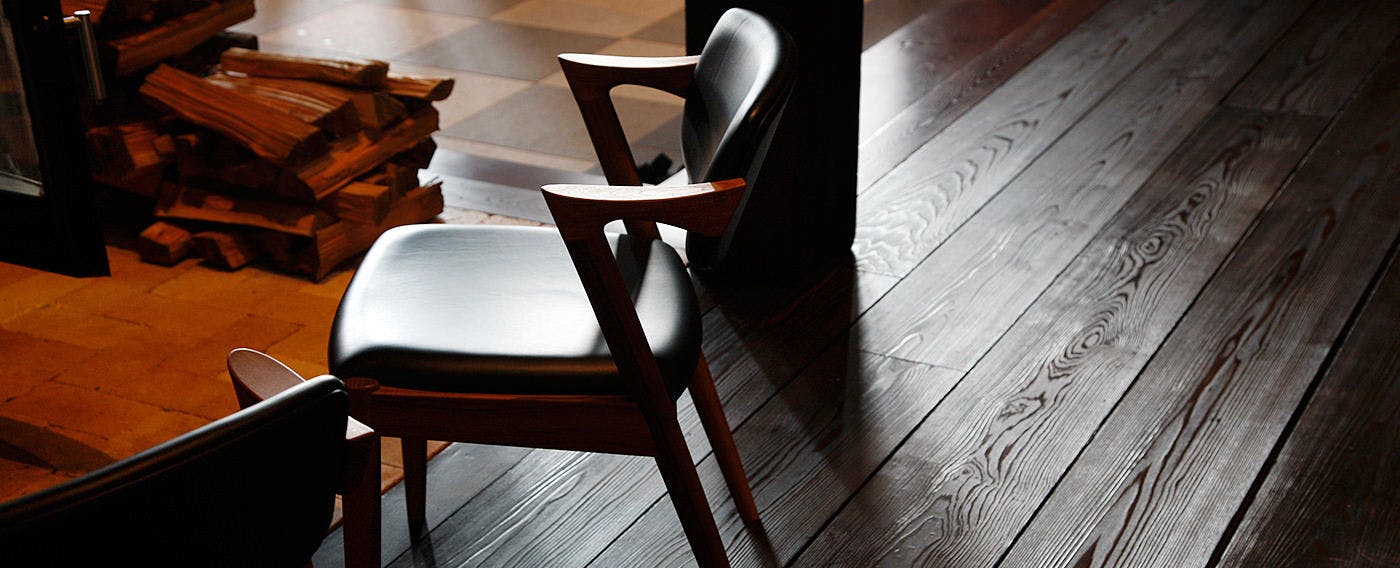 Designer's Chair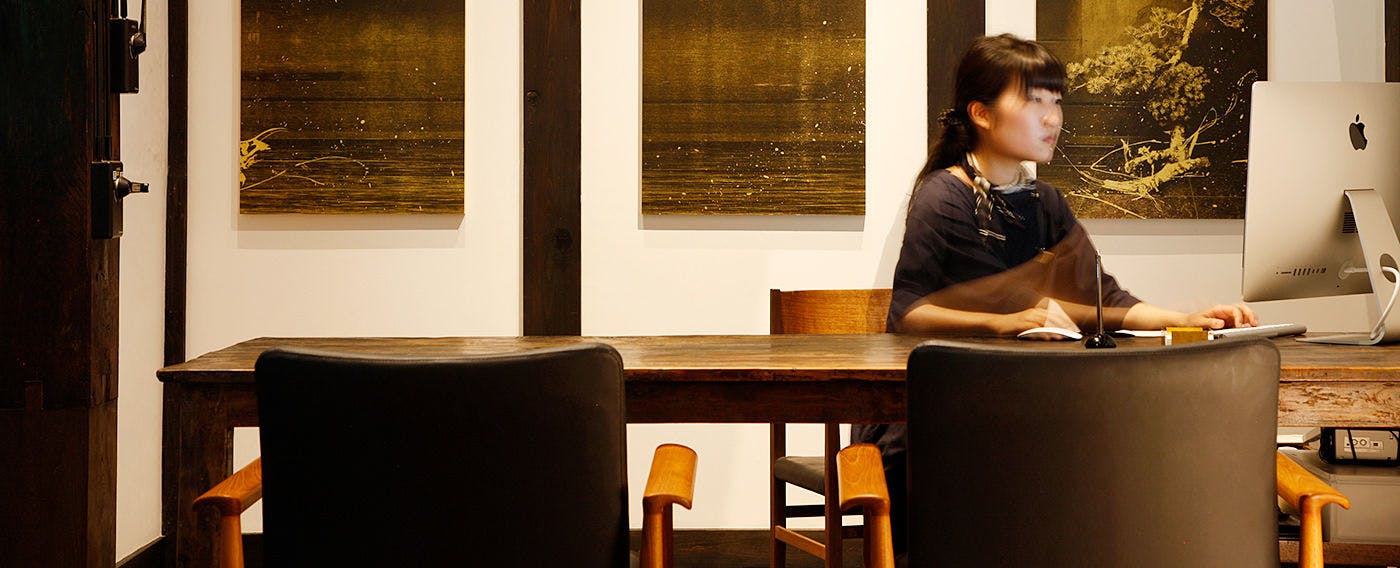 Reception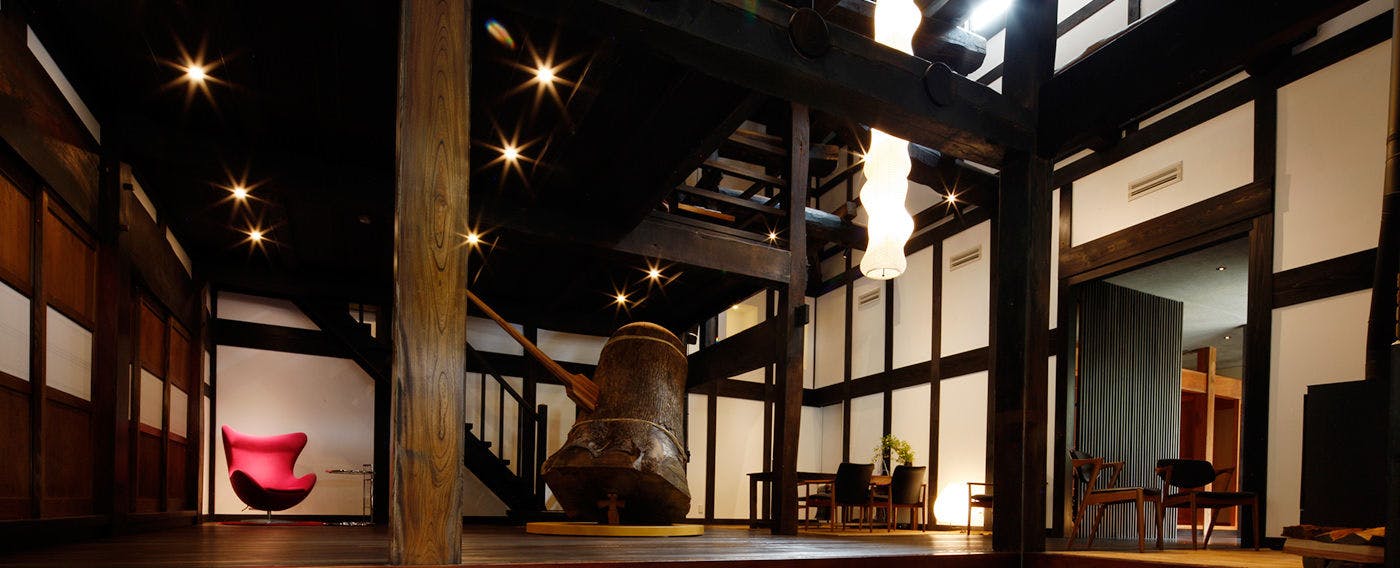 Lobby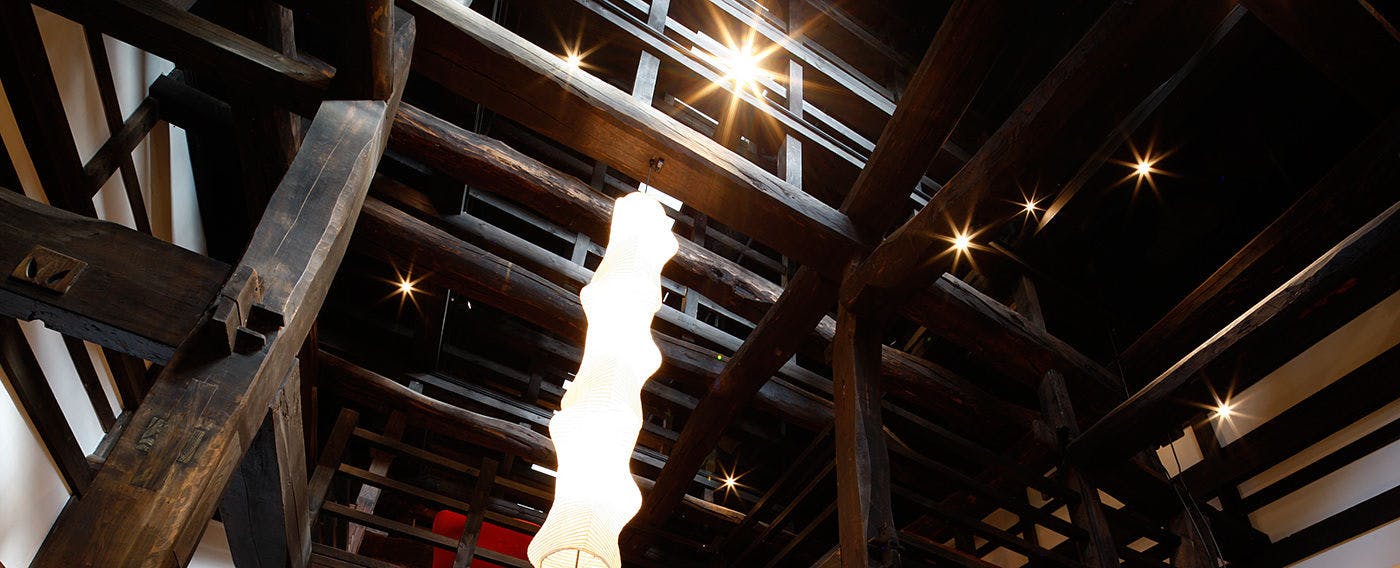 Vaulted Ceiling, Lobby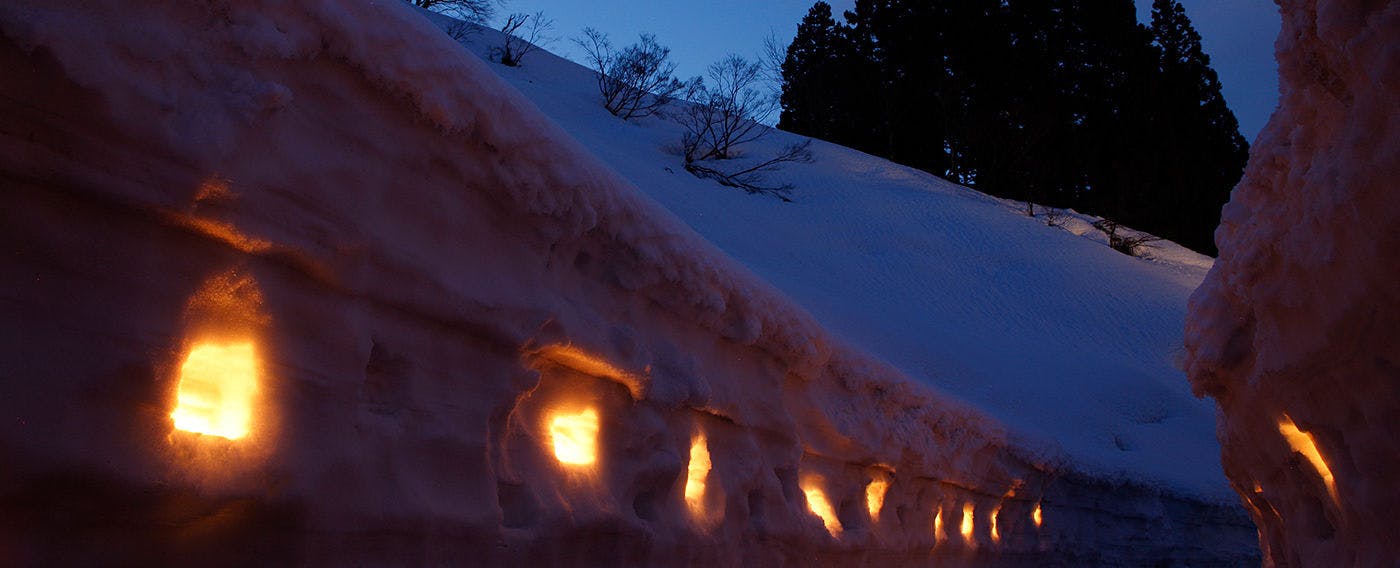 Satoyama Jujo in Winter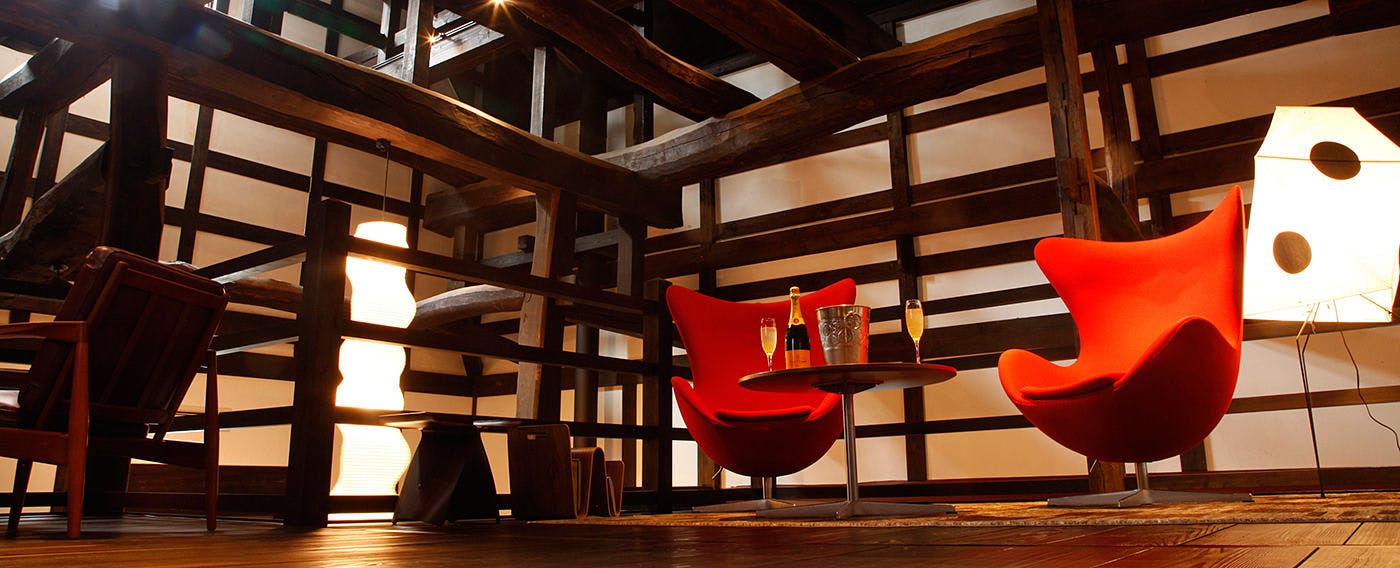 Lounge 'Koyagumi'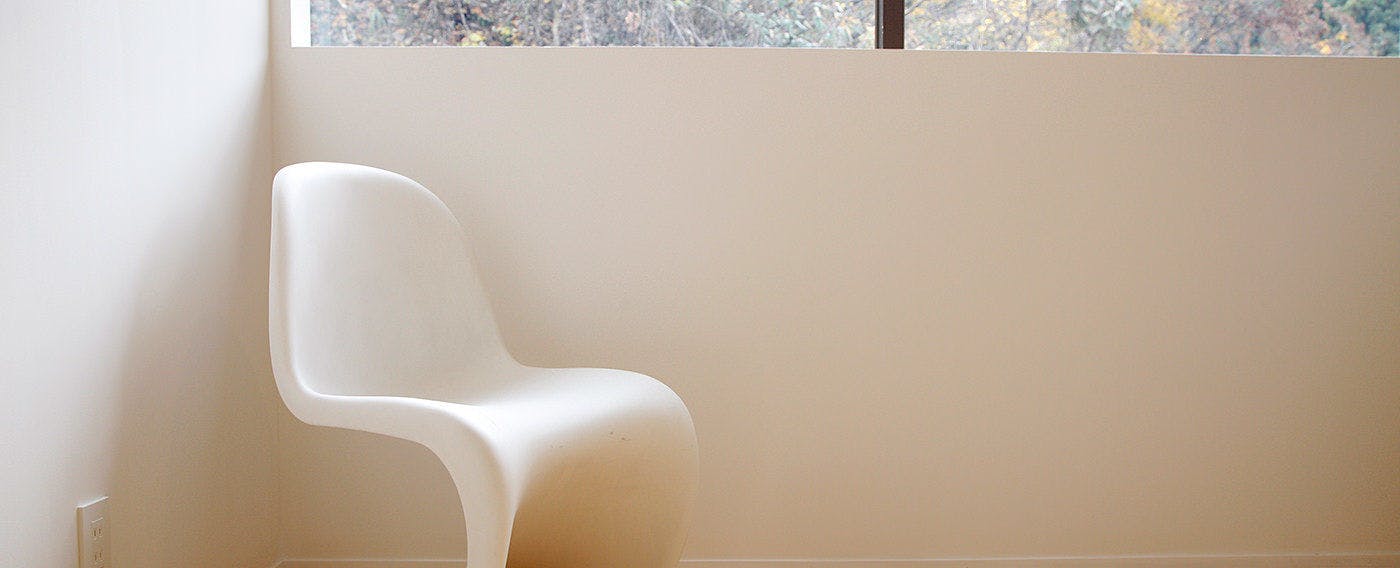 Designer's Chair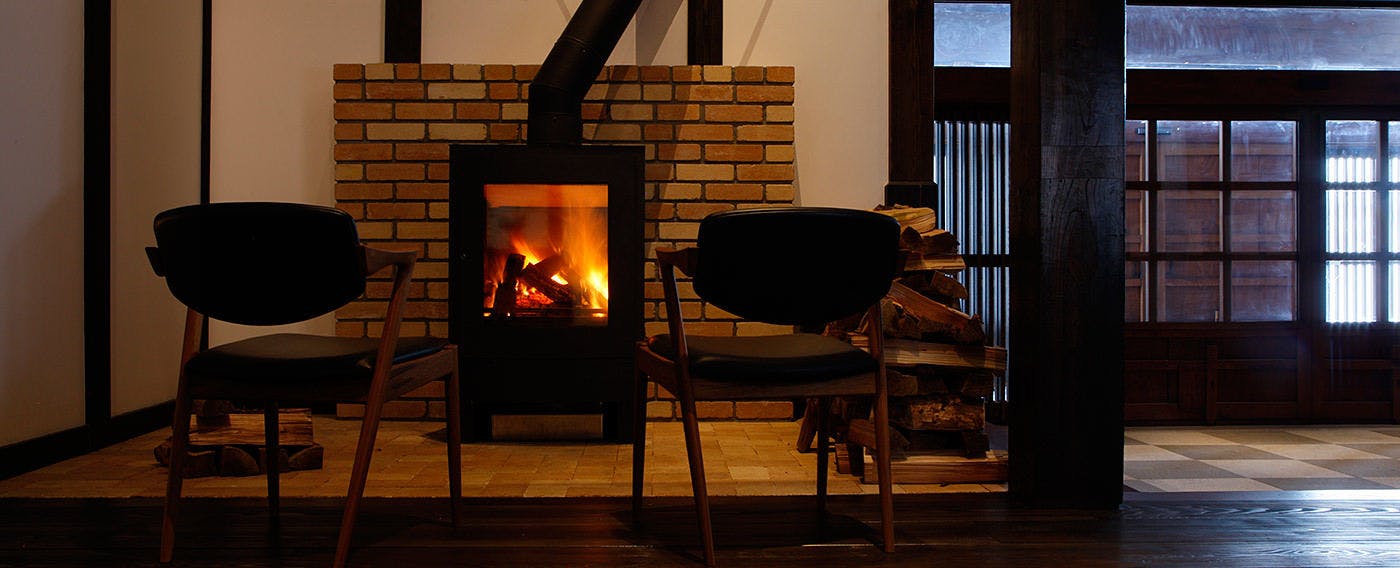 Stove from Belgium
Enjoy the fully-renovated hotel & restaurant, originally the 150 year old house Clearly different from so-called 'renovated ryokan', modernity is beautifully harmonized with tradition in Satoyama Jujo. You can see some masterpieces of chair and art work here and there.

Lounge 'Koyagumi'
150 years ago, when Japan's silk industry had gradually thrived, there used to be raised a lot of silkworms at this mezzanine. Now it turned out to be a cosy, modern lounge furnished with Scandinavian interior. Free coffee and herb tea is always prepared for guests. Have a tranquil break, gazing into elaborate structure of the ceiling full of ancient architectural techniques.

Reception/Lobby
150-year-old Kominka, an old folk house, is the frame of our reception, which is quite old and precious as a Japanese traditional wooden architecture. The whole building is made with valuable Japanese Zelkova trees, finished with Japanese lacquer work. Once you step inside, there opens a stunning, vast blow-by lobby, where an eco-friendly wood stove Nestor Martin warms up the air gently.
Access
Osawa 1209-6, Minami-Uonuma-city,Niigata,949-6361,JAPAN
BY TRAIN
From Tokyo Station: 1hr 15min by Joetsu Shinkansen to Echigo-Yuzawa Station, and 20min by taxi (JPY 3,000 to 3,600/prior reservation required). Or transfer to local train at Echigo-Yuzawa Station to Osawa Station, and 5min by taxi or shuttle service (prior reservation required).

BY CAR
From Shiozawa-Isiuchi IC Exit (Kan-etsu Expressway): 10min drive
Reviews
11 Reviews
For the purpose to visit the Art Festival of Earth, I found this place from magazine and other else, since it is having a good access from the place where the art pieces are, I selected it. It is taking about 3 hours by car from Tokyo with some breaks and no hurry. It is about 30 minutes to the main venue of the Art Festival, I had an impression of "already arrived?" after the journey which we drove and chatted on the car. I looked around the artworks displayed at the art festival, and checked in at 4:00 PM. I regretted that I didn't check in earlier...LOL I was nervous at first as the price of the hotel was that of a "luxury" hotel for us, but was relieved right away thanks to the wonderful smiles of the friendly staff. I enjoyed a relaxing bath time, then the dinner I had been looking forward to. Carefully cooked dishes were all refined and looked sensitive. It was too beautiful to eat, and I felt like watching it for a while. The sensible presentation by the staff added excitement. I was satisfied with the various dishes beautiful like art. I was told that the meals were mainly vegetables, but was enough for people like us in our 20s with good appetites; we were full. The breakfast we had the next morning was well balanced with meat and vegetables, which was healing until the last minute. It was nice that they changed the natto (fermented beans) that I didn't like to a different plate. I had the impression that Niigata was a humble area (I'm sorry...), but actually thought that it was an attractive place with good food, surrounded by magnificent mountains, rich nature with beautifully terraced rice fields, and on top of that, you can enjoy art. I would like to visit again starting with Satoyama-jujo, as I could not finish watching all the artworks.
+ More
Sep 2015
This time I stayed with my family. Thank you so much for the very dedicated hospitality, like when the staff brought us an umbrella to our car to receive and sent us off, when it was raining. In one of the meals, when I asked for something else for my child who didn't like eggplant, the staff kindly brought him a beef dish, which he said was delicious. Because of the poor weather, I can't say the view from the hot-spring was fantastic, but I had a pleasant time there, gazing at the landscape. Next time, when I have the opportunity, I want to stay here again to see the sky full of stars and the superb view from the hot-spring. Thank you so much.
+ More
Sep 2015
It was my second time to visit. My mother got sulky since I took my little sister last time, I went with my mother this time in a different season. the open-air bath, the mezonet suite room, and the masterpiece furniture lined up inside the building were all good, but the most amazing thing was their meal. What surprised me this time is the colorful appearance and profound taste of the vegetables used in the hotel. I usually eat organic vegetables that I order by home delivery service, but they are no match to these vegetables, which have such intense taste The vegetables from Satoyamajujo were all very powerful and had a very authentic taste. When I asked it turned out that almost all vegetables were supplied by contracted farmers. I felt that they must have been very carefully selected. I was also surprised when they served cucumbers that were freshly harvested from the field that was right in front of my eyes. It appears that they grow traditional vegetables right on the premises. (Speaking of which I thought there were also clusters of watercress...) Last time I visited here in the end of winter. This time it's the end of summer. I was also surprised that the food was completely different. In winter there is a special winter impression, in summer there is a summer discovery. I felt their attitude of understanding each locally grown food ingredient depending on the season and show it up properly on a plate, and my gourmand heart was filled with joy. A person from the staff told me that they were glad that there are increasingly more people who come to them again, and I found this convincing. I wonder what foods will there be in autumn? And what was there in spring? This is what I'm anxious to know now... I feel I might make a reservation in spite of myself (lol). The name Satoyamajujo makes one think of an outdoor bath with an excellent view, old houses, fine furniture and artistic space, but in fact it's a hotel where one has to stay in order to enjoy the food. I think the image of this facility is not "a hotel with delicious food," but rather a unique restaurant complemented by a wonderful hot spring. I thought it is a hotel with restaurant and hot spring that are representative of Japan. (Or is there no such type of hotels???) During checkout I heard that in fact one can visit only the restaurant. I thought then that it's exactly the type of a restaurant, "which is worth coming all the way." The friendly and calm disposition of the staff was also healing for me. I would like to do my best at work and then come here again. Thank you.
+ More
Sep 2015
The setting was quiet, and the sansai (edible wild plats) dinner we ordered was very satisfying, but I didn't like the small room with a tiny bathroom and a little bed. The staff was very nice.
+ More
Aug 2015
I stayed here with my mother during the summer vacation. I chose this place to enjoy luxury as a present to myself and also as a birthday present to my mother. I requested the firmer pillow for my mother who does not like feather pillows and I appreciate that they responded to it. The walk around the village-vicinity mountain with the manager after check-in made me feel very good and it was fun. My mother who grew up in the country side enjoyed it, saying that she walked around with a very sentimental feeling. The mariage course of local sake and wine was the best and I truly enjoyed it. I regret that I could not eat as much breakfast as I wanted, since I drunk too much... Sincere apologies. It is easy to access with Joetsu line having many trains going there a day and you do not have to be nervous about time on your way and back. The closest station Osawa station is unstaffed but that is fun too. After the check-out, I bought Kakurei as a souvenir at Aoki Brewery on Bokushi street which is close to Shiozawa station -2 stations away from the hotel- and enjoyed the waffle made by rice flour at a chic cafe which I knew in the blog written by the hotel staff. The historic view was wonderful and I recommend that you stop by here. One thing I would like the hotel to reconsider is the environment of the open-air bath both in the large public bath as well as the one in the room. In times like these there were many mosquitos and since they bite, it made me a bit worried. I wonder if it'd be possible to place insect-repellent lights, and also have a screen door at the entrance of the balcony for the open-air bath in the room. I do understand that the concept of the hotel is the coexistence of the mountain and people however there are many guests who are allergic to insects, and I know it is difficult but would definitely like the hotel to consider solving the problem.
+ More
Aug 2015
Regarding the distance from Tokyo, it wasn't too far or too close, it was just perfect to feel that we had a good trip. The room, the bath, the food, and of course the staff, was all wonderful. Especially the deliciousness of the rice should be mentioned specially. If I became full of stress in the everyday life, I would like to come again to refresh.
+ More
Aug 2015
It was a fantastic place. It is easy to access, the facility, the service and the food, were all satisfactory.
+ More
Aug 2015
I wanted to visit Satoyama jujo for some time now, so we went to stay there in July together with my wife. The building, which was an old private house before, is rather impressive, but there is also a modern space, there are masterpieces of chairs from excellent global brands and special household articles in the lobby and guest rooms. It's the first time I see a hotel where a MacBook fits so well (lol No or Yes?) In the end of the corridor constructed so as to increase your expectations there is an outdoor bath with a superb view. I could have a walk in the afternoon looking at the Hakkai mountain, at night there were the fireflies, in the morning - cycling in Satoyama, so I was able to fully enjoy the Uonuma nature. The meals consisted of dishes each of which had a special flavor due to dainty ingredients and was carefully arranged as an object of art. Especially most vegetables were the fresh produce harvested right before the dinner from the field in front of the Satoyama jujo hotel. If the water, the soil and the air are clean, the produce is going to have such profound taste, isn't it. Everything was filled with reserved but thorough care, so it was a hotel which condensed the wonderful aspects of Niigata and the creativity of the hotel owner. I would like to go there again.
+ More
Aug 2015
Any of the buildings, the food, the Onsen and the service was very good. Particularly, the building gave off a smell of wood in the air and the furniture was sophisticated, making me very comfortable. Because I stayed there on weekdays before consecutive holidays began, I had a quiet and relaxing time. I was very satisfied because at night I could do the firefly viewing and luckily I could also see the fireworks. I want to go there again.
+ More
Jul 2015
I had a relaxing stay here. I was able to relax in the bath, enjoying its nice view. The meal was mainly organic vegetables and I felt it was not enough. I didn't have a good appetite for only rice. I was amazed by its price, 5 kg for 10,000 yen.
+ More
Jul 2015
Thank you for taking a good care of me. Thanks to all of you I had a relaxing time. And old, traditional Japanese house, whose inside was renovated, was nice, but drinks were prepared and there were many spaces where you can relax. It became a good memory that I had a silly conversation with my son while relaxing in a hammock. It was raining on the day we arrived, but it was cleared next day so that we could enjoy the open-air bath with a wonderful view. The meal was a healthy menu mainly with vegetables, but personally I wanted to eat more fish. And, It was inconvenient that there was no shower cap. But, I could be satisfied overall. Thank you.
+ More
Jul 2015
Information
Check-in Time

From 3:00pm to 10:00pm

Check-out Time

Until 11:00am

Tax / Service Charge

Bathing Tax JPY 120 per adult is NOT included in the rates.

Credit cards accepted at this property

VISA / MASTER / JCB / AMEX / DINERS
Children

As Satoyama Jujo is the place for adults to have relaxing time, children are basically not allowed. Children are accepted only in case parents see below and think that it will be alright.

- Dinner is served for 2 hours from the beginning to the end. Could your children stay quiet?
- As this ryokan is wooden structure, there happens a big noise when someone runs inside the building. Could your children refrain from running?
- Could you keep your children from crying or shouting in the public space?

Please also note that only Corner Family (205) is available for families.

Pets

Pets are NOT allowed.

Parking

Free of charge for guests; Capacity 20 vehicles; No Valet Parking Service

Other policies & conditions

Check-in is available until 10pm. But please make sure to arrive by 6:30pm if you reserve dinner. / No smoking in the whole premises / No elevator in this hotel: the main house was originally built 150 years ago and not very accessible for all people. Many steps, corridors, staircases to reach featured places in the hotel such as public bath or restaurant. / This hotel's policy is to be "organic & sustainable". Please bring your own toothbrush & razor if you , while basic amenities are provided.