- VAT is included, but bathing tax (around JPY 150 per adult) may NOT be included.
- Price in USD is based on the exchange rate as of today and might be different from that of the booking date.
Foods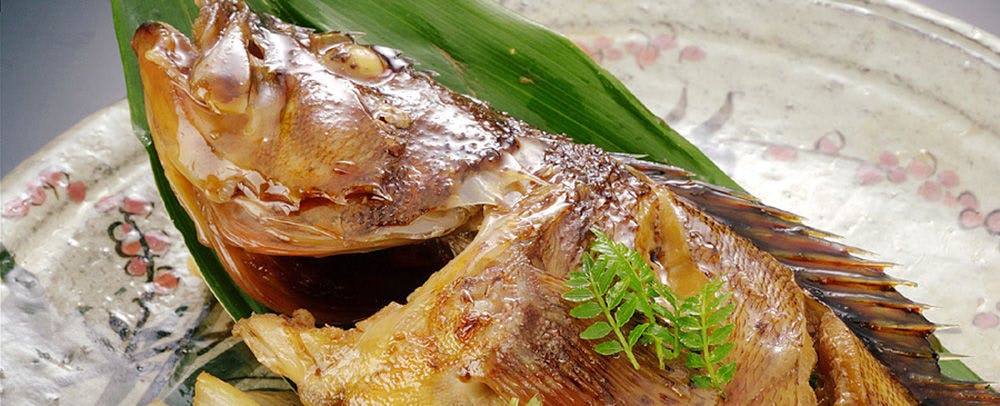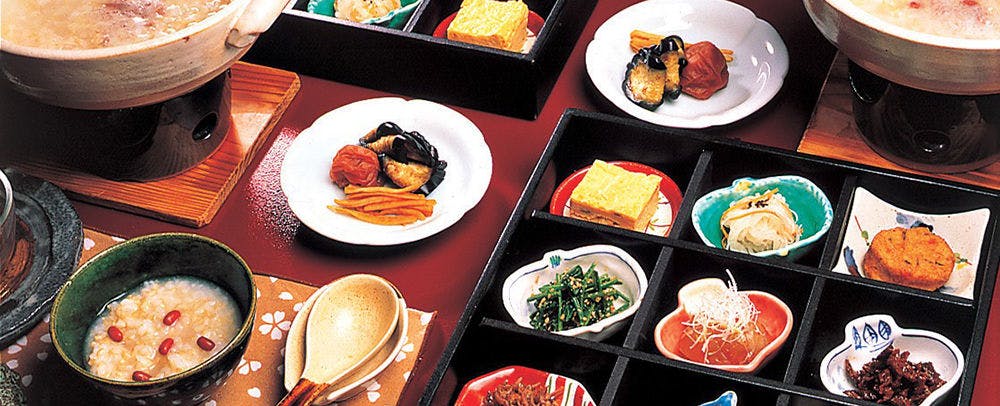 Come and enjoy taste sensations from all four seasons in Izu, including cherry leaf flavored steamed rice 'okowa' and the well known golden eye sea bream,"kinmedai" sashimi wrapped with salted cherry leaf. For your breakfast, we have 3 different menus to choose from:
"Himono zen" , a typical Japanese breakfast of grilled dried fish and seasonal side dishes of local harvests served with rice and miso soup, "Genmai Gayu", brown rice porridge with seasonal 9 side dishes served in a square tray, and for people craving for western breakfast, we serve young sardine and spinach omelet, ham, sauteed vegetables, fresh salad, rolls, and beverage of your choice.

For your dinner, our chef will prepare a genuine "kaiseki" dinner course, cherry blossom inspired delights, using the specialties from sea and land.

For our repeating guests and guests staying for 2 nights or more, we have seasonal "kaiseki" course, a completely different course that varies from season to season, satisfying your expectations. If you wish to order extra a la carte menu, please check with our staff for recommendations of the day.
Baths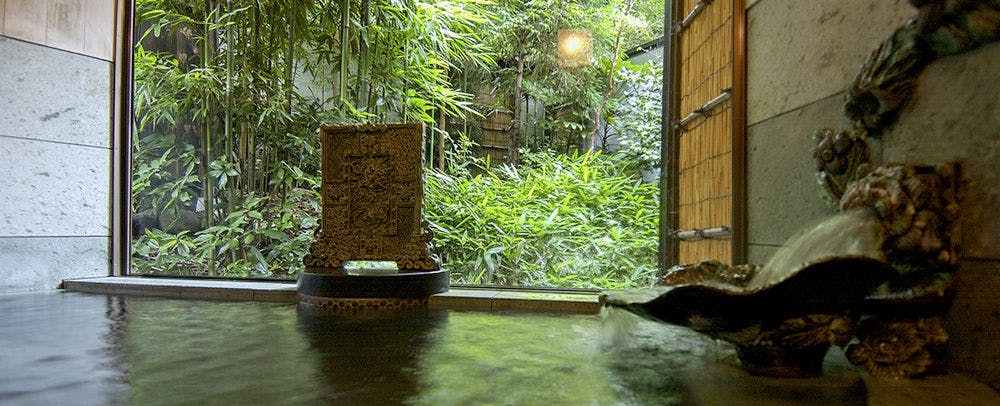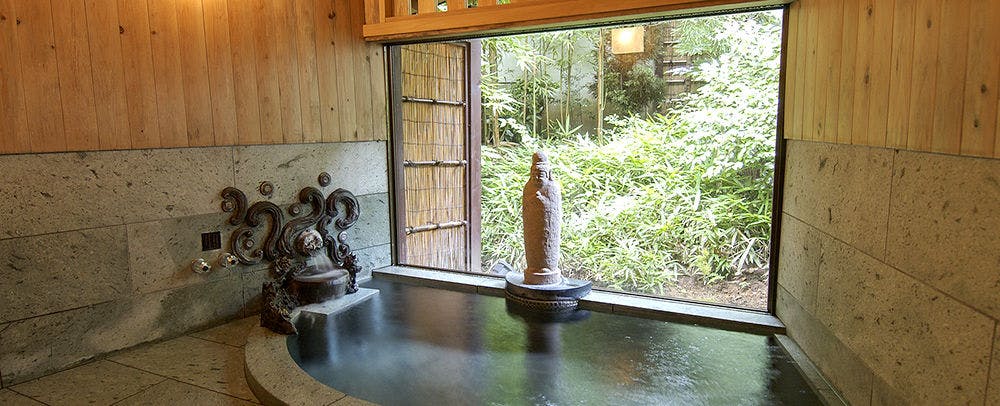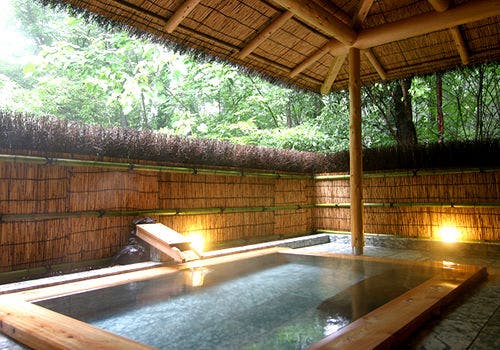 Seven onsen hotsprings, each brilliant in its own way These onsen hotsprings at Hanafubuki are located in the hotel grounds and it's a fun to take a walk searching for the onsen of your choice!
Come and experience the calmness and beauty of nature surrounding Hanafubuki, while luxuriously bathing in the natural gift of onsen hot springs.
Facilities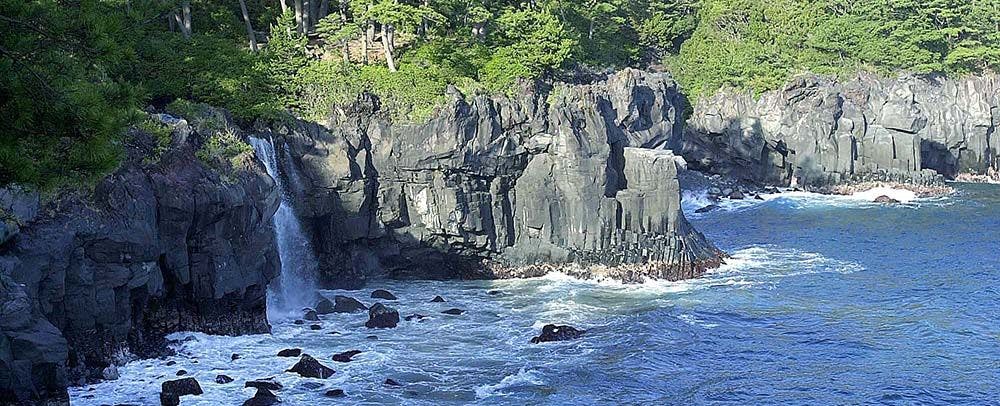 "Izukogen (Jogasaki) Hot Spring Hanafubuki" is roughly 1 km from (Jogasaki) Coast. 15 minute walk from Hanafubuki, there lies a beautiful coast made from the eruption of nearby Mt. Omuro, approximately 4000 years ago. There is a suspension bridge overlooking the sea and also a hiking course along the coast. If you love nature and walking, this is a must place to visit!
Access
1041, Yawatano, Ito city,Shizuoka,413-0232,JAPAN
By Train
From Narita to Tokyo JR Narita Express to Tokyo (50 min)

From Tokyo to Izukogen
JR Odoriko Limited Express to Izukogen (2 hours), easiest way direct or Shinkansen to Atami (50 min) and transfer to Ito Line to Ito, and change to Izukyu line at Ito and on to Izukogen (50 min)
Hanafubuki is about 12 minute walk from Izukogen station.

From Osaka, Kyoto area to Izukogen
Shinkansen to Atami and transfer to Ito line to Ito, and change to Izukyu line at Ito and on to Izukogen (50 min)
Reviews
On 11/04/2016, we stayed as a married couple. It was actually our second time, but we were not let down at all and were completely satisfied. The thing about staying at a traditional inn is that when you go to one, you're paying for certain things and have certain expectations. In that sense, Hanafubuki is an inn suited for adults, not at all unrefined, slightly elegant and calm inn that's assembled the 3 important requisites: 1) High-quality staff, 2) High-quality food, 3) Clean room and hot spring bath. Amidst all that it was also nice that the hot springs could be privately reserved at any time, and you could enter the 7 types of bathing area without rushing or having any scruples. For travelers, the comfortable feeling and deliciousness of the cuisine are also especially important, and the sort of inn where one receives unsurprisingly good food for a high price one can be found almost everywhere. It's made me feel like even the quality of the food and the comfortableness are directly informed by the quality of the service provided by the staff. Nowadays the number of inns where you feel like you're really getting your money's worth has decreased, and amongst the many inns where it doesn't feel worth quite worth it, the hardworking individuals are really what can make the difference. I'm glad I went, I'm glad I stayed. It was the sort of inn designed to inspire those feelings. We stayed 1 night and had the standard 2 meals. In the morning we had himono dried fish and rice porridge. Room number 501.
+ More
2016/11/09
We stayed as a family of 3 with 1 small child. The customer service was excellent, and we really enjoying the bath. All of the food was also delicious, and the service timing was impeccable. We were genuinely impressed with the food. The drinks were also not very expensive like at most ryokans, but great alcoholic drinks were available at reasonable prices. Since we came with a child, we were also able to receive special treatment in the dining area so as not to be a nuisance to other guests. Our only complaint was that we noticed that the room had a bit of an old smell that wouldn't go away even after opening the window. Even this, however, was related to our bringing a child with us and allowed us not to trouble other guests, and so on the whole we were very satisfied. We would like to come back and visit again in another season.
+ More
2016/08/31
Because it was a weekday and the number of guests relatively few, I received a room upgrade and was well treated generally. The privately reservable bathing areas were spacious, clean, and since they were unoccupied I was able to take my time and enter various baths. The interactions preceding my stay were smooth, and ordering was simple and accurate. It really is a nice inn, and I'd definitely like to return and take advantage of your hospitality again.
+ More
2016/05/16
It felt almost like I come to a sort of villa, I hardly noticed the other guests, and I had a generally relaxing stay. There are seven hot spring bathing rooms, each of which is spacious enough to have an excellent time. The food was also satisfying in terms of quantity without sacrificing quality. It's the wonderful hideaway home sort of inn that will really make you think about wanting to go back.
+ More
2016/03/02
I stayed for the first time. I'd actually been interested in this inn for some time, but generally everytime I stayed at an inn, I would go over budget and not really be able to afford it. This time I finally got a chance, however, thanks to the early reservation discount I received. My degree of satisfaction matches perfectly with the expectations I had. I nearly failed to get in, but I was successful and the two baths I did enter both had a great atmosphere, and the strong hot spring water from the source was very satisfying. More than anything, dinner was wonderful. Each dish was painstakingly prepared, and the meal was loaded with our favorite cherry blossom flavor, making it a meal with many dishes that linger in our memory. We thoroughly enjoyed ourselves. However, maybe because we were too impressed with dinner, breakfast came up a little short of expectations. The western-style food is fine, but the little dishes that accompanied the rice porridge were all salty Perhaps I felt this way because I changed to having white rice porridge, but regardless it would be nice to have a bit larger portion of vegetables. In any case, the point to really notice is the brilliance of the evening meal. All of the employees were cheerful and gave us service with a smile, which was another plus. They've made themselves an inn in Izu Kogen that I'd like to visit again.
+ More
2015/12/30
Information
Check-in Time

From 3:00pm to 7:00pm

Check-out Time

Until 11:00am

Tax / Service Charge

Extra charge of JPY 150 hot spring tax per day is required for all guests and children above 6 years of age.

Credit cards accepted at this property

VISA / MASTER / JCB / AMEX / DINERS / DEBIT CARD
Children

Please be sure to inform us at the time of your booking if small children are in your party, regardless whether extra futon bedding is required or not. We have limited number of rooms where small children can be accommodated and we may not be able to accommodate you when small children are accompanying you at the time of your arrival without advanced notice.

Pets

Pets are NOT allowed.

Parking

Free of charge for guests: Capacity 30 vehicles

Other policies & conditions

Please inform us in advance if your scheduled arrival time is later than 17:00.Our dinner reservation starts from 17:30 and in order to make appropriate preparations, this advanced information is necessary. For late arrivals after 20:00, we may not be able to serve your dinner so please be sure to check with us at the time of your booking.