Takeda Castle Town Hotel EN
It's here in Asago, Hyogo, where you can find the best of the four seasons overlooking 'the castle in the sky' the Takeda castle site. Greeted by cherry blossoms in spring on the one side, lush greenery that sways in the summer breeze on the other, and from fall to winter, you find tourists mesmerized by the mirage-like appearance of a sea of clouds with the Takeda castle ruins peering over. After an eternity, the former Kimura sake brewery with a history of over four centuries has been reborn as a fine quality Japanese yado at the castle town featuring just five rooms. The place features guest rooms that were built in the Meiji era in moya, kura and hanare architectural style, and each room features a unique charm all its own. The unique warm atmosphere that the Japanese homes have gently provides peace of mind to all guests who come. Food is one of the best pleasures of traveling. And here, you will be served authentic French cuisine prepared with Tajima beef, Kasumi crab and various other locally grown brand ingredients and the season's freshest vegetables. Enjoy a journey far away from your daily lives, awakening your five senses.
We are sorry but we don't have any rooms available now.

Please select another Ryokan.
- VAT is included, but bathing tax (around JPY 150 per adult) may NOT be included.
- Price in USD is based on the exchange rate as of today and might be different from that of the booking date.
Foods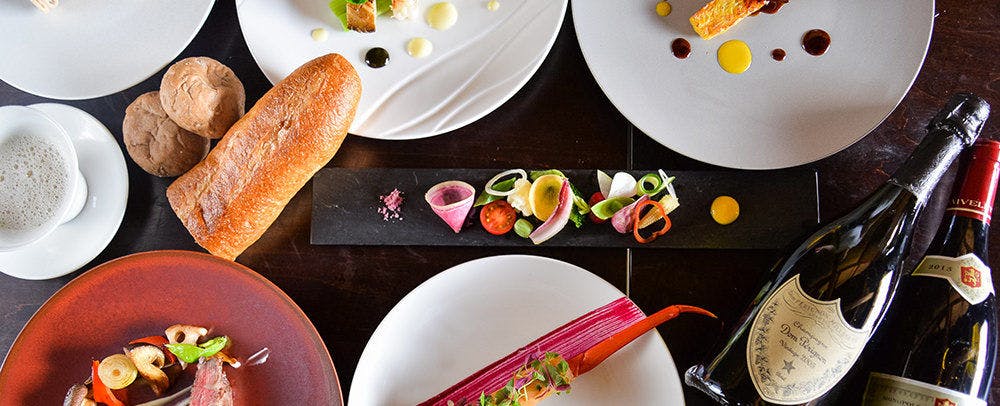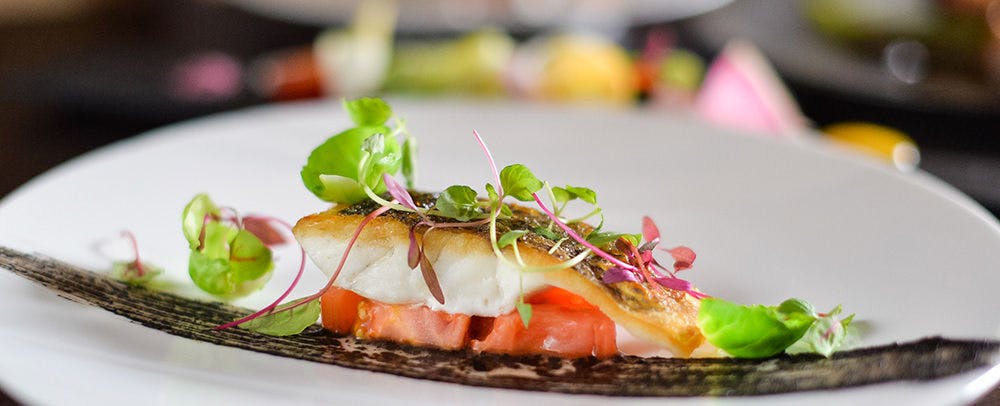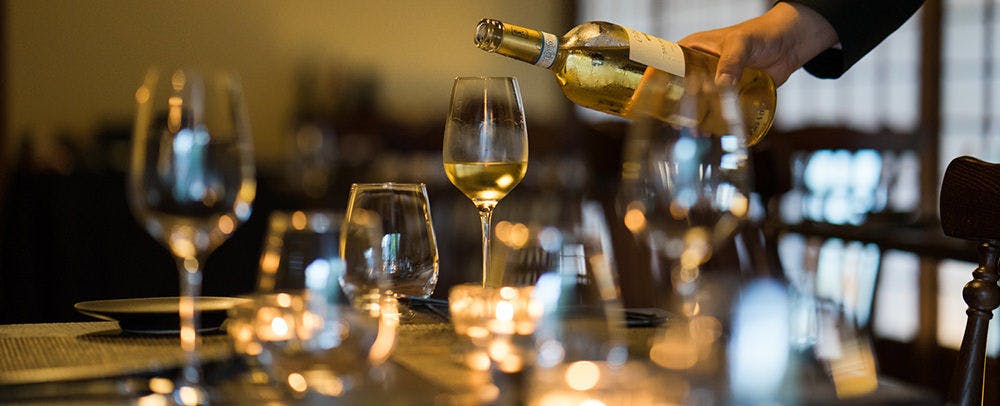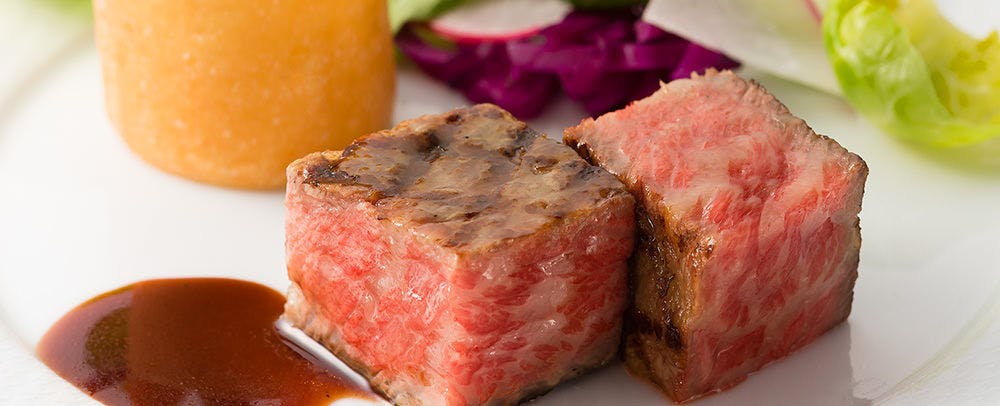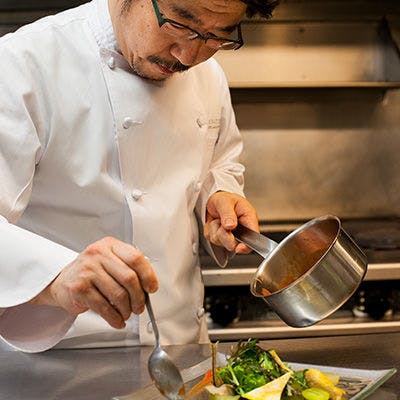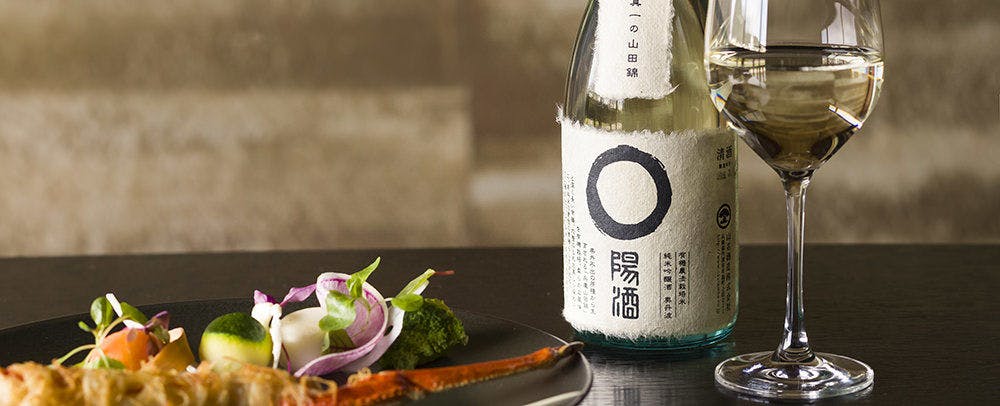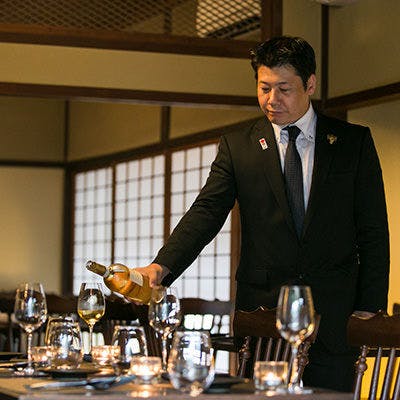 Authentic French Cuisine Made With Ingredients Taken Straight From Tajima's Nature Being a former Fermentory that was renovated, the restaurant overflows with spaciousness. You can enjoy a wide range of dishes crafted using the freshest ingredients sourced locally from Tajima, and brand ingredients such as 'Tajima beef' and 'Kasumi crab' that are famous throughout Japan. Every dish is like a platter full of bliss thoughtfully prepared with ingenuity by identifying the most suitable ingredients to be picked in each different season. And to top it off, you can enjoy your meal with locally crafted choice sake; a perfect companion. Relax your mind and body relishing the bounties of the earth with your five senses.

Manager of Cooking, Grand Chef: Shu Ishii
After actively practicing at Switzerland's Grand Maison restaurant, Mr Shu Ishii returned to Japan and opened the 'La Pierre Zipang' in Motomachi, Kobe; named number-one in the Kobe area for four consecutive years by the Zagat survey, second in line to the Michelin guide for restaurants. He is a maestro that was given the honorary title of 'Disciples Auguste Escoffier', a prestige presented to outstanding chefs. Ishii a leader in the world of French cuisine driving forward the generation of Kansai-French. With untiring passion, exceptional skill and a career that spans more than 35 years, he brings you a most variegated menu featuring dishes that utilise the season's best local ingredients.

Sommelier: Takao Hiramatsu
Currently at Takeda castle town Jōkamachi hotel 'EN', after studying under grand chef Shu Ishii and acquiring the professional certification for 'sommelier', he has served as manager for five years at La Pierre Zipang at Motomachi, Kobe. Reunited with grand chef Ishii, he currently serves as the general manager of the Nipponia group, having served as manager for many hotels and restaurants consecutively. As the place yearns to provide the best experience to its guests, unbiased towards any genres, the guests are served not only wine but also a range of Japanese sake, shōchū and various other choice sake from the local region. Possessing surprising taste and feeling, it captures the hearts of people who love a good drink, in this space full of comfort.
Baths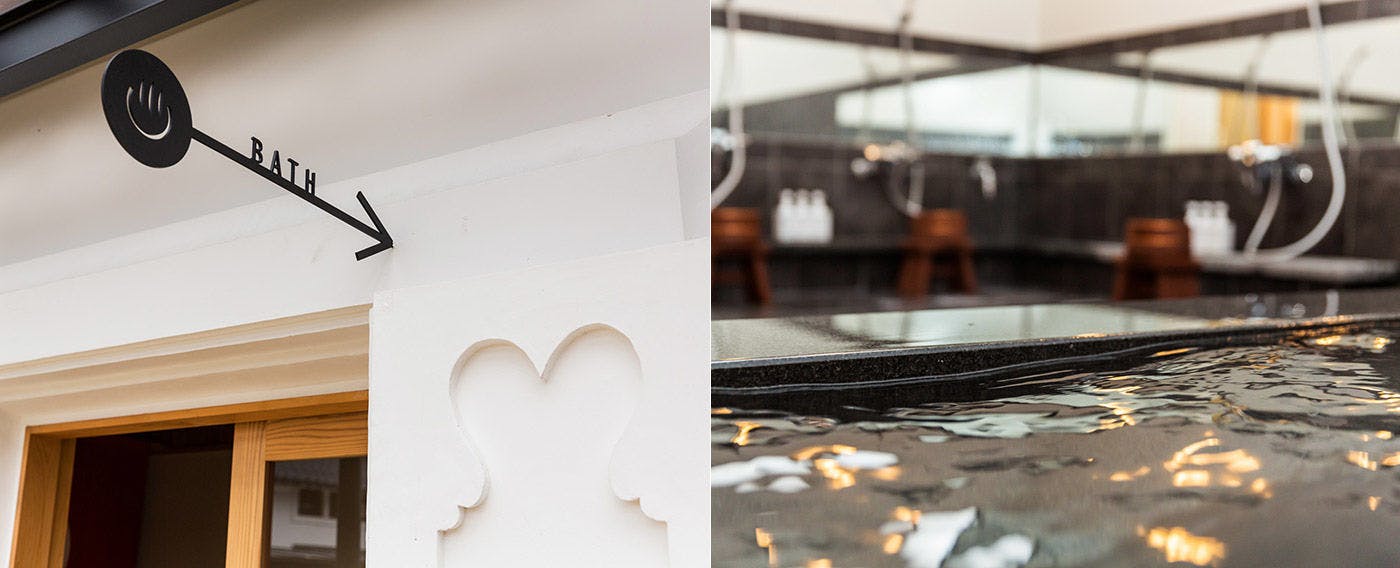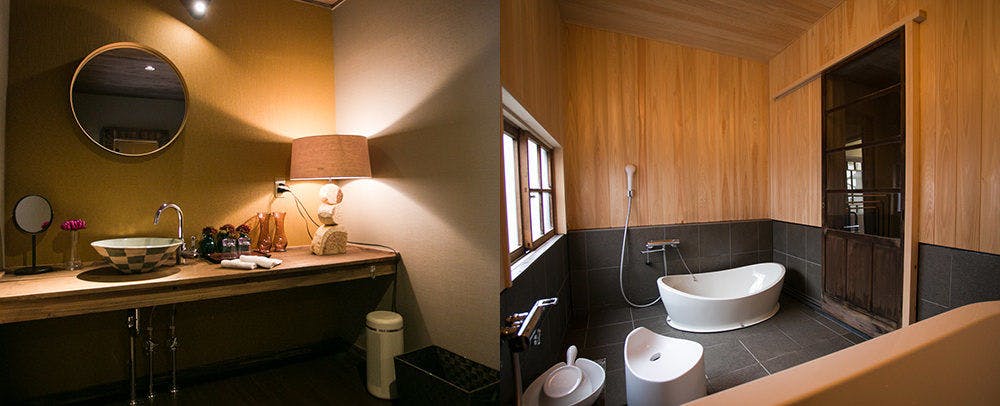 A Large Shared Bath Where the Skillfulness of the Plaster Artisans Shines Through The place which once served as a traditional Japanese storehouse (known as 'kura'), is now reborn as a place of healing with the pleasant scent of hinoki in the atmosphere. With the Takeda castle site and the sea of clouds as inspirations for the motifs, if you immerse yourself in the abundant hot water, you will feel a gentle peace of mind and body besides the echoes of the scenery of the Takeda castle site.

'Kusunoki': A Single Rentable Suite to Stay With Your Beloved Dog
The completely private space, of course, features an ensuite bath. Relax with your pet dog in the spacious bath that features a dedicated bathtub for your lovely pet. Feel free to bring your doggy's favourite shampoo etc. to use.
Facilities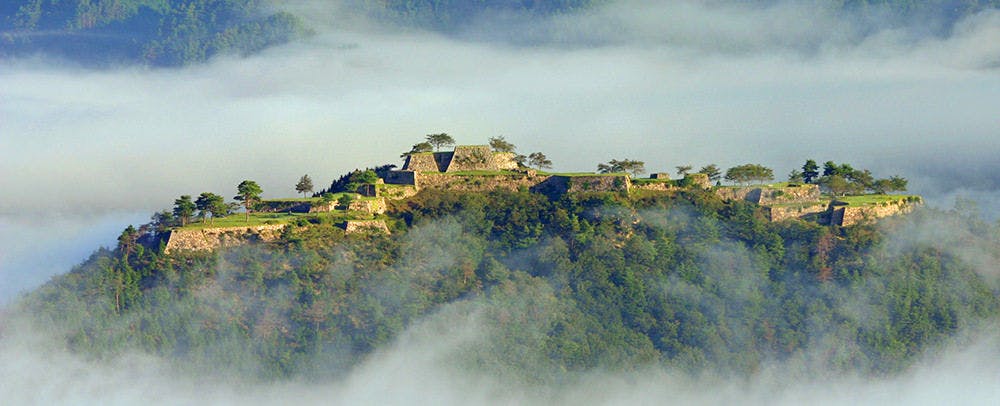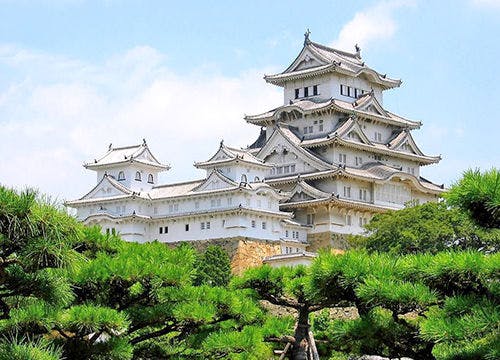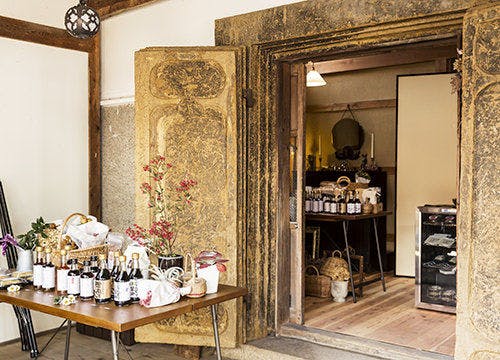 A Scenery that Brings Together Human Ingenuity and the Grandeur of Nature: 'The Castle in the Sky' The Takeda Jōseki in Asago, Hyōgo, also known as the Machu Picchu of Japan, has become a famous tourist attraction after being highlighted in the media in recent times. Located at the summit at an altitude of 354 metres above sea level, it is one of Japan's most magnificent and grandest mountain castles. The site still preserves the grandeur to this day. The castle site becomes surrounded in the fog that results from the stark change in temperature between daytime and nighttime in the clear skies from fall to winter; the sight truly looks like the castle is floating in the sky full of clouds. The 'sea of clouds' season is, of course, a must see, but also in other seasons like in spring the full blossoming of sakura known as Tajima Yoshino, in summer the contrast of the lush green forest and the bluest skies, in winter the breathtaking snow-white landscape, each of the four seasons mesmerises tourists with a beauty all its own. The best spot to view and take photos of the Takeda castle sight, Ritsuunkyō, is only a 5-minute drive from the hotel. You can also ride a bus halfway up the mountain from where you can walk for about 20 minutes to view the site from up close.

Preserving the Grace of the Meiji Era Mansion Through Eternally Flowing Time
A building that breathes a history spanning over 110 years and recognized as a part of Japan's tangible cultural properties, the place is also of importance for its historic value. Whilst preserving the original charm of the place and reinvigorating its original brilliance, the place was reborn as a superb quality Japanese yado providing utmost comfort. The place comprises of the Omoya consisting of four rooms, and together with the adjacent Hanare, there are five rooms in total. Each room has its own feeling, be it the 'kura' or the 'omoya' style rooms, with no two rooms being alike. You can experience an amazing enjoyment that is unique to this place.

A Homely Feeling of Comfort and Spaciousness, All For You and Your Lovely Dog
'Kusunoki' is a single dog-friendly rentable guest suite that was opened in spring 2016 at the 'Hanare' at Takeda castle town hotel 'EN'. It features a foot bath and bath where you can bring your dog with you. Including the garden, the whole suite is a spacious 4LDK that spans 257 sq. metres. It's an exclusive suite that you can wholly rent at your luxury. The elegant appearance of the earthen hallway and its original joists and earthen walls, preserved and maintained, evoke the history of the place with serenity and provide warmth and a sense of comfort. All guest rooms have their own entrances independent of the other four rooms so that all guests can enjoy their stay with peace of mind. There are also six semi double-beds available, making the place perfect for 3 generation families or even groups to stay together.
Access
363 Nishigawa Uemachi Takedaaza Wadayamacho Asago,Hyogo,669-5252,JAPAN
Guests Arriving By Train:
Take the Limited Express Hamakaze or Limited Express Kounotori from JR 'Osaka' station (about 120 mins.), change at 'Wadayama' station to JR Bantan Line and get off at 'Takeda' station (about 3 mins.)

Guests Arriving By Road:
[From Kobe Side] (About 100 mins From Kobe City)
Take the Maizuru-Wakasa Expressway 'Kasuga' I.C.,
to Kitakinki-Toyooka Expressway 'Wadayama' I.C. From there the hotel is 5 mins away.

[From Osaka Side] (About 110 mins From Osaka city)
Take the Chūgoku Expressway, Maizuru-Wakasa Expressway 'Kasuga' I.C.,
to Kitakinki-Toyooka Expressway 'Wadayama' I.C. From there the hotel is 5 mins away.

[From Kyoto Side] (About 140 mins From Kyoto city) Take the Meishin Expressway, Chūgoku Expressway, Maizuru-Wakasa Expressway 'Kasuga' I.C.,
to Kitakinki-Toyooka Expressway 'Wadayama' I.C. From there the hotel is 5 mins away.

For parking, you will be guided to use the vicinity's 'Takeda Machinaka Kanko Parking Lot'.
If you wish to use the parking lot, please mention it in the comment section at the time of booking.

Reviews
We stayed relaxingly at the yado renovated from a former sake brewery. The meals were quite thoughtfully prepared by the chef and were made using local produce. The chef's choice chawanmushi style dish made with ample crab meat was also a delight.
+ More
2017/11/01
Dear Mr Konno and everybody,
I am indebted to your courtesy. After dropping by Himeji, I returned to my home just last night. The feeling that I was staying over at a home is a feeling that I hadn't experienced much up till now. I felt healed by the gentle and rustic atmosphere of the guest room and the bath. The food that emphasizes the locality's grown ingredients was delightful in taste and sight as well. Their hospitality was above all. I am satisfied in every aspect. Also, my luggage that I'd asked for, got delivered yesterday, even before I reached home. Also, I'm thankful that you put a cover on it as well. My husband, who was at home, received it for me.
I really appreciate the amazing hospitality with detail towards every little thing.
This time it was a trip out of the blue with a friend, but I was really impressed by the birthday surprise. Thank you so much.
Sadly, we weren't able to see the Takeda castle in a sea of clouds, but I'd like to come visit again.
Thank you for everything.
+ More
Nov 2017
It's been a while since I'd found such a satisfying hotel. The place truly is in the countryside. I drove-around quite a lot after visiting the Himeji castle. The roof is low, when you walk in the hallway it makes a creaking sound, and when you pull the glass door, it makes a rattling sound like it's gonna break any moment. But still it wasn't like it actually broke. The building did seem like I could stay there a long time. The room's facilities and everything was a blend of the old and the new, it gave me the impression that they did a skillful renovation job. The restaurant also had a nice atmosphere. I was able to enjoy some great French cuisine, thanks to the chef and the regular service of young staff members. I set out to see the Takeda castle early morning before 5 o'clock, I kinda did get to see the sea of clouds in the morning sun. Maybe that's why I'm all in praise of the place, but still together with the opportunity to view the Takeda castle site, I can recommend this place to everyone.
+ More
2017/09/01
The food was simply amazing. The food, simple and made with locally sustained ingredients, was wonderfully satisfying.
+ More
2017/08/01
I stayed over during Obon. The service was very pleasant and the food was also very tasty. Although like it was said before, you can hear the sound of footsteps from the hallway in the room, but there weren't too many rooms, and they weren't right next to one another thus overall there wasn't any problem. I thought it'd be nice if they provided some small hotel goods or something but still, overall I felt highly satisfied!! I think I'd like to come here again for a stay, and if someone asks then I think I'll recommend them this place!!
+ More
2017/08/01
Blending into the town of Asago at the feet of the Takeda castle site, is this 'small luxury'. It's just the perfect place for a retreat for grown-ups. This time we stayed over with children including an infant. I was afraid that we could be disrupting the surrounding atmosphere at mealtime, but the staff members were all very kind with all smiles and they served us with warmth. I'd like to come here again someday with just my wife.
+ More
2017/08/01
Information
Check-in Time

From 3:00pm to 7:00pm

Check-out Time

Until 10:00am

Tax / Service Charge

Nothing in particular

Credit cards accepted at this property

VISA / MASTER / JCB / AMEX / DINERS
Children

Children who are 0 to 6 years old can share their bedding with their parents. Please inform the number and age of your children when you make a reservation.

Pets

Pets are allowed.

Parking

Free of charge for guests/Parking time: 3pm to 10am (Next day)/Parking space: 60 *We introduce adjacent parking lot. Please let us know in advance if you need to park.

Other policies & conditions

Guests who would like to bring their dog along for their stay are requested to book the 'Kusunoki Single Suite Hanare' pet-friendly suite. In order to ensure the best maintenance and preservation of the historic buildings, their charm and appearance, confidentiality and insulation are not state-of-the-art level. Please understand in advance. In order to let you fully enjoy the elegant atmosphere of a traditional Japanese dwelling, there aren't any TVs, clocks or any bright light fixtures on site. Relax and experience a lifestyle far away from the hustle and bustle of daily life.