- VAT is included, but bathing tax (around JPY 150 per adult) may NOT be included.
- Price in USD is based on the exchange rate as of today and might be different from that of the booking date.
Foods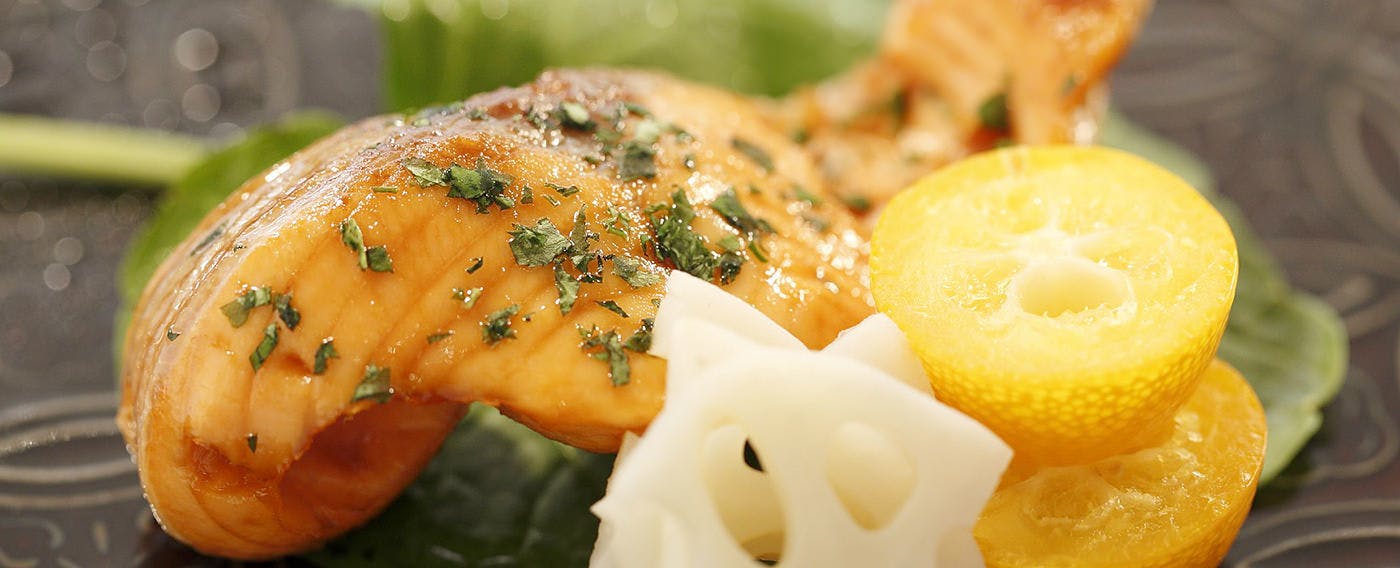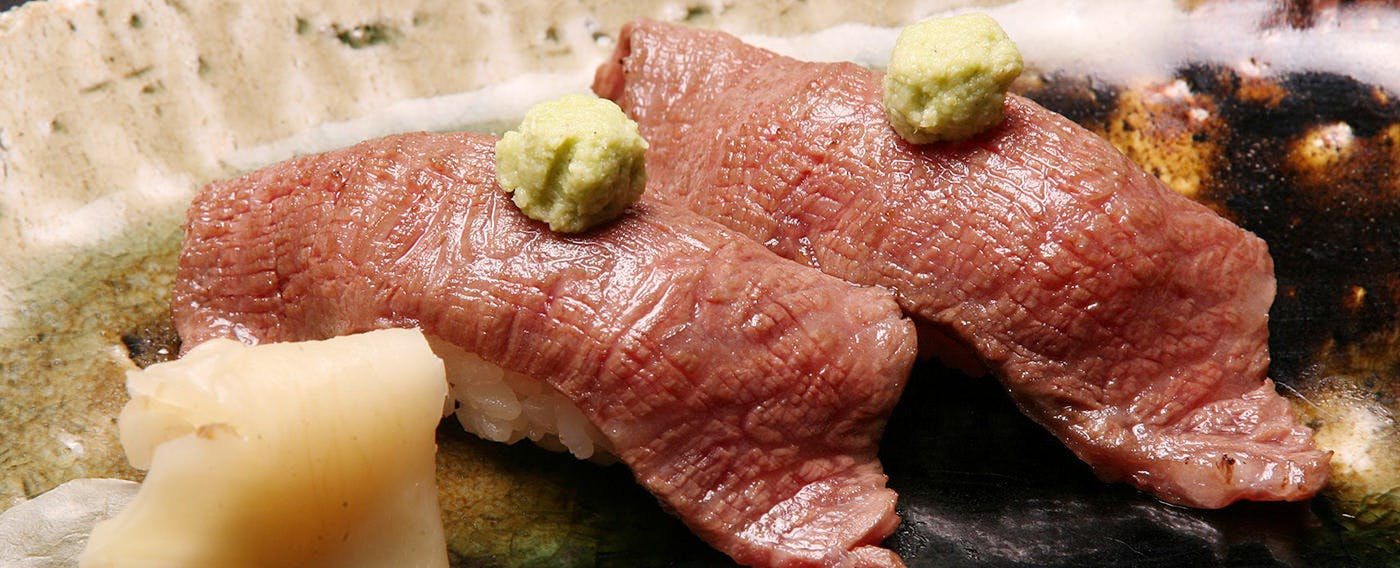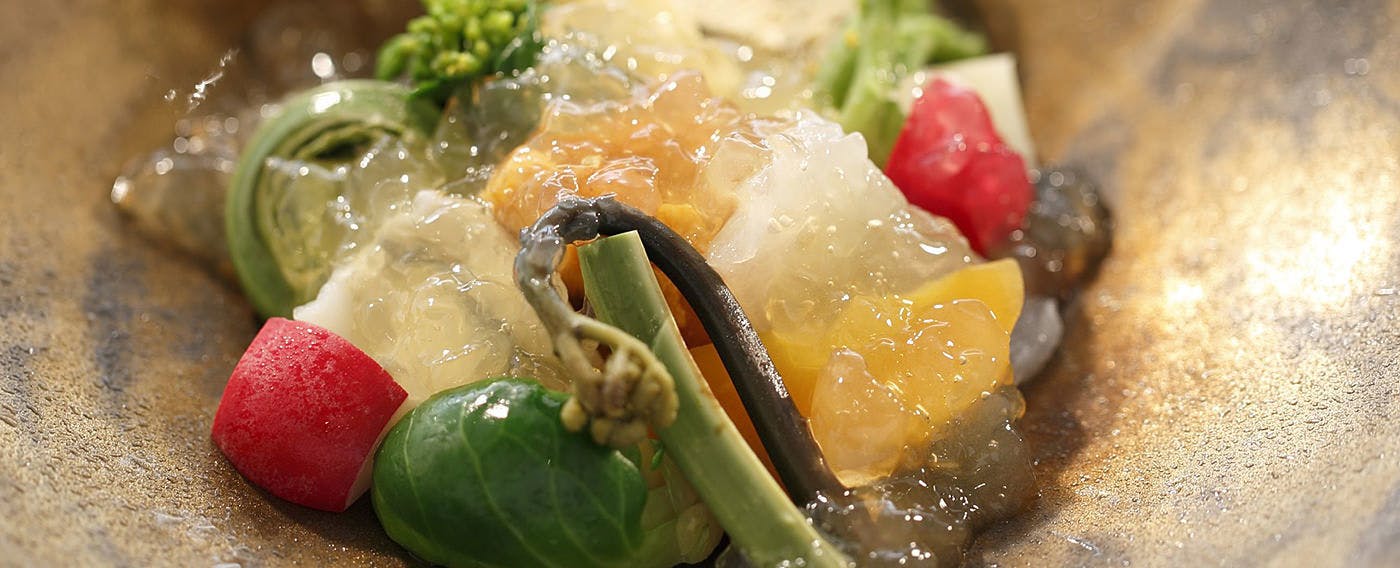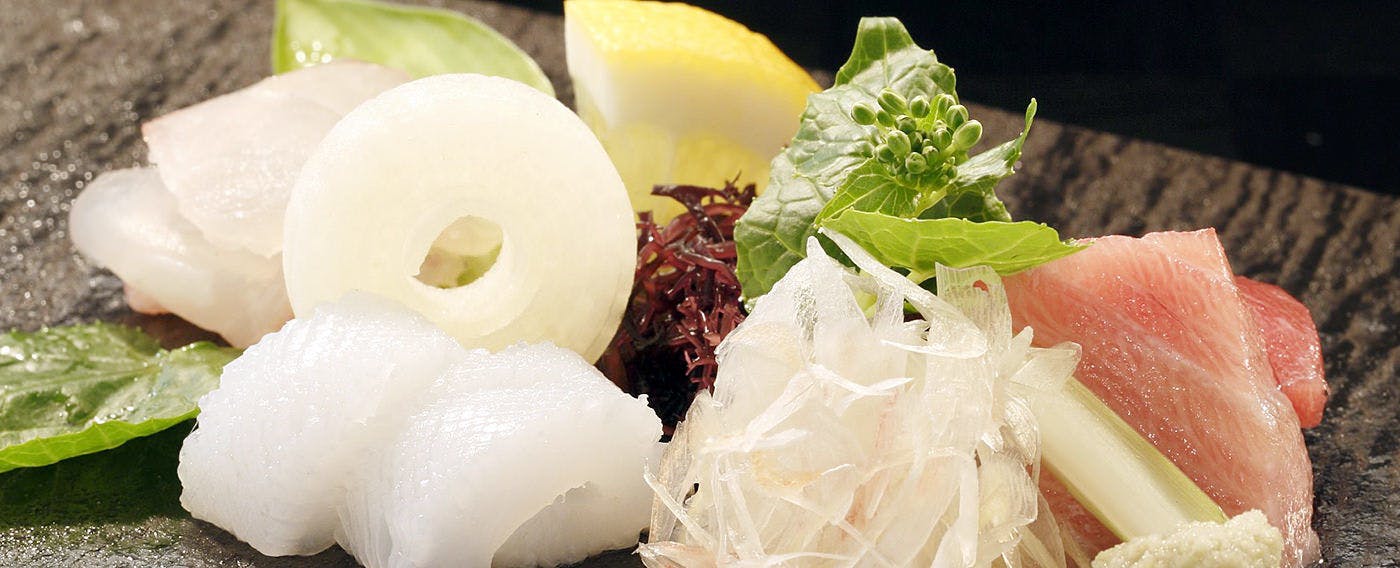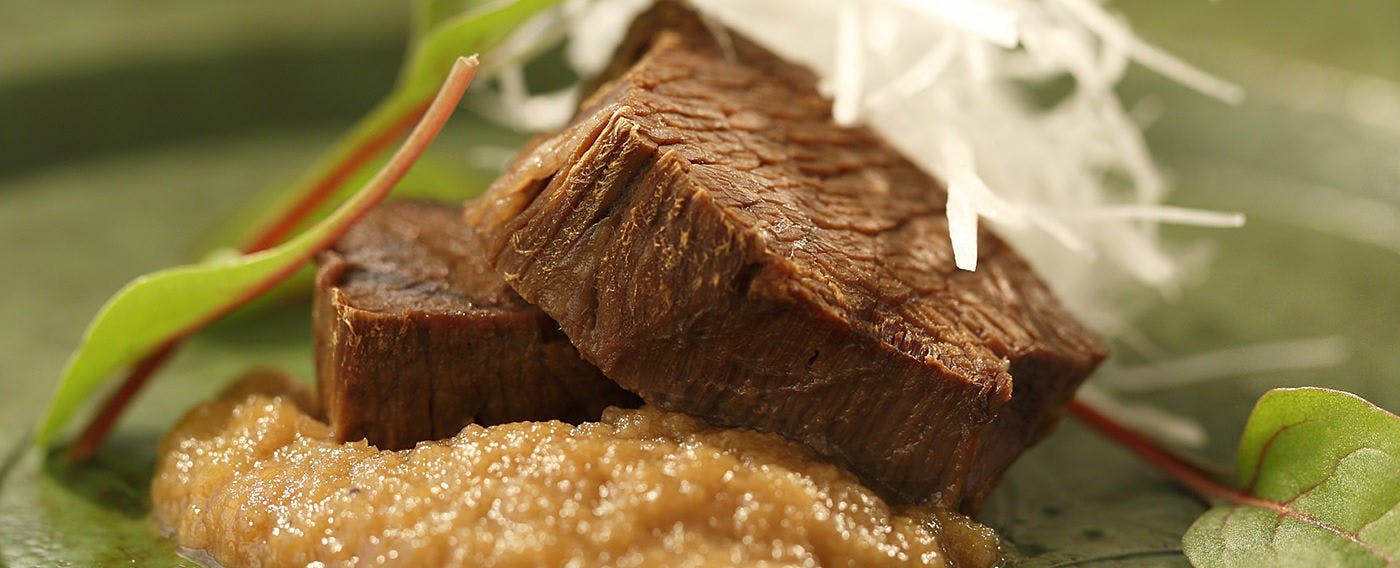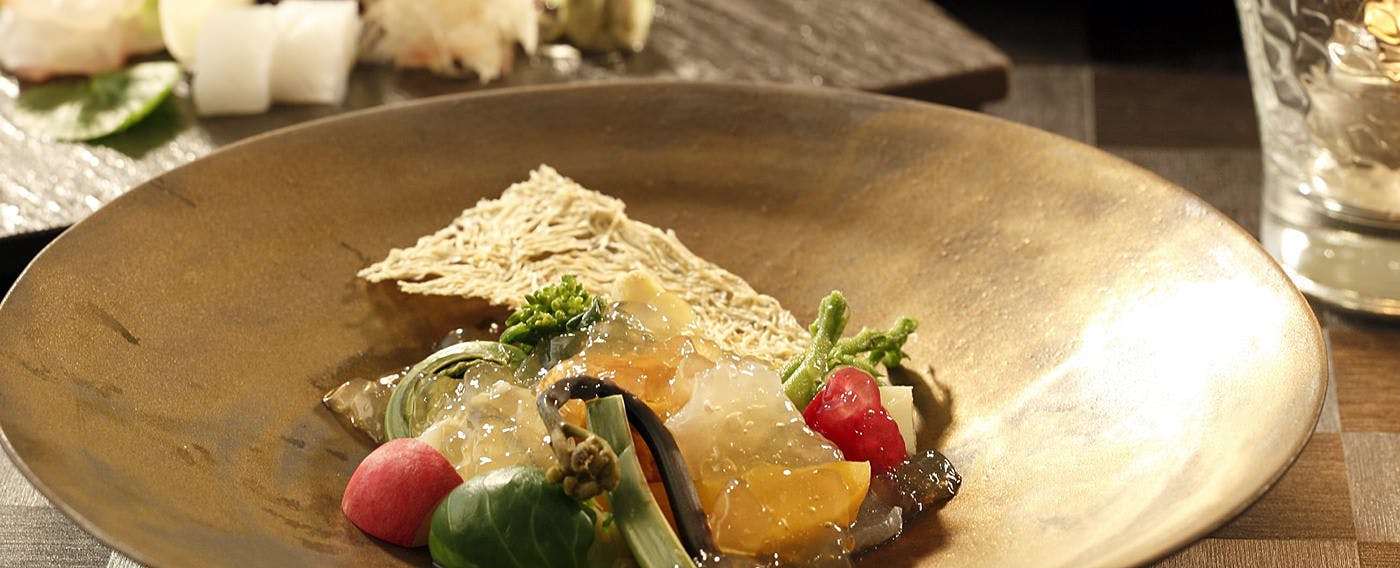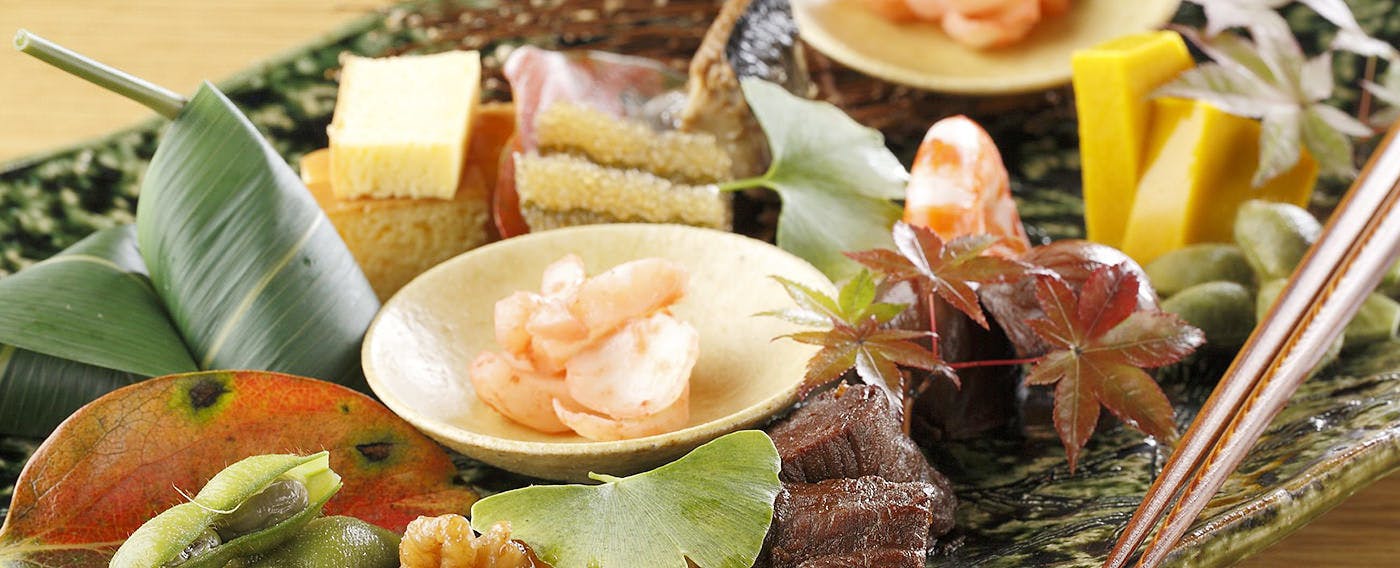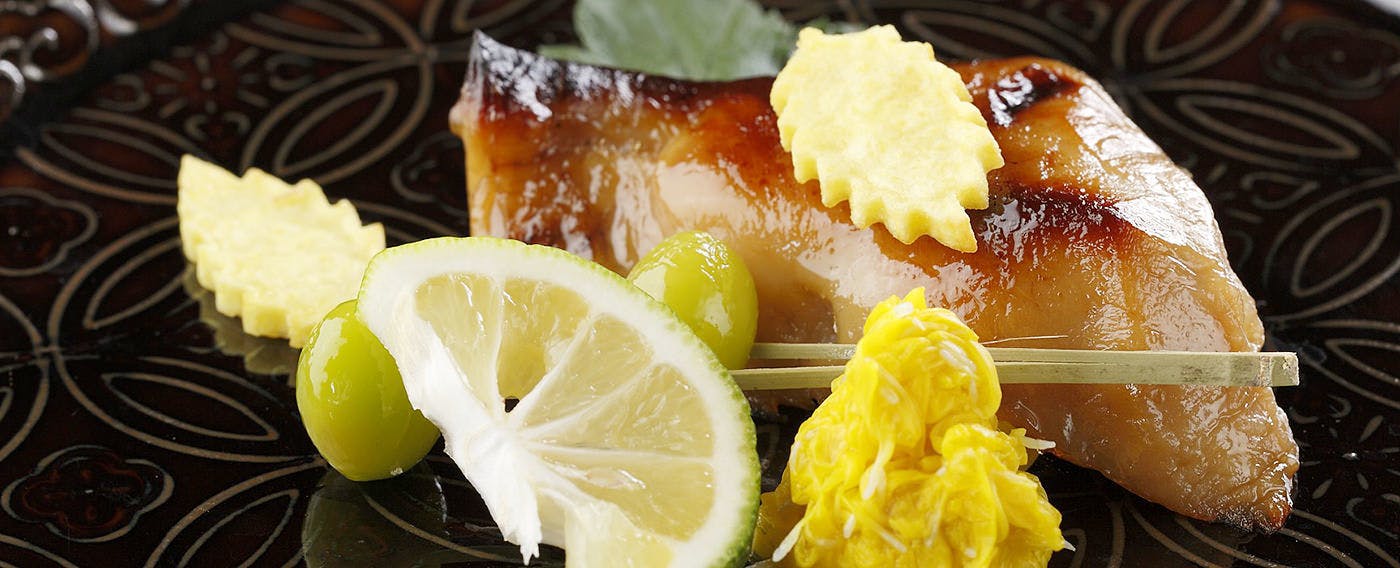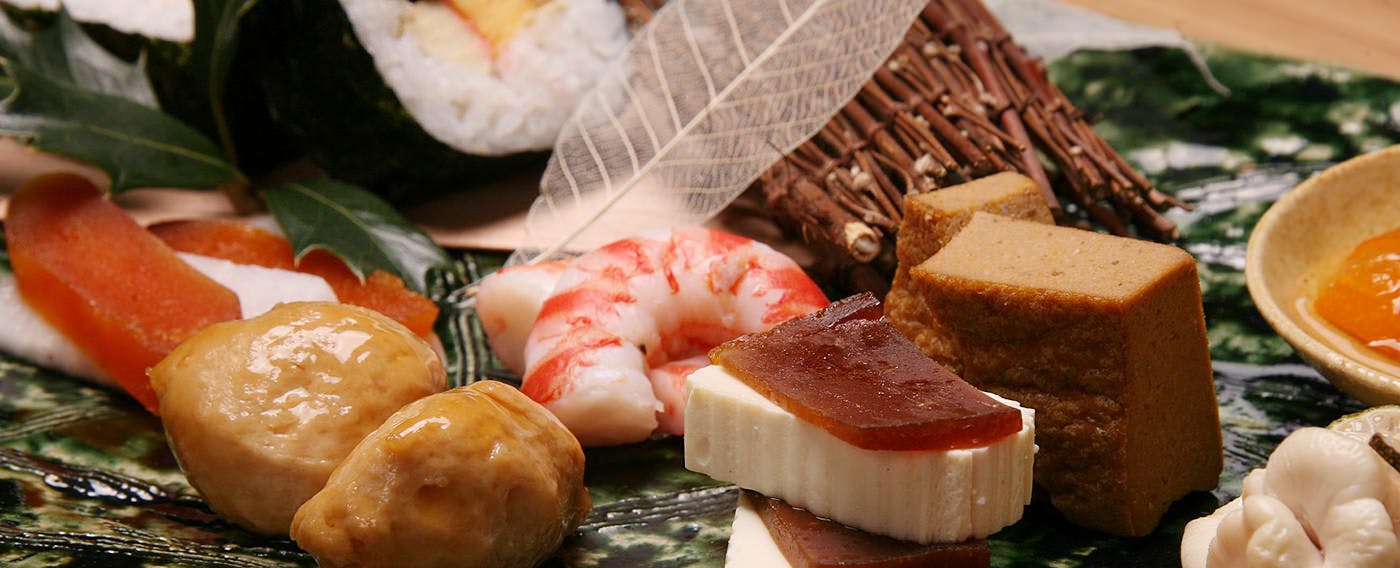 Our Exclusive Cuisine 'Kyo Kaiseki' We provide you the most exclusive cuisine called "Kyo Kaiseki" that you will rarely experience elsewhere in Japan. Try the high-quality dinner made with the most fresh ingredients provided by our chef Iwai who was a renown chef in Kyoto ryotei.
Start your day with our delicious healthy Japanese breakfast. Should you like to have a Western breakfast, please inform us upon booking with us.
Both dinner and breakfast are provided at our dining hall.
Dining Hall Opening Hours
For Dinner 18:00 - 21:00 (last order at 20:00)
For Breakfast 07:30 - 10:00 (last order at 09:00)

Baths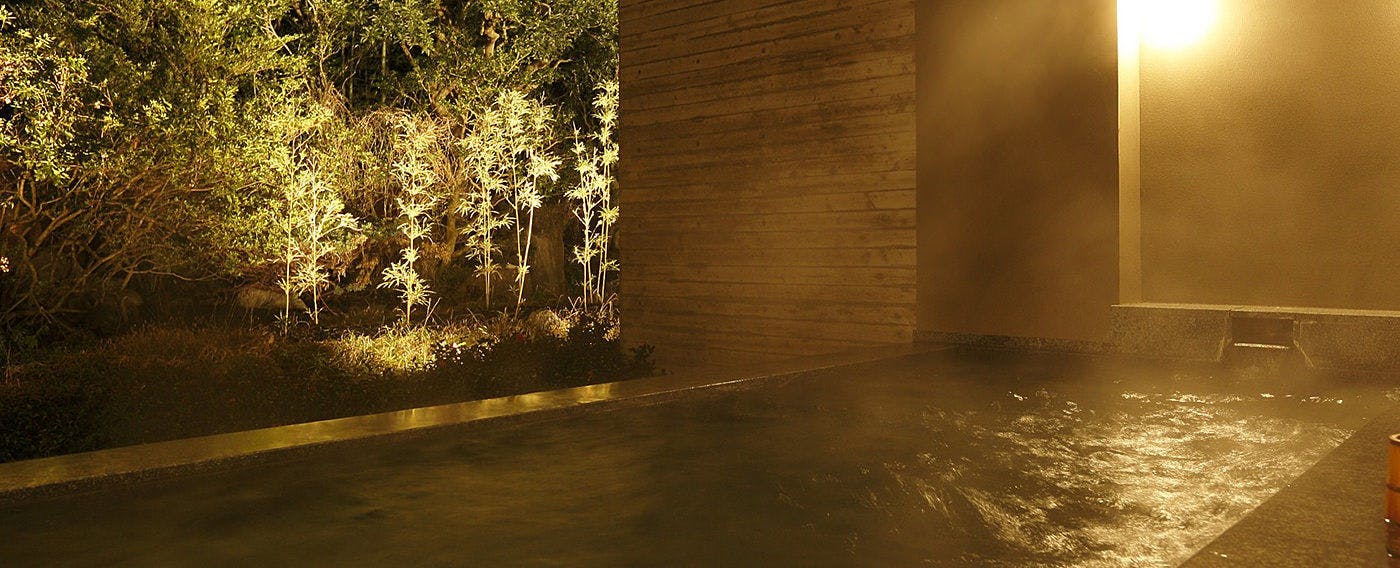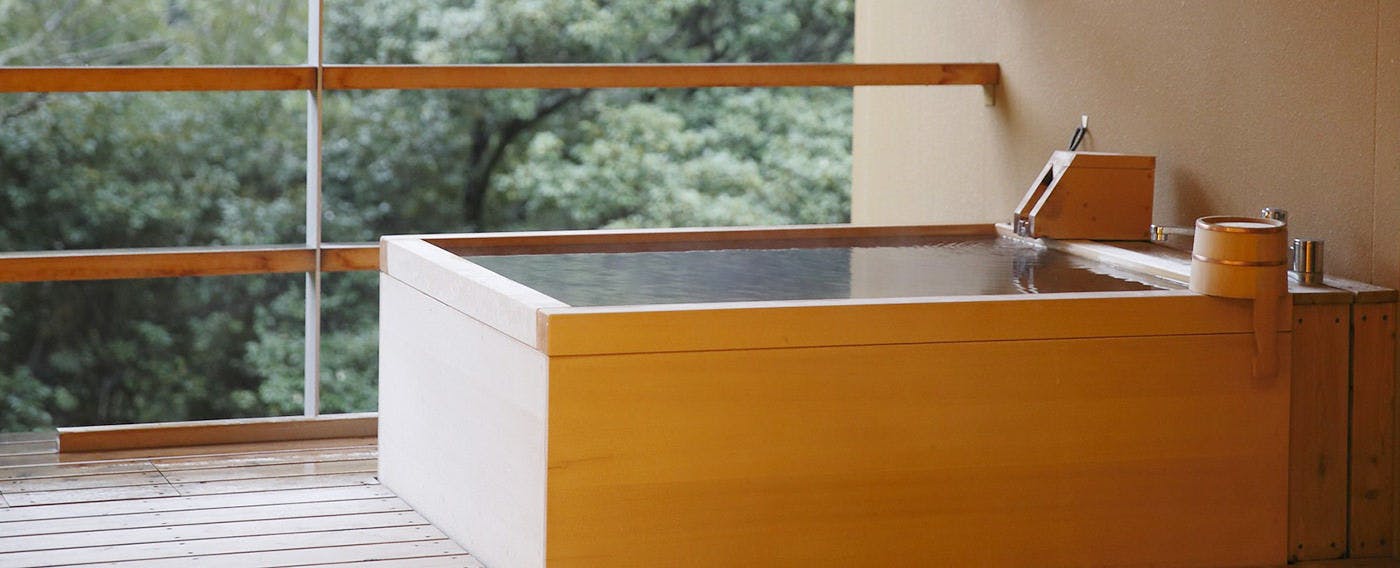 Public and Private Open-air Hot Spring in Ryokan Our guestrooms have a private outdoor hot spring per room. (pictures above)
We also have a wide public hot spring (pictures below) located on the first floor. Connected to our public hot spring are spacious power rooms and bathrooms separated for ladies and gentlemen.
Our hot spring water is pulled from 100% pure natural hot spring underground and has medical effects such as esthetic enhancement, exhuastion recovery, and health promotion.

Facilities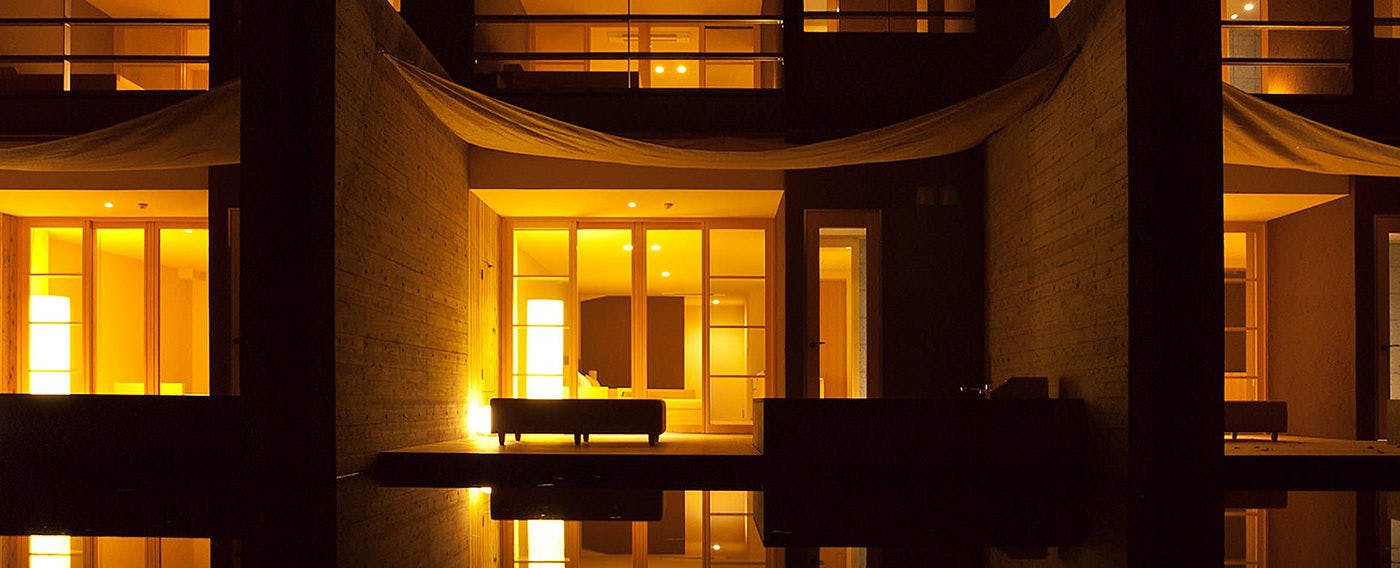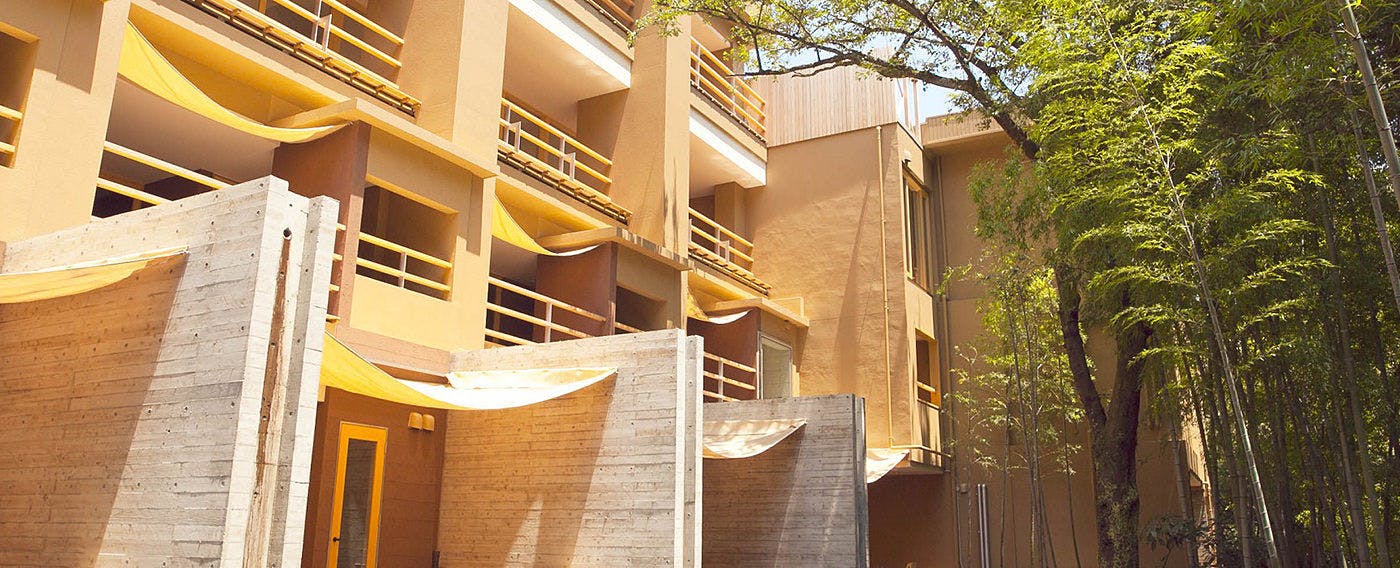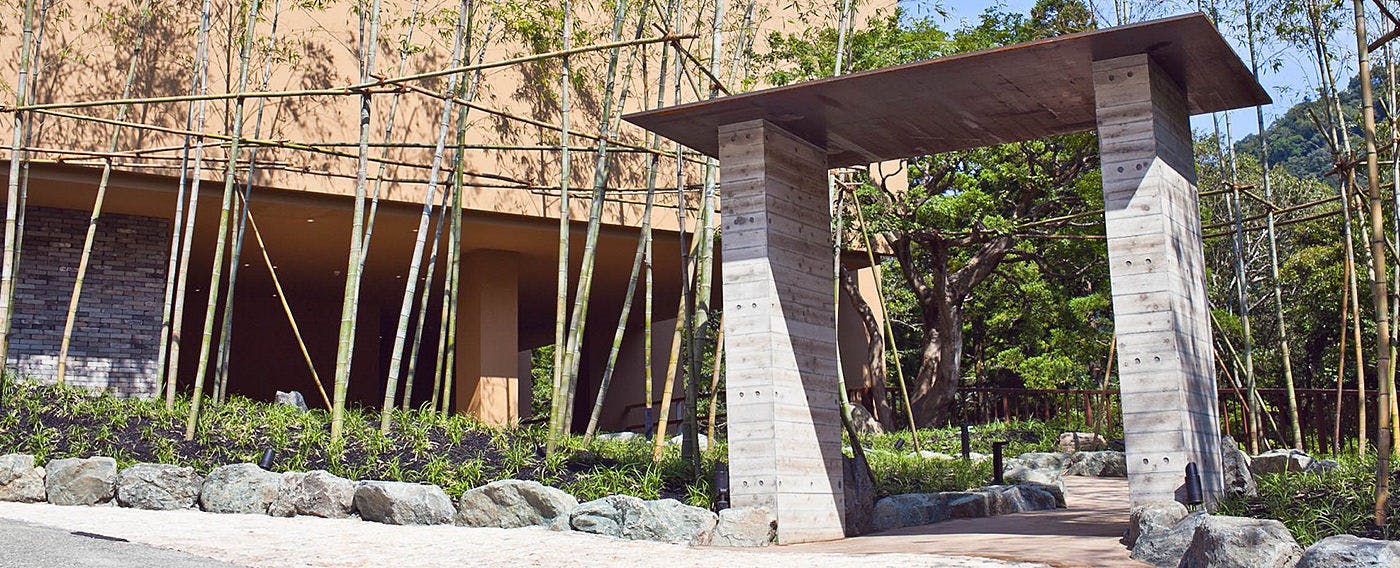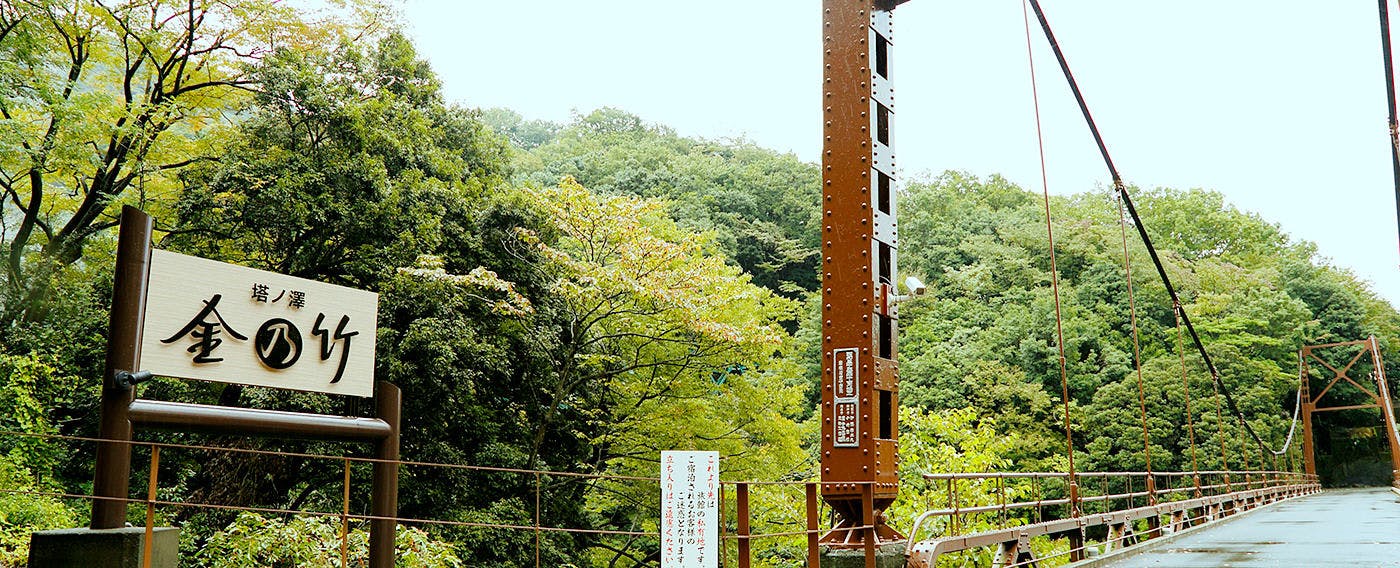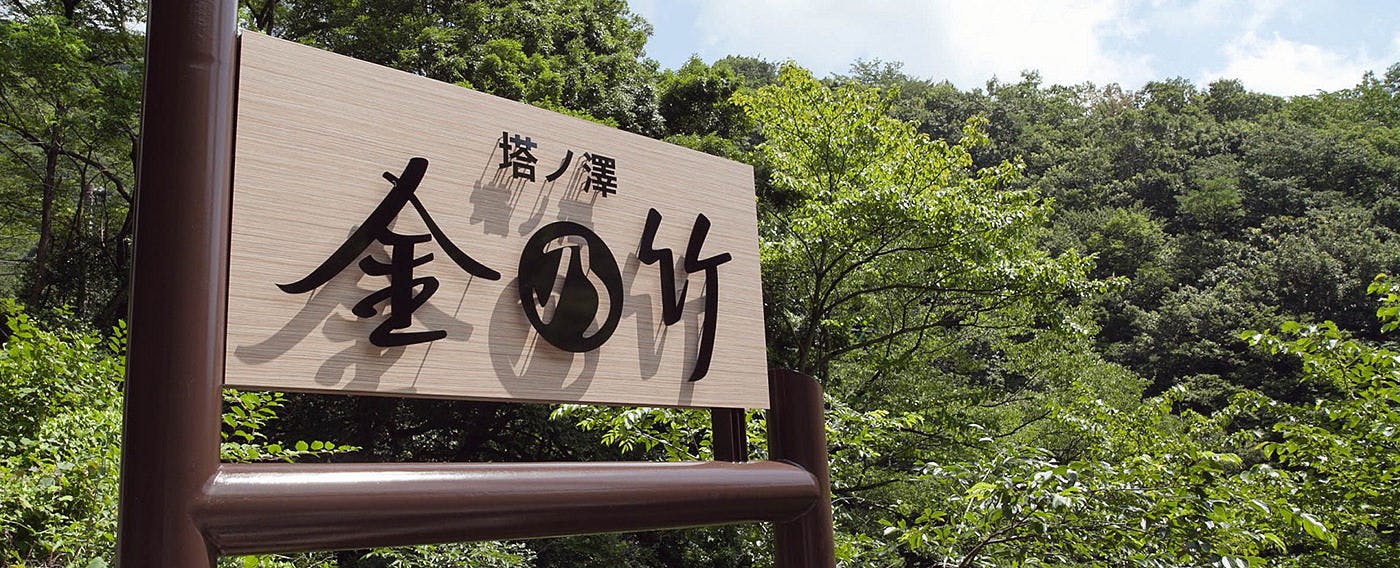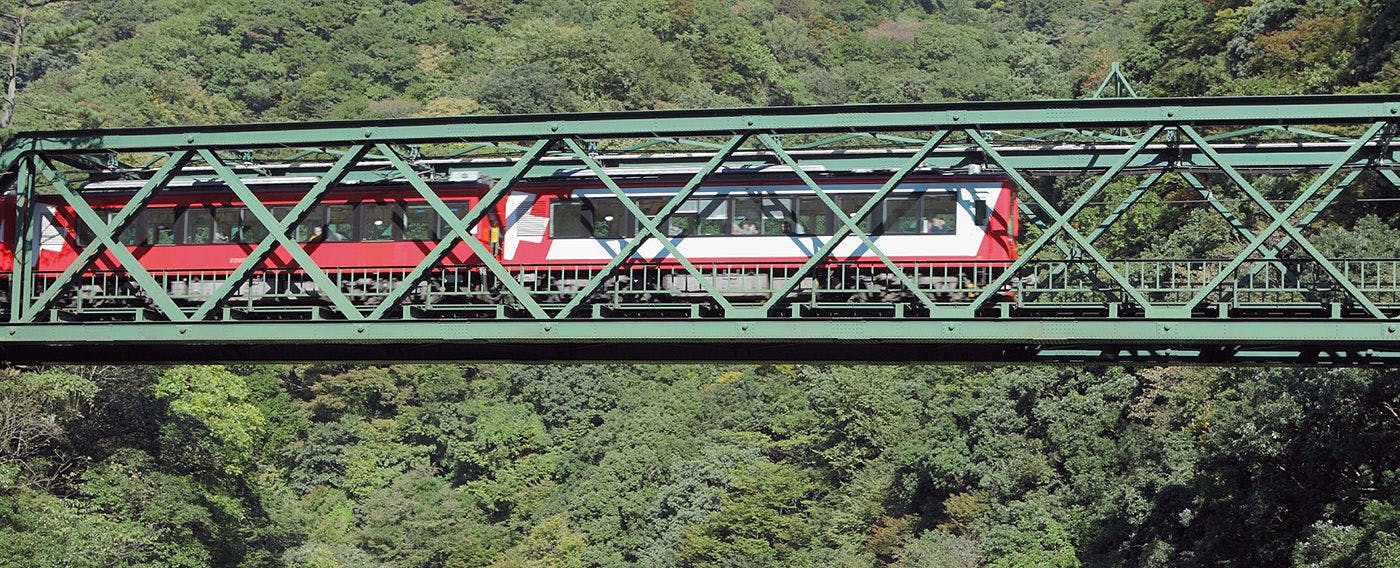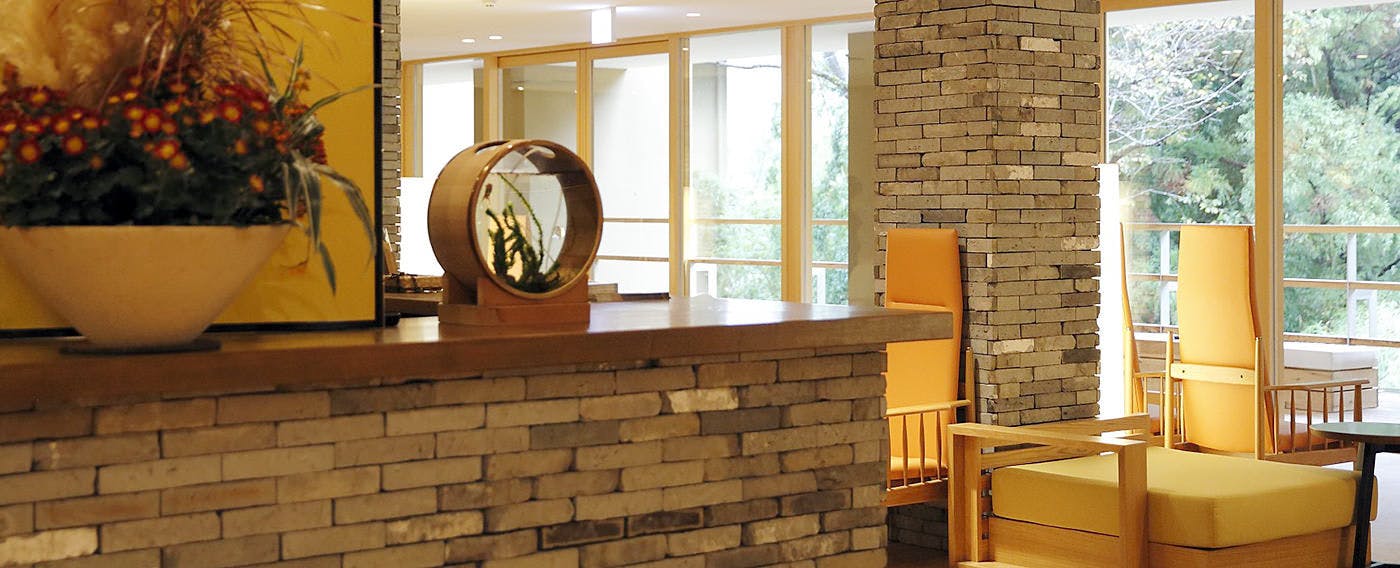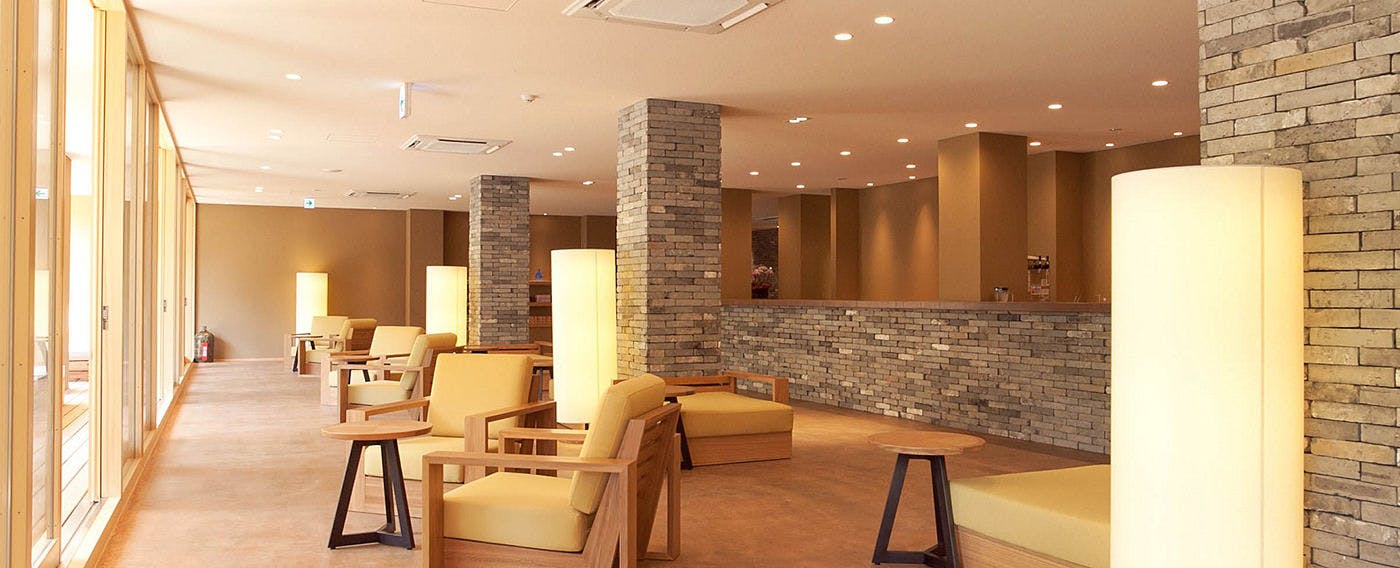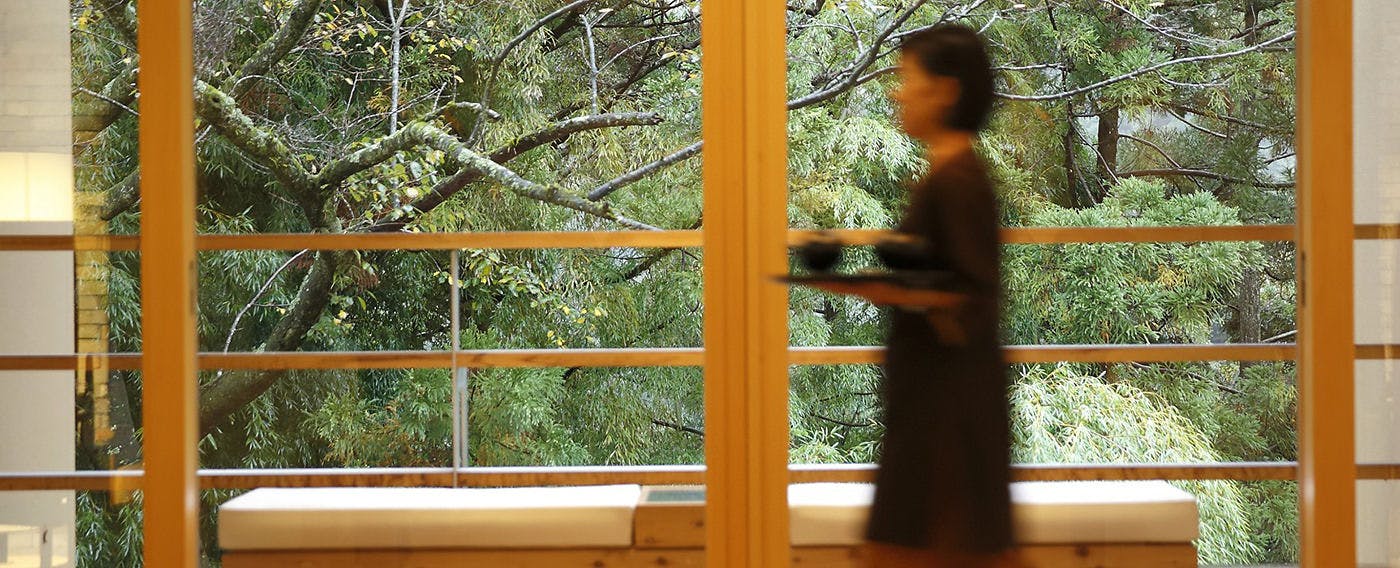 Lounge Bar Open 24 hours, a bar where you can enjoy your drinks with the view of the woods.
Access
191 Tonosawa, Hakone-machi, Ashigara-Shimogun,Kanagawa,250-0315,JAPAN
From Tokyo via Odakyu/JR Railway to Hakone-yumoto Station
- From Shinjuku → Hakone-yumoto (1.5-2 hours train, depending on the train type)
- Kinnotake is 5 minutes by car from Hakone-yumoto Station.
From Hakone-yumoto Station to Kinnotake Tonosawa (Taxi or Car)
- Cross the suspension bridge via National Route 1 over river Hayakawa.
- For taxi, please show our Japanese address to the taxi driver.
We do NOT recommend you to hire taxi from Tonosawa Station since the station is very small and local, no rotary in front of the station entrance for taxi stops.
From Hakone-yumoto Station to Kinnotake Tonosawa (Shuttle Bus)
- The bus is a shared shuttle bus operated by Hakone-tozan Sightseeing Company, bound for Tonosawa (JPY 100 per person per way). You can come directly to Kinnotake by dropping off at Kinnotake bus stop (from Hakone-yumoto, approximately 5 minutes bus ride).
- Please note, you should prepare your own change to pay the bus fee.
- The bus is shared by other passengers coming from different accommodations and therefore may be crowded sometimes.
For further details, please kindly send us an inquiry.

Reviews
It was such a wonderful place to stay. I enjoyed the delicious food, especially the variety of different meats. One small disappointment was that due to large number of mosquitoes, there were times when I couldn't enter the the open air bath facilities. I realized that next time, I'd like to come back after having first considered the season.
+ More
2016/10/20
I was able to relax while entering the hot spring in a privately attached 1st floor open air bath facility that felt liberatingly spacious and overlooked a stretching bamboo grove. My room came set-up with a TV and an aroma diffuser (the aroma diffuser did cost extra, but I'm glad I decided to rent it), and after enjoying the fragrance while lounging in the spacious bed, I felt totally refreshed both physically and emotionally. The offerings for dinner and breakfast were more than satisfying both in terms of content and amount. The Soshugyu beef that I had at dinner was particularly delicious. Beginnning with the welcome drink upon arrival (I chose sparkling wine) and the dessert I was offered, I felt extremely comfortable being there thanks to the genuine and obviously heartfelt service and consideration I received from all of the staff. I was able to forget all about daily life and have a really worthwhile time. Such a wonderful place, it will make you want to come back again. Thanks again for everything you did to make sure I had a great stay.
+ More
2016/09/20
Not too far from Hakoneyumoto Station and easily accessible from Tokyo, without a TV being set-up, I was able to spend time quietly in my sparkling clean room (which was splendidly simple and spacious) simply listening to a little light music. The open air rotemburo bath attached to the room was cozy and nice, the amenities were good (towels and bathrobes were soft and felt great), and the large common bathing area was clean and quiet, etc. The other married couple that traveled with us were also very satisfied with their stay. I highly recommend this place. While other reviewers have commented that the dining area lacked privacy, it was actually rather spacious and along with the beautiful view out the window, I hardly took notice of the folks sitting next to us and generally found it to be good. If I were pressed to offer up anything I wish had been a little better, I would have liked there to be more fresh vegetables served in the meals. In terms of both content and amount, the dinner was satisfying, I wish there had been more vegetables in the breakfast and dinner, seeing as how recently many places make a point of featuring and serving fresh vegetables (I do recommend the Japanese-style breakfast option). Also, I'd be happy if it were made easy to get ahold of drinks (such as juice, champagne, beer) in the morning, and if the whole building were made completely non-smoking. The lobby veranda functions as a smoking area, but the smell that finds its way in was a little rough. All in all, my options for places to go when tired and needing a break have increased. Thank you again for everything.
+ More
2016/08/20
I was blown away and am very satisfied with everything about this place. Though I only stayed a single night, I was able to take it easy and get plenty of rest and relaxation. The concept of not having a TV in the room made me debate for a second whether I should rent a one, but not having one turned out really well as for the first time in a long time we were really able to slow down and enjoy having a conversation. Bathing while admiring the floating lotus flowers right in front of my eyes was great, but daydreaming about how nice it would also be on a snowy day has already got me pleasantly thinking about when I will have my next chance to come back again.
+ More
2016/08/20
This was my second time coming here, but the calming, comfortable atmosphere and hot spring water itself is fantastic! The meals were also delivered with perfect timing and large portions. My stay greatly exceeded any expectation. I would love to have the chance to come back again.
+ More
2016/04/20
Located in historical Tounosawa Hakone, Kinnotake was a rather classy and spotless half-hotel and half-traditional ryokan inn. Every member of staff was very considerate and provided me with heartfelt service. The three big cherry blossom trees right near the room were also in stunning full bloom. Looking at them while stretching my whole body out in the open air rotemburo, I felt a certain joy to be alive and spent a blissful time. From my room I was also able to see National Route 1 at the bottom of the valley and was told that it is the course of the Hakone Ekiden, the long-distance relay race. I have to say that one of the most impressive points was that the room's washstand had been expertly crafted from a single sheet of bent and shaped stainless steel, an installation which added to the already immaculate feeling of the room. I also thoroughly enjoyed the meals which made use seasonal ingredients.
+ More
2016/04/20
Although I travel in Hakone with some frequency, this was the first time I had taken advantage of this facility's hospitality. I feel that the experience of crossing over the bridge in one's car, as well as the tranquil atmosphere that pervades the building and guest rooms is simply perfect for forgetting all about daily life. Personally, I rather liked the facts that the spacious room deliberately didn't come with a TV and I was able to simply put on a little music take it easy. The open air rotemburo bath that came attached to the room was also stunning, and I made use of it quite a few times during my stay. I think that this place would be wonderful for couples or families looking to spend a little quiet time together. With regards to the service, staff members were from foreign countries, but as I was treated well and respectfully it wasn't a worry at all for me personally.
+ More
2016/03/20
Information
Check-in Time

From 3:00pm to 7:00pm

Check-out Time

Until 11:00am

Tax / Service Charge

Bathing Tax JPY 150 per adult is NOT included in the rates.

Credit cards accepted at this property

VISA / MASTER / JCB / AMEX / DINERS / UNION PAY
Children

Children under age of 12 cannot be accommodated at Kinnotake Tonosawa to guarantee all guests to enjoy the quiet atmosphere. We thank you for your kind understanding.

Pets

Pets are NOT allowed.

Parking

Free of charge for guests; Capacity 50 vehicles; No Valet Parking Service;

Other policies & conditions

Nothing in particular