Takinoyu, Matsuba Hot Spring
Takinoyu, Matsuba Hot Spring located in Kaizuka City in Osaka Prefecture. Turning one's ear to the murmuring of the stream and the sound of falling water, and smacking one's lips over the local cuisine. Soaking in the natural radon hot spring, leisurely enjoy a supremely pleasant moment soothing body and mind.
- VAT is included, but bathing tax (around JPY 150 per adult) may NOT be included.
- Price in USD is based on the exchange rate as of today and might be different from that of the booking date.
Foods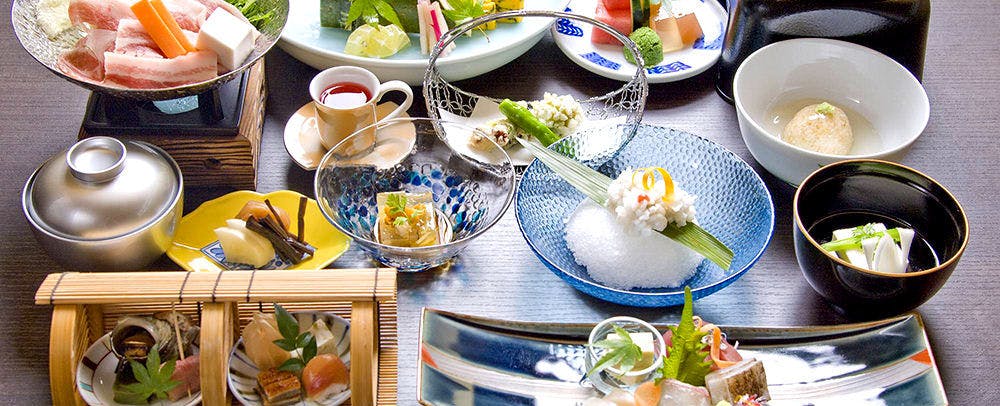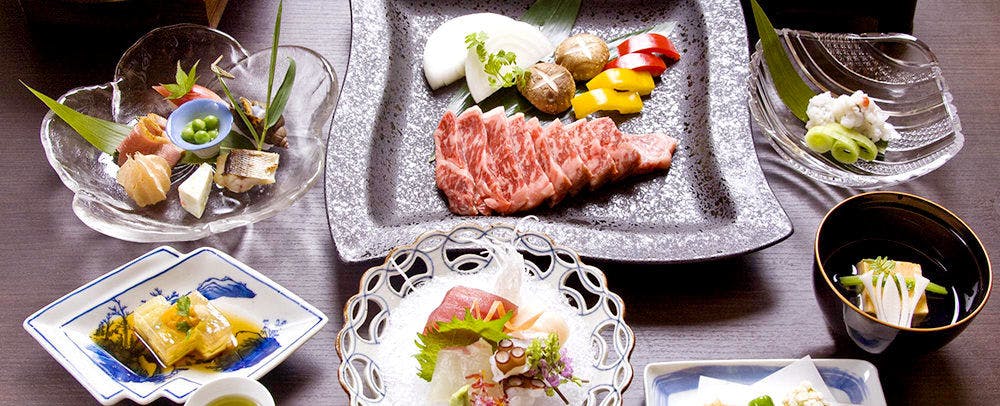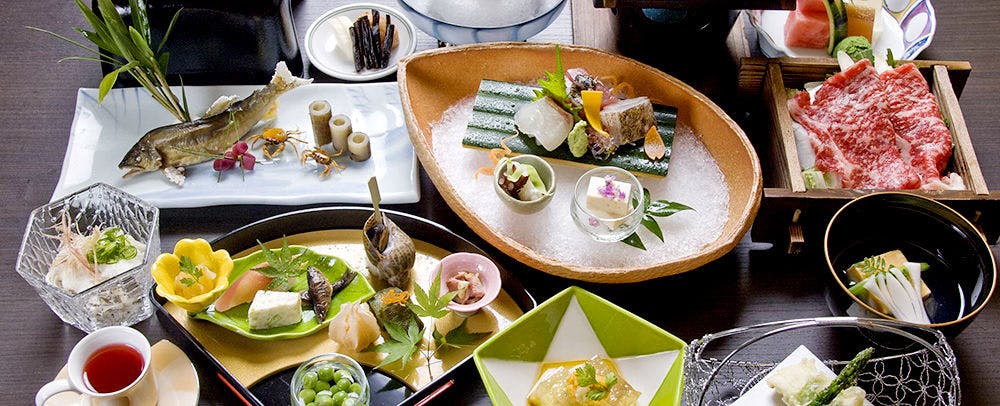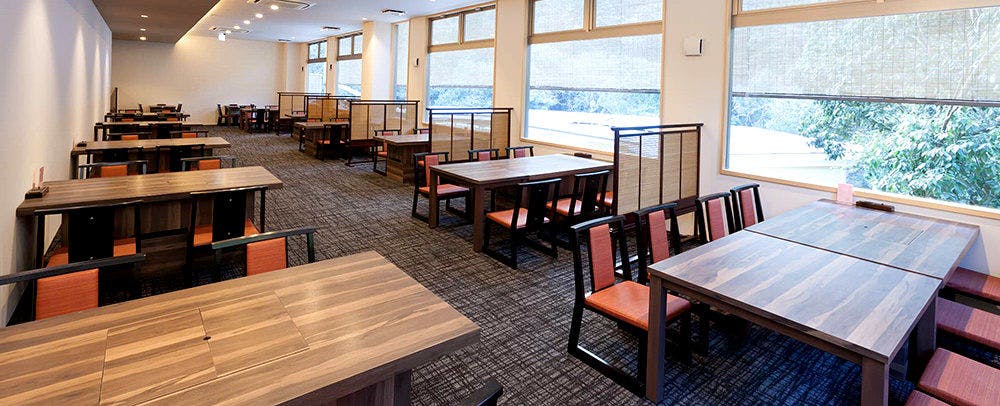 A pleasure to the eye, a delight to the tongue, enjoy the culinary hospitality of Takinoyu. Please note that in accordance with the season there are changes in meal contents and tableware.
Baths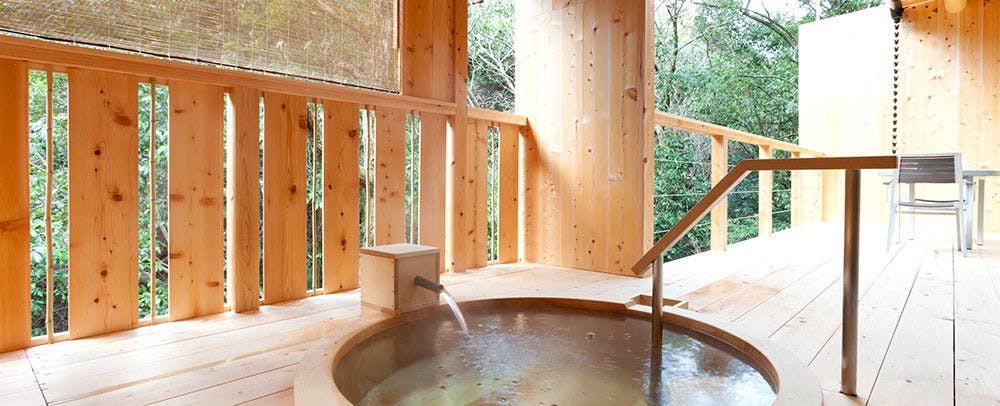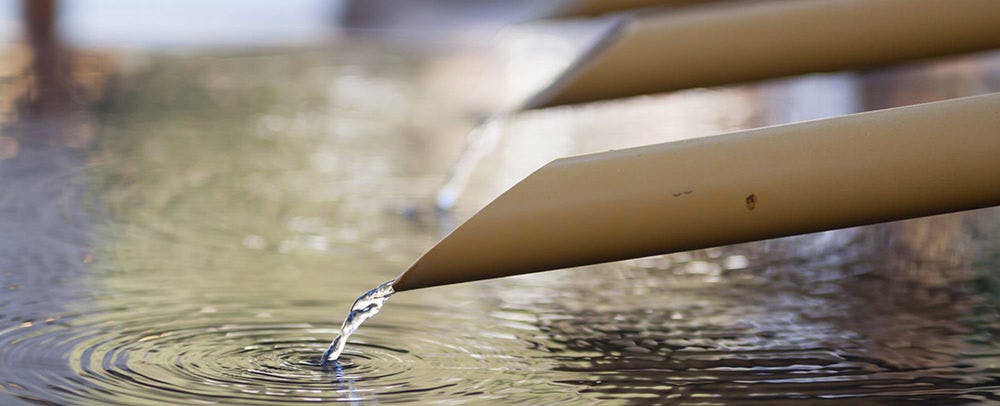 Takinoyu, Matsuba Hot Spring located in Kaizuka City in Osaka Prefecture. Takinoyu, Matsuba Hot Spring located in Kaizuka City in Osaka Prefecture. Turning one's ear to the murmuring of the stream and the sound of falling water, and smacking one's lips over the local cuisine. Soaking in the natural radon hot spring, leisurely enjoy a supremely pleasant moment soothing body and mind.
Facilities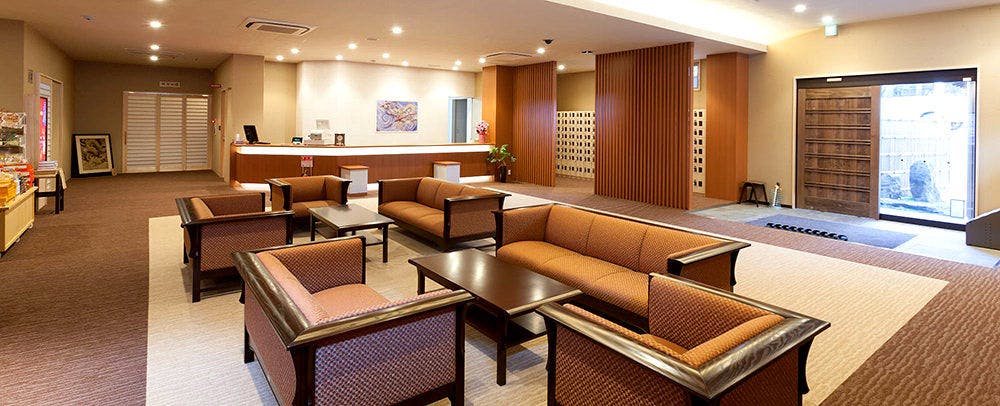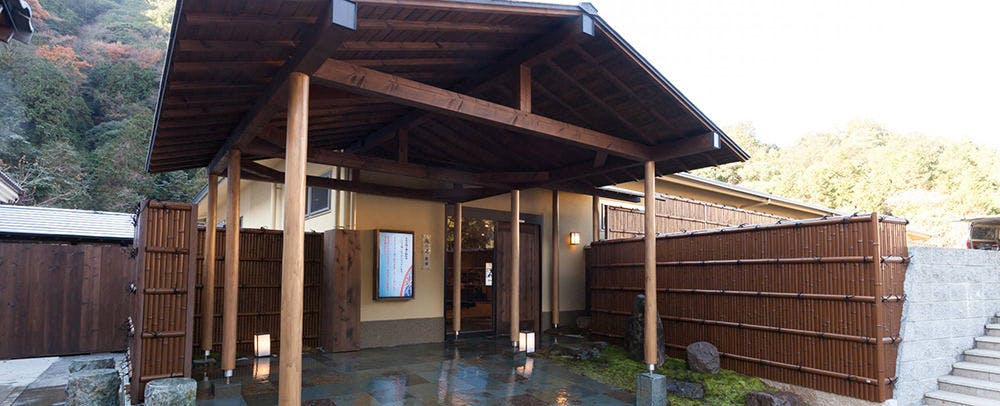 New rooms have been opened. 4 guest rooms opened in January 2013:
"Tsubaki no Ma (Camellia Room)," "Botan no Ma (Peony Room)," "Yuri no Ma (Lily Room)," "Ajisai no Ma (Hydrangea Room)." All 4 rooms come furnished with an open-air rotemburo bath that overlooks the clear stream of the Kokigawa River. Listening to the murmur of the stream while in the bath or using the free massage machines, forget about the daily hubbub and spend a soothing moment.
Lobby and reception are in the guest room building. An 80-inch LCD TV is also installed in this spacious area.

Access
3488, Kotsumi, Kaizuka-shi,Osaka,597-0102,JAPAN
BY Car
-Approximately 5 minutes by car from the Kaizu Interchange on the Hanwa Expressway-Approximately 40 minutes by car from within Osaka City

BY Train
-From Nankai Nanba Station to Kaizu Station on the Nankai Main Line, then to Mizuma Station on Mizuma Rail, then to Matsuba

BY Bus
Onsen-mae (In front of Matsuba Hot Spring) on Misutetsu Bus.
-From Tennoji Station to Kumatori Station on the JR Hanwa Line, then approximately 15 minutes by car.

Courtesy car service is available (Free of Charge)
---Please be sure to call and make a reservation for the courtesy car service at least 1 week in advance. (Courtesy car will meet you at the nearest station) ---Depending on the circumstances of your reservation, it may be the case that a courtesy car is not available at your desired time. For any questions or further clarification, please contact us directly by phone.
Reviews
I visit all throughout Japan around 10 times a years, but I was surprised that there was this great of a hot spring in Kansai.
There are only 4 rooms, the open-air bath is excellent, the evening meal is excellent, and since the staff members don't come around any more than is necessary, you can relax and take it easy.
In particular, the food was fantastic. I don't know it it's always the case, but I was impressed that even a late-night snack came. While listening to the sound of the stream and the chirping birds I really was able to relax on the terrace, and I definitely would like to come back again within the year.
+ More
2017/04/01
Hot spring and room, both were amazing! The service from the staff members was also polite and made me feel comfortable.
The food and seasoning both were beautiful and very delicious, but there was one thing.... I thought that at this price the pickled watarigani crab shouldn't really be frozen, and so I gave it 4 stars.
That said, the atmosphere of the open-air bath attached to the room was great, and while keeping up conversation with someone I met in the large bathing facility, the pain in my knee went away... I'd like to come back again. Thank you very much.
+ More
2017/03/01
Thanks for everything during my stay at the end of February.
I checked in after shopping in the outlet stores, and to be honest I didn't have the highest of expectations, but it was a wonderful inn.
The room was spacious, and the open-air bath was great too.
The meals were also delightfully colorful, and though I don't normally drink I enjoyed some hot saké. Then feeling great, the massage chair in the room took away some of my everyday fatigue, and I was able to spend some relaxing time not thinking about anything.
There was also plenty for breakfast and coffee to be had after the meal,leaving nothing to be desired.Even up to souvenirs when leaving to head home,thank you so much. The only disappointing thing was that after drinking hot saké I ended up falling asleep, and I didn't end up being able to get into the large bath. I'll just have to look forward to it next time!
Thanks again for everything this time.
+ More
2017/01/01
I went with my mother who suffers from leg trouble, and even though it had been described as barrier-free, we weren't sure how much we could trust it. However, from lending us a wheelchair to use in the building to preparing a shower bench for use in the bath, there was nothing left to be desired, and we were relieved and able to spend our time pleasantly. The room was also spacious and easy to make use of, and in-room evening meal was more than satisfying in terms of both quantity and quality! Since it was New Year's for breakfast we were served holiday osechi. Of course the quality of the hot spring was also great, the massage machine installed in the room was soothing, and the completeness of the amenities made it so that we were able to calm down as if relaxing at home. It really is an inn we want to visit again!
If pushed to raise an issue, it might have been nice to have coffee cups for drinking coffee in the room since the only thing available to put the drip-coffee into were teacups.
+ More
2017/02/01
We stayed as a group of 4 with my parents in their 80s, occupying the Botan no Ma (Peony Room) and the Tsubaki no Ma (Camellia Room). The open-air terrace bath was immaculate, the water temperature was just right, and it was awesome. We were able to soak leisurely while listening to the voices of the cicadae and the murmuring of the stream, and at night while gazing at the moon. We had been worried about insects, but we only used the installed netting once (lol). The room is spacious and you can really feel at home. All of the little amenities like pouches, paper towels, and late-night snack rice ball containers, etc. were all cute, and it felt very stylish. The meals were extravagant without being too fancy, and the high-class subtle flavoring was very delicious. My parents too had not know that this kind of facility was so close to their house, and were really satisfied with having been able to relax. I think it's an inn where elderly and young people are able to have a good time. I will definitely be back again. Next time I would certainly like to experience the open-air rotemburo bath in the winter.
Not having a car, I think it ends up having to be a taxi or bus from the nearest station, and so I thought it would be appreciated if they took steps to provide a welcoming or courtesy car service.
+ More
2016/08/01
Information
Check-in Time

From 3:00pm to 6:00pm

Check-out Time

Until 11:00am

Tax / Service Charge

Bath entry fee is charged separately at JPY150./Osaka Prefectural Accommodation Tax will be levied in accordance with lodging costs.

Credit cards accepted at this property

VISA / MASTER / JCB / AMEX / DINERS / DEBIT CARD
Children

Children are NOT allowed.

Pets

Pets are NOT allowed.

Parking

No charge during your stay; Capacity 80 vehicles; No Valet Parking Service

Other policies & conditions

Please note in advance that doors close at 21:00.