- VAT is included, but bathing tax (around JPY 150 per adult) may NOT be included.
- Price in USD is based on the exchange rate as of today and might be different from that of the booking date.
Foods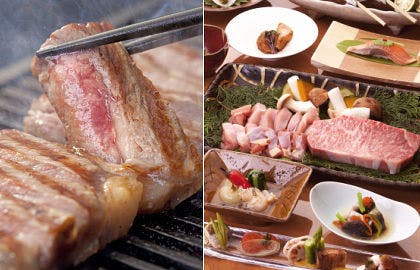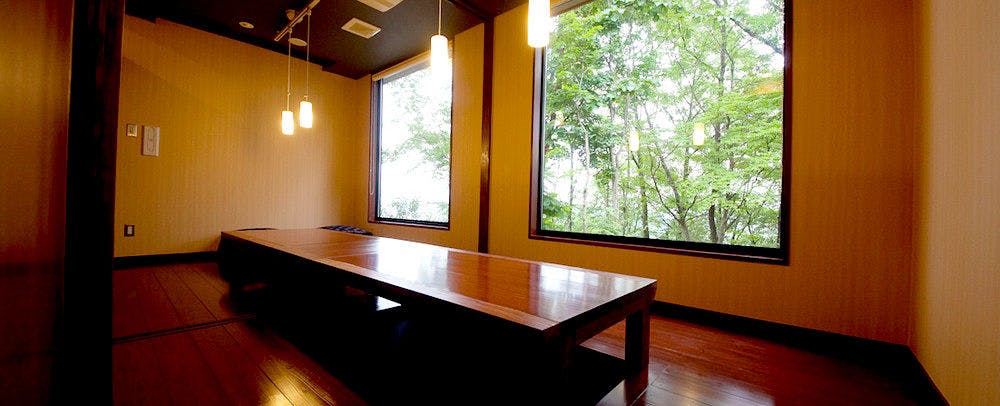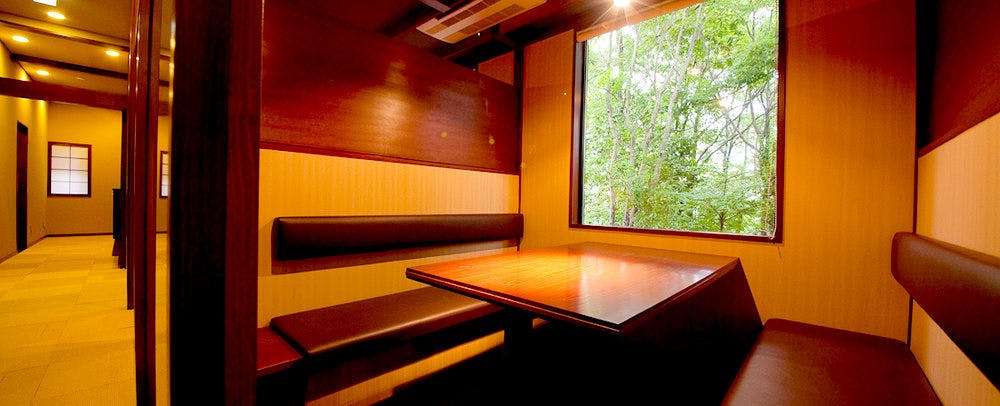 Traditional Japanese Haute Cuisine with Local Fresh Ingredients Japanese black beef steak, steamed fresh chicken, and grilled fish…
Please savor our Kaiseki (Japanese haute cuisine) dinner as tasting seasons flavor.
Baths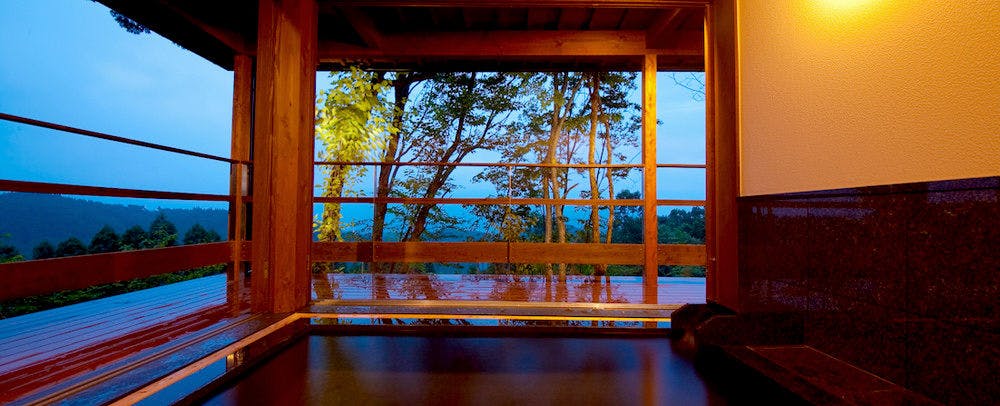 Give all your time to bathing Open the windows, enjoy taking a bath with great view of Mt. Fuyu.
Access
1253-8 Kawanishi, Yufuin-cho, Yufu-city,Oita,879-5113,JAPAN
BY TRAIN
From Yufuin Station(JR Kyudai Main Line): 13min by taxi

Reviews
A so spacious bathroom (ofuro) that is worth spending a night for. The view from the room was also great. In this place you will feel all the staffs love Yufuin.
+ More
May 2016
The warm smiles and attention of the staffs were awesome. We were delighted with the food which used fresh ingredients and had reasonable volume, and the free-flowing hot springs (Kakenagashi Onsen) as well. They put the different dishes on the table for dinner taking into consideration that one of us was left. They gave to us a map indicating some places we were planning to visit next day. They also had a lot of knowledge of the region and explained to us some places, of course not trying to make us go some specific place. It made us; my wife and I feel very pleased. We had a complete course which included Sukiyaki of the meat of Bungo-gyu (Bungo cow). The meat, vegetables, fish, etc. were very fresh and all food seemed to be cooked with time, very slowly. The quantity was good also so we were very satisfied. The room called Kunugi was a simple hanare (Cottage separate from the main building) very clean. The water of the bath was warm so we could be in the water for long hours and enjoyed few times. The bath itself was wide as well and by closing the window of the bathroom we could regulate the temperature. Just two requests to be said from me: It would have been much better if you could have served to us a welcome drink of citron, famous fruit of the area I guess. And also it would look better if you hide the cables aside the TV under the refrigerator.
+ More
May 2016
It was the first time we visited Yufuin. A week before, the hanare (Cottage separate from the main building) of Kaede was canceled so we reserved it instead without thinking it twice. We got very satisfied because the "Attention/Rooms/Food" was as good as written in different websites. As it is situated far from the city, I would recommend it for people who want to enjoy a private environment with nature. At the sunset, in the night and the morning, it was very pleasant to enjoy the open-air bath of the guests room looking the view of the Yufudake-Mountain. The staff who was a woman, attended us very kindly and gave to us a letter with a map of Yufuin. We used this map to visit different areas of the city. Yufuin is a place of nature with good food. We would like to come again next time when the mountains have become green (summer).
+ More
Apr 2016
We relaxed a lot. The young staffs were also very friendly and attended us with hospitality. We were very satisfied with the room size, and the clean of all the facilities. We would definitely stay over here the next time we visit the Kyushu area again. Here I felt that the way staffs attend you is the most important thing when you want to spend a good relaxing time.
+ More
Mar 2016
When we arrived at the hotel it was sunny, but the surroundings became white soon after we ate dinner. I had a super great time looking the snow when enjoying the bath. It was very kind of you to prepare two towels for each of us. The dinner was very delicious, and even the plates it was served had nice designs to enjoy. I would like to come again in other season and stay over three nights including the weekend so it will be nice if you make it possible staying over two or more days on weekends (not only on working days).
+ More
Feb 2016
First of all, I would like to say that the hospitality here was very surprising. Since my daughter was sick and could not eat very well, they prepared Okayu for her and also they brought to the room food for my wife who was taking care of her. Thank you very much again. My daughter says that she will come back again next new year, next time not sick. Of course if we can make a reserve. Thanks a lot. We are coming soon with our best conditions.
+ More
Jan 2016
A Hotel with such a warm hospitality. The staffs were all very kind and friendly teaching us good restaurants and museums of Yufuin. What surprised us the most was the high quality of the food they served to us. The dinner and the breakfast were amazing. We said "Yummy" so many times!! The free-flowing hot spring was very good. We enjoyed it looking the sunrise in the morning and thought: "We want to be here forever". After checking out we forgot something in the room but they brought it to us till the train station. Thank you very much. You helped us a lot. It was one of the places of highest rank that we have ever stayed at. A place we would like to recommend or take anyone.
+ More
Dec 2015
Information
Check-in Time

From 3:00pm to 6:00pm

Check-out Time

Until 11:00am

Tax / Service Charge

150 yen bathing tax will be charged separately.

Credit cards accepted at this property

VISA / MASTER / JCB / AMEX / DINERS / UNION PAY
Children

Children under 10 years old cannot be accommodated at this ryokan.
Children over the age of 11 years will be charged adult price.

Pets

Pets are NOT allowed.

Parking

Free of charge for guests; Available from 3pm to 11am; Capacity 10 vehicles; No Valet Parking Service; Reservation is not required

Other policies & conditions

Please note that children of 10 years old or younger are NOT allowed to stay.; Please note that dinner is served from 6:30pm, & breakfast is served from 8:30am.; Automotive chain might be necessary in winter, for guests coming by car.