Yufunoirodori Yadoya Ohashi
Yadoya Ohashi is the all-villa-style ryokan in site of 10,000sqm among the rich nature of Yufuin, just 5 min by car from Yufuin Station. All villas have both open-air bath and indoor bath. They are available for 24hours and with pour through type coming from the source. Have some comfortable time to heal your heart.
- VAT is included, but bathing tax (around JPY 150 per adult) may NOT be included.
- Price in USD is based on the exchange rate as of today and might be different from that of the booking date.
Foods
Foods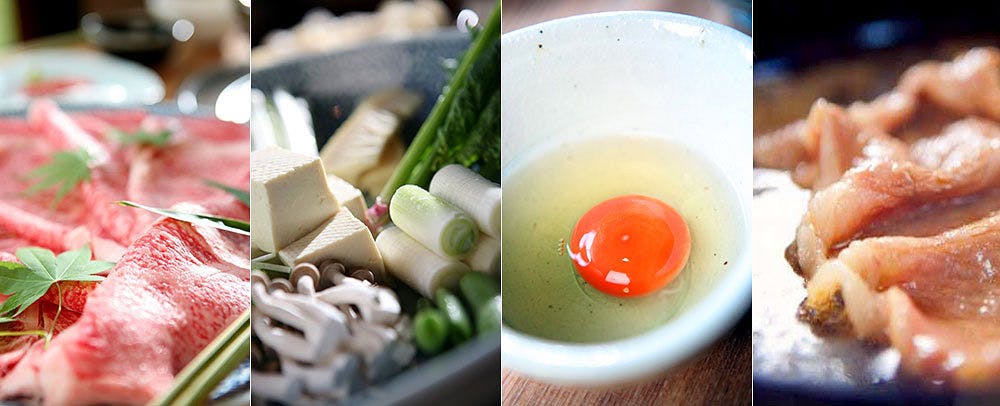 Foods
Dishes of the best-quality Japanese wagyu beef, in suki-yaki or shabu-shabu Enjoy dinner of the carefully selected Japanese wagyu beef with A5 rank. As well as beef as main dish you can also teate local vegetables and seasonal ingredients, and desserts. After the dinner, private open spa at each guestroom welcomes you to experience quiet night in Yufuin.
Baths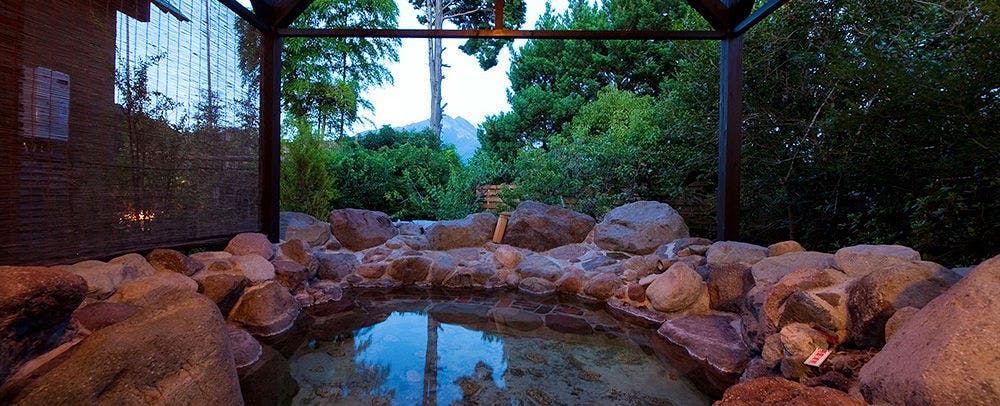 Open-Air Bath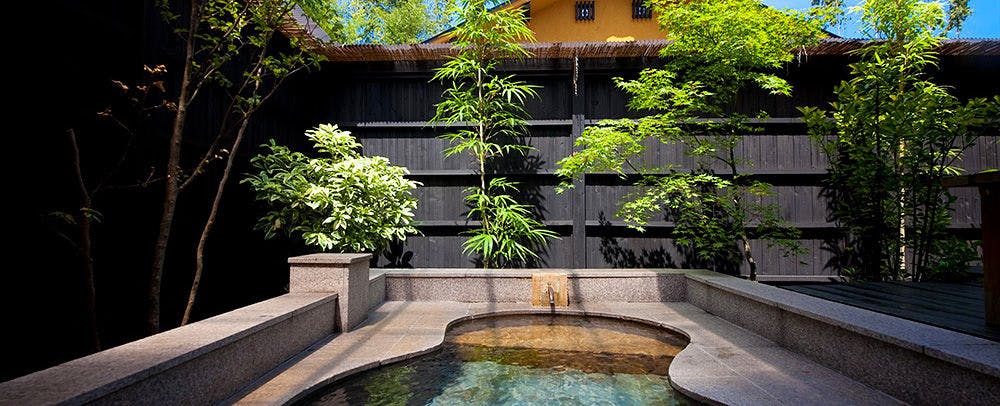 Open-Air Bath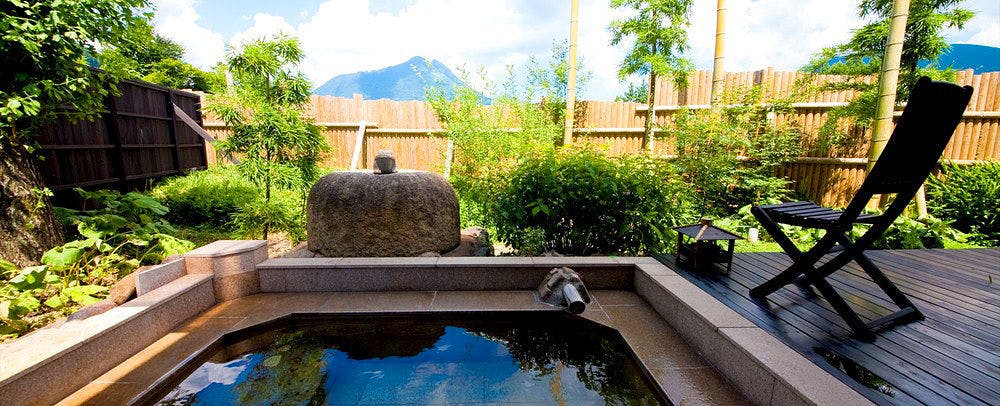 Open-Air Bath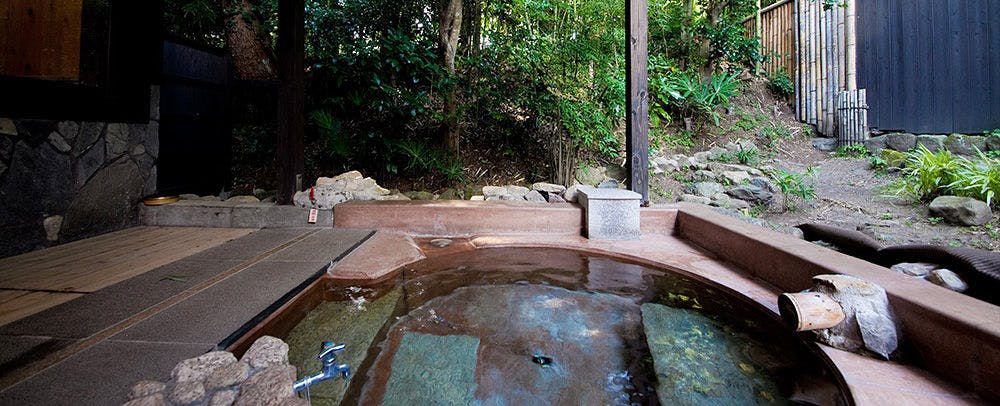 Open-Air Bath
Relaxing moment at indoor bath and open-air bath of each guestroom Open-air bath prepared only for guests are pour-through style hot spring from the source. With its seasonal atmosphere, relax your body and mind, slowly and leisurely. Both open-air bath and indoor bath are available for 24 hours.
Facilities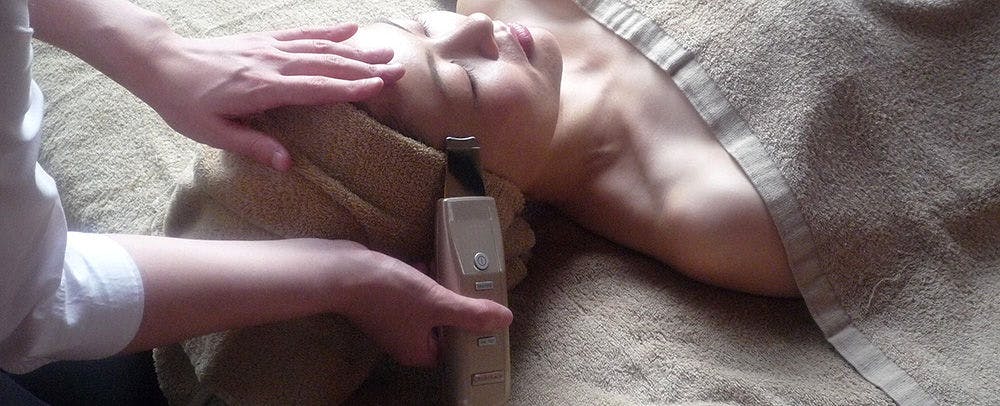 Esthetic Salon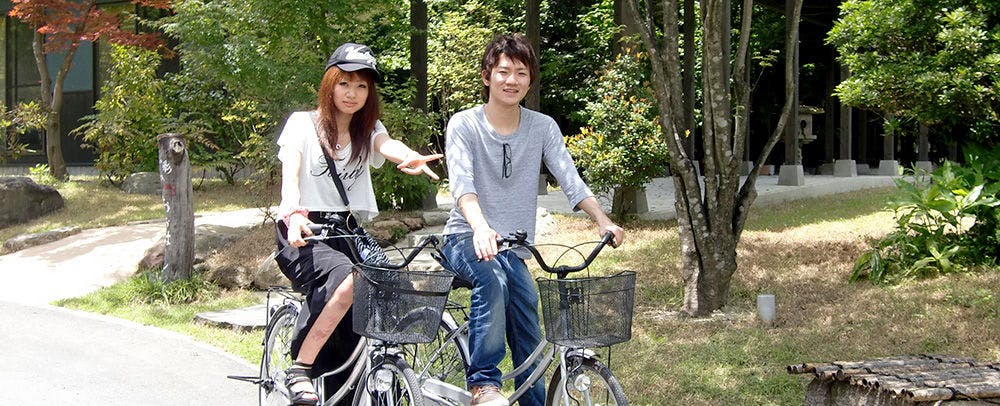 Rental Bicycle
Female Amenities
Lobby with Fireplace
Esthetic treatment at villa Experience the comfortable oil treatment with the lymph. This is to release the waste from inside your body. It cleans up the inside of your skin, activates cell, and helps recover immune function.
Open from 7:00pm to 11:00pm. Reservation accepted from 3:00pm to 9:00pm at reception.
Access
1235 Kawakita, Yufuin-cho, Yufu-city,Oita,879-5114,JAPAN
BY TRAIN
From Yufuin Station (JR Kyudai Main Line): 5min by taxi

BY AIR
From Oita Airport: 55min by bus to JR Yufuin Station & 5min by taxi
Reviews
It was a comfortable hot spring hotel in a a very small and quiet rural area. It was close to Yufuin Station on JR line and convenient for shopping, so I was very content for the first time in a while and spent a happy time. The outside bath was small and 100% hot spring water, so it was a gorgeous atmosphere, and I was very grateful and appreciated it. As the courses were very tasty, we were satisfied, which made us want to go back there again. There was a free rental bicycle service which made us happy because we could cycle and it was a good exercise.
+ More
Sep 2015
Completely satisfied. I arrived before check-in then hired a bike and went on a cycling to Lake Kinrin. They showed me the way to fuyuin ,afterwords I enjoyed the townscape and worked up a nice sweat on the way back to the hotel. The room was perfectly clean the bath was excellent. The meal after enjoying the bath was superb. The supper was not served in a room but was served in a private room of the restaurant, which was comfortable. The staff were good and we had such a good time. Thank you.
+ More
Sep 2015
It's a very quiet hotel with a charming Japanese garden that was perfectly maintained with a scenery borrowed from Yufuin. The separated rooms have a big open air bath, and of course it has an indoor bath too, which saved me the trouble of going to the large public bath. Food was served in a private room of decent size, allowing me to eat without minding others, and enjoy the expensive sukiyaki made from high grade beef freely. Both facilities and meals were far better than what I saw on the website, and what made me happy was that despite the young age of the staff, they provide a meticulous service and I had a fun chat with them. I had made another great experience thanks to them. Thank you. I think it's a hotel anyone can face with pride and joy. Please work hard just like this from now on too. I will visit again.
+ More
Sep 2015
It was a pity that the small lobby around the reception was not no-smoking. Smoke is stagnated and your clothes gets the cigarette smell. Everything but that was very good. It is wonderful that they only charged 1,000 yen for bringing in my own wine. But a regular bottle of Moet&Chandon on menu is 15,000 yen, so, you should really bring your own in if you drink. I had a shabushabu hotpot with meat and vegetables. All was delicious. I would recommend this to people who are used to shabushabu as well.
+ More
Jul 2015
It was quiet and I spent a relaxing time without any fuss. We stayed at the room called Mizuasagi. The room was relaxing, with ample space. The bed was big and the view was also good. The open-air bath had a different atmosphere when going in while it is still sunny and bright, and when going in after dusk at night and I enjoyed it. The indoor bath was also comfortable. I found it pleasant that they had 4 bath towels and 4 face towels. I had dinner in a private room in the restaurant. The meat was very tasty. It made me full. Breakfast was also tasty and very satisfactory with a variety of side dishes that went well with rice. It made me happy that after the check-out, the staffs took several photos of me in a few locations which became a good memory. I am very satisfied to have chosen this inn for my first visit to Yufuin. I am grateful to all the staffs.
+ More
Jun 2015
The room treated me to the view of Mount Yufu from the open air bath. The view was perfect. The timing was good as the sky was clear that I wish I could soak in it forever. Dinner was delicious too; there was lots of variety for breakfast and the dumpling soup and fresh tofu were very delicious.
+ More
Jun 2015
I could relax in the open-air bath at the guest room. There were amenities for each sex, and they were attentive. The meals had good tastes and I was able to ask for more of both shabu-shabu and vegetables, and the meat were as good as they are supposed to be at A5 rank. I recommend this inn.
+ More
Jun 2015
My room is nearly the furthest from the main wing, and I was impressed when the sight of the splendid Mount Yufu jumped into my eyes the moment I stepped into the room. The staff told me this is the prettiest Mount Yufu ever and the sight is rare so that got me completely excited. Maybe it's because there is no public bath in the hotel, but both indoor and outdoor baths in our room were the most spacious among baths of all hotels we have stayed in so far. It's such a rare case that my husband who is 185 cm tall can comfortably sit in the bath of a hotel room with his legs stretched out, that he was deeply impressed. The hot spring was good, and the outdoor bath where we could hear the birds singing and occasional sound of a passing train in the morning and during the day, and look at the starry sky at night was really luxurious and most healing. The rooms were not designated as non-smoking, but it appears that they have taken careful measures to remove the odors from the room, so that we did not notice any tobacco smell at all. During the dinner when we ate the Sukiyaki beef hot pot, we were surprised to see the heap of eggs, so I thought that before eating the meat I would like to eat rice with a raw egg (lol) Concerning meat, at first I thought that it was too thin for the hot pot, but the meat was of a very good quality so I was very satisfied, and we could have free helpings of all other ingredients beside meat , there was a proper dessert, which was so helpful, or rather the service was so good that we were sure to overeat. The service of the staff was also wonderful, and I thought that they are helping us to have a comfortable time. The hotel was located a little apart from the central area of the Yufuin town, besides all rooms were designed as separate rooms for 2 persons, so there was no noise around the hotel and it was really quiet, and we could enjoy the private space suitable for adults. Yufuin is located too far for us and we cannot go there easily again, but if we have an opportunity we would like to stay here again.
+ More
Apr 2015
While I was looking for a hotel in Yufuin to relax with my wife to celebrate my retirement, the detached room with an attached open-air bath caught my eye, and I decided to stay in the hotel. Although I didn't have a high expectation at first (because I have experienced hotels and ryokan which ended up not quite same as advertised), I was surprised by the facilities and environment which were beyond expectation, and two of us fully enjoyed the relaxing trip. The meals were carefully selected from the perspective of guests, and the portion was just right. Enjoying the open-air bath many times, we had a very satisfying one-night/two-day trip. I think it is the best hotel for a couple to relax.
+ More
Mar 2015
Thank you for your hospitality the other day. Thanks to you, I could feel relaxed. I was satisfied with dinner and breakfast, but there was one thing that I was disappointed. It was that a cup of coffee served after breakfast was lukewarm. It might be too much to ask during the busy part of the morning, but it would be great if you have warmed a cup, into which coffee would be poured. Coffee itself might have been lukewarm…but everything was great other than that, and for this reason it was disappointing. It would be great if you could make an improvement by the time I will visit it next time. I hope you will consider it once.
+ More
Feb 2015
Information
Check-in Time

From 3:00pm to 5:30pm

Check-out Time

Until 11:00am

Tax / Service Charge

Credit cards accepted at this property

VISA / MASTER
Children

Children of elementary school or younder are NOT allowed.

Pets

Pets are NOT allowed.

Parking

Free of charge for guests; Available from 3pm to 11am; Capacity 15 vehicles; No Valet Parking Service

Other policies & conditions

2 adults per 1 room are allowed to stay. Please note that elementary school children or younger & guests over 2 persons are not allowed to stay.