Arashiyama Benkei
"Arashiyama Benkei was established in 1969 on the historical and scenic land known as Arashiyama. Thriving spring cherry blossoms, red autumn leaves blanketing the mountains, and cultural and historic landmarks give Arashiyama the distinction of being one of Japan's leading sightseeing destinations. Just upstream from (west of) the Togetsu-kyo Bridge, which marks the center of the area, and situated alongside the murmurs of the Oi River, is Arashiyama Benkei. This ryokan accommodations, built in the traditional sukiya-zukuri architecture style reminiscent of antique tea houses, is not simply a place to rest and eat, but also houses facilities in which guests can enjoy Arashiyama's onsen (hot springs) and indulge in traditional Kyoto cuisine. Please visit here to experience the utmost in comfort and relaxation."
- VAT is included, but bathing tax (around JPY 150 per adult) may NOT be included.
- Price in USD is based on the exchange rate as of today and might be different from that of the booking date.
Foods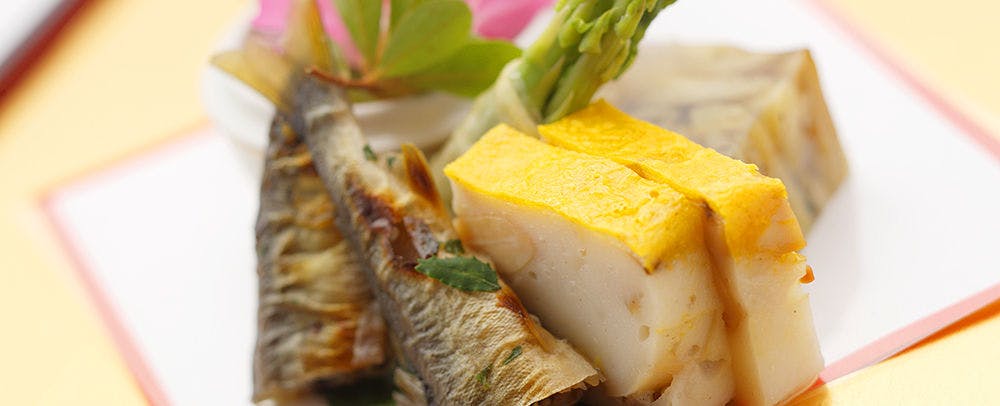 Foods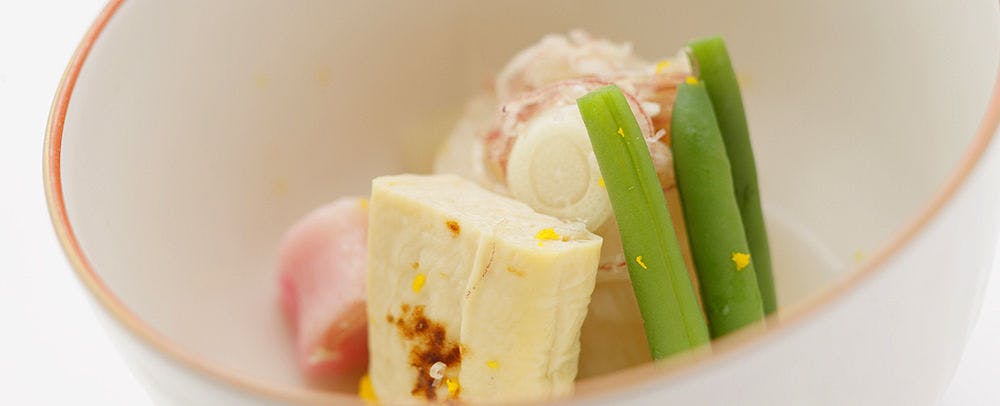 Foods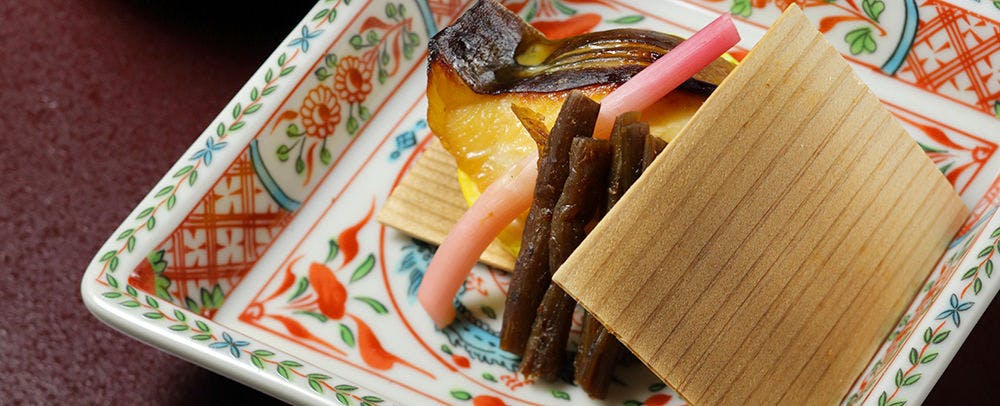 Foods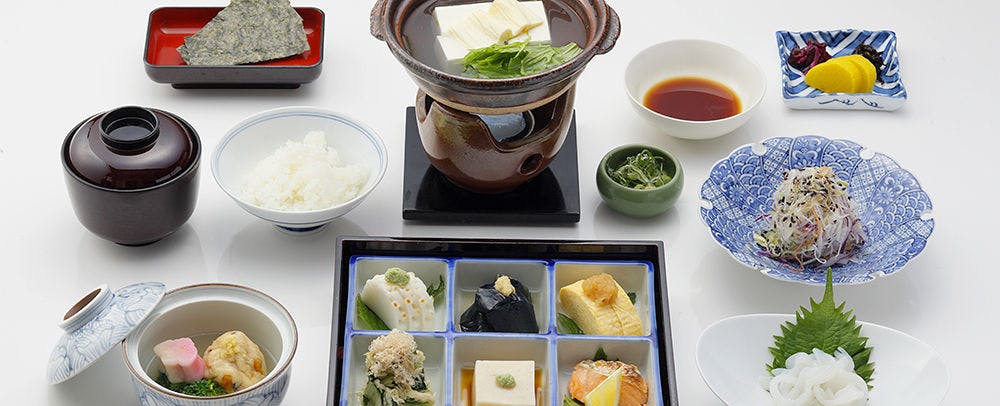 Foods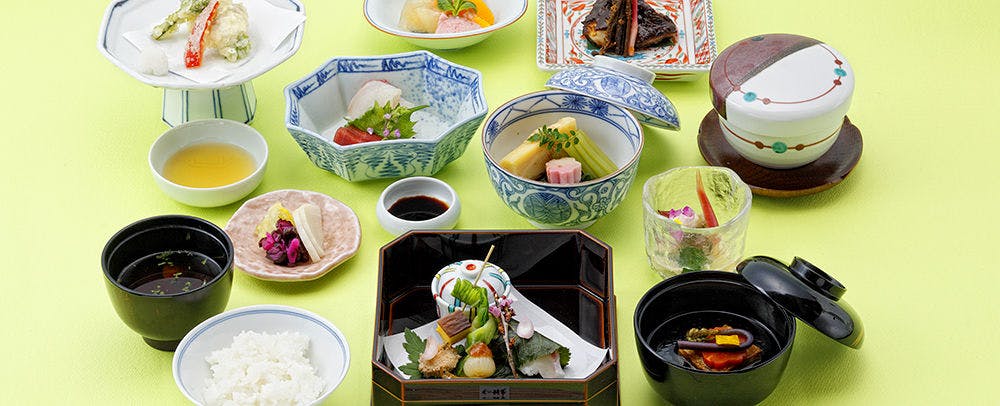 Foods
Traditional multi-course kaiseki cuisine Guests at Benkei indulge in traditional multi-course kaiseki fare that uses seasonal ingredients found not only in Kyoto, but sourced from all over Japan.
Benkei takes care in creating cuisine that appeals to all palates, yet maintains respect for the tenets of traditional Kyoto cooking.
Baths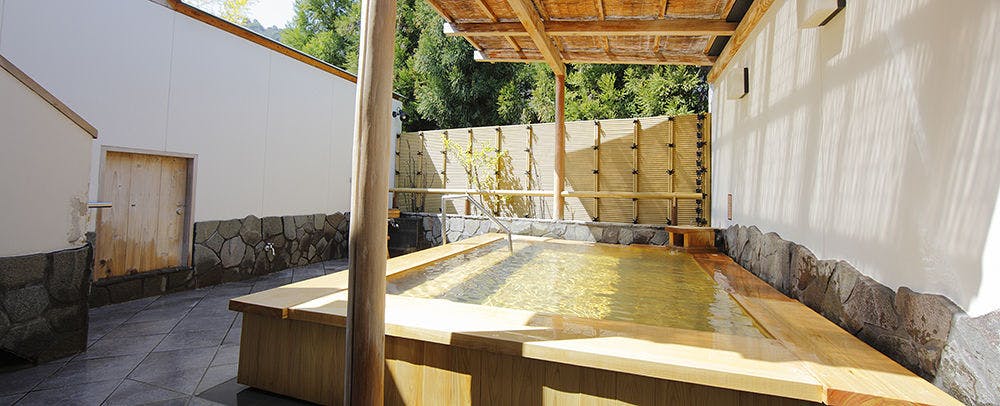 Open-Air Bath for Male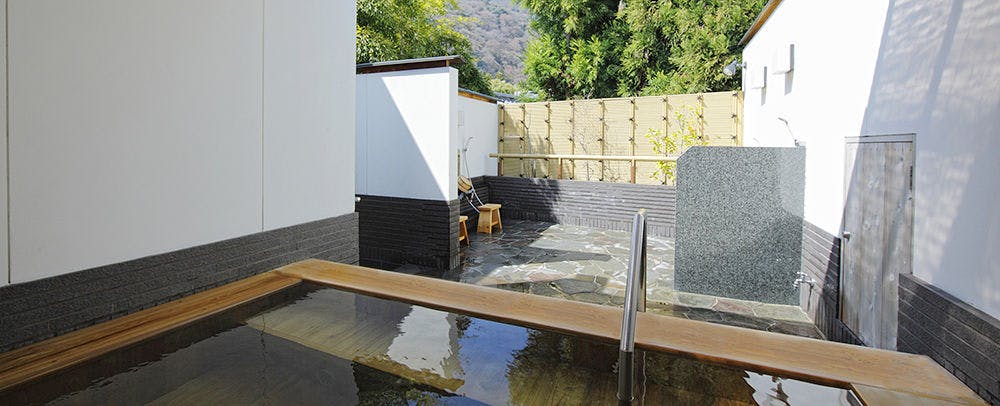 Open-Air Bath for Female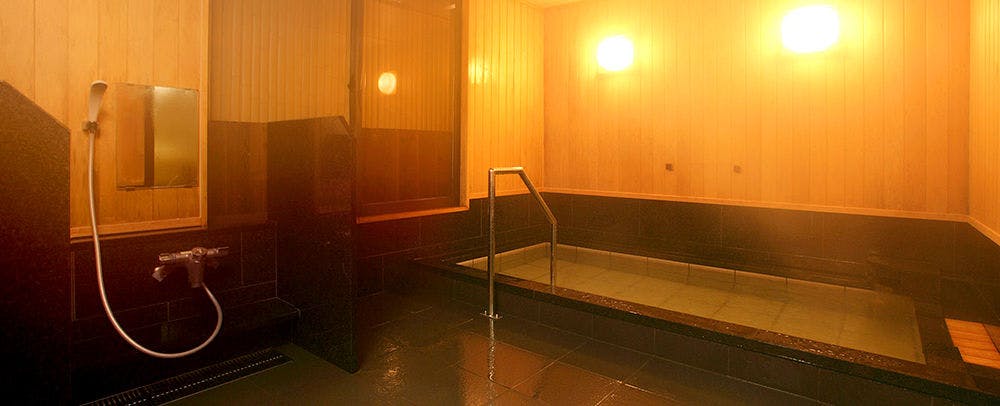 Large Public Bath for Male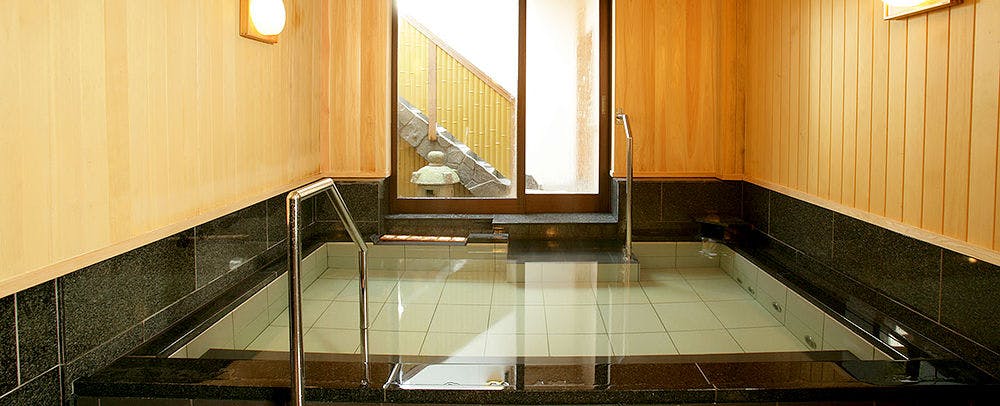 Large Public Bath for Female
Hot spring of Arashiyama Arashiyama's onsen (hot spring) water has a pH of 8.3 and provides an exceptionally smooth touch that is said to beautify skin and wash away any travel fatigue.
Benkei has indoor and open-air baths; both are available for men and women and are separated by gender. Guests who prefer to enjoy a bath in private may reserve a secluded open-air bathtub (same-day reservation, JPY 2,160 / group / 45min).
Facilities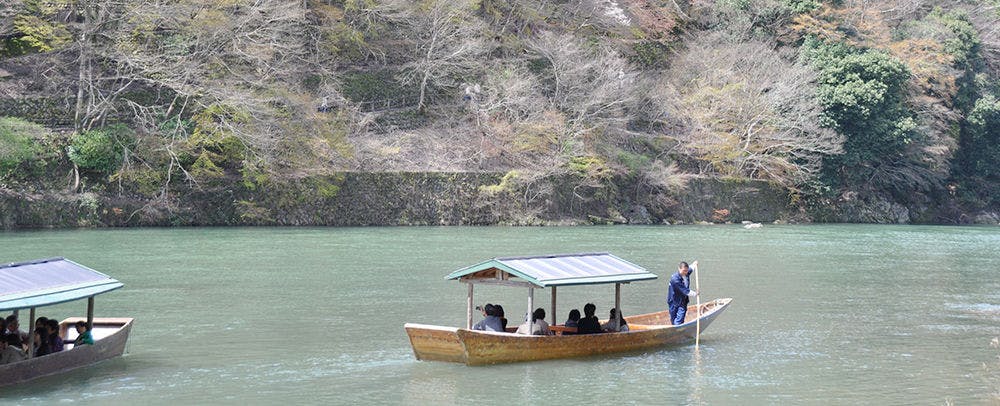 Spring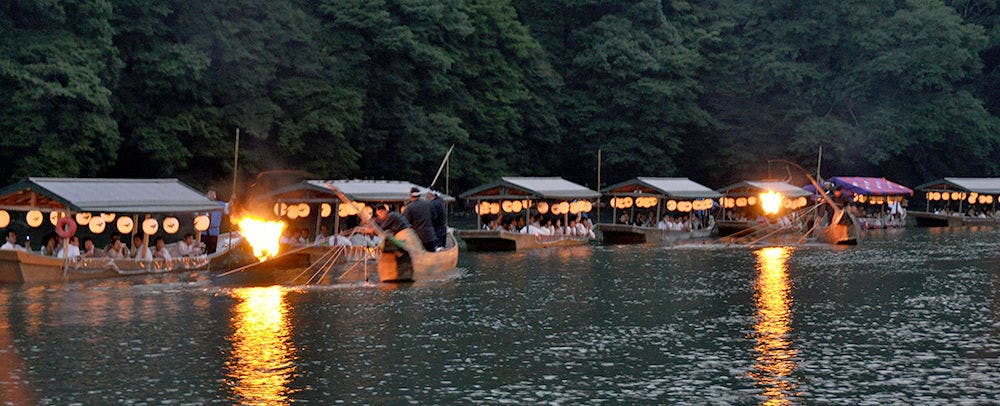 Summer
Autumn
Winter
Superior customer service Kimono-clad staff members and superior customer service will help you forget the fatigue of your travels - the staff here are among Benkei's most valued and highly praised assets.
Guests should never hesitate to ask about how their stay can be made even more memorable. They will also be honored to take a picture with you as a special memory of your time in Kyoto.
Access
34 Sagatenryuji-susukino-babacho, Ukyo-ku, Kyoto-city,Kyoto,616-8385,JAPAN
BY TRAIN
From Kyoto Station: 15min by San-in Main Line to Saga-Arashiyama Station, and 15min walk
From Keifuku Arashiyama Station: 5min walk
From Hankyu Arashiyama Station: 15min walk

Great location for a trip to city center of Kyoto, 30 min by taxi.
Reviews
It was close to Togetsukyo and very convenient location for sightseeing. The meal, the room, the service and the hot spring was just as we would wish, and we spent greatly opulent time. There were next day's event information in the room, and they took good care of us when we asked about sightseeing for the next day. The water of the hot spring was soft, and it made our skin smooth after bath, so it was a good bath. There are samui as well as yukata, and it is very relaxing. We had breakfast in a banquet room where we had a view of Hozugawa and Togetsukyo in a good note. We would like to visit there again. However, it would have been nice if there were some water to drink. In addition, because my husband shave with a shaver, it would've been nice to have shaving cream in the room. Thank you for your hospitality.
+ More
May 2015
A friend has suggested this hotel to me as a hotel with delicious meals. I was very satisfied by both breakfast and dinner. But concerning the room and the bath I can only say that they were disappointing. They were old and there's nothing one could do about this, but they were a bit dark and cold... The bath on the ground floor was lighted well and the hot spring was very pleasant. It would have been even better if I could go there 24 hours per day. Next morning the next mistress-to-be of the hotel and the room maid saw me off and stayed there until I was out of sight, and this has impressed me very much.
+ More
Nov 2014
I chose this hotel because I wanted to have a hot spring bath in Kyoto. The taste of Kyo kaiseki was just right, and also mild and healthy for body. I was impressed by the food that was beyond my expectation. The water of the hot spring is colorless, transparent and thick. I have a good impression because they seem to have a cycling reheating system, do sterilizations and add no water. The service of the staff is polite and unobtrusive. Some hotels have self-service teapots and containers but I feel more attentiveness for customers at this hotel. It was well balanced overall and I had a very satisfying stay.
+ More
Jul 2014
The building itself is old and the stairs are steep with lots of steps, but as improvement was made to make them easier to walk, my parents who visited with me didn't really find it hard to use even though they have trouble walking. The toilet and washroom were beautifully refurbished and very user-friendly. There are many amenities. The roomwear is also comfortable and convenient as I could wear it outside. There is no unusual dishes (rather, I don't like those so I'd prefer if they do not have any), but the meal is really delicious. My parents finished up everything even though they don't eat much usually. The hot bath was comfortable even though the onsen was slimy and the waitress told us to be careful as it is slippery. It's a pity that it was hectic as the check-in time is 4pm and check-out time is at 10am.
+ More
Jul 2014
Information
Check-in Time

From 4:00pm to 7:00pm

Check-out Time

Until 10:00am

Tax / Service Charge

Bathing Tax JPY 150 per adult is NOT included in the rates.

Credit cards accepted at this property

VISA / MASTER / JCB / AMEX / DINERS / DEBIT CARD
Children

All children are welcome. Bed sharing is allowed to only 1 child per guest group. Children with no meal and sharing a bed with adults are counted as 1 guest. Please note that when you make a reservation.

Pets

Pets are NOT allowed.

Parking

Free of charge for guests; Available from 3pm to 11am; Capacity 8 vehicles; No Valet Parking Service

Other policies & conditions

N/A