Japanese-Style Room [Yuri]

Half board included

Japanese futon bedding

See Details
From $538.73
for 2 guests /night
Japanese-Style Room [Kiku/Ayame]

Half board included

Japanese futon bedding

See Details
From $613.04
for 2 guests /night
Japanese-Style Room [Take]

Half board included

Japanese futon bedding

See Details
From $650.19
for 2 guests /night
- VAT is included, but bathing tax (around JPY 150 per adult) may NOT be included.
- Price in USD is based on the exchange rate as of today and might be different from that of the booking date.
Foods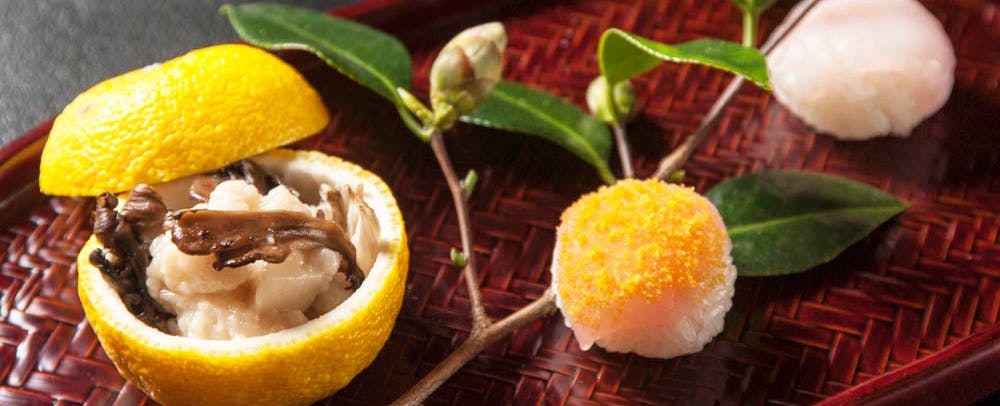 Foods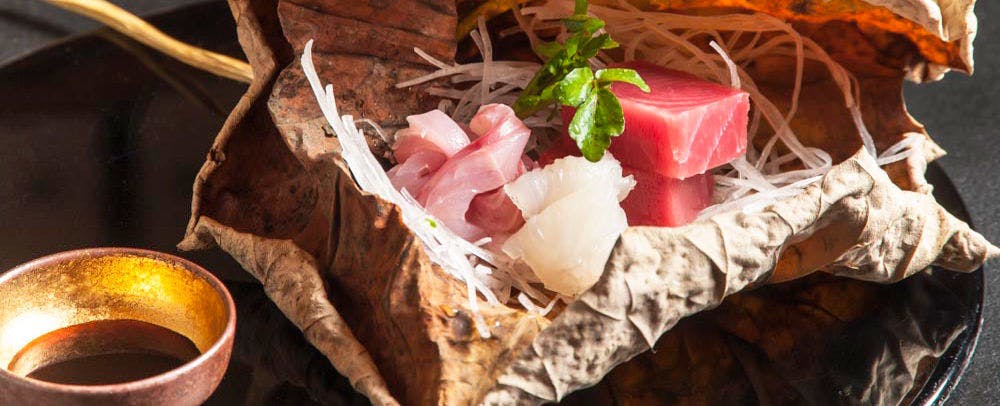 Foods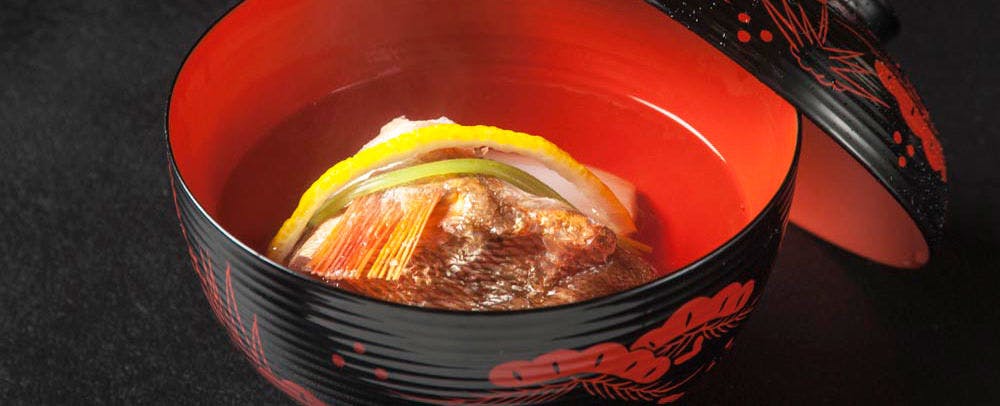 Foods
Taste great sake and enjoy beautiful dishes. Shinkano was originally a restaurant of Japanese cuisine, so tries to serve the best dishes without any compromise. Chef and staff go to the market and select each food on their own, which makes guests to enjoy the cuisine even with their eyes.
No frozen foods and no instant foods are used. Every dish is served with chef's passion on it. Enjoy the seasonal flavor in Izu.
Baths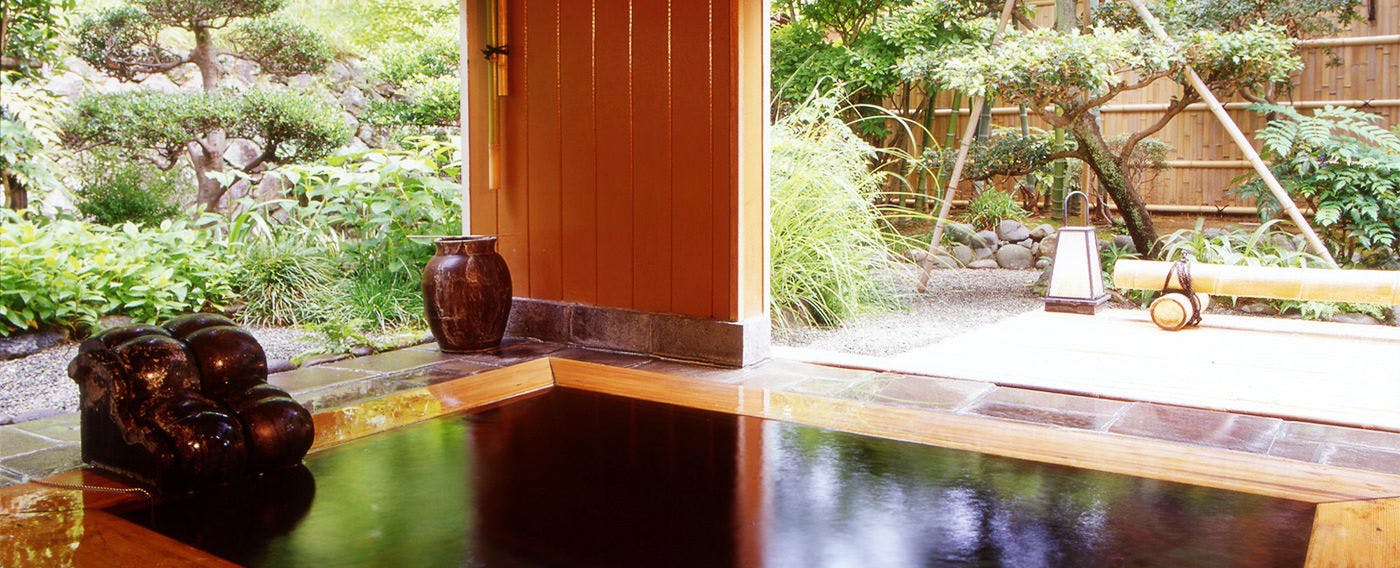 Open-Air Bath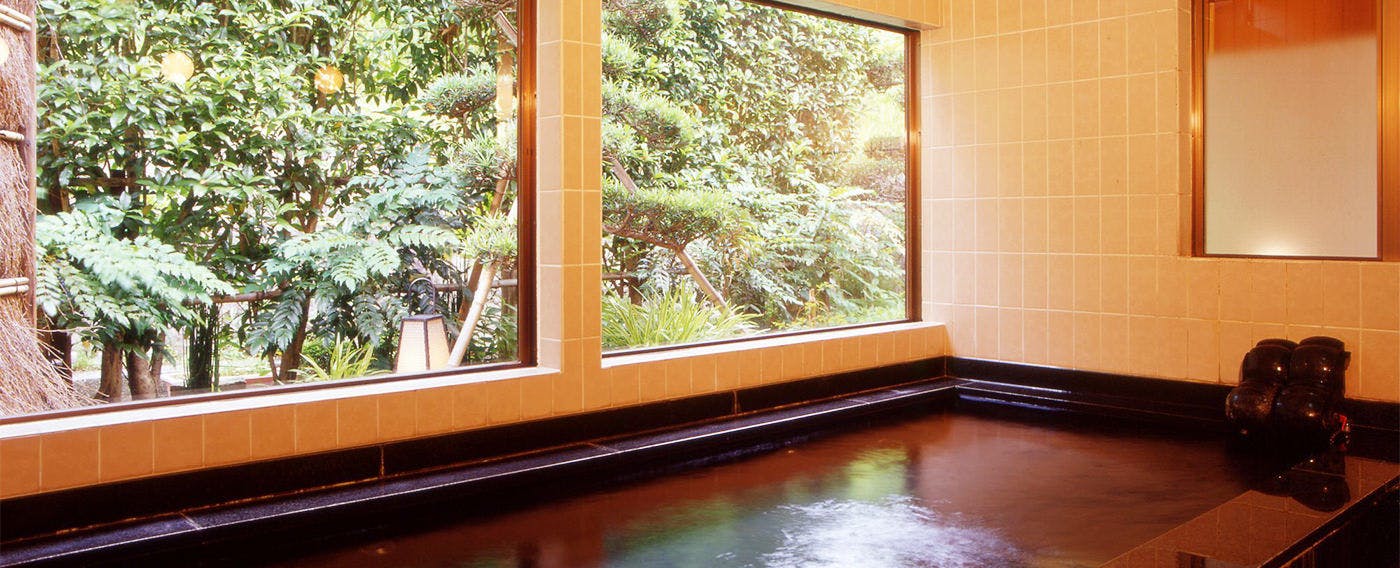 Indoor Bath
Hot spring bath of exotic Izu-Nagaoka Open-air bath is built inside the garden with no surrounding fence, so that you can feel that the bath is so open and harmonized with the garden and nature.
With mountains on your back, it's an experience like at the heaven to enjoy seasonal scenery of cherry blossoms in spring and fall folige while taking a bath. Open-air bath is available for private-use as well. Have some wonderful time feeling the nature.
Facilities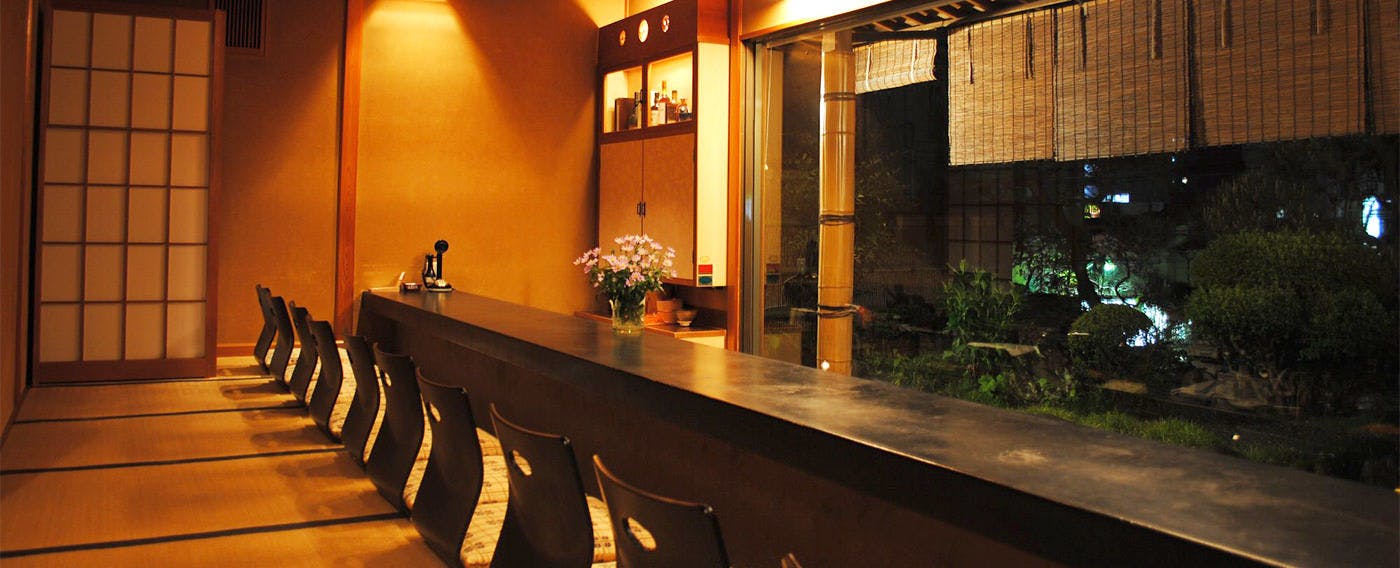 Bar
Banquet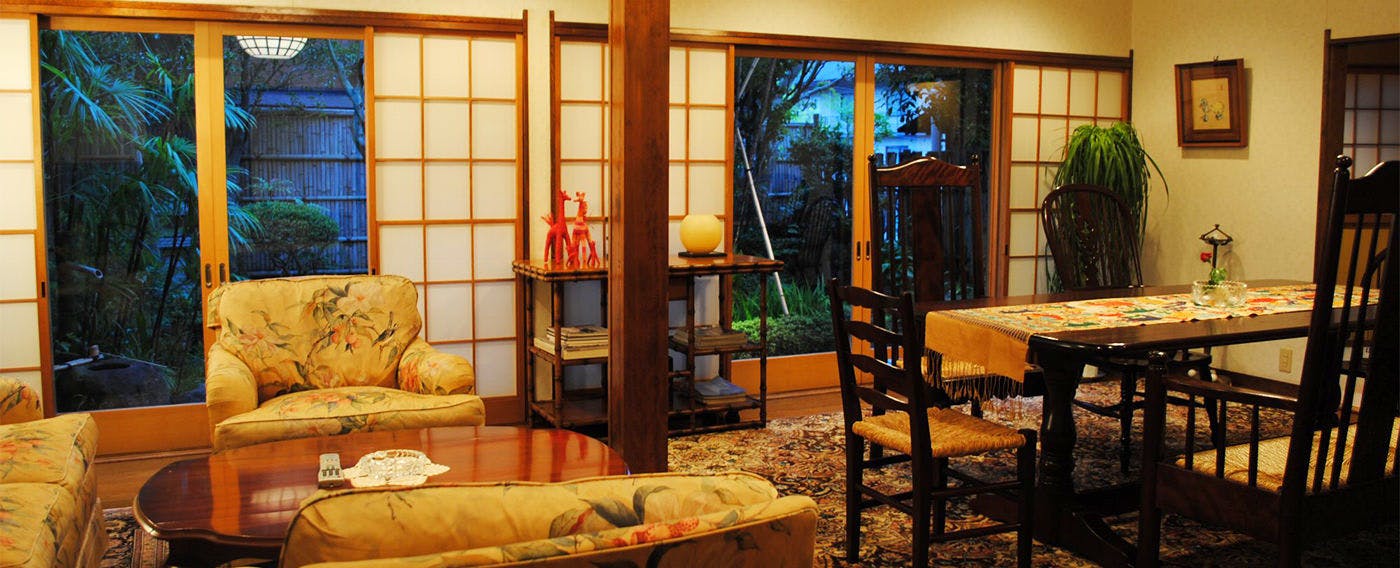 Lounge
Bar and lounge with antique Bar in Shinkano is faced with the garden. Enjoy foods and drinks while relaxin and seeing the garden. It's one of the specialities here.
The lounge is furnished with many antiques. It is just in front of the public bath so that you can get comfortable after taking a bath.
Access
1349-5 Nagaoka, Izunokuni-city,Shizuoka,410-2211,JAPAN
BY TRAIN
From Tokyo Station: 1hr 45min by express train (Odoriko-go) to Izu-Nagaoka Station, and 10min by taxi. Or 1hr by Shinkansen to Mishima Station and 20min by Izu-Hakone Railway to Izu-Nagaoka Station, and 10min by taxi

BY CAR
From Numazu IC Exit: 30min by car via Tomei Expressway
Reviews
I had a very pleasant stay on the 22nd, during a hectic Silver Week. With a delicious food, a good hot bath and a service that is not too close, I had a very relaxing time. Thank you very much.
+ More
Sep 2015
The food was so delicious that, even though I was so full, when I saw the next dish, it looked good too, so I ate it up. As we had reserved the hot-spring, my wife and I got totally absorbed in our bath, without worrying about causing trouble to others. It's a spotless inn, where everything was done with great care. Next time I want to stay for more days!
+ More
Sep 2015
I hardly had any interest in other people's reviews but this time, I was totally atracted to the hotel, Shinkanou. 2 weeks have passed since my visit, but I still soak in the afterglow. I hope to make a reservation for the new years somehow. Thank you for the really luxurious time.
+ More
Sep 2015
I left my children with my husband's parents which also served as homecoming and stayed with just my husband and me during our wedding anniversary for the first time in a while. The onsen has soft, quality water and was private so I could enter without any hesitation, and the open air bath in the morning felt really good, and I took my time to savor every dish in the meal, and also received a handmade sekihan and anniversary photo as celebratory gift. The room is clean and big enough for two, and the building was relaxing as it was arranged with the wild flowers. As a surprise present from my husband, I had a massage by a master and had a great sleep. I'm really grateful to all the staff in the hotel. It was a wonderful wedding anniversary. I would like to visit again and have a lively time with a group of 3 generations which includes my parents who couldn't travel far to celebrate their golden anniversary.
+ More
Aug 2015
I stayed here in the Golden Week. I was deeply moved by such heartfelt and intimate reception, which is not possible to feel at large ryokan or hotels. Thank you for listening in to my selfish requests. I was able to use the reserved bath smoothly, without running into other guests, as there only take reservation for four parties. I anticipated delicious meals as this inn was formerly a traditional Japanese restaurant, and they were as expected. There were many items, and were enjoyable to my eyes, too. It is an inn to recommend to those who want to purely enjoy the hot spring and food. I cannot deny that the facility was somewhat old, but that itself is a charm, too. Thank you for the folding umbrella for my way back. It became a great memory.
+ More
May 2015
The dishes, a comfortable room, their attention, the bath, in this Inn are really wonderful.
May 2015
I learned that this place was evaluated highly in the reviews of guests and stayed here however the service level was the lowest. The food was ordinary. It was not up to my expectation.
+ More
Apr 2015
Thank you for making the change for a larger room. The foods were good and enjoyable. The reservation system bath were not always available when desired which slightly was a problem. The interior was arranged with lovingly tasteful flowers.
+ More
Apr 2015
I could relax as the room was thoroughly cleaned and the ikebana was neat and pretty. Meal was delicious and brought out the taste of the seasonal ingredients, and I had an easy and enjoyable time. Only 1 group was staying so I used the onsen freely; the onsen was good and I enjoyed it as the spring quality was mild, and the open air bath was located under a magnificent sky. It was a delightful stay as even the towels were neatly arranged at all times. Thank you so much.
+ More
Feb 2015
I could spend a relaxing time in such a calming environment. The hot spring and the meal were great. Thank you.
+ More
Feb 2015
I would say that the food was just fantastic. I was surprised that they served 2 big steamed oysters for appetizer. Other than that, sashimi and grilled fish (2 even), steak of Goto beef, steamed fish with grated turnip on top, an extra large portion of pickles (handmade by the madame) etc, one can feel the quality of the ingredients on everything on top of the fact that there was a lot of food. It's undeniable that the facility was old, and when a guest was taking an Onsen, other guests were not allowed to use it; even if I deduct that, it was a very satisfactory stay.
+ More
Dec 2014
Information
Check-in Time

From 3:30pm to 7:00pm

Check-out Time

Until 10:30am

Tax / Service Charge

Bathing Tax JPY 150 per adult is NOT included in the rates.

Credit cards accepted at this property

Credit card is NOT accepted at this ryokan. Please pay by cash.
Children

All children are welcome with following rates.
- Children of elementary school: 70% of adult rate
- Children under elementary school with meals and bedding: 50% of adult rate
- Children under elementary school with meals and sharing bed with adult: 50% of adult rate
- Children under elementary school with no meal and bedding: JPY 5,000 per child
- Children under elementary school with no meal and sharing bed with adult: JPY 3,000 per child

Pets

Pets are NOT allowed.

Parking

Free of charge for guests; Available from 3pm to 11am; Capacity 8 vehicles; No Valet Parking Service

Other policies & conditions

Credit card is NOT accepted at this ryokan. Please pay by cash.; Please contact the ryokan in case guests arrive after 5pm.; Please NOT bring foods or drinks to here from the aspect of good hygiene. Guests might be charged for that.