GORA HANAOUGI-SOUNKAKU
Gora Hanaougi Sounkaku (featuring 24 rooms in total) is located at the Sounzan station front, a convenient location for Hakone tourism. The entire place was renovated just in 2010 and the indoors feature a modern style and are equipped with tatami flooring and the floating scent of hinoki so that you can relax and in a casual bare-foot fashion. Enjoy naturally sourced flowing hot spring 'Nigori Yu', Hida beef that is hand-picked from Hida's own designated suppliers, fresh fish that naturally occurs at Sagami's fishing harbour and the land's very own seasonal produce. Be sure to take the opportunity to experience relaxation at 'Gora Hanaougi Sounkaku'.
We are sorry but we don't have any rooms available now.

Please select another Ryokan.
- VAT is included, but bathing tax (around JPY 150 per adult) may NOT be included.
- Price in USD is based on the exchange rate as of today and might be different from that of the booking date.
Foods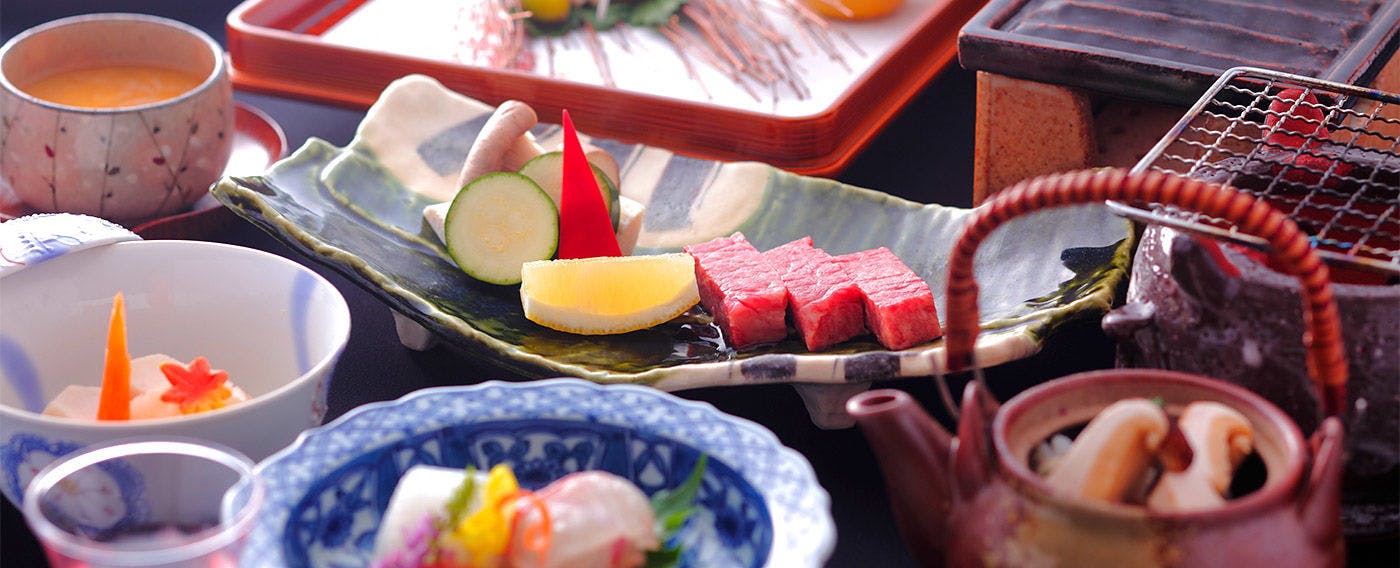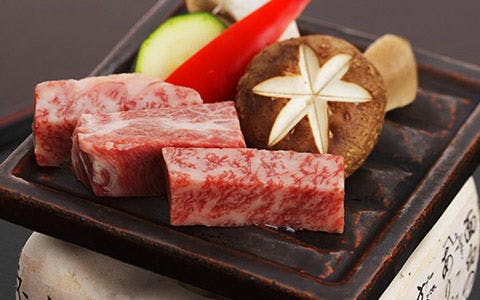 Cuisine of the season Prepared using vegetables from Hakone, fresh fish from Odawara, and the best rank Hida beef, enjoy a Kyo Kaiseki menu that utilises the best marine products and produce of the mountains. All preparations are served at the table in accordance with the customers' own pace, hot articles served hot and cold articles served cold. Be thoroughly relaxed in the moment, as you enjoy the preparations made with the best-selected ingredients through all four seasons.

Speciality Hida Beef
'Speciality Hida Beef', also popular amongst customers of Ikyu.com.
The Hida beef sourced from best-designated suppliers offers an impeccable taste. Enjoy it as a steak with Hida beef teppanyaki.

Relish upon Kyo kaiseki that is crafted by the master-chef trained in the arts at Kyoto. The dining place is made to ensure the best gastronomical experience. There's also all kinds of alcohol for you to feel free and enjoy with some great company. At Sounkaku, so that you can appreciate the beauty of the ingredients with your eyes as well, each article has its own carefully picked utensils that resonate with the spirit of the season. If you come by at the turn of the seasons of spring, summer, fall and winter, you can enjoy the taste of the seasons all the better.
Baths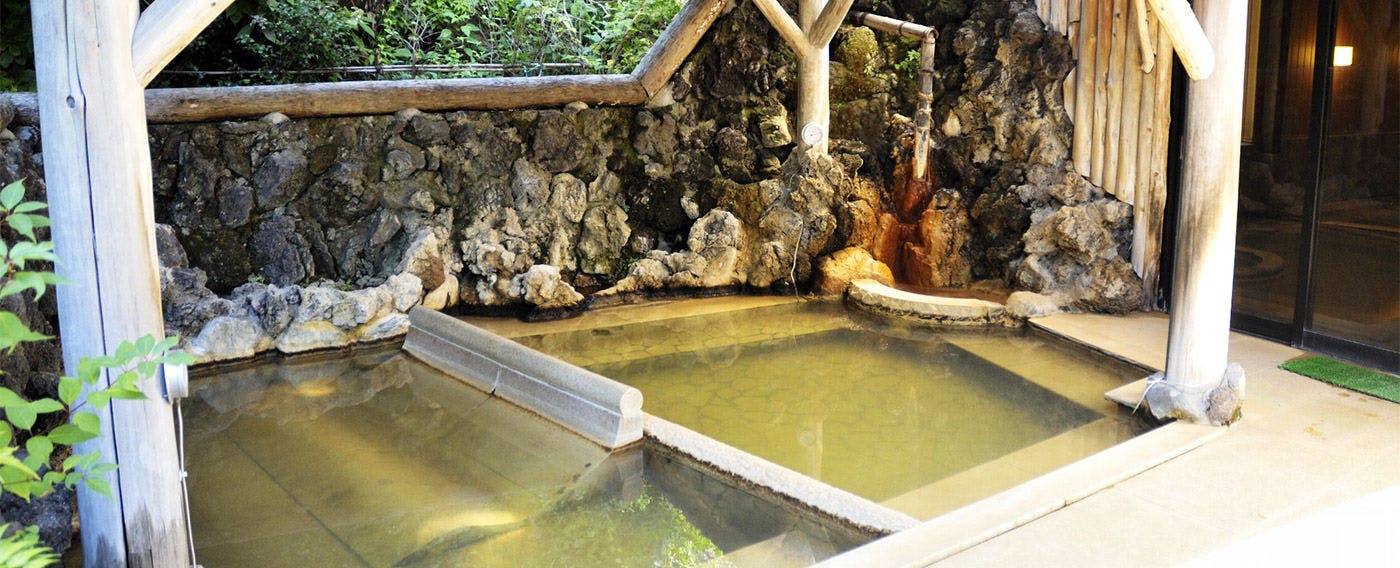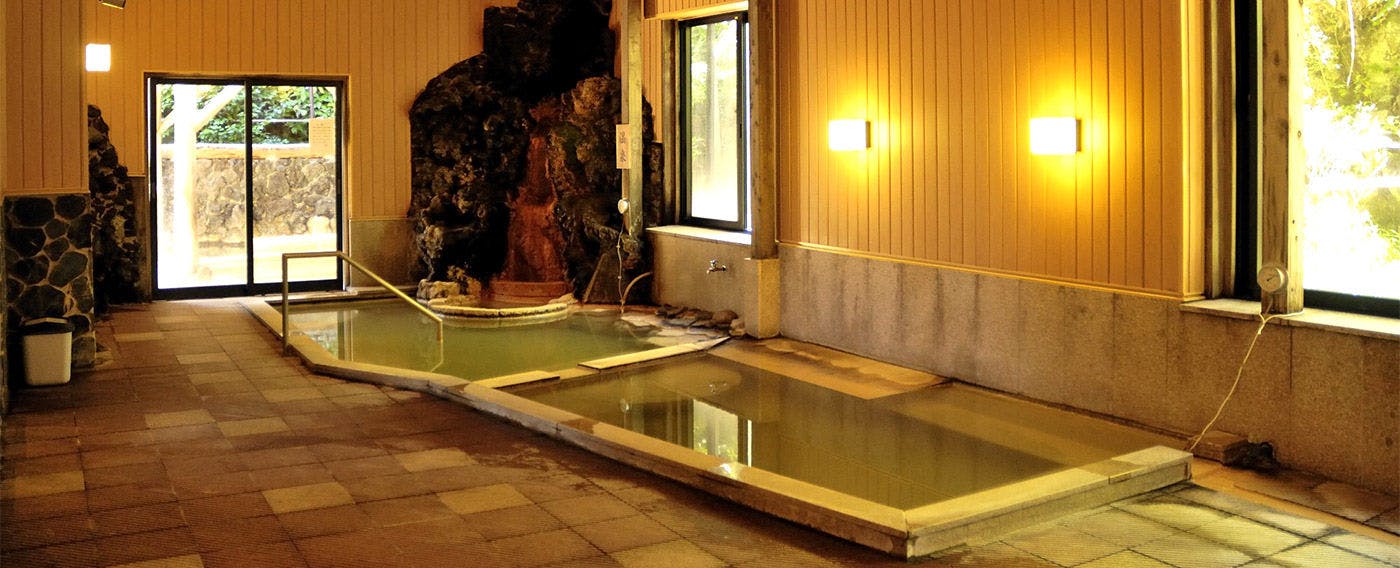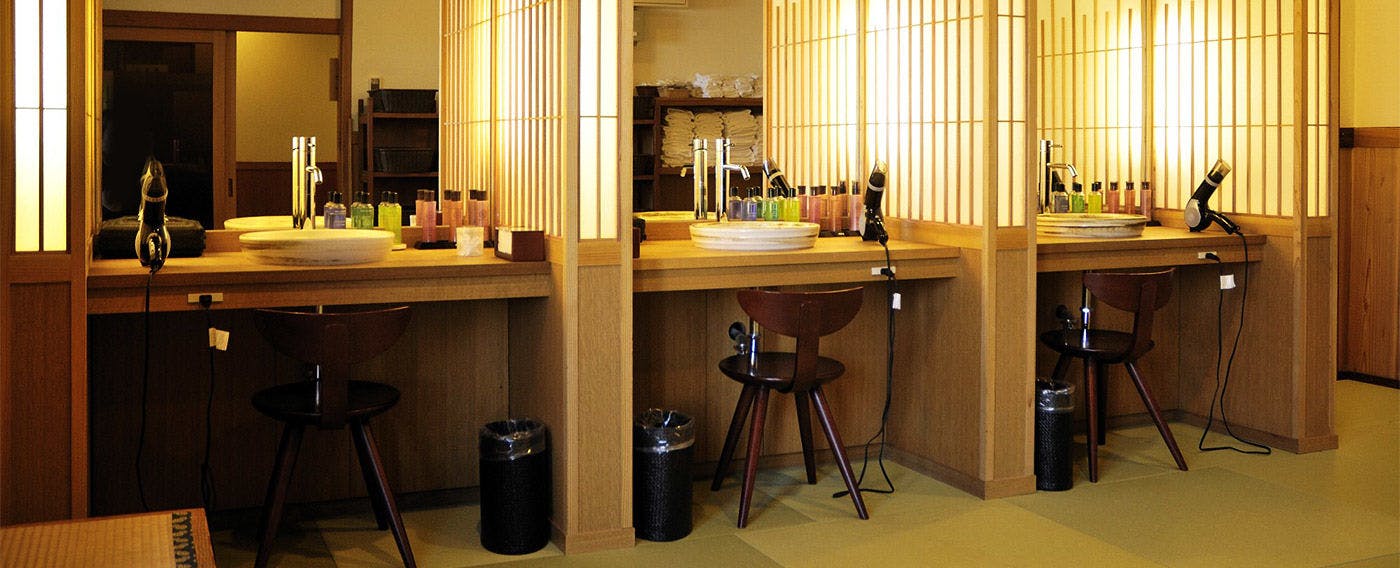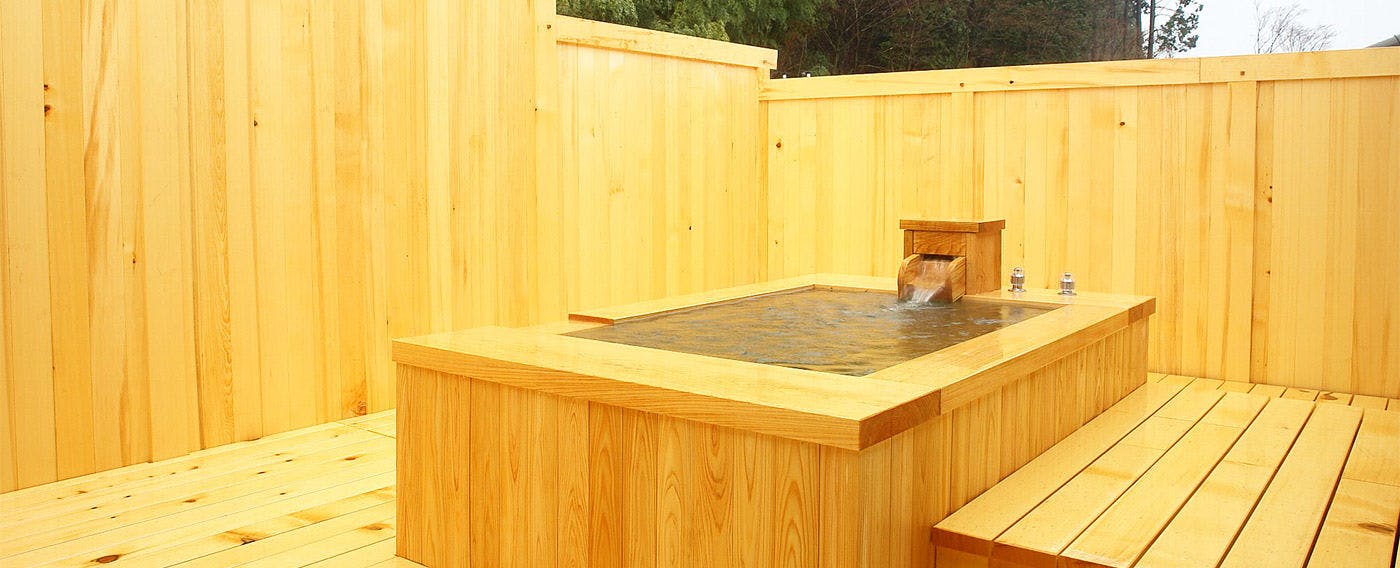 Source-drawn hot spring water The open-air large bathhouse is nestled peacefully in the rich nature, with an atmosphere like that of a hidden hot-spring in the mountains. Also, you can enjoy a retro feel at the indoor grand bathhouse that is made of rocks, a place that still maintains the historic scenery of Gora Hanaougi Sounkaku. And thanks to the source drawn hot spring water, you can now enjoy bicarb spring water to your heart's content that is elusive in Hakone.

The history of Gora onsen goes back to the 21st year of the Meiji era (1888), that's when hot-spring water was first drawn in from Sōunzan. Following which, since around the 45th year of the Meiji era (1912) when full-scale onsen development began, and with the beginning of the Hakone Tozan railway in the 8th year of the Taisho era (1919), the land witnessed development as a place of onsen and health resorts and high-class holiday homes. It's a rare quality in Hakone, generally renowned for its sulfur springs, to have a bicarb spring naturally sourced from Sounkaku. Tinged with red and featuring a syrupy consistency, the water imbues you with a warmth such that you won't get cold after taking a bath and is known to make your skin nice and smooth. The colour of the spring water changes depending on the day, and it's also fit for consumption.

Private open-air bath for reservation.
Enjoy the famous onsen and the spirit of the four seasons all to yourselves. With family, friends or with someone special, enjoy your time with utmost privacy at the place with an atmosphere rich with the feeling of each of the four seasons and velvety smooth water of the renowned onsen all to yourselves.
¥3,780 for 45 minutes.
Through reservation (advanced booking available)

Facilities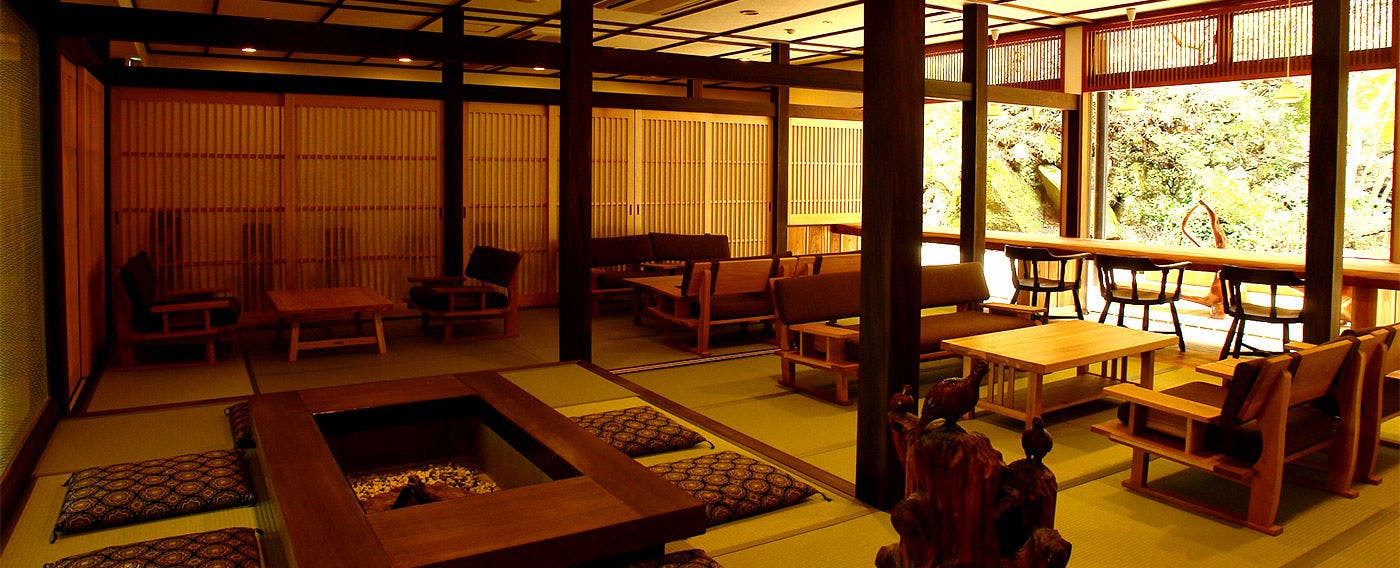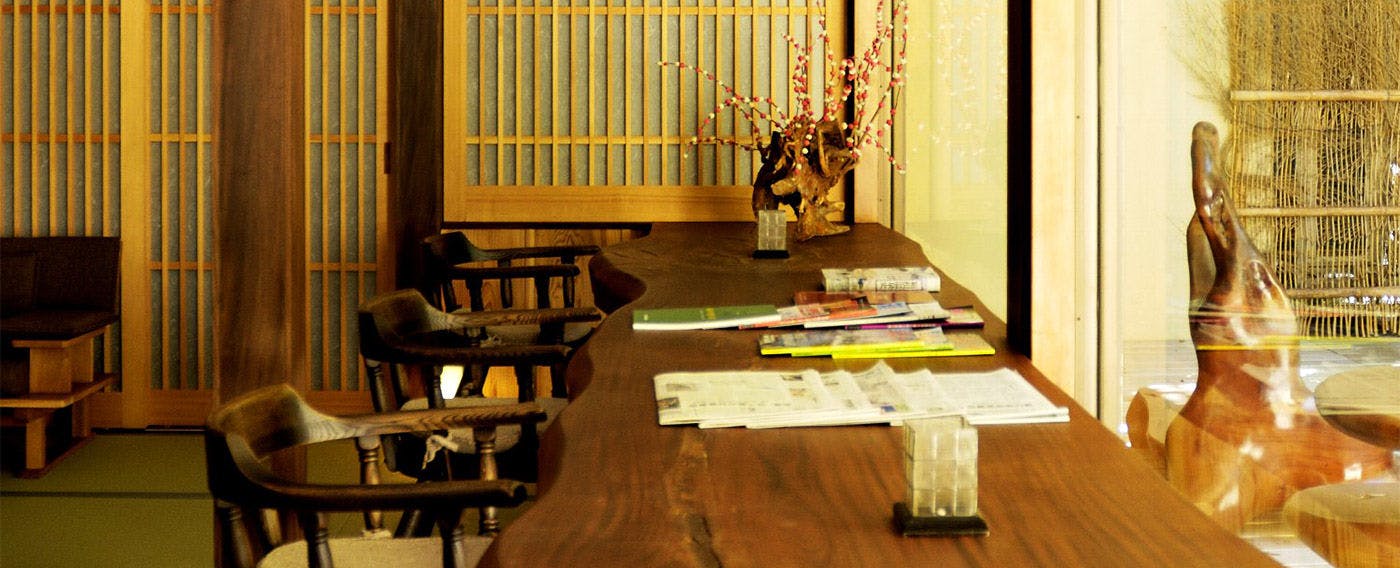 The lobby, gazing out to the Japanese garden The inner garden is where you can rid yourselves from the weariness of travel. Apart from being quite a nice spot to go sightseeing in the vicinity, the place welcomes you to enjoy a most relaxing stay together with heartfelt hospitality.
Access
1300-492 Hakone Machi Gora Ashigarashimo-gun,Kanagawa,250-0408,JAPAN
By Road:
From the Tokyo direction: Tōmei Expressway > Atsugi IC > Odawara IC > Hakoneguchi IC > Miyanoshita > National Route 1 > proceed beyond Family Mart and into the second right turn from there to enter the Prefectural Route 734. The place is about 5 minutes from there; head towards Ōwakudani-Sōunzan and head to the Sōunzan station front. (Around 1 hour and 40 minutes from Tokyo)

From the direction of Nagoya/Osaka: Gotemba IC > National Route 138 > Miyanoshita > National Route 1 > proceed beyond Family Mart and into the second right turn from there to enter the Prefectural Route 734. The place is about 5 minutes from there; head towards Ōwakudani-Sōunzan and head to the Sōunzan station front.

By Train:
From Shinjuku Station: Odakyū Odawara Line, or if possible, Tōkaidō Shinkansen for Odawara Station > Hakone Yumoto > Gora Tozan Railway > Gora-Hakone Tozan Railway Cable to Sōunzan station front.
Reviews
I am pleasantly surprised every time, the place is just perfect for relaxation no matter who tends to us. Neither the veterans in the staff nor the younger newcomers, I've never had aven the slightest sort of bad experience here. It's hard to come across such a nice resort. Even when I came back in the same season as before, the whole menu featured all new preparations, everything is beautiful to look at as well and of course I had my fill and was more than satisfied!! I was pleasantly surprised that in the bath's dressing room there was a water server that had been installed. Last time (more than a year ago), I'd been filling up water from the server in front of the bath and taking it in with me, now I found it very convenient. I've always been staying at rooms with futon beddings, I'd also like to try out a room with a bed sometime.
+ More
2017/06/01
I stayed here with my whole family to celebrate our father's retirement. It was also maybe cuz we stayed over on a Friday, but Hakone ropeway was also quite free with less crowd and we were able to check in to the resort without any stress. Being tatami flooring on the inside, I was happy to be carefree staying there even with young children. I've stayed over here many times and every time it just feels amazing. The hot spring water quality is also superb, and everybody loved the delicious food, we all enjoyed it a lot! Hida beef really is the best. Thanks to the courteousness of the staff throughout our stay, we all were able to have a really enjoyable day there. Thank you so very much.
+ More
Aprl 2017
Thank you so much for your heartfelt consideration and complying to my phone call in advance and having us get a room with a western style bed for my old mother. It was great to be able to enjoy our meals in our own room, being carefree and just being able to chat nicely. All the staff members that corresponded with us were also very cheerful and pleasant. It was nice that we didn't need to be in slippers as the inside was all tatami floored. Thank you so much.
+ More
2017/04/01
I stayed here after so many years. And just like always, their service, the meals, the baths were all splendid. I'm glad I decided to go there. Just that, the breakfast is quite delicious and rice is also good with it, but it'd be nice if we could have more servings of rice. The quantity might be on the lesser side for younger people. I think I'd like to come again to this inn.
+ More
Aprl 2017
I stayed here with my parents who are in their 70's. It was quite comfortable inside, the whole place had tatami flooring and we din't have to put on slippers so it was comfortable being barefoot. My mother has weak legs and she feels scared of using slippers in staircases. The room was also ample for the three of us, and it felt cosy without any needless gaudy decorations. We were most excited for the cuisine, and we were all quite satisfied with the food being just as good as we were expecting it to be. Being the resort's way of serving cold stockfish in the morning, I was a little letdown, it seemed just all the hot items at Sounkaku were amazing. You can tell that it's an old place, but still, it's a place that has been maintained with great care and it's comfortable. For the four stars about the baths, although it seemed that the place was cleaned thoroughly, there were still some places of concern... My parents were also very delighted, and all in all we were very highly satisfied. Thank you so much.
+ More
2017/03/01
We really appreciate that the staff received us very politely, even though we were late on arrival. The ice cream that comes with the ice cream plan had just the right amount of sweetness, not too bold and it was just delicious. The meals and the service were also amazing. The staff even waved us bye-bye for seeing off. I'm glad we stayed here.
+ More
2017/03/01
The baths were really quite good. Being source drawn spring water, the onsen had a great atmosphere both inside and out and it was very satisfying. There was some snow here and there even in March, which also made for some nice atmosphere. My skin felt really soft and smooth, and I had a few scratch wounds that like healed, and although not completely, but the pain that was lingering around till the previous day was gone. I was so surprised. (This literally happened) I was also able to enjoy the onsens at the sister facility of Hanaougi, but clearly, the onsens here were better. The rooms were quite regular, yes they had floor heating, kotatsu, and humidifiers. Meals are in a different room, and in there they'd only prepared three sets, so I feel that there must be dining rooms all over the place perhaps. There were partitions between each of the tables, and we were able to enjoy our food without worrying about other people. The quantity was good enough to fill us up, the sashimi and the Hida beef etc, everything was delicious. I too was quite satisfied. Apparently, there's coffee service at the front til 9 o'clock in the morning. I'd completely forgotten about it, unfortunately. The resort is also quite near to the station, the onsens are great, the dining is also in comfortable privacy, I think it's quite an easy to stay place even if you come just by yourself. It made me want to come again for another visit.
+ More
2017/03/01
Information
Check-in Time

From 2:00pm to 6:00pm

Check-out Time

Until 10:00am

Tax / Service Charge

Bath taking tax is not included.

Credit cards accepted at this property

VISA / MASTER / JCB / AMEX / DINERS / UNION PAY
Children

JPY 3,240 is required as Facility use fee for children who are 1 to 3 years old. Infant who is 0 year old can stay for free.

Pets

Pets are NOT allowed.

Parking

Free of charge for the guests / Parking space for 20 cars / No valet service

Other policies & conditions

From Gora Hanaougi Sounkaku: The following are the maintenance timings for the onsens, we apologise for the inconvenience. The timing is from 2 p.m. to 4 p.m. for the large shared bath, the chartered open-air baths and the guest room open-air baths. Please note that the baths cannot be used during that time. During the time that the onsens are unavailable for use, you may use the large shared bath at the sister facility 'Gora Hanaougi'. October 24, 2017 (Wednesday) January 24, 2018 (Wednesday)