- VAT is included, but bathing tax (around JPY 150 per adult) may NOT be included.
- Price in USD is based on the exchange rate as of today and might be different from that of the booking date.
Foods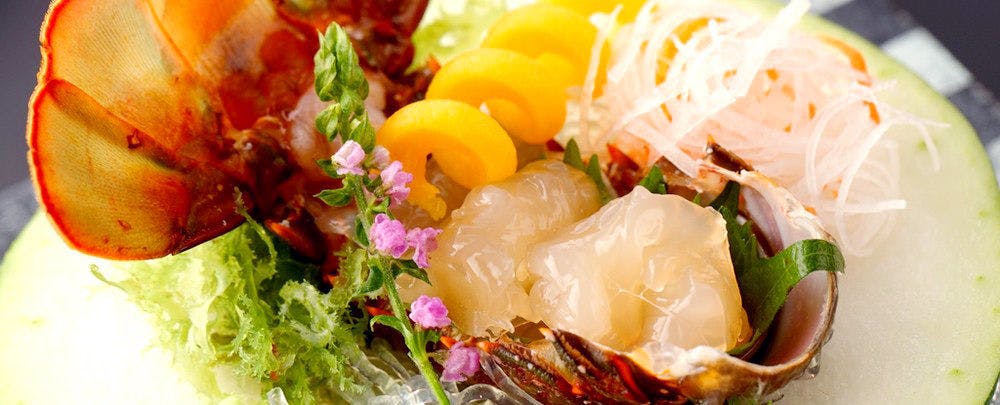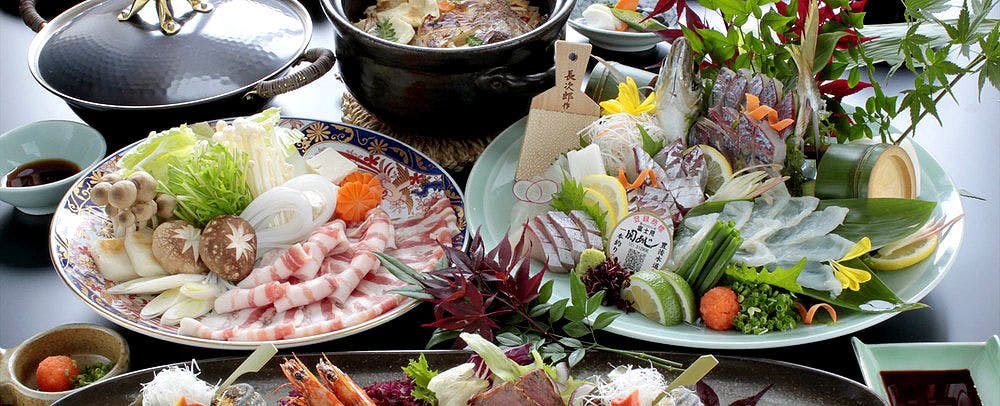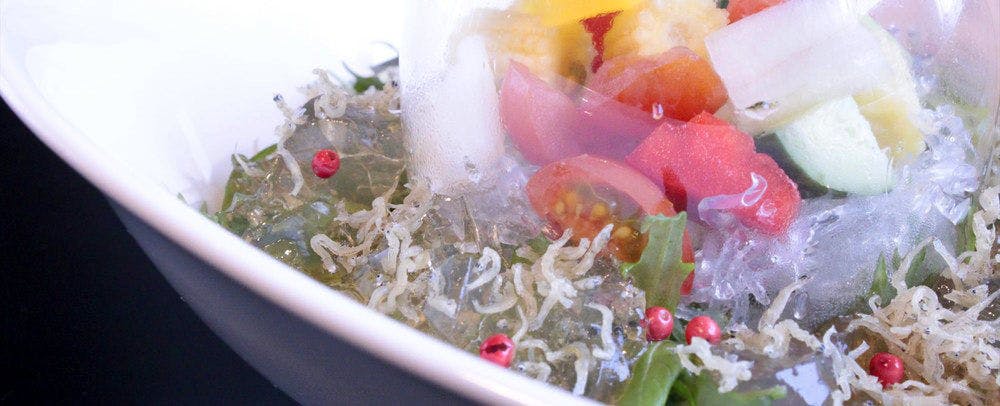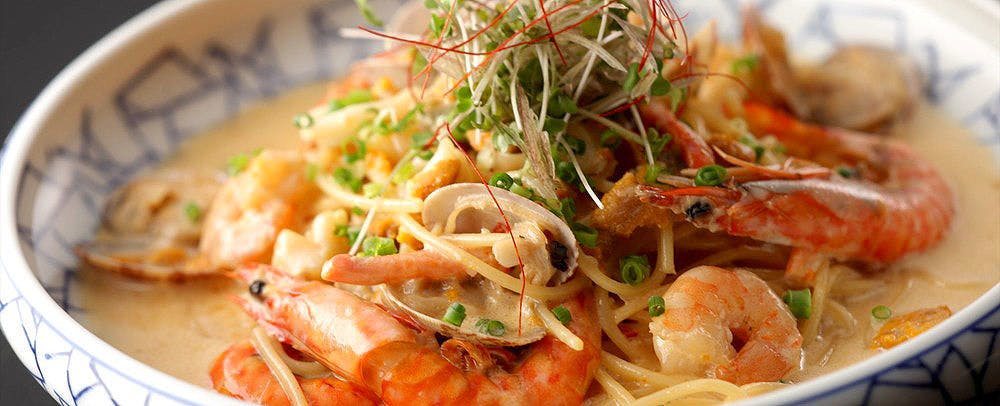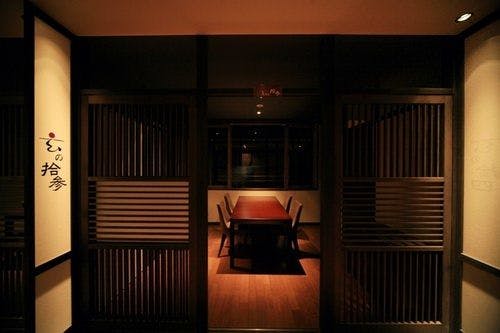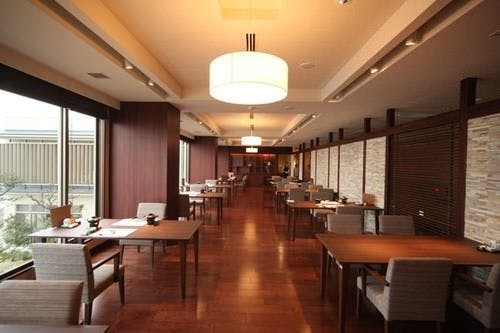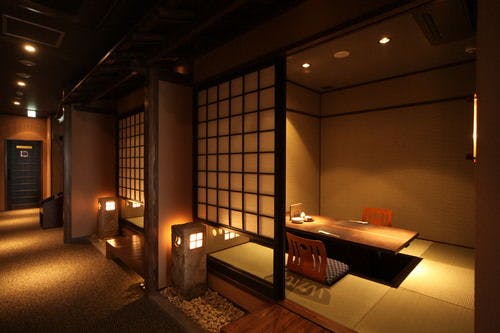 Three exciting restaurants to chose from Featuring dishes made with traditional techniques using hand picked ingredients, Japanese restaurant "Gen".
On the second floor of "Hareno tō" the sunnyside, featuring all private rooms. Enjoy traditional Japanese cuisine with Ōita's finest ingredients in your very own private dining room.
Every preparation has a hint of the season with utmost sincerity.

Hearty and Fresh Seafood at "Eitarō"
On the first floor of "Umino tō" the seaside, offering fresh seafood bounties unique to this beachfront resort.
Enjoy the deliciousness and ingenuity of natural seafood Japanese cuisine.

Featuring the best of Japanese and Western cuisine, creative cooking at "BAN-YA"
Located on the "Umino tō" seaside's first floor. This restaurant was born out of the pursuit for the ultimate "delicious" food with the brilliance of both Japanese and Western cuisine.

Baths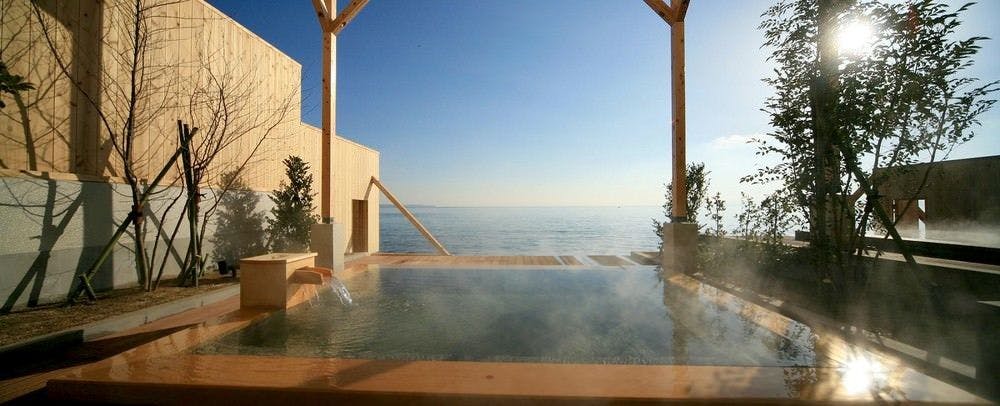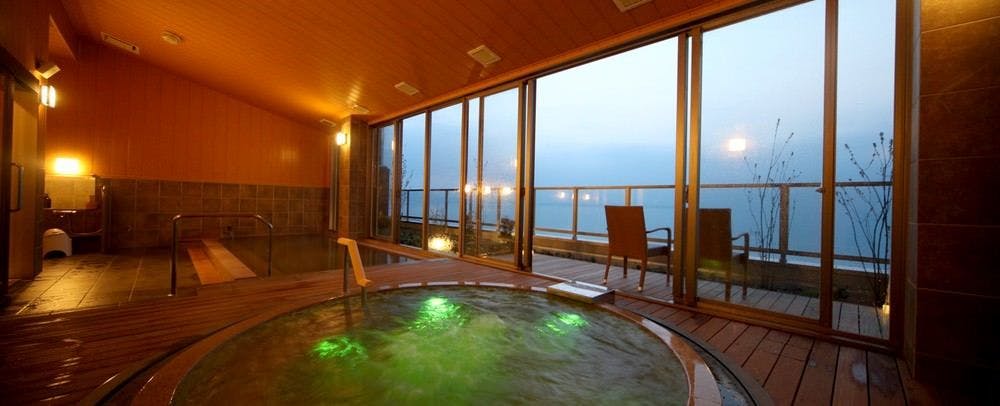 Become one with the horizon at "Shiosaino Yu"
This onsen is located on the first floor of the "Hareno tō." Close your eyes and listen to the calming sounds of the ocean waves in this open-air bath. Enjoy in this source water hot spring.
Open time : 11:30 a.m. to 2:00 a.m. next day, 5:00 a.m. to 10:00 a.m.

On a clear day, one can see even Shikoku, from "Shōyō no yu"
Enjoy the scintillating view at night with the moon light scattered on the surface of the sea. In the morning, the sun rises shining above the horizon.
Located on the eighth floor of the "Umino tō" building, this is a private hot springs for the guests to enjoy. Sourced naturally from the hot-spring.
Open time : 3:00 p.m. till midnight, and 5:00 a.m. to 10:00 a.m.
Facilities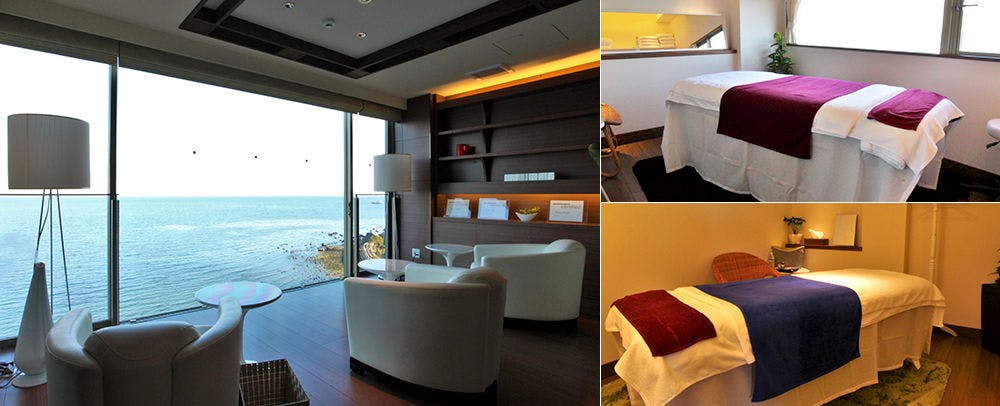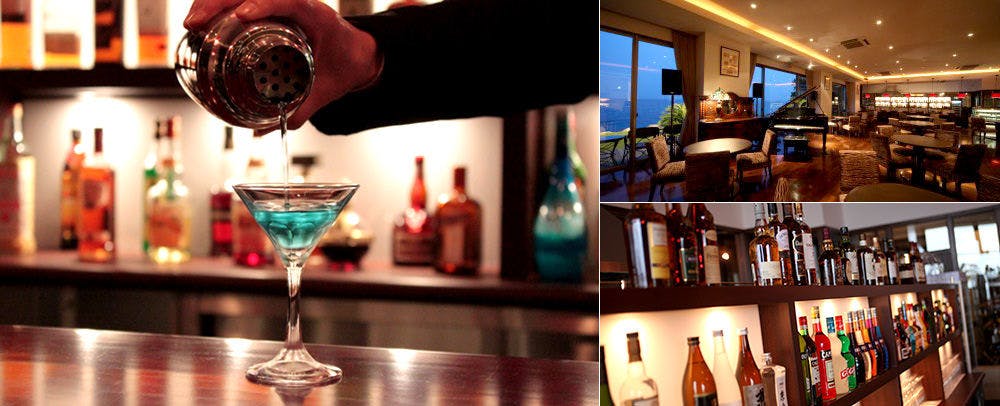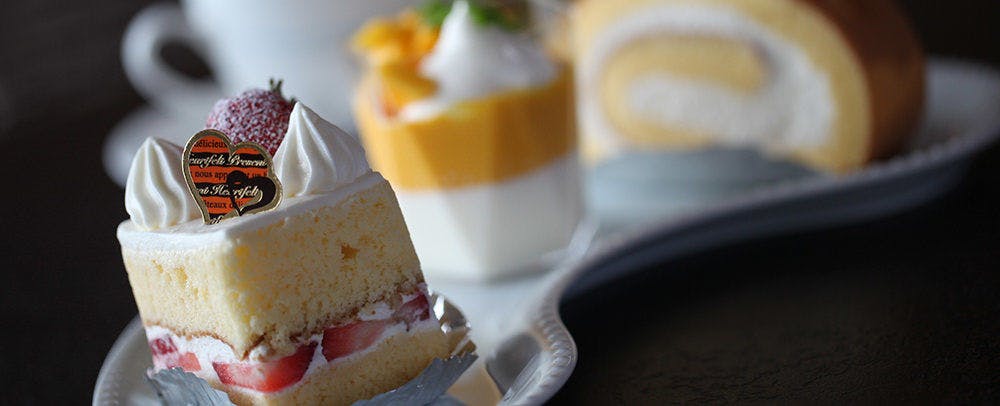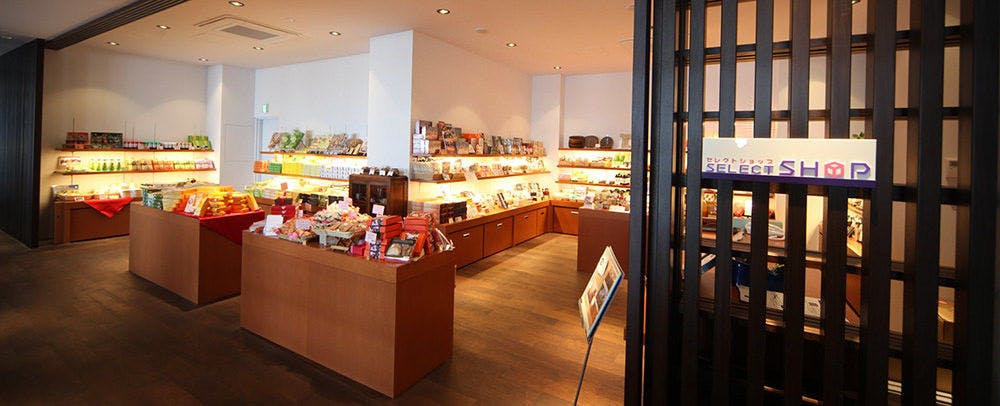 Shiosai Spa "Mizuki"
On your way to a naturally beautiful body...
Just like the phases of the moon, and the tides, our body also has it's own natural rhythm.
Here at Shiosai Spa Mizuki, through a holistic approach focusing on natural energy and the five senses, your body attains natural beauty of the mind, body and skin.

A Facial-course featuring the best products from skincare brand Dermalogica.
The number one product according to professional skin care therapists for facial.
The place utilizes Dermalogica's line of skin care products made by specialists.
Dermalogica, originating from the United States, is the highest rated skin care system in every country,
receiving tremendous support in 52 nations. The world's highest ranked skincare brand loved by Hollywood stars and celebrities all over the world.

Cafe by day, Bar by the night: Sweet Basil
Carefree or fashionable, how you spend your time here is totally up to you. Gaze at the sea and listen to the jazz. It's all your pleasure to discover your favourite cocktail.
Open time: 8:00 a.m. to midnight.
Coffee service timings are as follows.
Lodging customers: 8:00 a.m. to 10:00 a.m. / Lunch customers: 12:00 p.m. to 3:00 p.m.

Cake shop at "Sweet Basil"
Enjoy sweets made by the pâtissier, in the hall. After lunch... after check-in... Dig in, with your favourite drink.

Select Shop (Souvenir shop)
"The perfect Ōita Souvenir" ...The store features a variety of great articles from all over Ōita.
From goods and amenities for your room to gifts and home items, this shop features the "good-stuff" you always wanted.
Open time: 8:00 a.m. to 10:00 p.m.

Access
Shoningahama 6-24, Beppu-city,Oita,874-0023,JAPAN
From Oita Airport: 40min by taxi
From Beppu Kokusai Kanko Port: 5min by taxi
From Beppu Station: 15min by taxi

Reviews
I mailed in advance about my husband having disabilities. We really appreciated the shower chair provided in the bathroom. It was a memorable experience, enjoying the super moon at night in the hot water. The food here was very delicious and the Japanese-style breakfast with miso soup was delicious too. The morning coffee at the cafe was also very enjoyable. We'd love to come visit again. Although it's a trivial matter, and most accommodations are the same, but being long-sighted I found the labels and letters on the shampoo, body soap etc. a little small to read in a dim bathtub. And since they were a little hard to see I'd appreciate if the resort could look into using tepra style labels.
+ More
2016/11/24
I was travelling on October 21st and 22nd. I chose this place to relax and have a nice bath on the side as well. The soybean tea served at check-in was very tasty. They offer a Yukata service for female guests and you can even pick a pattern for your yukata, like the ones you haven't tried before. I tried a K type room. You can see the sea from the moment you enter the living room. The sound of the ocean was very soothing as it started to get stormy. The onsen is also available 24 hours a day. The water seemed a little hot but I got used to it quickly. I brought books to read along, sitting in the lounge occasionally gazing at the sea. I wonder how many times I entered. The balcony has a netted door, and the breeze was very pleasing. There are two large outdoor baths on the first floor public bath. I felt like I was floating in the sea there. It also had a jacuzzi at the bath overlooking on the roof where I played in the bubbles, smoothens up your skin. The hot water was very nice. The "Tsubaki oil" sample in the room also helped sooth and moisten dry skin. And with plenty rice and sweet soy, the combo was great! I loved it and bought tons before leaving. I definitely want to come here again.
+ More
2016/10/28
Their facilities are all new, and the room was comfortably relaxing and spaciously designed. The whole building is also nice and tidy. For dinner, it's like the sashimi comes at you like "Boooom!" Then there is Japanese style breakfast with fish "Boom!" I think you can really enjoy up to your expectations from this place. Because hot springs are somewhat small, maybe it's because I visited on a weekday that the two large public baths weren't crowded at all and I was able to enjoy it quite a lot. And naturally Beppu Bay looks beautiful any time of the day. I think that it was a good resort, good enough for the price. To be frank I think the select shop could put a lot more interesting items that what they had.
+ More
2016/10/21
It was my first time in 20 years to Beppu Beppu for the first time in 20 years. We had a luxurious amount of accommodation to us, but before we entered the entrance, a smart customer / ocean was a spacious lobby in the large picture frame · The room was an old building but the ceiling It is high ocean full of large scenery of Beppu Bay and large public bath of 1st floor in big window! Dinner was also very delicious, but breakfast is the best. It was delicious to the highest and it was the best hospitality you took! I think that it is worthwhile even this alone. Moreover, I definitely want to go.
+ More
2016/10/17
We used it as a couple. The outdoor bath in the room overlooked the sea and felt really good. We were able to spend our time pleasantly from the beginning to end with very good customer service. Because the food was also tailored to my tolerances in advance, everything seemed amazingly tasty throughout the day. We definitely want to stay again.
+ More
2016/06/06
It's great how the Beppu Bay is right in front of the out door bath. I was accompanied by my 2 year old child, but as I was able to use a meal in a private room and was given toys, my child was also delighted enough to want to to come here again.
+ More
2016/03/29
Information
Check-in Time

From 3:00pm to 7:30pm

Check-out Time

Until 11:00am

Tax / Service Charge

Bathing Tax JPY 150 per adult is NOT included in the rates.

Credit cards accepted at this property

VISA / MASTER / JCB / AMEX / DINERS / UNION PAY / DEBIT CARD
Children

Children under the age of five are free of charge if they share a bed with you.

Pets

Pets are NOT allowed.

Parking

Free of charge for guests; Available from 3pm to noon; Capacity 70 vehicles; No Valet Parking Service

Other policies & conditions

Please contact the hotel in case guests arrive after 6pm, due to dinner preparation.