- VAT is included, but bathing tax (around JPY 150 per adult) may NOT be included.
- Price in USD is based on the exchange rate as of today and might be different from that of the booking date.
Foods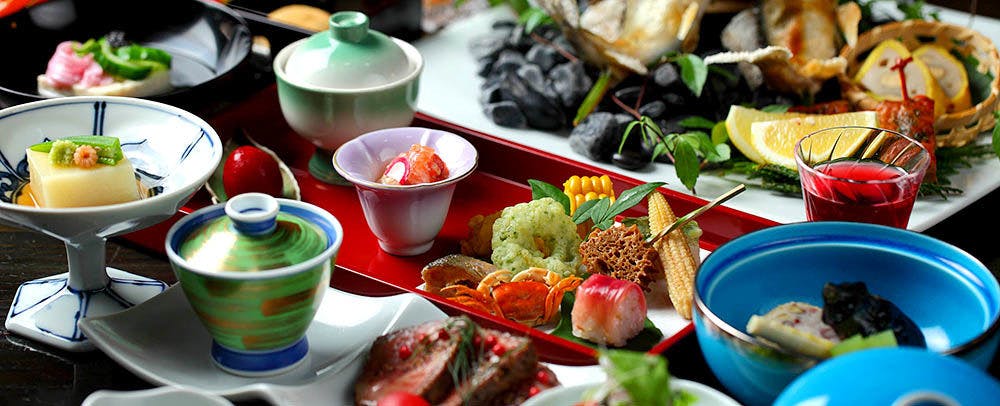 Foods
Breakfast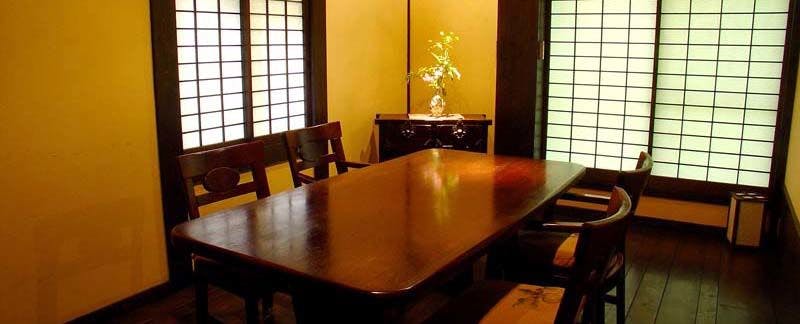 Restaurant 'Hanahenpen'
Natural foods from mountains, different from seafoods or super-rich dinner Yamamizuki appreciates expensive sashimi or decorated dishes, but more cares about serving natural foods from mountains with careful temperature control. Tries to take care of the body with organic rice made with bamboo vinegar or health rock salt.
Feel free to tell your food allergies or something you are not willing to eat beforehand. But if you just hate those foods without even a single bite and they are from mountains, it is highly recommended to try them here.
Sit around a table and share foods from one pot. That relaxing style of dining is something rich, which Yamamizuki wants its guests to experience.
Baths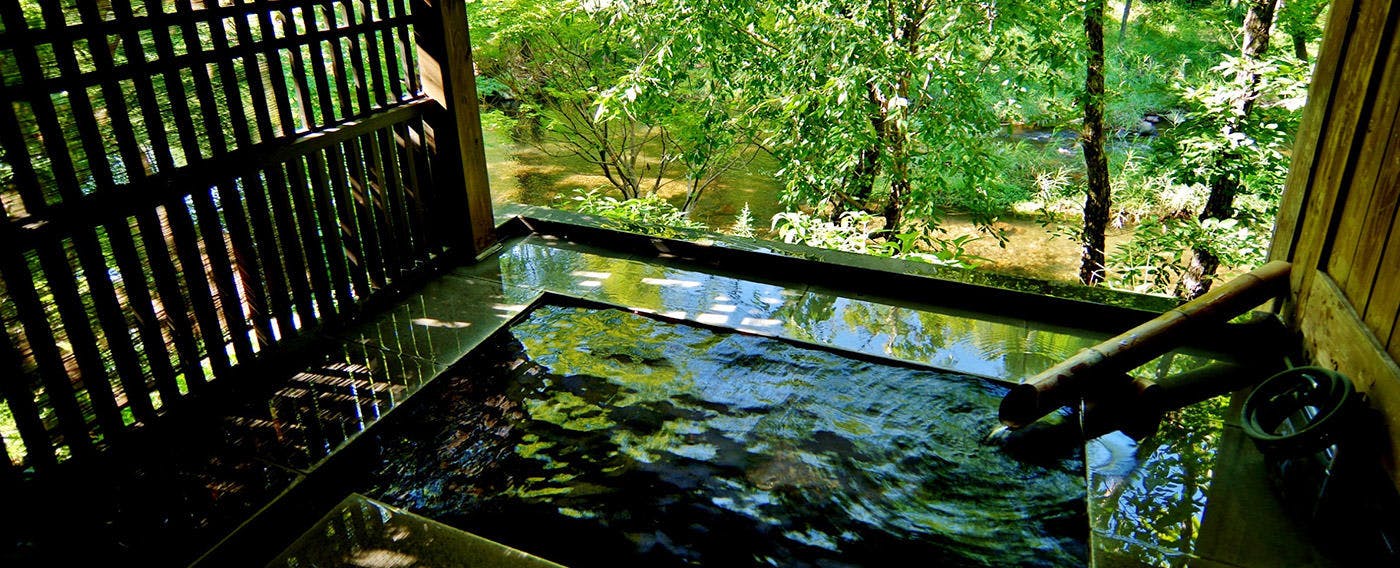 Bath in Summer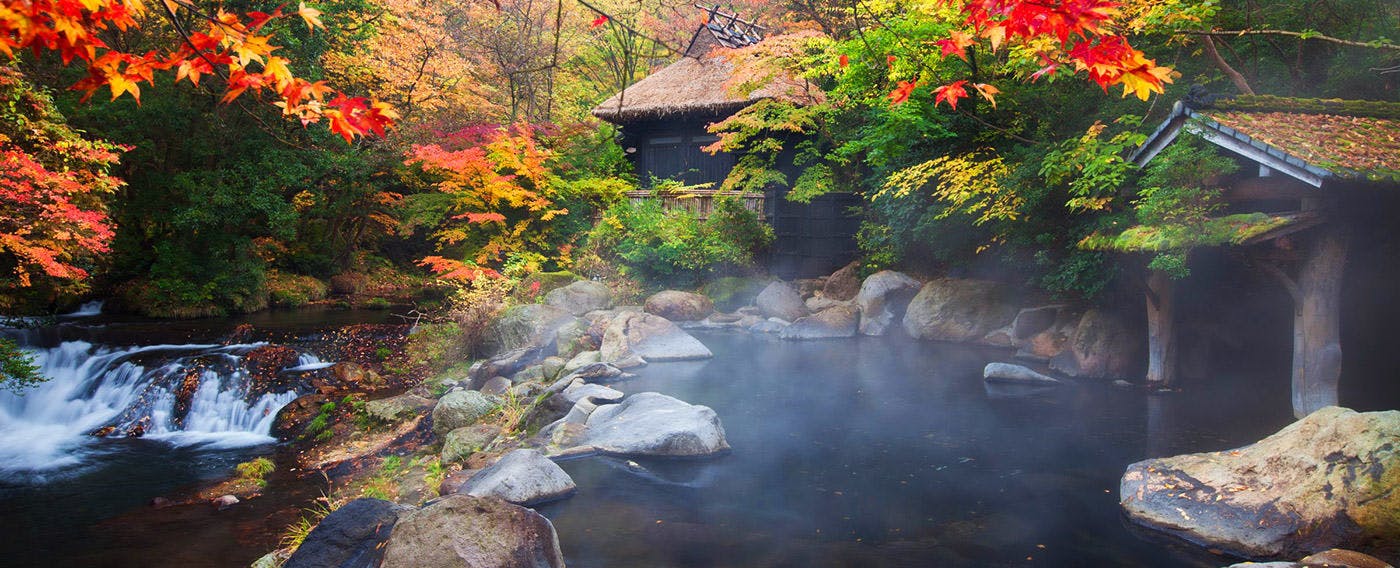 Bath in Autumn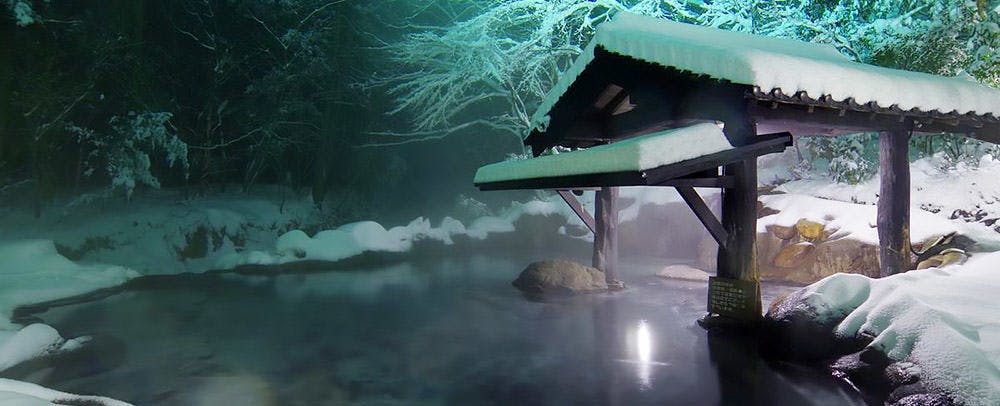 Bath in Winter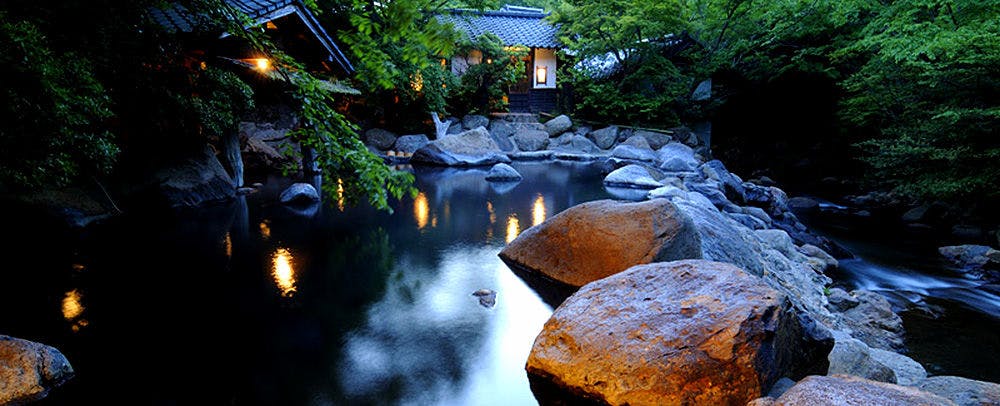 Open-Air Bath for Male 'Yukoku-no-yu'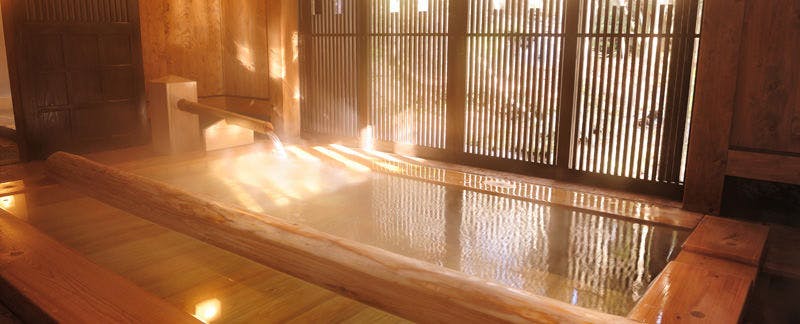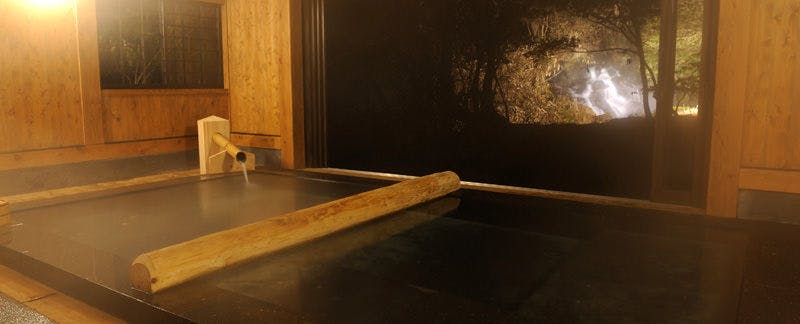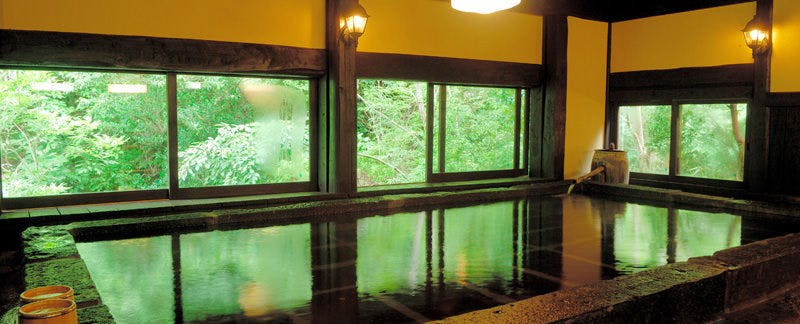 Feeling the breathing of nature Along the side of wooden forest and stream of Oku-Kurokawa, Yamamizuki has 2 open-air baths. Murmuration of forest, singing of birds, river stream and its sound. Feel those breathing of nature, take a bath and have some relaxing time away from daily hustle and bustle.

Facilities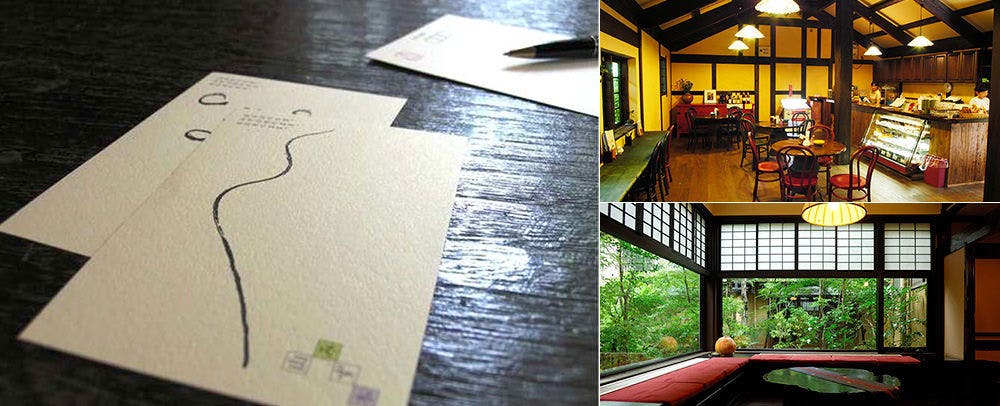 Interior
Soft and quiet space welcomes you, like in your hometown 2km away from Kurokawa hot spring town. Oku-Kurokawa area is among the deep inside of mountains. On your way to come here by car, you might have come through narrow roads, or go back a little to pass each other with another car. Sorry for inconveinences, but what they stick to when building Yamamizuki was to build it in the real nature.
This is not a place for something artificial or daily in cities. No karaoke and no playing fields, for you to fully enjoy the mountain nature. Why not turn off the TV in your guestroom? Right beside of you, you can find nature changing seasonally in every second, such as chattering of river stream, cool wind from mountains, singing of insects, and the color of sky. A holiday without doing anything. That is what Yamamizuki believes to be the true luxury.
Access
Yamamizuki, Kurokawa-onsen, Minamioguni-machi, Aso-gun,Kumamoto,869-2402,JAPAN
BY CAR
From Fukuoka-city: 2hr 30min by car via Kyushu Expressway -> Oita Expressway Hita IC Exit -> Route 212 -> Route 442
From Kumamoto-city: 1hr 30min by car from Kumamoto IC Exit

BY BUS
From Fukuoka-city: Bus available directly to Kurokawa-onsen Stop & shuttle bus available with reservation
From Kumamoto-city: Bus available to Kurokawa-onsen & shuttle bus available with reservation

Reviews
Stayed here for celebration of our child's birth, and appreciation to my wife for child caring. The service of the staffs like attention to my kids and the manner of speaking was excellent, so I could stay comfortably. I could take a bath in the room listening a sound of the stream and I felt so comfortable that I took baths again and again. In spite of a light flavor, the meal was so well-seasoned with attractive colors that I enjoyed it. However, as other people wrote in the review, the hair dryer was like one in a business hotel and my wife took a lot of time to dry her hair due to the small air volume. Also, as soon as I came into the room, I found a file of the inn information wet, and it seems that the drying after washing serving plates was not sufficient, so the overlapping part of the dishes were wet, which makes me doubt about the aspect of sanitary. However, I was convinced that it is a popular inn in Kurokawa Spa and I would like to stay at this inn next time in the foliage season.
+ More
Sep 2015
We stayed here in my father's birthday celebration. We opted for this plan because I thought there was something about the view from the room, but actually it was because the vibration in the 2nd room sounded like an earthquake. We felt afraid every time a person above us walked, because the lights went off and it made a strange noise. It was very disappointing, given that everything else, like the onsen and the food, was excellent.
+ More
Aug 2015
I was welcomed with the heartwarming hospitality of the staff in rain with beautiful hydrangea, and I felt my stay was going to be wonderful. My experience was full of happiness with great dark green, smooth hot spring, delicious freshly cooked rice and dishes, and a calm room with good views, etc. I was healed by fireflies that flew around over the beautifully illuminated river seen from the bath and Ben-chan in cafe. But, I would like the improvement on the dryer and slippers in the room. I was able to find unique hot springs because of the Kurokawa Onsen hotsprings pass and I became enchanted with Kurokawa Onsen hotsprings during the trip.
+ More
Jun 2015
The atmosphere of the inn, the meal, and the staffs' customer service were all good, but the best was the hot spring bath. I completely enjoyed the hot spring baths, such as the spacious open-air bath which is located right by the flowing river, the inner bath where you can see the waterfall, and the room bath with a plenty of hot-spring incrustations. Since you are able to use the room bath 24 hours, I took a bath for three times during my stay. The meal was delicious and healthy, so I was satisfied very much. I loved the broth of the vegetable hot pot, so I finished drinking all even though I was full. Overall I was satisfied, but there was one thing I was not sure about. The hair dryer in the room was like the one you see in the business hotel and attached on the wall, so the air volume was weak that it took time to dry my hair. I would have been happy that they left the one with little more air volume.
+ More
Apr 2015
I stayed in a room without a bathtub, but the view from the room in the riverside was lovely, both the open air hot-spring and the internal cypress bathtub had a good view and quality, and the bathroom was perfectly clean, so I was very satisfied with everything. The meals had a large quantity of dishes, but it didn't feel heavy on my stomach, and it was delicious. I felt the hospitality in the food with my heart. As soon as I went back home, I made a reservation to my mother's birthday. If I am to make a wish, the paper napkin in the washroom of the room is slightly hard, and the mattress felt a bit small. Except for that, the staff was very cordial an pleasant, so I had a really comfortable time. I'm looking forward to visit here again in July. Thank you very much.
+ More
Apr 2015
I decided to stay this hotel because the review said this hotel had been the first popular hotel in Kurokawa onsen and it was a right choice. I was very satisfied with the facility, meals and service and the cost performance was excellent. To stretch a point, I have 2 improvements to suggest from a guest point of view. The first is that it would be better if they make some measures not to mix up slippers from others when taken them off to go to the open-air bath. Because I personally do not want to wear other people's slippers and also when couples go to the bath separately according to sex, the ones not holding the room key (who are expected to come out of the bath later) can see if the others are back in the room or still in the bath. I think putting a numbered clipper on the slippers when you took them off (carrying a separate tag of the same number on yourself), and manage the items that have your number yourself, is also one of the solutions. Secondly, I think it would be nice if there is a clock in the bathroom. I understand that it is intended as a space that makes you forget the flow of time, but there are many cases that you must be mindful of the time (e.g. meal time, appointment, the outdoor bath closing time, check out time, etc.). Although it is a matter of personal preferences, I was thinking about a clock that would blend in with the environment (no dial, with minute hand and hour hand made to resemble tree branches) or maybe placing a clock in a secluded place, some tricks like that would be good. I wrote a lot only because I am highly satisfied, I am thinking of using your service again the next time I come to lodge at Kurokawa Onsen.
+ More
Feb 2015
I coincidently found an available room and booked it at a last minute. There was no bath in the room and it seems to be tiny so I did not expect too much but I ended up spending a relaxed time. Dinner and breakfast were ordinary in a good and a bad way, but I think that the cost performance is high. When I eat in the room and there is only one room, I get too conscious of the smell of the food and often end up trying to finish up the food and get rid of the plates right away and having a maid get the futon out quickly. And this is troublesome, however if it has a ding area (half private room) like this time there is no worry. I think it is good in its own way. However, it was a pity that the kid next door kid kicked up a fuss and started crying during the 2 hour meal time, and it bothered me as it was so noisy and I couldn't enjoy my meal in peace. I know it can't be helped since they are kids, but they could have done something about it. I was heartened to see a windshield cover on every single car in the carpark early in the morning to prevent the windshield from freezing up. Thank you for doing it despite the cold. The amenities provided was simple without any excess but it was adequate for me. The yukata and towel are new, clean and comfortable. I was bothered by the paper towel at the bathroom as it felt surprisingly hard and rough. It is only used by my family so it'd be better if they had placed a normal towel there. Lastly, I could warm up my shoes and leather-soled sandals with the heater in the shoe shelf. They joked that I was like Kinoshita Tōkichirō, but I was happy.
+ More
Jan 2015
It was a good inn just as expected. At arrival, I was explained that the Japanese cypress bath is closed which almost dropped my feeling, but as for apology, I was offered all of the drinks at dinner for free. For us couple who loves to drink, it was a gracious consideration. The foods, and the landlady's handmade Yokan were all very great. The half-open-air bath was for 24 hours, always overflowing with suitable temperature hot water, which somehow made me feel it too good to waste, and lead me to get in a couple of times. Though the big hot spring by the mountain stream was a large and comfortable open-air bath, it was far from the indoor bath, and it requited a bit of a courage to go walk in naked.
+ More
Nov 2014
I stayed two consecutive nights and was really pleased with the stay. The food was delicious and the hospitality was polite and the bath was just the right temperature so I was able to relax and warm up thoroughly. If possible, it would be better if a cloth towel was prepared instead of paper towel in the washroom. The amount of the food served was too much to eat all up. All foods which used broth were delicious, but the dessert and the tea were not very good (Tea pudding was not good.). I wish there was a TV in the living room instead of the Japanese-styled room. I wish there were more bath towels than spare yukatas. I wish there were something to drink in the refrigerator, (There is no convenience store or a vending machine near here if you want something to drink in the midnight. ) since it bothered me. Overall I am really satisfied.
+ More
Nov 2014
It is a good inn in general. The bath and food were good. My wife hates insects so it was a problem, but I think they worked hard at it. The access was bad because of roadworks.
+ More
Sep 2014
The open-air bath alongside the river was very comforting, and it is the inn which I would like to visit again.
+ More
Aug 2014
Information
Check-in Time

From 2:00pm to 5:00pm

Check-out Time

Until 11:00am

Tax / Service Charge

Bathing Tax JPY 150 per adult is NOT included in the rates.

Credit cards accepted at this property

VISA / JCB / AMEX / DINERS
Children

All children are welcome.
JPY 1,000 is charged for childern with no bedding (bed sharing with adult) and no meal.

Pets

Pets are NOT allowed.

Parking

Free of charge for guests; Available from 2pm to 11am; Capacity 25 vehicles; No Valet Parking Service; Please bring your own chains for safety in winter.

Other policies & conditions

Please note that Yamamizuki is in the mountain area with beautiful nature and with poor cell-phone reception.