Tsurumaki Onsen JINYA
Founded in 1918, this well established ryokan (traditional Japanese resort) based in a garden that covers 33,000 sq. mts breathing with the spirit of nature's four seasons. Featuring a beautiful Japanese garden, delicious delicacies of the season and natural healing in a hot spring with the world's best calcium mineral proportions.
- VAT is included, but bathing tax (around JPY 150 per adult) may NOT be included.
- Price in USD is based on the exchange rate as of today and might be different from that of the booking date.
Foods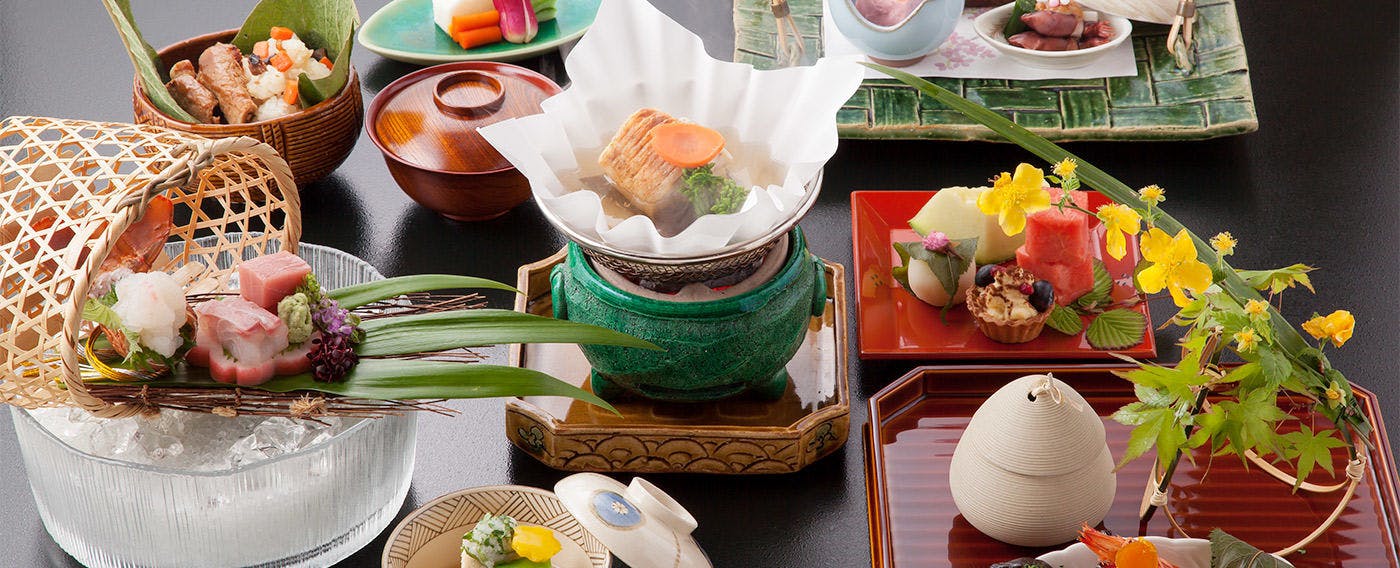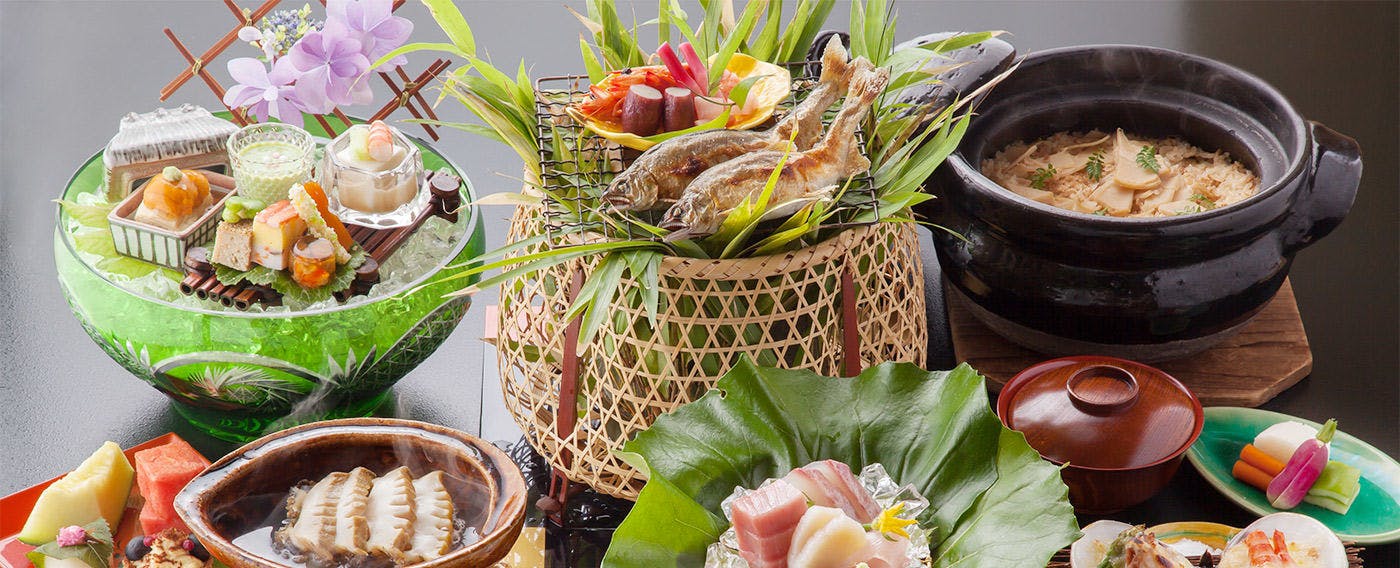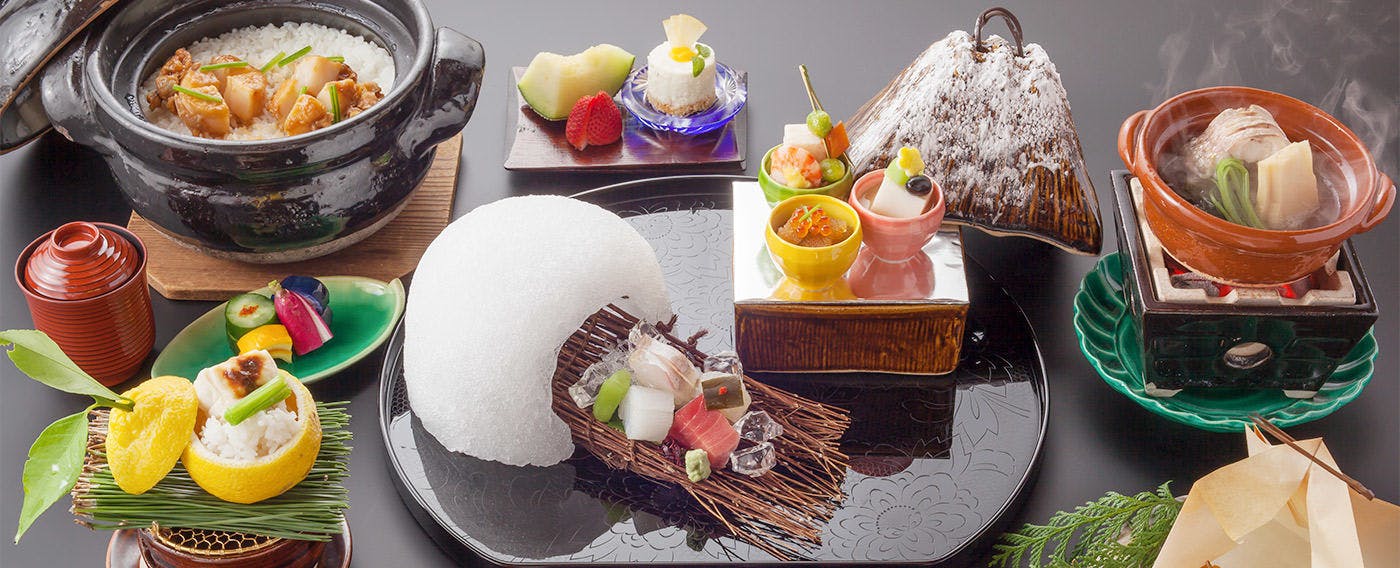 Enjoy cuisine cooked with traditional methods. Delivering the flavours of spring, summer, fall and winter. Creating a taste of the four seasons that delights even your eyes, made with a heartfelt cooking technique prevailing since the ancient times. Enjoy a relaxing time that will please the refined taste inside of you as you admire the Japanese garden. We also entertain banquet reservation services for special occasion, so please feel free to contact us.

Restaurant Jinya Nigiwai-tei
Jinya has been used by hundreds of couples as an engagement and a greeting place for their families every year, also popular for celebrations, corporate or family dining etc. It can be used for a variety of occasions. The head chef chooses and prepares dishes every months with all his heart combining seasonal good taste and beauty with delicately. Like the plum and warabi from Jinya garden, and bamboo shoots to make a bowl sourced from the bamboo forest. Skillfully bringing the flavour of the four seasons of Jinya and serving the pleasure of foods to our guests.

Business hours: daytime 11:30 to 14:30 / evening 17:00 to 20:00
Baths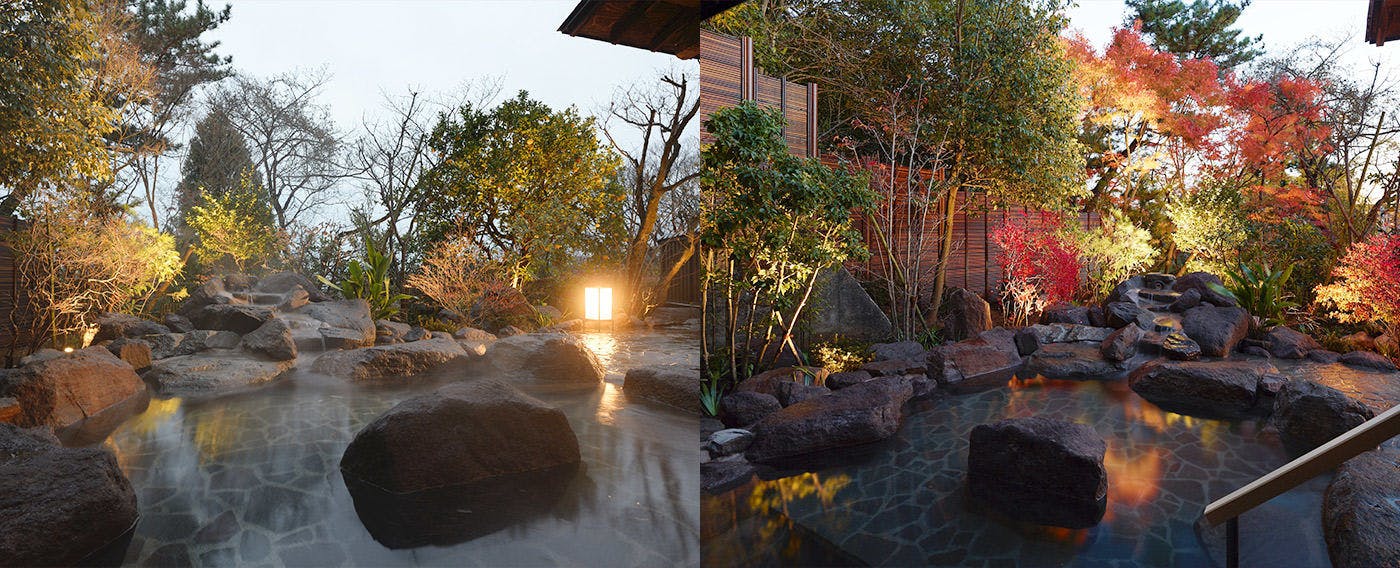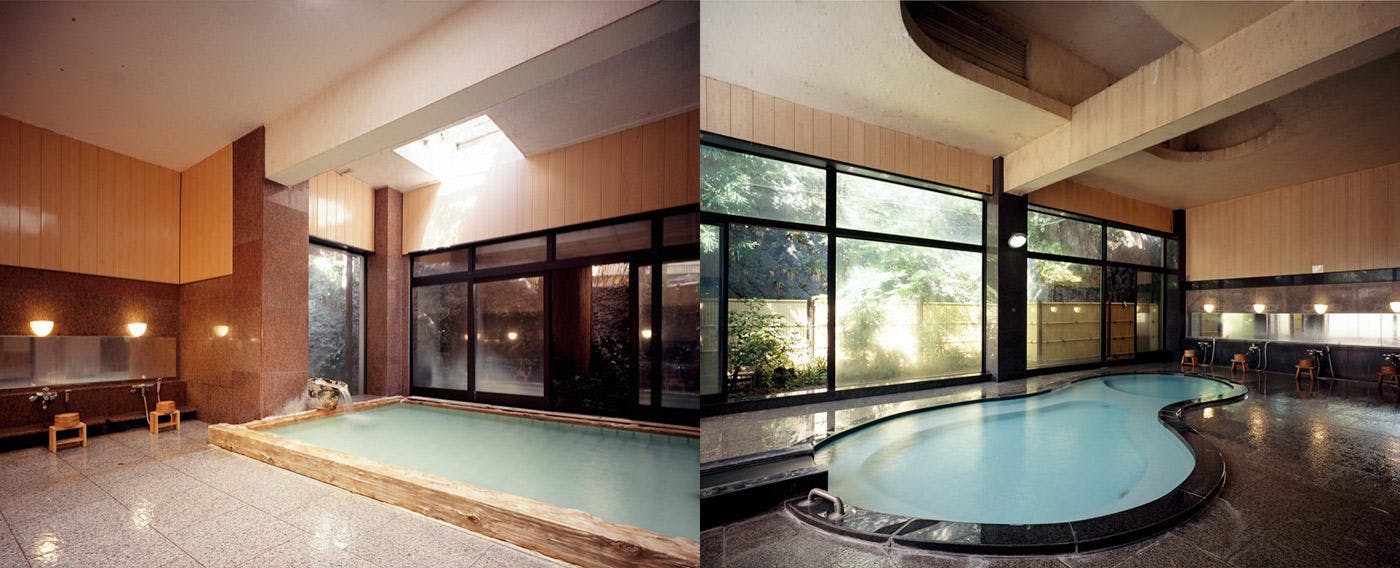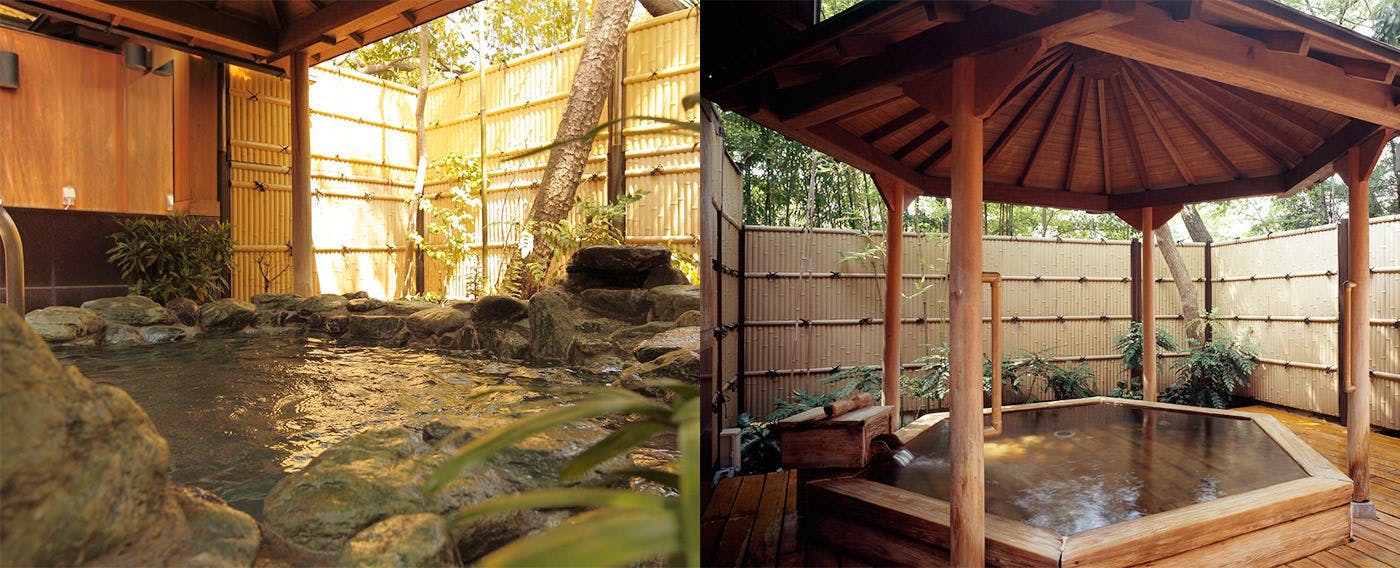 Open air bath
Relax in a historically well-known hot spring. Feel soft breeze on your warm cheeks and stretch out your limbs with comfort immersed in nature, a graceful time all to yourself.

Large public bath
The large public bath entrance has an original masterpiece created by the landlady's sister with relieved flowers is very elegant. Enjoy taking a bath while admiring it.

Open air bath with reservation
You are welcomed to enjoy open air baths set up to accompany the guest rooms (reservation needed).

Facilities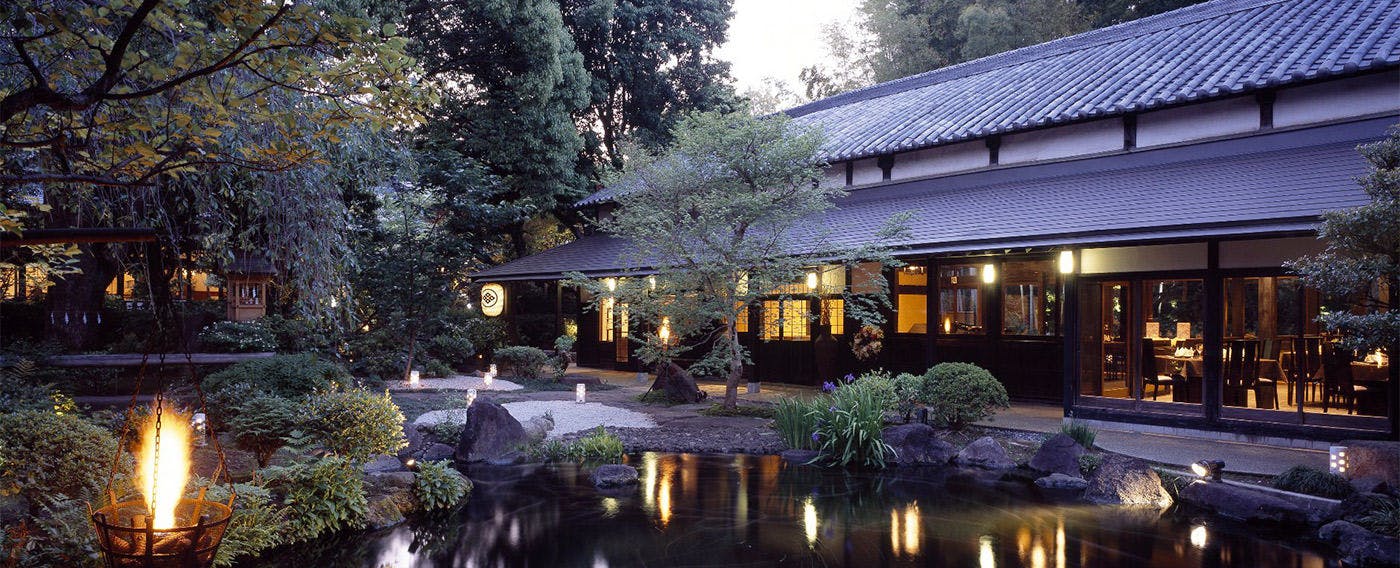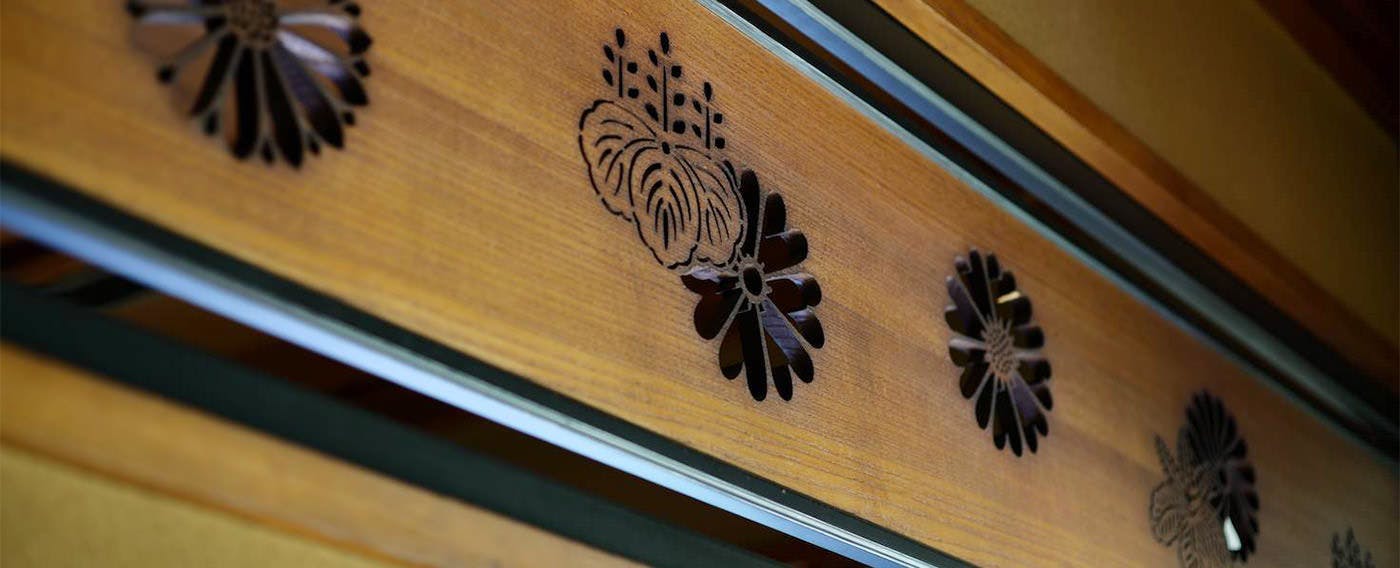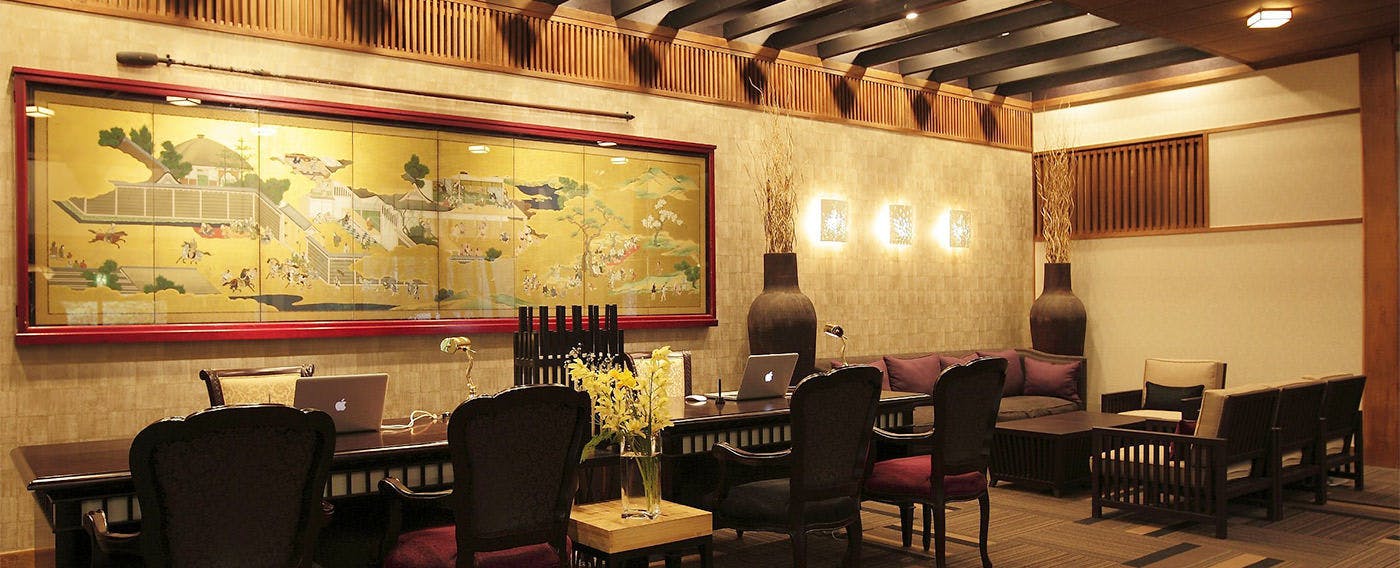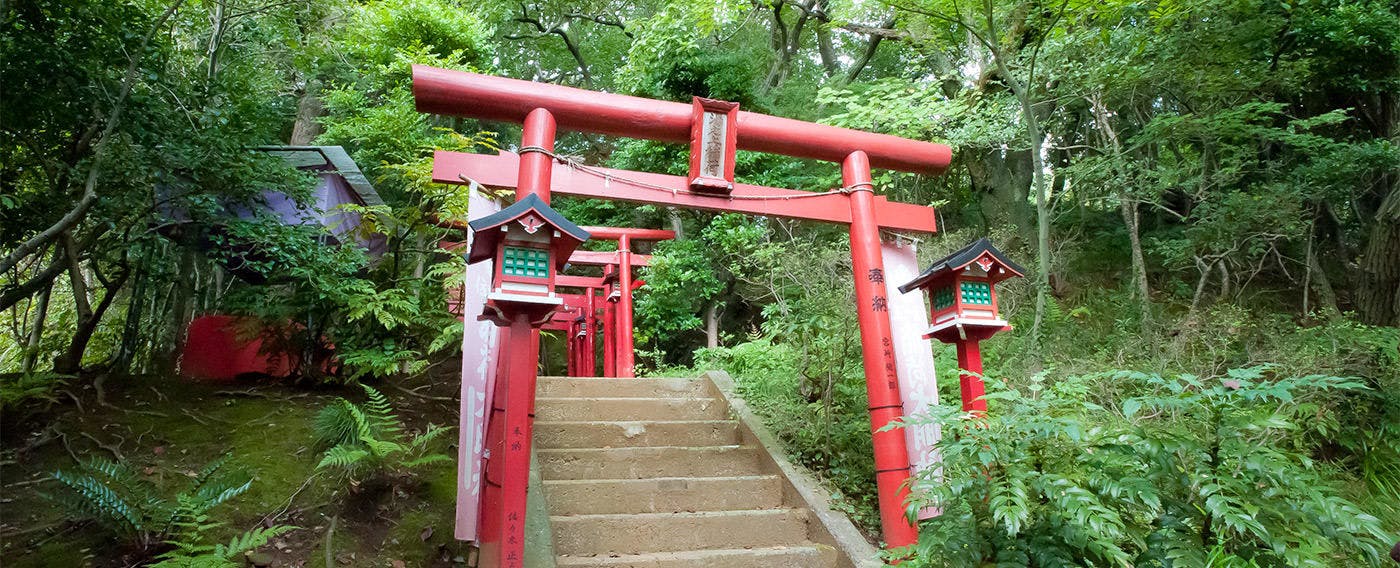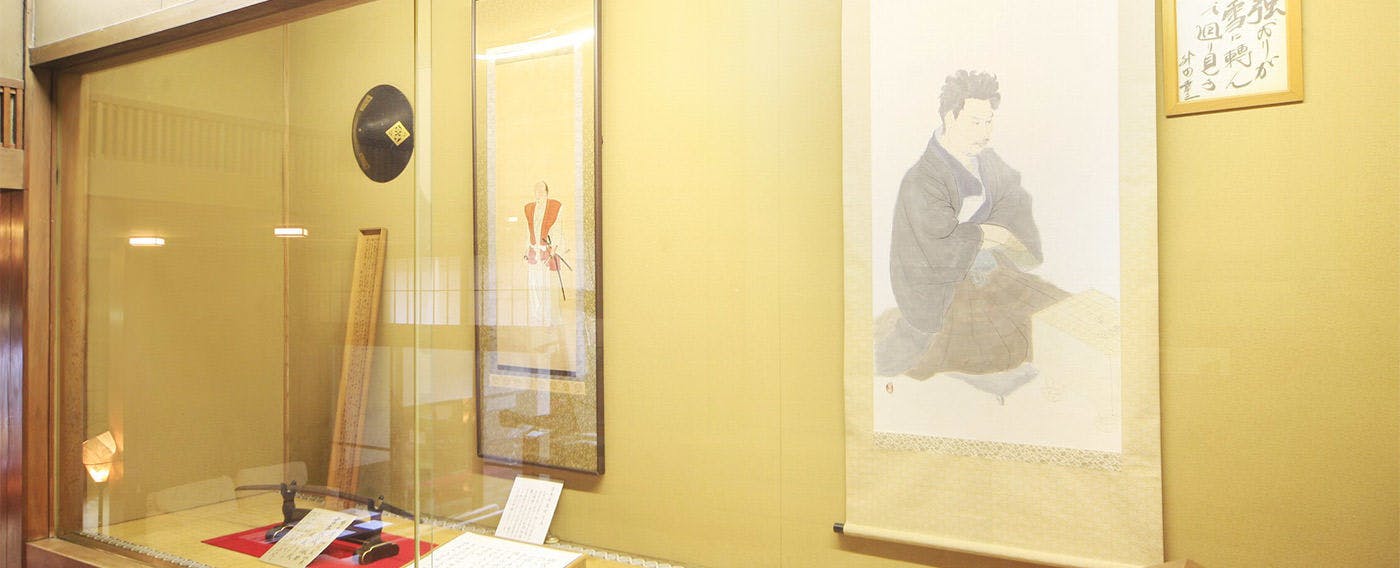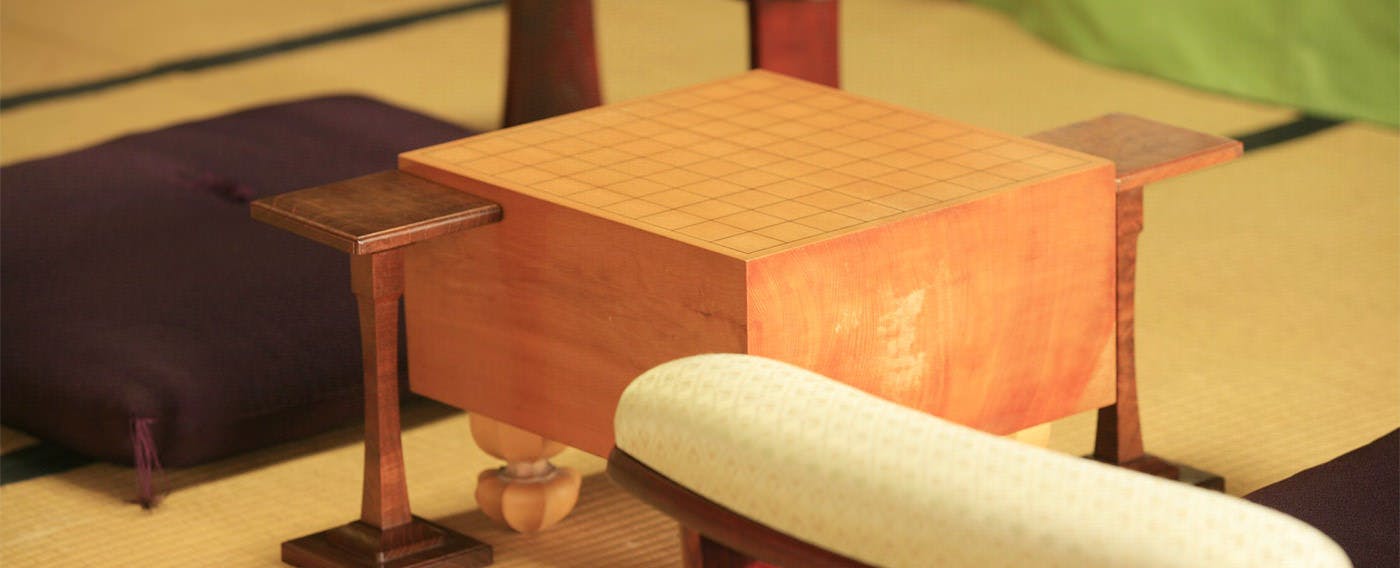 The vast Japanese garden covering over 33,000 sq. mts, the pride of Jinya.
Entering the vast garden that spans over 33,000 sq. mts, is like being in another world. Here you can find Japanese nature which is almost lost. Let the seaweed, flowers and creatures ruminate your imagination, a story which carves history. Please enjoy your whole day at Jinya.

History of Jinya spanning over a century
The history of Jinya spanning over a century. The owners from generation to generation have collected antiquities that are on display. Motonari Mouri and Musashi Miyamoto's related weapons, Kusari Katabira handed down from the Takeda clan and Kenshin Uesugi's cross-bow amongst others. Here you can find valuable items from the Kamakura period and Sengoku period to the modern. Be sure to take a look around when you're here.
Access
2-8-24, Tsurumakikita, Hadano,Kanagawa,257-0001,JAPAN
For arrival by car:
Toumei high-way outbound from Tokyo - Toumei high-way Atsugi IC- drive to Isehara on R246, turn left of Sakurazaka intersection followed by a right at the 3rd traffic light.
Toumei high-way outbound from Nagoya - Toumei high-way Hadano Nakai IC- drive to Atsugi on R246, turn right of Sakurazaka intersection followed by a right at the 3rd traffic light.

For arrival by train:
Take Odakyuu line about 60 minutes from Shinjuku station and get off at Tsurumaki Onsen station and 4 minute walk.
Reviews
6 Reviews
I came here to enjoy the meals earlier and their ambience and dishes were very nice, thus I came here to stay in this time and I was very satisfied, as I expected. The room's name was Yuugao and when I stepped down the room's inner part's stairs, there was a large open air bath and I was able to take a nice and slow bath looking at autumn leaves and snow the next morning, it got a bit cold though. Inside the hotel has an elegant mood and the staff's service, the dishes and onsen made me feel very satisfied. I'm gonna be their guest next new year as well.
+ More
2016/12/20
I felt like being healed heavenly. I came here after watching about it on the TV program"Tabizaru" and I felt really satisfied with the rooms, dishes and hospitality . I'm planning to come here again.
+ More
2016/06/20
I was satisfied with everything. The location was within an hour from downtown but it felt so different that I couldn't believe it. This place made me to forget any daily noises and staying here with my wife felt quite refreshing. I definitely would like to come here again.
+ More
2016/06/20
It's quite a valuable ryokan nestled in a forest just a 5 min walk from the station of Odakyuu line. The garden inside the premises was quite well kept and cared for beautifully. Especially, the way the garden and building's mood complement each other makes it all better. I let the hotel's staff assign us a room that comes with an open air bath if was available as the rooms are different depending on the category. Of course the room might be old, but looking beyond, with the adjoint open air bath and the beautiful view of nature from the window, it wasn't that big of a deal after all. A toilet and sink were renewed so it was quite clean. The dinner and breakfast were abundant in amount. Basically, most of the dishes were mild in taste but I could feel the depth in flavour and everything was delicious and very satisfying. The restaurant's interiors and view from the window were awesome.
+ More
2016/05/20
The room was wider than I expected, and the garden with bamboo and autumn leaves which you can see from the large open air bath made for a very relaxing stay. The antique showpieces and the Shougi's famous picture and everything was very interesting, I could feel history in that long hallway and stairway. The dinner place was awesome surrounded by the garden. It was Taishou, Shouwa genaration style. There were no fried things and no oily things either, and the presentation and taste were skilfully prepared. Also bamboo shoots rice made from hot spring and the kamameshi in next morning were so tasty. It feels like I've found a good ryokan to enjoy great meals and onsen near Tokyo.
+ More
2016/05/20
The room is more than adequately spacious, it has a large two-room living room with a western style chair and table space, also has a large washroom that can be accessed from the living room, a bathroom at the back and a shower room also accessible from the living room. Through the room with an outdoor bath, a small room with a western-style chair and a small table and looking out from the open air bath next to the shower room, it felt very homely. I felt that the mirror of the bathroom was easy to fog up, but even entering and leaving the open-air bath opening and closing the door a few times, I still did not feel cold so much. The attached open air bath that comes with the room may be a little narrow for a couple, but it's alright for one person. The hot springs themselves have no smell, a refined taste? It seems to be good enough to drink from, They used it for cooking, but since the outdoor bath was made of iron, it smelled of iron and was a little disappointing. Their meals, dinner and breakfast are quite abundant, all the seasonings with vibrant colours, were delicious. Apart from the meals themselves, the view of the garden really enhanced the eating experience. Their hospitality and service are heartwarming right from the welcome at the gate then to the entrance to the room, handover and so on, the feeling of hospitality was nice. However, as I was shown the hot water adjustment controls of the attached outdoor bath, I was struggling a bit and it felt a little painful. In addition, there was no guide even when entering the breakfast venue, there was a tag with the name of the room in each table, so I decided to go there without knowing if it was any good. The facilities and everything are thought to be set in stone because of ancient days, but there are many climbs of the stairs in the hall and there is a good walk for you to get to the washbasin from your room, that seemed a bit inconvenient for elderly people or perhaps even if you're drunk. Even though there were inconveniences, if I consider the spirit of the facility, the size of the rooms, the meals, it certainly makes me want to stay again for the night.
+ More
2016/03/20
Information
Check-in Time

From 3:30pm to 7:00pm

Check-out Time

Until 11:00am

Tax / Service Charge

Nothing in particular

Credit cards accepted at this property

VISA / MASTER / JCB / AMEX / DINERS / DEBIT CARD
Children

Children are welcome.

Pets

Pets are NOT allowed.

Parking

Free of charge for guests;Capacity 50 vehicles

Other policies & conditions

Nothing in particular