Kitanokaze Saryou
Within a more purely Japanese in appearance Sukiya style exterior, lies an interior that is still Japanese in taste, but with a wisp of modernity. Attached to each room is an open-air rotemburo bath or a bath with a view. The building comes fully equipped with a lounge, Noguchi Bunko library, shop, beauty salon, stone sauna, privately reservable bath, and more.
- VAT is included, but bathing tax (around JPY 150 per adult) may NOT be included.
- Price in USD is based on the exchange rate as of today and might be different from that of the booking date.
Foods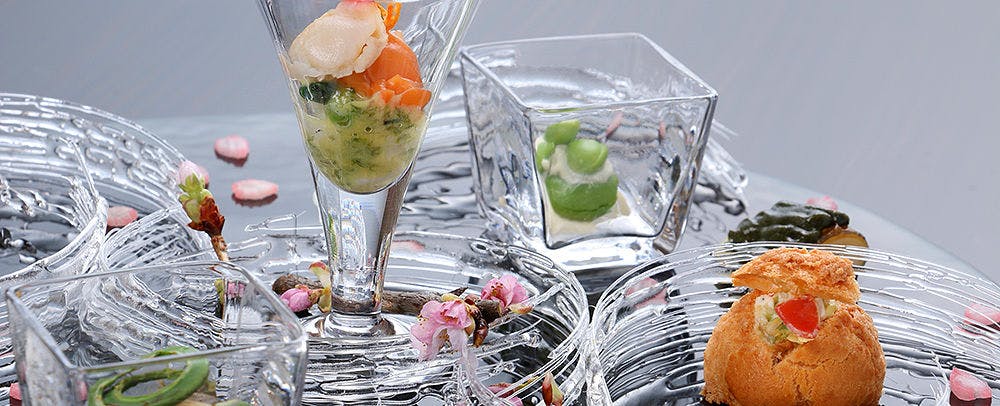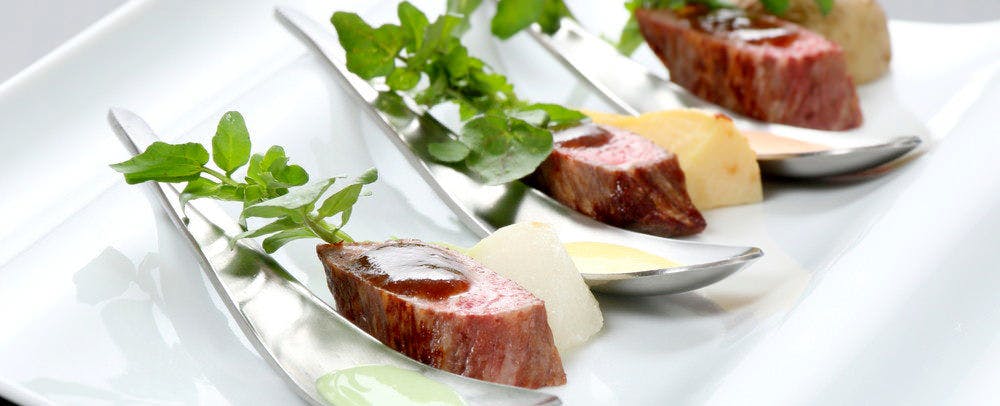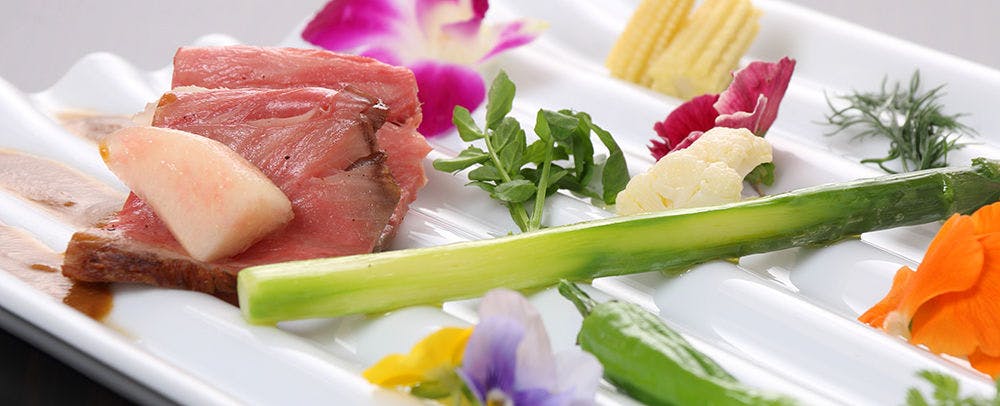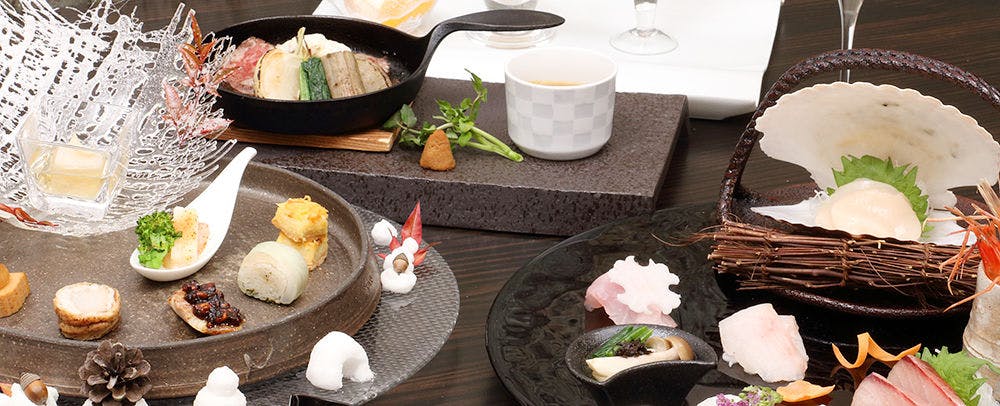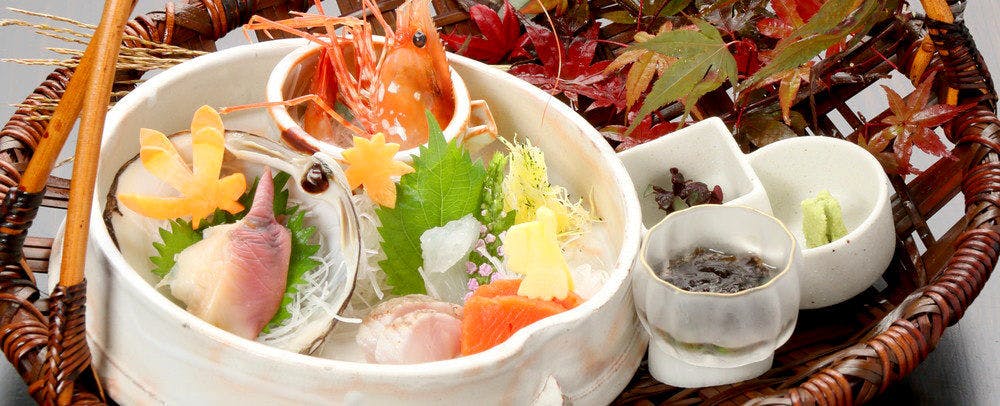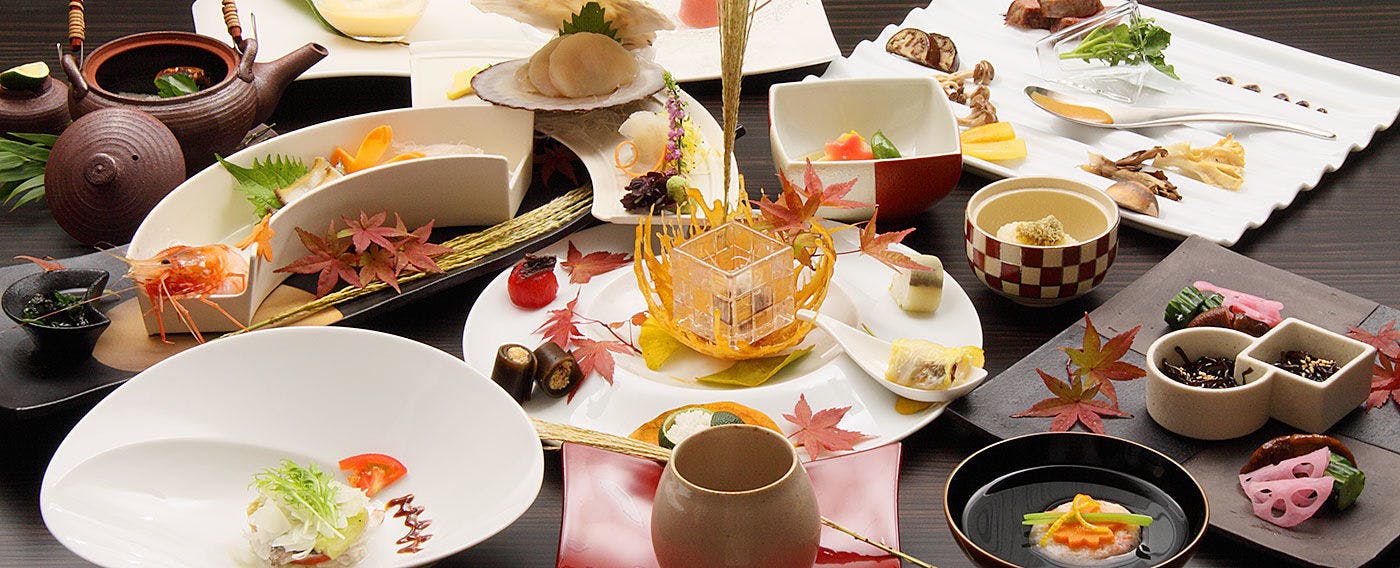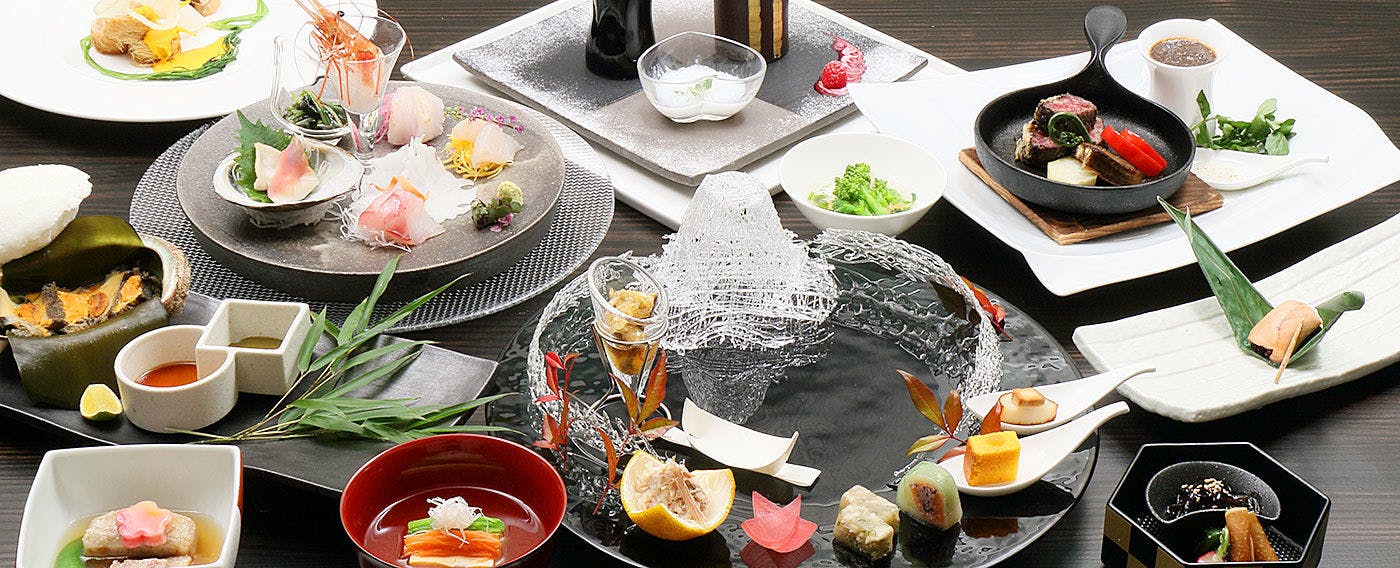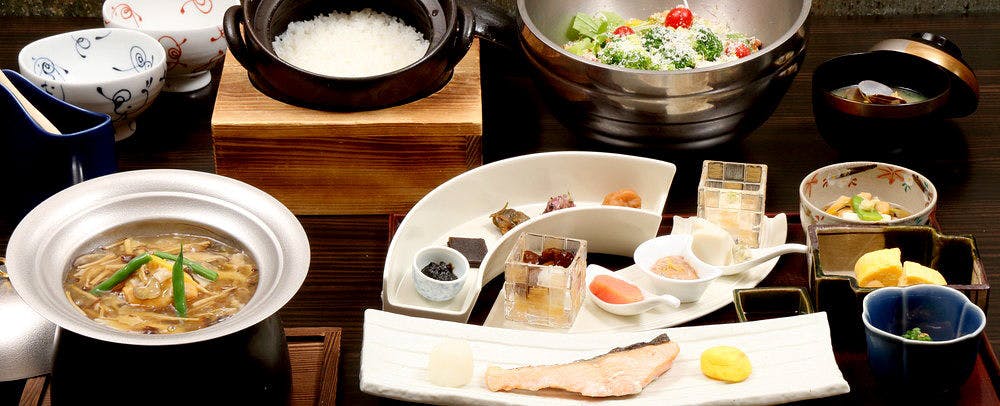 Cuisine that lavishly interweaves fresh ingredients from Hokkaido and local Hakone foodstuffs Meals are served in a set-aside private space within the dining area.
Our menu begins with a traditionally Japanese base to serve beautifully presented modern Japanese-style cuisine.
We carefully select ingredients from Hokkaido, Kanagawa, and local Shizuoka to ensure that we always serve fresh and wholesome food. For the grilled fish served at breakfast, you can select either local or Hokkaido seasonal fish.
Baths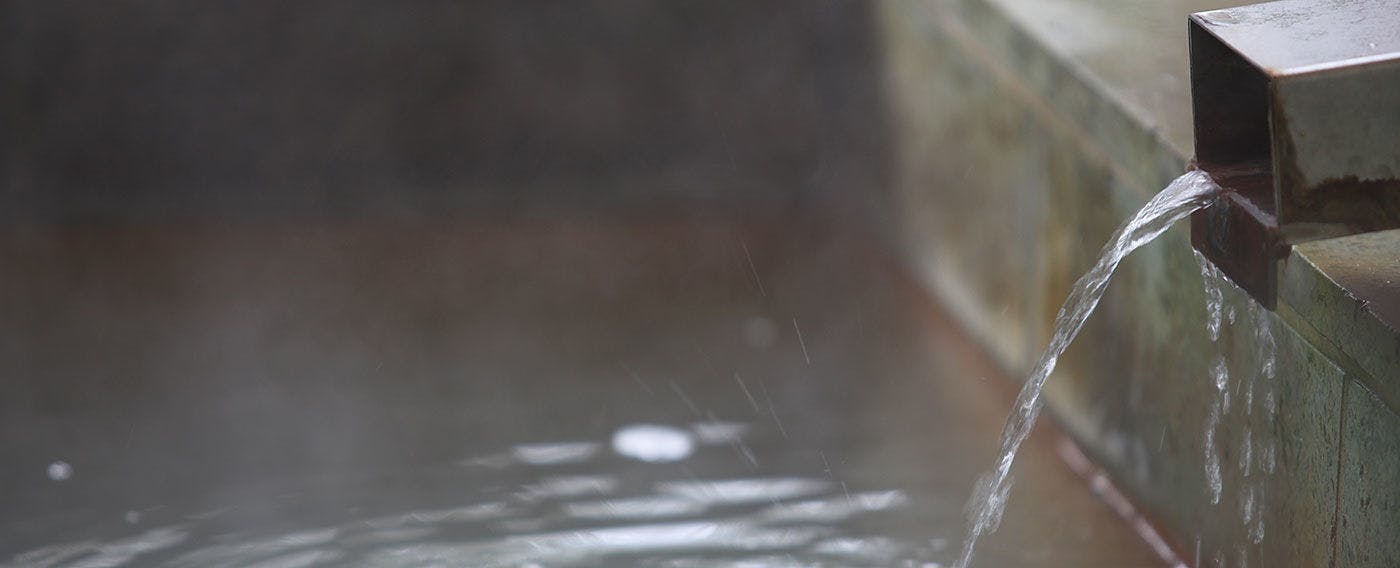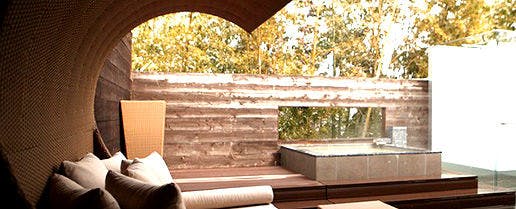 The Opaque White Water of Owakudani Hot Spring The cloudy mineral water that springs in Owakudani, is warming to the core of the body. Referred to as a hot spring of beauty, the acidic water softens the skin and leaves it feeling smooth. Free-flowing hot spring water comes accessible in every room.
Facilities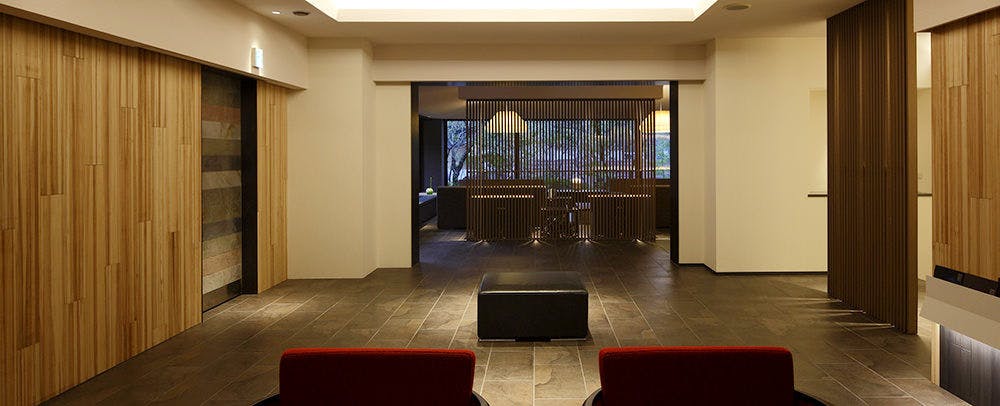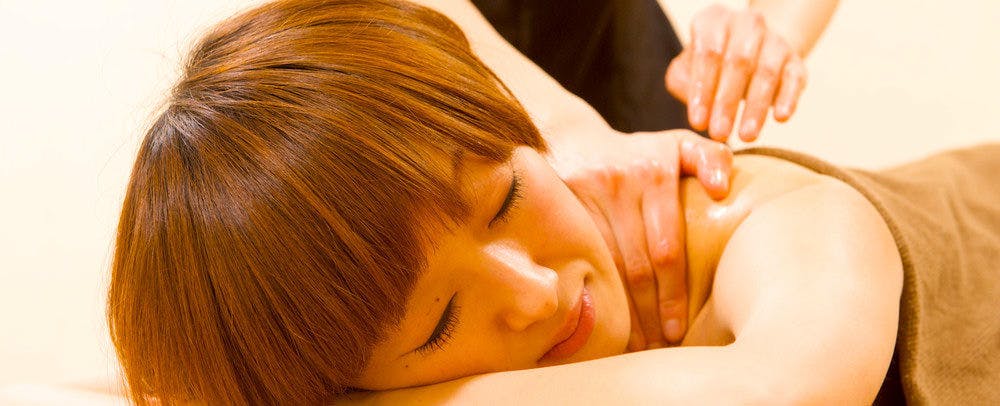 Lobby
The building interior is Japanese in taste, but with the wisp of modernity.

Beauty Salon
A variety of services are provided, including the Hokkaido-inspired White Esté Course.

Overview of Facilities
Exhibition Corner "Kitano Shun" / Lounge・Noguchi Bunko Library ・Shop "Ikoinoba"
Access
939-29, Sengokuhara, Hakonechou, Ashigarashimo gun,Kanagawa,250-0631,JAPAN
Traveling by Odakyu Hakone Highway Bus:
From Haneda Airport, alighting at Senkyoro Mae- Approximate Time Required 2 hours 30 min (Leaving from Shinjuku requires 2 hours)

Traveling by Shinkansen Bullet Train:
From Tokyo Station on the Tokaido Shinkansen "Kodama," alighting at Odawara (Approximately 40 minutes).
From Odawara Station East Exit on the Hakone Tozan Bus, alighting at Senkyoro Mae after approximately 40min.

Traveling by Car:
From Toumei Expressway Gotemba Interchange to National Route 138 PrefecturalRoad75, Approximately 20 minutes.
Reviews
The delicious meals were carefully prepared and arranged on beautiful plates, and I enjoyed it a lot. Even after the heaping helping of dessert for dinner, I was suprised when breakfast also came with sweets. Part of the way through dinner, I was informed that they could reduce portion size, but since everything was delicious I couldn't hold back and ended up eating too much. The inside of the building is really open and spacious, and as I didn't run into other guests, I was able to spend my time rather peacefully. Thankfully I got really blessed with good weather, and I can't help but wonder what happens with the privately reservable open-air rotemburo bath when it rains. It was also really helpful that I was allowed to park my car prior to check-in, so that I could go to the Susuki Meadow at Sengokuhara. With check-out being at 12, I was able to take my time getting up in the morning.
+ More
2016/11/10
Thank you very much for the other day. I really am glad I was able to get away from my daily stresses and get refreshed. It was also great that access from the city was so convenient and nearby. Everything was pretty close to perfect, but one thing I would like to say is that I think the food service timing for all of the dinner dishes was too fast. I'd like it better if I could have eaten at a bit slower pace. It was such a wonderful place and I would like to come back again.
+ More
2016/10/24
This was my second time staying here. Thank you for always taking my pickiness about food ingredients into account. Partially because of the weather outside, I found the room temperature a bit too hot, and I left some negative feedback about that point. Also, although the food looked beautiful and was tasty, I felt that the chocolate mousse served as a breakfast dessert was a bit heavy. I was pleased, however, that there were lots of vegetables. Since it is quiet and so easygoing, I'd like to visit again at a different time of year. Thank you again.
+ More
2016/10/17
Thank you for everything during my 10/9 one night stay. Although I had been looking forward to visiting since I heard you were operated by the famous Hokkaido Noguchi Kanko, the welcome I received exceeded even my expectations, and I was genuinely able to feel at home and take it easy. Despite all of the staff I met being rather young, the heartfelt service I received from everyone made sure that I was able to have a really pleasant time. I stayed in the "Sagisou" room which is a large bedroom and attached Japanese-style room, and which is so spacious it almost felt like a waste for my just the two of us. If I opened the window near the spacious bath with a view it was just about the same as an open-air rotemburo bath, and the free-flowing hot spring water felt so great that I ended up getting in more than a few times. About food, needless to say the atmosphere in the private dining area was great, the many carefully planned dishes were wonderful, and although it was quite a a lot of food, I managed to finish it all. (I'm thankful that about halfway through the staff thoughtfully told me that, "Portion sizes can be adjusted, so simply let us know.") I would definitely like to come back again. Thank you again for everything.
+ More
2016/10/10
Information
Check-in Time

From 3:00pm to 7:00pm

Check-out Time

Until 12:00pm

Tax / Service Charge

Bathing Tax JPY 150 per adult is NOT included in the rates.

Credit cards accepted at this property

VISA / MASTER / JCB / AMEX / DINERS / UNION PAY
Children

We regret to say that we do not accept guests under the age of 12, so thank you in advance for you understanding

Pets

Pets are NOT allowed.

Parking

Free of charge for guests;Available from 3pm to 12pm on the next day;Capacity 13 vehicles

Other policies & conditions

-While service charges and consumption tax are included in the indicated price, we do charge a special \150 bathing fee per person. -Please inform us of any food allergy you may have, etc. at the time of making your reservation. -Smoking is banned throughout the premises (with the exception of smoking-friendly rooms). -Please be aware that any cancelation beginning from 7 days prior to the day of check-in will incur penalty charges.