- VAT is included, but bathing tax (around JPY 150 per adult) may NOT be included.
- Price in USD is based on the exchange rate as of today and might be different from that of the booking date.
Foods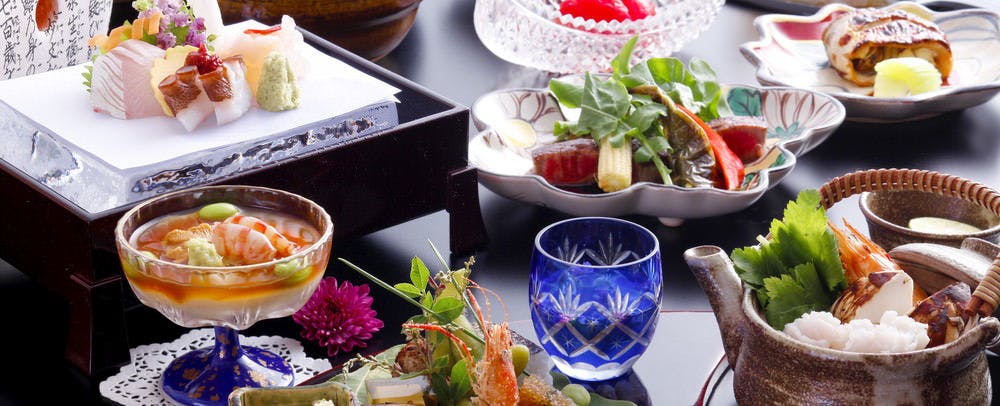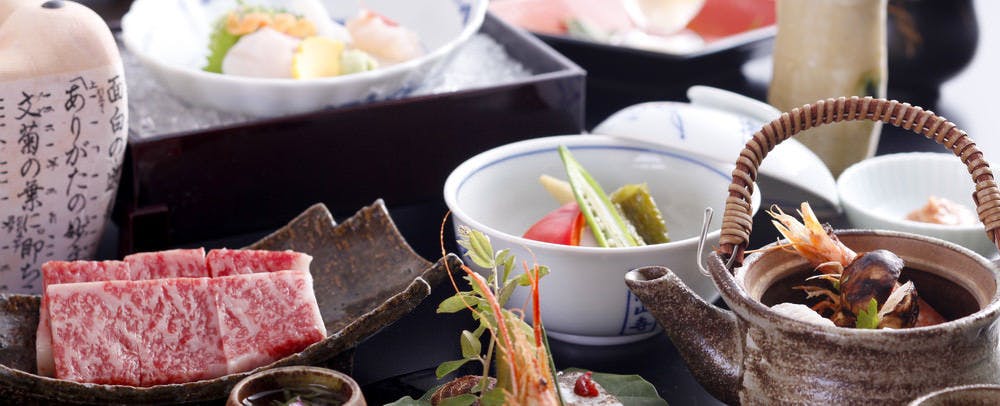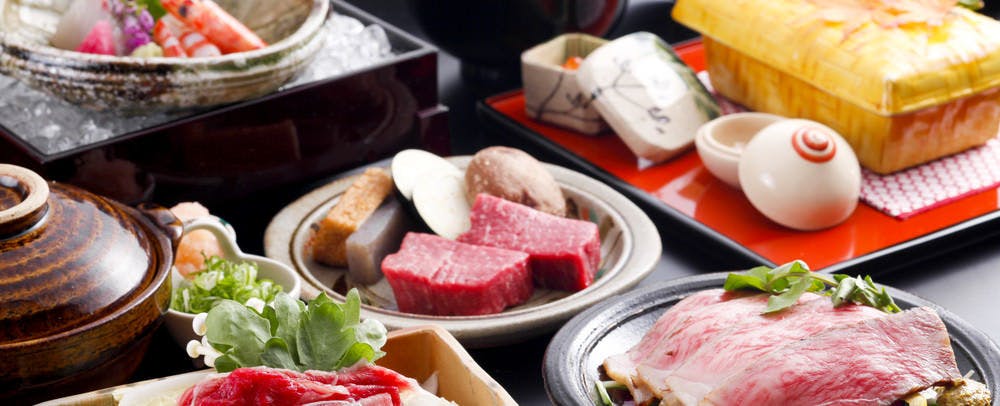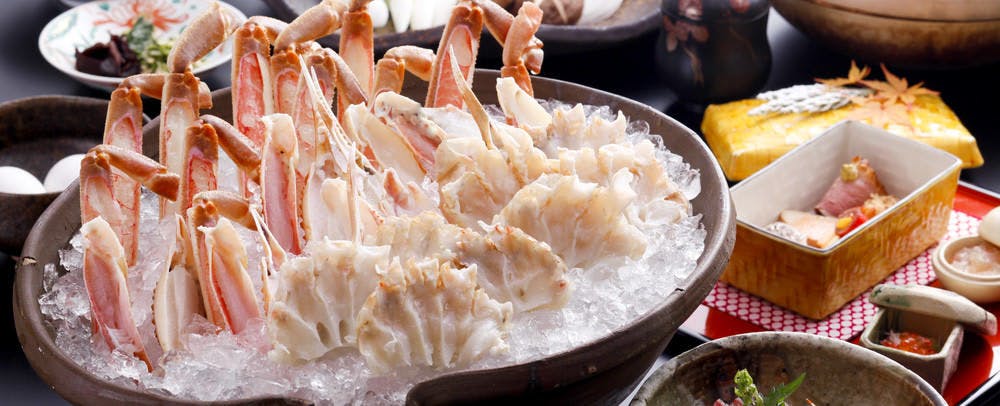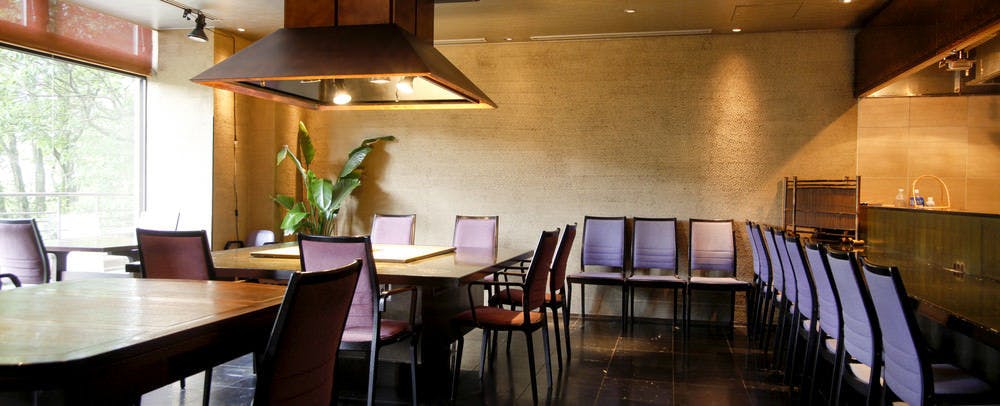 "Warm waters and the sense of taste" times of bliss ~ with the seasons grace. Let the dishes be put, with craftsmanship and courtesy. A place blessed by the season, rich in bounties of the ocean and the mountains, built through determined sensibility and skillful work. Like heart that can read your rhythm. Every meal served here is thoughtfully prepared combined with hospitality.
Baths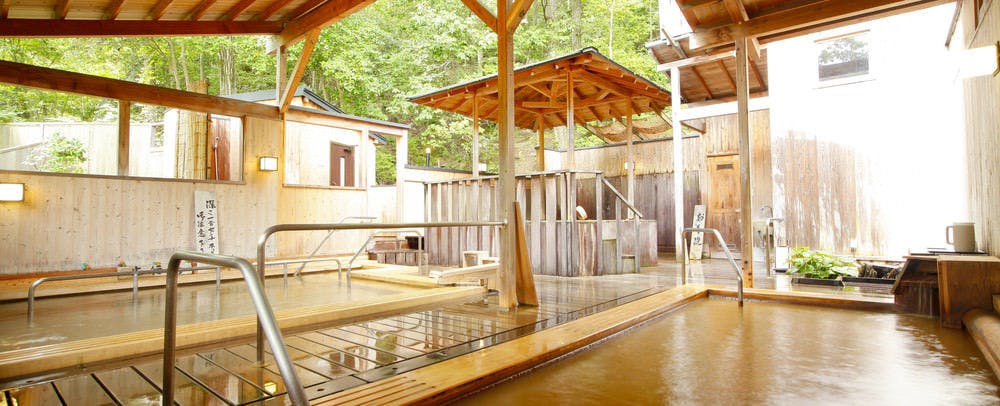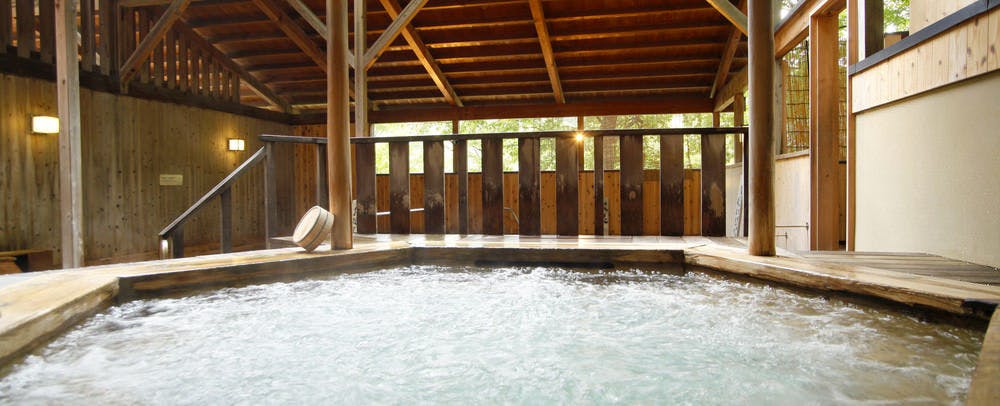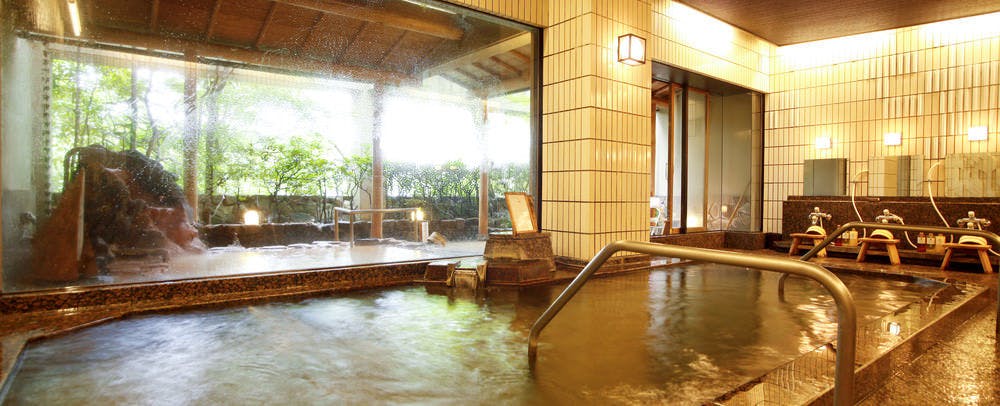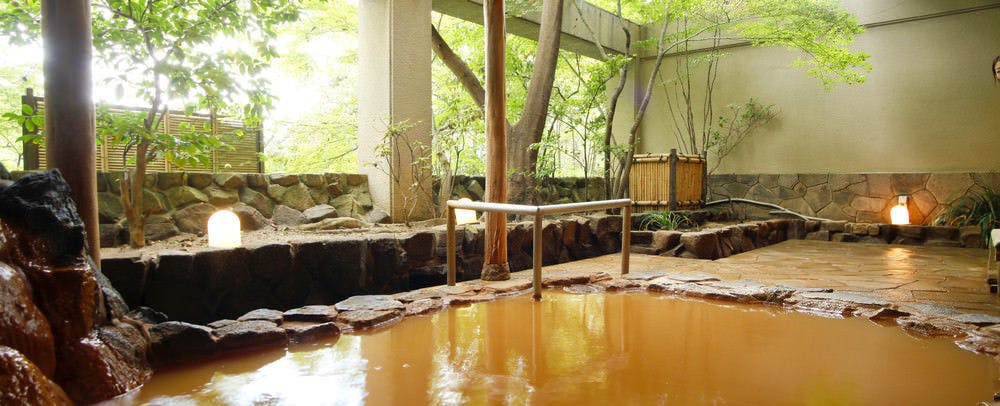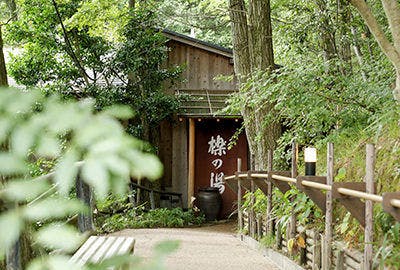 Unique to Arima Onsen, featuring two hot water springs, Kinsen (gold spring) and Ginsen (silver spring). The Arima Onsen hot spring has many rare minerals, and has seven out of the nine key medicinal elements that the ministry of environment has designated for hot springs.
Let the pleasant greenery of the forest view spread across calm your mind and body, as you enjoy your uninterrupted time in reserved baths with both Gold and Silver spring waters.
Facilities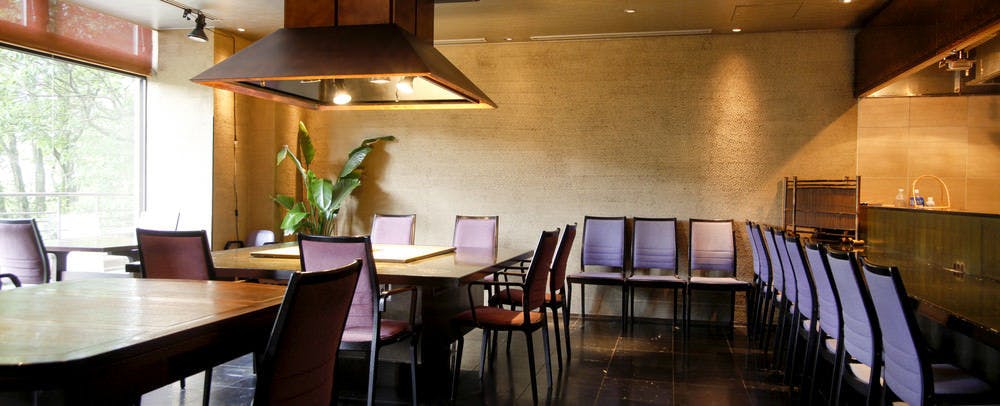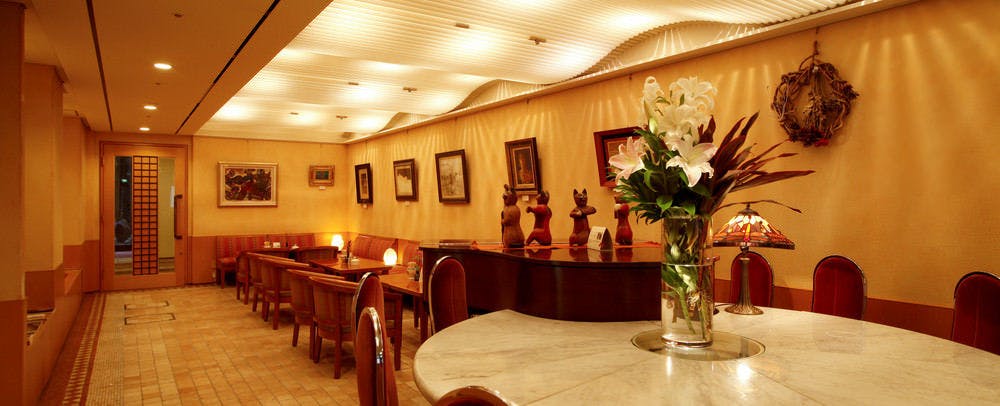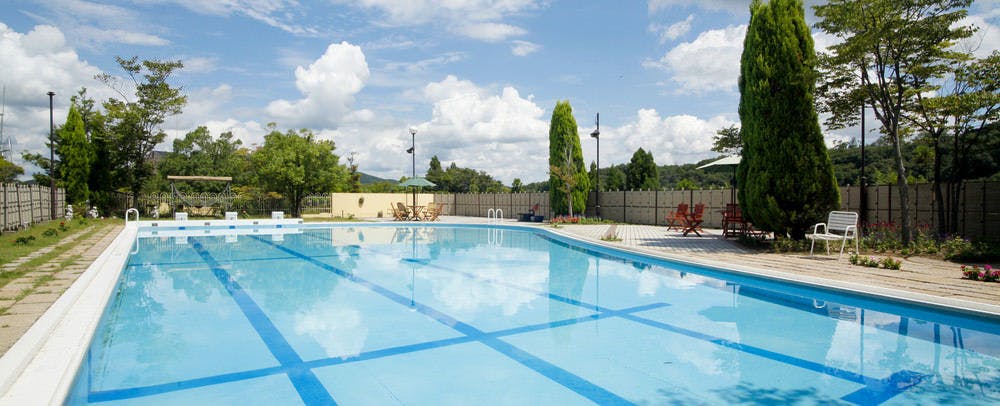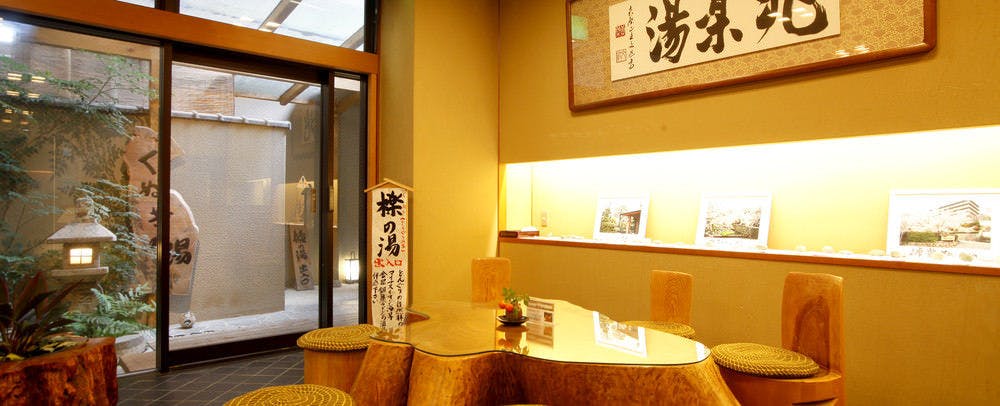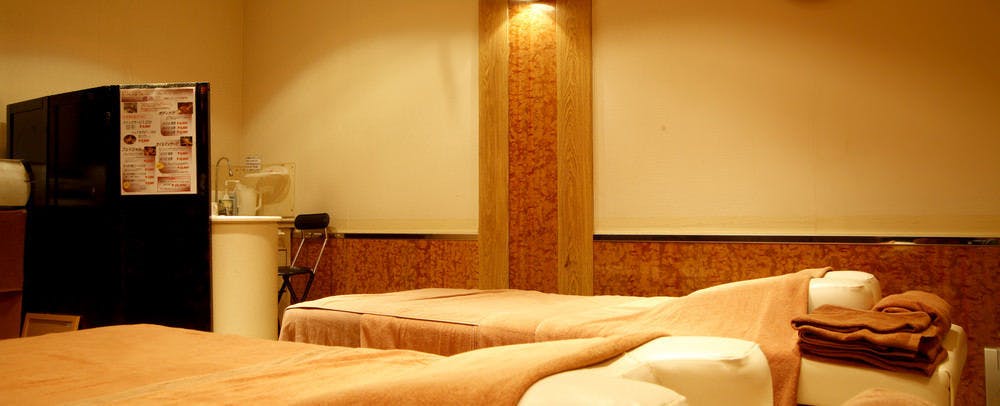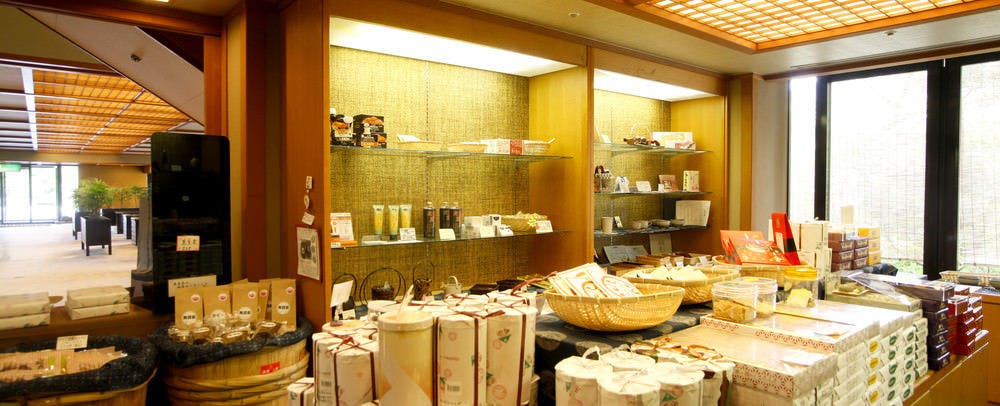 A hot spring resort based inside an oak forest.  Food and Dining spot, Hana
The cafe corner, Silk Road / Serves coffee, fresh juice, seasonal handmade ice cream etc.

The Pool (summers olny)
The pool uses water from the "Silver Spring".

After-Onsen spot "Yamazaki"
The place prepares drinks and sweets for the guests after they enjoy the onsen.

Esthe "Yuraku"
Sit back and treat yourself to hot springs and beauty treatments such as facial care, aromatherapy, body care, pedicure etc.

Souvenier shop "Baiten"
Original trademark souvenirs, crispy Japanese peppers, aperitifs, and lotions made from the Kinsen "Gold Spring"are also availablehere.

Access
1654-1 Arima-cho, Kita-ku, Kobe-city,Hyogo,651-1401,JAPAN
10-min walk from Arima-onsen Station(Kobe Electric Railway);
60min by bus from Osaka Station;
35min by bus from Sannomiya Station
Reviews
The view from the bathroom, the room, and the open-air bath were as amazing as a seven star hotel. Leading to the open-air bath was a gentle sloped path, surrounded by trees and the atmosphere was calm and inspiring. We really enjoyed both the "silver" and "gold springs". The "gold spring" waters were especially effective in ridding our tiredness because of the water's efficacy for the body. Also since summertime was approaching, the menu had loads of delicious options like freshwater trout and conger sea eel. I would definitely want to go there again.
+ More
2016/06/04
It may be a little far from the onsen town, but that's not an issue because there is a pick-up service. Their driver was also quite courteous and helpful. More than anything, the hot springs were the most wonderful. Both the "gold" and "silver springs" were a delight. The tea and dessert service after onsen was also appreciated. The food there was very tasty, and the dinner was pretty elaborate but to top it off their breakfast impressed me quite a lot. All in all from the hot springs, the customer service to the meals, everything left me very satisfied. The next time I come to Arima onsen, I'd really love to come here again.
+ More
2016/05/30
The view of the Rokkō mountain range from the bedroom was breathtaking. It was really relaxing to enjoy the "silver" and "golden springs". The staff was also very courteous and attentive in their service.
+ More
2016/05/08
I stayed here with my parents, it was a really satisfying accommodation. The rooms were clean and comfortable, and it felt great to be served ice cold water in the room after taking a bath. The meals served were also very tasty and were generous in quantity. The outdoor bath was also very nice and pleasant and I enjoyed there until our check-out time. Also, their coffee was quite tasty. The pick-up service till Arima centre was greatly appreciated. Would love to use it again.
+ More
2016/04/21
Even though being near Arima, and having tried out many hot-spring towns until now, I'd never been to this resort. It was such a wonderful lodging that it was totally worth going the distance. All the correspondence we had with the room staff was very nice. The onsens too, both Kinsen and Ginsen fountain are quite pleasant, and the foot bath helped me feel relaxed to the core. Although I recently stayed here, I was satisfied enough to make another reservation soon. Thank you very much.
+ More
2016/03/02
Information
Check-in Time

From 2:00pm to 8:00pm

Check-out Time

Until 11:00am

Tax / Service Charge

Nothing in particular.

Credit cards accepted at this property

VISA / MASTER / JCB / AMEX / DINERS / UNION PAY
Children

All children are welcome, with charge as followings.
Children the age of 0-2 years are free of charge.
Children above the age of two will be charged 3,240 yen (tax not included) as in-house usage fee even if meal/bedding is unnecessary.
Bedding, Kids' dinner and Japanese style breakfast: 50% of the rate
Bedding, Kids' dinner (Japanese dishes) and Japanese stylebreakfast: 70% of the rate
Children above the age of thirteen will be charged full of the rate


Pets

Pets are NOT allowed.

Parking

Free of charge for guests; Capacity 50 vehicles; No Valet Parking Service

Other policies & conditions

Children of 0-2 years old are free of charge. Please tell the number of children with comments at the time of booking.