GINSYOU
Genuine Japanese ryokan inn on the coast. From the 9th floor rooftop "Tenku Notenburo" bath one can see an unbroken view of Kinko Bay and fully enjoy a sensation similar to floating in the heavens. For meals, come and enjoy sunamushi steaming-sand kaiseki course cuisine made using the heat of the Ibusuki hot spring.
We are sorry but we don't have any rooms available now.

Please select another Ryokan.
- VAT is included, but bathing tax (around JPY 150 per adult) may NOT be included.
- Price in USD is based on the exchange rate as of today and might be different from that of the booking date.
Foods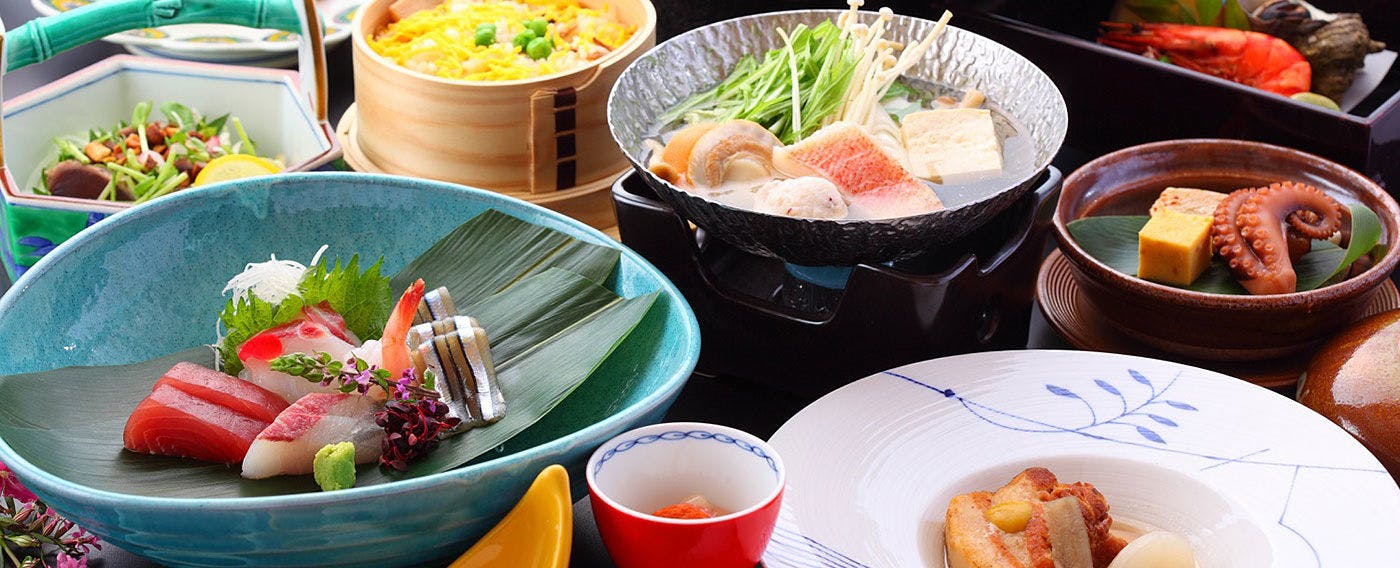 Luxurious kaiseki cuisine everyone can enjoy, as steam rises from the onsentaku hot spring table. Ginsyo, where the hot spring can be thoroughly enjoyed, provides distinctive hospitality with the objective of creating lasting memories. Sunamushi steaming-sand kaiseki utilizes an exclusive "onsentaku" hot spring table to serve steaming and pleasantly warm meals, and this kaiseki cuisine is the pride of Ginsyo.

Meals with cherished people can be enjoyed leisurely in the private dining area amidst the faint scent and steam from the "onsentaku," a dining table into the center of which hot spring water flows from the source. We arrange private dining room areas so that meal times can be spent relaxedly with important people.

Nakai hostesses carefully and wholeheartedly prepare fried foods.

The ingredients used in Satsuma'age fishcakes include the fish eso (lizardfish) and tara (haddock), in addition to other ingredients including green pepper and carrots. In terms of seasoning features, Kagoshima as a whole tends to have a something of sweet tooth, but we show restraint with sweetness to accomodate individuals from outside the prefecture. Freshly made satsuma'age are best enjoyed with a deluxe dipping sauce made from a mixture of black vinegar, light soy sauce, and dashi stock to which "violet yukari dust" has been added that draws out the mood of the sunamushi steaming sand. Piping hot, delicious round satsuma'age are fried to be bite-sized and are scrumptiously soft and flaky when eaten.
Baths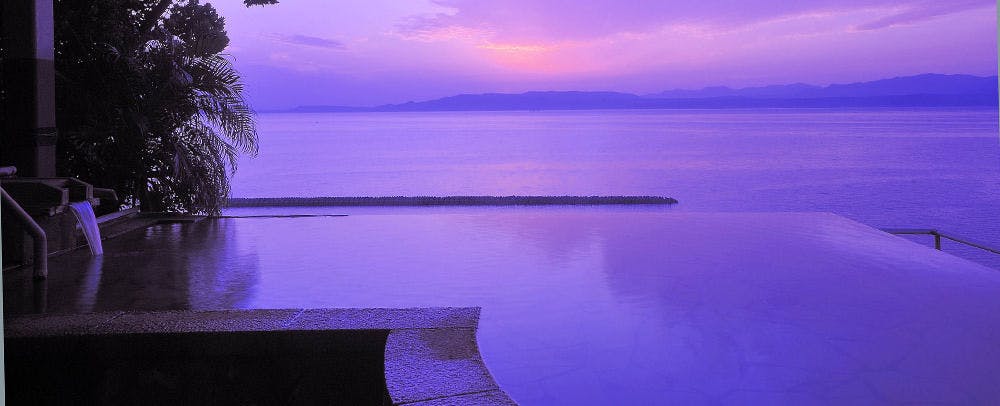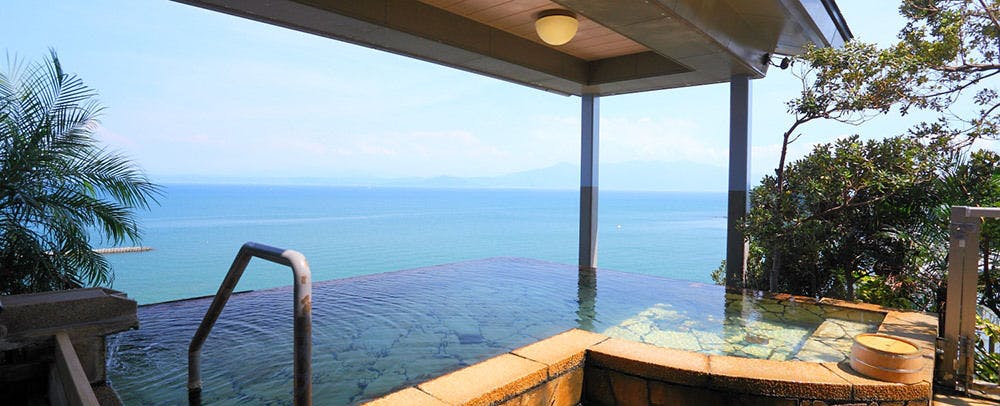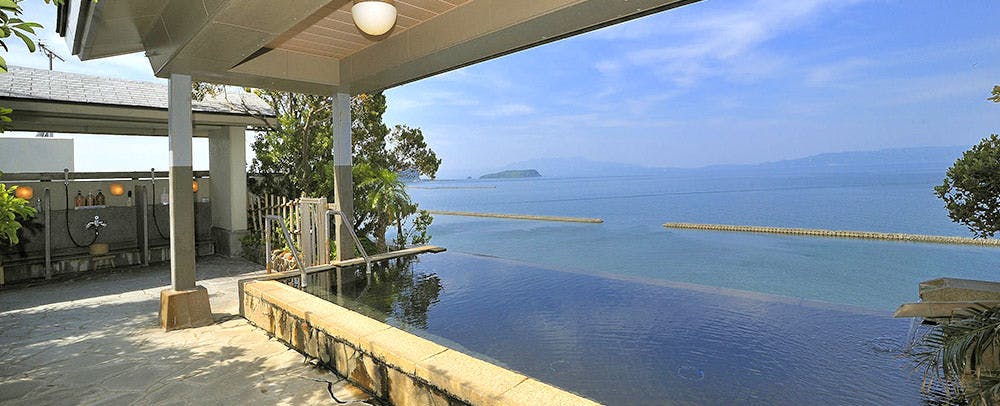 Tenku Notenbro Superb View - Women's Bath "Ukigumo"
From the women's bath open-air bath "Ukigumo," one can see an unbroken view from Kinkō Bay to the Osumi Peninsula. Enjoy the sweeping view as if one were looking down from the heavens.

The Ultimate in Hot Spring Comfort - Men's Bath "Haguregumo"
Enjoy a spectacular view as far as the eye can see.
Facilities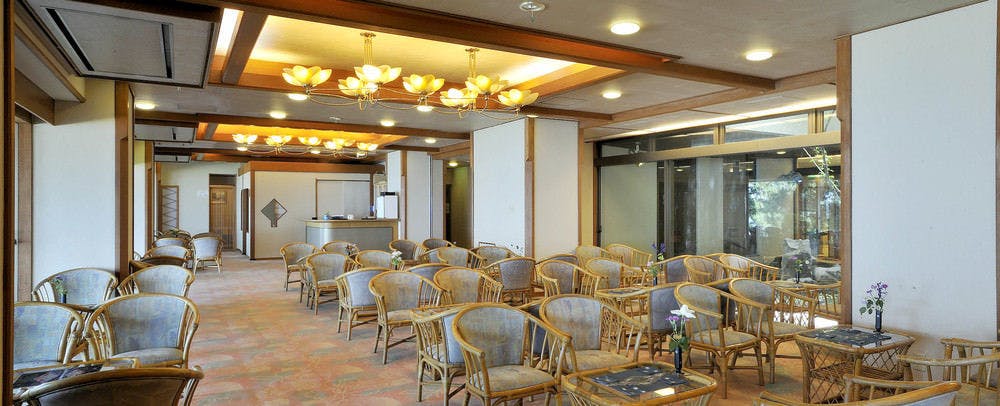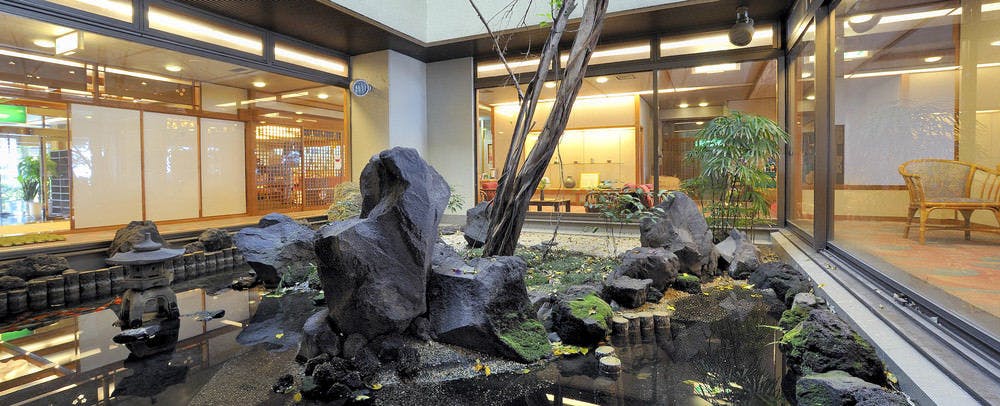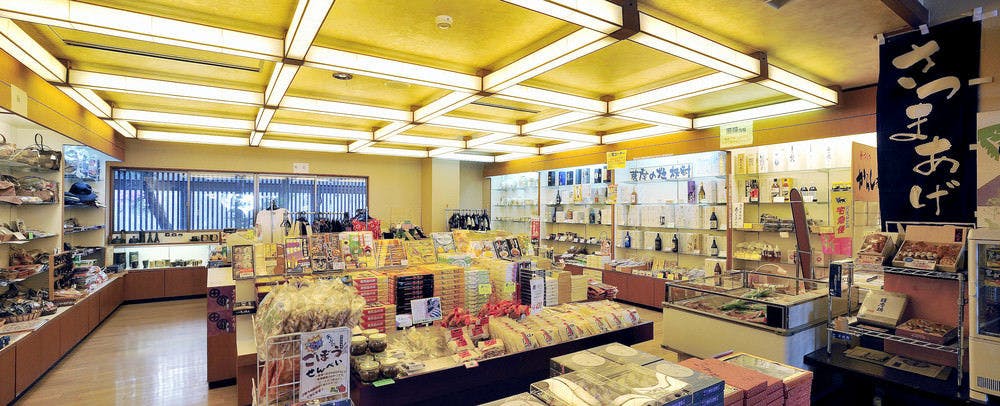 The florid elegance of Kagoshima along with the feeling of gentle peace Allured by the steaming-sand hot spring scent, relax in Ginsyo's warm welcome to thoroughly soothe body and mind. Beginning with the hot spring-scented sunamushi dining room, and including the large white Satsuma porcelain mural and Japanese-style courtyard garden, there are facilities only to be seen at Ginsyo.
Access
5-26-29, Yunohama, Ibusuki-shi,Kagoshima,891-0406,JAPAN
From Ibusuki Station on the JR Ibusuki Makurazaki Line - Approximately 4 minutes by car
From the Taniyama Interchange - Approximately 70 minutes by car
From Kagoshima Airport - Approximately 105 minutes by car (using the expressway)
Please use 0993-22-3231 or 285-198-888(Map Code) for the use of car navigation system.
Reviews
Very good location and service except free coffee in the morning is set on the freezing beach side which is not logical in winter.
+ More
2017/02/20
I stayed this past time after typhoon #16 had caused building damage, but I received a wonderfully warm welcome. The young lady in charge of my stay took care of everything that day and the next, even including evening and morning meals, and provided wonderful customer service.
+ More
2016/09/20
Despite feeling that the building and installations were a kind of old, the room was kept clean and I was able to spend my time comfortably. More than anything the service was wonderful, and I felt like I learned a lot. Being able to walk in a yukata gown to the sunamushi steaming-sand bath, I thought it felt great. As for meals, the freshly fried satsuma'age fishcakes were the piece de resistance, and against my expectations, the coconut milk nabe hot-pot was very delicious. However, I had really been looking forward to "THE ryokan breakfast" at a coastal inn, and it was a little disappointed that there was no fish. I was unexpectedly able to enjoy some fireworks, and I was very pleased. It had been a long time since I came to a ryokan as nice as this, and I thought that next time I would like to bring my parents and stay again at Ginsyo. Thank you for the lovely time.
+ More
2016/09/20
The reception from the proprietress is wonderful. The staff training is very thorough. If there should be a chance, I want to go again.
+ More
2016/09/20
I felt calmed by the flowers decorating everywhere inside the building. The bamboo shōchū liquor also flowed freely. The food was also delicious, but there wasn't a variety of meat and I maybe it wasn't enough for my husband. (?) The ground at our feet was also a little wet at meal time, but the proprietress came immediately and took care of us. Watching the sunrise from the open-air rooftop bath was amazing.
+ More
2016/09/20
I was extraordinarily pleased. Since the person in charge of the room took consistent care of every service from the welcome drink to the final send-off, I was able to feel at ease, and they provided very satisfying customer service. With two small children I was a little nervous about dinner and breakfast, but the consideration they gave to food and drinks, etc. really came through for us. The room guide also courteously showed us how to use the open-air rotemburo bath in the room, and so we were able to use it and felt great. Because the placement of the air conditioner was a little bad and the room was extremely sunny, I felt that the air conditioner didn't work well, but that's a hard thing and I think it can't really be helped. It was truly great. I'm thinking I would like to stay again.
+ More
2016/08/20
Information
Check-in Time

From 3:00pm to 7:00pm

Check-out Time

Until 10:30am

Tax / Service Charge

Bathing Tax JPY 150 per person above 12 years old is NOT included in the rates.

Credit cards accepted at this property

VISA / MASTER / JCB / AMEX / DINERS / DEBIT CARD
Children

A baby are free of charge if they share a bed with you.

Pets

Pets are NOT allowed.

Parking

Free of charge for guests;Capacity 50 vehicles

Other policies & conditions

Nothing in Particular.