Room with open-air bath and a beautiful view of Mt.Fuji and ocean (Limited offer) 100㎡

Half board included

Japanese futon bedding

Non-smoking

Room with open-air bath

See Details
From $1,189.85
for 2 guests /night
Room with open-air bath and a beautiful view of Mt.Fuji and ocean 100㎡

Half board included

Japanese futon bedding

Non-smoking

Room with open-air bath

See Details
From $1,312.33
for 2 guests /night
- VAT is included, but bathing tax (around JPY 150 per adult) may NOT be included.
- Price in USD is based on the exchange rate as of today and might be different from that of the booking date.
Foods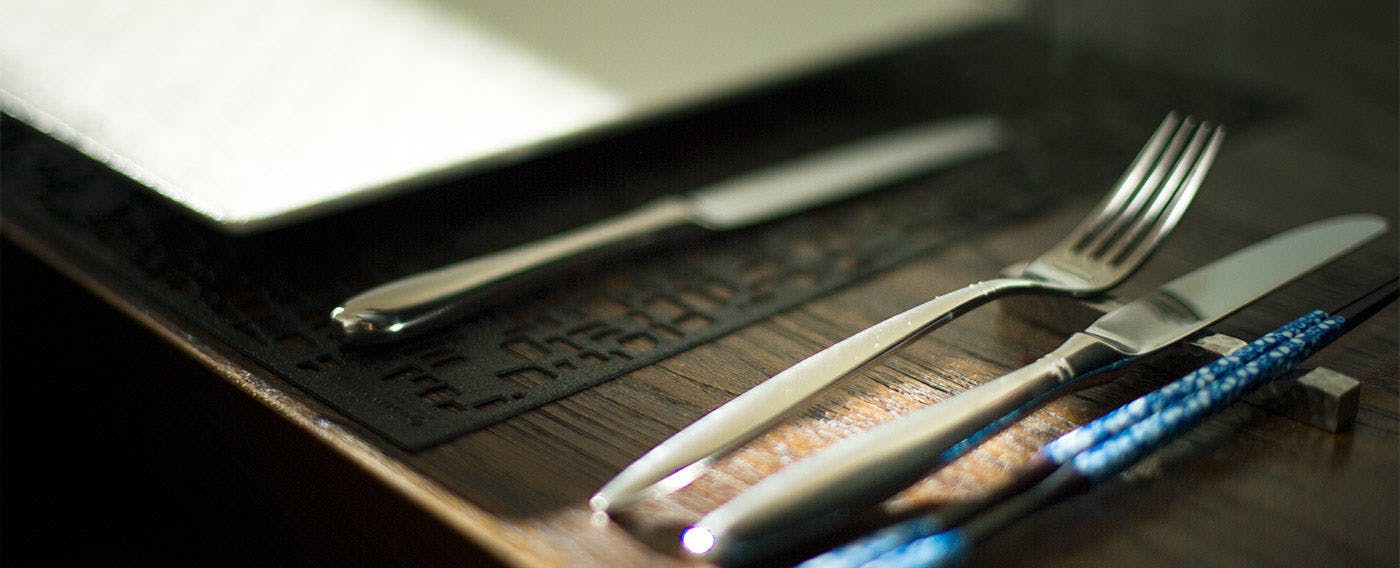 Foods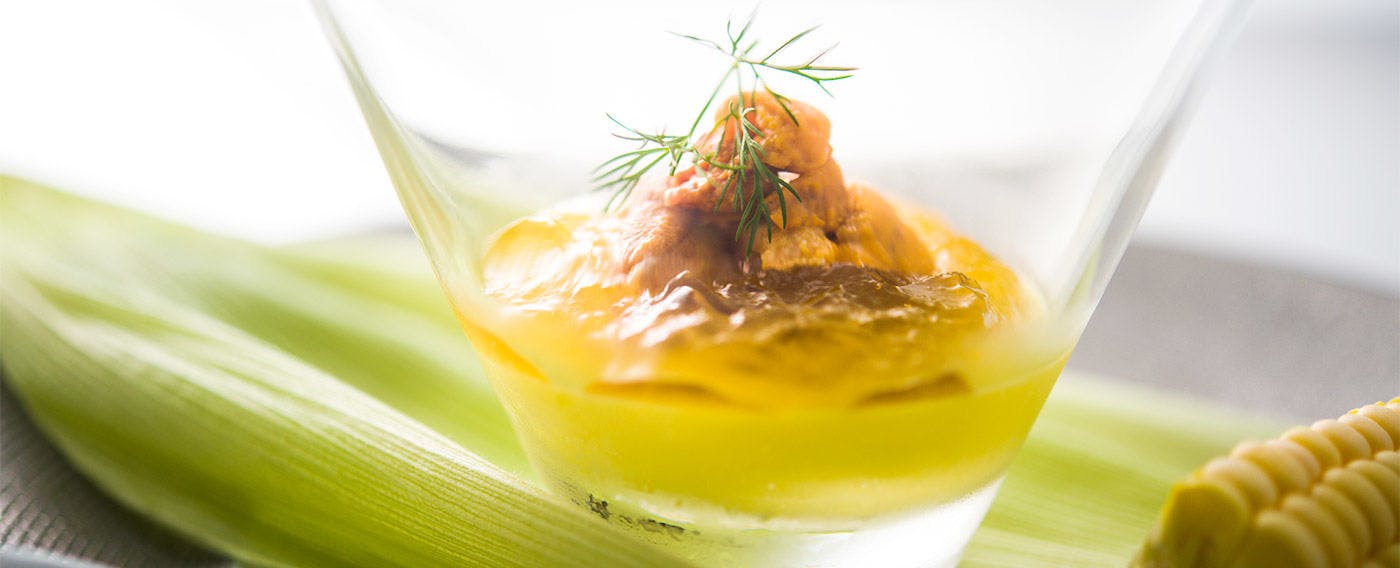 Foods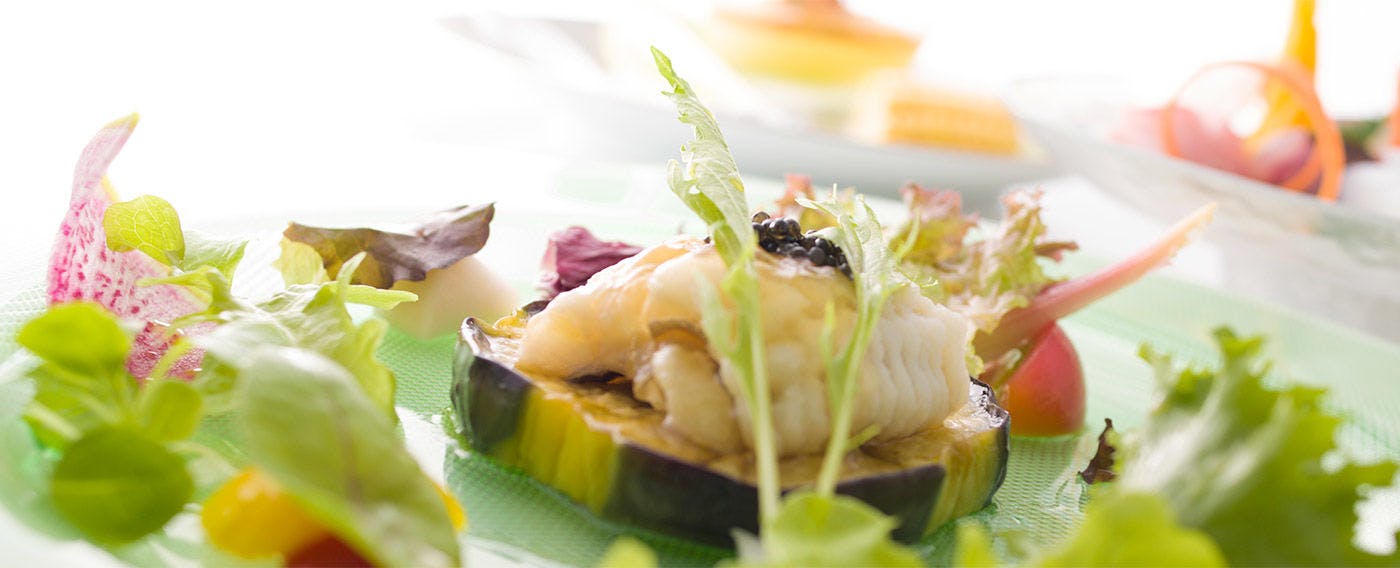 Foods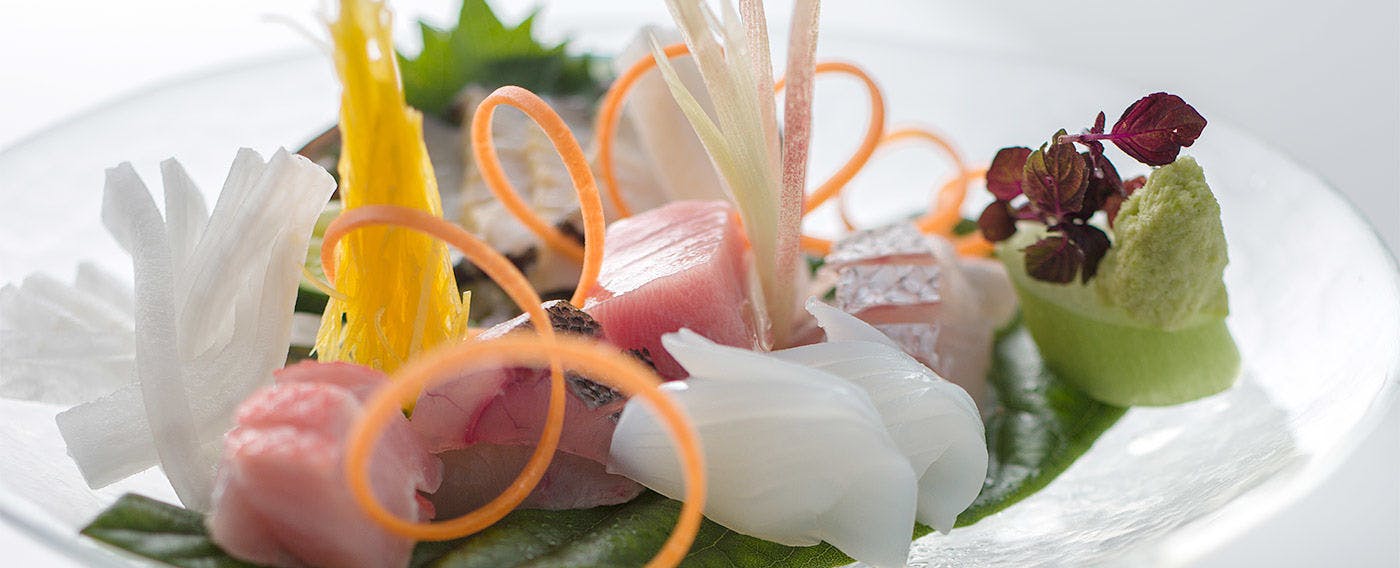 Foods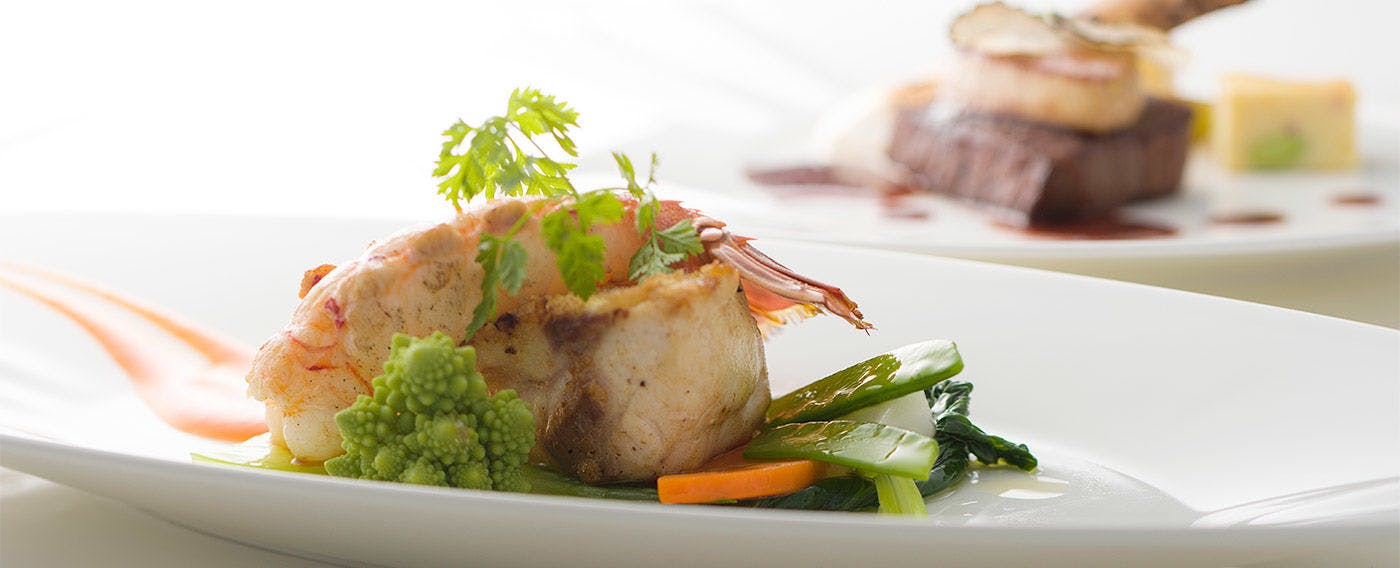 Foods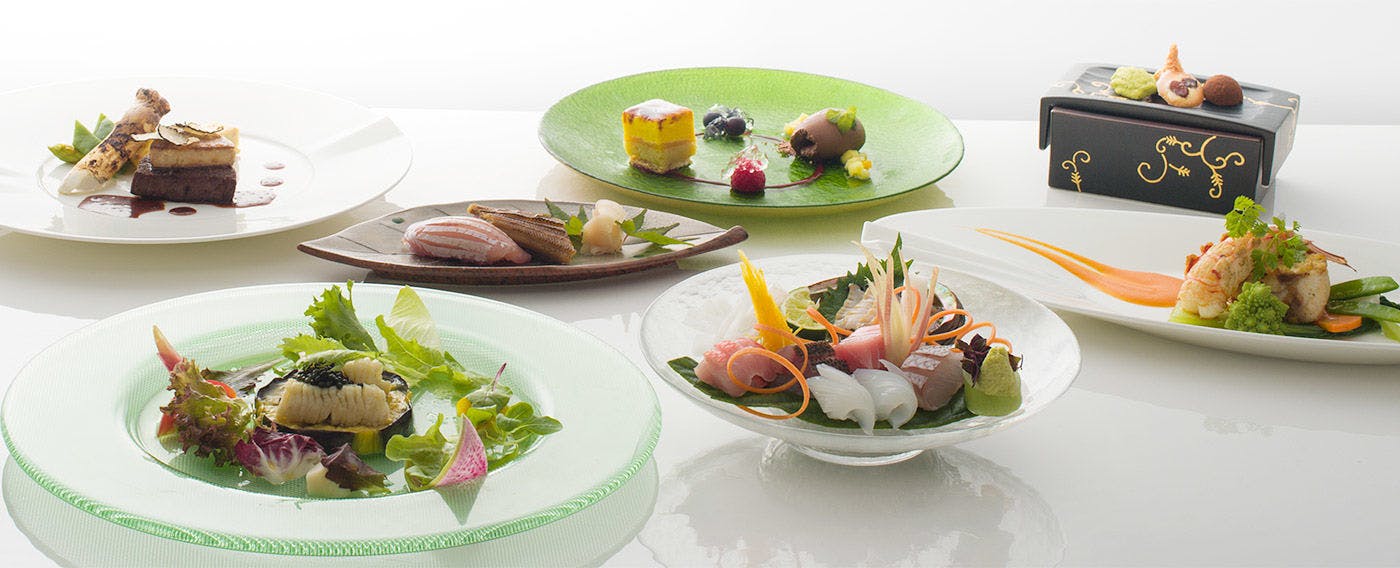 Foods
Japanese french dishes prepared with local fresh ingredients Savor our Japanese-French dishes prepared with local ingredients such as Toi seafood from Suruga Bay and fresh vegetables harvested every morning from our own garden. You can enjoy your breakfast in bed or dine outside on the terrace surrounded by nature.
Baths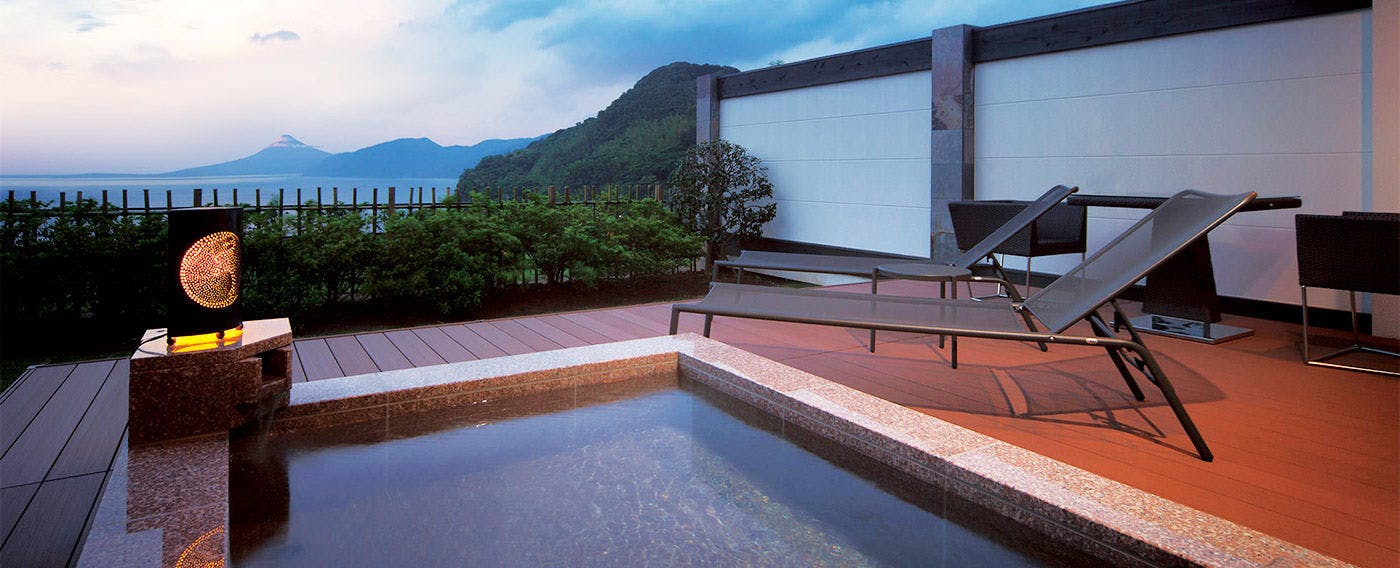 Private Open-Air Bath at Guestroom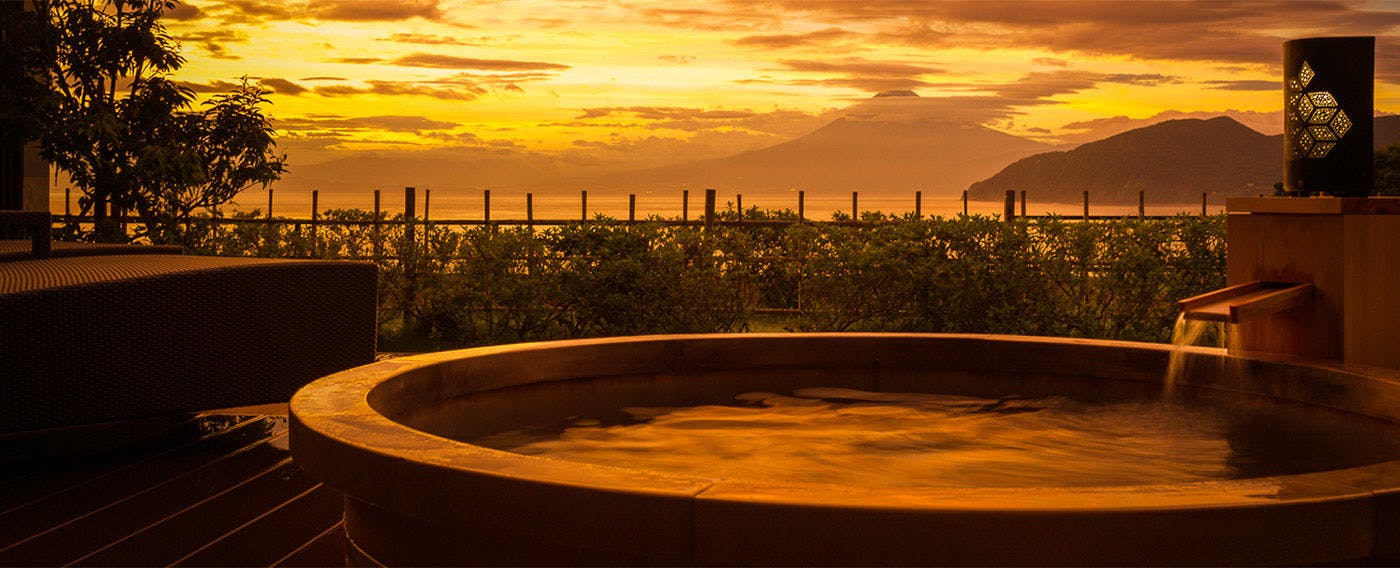 Private Open-Air Bath at Guestroom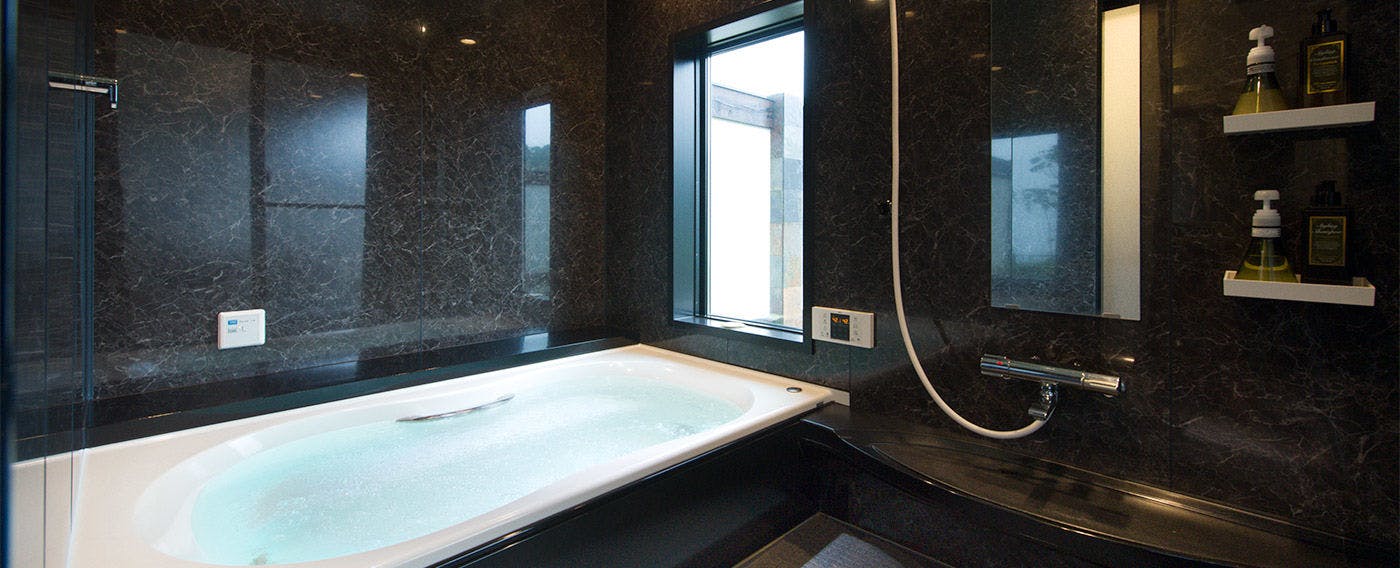 Bath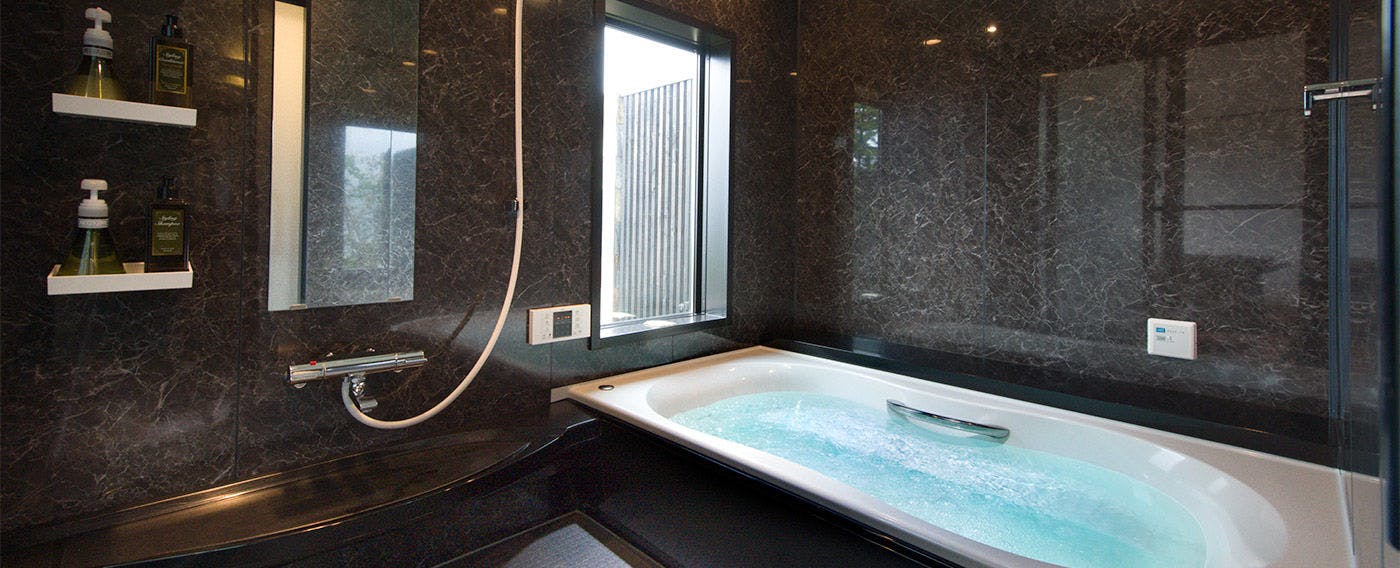 Bath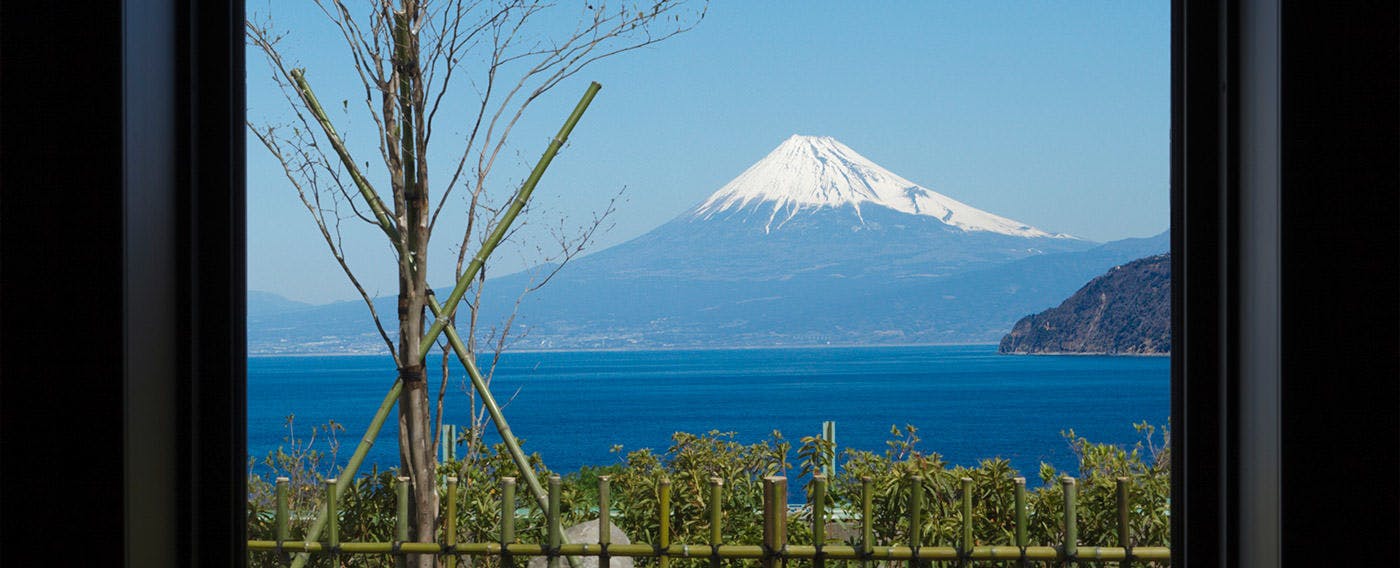 View from Indoor Bath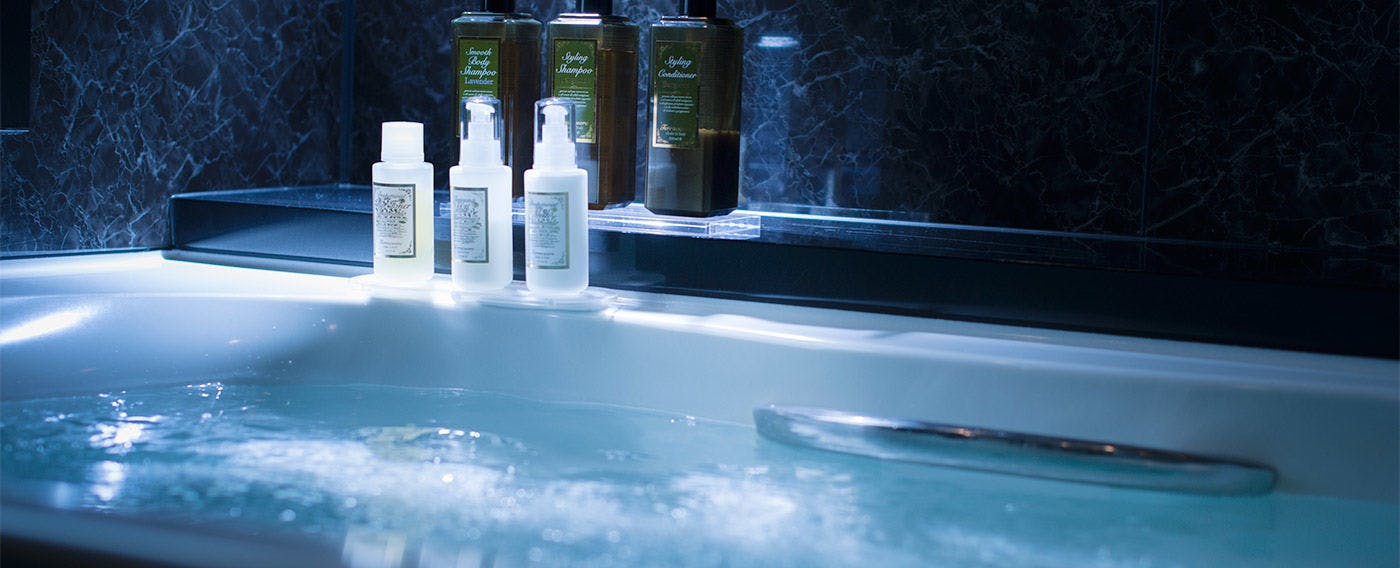 Bath
A private open-air bath with a view of Mt. Fuji and the shining blue of Suruga Gulf The guestroom has a private open-air bath so you can enjoy the hotspring time privately with a view of Mt. Fuji and the shining blue of Suruga Gulf.
Notice: there are no public bath.
Facilities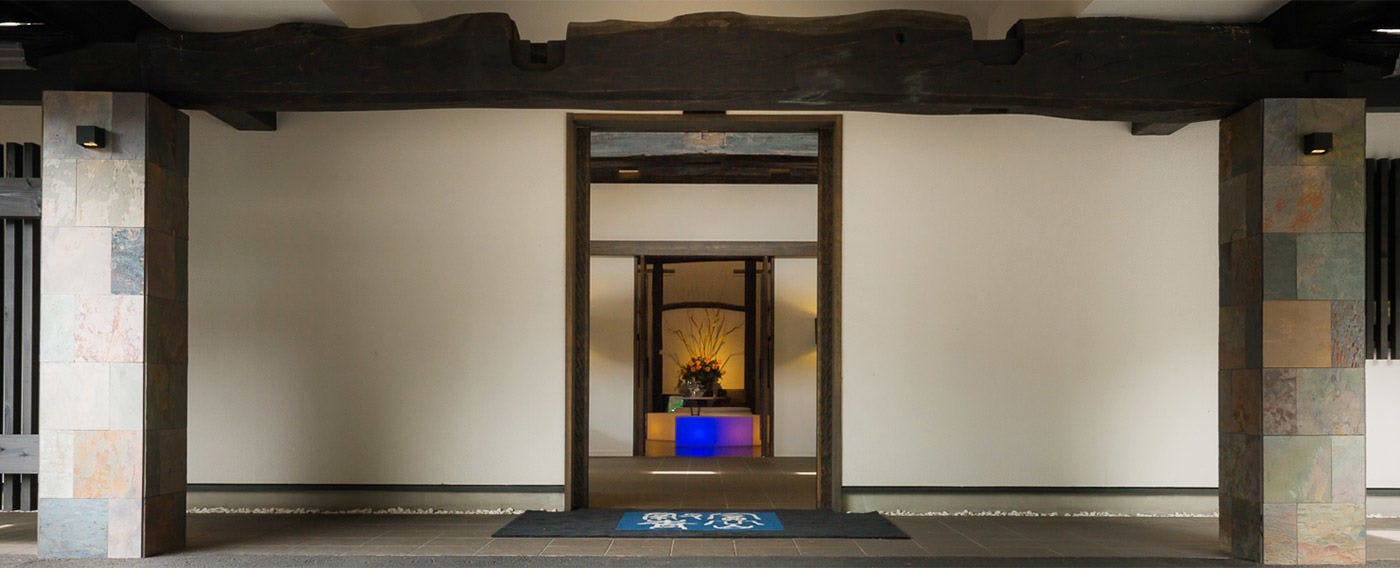 Entrance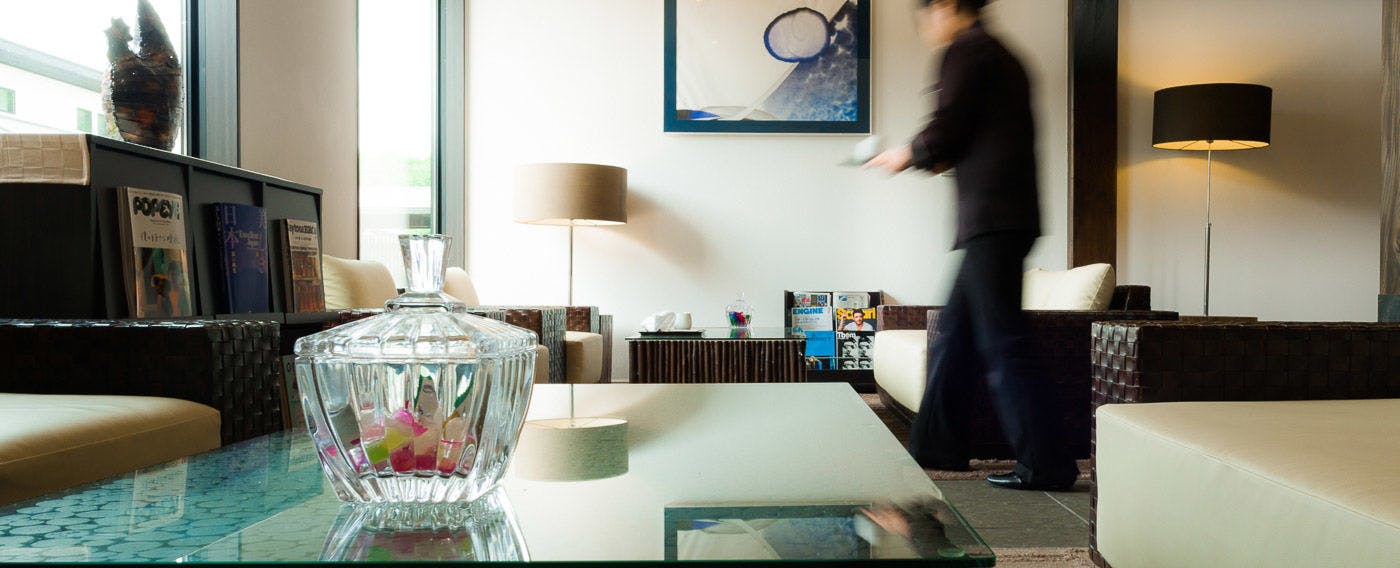 Lobby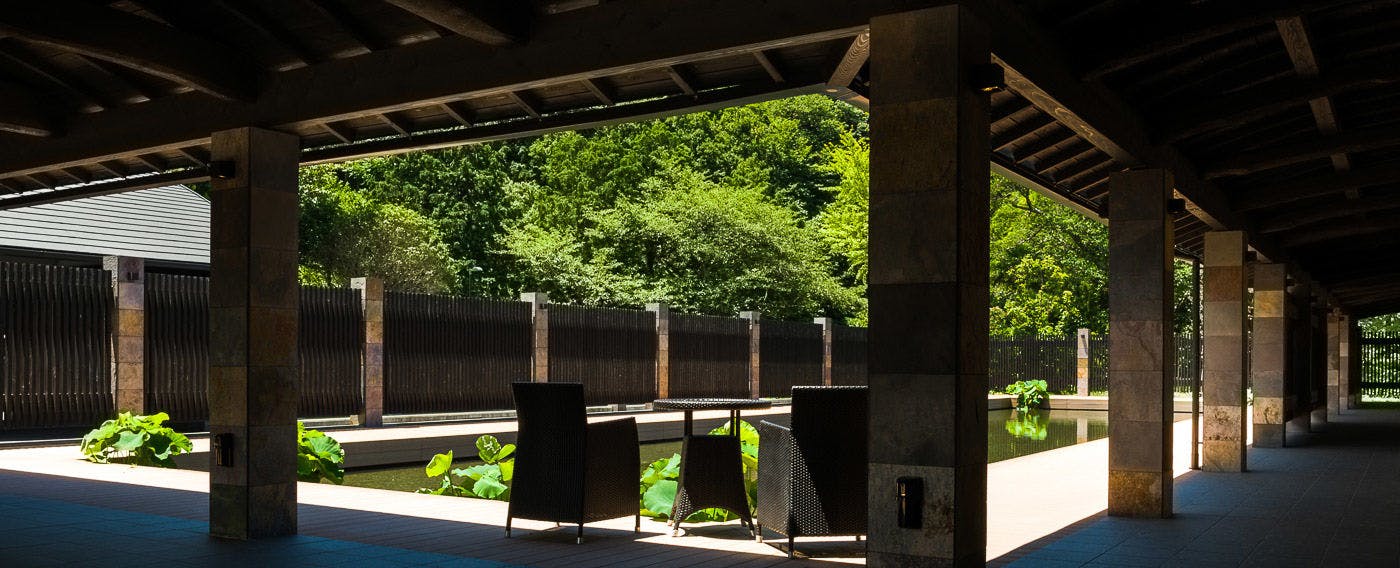 Water Garden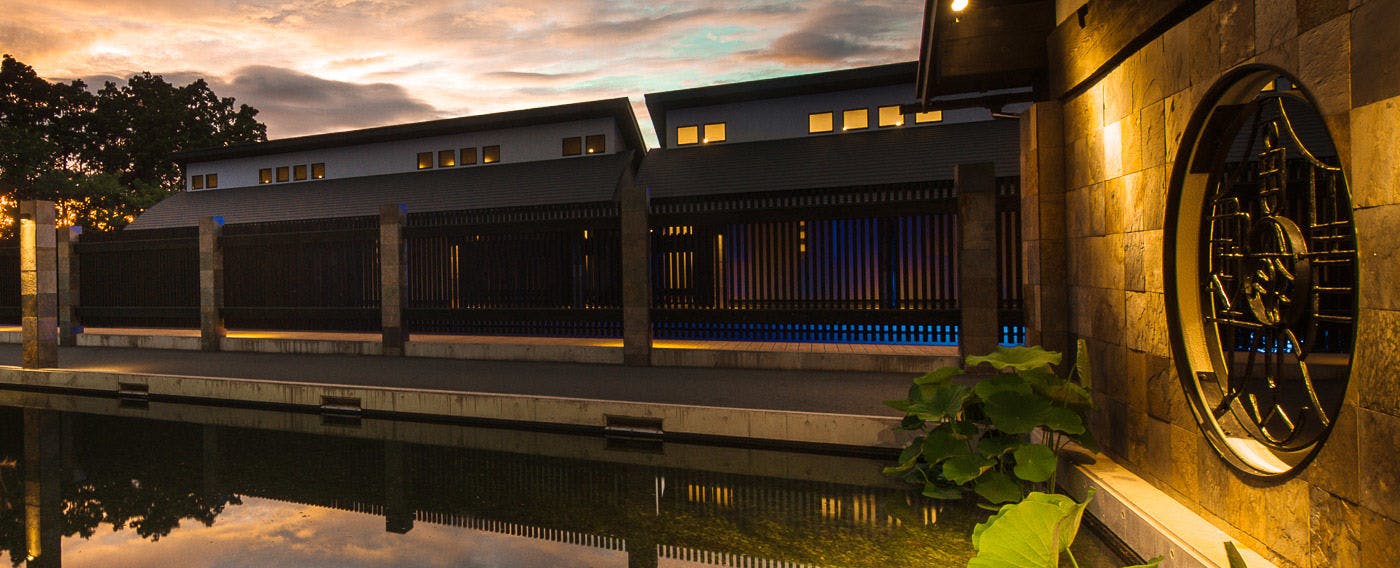 Water Garden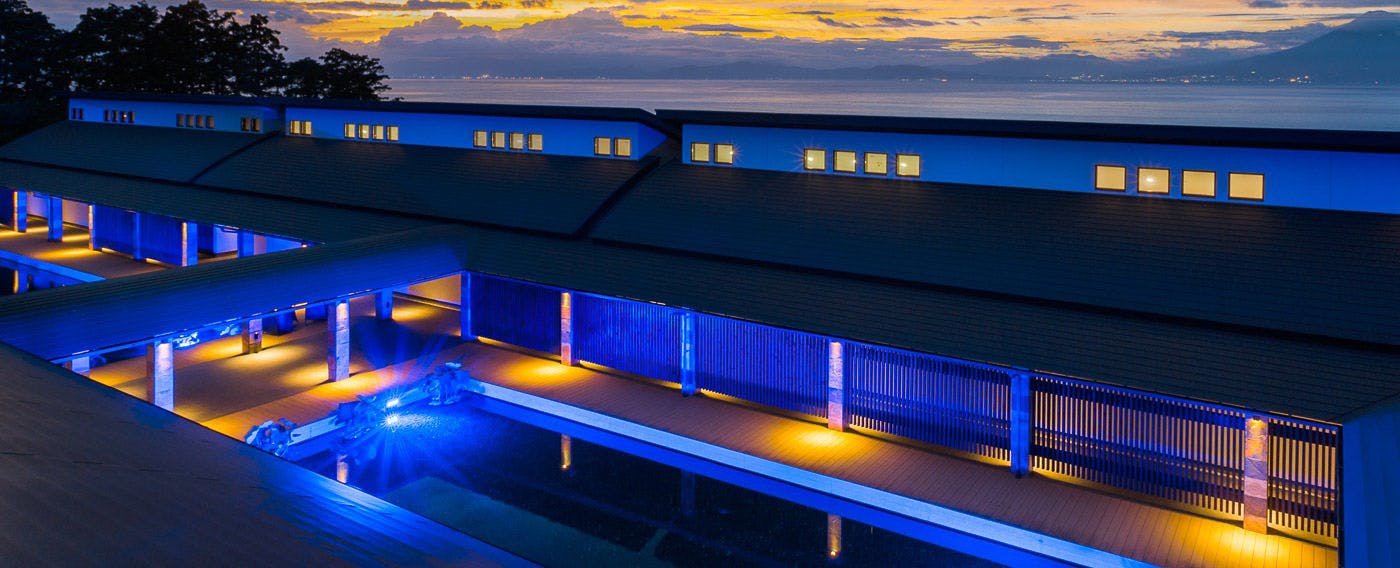 Lighting-up and Mt. Fuji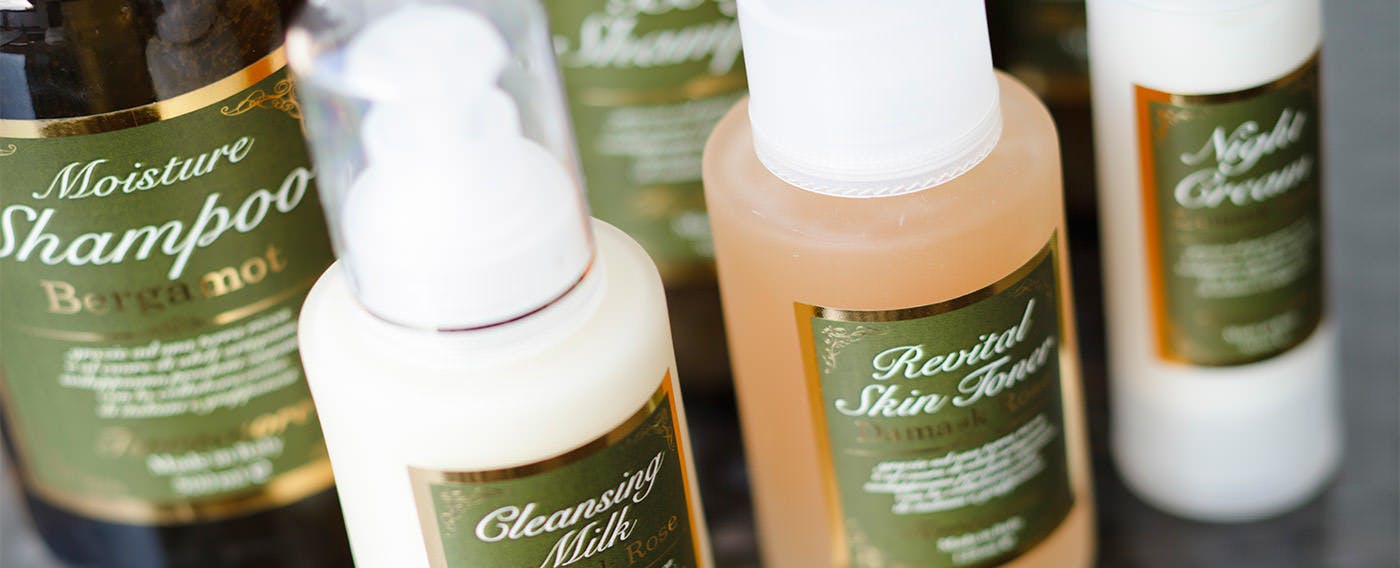 Spa Amenities
View spots of Mt.Fuji Wonderful views of Mt.Fuji can be enjoyed from the hotel as well as the nearby cape. "Koibito Misaki" (the Cape for Lovers) is said to be the lucky spot for matchmaking simply by ringing the love-call bell (the bell for lovers) three times. The captivating view of Mt.Fuji rising over Suruga Bay from this location is breathtaking. "Koganezaki" is a well-known spot to catch the sight of Mt.Fuji at a distance and the entire cape shines in gold during sunset.
Access
2461-1, Yagisawa, Izu-shi,Shizuoka,410-3303,JAPAN
BY TRAIN
From Narita International Airport (approx: 3hr.)
Approx.56min by Narita Express from Narita International Airport to Tokyo station, aprrox.44min by Shinkansen (bullet train) "Hikari" from Tokyo station to Mishima station, and aprrox.36min by Izu hakone train line from Mishima station to Shuzenji, then approx.50min by bus from Shuzenji to Toi
From Tokyo International Airport (Haneda) (approx:140min.)
Approx.20 min. by Keikyu Airport Line from Tokyo International Airport to Shinagawa station, approx.37min by Shinkansen (bullet train) "Hikari"to Mishima station, and aprrox.36min by Izu hakone train line from Mishima station to Shuzenji, then approx.50min by bus from Shuzenji to Toi

Reviews
The room was spacious, the towels were fluffy with good smell, the ocean view from the outside private bath was very nice in location (It would have been so much better if we could see MT.Fuji.), the serving of the meal, and the attentiveness were much better than last year. As the check out timing was late, I could fully enjoy the hot spring on the next day.
+ More
Oct 2015
It was my third stay here this time. The bath temperature is rather hot. There is no water faucet to adjust the temperature. The facility and the amenities in the shower room is just perfect. Maybe all this is usual for that price. I was not able to see Mt. Fuji. I had the feeling I have a better chance for view in the winter season.
+ More
Sep 2015
The general evaluation at the Ikyu website was very high, so I went to stay there, but frankly speaking it did not meet my expectations. As it was said before, there is nothing that separates the location from Suruga bay, so the great value of this hotel is that from here one can see Mt. Fuji. The weather was clear only on the last day, and I was able to look at the Mt. Fuji while taking a bath, so I think it was worth coming here. I demanded the meals for children on the day of our stay and I am grateful that the hotel accommodated this request. On the other hand, the food that was given to us contained the remnants of cooking film that was used while preparing the food, there were small insects in the juice, and this is considering the level of the hotel... So I felt some reticence and was disappointed.
+ More
Sep 2015
While the room has a good view, they didn't have a large public bath, library, lounge, or a bar, so I only made use of the room, and the meal lacks impact, the customer service was very great, but unless they study up on the ingredients instead of just memorizing it, their rank will drop among hotels that boost this sort of pricing. It's a pity, but I do not feel like visiting this place again. If there were BGM during the meal, maybe it wouldn't feel bad when the meal was served. It sounds harsh, but since the facilities are wonderful, I would visit again if their services matches up to it.
+ More
Sep 2015
It was my first time to stay. As the weather was not so good, Mt.Fuji was almost invisible, but other than that, I am truly satisfied. Thank you for the discount of the lodging fee. I would like to stay again.
+ More
Sep 2015
Food was delicious, room was cleaned well, and staffs were decent and pleasant. We had meals in compartment in relaxed mood, and my husband was pleased with his birthday cake surprise. There are many other hotels that is clean and serving delicious foods, but I can relax and take my ease without seeing other guests during meals and taking bath. It was disappointing that I could not see Mt Fuji this time. I would like to go see Mt Fuji someday.
+ More
Sep 2015
The inn surpassed my expectations. The room and food were both perfect. My husband was also satisfied. This visit was a one-day stay that I planned which also serve as my birthday celebration, and my husband questioned in surprise on where did I find out about such a wonderful inn. Thank you ikyu. I would love to visit with my husband again. It was a pity we couldn't see Mt. Fuji, and I would visit during winter next as I heard it is beautiful during the season.
+ More
Aug 2015
Regarding the view I was disappointed that I could not see Mt. Fuji, however other than that it was very satisfactory and made me relax from the core of my body, including the service. I would like to visit again.
+ More
Aug 2015
The room was also clean and I like the free flow of drinks. However, I was disappointed to hear the sounds and vibrations from the kids running around in the room next door. The food was exquisite and delicious. While it was stated in the description that a bar opens at the terrace at night, there wasn't any.
+ More
Aug 2015
The whole family could have a relaxed time together. The simple modern style room is comforting. There were a indoor wear, pajamas, a yukata ear, a big jewelry box which you can nicely store your watch and rings, and many of the amenities are selected from the female point of view. The brand of the amenities was one I usually like. There were a pudding and a mochi in the fridge and plenty of complimentary water and tea. It was nice that they also had an iPad. It is enjoyable. I was happy that they exchanged the used towels to the new ones while I was gone for a supper. Because I want to use the in-room open-air bath and the indoor jet bath over and over. I was very satisfied with the meal. All was good, and the presentation was beautiful. I failed to choose a drink. The glass wine that I chose was not my taste. I should have explained my taste and had them choose one for me. All the staff was polite. I think it would be nice if facial and body treatments are done at an another place rather than in a room, but it may be also thankful that the treatments are available in a room. I got this at a reasonable price from the limited time offer. I would be happy of the price was always like this. Unfortunately I could not see Mt. Fuji because of the cloud, so I would like to visit again if I had a chance.
+ More
Aug 2015
I stayed here last year and it was a great inn, I chose to stay here this year as well. The view is great, and the open-air bath at the room is relaxing and made me feel my body being purified. Though I can't stay that frequently, it is an inn make you want to stay at least once a year. I am glad I had a chance to have a nice time.
+ More
Jul 2015
Information
Check-in Time

From 3:00pm to 6:00pm

Check-out Time

Until 12:00pm

Tax / Service Charge

Bathing Tax JPY 150 per adult is NOT included in the rates.

Credit cards accepted at this property

VISA / MASTER / JCB / AMEX / DINERS
Children

All children are welcome.
3,150 yen will be charged for a child who sleeps alongside.

Pets

Pets are NOT allowed

Parking

Free of charge for guestsCapacity 10 vehiclesNo Valet Parking Service

Other policies & conditions

If you arrive late, please inform the ryokan beforehand; The ryokan may contact guests before arrival by phone or email; Bathing tax of 150 yen will be charged at the ryokan.