Keiryu-so Siorie Ryokan
Sawando hot springs at the entrance of Kamikochi, Eight private rooms only, a relaxed space.We recommend the rooms with private hot springs, you can enjoy the scenery of Shinshu from your room.If you are traveling to Norikura, Azumino, Hida-Takayama, Shirakawagou, this will be a great place to set as a base for your journeys.
- VAT is included, but bathing tax (around JPY 150 per adult) may NOT be included.
- Price in USD is based on the exchange rate as of today and might be different from that of the booking date.
Foods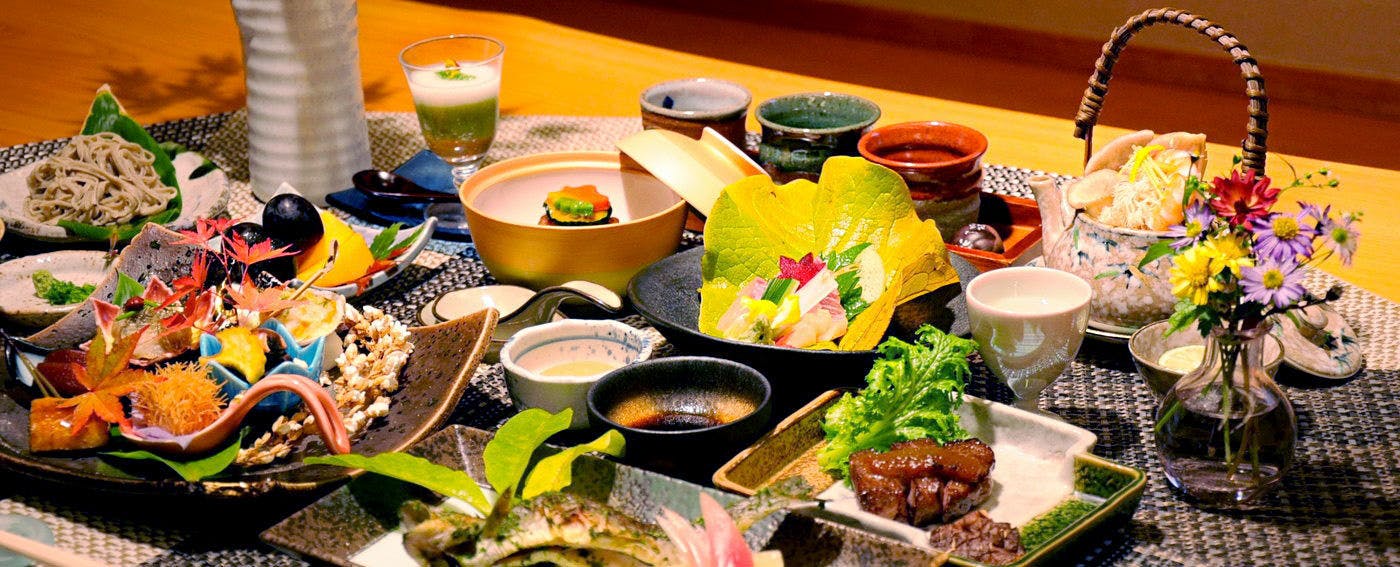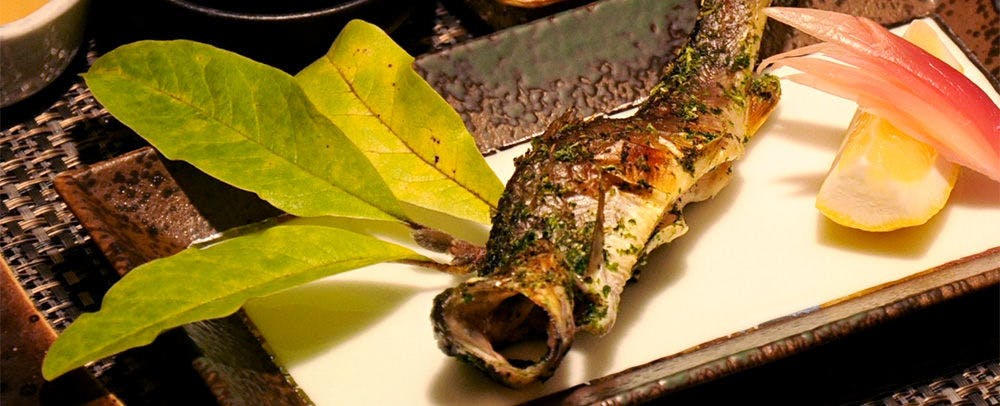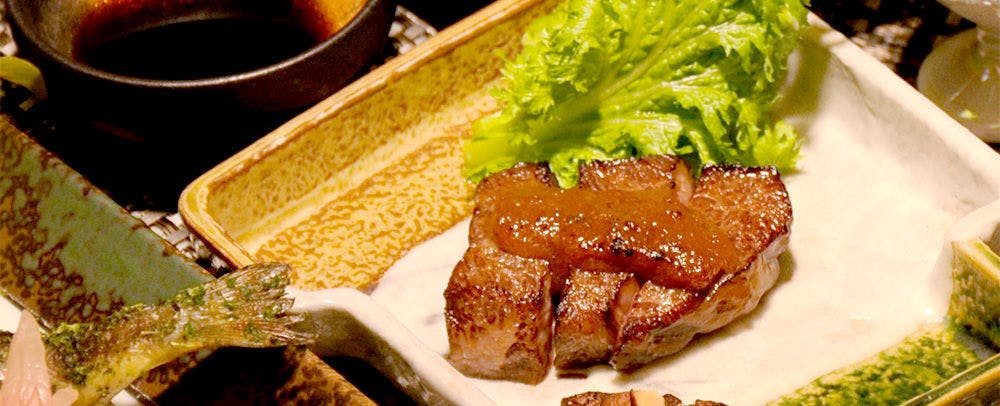 You may taste each of our dishes which is prepared with great care. A colorful appetizer to start, local specialties such as char and Shinshu Beef, Sashimi and Tempura of the season, all dishes are prepared using local materials for you to enjoy. We also have many local Sake. Please let us know if you have any food allergies upon reservation.
*The photo is an image of our menu. Please note that the contents will differ depending on the season.
Baths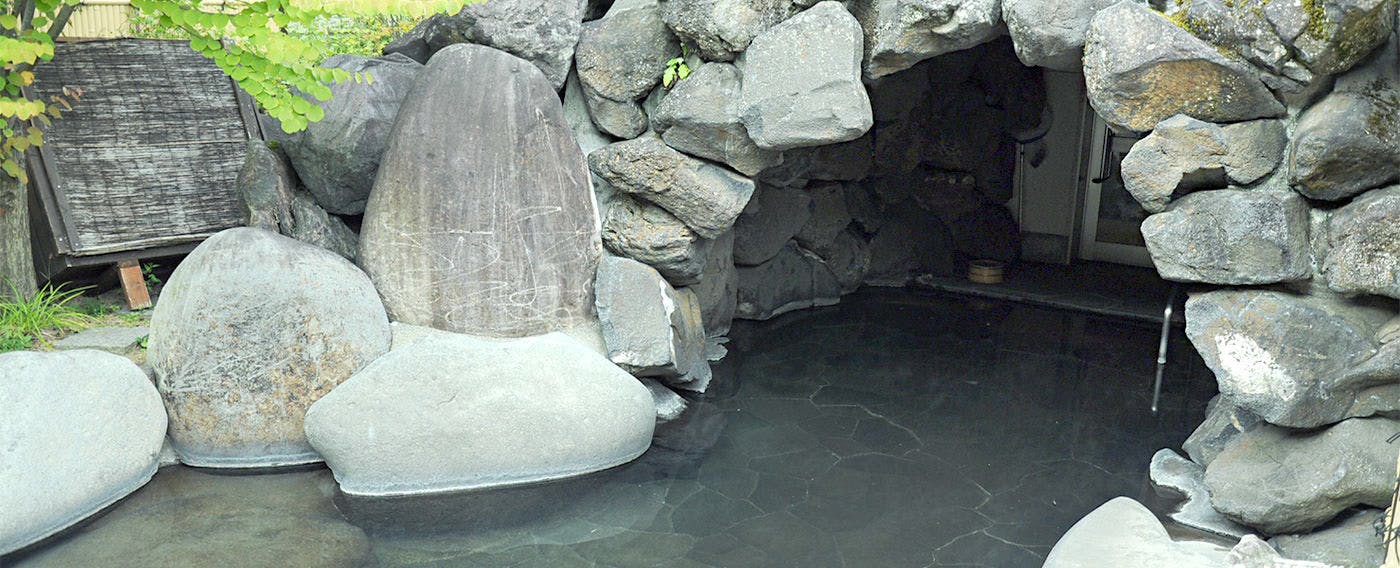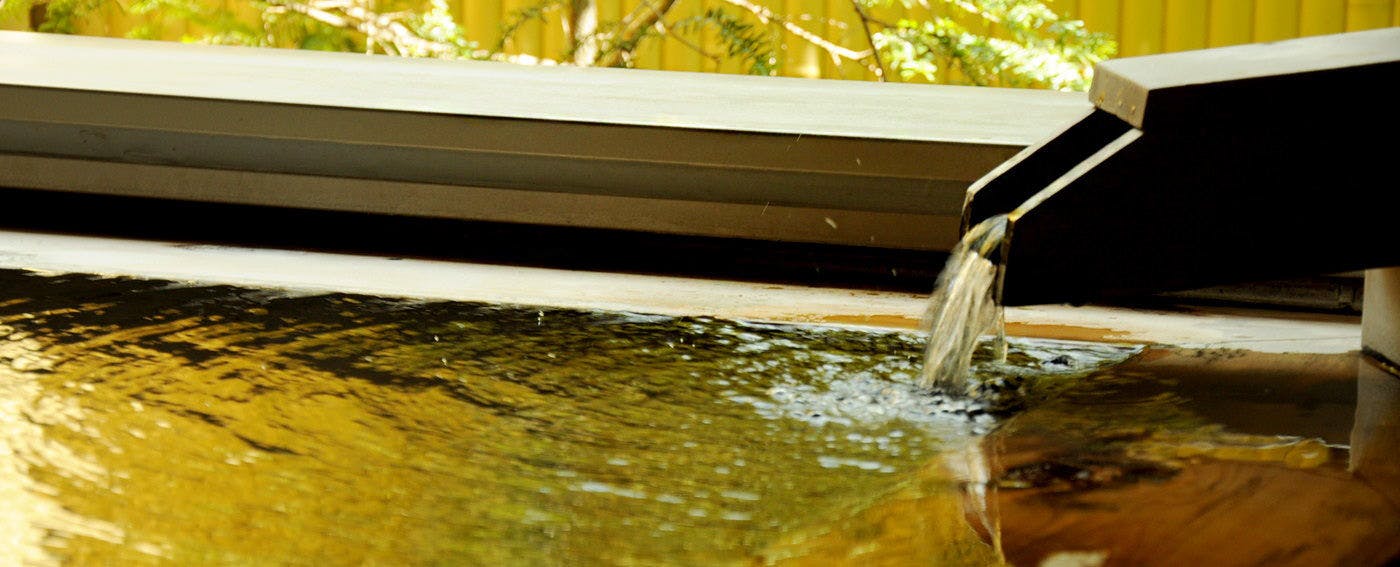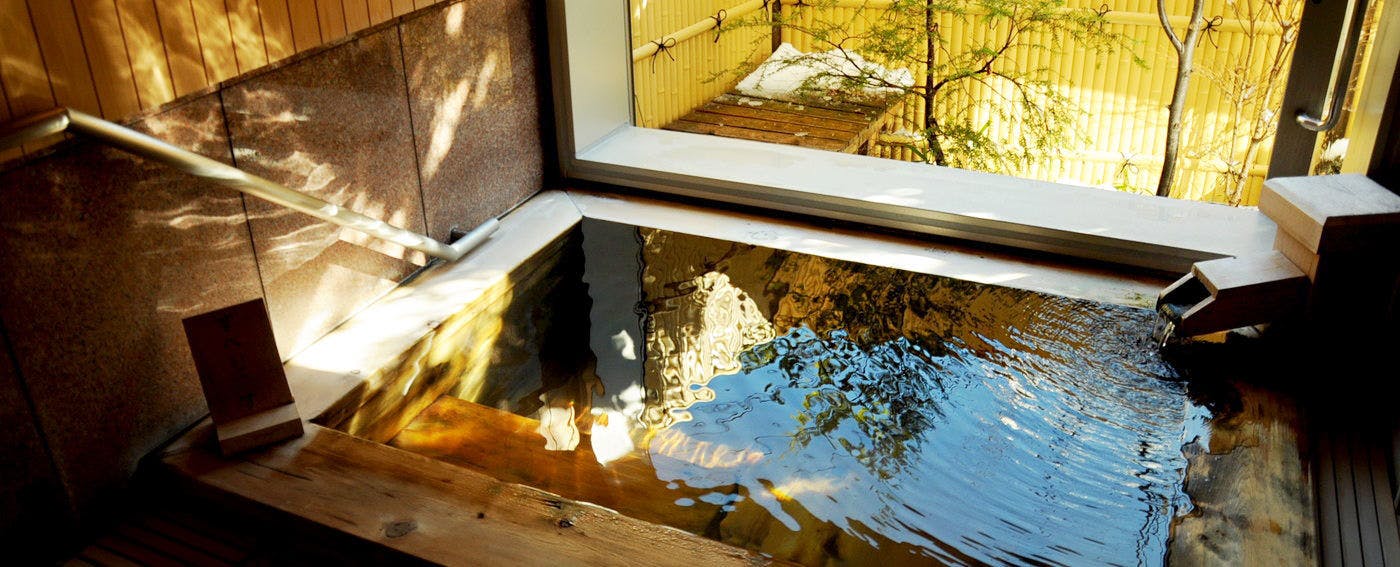 The refreshing wind blowing on the surface of the river, the hot spring with grace will heal you. Sawando hot spring is a relatively new hot spring which was born in 1998, it is a hot spring with ample water. It is color-less, and has a delicate fragrance, it has a gentle touch to the skin. Shiorie provides three different baths each of them with a unique concept.

Doukutsu Onsen Open-air hot spring ( cave bath )
Both men's and women's baths are same design, with the concept of a cave when you walk through the tunnel you will find a bath made from rocks, you will be able to enjoy the seasonal changes. it is equipped with floor heating so you will feel comfortable during the winter.

Chartered open air bath
Chonan Yutanoyu is a free open-air bath for chartering, the bath is made from Japanese-Cypress and you can notice the unique fragrance. There is tatami placed in the washing area to prevent slipping on the floor, and the warmth of tatami is a great touch to your bare feet. The changing room is also equipped with tatami, toilets and wash room
Access
4170-4, Azumi, Matsumoto-shi,Nagano,390-1520,JAPAN
■When traveling by car【From Kanto area】Take the Nagano expressway, turn off at Matsumoto IC on to R158 towards Kamikochi, roughly 32km and will take about 50 minute travel. 【From Kansai and Nagoya area】Take the Tokai-Hokuriku expressway, turn off at Hida-Kiyomi IC on to R158 towards Matsumoto, roughly 70km and will take about 2 and a half hours to travel. ■ When traveling by trainTake the JR Chuo line to Matsumoto, change to Matsumoto Dentetsu towards Takayama/Shin Hotaka hot springs, travel time 65 minutes, get off at Sawatari and it is a 5 minute walk from the station.
Reviews
We go for trips every month but Shiorie that we stayed on our trip this month left an impression. The moment we arrived at the car park, the great service began, the lobby was spotless and it felt great to walk on with bare feet. The open-air hot springs that we enjoyed several times was very relaxing, without meeting anyone. the food was delicious, using a lot of the local specialties, the serving speed of the dishes were great timing. One thing though, although the room stated 10 tatami, it felt a little small. My wife has requested for another trip to Shiorie.
+ More
2016/09/20
The inner bath and dinner, the small-scale atmosphere and the detailed warm service was very pleasant. Both the building and the rooms were clean. The professionalism that we felt was remarkable, with all the work behind the scene un-noticeable to the guests. the quality of the dinner course was great, using many local specialties, the serving amount was also satisfying. it will be great if we could choose between a western and a Japanese breakfast. something simple like toast, fruit and yoghurt is fine.
+ More
2016/09/13
A great night in a heart warming country side accommodation. The cleanliness of the place gave me the impression that they always have an eye out for their guests and their needs. The food was delicious, although the staff that brought us the food was different for every dish, they all had the confidence when explaining us the details of the menu. We loved the concept of the cave bath, it was very calming. we really had great memories here. Because we planned a trip to Kamikochi and Nishiho Sanso for a hike the following day, they were very flexible with our breakfast and preparation of a lunch pack. We appreciate it very much. they also kept our car while we went on our hike to Kamikochi, thank you very much for everything.
+ More
2016/08/01
We stayed at Shiorie the night before we traveled to Kamikochi. They told us that they would keep our car while we traveled to Kamikochi which was very handy for us. The food was delicious, the private rooms for the meals were very pleasant. Both the cave bath and the chartered open-air bath were great. I understand that this inn has a concept of Tatami and Japanese rooms, but since many places have both western rooms and Japanese rooms these days, it will be great if there was a western room suite. maybe some of the rooms on the ground floor for an example. also it will be great to have a washing space in the private bath. I look forward to future developments.
+ More
2016/07/18
The facility was clean, because we stayed on a week day, there was only 2 groups and we could have the baths to ourselves, which was very relaxing. The food was great, the serving size was quite big so we were stuffed. We left something behind but they were very kind and brought it to the bus stop. the best thing was, I sometimes have sleeping issues when I spend nights out but the rooms and beddings were comforting and I was able to have a good nights sleep.
+ More
2016/06/01
Information
Check-in Time

From 3:00pm to 6:00pm

Check-out Time

Until 11:00am

Tax / Service Charge

Bathing Tax JPY 150 per adult is NOT included in the rates.

Credit cards accepted at this property

VISA / MASTER / JCB / AMEX / DINERS / UNION PAY
Children

A baby (before one year old) are free of charge.

Kids Meal:
For children the age between 6-12, 6 to 7 dishes
For children the age between 1-5, 3 to 4 dishes

Amenity:
For children the age between 1-12, Big and small towels, Japanese clothes (Yukata & Samue) and Teeth brush

Pets

Pets are NOT allowed.

Parking

Free of charge for guests; Capacity 10 vehicles; Valet Parking Service; You could park your vehicle before or after check out

Other policies & conditions

*Please inform us if you have any food allergies or if you are pregnant.*The daily meals are a fixed menu, we can suit you needs towards any allergies but we will not be able to prepare a substitute.*We will not be able to prepare a substitute menu in the case you are staying more than two nights, because the menu is a fixed menu.*During the winter season please be sure to equip your car with snow tires and other weather suited equipment.*Infants of 0-11 months old may stay free of charge, please let us know if you have infants traveling with you.