We are sorry but we don't have any rooms available now.

Please select another Ryokan.
- VAT is included, but bathing tax (around JPY 150 per adult) may NOT be included.
- Price in USD is based on the exchange rate as of today and might be different from that of the booking date.
Foods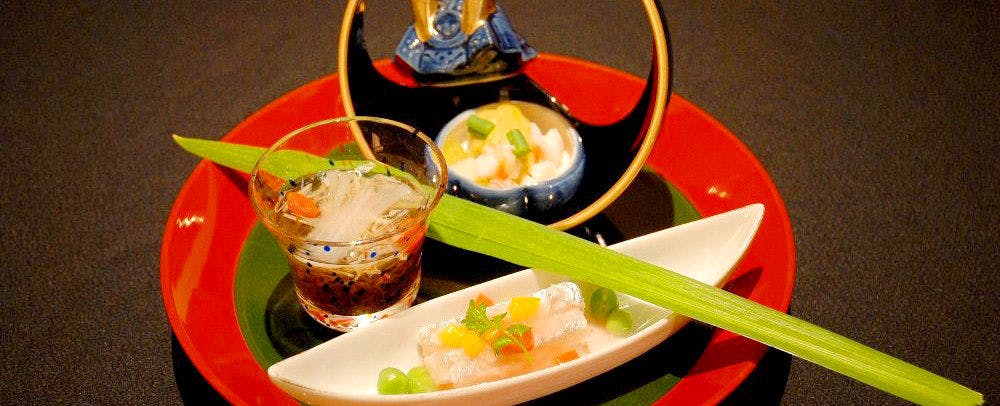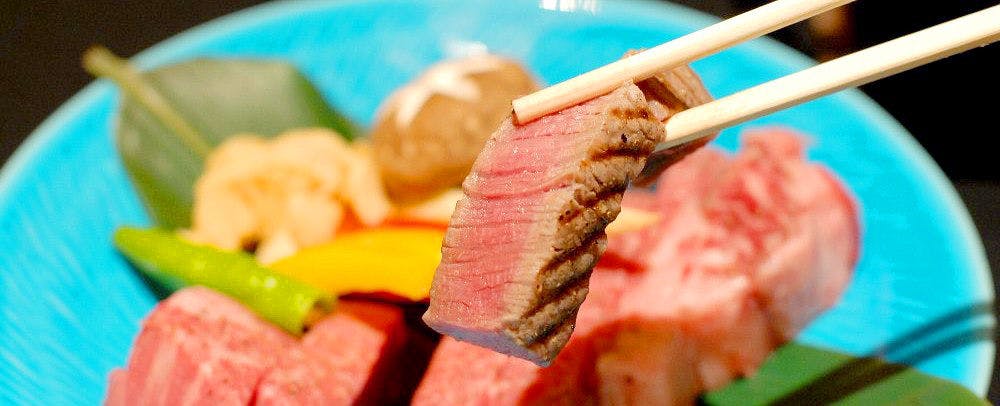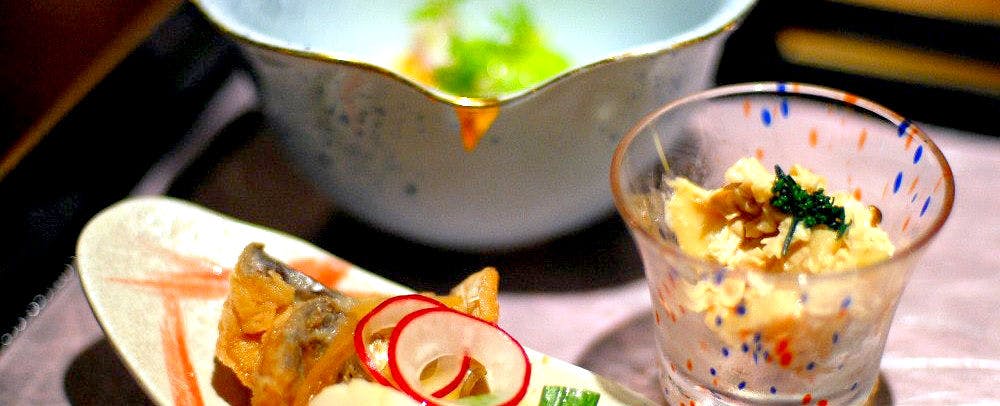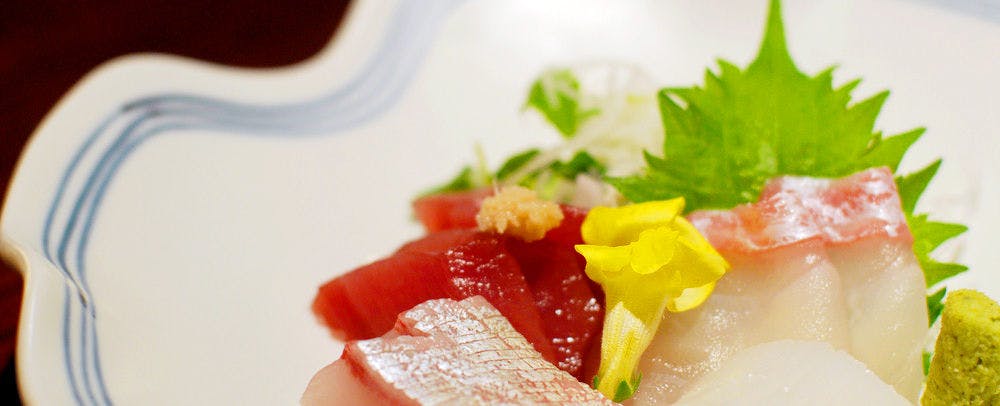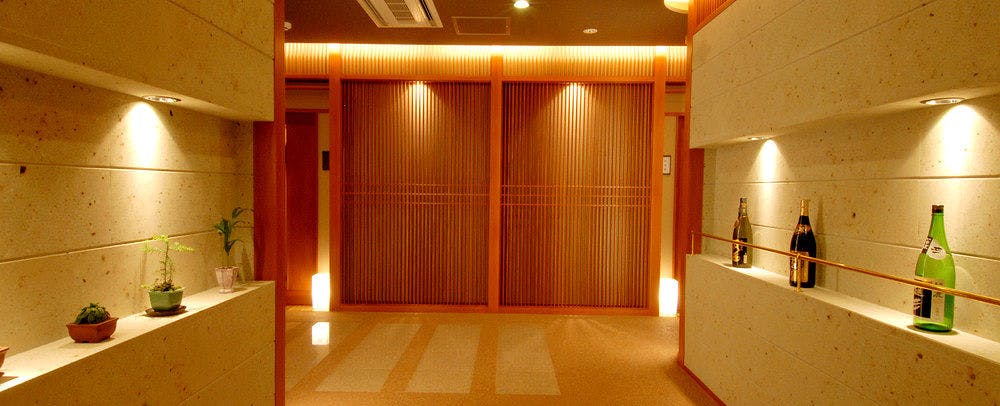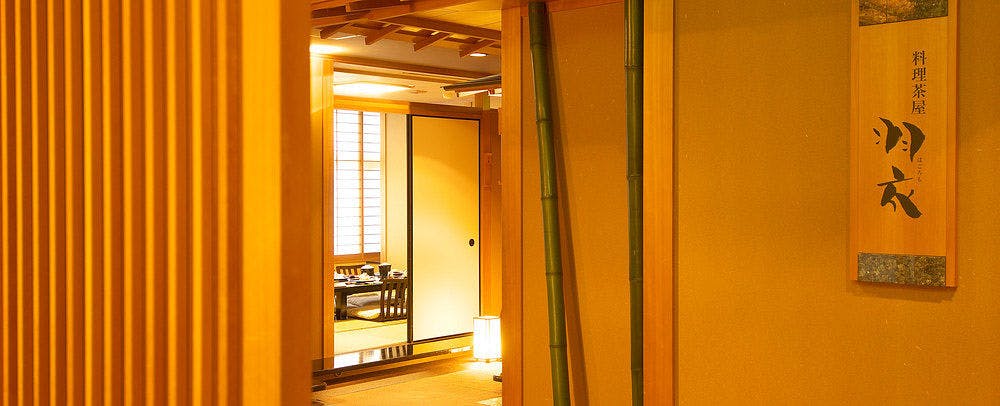 Sincere, Wholeheartedly Prepared Cuisine Arima Hot Spring abounds with local color, fruits of the sea, and foods from the mountains. At Taketoritei Maruyama those are used as the core of our monthly changing seasonal cuisine prepared at our exclusive dining area. Making the absolute most of seasonal ingredients, there are pleasures to be had for the eye and the palate.

At Taketoritei Maruyama we work earnestly to prepare our meals and serve dinner and breakfast in the dining area, so that hot items can be enjoyed while still hot. Table seating, sunken kotatsu seating in "Hōrai Dining." Leisurely ryotei-style dining in the "Hagororo" tatami room. Dine in a space of an illuminated bamboo grove and drifting jazz, "Chikurin Dining." (Dining location differs according to booking plan.)
Baths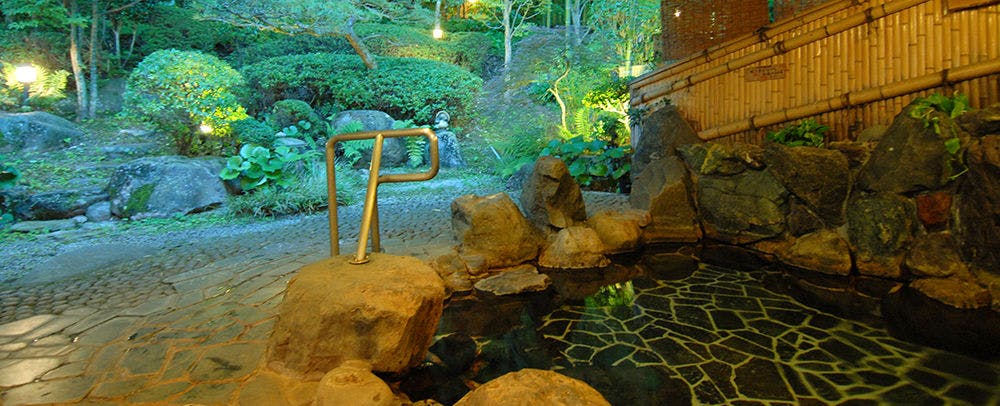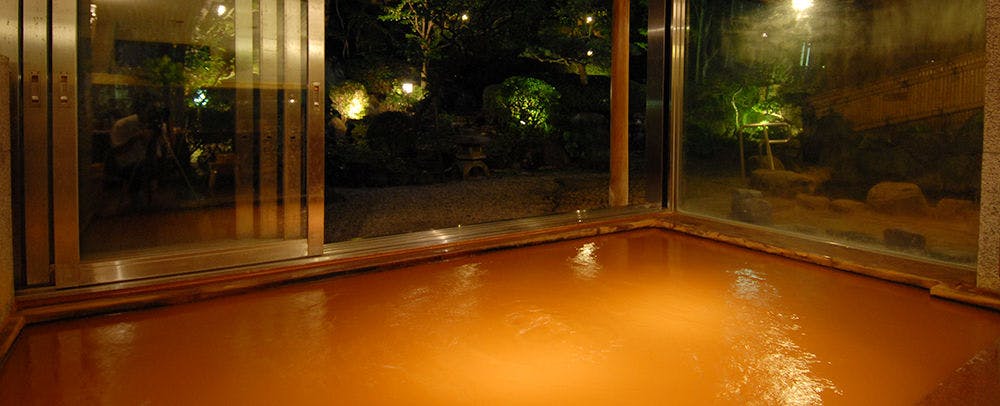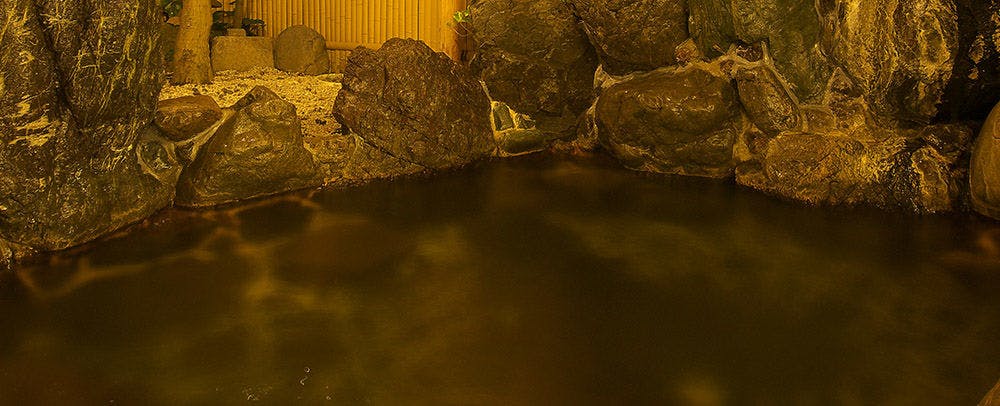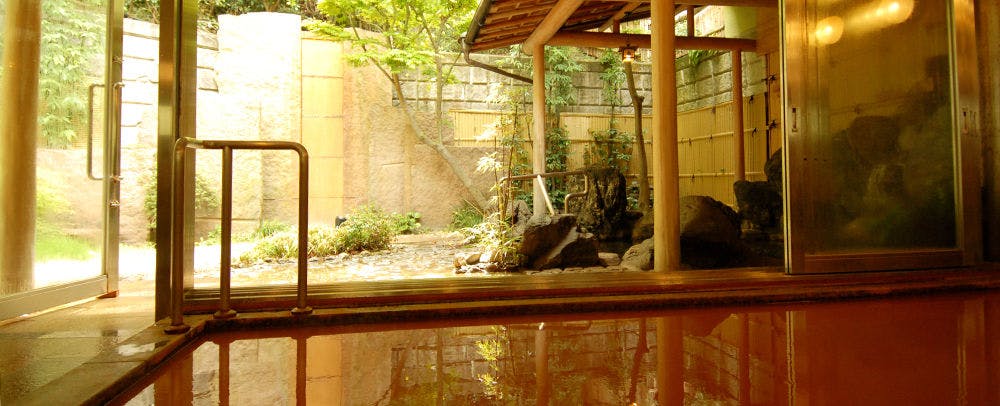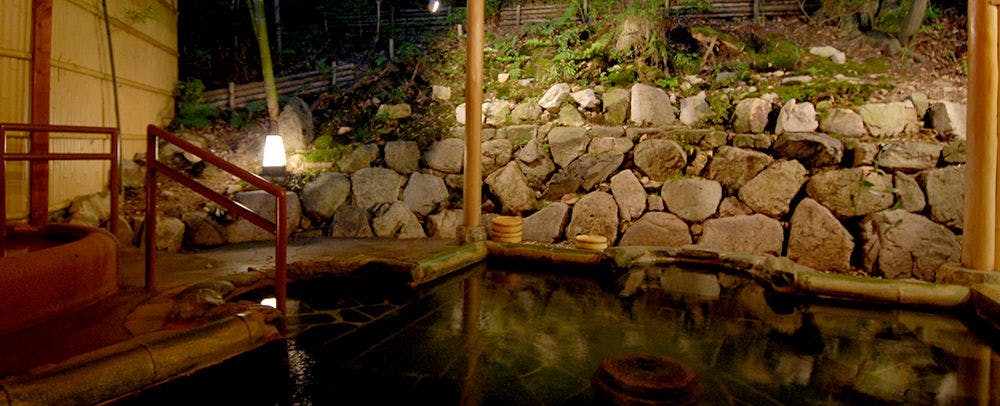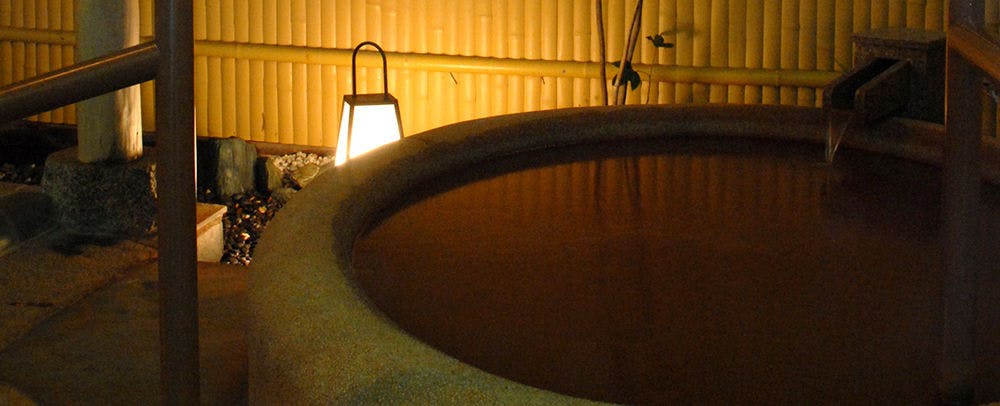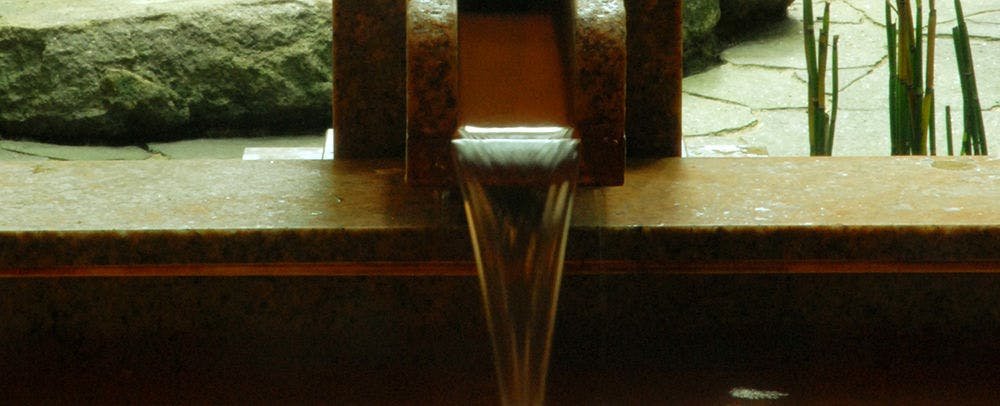 Forget about the day to day, enwrapped in the spirit of touring the hot spring Extremely dear also to the regent Hideyoshi, the Arima Hot Spring is counted as one of Japan's Three Celebrated Springs and Japan's Three Ancient Springs. Here at Arima Hot Spring there are two varieties of spring: the ferrous, highly salty sodium chloride hot spring called "Kinsen (Golden Spring)," and the radium spring called "Ginsen (Silver Spring)." One can enjoy two different types of hot spring at Arima Hot Spring. Within Taketoritei Maruyama's large common bathing facility there are tubs making use of both variety of hot spring, kinsen and ginsen. One can enjoy the large bath in addition to four privately-rentable baths. At Taketoritei Maruyama, experience the sensations of Arima hot spring, touring Japan's celebrated spring.


Privately-Rentable Family Bath 【Hō'onshatoku】
Even within Arima Hot Spring, the Taketoritei Maruyama ryokan inn is located on slightly elevated ground with the mountain at its back. In a separate location from the large common bath, there is a rotemburo open-air bath that directly faces the mountain and this is a our family bath. All of the baths differ in aspect, and one can experience nature with the whole of one's body.
Facilities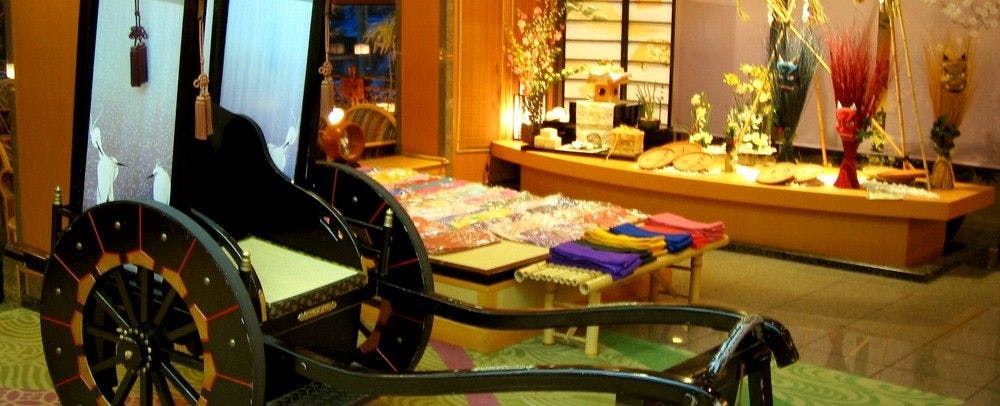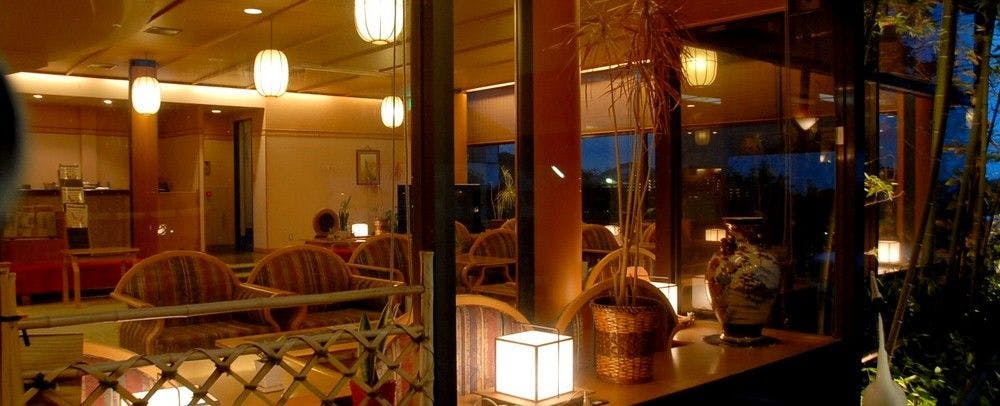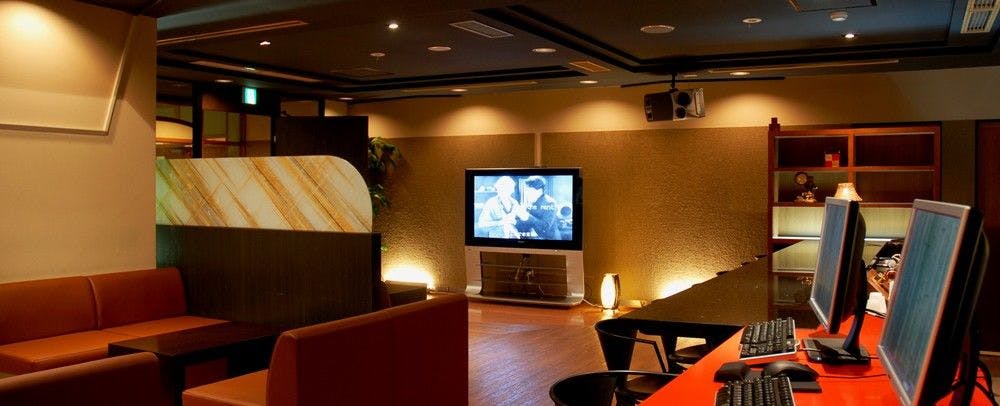 Welcome to the Inn of Princess Kaguya At the entryway to the inn, towering high bamboo rises to greet guests. Ascending the stairs and passing through the gate, the world of Taketori Monogatari (The Tale of the Bamboo Cutter) stretches out there before you.
Access
1364-1 Arima-cho, Kita-ku, Kobe-city,Hyogo,651-1401,JAPAN
15min walk from Arima-onsen Station

1hr by bus from JR Osaka Station or Hankyu Umeda Station to Arima-onsen Station and 15min walk

30min by train or bus to Arima-onsen Station and 15min walk


Courtesy Bus Service is Available (Free of Charge)
Reservations are not required for the courtesy bus. On the actual date, please call at the time of arrival from the Arima Hot Spring Train Station Bus Stop.
Reviews
I am totally satisfied. The room's open-air bath felt great and I got in more than a few times. Best of all was the customer service. Not even the person in charge of our room, but the person who showed us from our room to dinner and who brought us food one time, the next day when they saw our faces said to person responsible for us "They're the ones staying in Room No. XX..." I was impressed and thought these guys are pros. Beyond that, there were tons of towels made ready, everything was explained to us courteously, and we were truly able to spend a nice time. Thank you so very much. If there should be another chance, I would like to visit again, so thank you in advance for that time as well.
+ More
2016/10/20
The reception at check-in, the support when guided to the room, and the considerate interactions at check-out beyond asking our plans from then onwards, it was all wonderful. It was my second stay, but the attentiveness had not changed from before, and the nice scent as soon as I walked in the entrance made me glad I had come again. I had been thinking I would like to make this inn my regular place to stay, but I got the feeling that the price of accommodation had gone up a little bit since the last time I stayed, and I was just a bit disappointed that I was not remembered although it was my second time. The price is expensive, but I think it's a good inn.
+ More
2016/09/20
First off, the area functioned as a summer resort. I came by way of Osaka, and the weather felt cool and it made for a pleasant time Then of course the hot spring was great. The two types of hot spring service allotted for different purposes were great. Moreover, the food was delicious. Both dinner and breakfast let you get a feeling for the chef's fastidiousness and creativity, and I really enjoyed myself. If I get another chance, I want to go again.
+ More
2016/08/20
I was surprised that it had been renovated. Even from before it had been a nice inn, but the rooms, food, and baths were improved and it was wonderful. I also felt comfortable relaxing in the layout. I enjoyed the in-room bath as well. I certainly would like to go again.
+ More
2016/08/20
My mother and I visited as a pair. Reading the reviews I'd been thinking not to get my hopes up too high, but it went against my expectations in a good way. The room was clean and left no room for complaint, but the best things were the meals and the baths. I got into the privately-rentable bath, and the water temperature was just right. In this season I was able to soak for a long time and I didn't feel dizzy at all. The quality of the water was great, and my skin felt silky smooth. Since the meals were so elaborately planned, my mom was also deeply impressed. However, since my elderly mother was able to eat everything that was served, I don't know if it's not enough for male guests. (Of course, there's always the chance that it was just so delicious she had to clear her plate) As far as customer service goes, we received very thorough explanations about verying upon arrival and with regard to meals, so there was nothing that really gave us pause. My mom really very pleasesed, and so I think we'll be stopping by again.
+ More
2016/04/20
I visited with my daughter who is a university student. I was really worried and phoned since we ended up arriving a little late, but once we made it there the feeling we got from the staff was great. The room was lovely, and in addition the food was wonderful. We were more than satisfied. Thank you very much.
+ More
2016/04/20
Information
Check-in Time

From 3:00pm to 7:30pm

Check-out Time

Until 11:00am

Tax / Service Charge

Bathing Tax JPY 150 per adult is NOT included in the rates.

Credit cards accepted at this property

VISA / MASTER / JCB / AMEX / DINERS / UNION PAY / DEBIT CARD
Children

Children between the age of zero to two are free of charge if they share a bed with you.
Please inform us the number of children as special requests at the time of making your reservation.

Pets

Pets are NOT allowed.

Parking

Free of charge for guests; Available for 24hours; Capacity 20 vehicles; No Valet Parking Service

Other policies & conditions

Children of 0 to 1 year old are free of charge when they share a bed with parents and have no meal. Please note in the comment about guests' children with their age.