- VAT is included, but bathing tax (around JPY 150 per adult) may NOT be included.
- Price in USD is based on the exchange rate as of today and might be different from that of the booking date.
Foods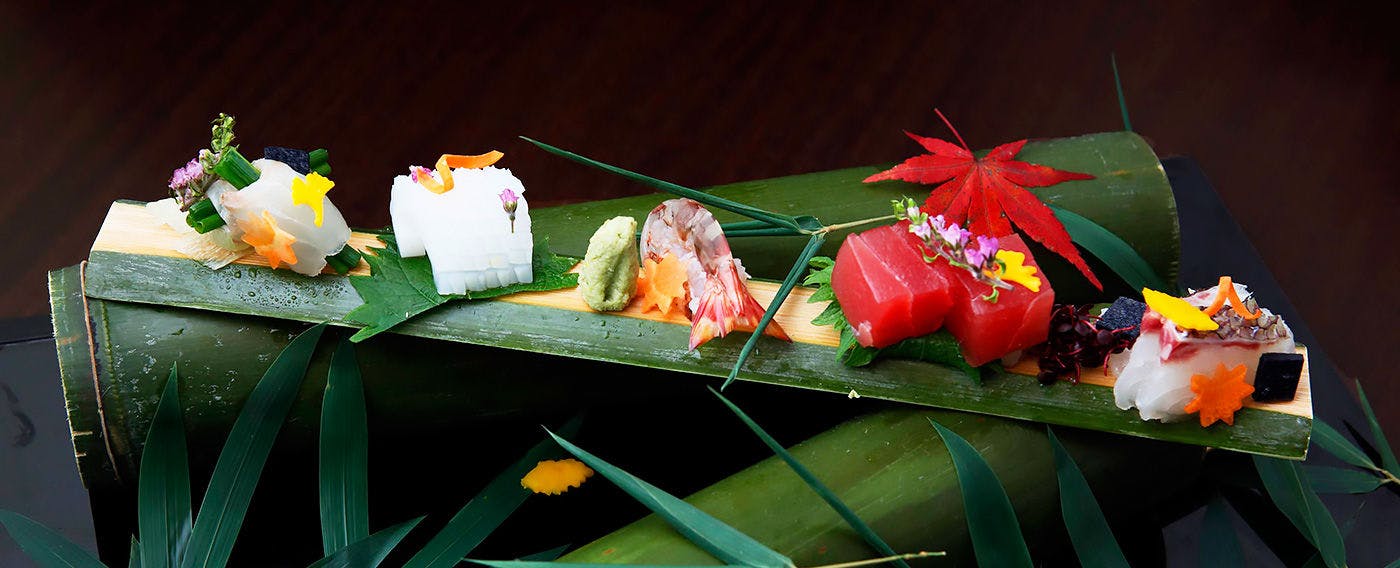 Kaiseki Chaya, Suion We renovated our building in Edo era. Columns and beams are left, restore the thatched roof. We built a decked terrace with a view of the river in order to take advantage of the environment alongside the river.
The beautiful Kaiseki cuisine which represents the season on the table expresses the moment of the season.
Baths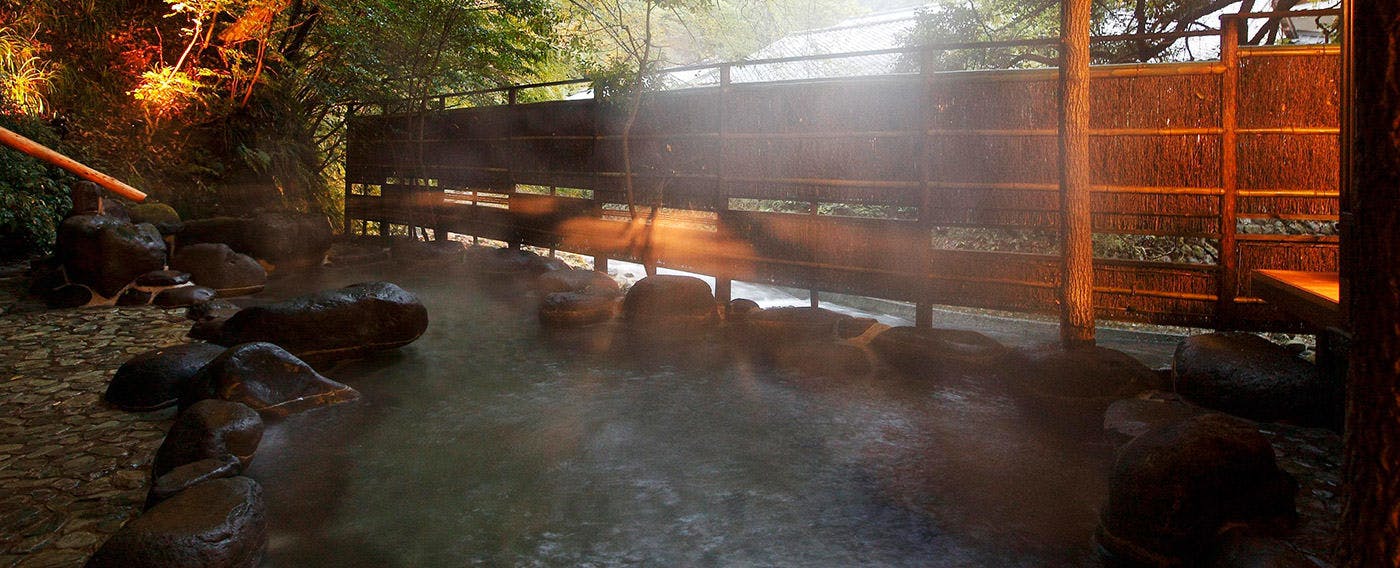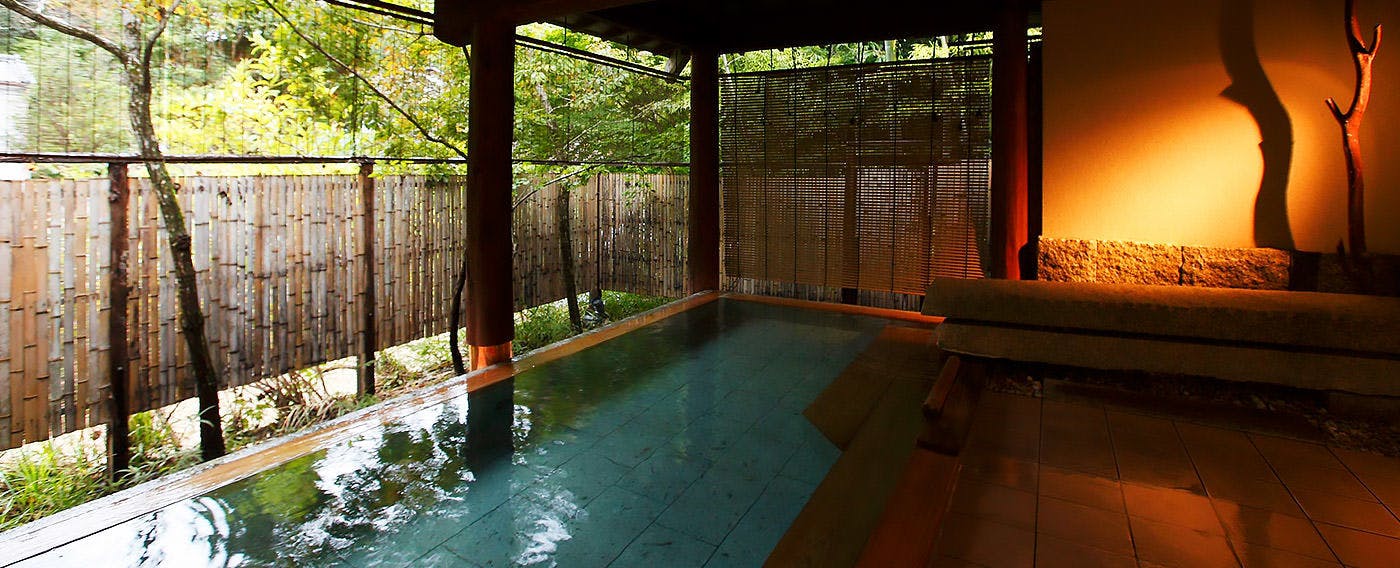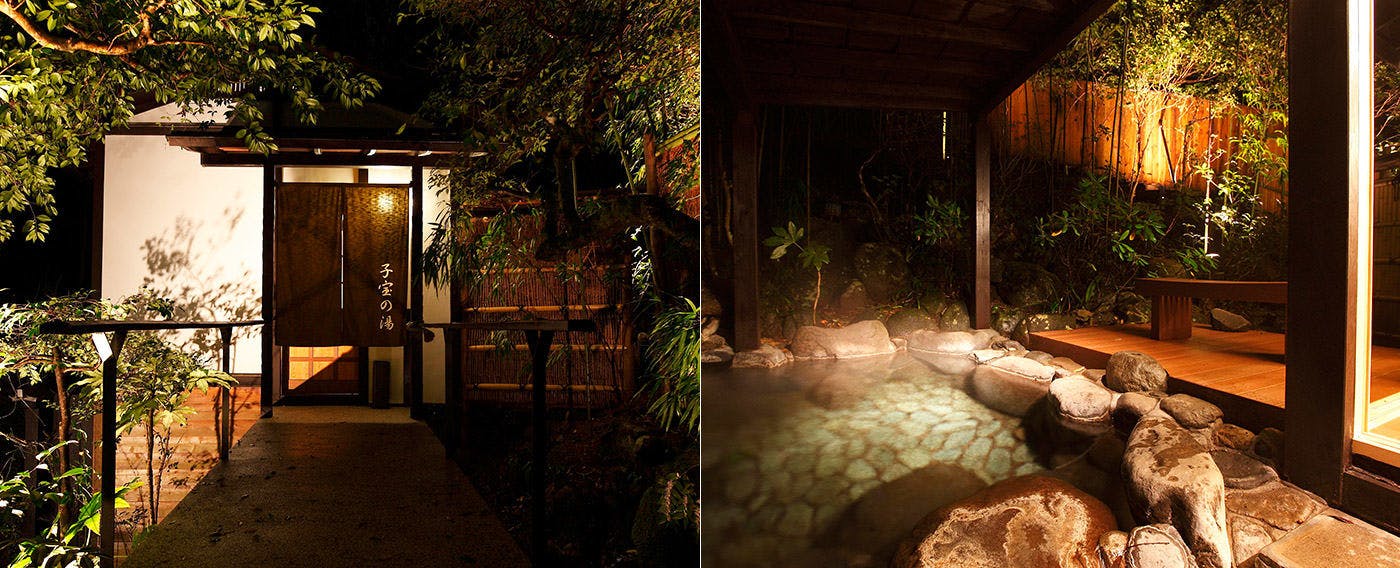 Soak your body and mind to our hot springs surrounded by forests. You could enjoy walking by six different types of hot springs alongside the river, such as open-air spa, private spa, indoor spa for each sex.
You would be satisfied with Yoshina hot spring which The Saint Gyoki discovered.
In addition, Hot spring comes to bathrooms in each guest room.
Facilities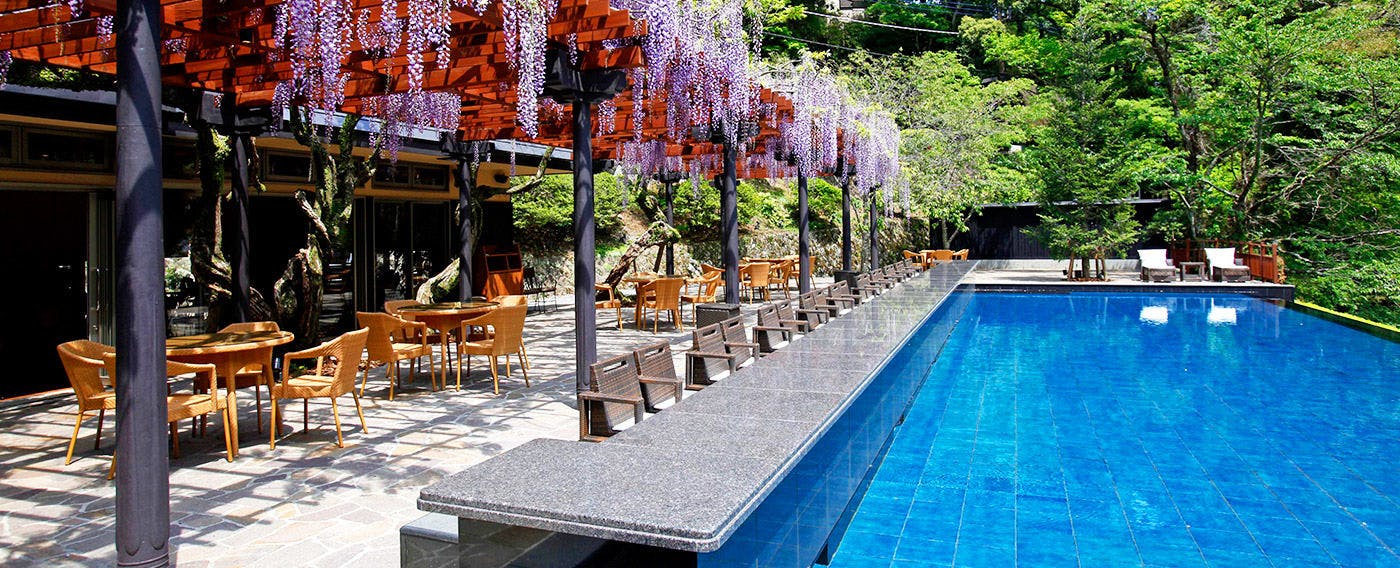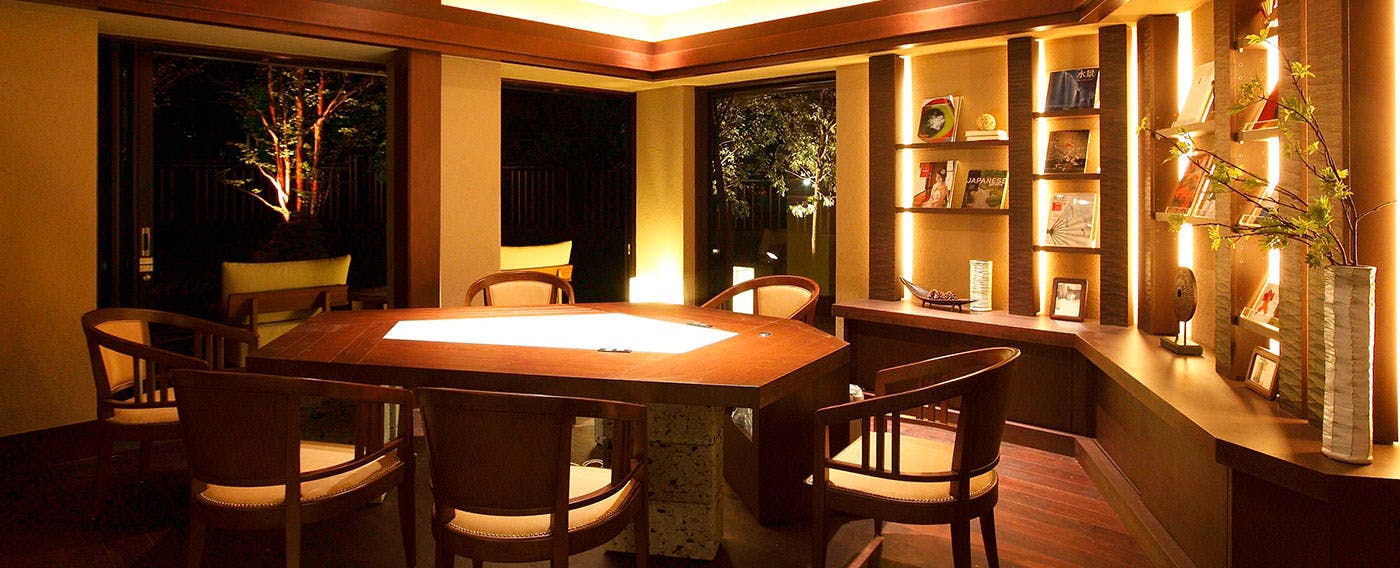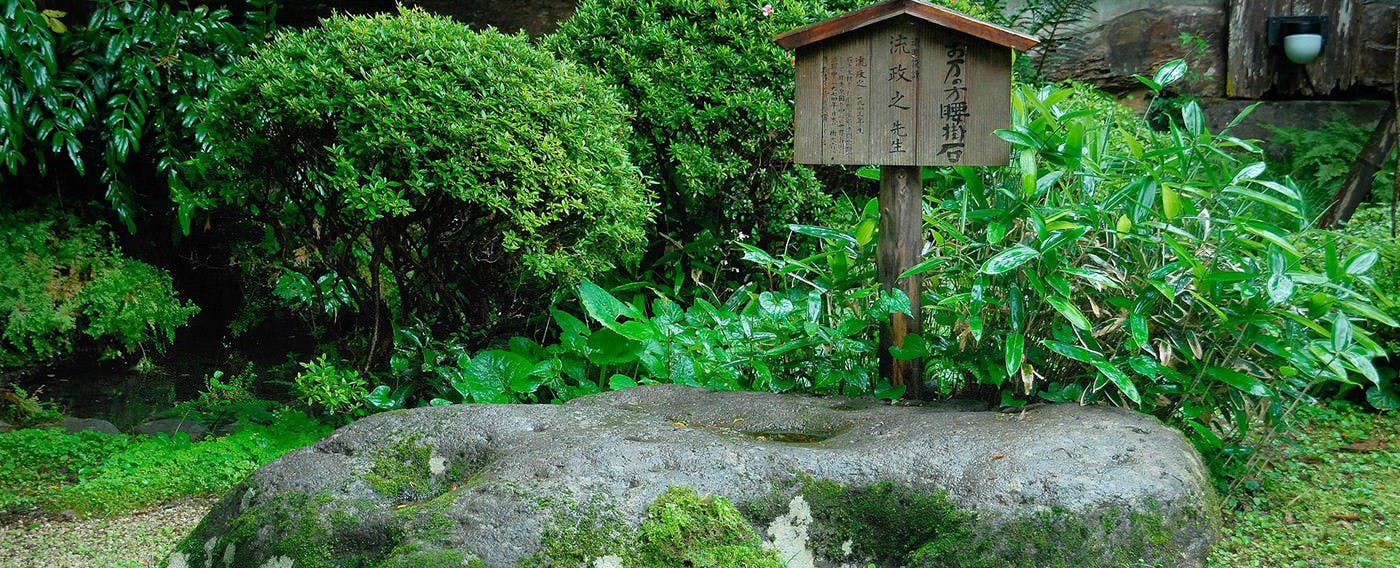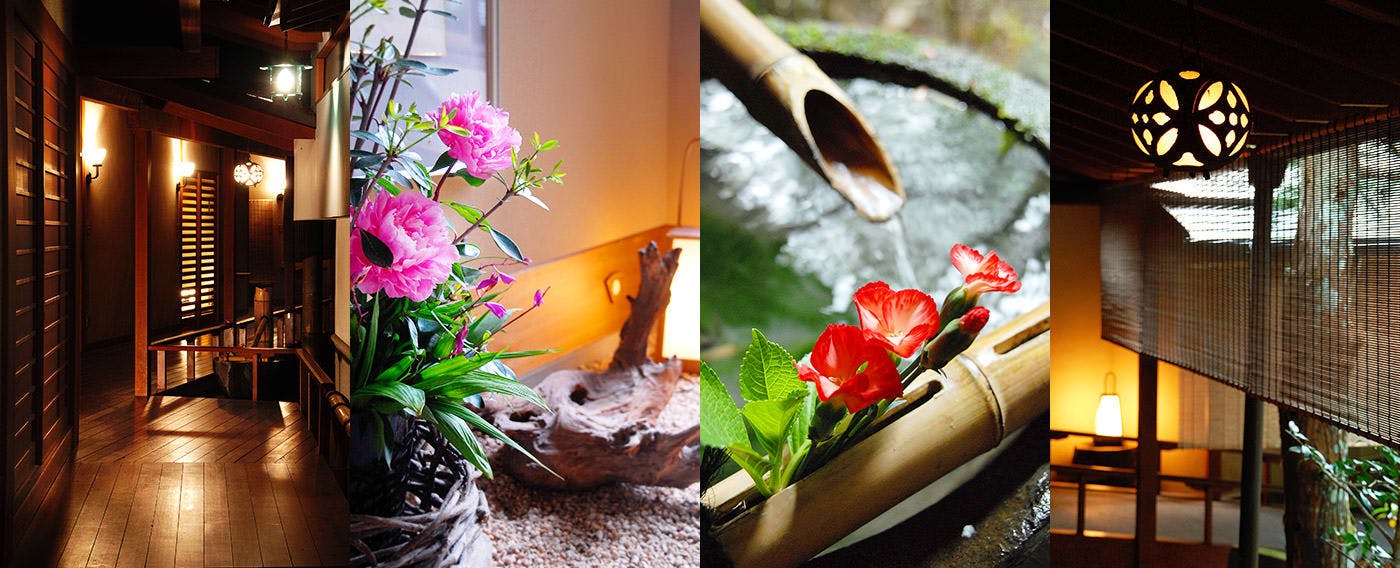 Spa, Mahora Yoshina hot spring, the oldest spa in Izu district continuing from Nara era, clothes ancient mysterious air. The traditional Japanese environment inherited in Yoshina leads the modern peoples' balance of body, mind, and spirit to the best.
The "Mahora" means "beautiful location, full of rich, wonderful place" in ancient Japanese words, it represents like an earthly paradise, symbolises the home, and also signify the restful place for our heart, or the most wonderful and peaceful place to heal us.
The mahora spa is a spa inspired by "Mahora" and gives you spa-experience which makes your heart and body relax in the comfortable environment.
This land of Yoshina is filled with clear water. The purifying waterfalls, that pristine stream washes our mind, and It's spring water of source of living things.
Please feel the sense of unity with the land of Yoshina with five sense surrounded the Yoshina's pure water.
Access
98, Yoshina, Izu-city,,Shizuoka,410-3208,JAPAN
From Mishima Station on Tokaido Shinkansen: Take a Izu Hakone Railway to Shuzenji Station and get on a bus to Yoshina Onsen guchi. And from a bus stop of Yoshina Onsen guchi, we offer a free pick up service.
Reviews
It was the second time we stayed at. There were different types of Ofuro (bathrooms) but the best was the half open-air bath of my room. Next time maybe I should try staying in a Hanare (Cottage separate from the main building) and enjoy a trip mainly for my children. The last check-out is 12:00 o'clock so you can enjoy the second day very effectively. This is one of the things I like of this place.
+ More
Sep 2016
It was the first time for the three of us to use this Villa. Since it is a maisonette type room the toilet was a bit narrow, so the one of the main building was easier to use. However, it was stylish and clean, and the open-air bathroom was very great. About the food, at dinner the dishes served later were heavy so I could not eat all. It would be better something lighter with a thinner taste. The dessert was good although. This time I brought two friends and they were very satisfied in their first night at this hotel. We would like to come in the season of autumn where the trees have colored again. We did also enjoy drinking wine and eating the delicious bread of your bakery. We were healed by the smiles of all staffs in special. We will come soon.
+ More
Sep 2016
As it is very spacious every single part was made very wide. Especially the spa where the water tap faucets were installed separated each other bringing on a very pleasant water temperature. There are green curtains and a river where you can fish. Close to the Taishokan where some drinks are served for free, there is a museum. A bakery and a cafeteria where you can enjoy ashiyu (feet hot springs ) and so many other places where you can have a lot of fun. It would be great to visit in the season of flowers or in the season of autumn colored trees. The open-air spa in the Japanese style room was spacious and I enjoyed it listening to the bird's voices and cicada's cries. The amenities inside the room were great. It would be better if you could have given to us cloths to clean the terrace, chairs and sandals after the rain stopped, not making us wait until they dry out. The massage of the practitioners you called for us was more than good. The food was also delicious making the most of the ingredients. It was a complete service. ...However, as we are in our 60's the quantity of the food was too much (especially the dinner). It would be better if you can prepare smaller dishes or ala-carte. The convinience of the hotel and the omotenashi (hospitality) of the Japanese Ryokan (Hotel) are mixed together in a good way. The young staffs were working with enthusiasm which made us feel very well.
+ More
Aug 2016
We used two rooms with my parents. Since we made the reserve late, we did not have many choices and had to reserve a maisonette type room. However we were relieved to see that the river was close to our rooms giving us a very spacious view outside. The stairs were a bit steep so I think they are not good for people who have problems when walking. The open-air bathroom was clean and the water quality was so good that we did not need to use the large spa. Everywhere in this spacious place was put in order very beautifully. The staffs were also very polite greeting all the guests for example. Starting from the Okamisan (landlady), all staffs treated us with hospitality. We were celebrating my father's birthday, and the Okamisan gave us such an impressive message taking into consideration it. A congratulations message I think she must have written thinking about us very much. And also she prepared the wine we had brought from outside so it becomes a good remembrance for us. We were very glad this experience became a good memory for all of us. Because of the bad weather we could see only few fireflies but we could feel the season as it is because we were surrounded by nature. The onigiri(rice balls) we got before going to see the fireflies were delicious for our dinner. All the attention in every detail was impressive and now I do understand why this hotel is high qualified in the area of Izu. The food was also satisfying. Coming here was a correct decision and will come again soon.
+ More
Jul 2016
My mother and I were looking for a hotel where we can spend a relaxing vacation and decided to come to "Tofuya" as recommended by my younger brother who had come to the Ashiyu(hot springs for feet) in your bakery. Its delicious bread and free-flow hot springs, etc. that we could enjoy were the points that helped us deciding. Since the water temperature of the hot springs was a bit higher we could not be inside long but after coming outside we could feel that our skin was much hydrated and soft. In our room we did also have a free-flow hot spring and we could enjoy it a lot. Our room was of japanese style and we could see Ajisai (Japanese hydrangea) blooming inside the green mountains and a river flowing in the bottom. Breakfast and dinner were delicious and we could enjoy Japanese sake at dinner. At breakfast after having coffee we went to the bakery and bought breads which we took out. After checking out we wanted to go to the bakery to eat them and drink tea but the parking and the bakery itself was plenty of people who wanted to enjoy Ashiyu (Hot spring for feet) already. We took a photo at Taishoka as a remembrance and later left the "Tofuya". It was very pleasant that we could enjoy a relaxing time here.
+ More
Jun 2016
It was the first time for us to stay at a room near the river. We were satisfied because we could spend a good time in this spacious and fresh environment. We feel very secure when we come here because every time we have a satisfying stay. Only one point: It would be better if there is more variety in the food. I will come again soon.
+ More
Jun 2016
Information
Check-in Time

From 3:00pm to 7:00pm

Check-out Time

Until 12:00pm

Tax / Service Charge

Hot Spring Tax JPY 150 per adult is NOT included in the rates.

Credit cards accepted at this property

VISA / MASTER / JCB / AMEX / DINERS
Children

We regret to inform that this ryokan does not admit children 7 years of age and under. We apologize deeply for any inconvenience this may cause, and ask for your understanding on this matter.

Pets

Pets are NOT allowed.

Parking

Free of charge for guests;Capacity 30 vehicles;Valet Parking Service Available (free of charge for guests)

Other policies & conditions

Smoking is not allowed in all guest rooms and inside the facility. Thank you for your understanding.