We are sorry but we don't have any rooms available now.

Please select another Ryokan.
- VAT is included, but bathing tax (around JPY 150 per adult) may NOT be included.
- Price in USD is based on the exchange rate as of today and might be different from that of the booking date.
Foods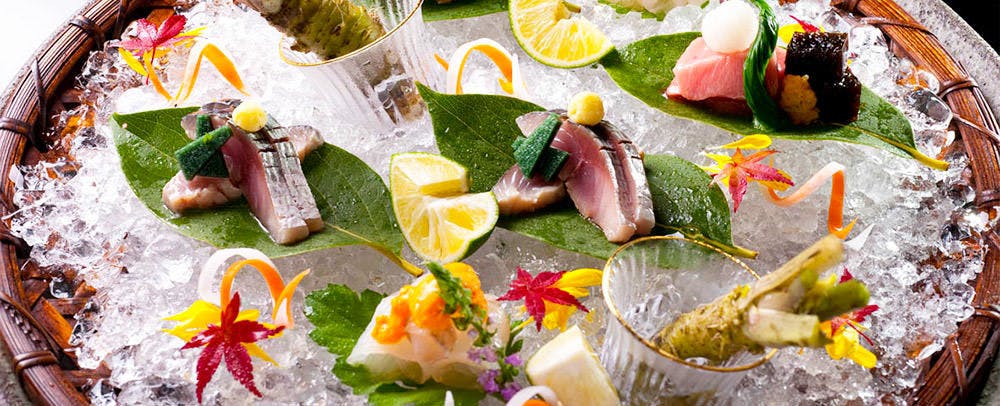 Foods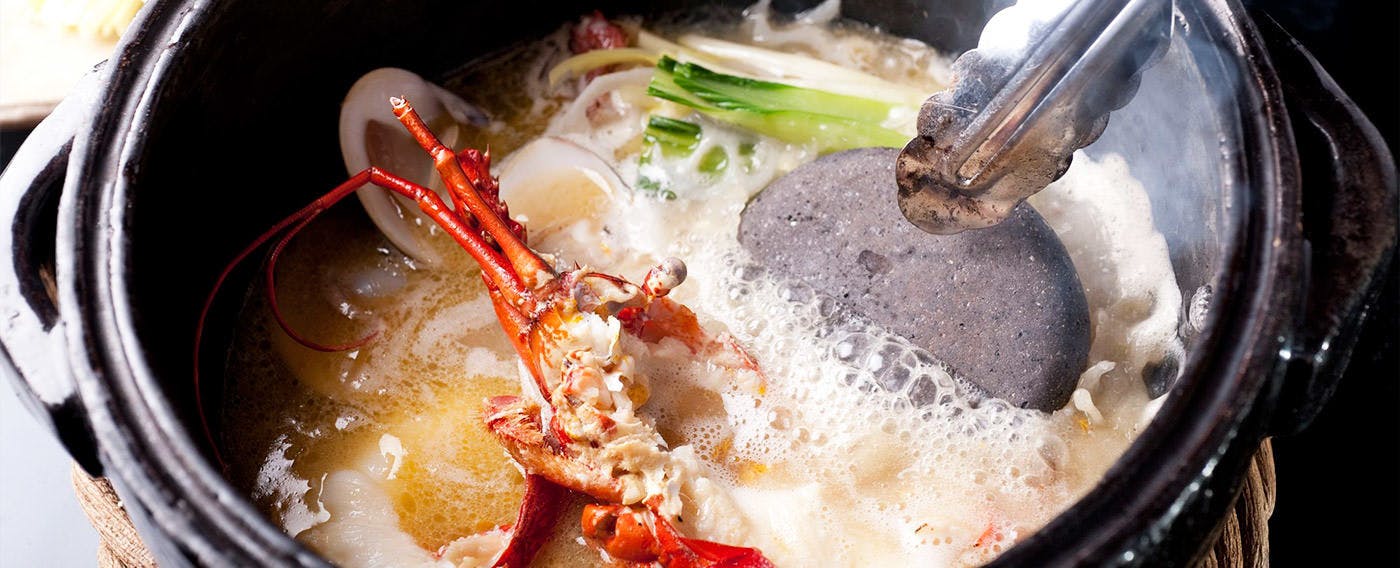 Foods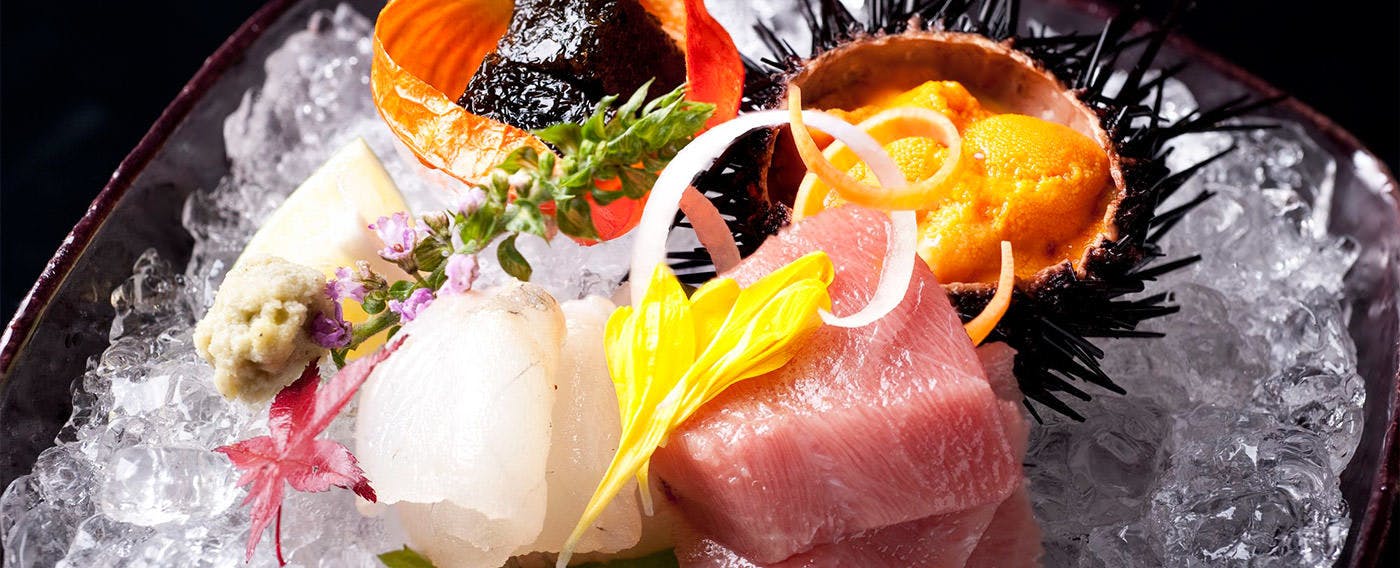 Foods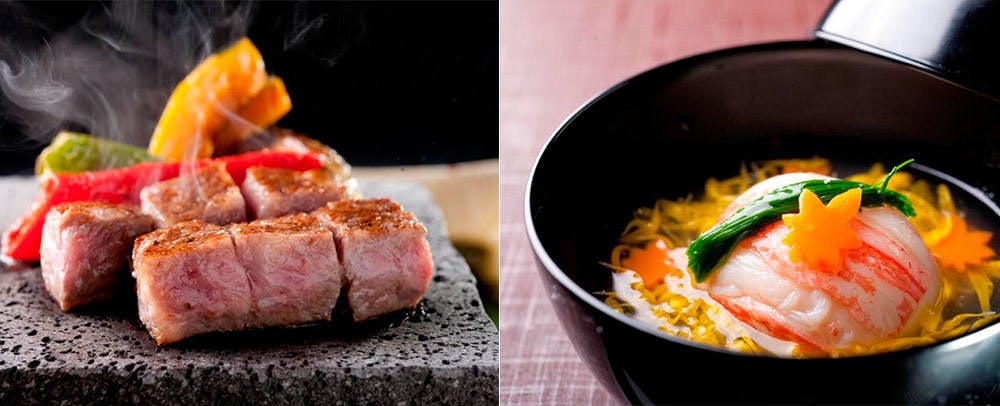 Foods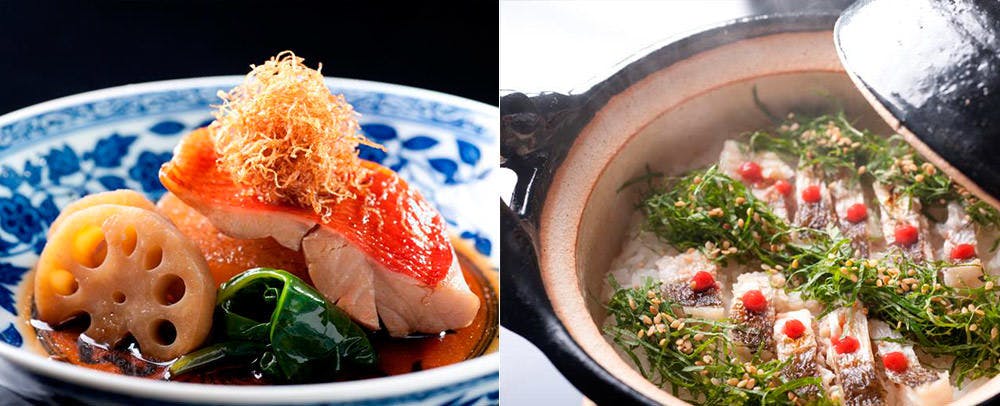 Foods
Japanese Cuisine to enjoy the seasonal ingredients with five senses Please enjoy Japanese Cuisine using plenty of seasonal ingredients selected by the executive chef. You can eat breakfast (Japanese or Western) in a comfortable and relaxed atmosphere. You can also have it as a brunch after 11:00am. This ryokan provides you with a relaxing time which traditional ryokans don't have.
Baths
Hot Spring Bath
Hot Spring Bath
Pleasure to occupy the hot spring of high quality Atami Onsen hot spring is said to have an effect to make your skin beautiful. Among several onsens, the hot spring water of this ryokan includes pretty much salt to warm your body and mind. There are a sauna bath and a water bath too. Also the bathroom is unique because it becomes an open-air bath by opening its large windows. 4 kinds of free drinks including beer are available after taking a bath.
Since there is only one bathtub at the large public bath, each guest group can use it for 50 minutes at each time. Please make a reservation when you arrive.
Facilities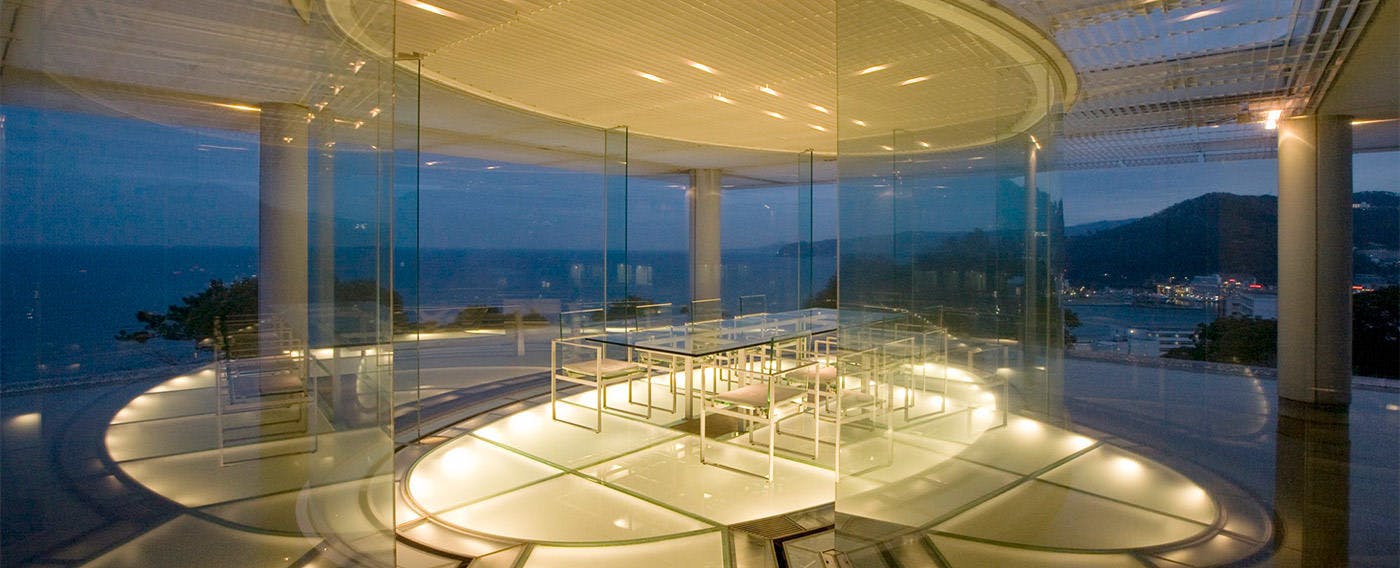 Water Balcony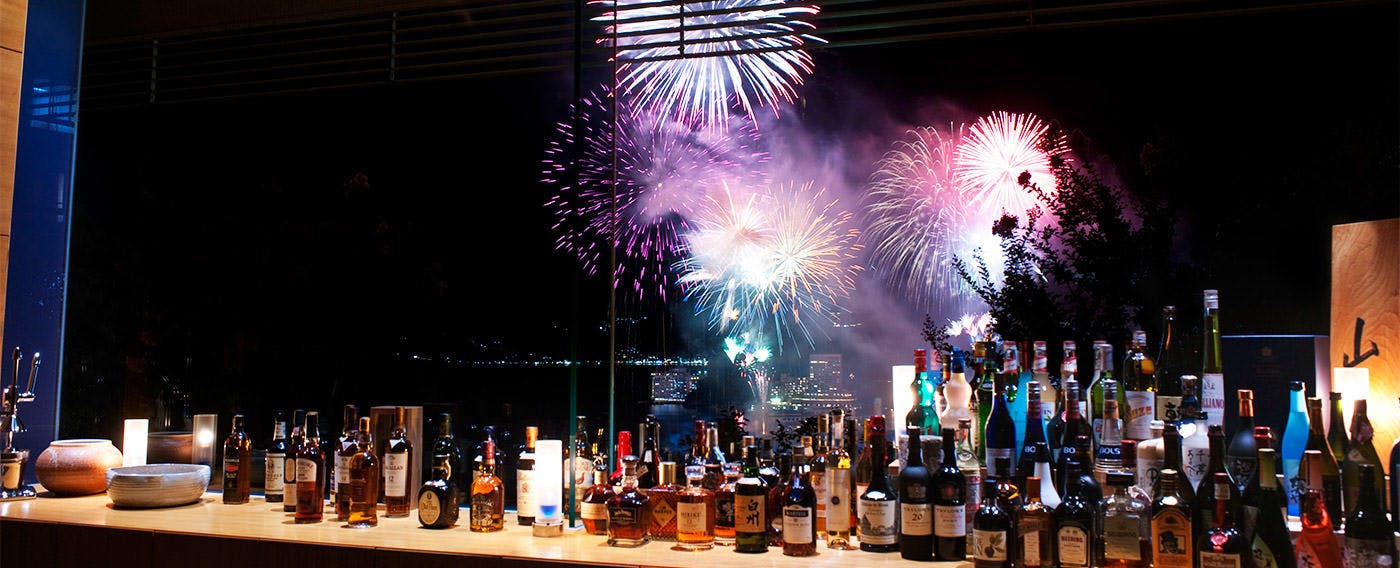 Bar 'Yamashina Chaya'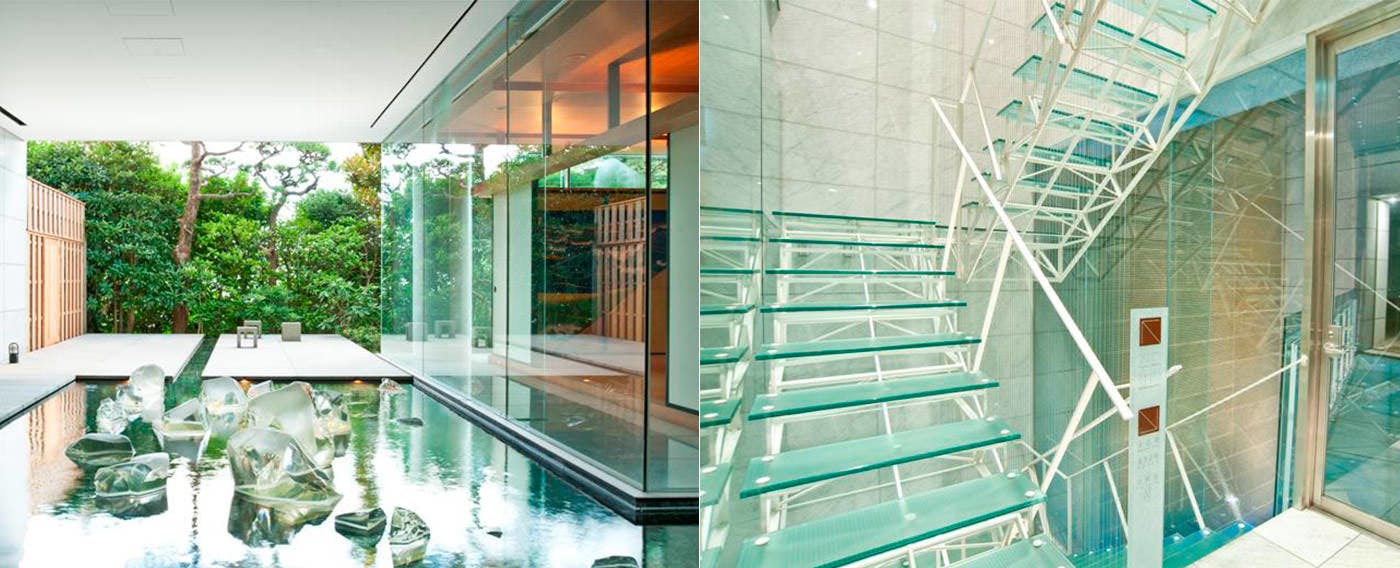 Glass Art and Entrance
Fully enjoy Atami Kaihoro Water Balcony
"Atami Kaihoro" is proud of being located in a special area among superb views of Atami. From there, you can overlook Sagami Bay and fireworks. While it is on a hill overlooking the sea, it has a water balcony like a transparent island on the sea. It was designed and made by an architect Kuma Kengo with the theme of glass and water.

Bar "Yamashina Chaya"
This Bar is available before and after meals. Not only you can enjoy a superb view of the sea, but also you can drink the selected malt beverage and fine cigars.

Large hall "Rakusei"
A large hall with gold sliding door whose pictures were drawn by the late Tokuriki Tomikichiro, the great master of Kano school. In February 2011, they started to arrange Atami geisha. It is available not only for a banquet but also for a meal for a group of 2 to 4 people.

Glass arts & objects
Glass arts and objects made by Kano Tomohiro will produce an artistic non-daily space.

Facilities at "Atami Fufu" iare also available. You can go to Atami Fufu and have a blissful time in the beauty salon. It is about 8 minutes by car.
Access
8-33 Kasugacho, Atami-city,Shizuoka,413-0005,JAPAN
BY CAR
From Tokyo: 1hr 50min via Tomei Expressway - Atsugi IC Exit - Odawara-Atsugi Road - Route 135

BY TRAIN
From Tokyo Station: 1hr by Shinkansen to Atami Station

Shuttle service available from Atami Station, for free of charge with prior reservation.
Reviews
Although this is my first time using it, I was relieved because of the respond on email correspondence until my arrival. The car that came to pick me up at Atami station was gorgeous compared to the microbus of the other companies. LOL The accomodation was very wonderful, just as seen on the website. It was a little cozier than I imagined. The private hot spring with the 50 minute time system was quite good. The temperature of the bath was just right and excellent. Dinner was delicious, and was enjoyable by sight, as it was reputed to be. However, as we were brought up near the coast with our parents owning a sushi restaurant, we were a little disappointed with the sashimi which was not as good as expected. Although, it was a delicious Japanese style cuisine, overall... Others reviewed that they were happy to have the rice they could not finish made into riceballs and delivered to their rooms, so I waited with anticipation but didn't receive any. My mother who accompanied me on this trip was happy to have a bite of food before taking the early morning drug dose, but wrong guess. LOL Morning bath was great and we had breakfast after bath. We both had Japanese style meal. I'm not sure whether they have a bad course of action or it is just a normal operation, but we had fruit juice, then a salad, and the rest of the side dishes, and then the grilled fish after some time. I wished they served everything at once on a tray or something like that. We waited for coffee and dessert, which did not arrive after finishing the meal, and we were in silence as the BGM CD ended, which made my mother dose off. LOL It was too bad that it turned out to be a rather lazy, instead of a relaxing breakfast. The butler was a young lady with a beautiful smile. I saw glimpse of awkwardness of being unaccustomed, but had a favorable impression for their efforts. I had the feeling that it was a good accomodation for young people. Nonetheless, I had a wonderful relaxing time. Thank you.
+ More
Oct 2015
I stayed at the hotel for the first time to commemorate our wedding anniversary. Thank you for the gift of a bundle of flowers and the photo shooting service. As we were scheduled to stay at Suishoen the next day, we were worried about the flowers, but we could carry them home without being wilted. I feel this about other inns, too, but as they provide photo shooting service so kindly, I would very much appreciate if they could shoot photos of me other than those relaxed in Yukata with no make-up at all. There was an inn that asked for our requests, and they took a picture of us at their recommended site at check in. I think it would be nice to be offered to have a picture taken at view points such as the water balcony right after check in. The meals were wonderfully dellicious and had a happy time. It may be extravgant to say, but it would be nice if there was a dish imaging the harvest moon. It was nice that I was able to try various amenities, and was also grateful for the pick up ride to Fufu hot spring. Thanks to the inn, I was able to enjoy the full moon. However, I like the hot spring of the Kaihourou. I was quite nervous to arrive at a hotel I was visiting for the first time, and when I arrived, there was a staff or a chef in front of the hotel talking to someone in a car, but it was a little sad that they did not guide me inside until I told them that I was a guest. Although I complained, it was a nice comfortable stay. I would like to visit again. Thank you very much.
+ More
Sep 2015
Thank you very much for the greatest hospitality in all aspects. I could learn in all aspects from the check-in to the check-out and I could relax leisurely. I also appreciate your prompt attention to deal with the menu of the day. (Thank you very much for your kindness to meet my various requests.) I put the flower bouquet you gave me for my anniversary in a vase as soon as I came home and decorate my room. I would like to give all the staff members a word of thank you.
+ More
Sep 2015
As people say, dining at water balcony was impressive and I enjoyed dinners and breakfast in a relaxed luxurious time. I would like to visit there again.
+ More
Oct 2015
Two of us stayed a night on a weekend in August. Room: Both the size and the height of the ceiling were overwhelming and very satisfying. If I were to say, maybe because of the layout of the furniture, the flow of traffic in the room was odd. The only place to stay in the daytime was the couch. Also, maybe there is nothing you can do to the room, but I was a little bothered by the fact that people can clearly see inside our room from the hotel you see on your right. Reserved bath: The water flowing art work-like space between the room to the reserved bath was very luxurious. The room was clean and was equipped with bath amenities. Although it was only 50 minutes, which was a little too short, I recommend it. Meals: Not only the taste, but also the elaborate tableware was wonderful. As I heard that they change the menu every month, I would love to come back in a different month. For breakfast, each of us chose the Japanese and Western style respectively, and we found the Japanese one, which we would recommend, was delicious same as in the case of dinner. Service: It was a day of a celebration for my companion and I had asked for a cake after dinner, so they took a picture to display in a photo frame and also gave a little gift, and we really appreciated their kindness. I would like to thank the butler who served our dinner. However, maybe because there were not enough staff members or were too many new ones, there were some things that bothered me. -Check-in: It seemed like some of our requests which I asked in my email when making a reservation, were not communicated well. -While we were using a reserved bath or when we had a question about some souvenirs, no one came even though we rang the bell on the second floor to call them. At last, after checking out, when we asked for some souvenirs which were in the hotel facility, they took too long to check the inventory and were almost out of stock... Although the staff in charge was very nice, I guess there are not many people who purchase any souvenir... In addition, I think I left the engine running during that (almost one hour)... I felt unfortunate at the end. I think there are some problems, but I think it is a wonderful hotel overall. I would like to come back again when it gets cooler.
+ More
Sep 2015
The facilities was somewhat small, but it was the best Kengo Kuma's design. For private bath, I thought it was big public bath, because it was so spacious. But unfortunately, there was no open air bath, so I can't see the sea. The best selling point is, the Japanese cuisine. It was delicious and a perfect works which I never experience before. I think it would be best if they can maintain the terrace to enjoy the light on 3rd floor.
+ More
Aug 2015
It was a relaxing room. As a request made when I booked the room, they asked me how I liked the lights of the room turn down and I was able to spend time here very pleasantly. The hot spring made my skin smooth. White rice at dinner was not enough for us however it was not reflected on breakfast and there was not enough white rice for breakfast either, and it was a bit disappointing; but the food was delicious.
+ More
Aug 2015
I have stayed here several times before but this time there were many things happened that made me confused from the beginning. The call to confirm my reservation might have been made by someone in the contact center and not by the hotel, since he/she could not understand that I contacted the hotel by e-mail. Regardless of that contact, the person who was supposed to pick me up on the day mistakenly picked up someone else so I had to wait for a while in the reckless heat. I was also kept waiting by the same pickup mistake when I stayed here in March this year. I wonder if they don't share the information. When I finally arrived at the hotel, got in the room and sat down, there was a drink stain left on the table by the previous guest and I found a long hair of a female on the cushion. The bath towel placed in the room was deteriorated and getting frayed at the tip, and I was not sure about the stay this time. I did tell the staffs about the points above however I would like them to understand that guests would not feel like receiving a gift even if they try to give them if there does not seem to be an attitude to face the matter with honesty. I am disappointed because I have had a very good image of the inn so far.
+ More
Aug 2015
My sister and her husband stayed at the sister hotel, Fufu, last month, and I heard they enjoyed very much, so I decided to stay at this hotel to celebrate my birthday. As I can enjoy sunset in a room surrounded by darker colors in my daily life, I requested a bright open room. It was more like an auberge than a hotel, where the service was good, the room was comfortable and the meals were delicious. I felt very private both in the dining room and the bath, and I enjoyed a feeling of satisfaction which you can't enjoy in a big hotel. My husband seemed to be very satisfied, and we will use it again.
+ More
Aug 2015
It was my second time to visit. The meals are delicious, the view is wonderful, and the service is great. I had a positive impression, so I came again. All the foods are delicious this time as well. Things which you can sense the season, the rare ingredients, the meat, the fish, and the vegetables are all delicious. The hot spring bath is private, so you can relax. I took a bath in the room as well. I had a trouble rolling up and down the blind by the entrance of the open-air bath. They have plenty of amenities. I would definitely make the third visit.
+ More
Jul 2015
Since the lodging for the day before was cancelled due to typhoon, our stay was only a day at Kaihourou, yet we had a nice holiday. For knowing there are only 4 rooms, I felt the luxury, and the staffs friendly smile makes you feel important. Not only with the luxurious glassed-in water balcony, but also by lying by the room window watching the sea loosened my feeling. It is just right for a rewarding holiday.
+ More
Jul 2015
Information
Check-in Time

From 3:00pm to 10:00pm

Check-out Time

Until 11:00am

Tax / Service Charge

Bathing Tax JPY 150 per adult is NOT included in the rates.

Credit cards accepted at this property

VISA / MASTER / JCB / AMEX / DINERS / UNION PAY
Children

Children of 0 to 9 years old are NOT allowed.

Pets

Pets are NOT allowed.

Parking

Free of charge for guests; Capacity 4 vehicles; Valet Parking Service Available (free of charge for guests)

Other policies & conditions

Children of 0 to 9 years old are NOT allowed to stay here. Thank you for your understanding.