Yugawa Onsen Yamado
At Yamado, you can enjoy the great outdoors, baths flowing with natural hot spring water, and the culinary delights northern Tohoku has to offer. In our region, people who work in the mountains and those know mountains well are known as "Yamado". The beauty and bounty of the mountains- this is what we would like our guests to discover and experience during their stay at Yamado.
- VAT is included, but bathing tax (around JPY 150 per adult) may NOT be included.
- Price in USD is based on the exchange rate as of today and might be different from that of the booking date.
Foods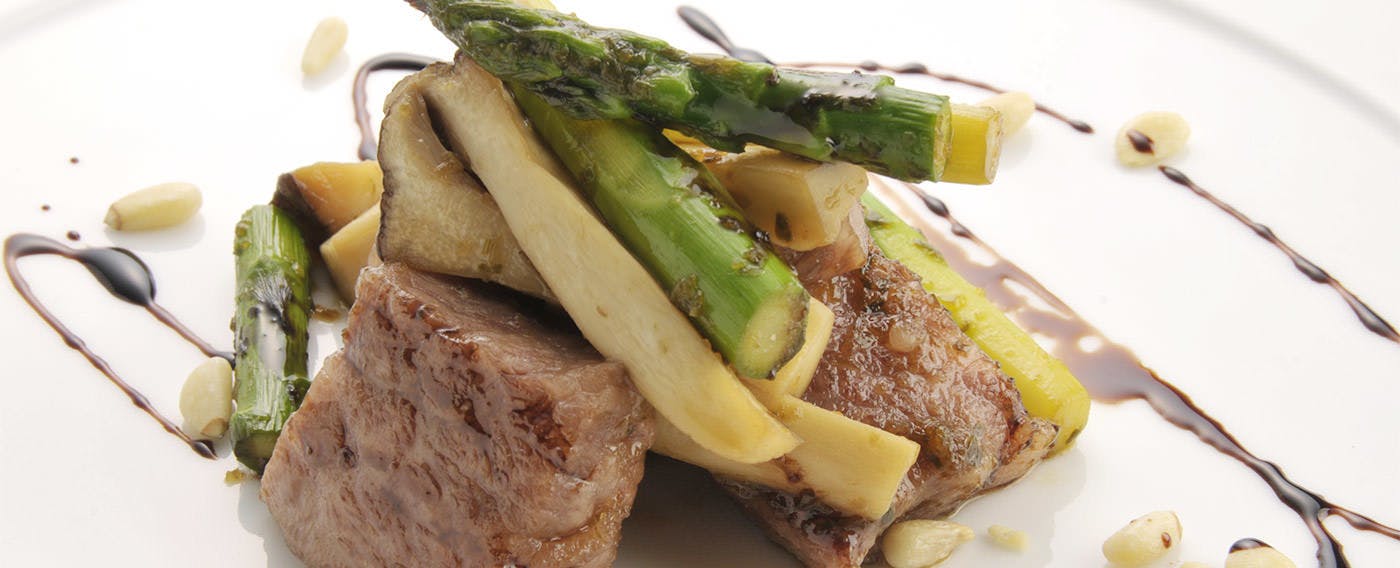 Foods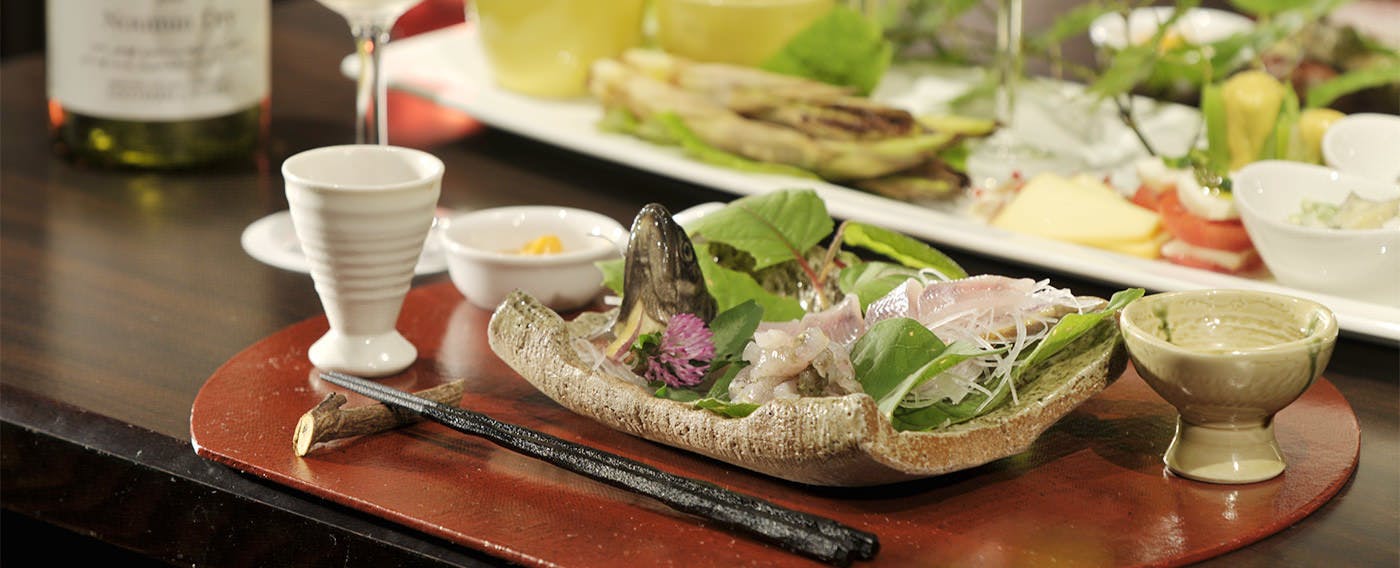 Foods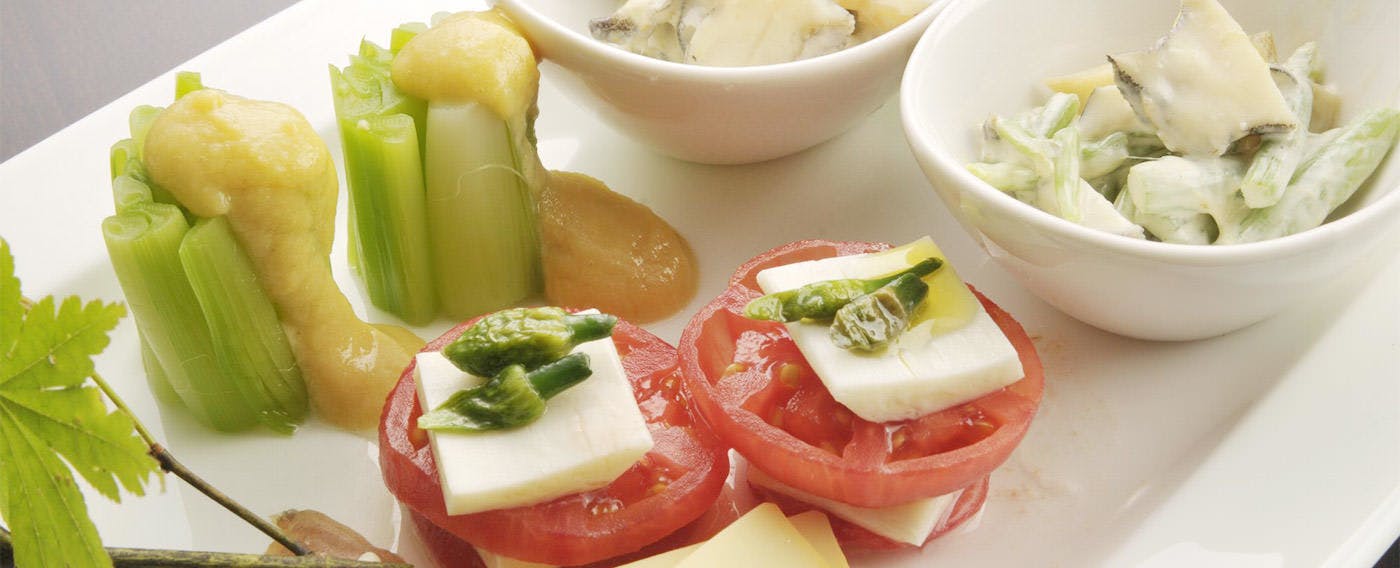 Foods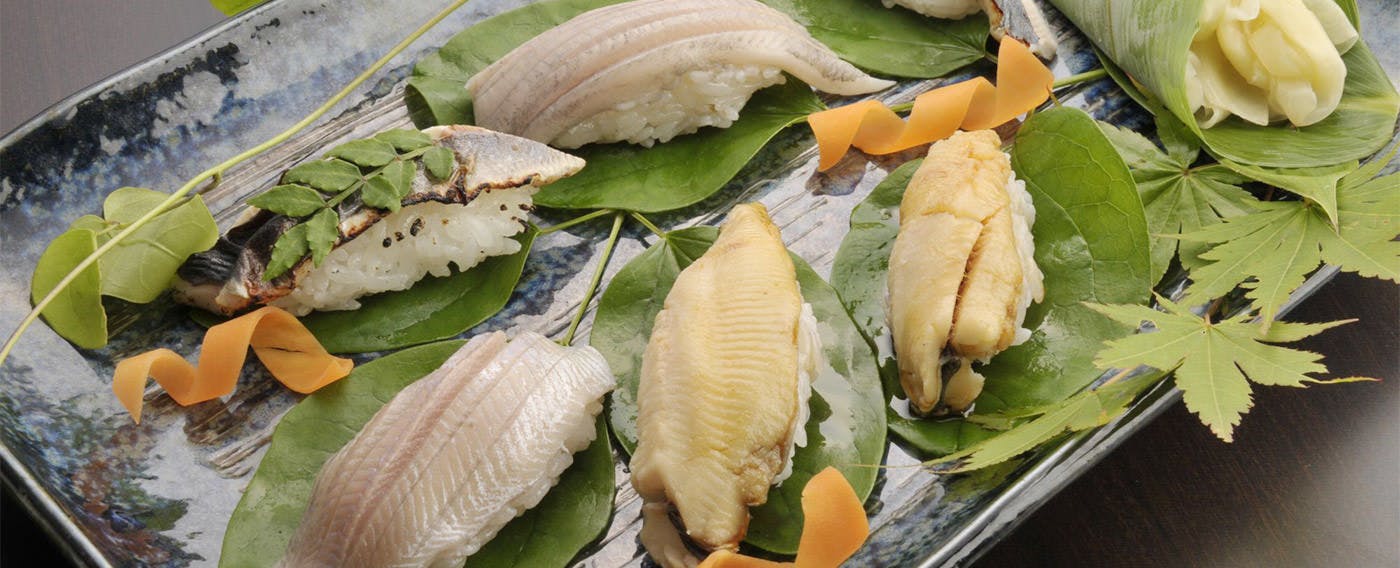 Foods
An assortment of fish from two oceans and other fresh seasonal foods Our chefs prepare meals using unique local ingredients from northern Tohoku and fresh seasonal delights for your culinary enjoyment. Please enjoy a drink from our wide assortment of wine and sake with our dishes.
Baths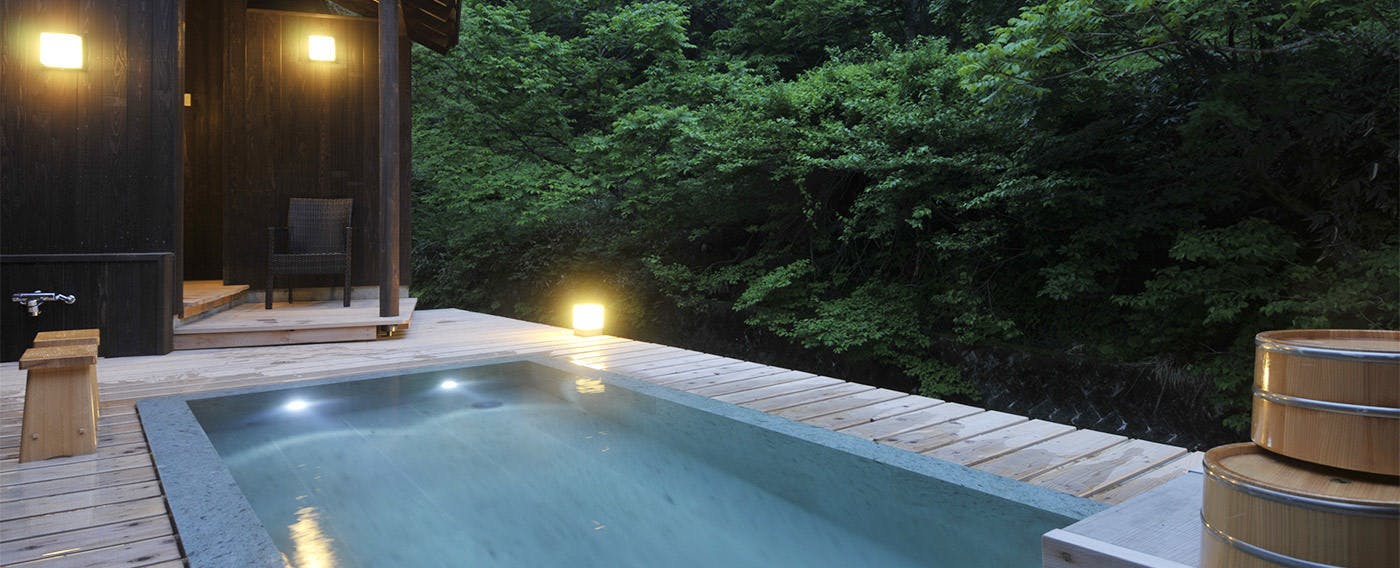 Bath
A private, semi open-air bath flowing with 100% natural hot spring water in every guest suite We have a private semi open-air bath in every guest suite. Both types of bath use only natural hot spring water. You can enjoy bathing in the hot spring baths any time you like, 24 hours a day.
Facilities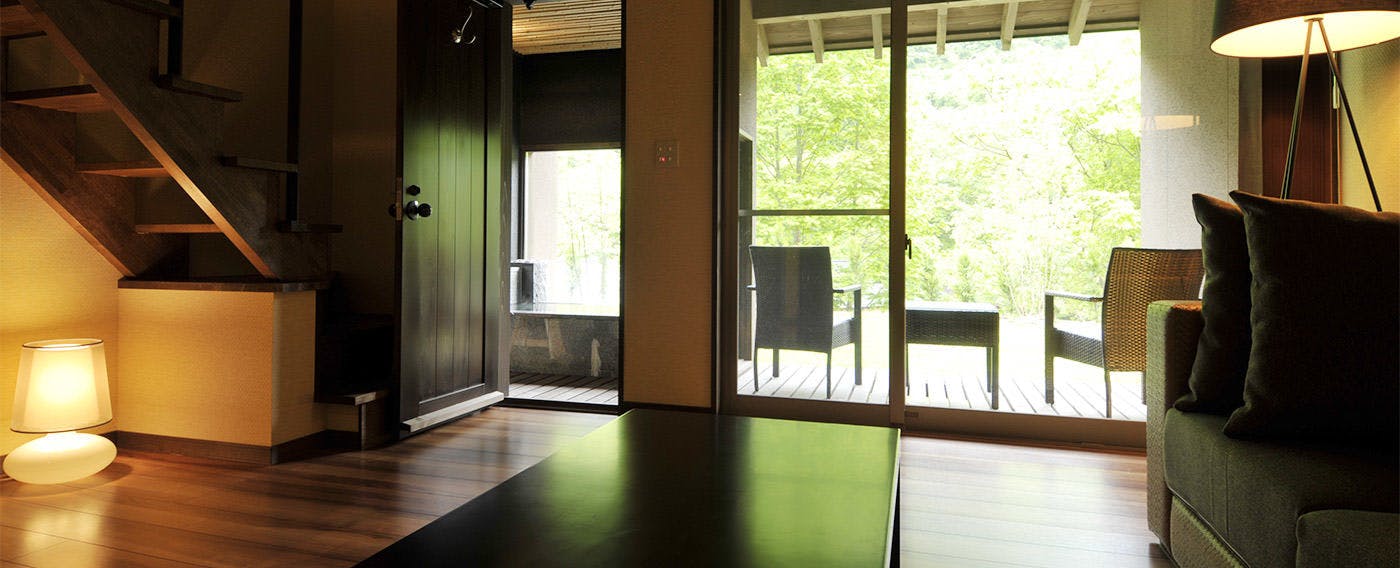 Facilities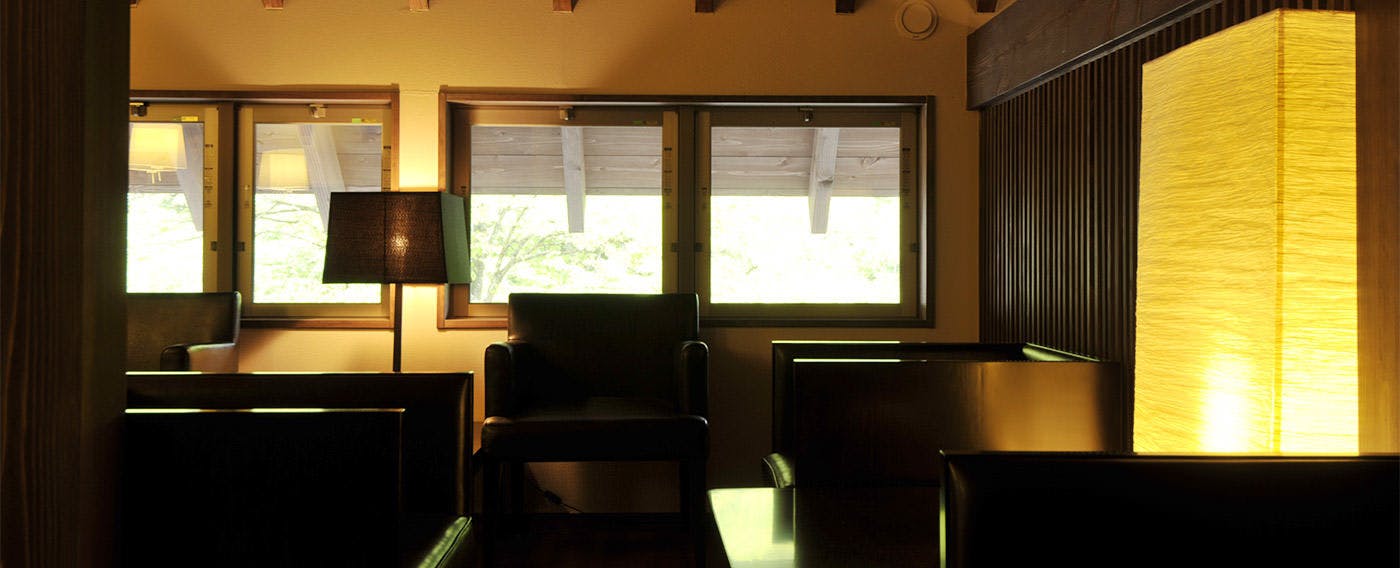 Facilities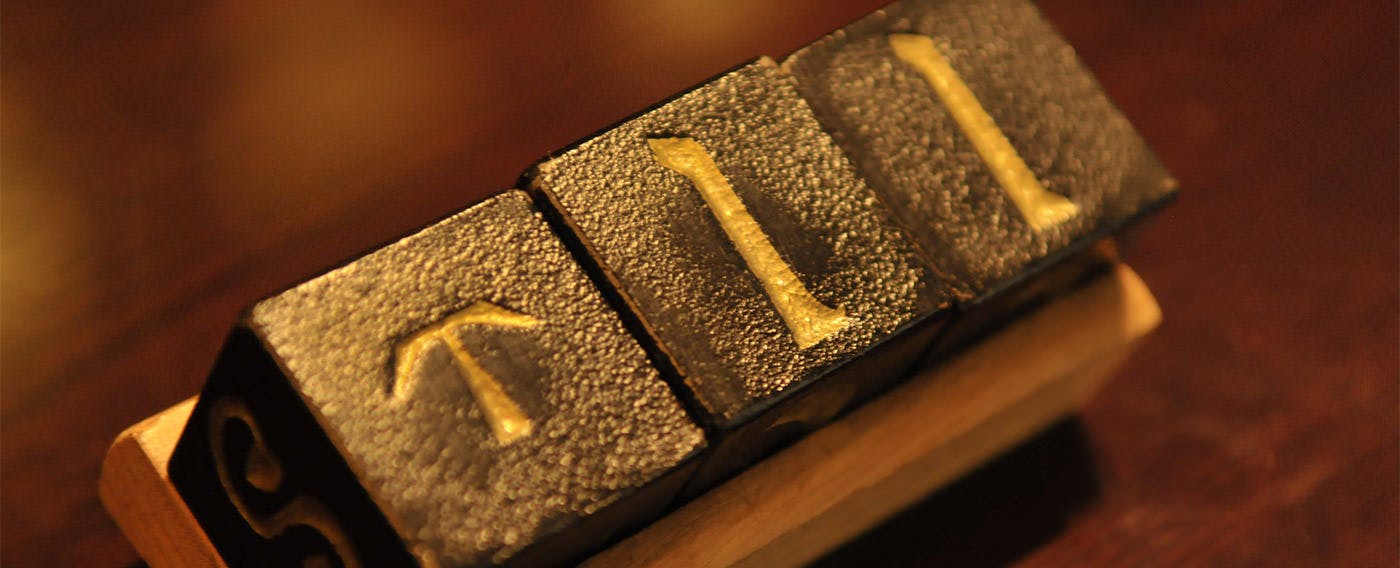 Facilities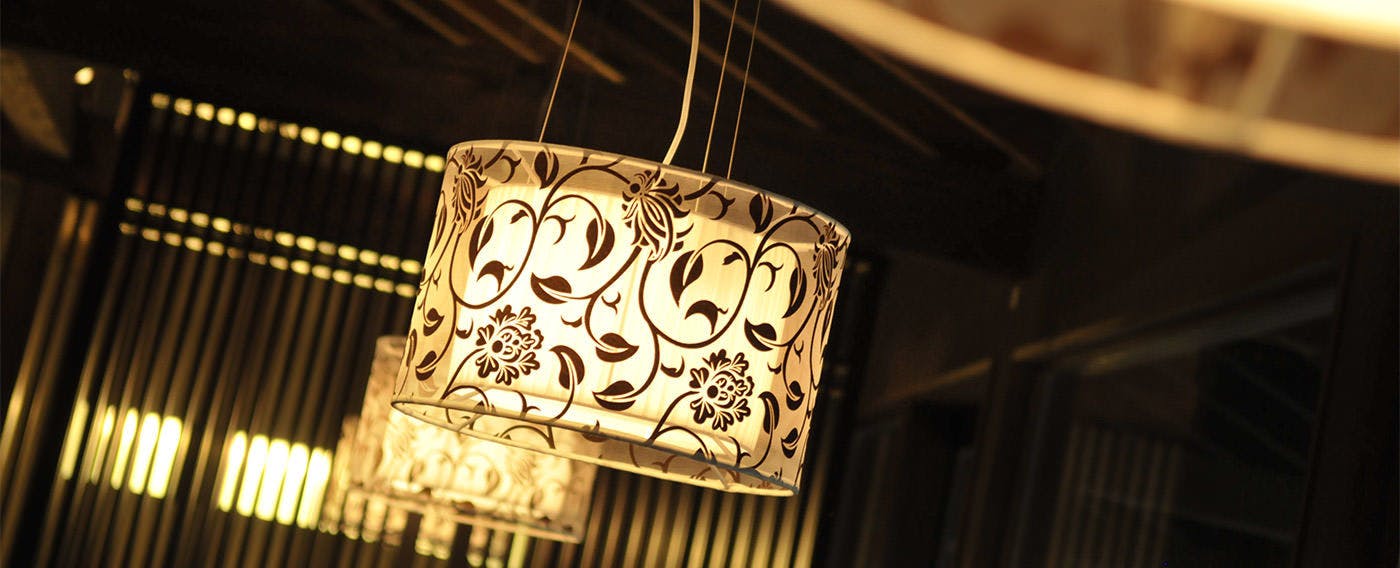 Facilities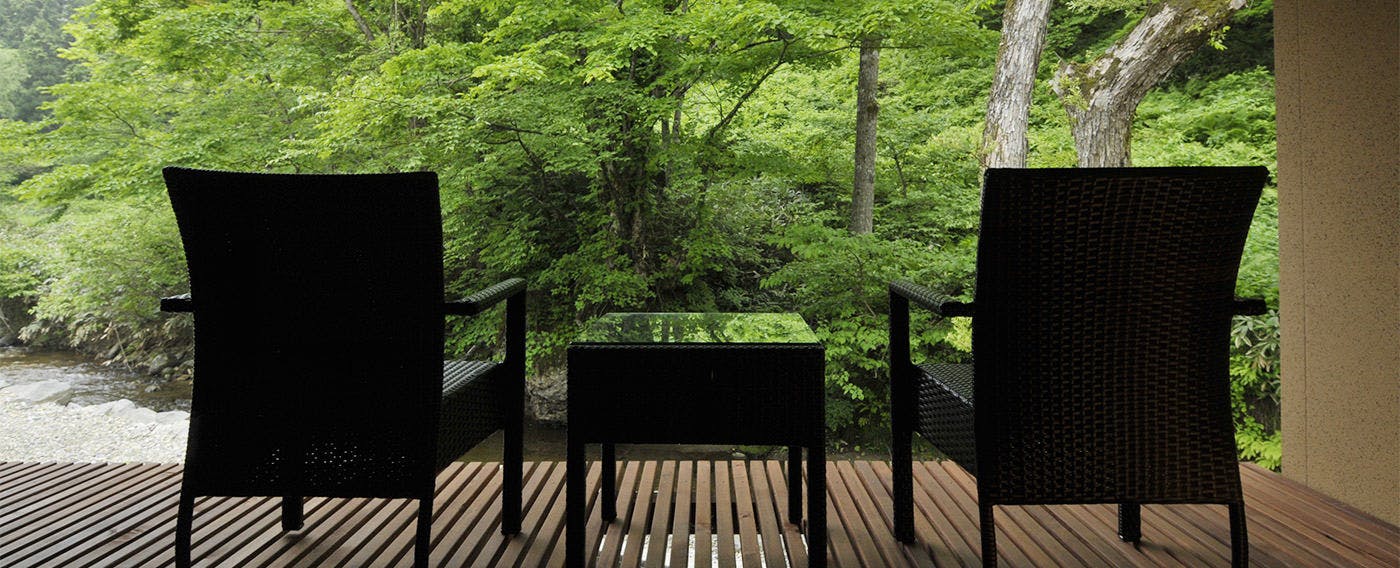 Facilities
Welcoming you with our comfortable sofa and Kuromojicha tea We welcome you in the lobby with Kuromojicha tea. Take a seat on our comfortable sofa while you check in. You can borrow our Swedish Jazz CDs to enjoy in your room. There is also a souvenir shop on the second floor of the lobby.
Access
52-71-10 Nishiwaga-Machi, Waga-Gun,Iwate,029-5514,JAPAN
BY TRAIN
From Tokyo Station: Take JR Tohoku Shinkansen to Kitakami Station & transfer to Kitakami Line to Hottoyuda Station & 10min by taxi or bus
From Akita Station: Take JR Ou Main Line to Yokote Station & transfer to Kitakami Line to Hottoyuda Station & 10min by taxi or bus

Reviews
I forgot my busy days and really enjoyed time in a slow pace. I am very surprised because I didn't expect to find such a nice inn inside prefecture. Elaborated rooms and the cuisine that full with the sense of the chef who used fresh seasonal vegetables and local ingredients. And also the the hospitality of the staff which give the feeling of politeness and familiarity. I was satisfied with all. This time I checked in late, but next time I will come earlier and want to stay longer. Even it took long time, I think it is worthy to be here.
+ More
Aug 2015
The staff who provided a concierge service take great care of us, so we could stay leisurely. I was really satisfied with the complete breakfast. Thank you for your service.
+ More
Aug 2015
As soon as I entered the entrance hall, I was favorably impressed from the beginning by wonderful aroma scent, scrupulous response of a staff of the inn and the scent in the guestroom. And the bath in the guestroom and the view from the bathroom was stunning. It was pity that I could not take a bath with windows open to prevent insects from entering the room. I do not know if it is because not to damage the scenery or not, but there was not screen windows. It was a very good stay except that I could not take a long bath. I could see stars clearly at night and it was impressive. As I am picky about food, I placed orders, but I was pleased that staffs of the hotel responded me politely. The meal was very delicious, but my companion who eat a lot says it was not sufficient.... but for a woman, it was the right volume. The breakfast with fresh ingredients was also wonderful. It was so delicious that I ate a lot. The private bath was also great. I would like to stay at the inn again and I would like to go in Spring to feel features of every season. Thank you very much.
+ More
Oct 2014
・The structure of the building was holistically relaxing and splendid. ・Contrary to the notice stating that "The inroom bath water may be tepid,,,", I was a bit surprised by the hot water. ・I was not quite happy that the outdoor bath had been taken for charter twice during my stay while it was the only one. The atmosphere was overall nice but the cost performance was somewhat poor.
+ More
Oct 2014
Living in an always busy big city, I was able to renew myself in body and spirit by staying in the nature-rich area, Nishikaga. For meals, they used unique ingredients, and I learned a lot from that. Especially the natto soup for the breakfast was new to me, which I enjoyed very much. I would like to come back if I get a chance. Thank you very much for your hospitality.
+ More
Oct 2014
I visited on my husband's birthday. I have stayed in quite a few hotels and ryokans until now, however this hotel was different from other hotels starting from the front, it was cozy and comfortable which made me feel relaxed. They used many local ingredients for dinner and I found it delicious. For dessert, there was a birthday message as a surprise and made us feel like celebrating the birthday. I appreciated it. However that day I could not use the Noten bath because of the unfortunate typhoon and I was left feeling dissatisfied since personally I like old baths. I was satisfied because the bath was a good bath. I also had supper and made me full. It was a good anniversary. Thank you very much.
+ More
Oct 2014
The room was meticulously clean, and I liked it. As for the baths, the one attached to our room was good, but the reserved one used blue lighting which rather showed poor taste. Personally, I wanted a large bathhouse. I think the meals and service was good. Especially the breakfast buffet was very good. It seemed that dinner was delivered in a timely manner for each table, and it satisfied me because I didn't want to spend two hours for dinner. To say overall I think it deserves the price paid.
+ More
Oct 2014
It was a family trip of 3 people to refresh our mind. We had reserved the room "Sisanro" but they changed it to "Rokujubo" as its reservation was cancelled. It heard that the private bath was available only once a day per person or group but finally we could enjoyed it after checking in and the diner then next morning. The quality of the bath in the room was excellent which I feel maybe effective in relieving stiff shoulders and beautifying one's skin. It was shame a little bit that they did not have beauty treatments. The meal was healthy and well-balanced. I enjoyed the "Pita sandwich" offered for a bedtime snack which was a little warm consideration. Breakfast buffet did not have many types of dishes however each one was delicious, and especially mixed juice and vegetables grown in the hotel's garden were exceptional. After I went back home they called me saying that I had left something at the hotel and although I asked them to send it "C.O.D." they "prepaid" for it and delivered it to me. This was the first experience I had although I have stayed in numerous hotels. The staffs seems to be young but served with meticulous hospitality and it was the hotel where they let the guest have her/his way. I would certainly like to stay here again if I have an opportunity. Thank you for having me.
+ More
Oct 2014
I think the evaluation on this hotel depends on who evaluates. This time, my wife and I who live in the city brought her old parents who live in Akita to the hotel. In terms of the bath (water quality), meals, hospitality and service, we all were fully satisfied. The design of the room where you need to climb stairs and the location of the open-air bath to which you need to go through the stairs seemed a little too much for her old parents. Besides, the hotel's concept of enjoying nature in nature was not as impressive to them as it was to us. On the other hand, my wife was so impressed by the fact that we were able to see greenery through the little window when we wake up. After all, I think it is the best quality hotel for people who are hungry for nature, living a busy life everyday in the city, to spend a relaxing time. I mean, this hotel is definitely a five star hotel for those who know what the hotel is like and look for it.
+ More
Sep 2014
I stayed with my 80 years old father this time. I was satisfied with the stay overall. I will point out what bothered me below. When checking in, the employee does not come pick you up for a while. I had to go in with a big carriage and it was troublesome. I wish they greeted me when the car stopped possibly. In the same manner, there was never anyone at the front so when I visited there to ask for something, I was always kept waiting. The hot spring water at both the open-air bath and the indoor bath in the room was fantastic. However I went not knowing that the open-air bath outside can be reserved only once a day at the check-in per room, so when I got there it was already booked by other guests and the time I hoped to book was not available. I couldn't help it and booked at the available hour, but it started raining with the thunderstorm at that time. Now I can laugh looking back at the memory of having to take bath while putting on the umbrella of a hermit, but it was disappointing considering the fact that I wanted to enjoy and relax in the bath. The room was a maisonette type and was created under the concept that 2 close friends stay relaxed and be refreshed, so it was arranged nicely. However the lights were dark in total so my old father found it dark and inconvenient. Luckily when I asked for it, they brought us an additional light and we got through it, however I thought it would have been better if the guests could adjust the lights by themselves since it is bothersome to feel inconvenient just so they prioritized on the atmosphere of the room. The food was a simple and tasty dish using local ingredients. The number of dishes was just enough. The morning buffet was arranged nicely and made me excited. However it was not something innovating or luxurious but the simple food that focused on the taste of ingredients themselves so I would not recommend it to those who wish for luxurious hotel-like food. This hotel was created under the concept of enjoying the nature quietly and relaxed in the nature, however I could only see the lawn from the maisonette room and it was not like I could enjoy that view, and I had to go up and down the stairs to go to the restaurant and the open-air bath which was ok for my father who had strong legs and back but it would be inconvenient for older people generally. It is the best hotel for busy people, who live a busy life daily in the city and misses the nature to, with a purpose of spending a relaxed time in the nature without doing anything. So one would feel inconvenient unless he/she who stays understands that point. I myself would like to visit again.
+ More
Sep 2014
This is my first stay. I always wanted to visit the inn, so I was looking forward to it. Yamado lived up to my expectation; the facilities and food were wonderful and surpassed my expectations. I could not forget, in particular, the excitement I felt as I watched the harvest moon from the open air bath which was a day before the supermoon. I also had a variety of mushroom, which made me sensed the season. I am very satisfied with the variety and portion for the meal. Embraced by nature, I relaxed completely. I would love to visit again in a different season.
+ More
Sep 2014
Information
Check-in Time

From 3:00pm to 6:00pm

Check-out Time

Until 11:00am

Tax / Service Charge

Bathing Tax JPY 150 per adult is NOT included in the rates.

Credit cards accepted at this property

VISA / MASTER / JCB / AMEX / DINERS
Children

Children under age 13 are NOT allowed.

Pets

Pets are NOT allowed.

Parking

Free of charge for guests; Available from 2pm to noon; Capacity vehicles; No Valet Parking Service

Other policies & conditions

Nothing in particular