Mari
Mari's heart is the mind of "entertaining with sauce". What they think important here is to privide profound sincerity and hospitality and treasure an encounter of once-in-a-lifetime, with traditional sauce "hishio" (miso-like paste made from koji mold and salt water) made by island nature. It aims to be an "island ryokan" like guests can relax and feel this island.
- VAT is included, but bathing tax (around JPY 150 per adult) may NOT be included.
- Price in USD is based on the exchange rate as of today and might be different from that of the booking date.
Foods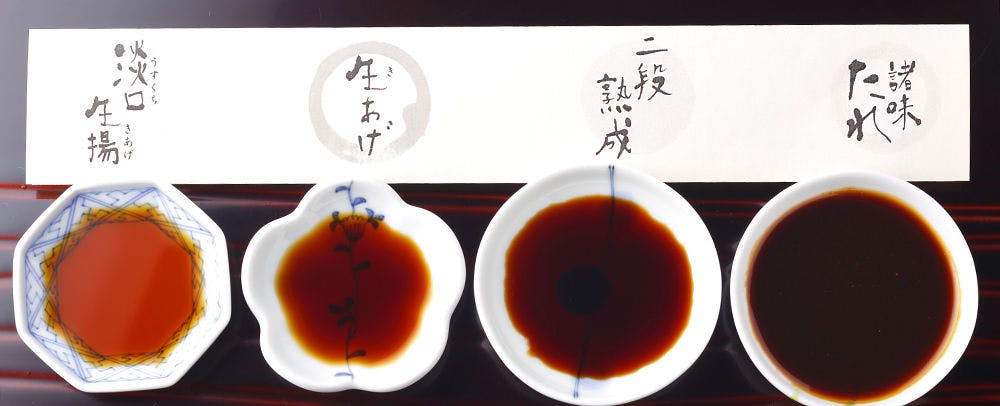 Foods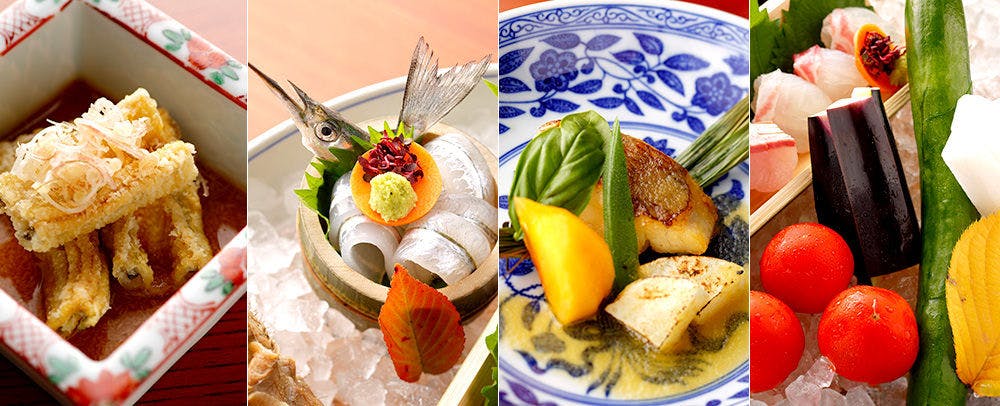 Foods
Delicious foods of this island on the flavor of unrefined soy sauce Manufacturing soy sauce in Shodoshima island has been passed down since about 400 years ago. In the middle of the Meiji period, around "Sato of Hishio" where Mari still stands, there were so flourished and were lined with about 400 soy sauce stores.

Mari used to be one of the soy sauce shops. That wish has been inherited importantly, and Mari was established.

The soy sauce and unrefined soy sauce were made by people were devoting times and techniques… It is proud of "sauces" incorporating techniques of Mari and hearts which are based on special ingredients. Please taste fresh seafoods and vegetables with the good flavor of the sauce.
Baths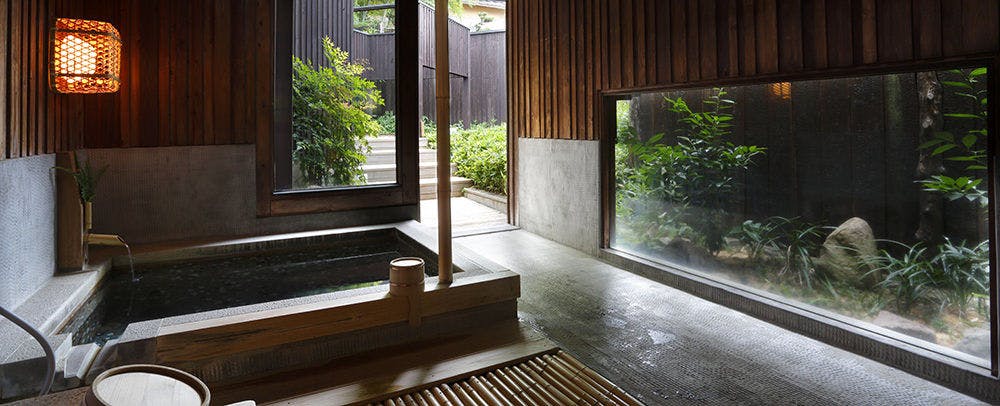 Large Public Bath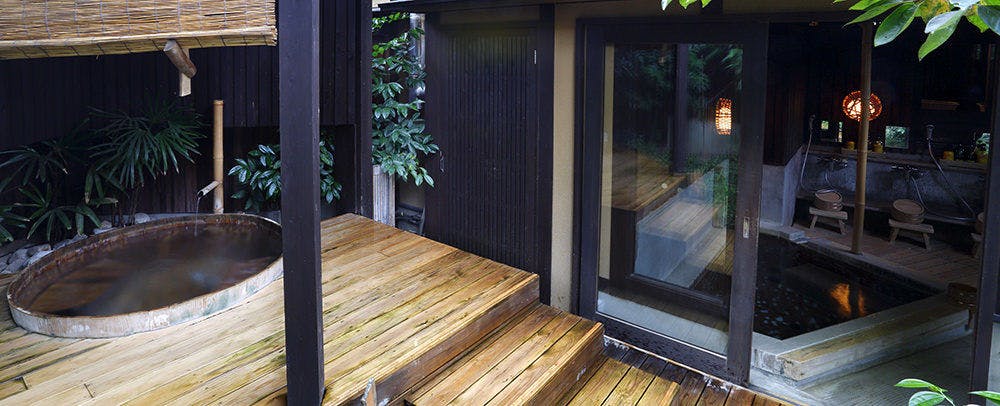 Open-Air Bath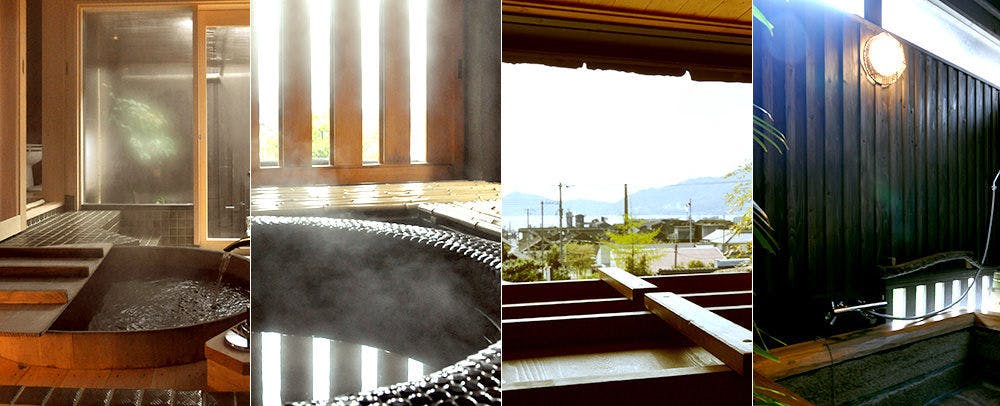 Indoor Bath
Moist and clear hot spring The natural"Satoeda hot spring" of Mari eases you, though it's small. Each of indoor baths is named "Ishi-no-yu" and "Take-no-yu", and open-air baths are named "Ki-no-yu" and "Kaze-no-yu". Relax in these hot spring baths.
Facilities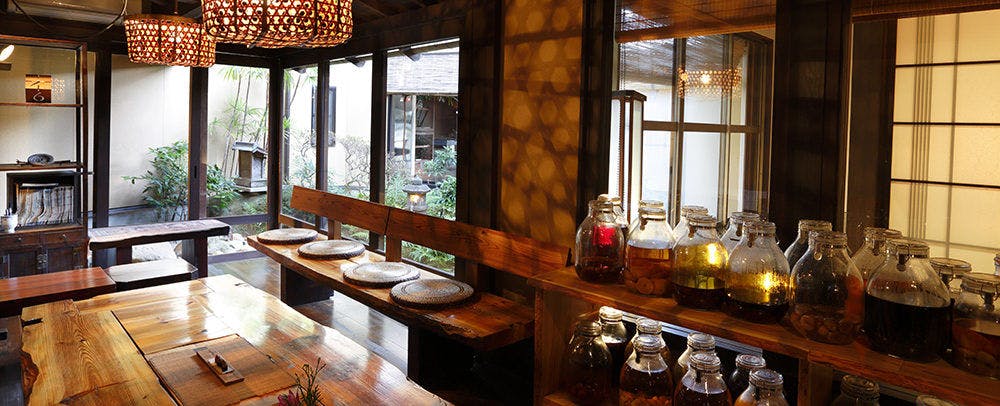 Irori Lounge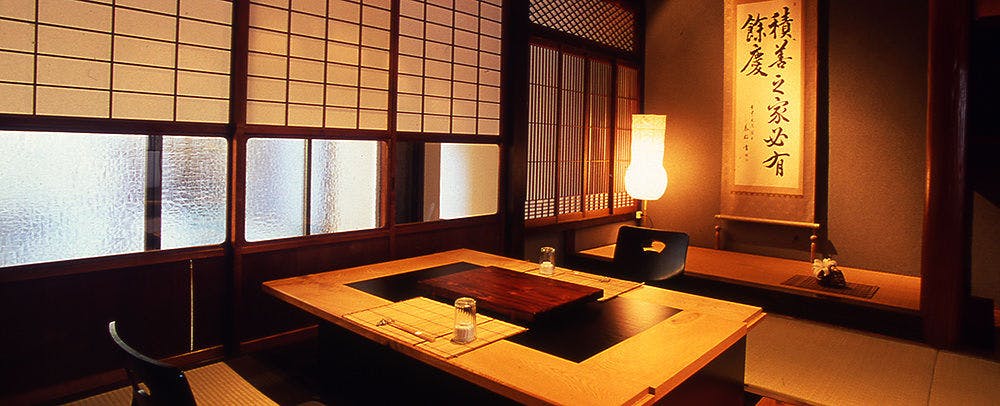 Gift Ship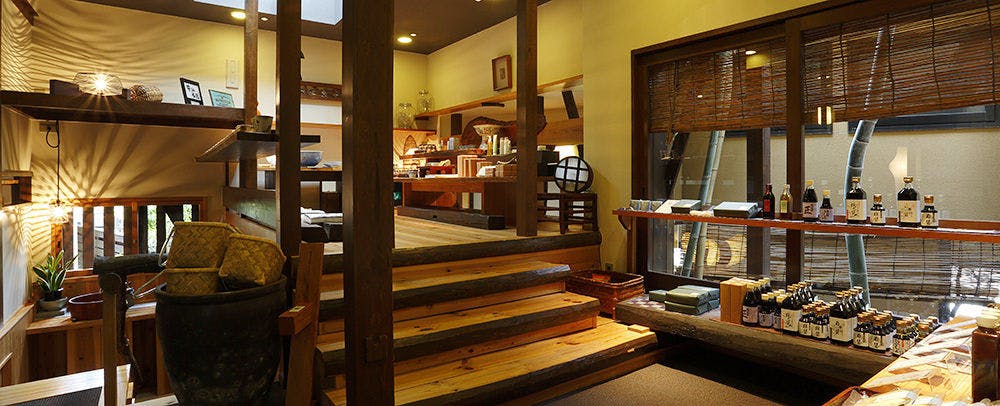 Restaurant
Irori, gallery, and restaurant Irori (Japanese fireplace)
There are some handmade fruit liquor and a good time with your important person. At slightly lit Irori, please call at here as where you can talk to drink cup of coffee.

Gallery
A lot of articles associated with Mari are displayed. It has specialities of this island and popular craftworks. A piece of Mari would be your memory.

Restaurant in Main Wing
You can taste meal at place like grandmother's house. The 80-year-old main wing designated as a national cultural property is the old private house where the host was born and raised. This restaurant were built as a Japanese style private room with foot-warming heat source to be set in the recess built into the floor over which a kotatsu is placed.
Access
2011 Noma, Shodoshima-cho, Shozu-gun,Kagawa,761-4421,JAPAN
BY FERRY & CAR
From Takamatsu Port: 1hr by ferry to Kusakabe Port and 10min by car. Or 1hr by ferry to Ikeda Port and 20min by car. Or 1hr by ferry to Tonosho Port and 30min by car
From Himeji Port: 1hr 40min by ferry to Fukuda Port and 25min by car
From Shin-Okayama Port: 70min by ferry to Tonosho Port and 30min by car
Reviews
11 Reviews
Thank you for your hospitality. If there is another chance, please help me.
Jun 2015
I arrived here by bicycle. When I requested to a staff that I wanted to park my bike in the facility upon my arrival, he immediately answered, "Then please park it in the balcony of your guestroom." and carried it to the balcony of the room. I felt that he might have arranged the issue even if my room had been with no balcony. Staff members were working in vigor, so I felt really comfortable. I could enjoy both dinner and breakfast. As I was travelling by bycicle, I was so tired that I slept like a log after dinner and I regret that I could not listen stories from a professional story teller. Thank you.
+ More
Jun 2015
I was very satisfied with the bath as well as the concierge service of the staffs. Special mention should be made of the meal and when looking closely,each dish was well finished even in the details, so the meal was wonderful. I stayed at a detached room and it would have been better if I had had a pair of clogs without cords Also, I was happy that morning milk as well as a cup of coffee after breakfast were delivered to my guestroom.
+ More
May 2015
This was my first stay. This is a hotel where I had been interested since long time ago and wanting to stay. However, as Shodoshima island is far from our place and not easy to go, we decided to drop by there when we planned our trip to Shikoku. My expectation was not high considering the scale of the hotel (sorry, I'm rude) but that was turned over in a totally positive way as soon as I arrived the hotel. Every service in the room or building and all dishes were colored by the hotel owner and his wife's sensitivity and beauty sense that marvellously harmonized with actions of the staff who support them. It would not have been nurtured and could not be experienced in anywhere else but Shodoshima. While 3 stars in Michelin guide are described as " Exceptional cuisine, worth a special journey" , I would name this hotel as "Exceptional hotel, worth a special journy" as a Michelin class. I additionally felt so because I had a meal at 3 star Japanese restaurant in Kyoto just a week before. Thank you all staff for your hospitality. I appreciate it.
+ More
May 2015
We stayed at the hotel to celebrate both my wife's birthday and our wedding anniversary. We had a really good anniversary, and appreciate the staff members. I wish I could help by writing down everything, but rather than my insufficient words to explain, I want you to visit Mari once to feel everything. While giving the soy source I purchased at Mari which was age in barrels for two years, I tell people that I stayed at the best hotel ever and they should definitely stay there as well. I will come back in the near future. Thank you in advance. Thank you very much for your wonderful hearty hospitality from greeting to send-off.
+ More
Apr 2015
There are hotels everywhere that treat the regular guests with care however it was the first hotel for me where they cared for the guests even when they were the first-time users and there seems to be the tender consideration everywhere. Thank you so much for having me. The room, the bath, the food and the service from the staffs, everything was perfect and satisfactory so it is hard to evaluate in a good sense. One point though, dinner was enough for adults however it might have been not entirely satisfactory if it was not for the room where you could add the food from the a la carte menu. There were many great things other than that, but the fact that not only the morning newspaper but the milk got delivered to the room, and that I could have coffee after breakfast in the room were the service that does not exist in other hotels and I found it very refreshing as well as happy.
+ More
Apr 2015
it was a particularity high-quality hotel. The room in a detached building I stayed was large and clean where I felt calm and mentally soothed. For meals they paid attention to local production for local consumption. Every dish looked simple yet well-prepared. The way they showed how to taste soy source was impressive, and their detailed attention to the tableware was worth seeing. It really is a top-class hotel. I want to bring my mother next time, but because of the stairs in each room, I wonder if it is possible to bring her who has problem in her legs. From my viewpoint, it is a hotel witch offers top-class service and meals. This hotel is worth staying.
+ More
Jan 2015
As soon as I entered the room I thought I would come back. The room, the food and the staff were all very good. And I was moved by the wonderful story of Twenty-Four Eyes by a storyteller. I would like to save my money to stay there for 2 nights next time. The only thing is that I was scared because the bike made noises and there was not much light in the streets but when I think about it, nobody rides on a bike until late at night. Next day, I was headed to Kochi by express train as the motorway was blocked due to the snow. I enjoy the dried sardine vinegar at home, as well.
+ More
Dec 2014
This is a hotel only Shodoshima can offer, where you can enjoy meals that make the most of soy source and other local food stuff. The guest room was extraordinary yet convenient, combining a traditional Japanese house and modern equipment. Detailed attention was paid, such as the emergency exits and the ventilation fans covered with cloths, and I felt the owner's passion for every detail. The room we stayed was the one converted from an old warehouse. I understand that old building can be this comfortable by renovating like this.
+ More
Oct 2014
I visited the inn I wanted to stay at for many years. The inn and the surroundings were comfortable and relaxing which freed from the everyday life. The facilities were not just wonderful, it was luxurious and well-maintained, and the food was really great too. If I could ask for more, I wish the bath was a little bigger. It's not much different from the bath in the room with its current size. But as the number of guests were few, I had a really quiet and relaxing time.
+ More
Oct 2014
Although the facilities and service was wonderful, what was worthy of special mention is the tasty dinner. The food, which utilized the freshness of the ingredients, was amazing and goes well with Japanese wine. As I head towards the island on the ferry, I savored a taste of the extraordinary and recovered from my daily fatigue. I would love to visit again.
+ More
Oct 2014
Information
Check-in Time

From 2:00pm to 6:00pm

Check-out Time

Until 11:00am

Tax / Service Charge

Bathing Tax JPY 150 per adult is NOT included in the rates.

Credit cards accepted at this property

VISA / MASTER / JCB / AMEX / DINERS / UNION PAY / DEBIT CARD
Children

All children are welcome.
Children of elementary school or under are allowed to stay only on 1st Saturday and every Monday on every month. Please tell the ryokan if staying with children.

Pets

Pets are NOT allowed.

Parking

Free of charge for guests; Capacity 10 vehicles; No Valet Parking Service

Other policies & conditions

Hotel will contact guests to confirm reservation, as the cancellation fee is charged from 14 days before arrival. Feel free to ask any questions or request at that time, such as shuttle service.; Children of elementary school or under are allowed to stay only on 1st Saturday and every Monday on every month. Please tell the hotel if staying with children.