- VAT is included, but bathing tax (around JPY 150 per adult) may NOT be included.
- Price in USD is based on the exchange rate as of today and might be different from that of the booking date.
Foods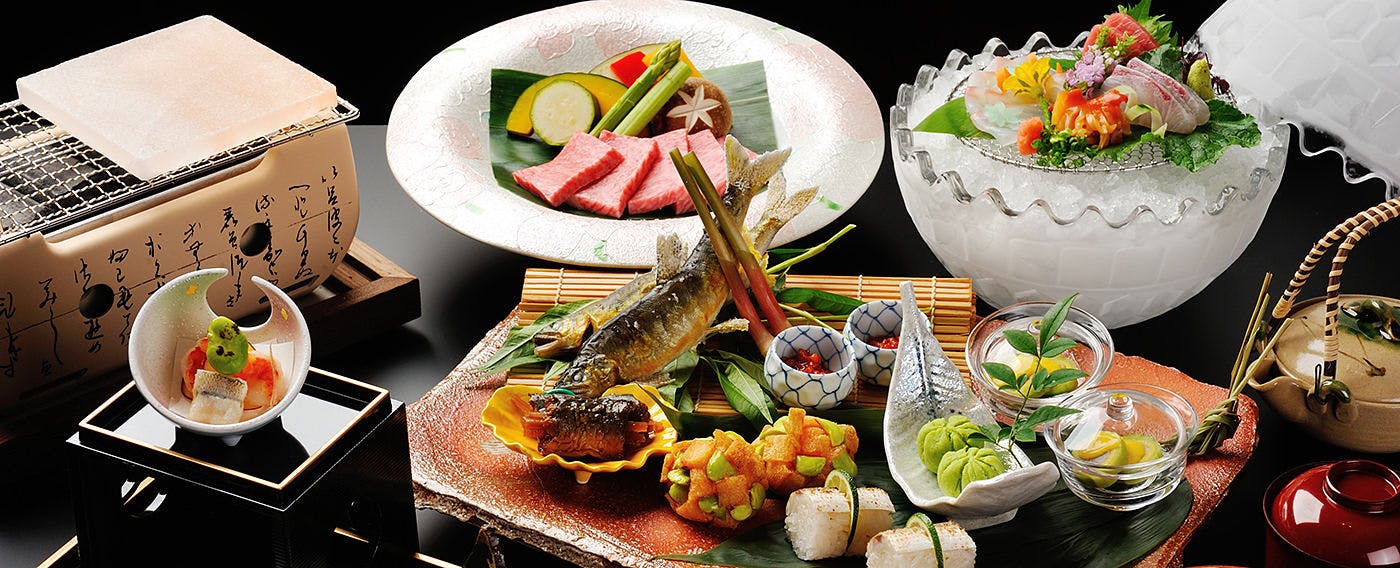 Summer Menu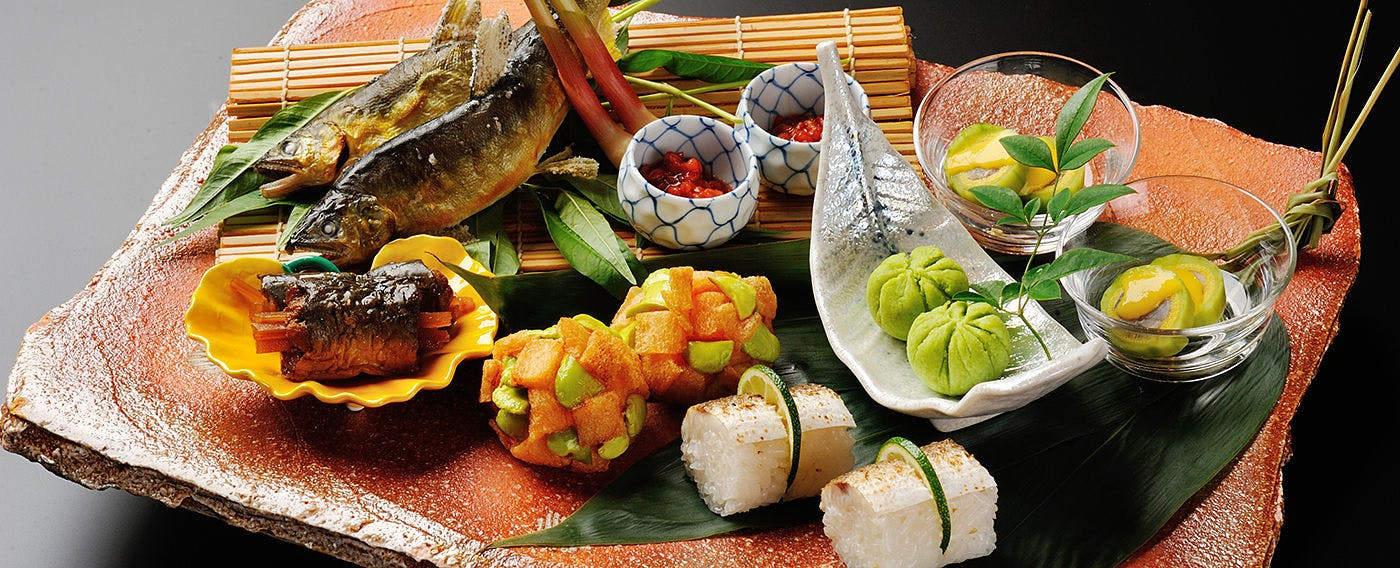 Grilled Foods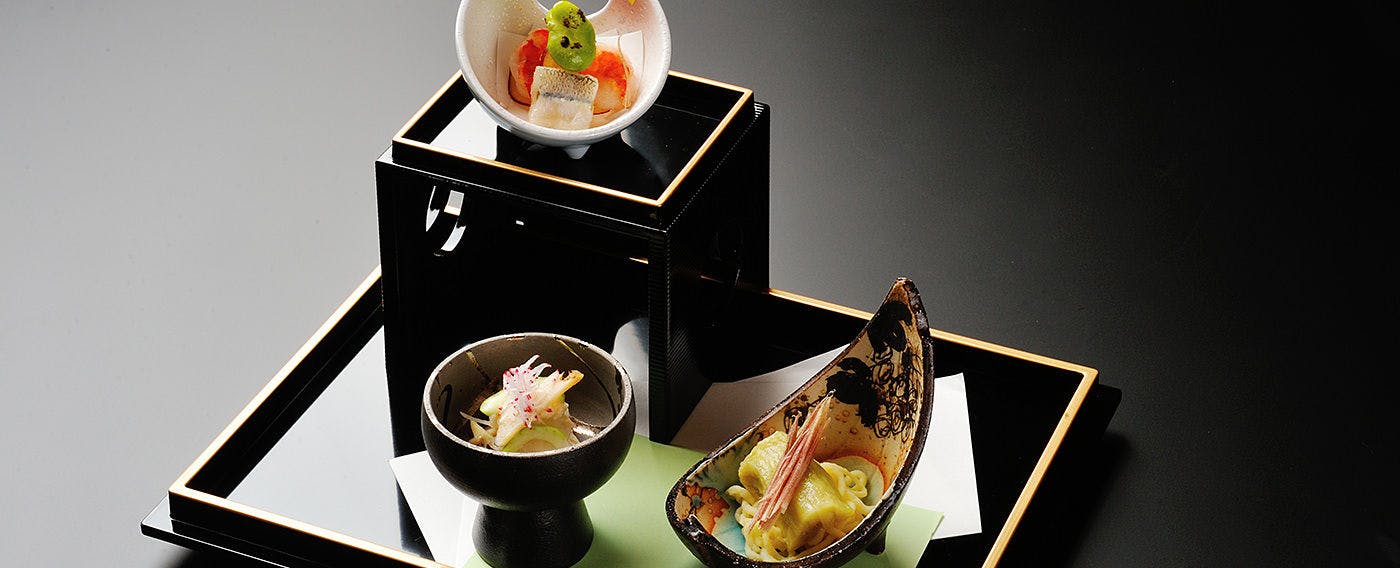 Foods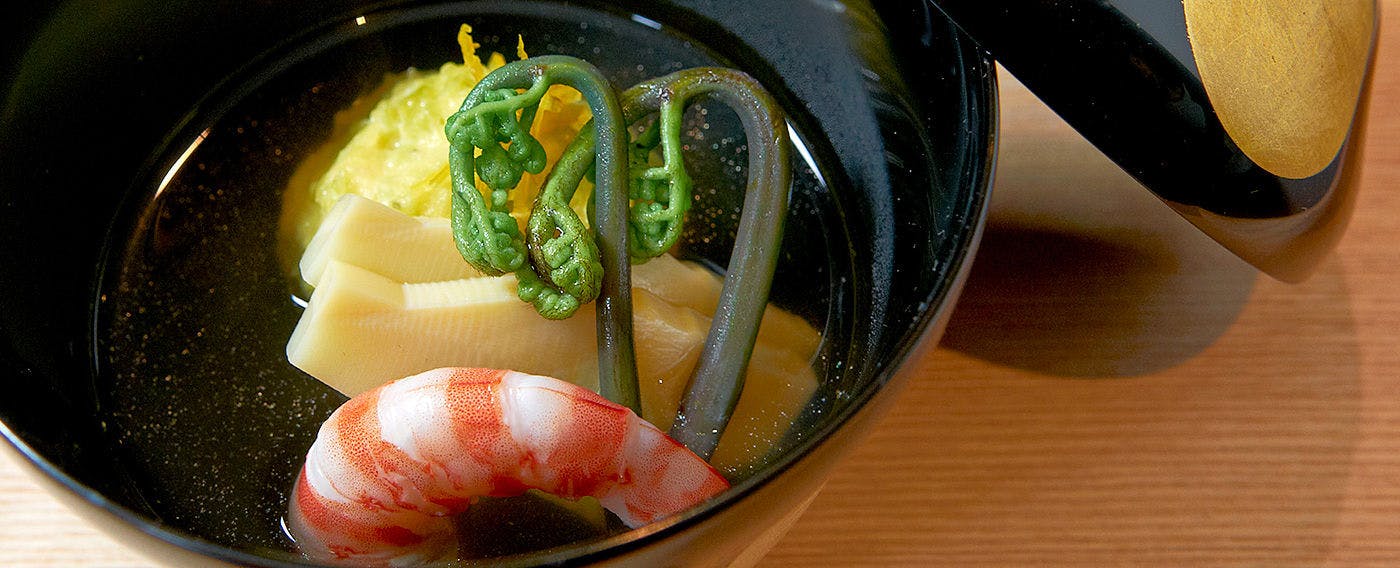 Foods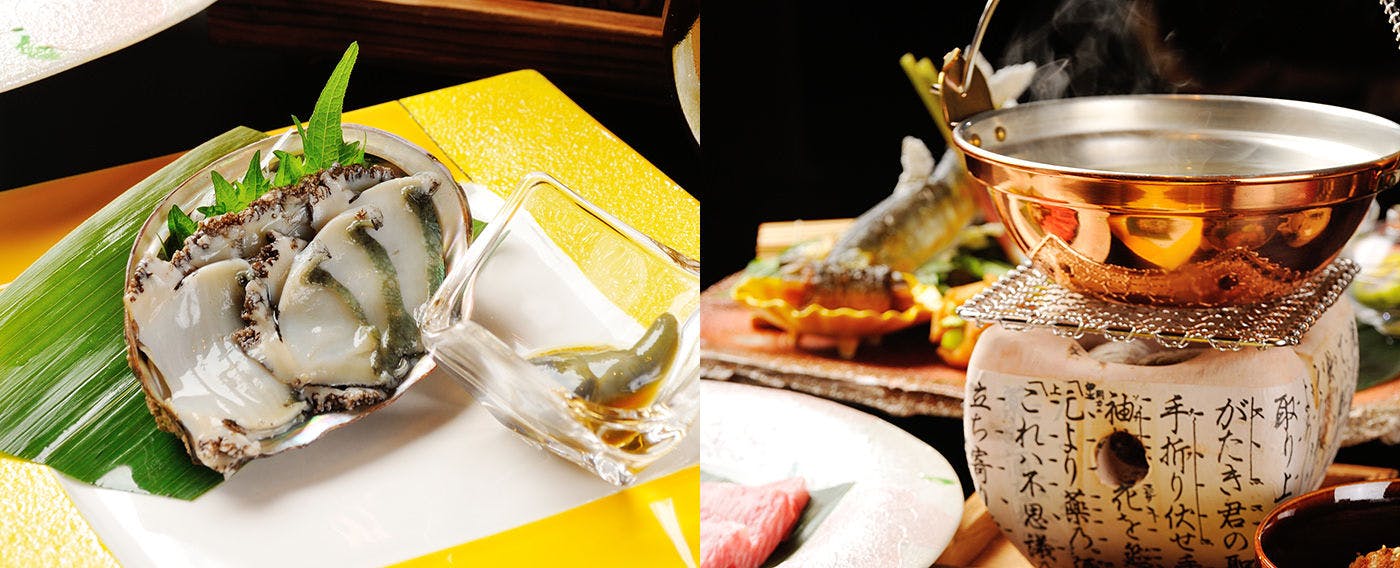 Abalone Shabu-shabu (optional menu)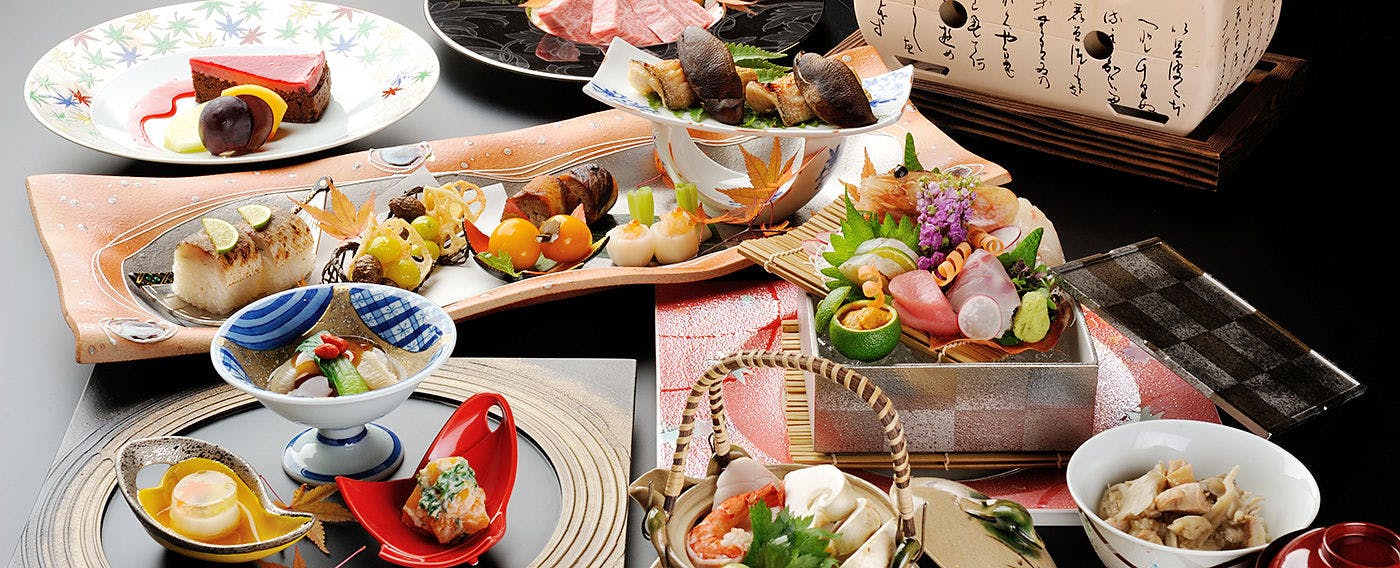 Fall Menu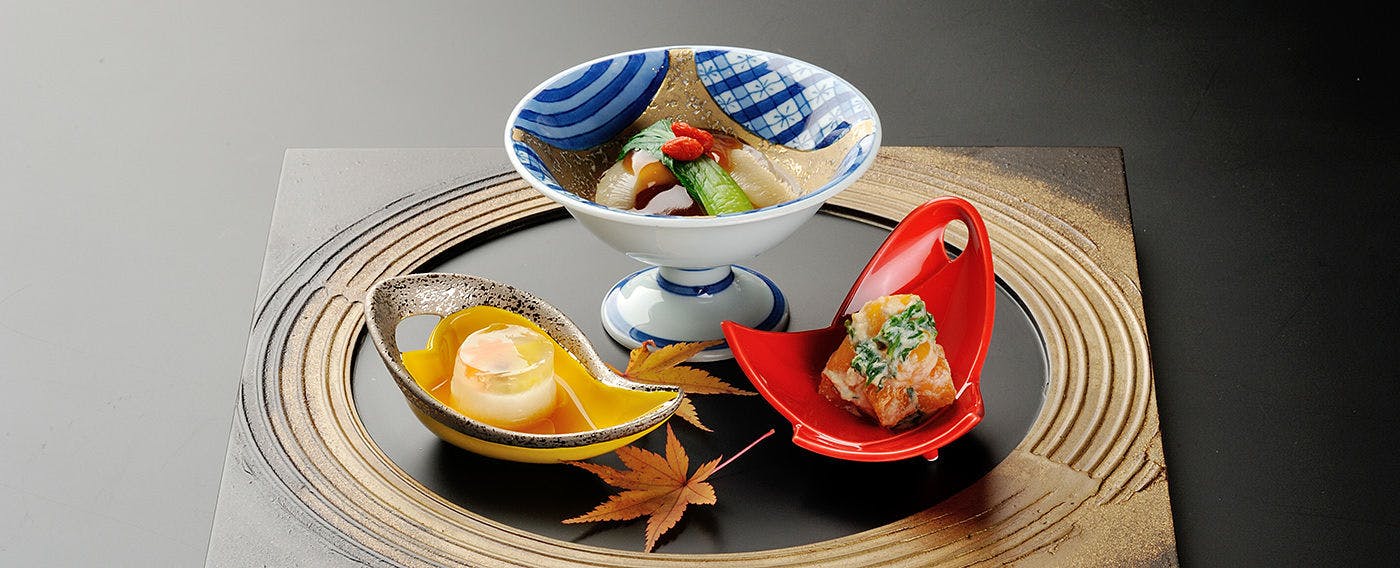 Foods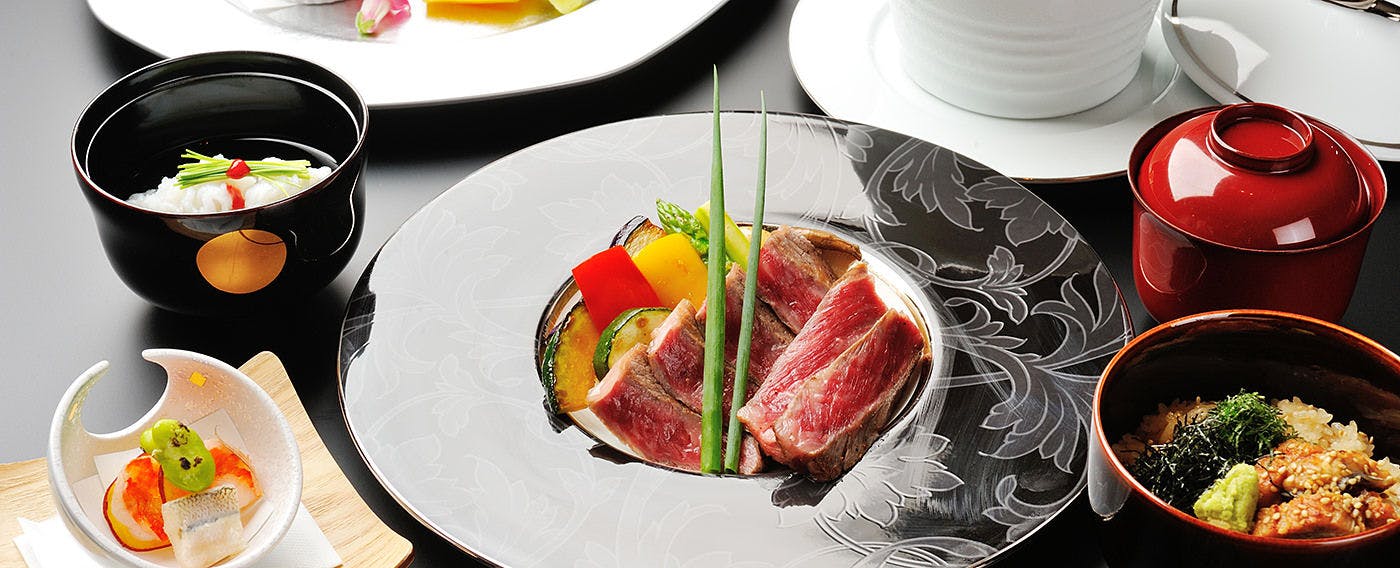 Wagyu Steak Kaiseki Plate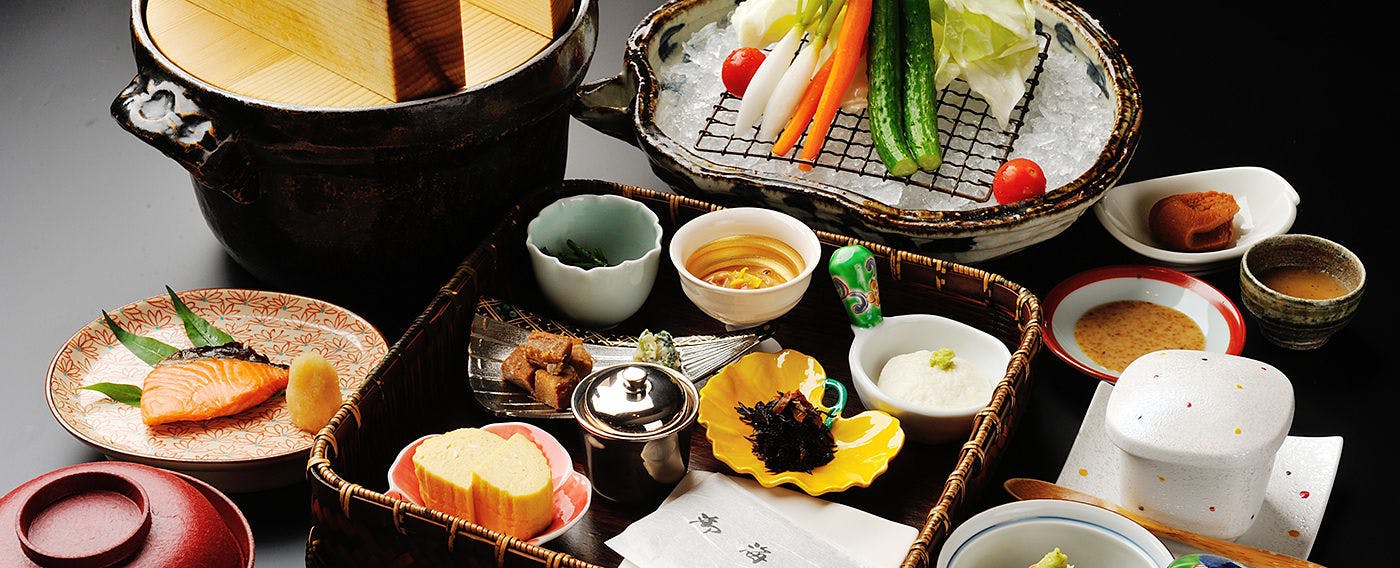 Breakfast
One and only cuisine by chef and art Carefully-made seasonal cuisine with the best Sendai beef, selected foods from all over Japan, and Japanese sake.
Baths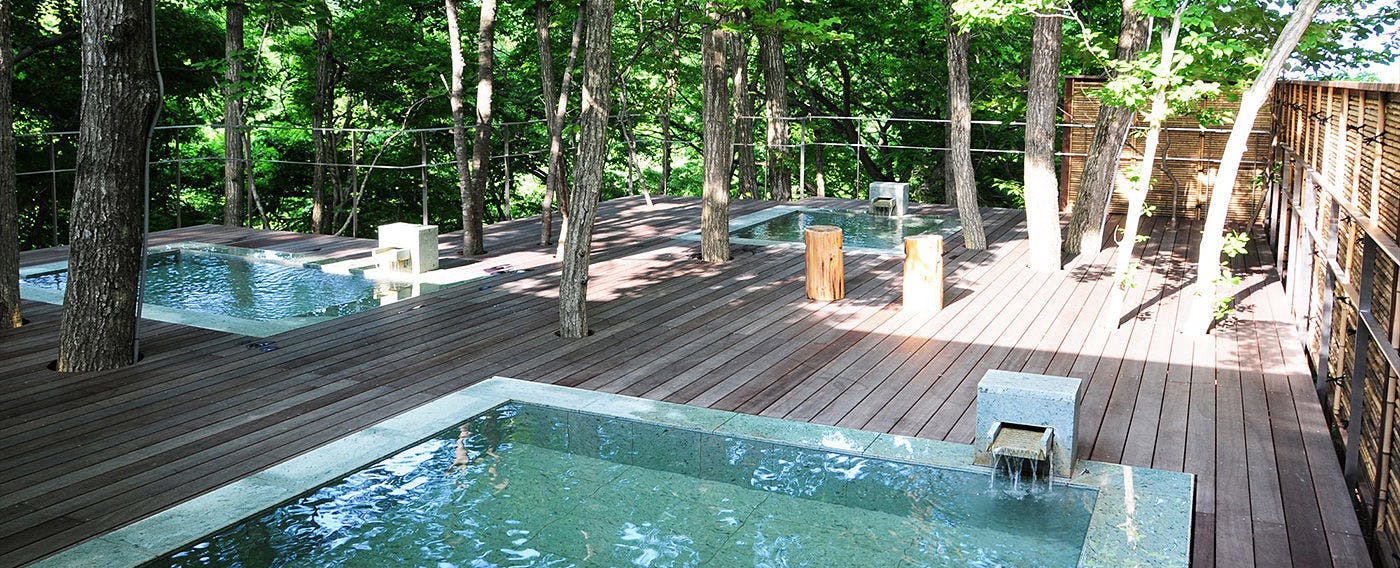 Open-Air Bath at Large Public Bath for Female 'Mizunara-no-yu'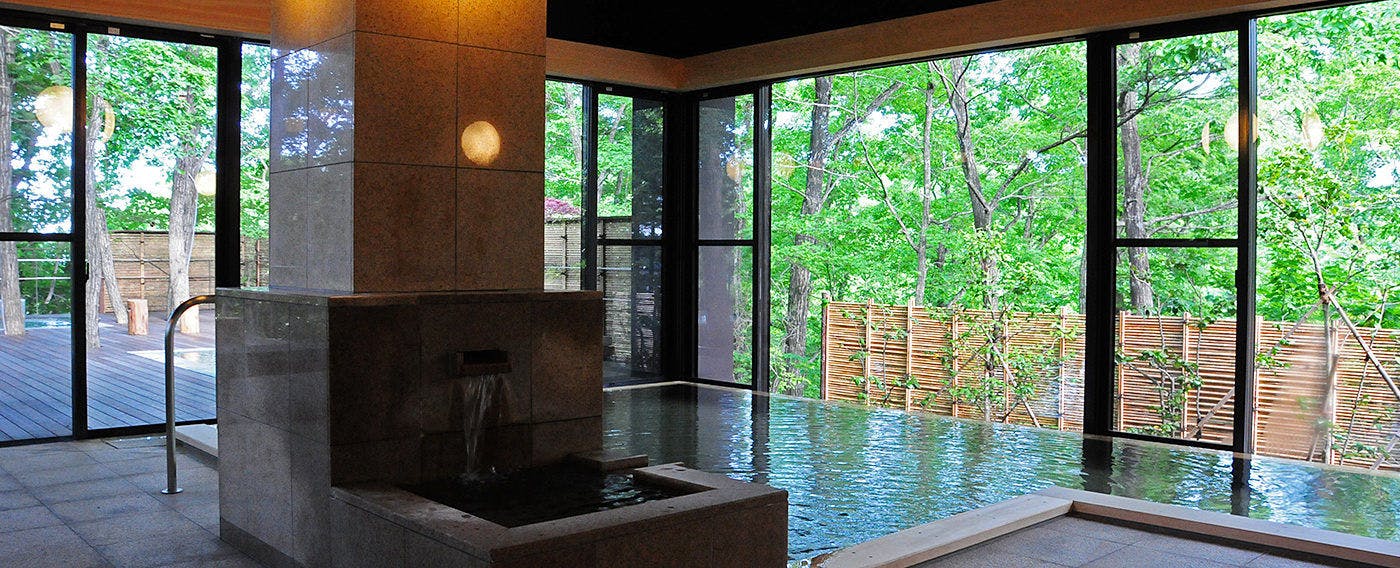 Indoor Bath at Large Public Bath for Female 'Mizunara-no-yu'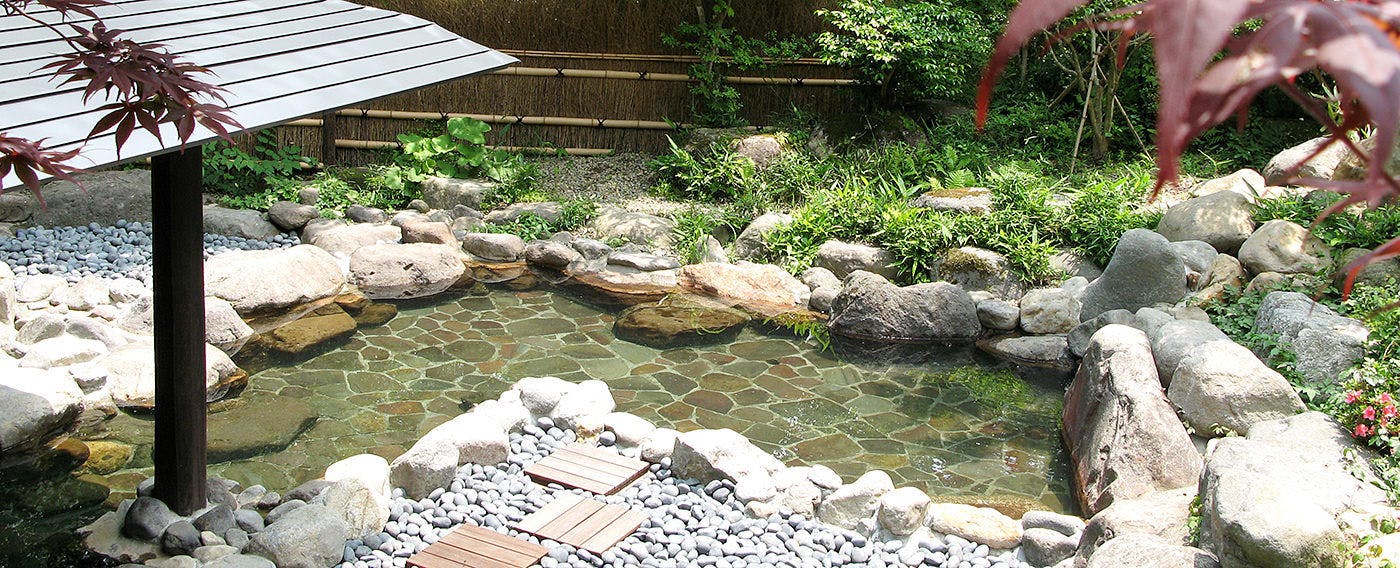 Open-Air Bath at Large Public Bath for Male 'Takeori-no-yu'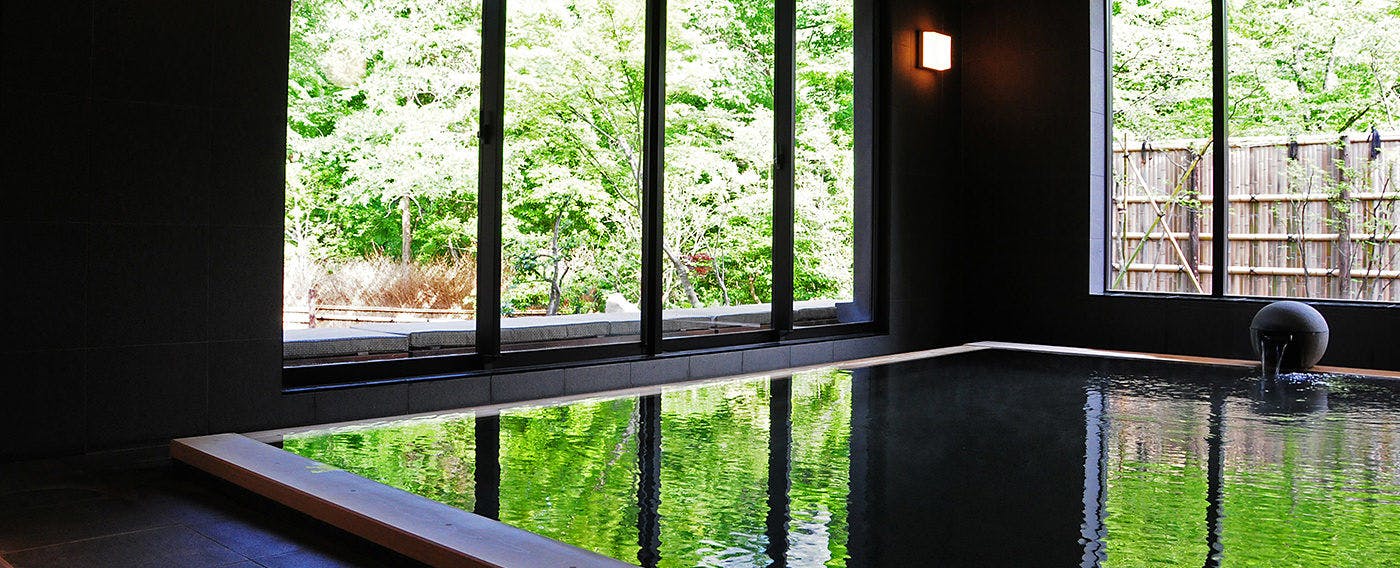 Indoor Bath at Large Public Bath for Male 'Takeori-no-yu'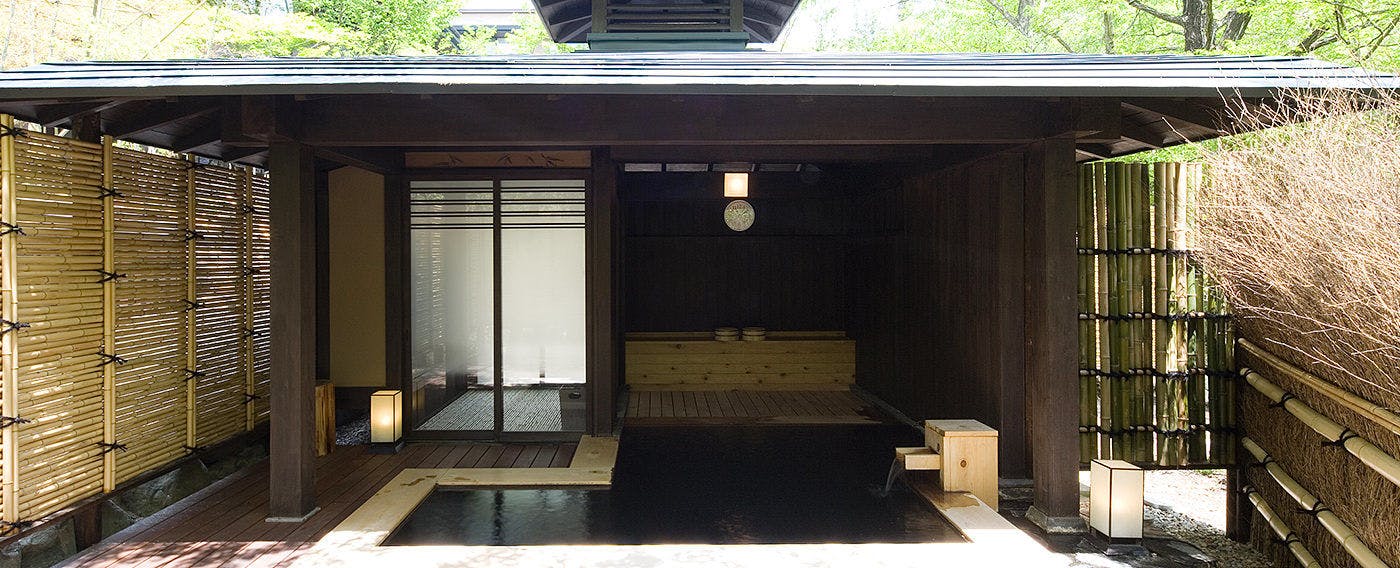 Open-Air Bath with Reservation Only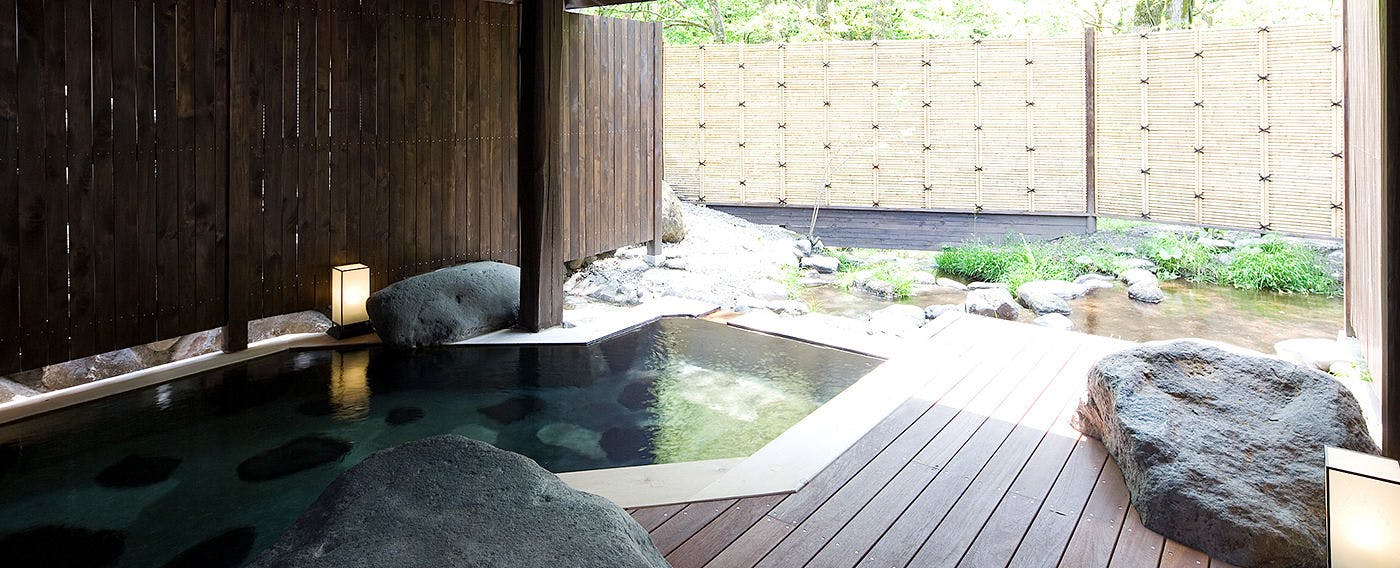 Open-Air Bath with Reservation Only
Experience onsen, the hot spring, like no other at Chikusenso Chikusenso has 2 sources of natural hot spring. All hot spring baths are pour-through type without any reusing. Fully enjoy the luxurious and healing time, at the open-air bath on the wooden deck, or traditional open-air bath with river view, and the indoor large public bath.
Facilities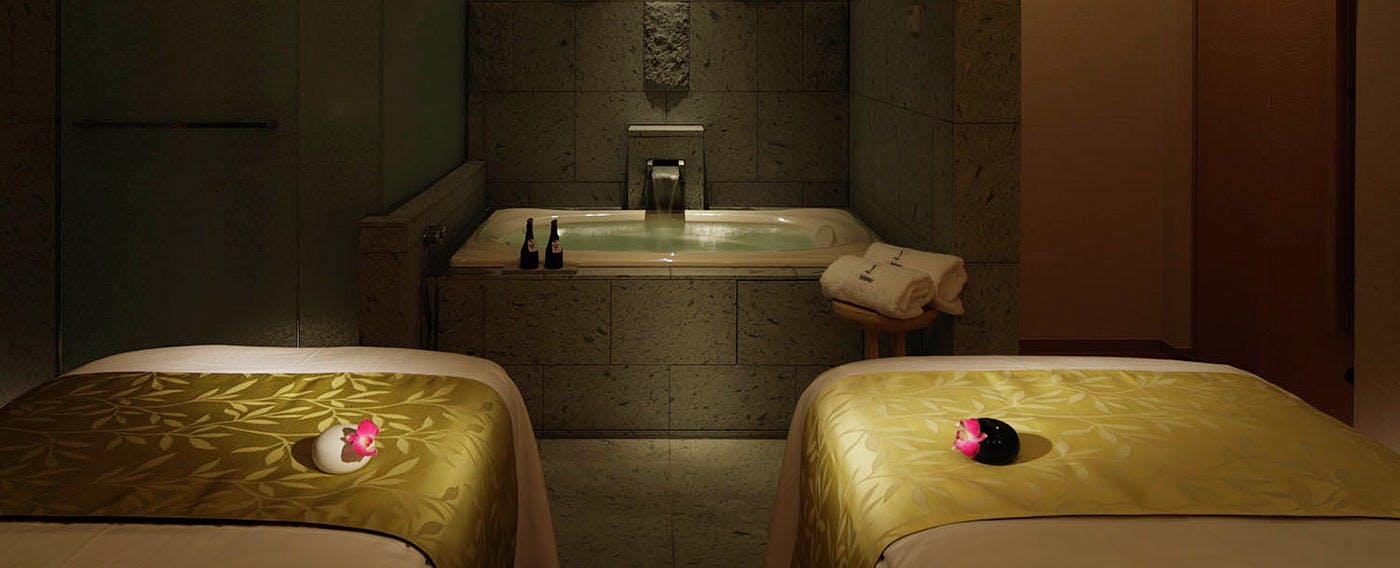 Treatment Room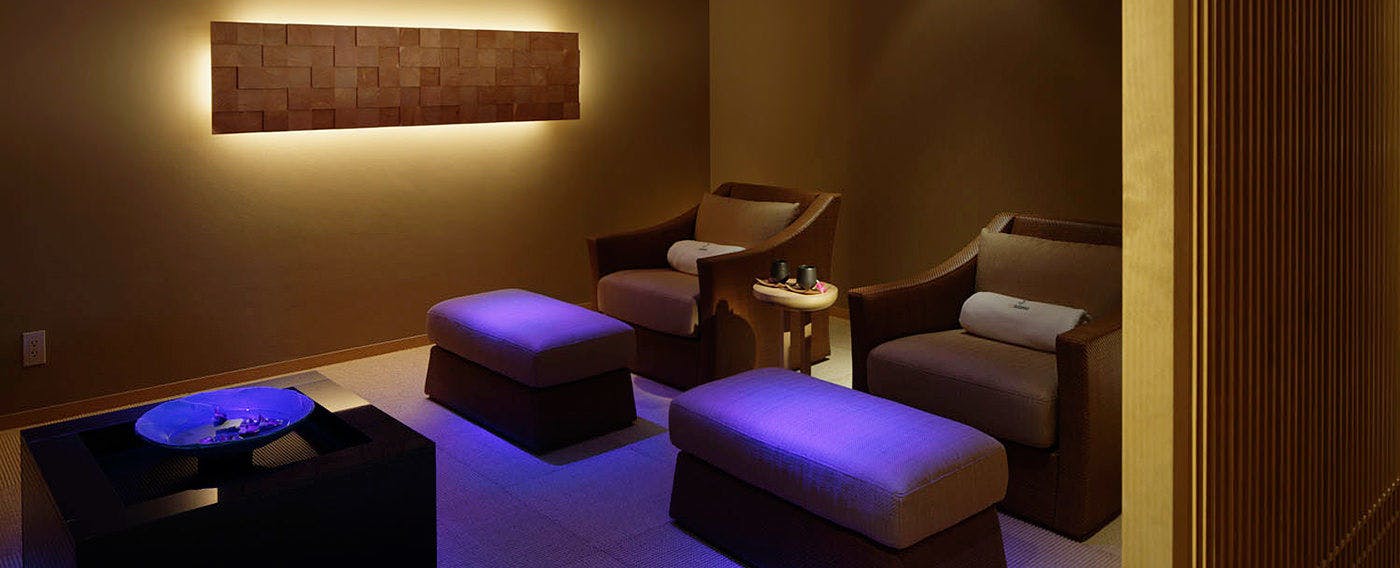 Treatment Room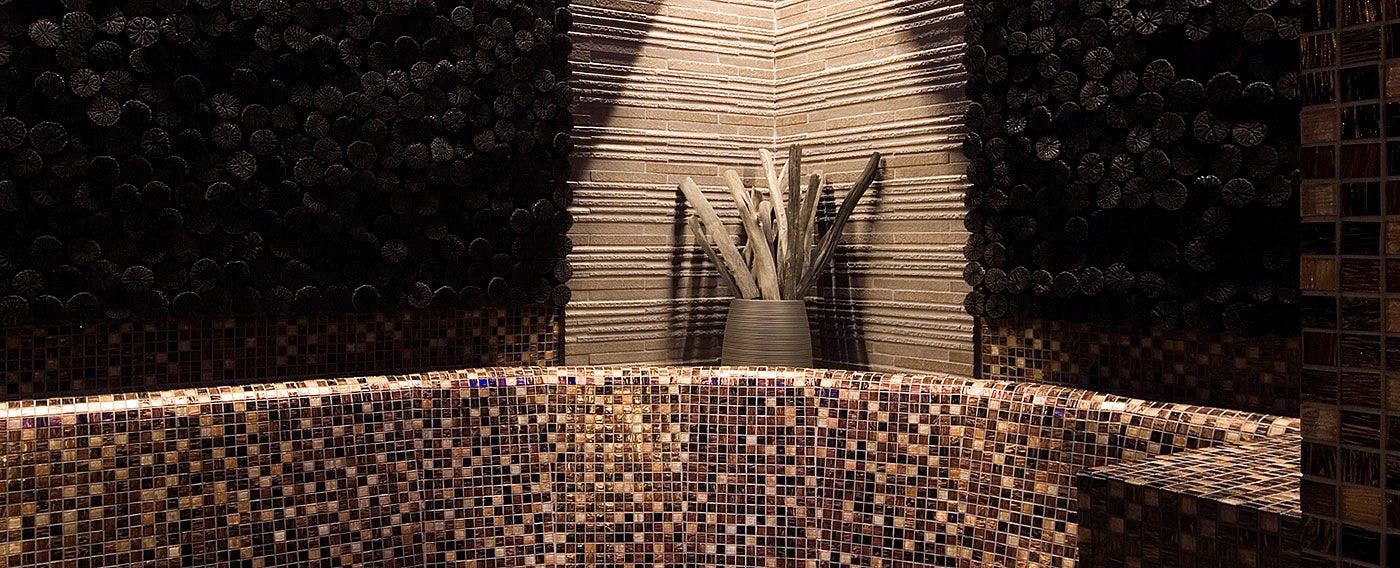 Steam Sauna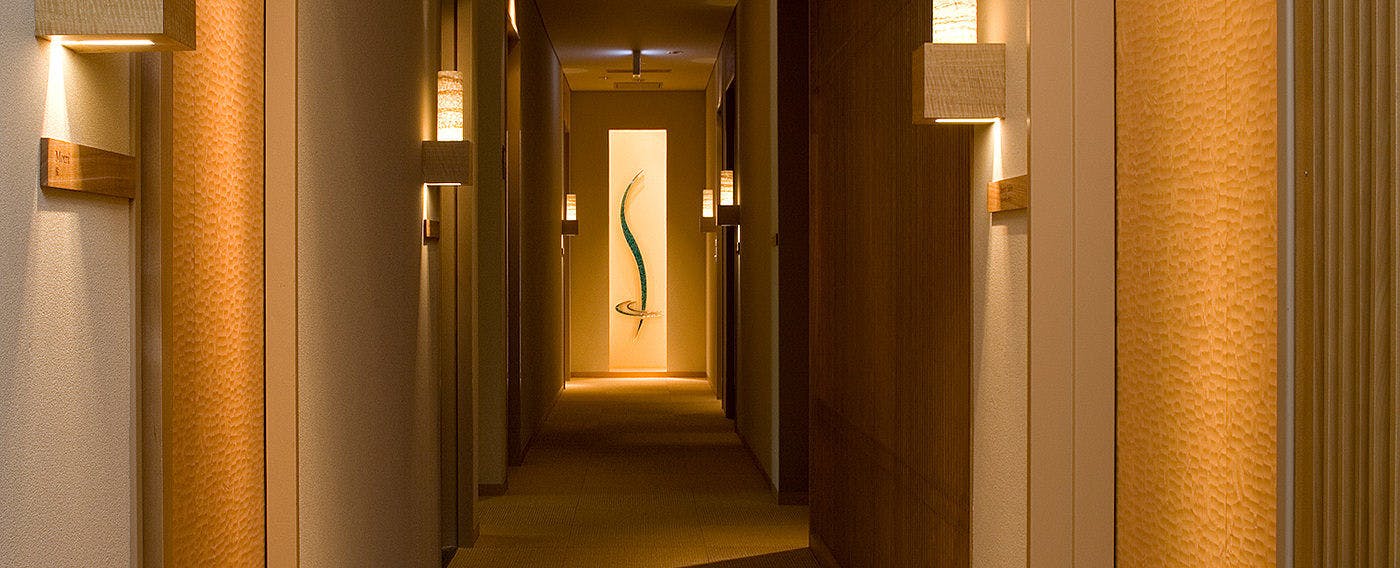 Spa Entrance
Spa Botanica Spa Botanica from the world famous resort Sukothai Bangkok. Western-style treatment and Thai or oriental-style massage.
Access
88-11 Aza Uwanohara, Togatta-Onsen, Zao-machi, Katta-Gun,Miyagi,989-0916,JAPAN
BY TRAIN
From Tokyo Station: Take Tohoku Shinkansen "YAMABIKO" to Shiroishi Zao Station & Go to Chikusenso by car, 2h 40min
BY AIR
From Sendai International Airport: Take Sendai Airport Transit to Sendai Station & Go to Chikusenso by car, 1h 20min BY CAR
From Shiroishi Exit or Murata Exit: 4h 30min A courtesy car is available for guests from Shiroishi Zao Station & Sendai Station. Please contact the property for further inquiries.
Reviews
We had told them that it was a trip for our wedding anniversary which all the staff knew and congratulated us everywhere (even at the spa!).
I personally regret that I couldn't eat the dinner much because I wasn't feeling well, but it was delicious!
There are many ryokans where the meal for adults are great but not so good for the kids, but this place did not cut corners and the kids loved the food.
Although the place is like a hideout in the woods, they have everything you need in terms of both the hardware and service.
The staff were really nice and they took care of everything.
We went to Okama after checking out and realized that we hadn't returned the key. We called them and they came all the way to Okama to pick it up which was helpful.
So sorry for the troubles...
We stayed in several ryokans/hotels during this trip but this place was the most comfortable.
We would like to stay there again when we have a chance. Thank you.
+ More
Aug 2015
We had a great time.
I feel relaxed every time I stay there.
I appreciate them for graciously responding to my difficult request this time.
I was also happy that they remembered the food that I don't like.
Thank you.
+ More
Aug 2015
We were able to spend a relaxed and chilled time in a refreshing environment surrounded by greenery. And in regards to food, it was delicious with a good touch of the tasty broth. I would like to stay there in a different season.
+ More
May 2015
I chose this place this time as celebration of my husband getting a promotion after working so hard every day and I wanted him to relax and also to celebrate our 33 year anniversary of marriage and also my daughters marriage. As suspected, I made the right choice in choosing this date by avoiding the national holidays.
The baths and corridors were empty and we were able to totally relax and spread our wings. Never in my life have I felt so relaxed in silence. It was a hotel that was embedded in greenery and the woods. I guess this is what you call luxury. The food was delicious and just the right amount. Especially the staff was excellent. I felt a hotel-like professionalism in the way they were always there for each customer just when we needed them with speedy solutions and an appropriate distance. I am not very good with the pretentious over care of those staff in the Japanese ryokans so for me this is what made me happy the most. It was complete bliss when after dinner, I was nodding away with a glass of wine in my hand to a piano mini concert. I was able to spend a really happy and fulfilling time. I love this hotel. I will definitely go there again in the off-season.
+ More
May 2015
It's a fabulous inn that presents fine traditional Japanese qualities in a modern way. The space created by the shapes and lighting was very calming.
I chose the cheapest room, but was more than able to relax.
More than that, time passed quickly when I was sitting on the sofa in the lobby, drinking coffee (you can drink freely from the machine there).
There was more people around during meal times, but I usually had the bath and lobby to myself.
The more expensive rooms were probably more comfortable, but I was satisfied with my basic room.
The food was exceptional.
Zao crater was nearby, but the road was unfortunately closed.
Next time, I would like to come during summer or autumn.
I chose the shortest route on the GPS from Sendai Airport, but there were quite a lot of narrow mountain roads. I had a small car (Aqua) so it was no problem for me, but those would large cars should probably avoid.
+ More
Nov 2014
Anyway, the food was the best. Even the tableware was lovely, making meals even more enjoyable. The dessert for breakfast and dinner were both delicious. The outdoor bath in my room had colourful red leaves dancing on it, giving it a four seasons feel and making it very relaxing. The inn staff were attentive, fantastic service. I have no complaints. I would definitely like to come again!
+ More
Oct 2014
I was interested to know how a ryokan (categorized as a hotel at Ikkyu) is operated by a foreign company. Just as I expected, they successfully combined the tastes of both a first-class hotel and a ryokan.
The detached guest room has large windows which allow you to fully enjoy the fresh air and deep woods that surround you. The daring terrace and the all urushi-painted bath tub and the sink attract your attention. It is also equipped with a walk-in closet which is rare in a ryokan.
The private open-air bath that I was excited about could be as big as some public bath, but the bath was beyond my expectations. It also made me smile that the water was not too hot to my liking. However, it was a little cumbersome to have to leave and lock the room to go to the open-air bath. Nevertheless, it is fun if you think of it like you are renting the whole open-air bath at a big public bath. There was no roof, so I wonder what they do when it rains.
The restaurant does not have private rooms but the space is big and solidly built, so you can eat in a quiet and relaxed atmosphere. Of course, the meal was fantastic. I apologize for leaving in the middle for a work call.
Overall, the hotel-like faultlessness leaves nothing for me to complain about. You can spend a relaxing time that is somewhat different from a pure-Japanese ryokan. I would definitely like to stop by when I have a chance to go to Miyagi.
+ More
Oct 2014
For the meals, they take a lot of care in the details like tableware and how they serve sake, and the meal is enjoyable with the explanations about the food. Everything was delicious, both the breakfast and the dinner.
The water quality and the temperature of hot spring were just right for me and I could be there forever.
As for the room, I noticed a little smell of the tatami or something when I first entered, but the room and the building were spotless and comfortable. This place is perfect when you want to spend a quiet and relaxing time. I want to try the spa next time.
+ More
Oct 2014
It was my second stay in two years. The stay was really good again. We liked staying at different hotels every time, so had never stayed at the same hotel again. However, such was not the case with this hotel!
We were served kaiseki cuisine and it interested me that the cuisine used a salt plate to grill meat.
Everything about my stay was great. Thank you very much.
+ More
Oct 2014
I arrived at the hotel a bit earlier than check-in time, but the hotel staff welcomed us outside. The hotel staff gave me detailed guidance and was considerate of me as a pregnant woman. The inside of the building was very clean and my room was like a new apartment room, which was spacious and comfortable.
The hot spring water was soft to the touch and made my skin very smooth. I saw a lot of people in the large communal bath, but tbe bath was not crowded, so I was relaxed there. However, the women's bath and the men's one had different atmospheres, and it was unfortunate that I wasn't able to enjoy a stone bathtub in the men's bath.
The dishes were satisfying both in volume and quality, and we enjoyed them a lot. Also, we had a very good time while the piano was played for an hour from 5 pm. I was really excited at wine and jouice that were free of charge! I like live music! I was very impressed.
+ More
Sep 2014
Information
Check-in Time

From 3:00pm to 6:00pm

Check-out Time

Until 11:00am

Tax / Service Charge

Bathing tax is not included.

Credit cards accepted at this property

VISA / MASTER / JCB / AMEX / DINERS / UNION PAY
Children

Children of elementary school or older are welcome.

Pets

Pets are NOT allowed.

Parking

Free of charge for guests; Capacity 35 vehicles; No valet parking service.

Other policies & conditions

This property is Non-Smoking except in the designated smoking area. Thank you for your understanding.