- VAT is included, but bathing tax (around JPY 150 per adult) may NOT be included.
- Price in USD is based on the exchange rate as of today and might be different from that of the booking date.
Foods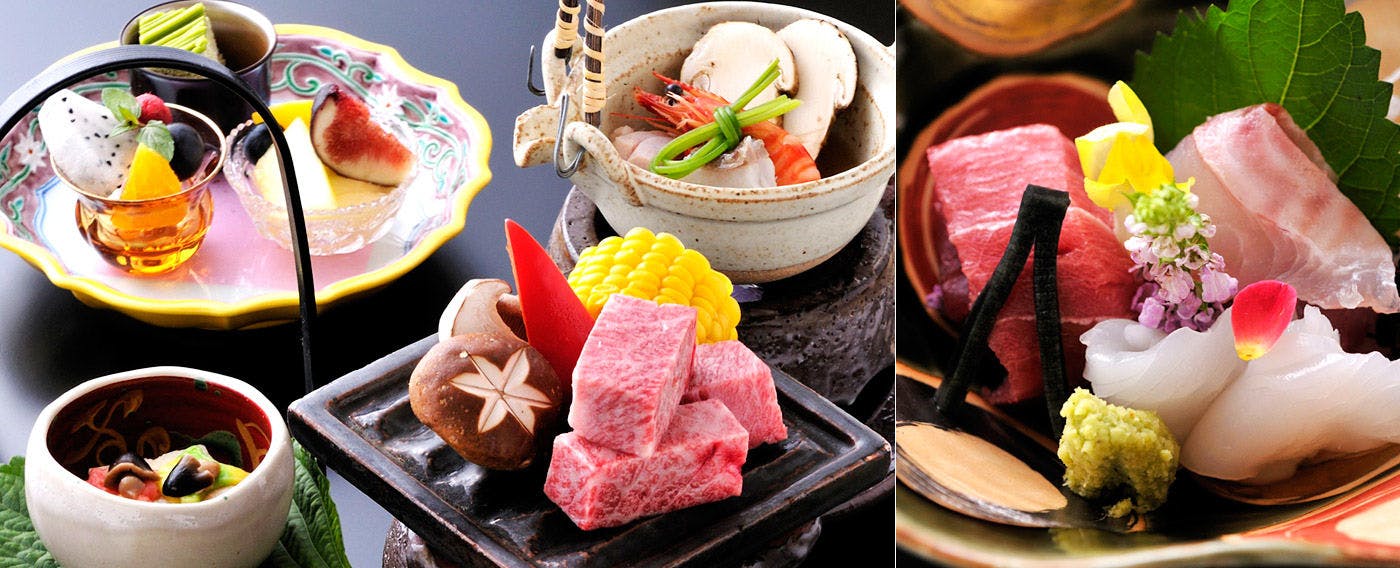 Foods
Seasonal cuisine Strictly selected seafood, mountain vegetable and fresh meat, such Hida Beef, are served in kaiseki style of Kyoto. Enjoy the seasonal foods and Japanese hospitality at the restaurant.

Please note that Gora Hanaougi is not able to offer vegetarian or any religious meals.
Baths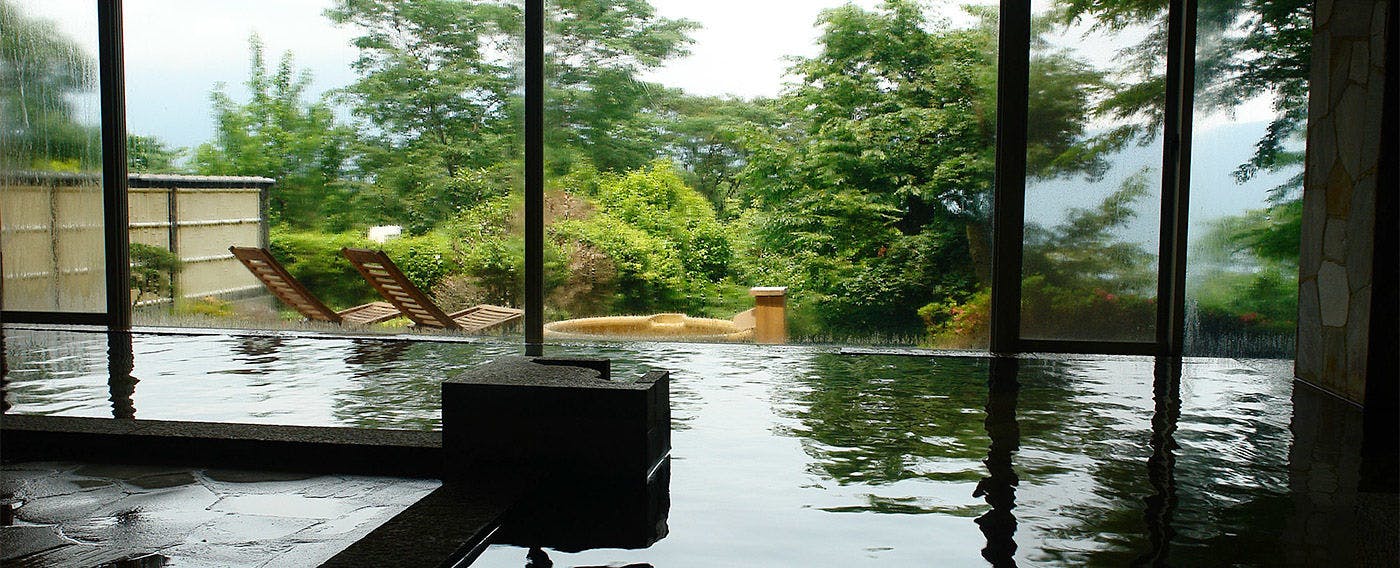 Open-Air Bath seen from Indoor Large Public Bath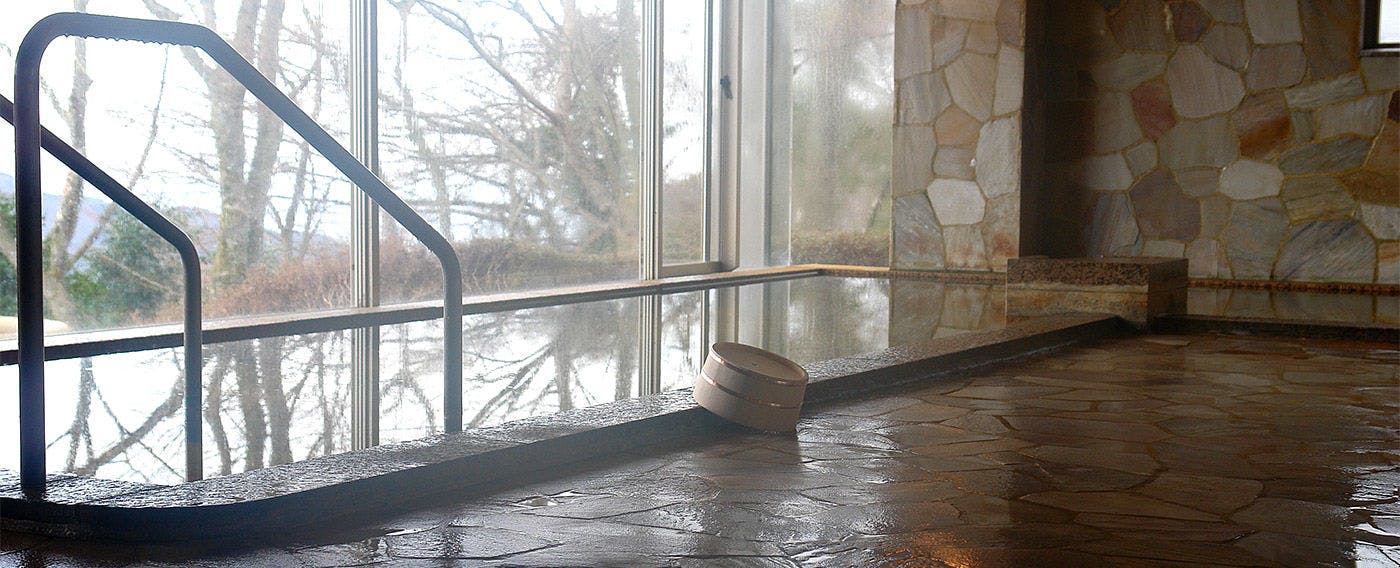 Large Public Bath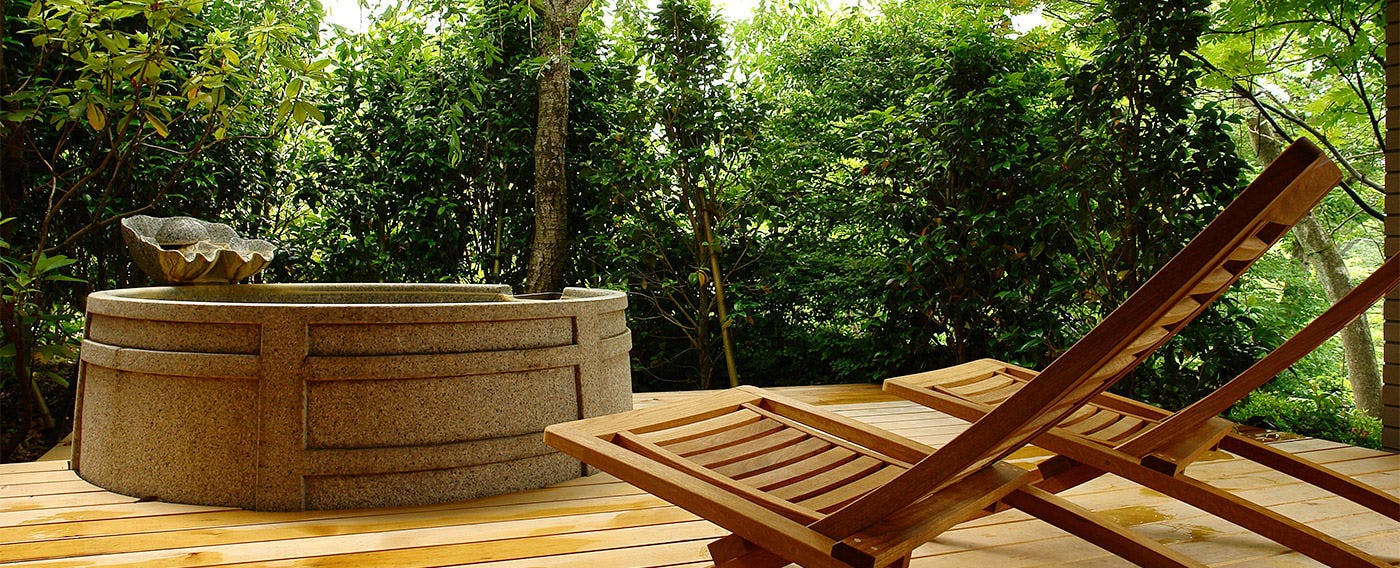 Stone Open-Air Bath for Male
Luxury to enjoy the great nature view of Hakone from baths Hot spring facilities are all supplied with water directly from a fountainhead and not recycled. Alkaline spring water is relatively unique among the hot springs in Hakone, and keeps your body warm after your bath and helps maintain beautiful, smooth skin. Besides a private open-air bath in each room, we have separate large public baths for men and women, each have two open-air baths and one spacious indoor bath so that you can enjoy different atmosphere. A wide variety of toiletries (bathroom amenity) for women is also provided.
Facilities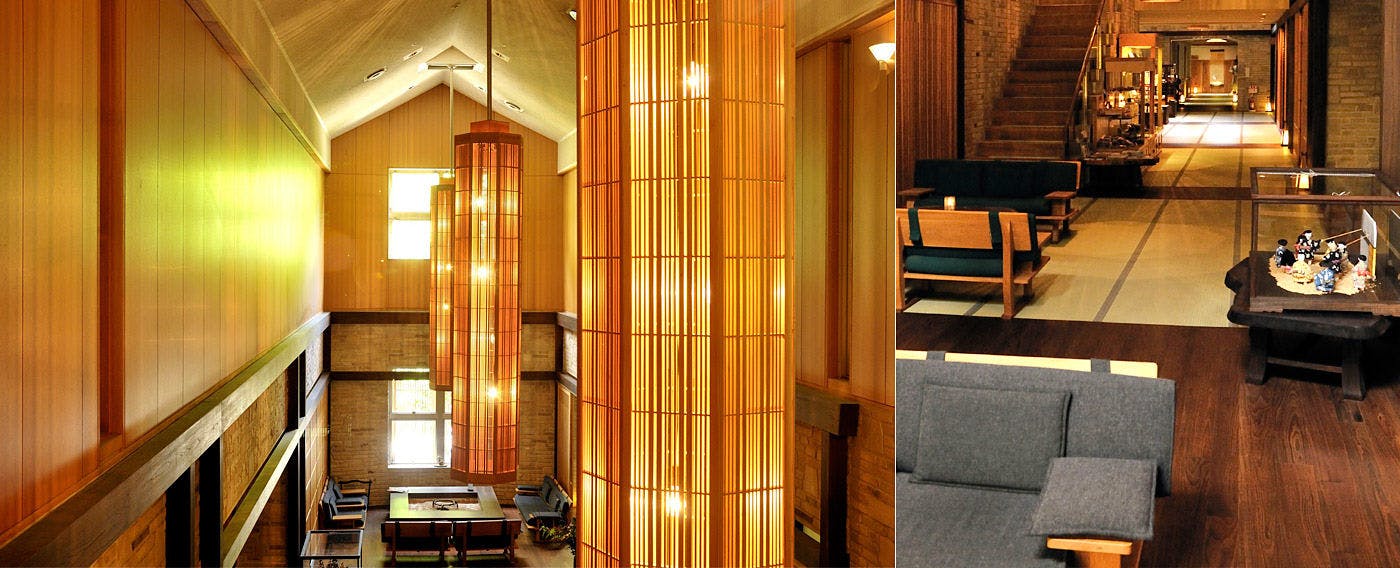 Lobby
Poised interior harmonious with the nature of Gora, Hakone You are welcomed with heartful hospitality, and relaxing and warm space at this quiet ryokan. Enjoy the great dignity of Japanese Zelkoba wood and luxuriously huge lobby. Once entering here, you can feel the relaxing stream of time, and comfort.
Access
1300-681, Gora, Hakonemachi, Ashigarashimo-gun, Kanagawa, Japan,Kanagawa,250-0408,JAPAN
BY TRAIN
From JR Shinjuku Station: 90min by Odakyu Line Express "Romance Car" to Hakone-yumoto Station & 35min by Hakone Tozan Railway to Gora Station & 5 stops by Hakone Tozan Cable Car to Souun-Zan Station. Connected by private elevetor & 1min-walk. Shuttle service is available for free of charge.
Please note that Gora Hanaougi is not able to offer vegetarian, without seafood or any religious meals.
Reviews
As it was during the holidays in May, I applied for Hida beef fillet plan to enjoy a gorgeous trip with my husband. Not only the inn was quiet and beautiful of course, but also we could enjoy meals of satisfactory amount with high quality. The hot spring bath of the room was really wonderful, and the water temperature could be controlled easily. We could enjoy a really nice trip of hot spring. I would like to visit this inn again in the future.
+ More
May 2016
We selected Hakone for the 35th anniversary trip of our wedding because it is near and we can relax. The facilities of the inn and room were more complete than we expected, which was impressing. In addition, Nakai (staff) who took care of us was very helpful, so we had a very good time. Meals were very delicious with an appropriate amount, and my wife was very impressed with the nice sense of the utensils used for the dishes. We requested them to change the menu in advance, and they did it to the extent more than enough. It was very thankful. The plan included "monaka (wafers) ice cream," which we enjoyed eating after taking a bath early in the morning. The staff of the front desk who answered the phone called me by name "Mr. XX," which was amazing. When we were leaving, it was raining a little, so they moved the car to the entrance, saying it might be hard to walk. They took care of us warmly until we left, which made me want to visit this inn again. We stayed for only one night, but we could enjoy our trip in a relaxing atmosphere.
+ More
Apr 2016
The floor and elevator were covered with tatami mats, and the atmosphere was quiet, so we were able to enjoy the hot spring leisurely. I stayed at the inn with my one-year-old daughter, and the staffs were really considerate, taking care of her during the meal. I was very satisfied. If I visit Hakone again, I want to stay at this inn.
+ More
Mar 2016
I wanted to enjoy my last trip before having a baby. So I selected this inn because I just wanted to relax... and I think it was really good. Although I arrived there two hours before the check-in time, I was welcomed and guided to the lounge, and given a welcome drink... Even before checking in, I was healed by the warm hospitality and the relaxing atmosphere of the inn. As I was pregnant, they gave me a cushion, lap blanket, and even decaffeinated drink. I was really happy. Above all, the entire inn including our room was equipped with floor heating systems and tatami mats, which was really thankful for me as I am cold-natured. While I was in the inn, I was healed by a good smell of tatami. Elegant delicious meals with a sufficient amount, a spacious public bathroom, cozy and clean guest room... everything was perfect. More than anything, the service of the staffs was gentle and calm, which was in good harmony with the relaxing atmosphere of the inn. This is why I could have a comfortable time. It may be true that other inns have various services and concepts. But no other inns will make us feel "so perfect" as this in everything... We talked to each other while going home. I would like to stay at this inn again, and I would like to invite my aged parents to this inn. Thank you for the wonderful memories.
+ More
Dec 2016
As one would expect, the room, the service, and the meal made me very happy. We visited this inn for the first time in two years, and my mother and niece were very satisfied with the perfect service. The timing of serving dishes was so exquisite that I wondered if they were watching us with a camera hidden somewhere. I would like to visit again next year.
+ More
Nov 2015
I arrived at the inn late because of my work, but the staff came out from the entrance to greet me, so I could arrive safely. It was very thankful. I could enjoy eating dinner leisurely without being hurried up. The menu had not only delicious fish but also Hida beef, and it was elaborate. Most inns serve dinner with substantial amount, but this inn serves delicious dinner with proper amount. I stayed for only one night, but I could relax, eating delicious meal, taking a bath until the check-out time. Thank you very much for the hospitality.
+ More
Jun 2016
We stayed there for our first family trip with my 4-month old son. The inside of the building is a relaxing space with tatami hallways and high ceilings.
As we informed them that we were coming with a baby, they took a great care of us by putting a trash can for diapers and setting up a Bumbo baby sofa at the restaurant. The open-air bath at the room was nice and well equipped, and we were able to enjoy our first hot spring with the family.
The meal was elaborate and everything was so delicious.
This trip was a bit of a splurge for us but it was worth it. I think it's a ryokan that I can recommend to my friends.
+ More
May 2015
This was my third stay at Gora Hanaougi. I had a great time again. It is the kind of place you want to stay for a couple of nights and relax. It was a very satisfying trip with the good weather and hospitality. I would also like to stay at their sister ryokans Sounkan and the newly opened Madoka no Mori. I am thinking it might be fun to stay at each place since they are all close by after the opening special winds down. I look forward to your hospitality when I do. Thank you always for your considerations. This time, I had a chance to pray with a nun from India who was also visiting. I also prayed at Kuzuryu Shrine at Ashinoko on the boat, so I hope for a good luck!
+ More
Feb 2015
I felt that there was excellent hospitality in every corner of this hotel.
The staff greeted us at the entrance with a smile, although we arrived a bit too early.
The lobby lounge had a high ceiling and was bright and spacious.
Waiting here made us anticipate what our room would be like.
Plenty of wood was used in the entire hotel, as well as in our room.
A nice scent lingered in the tatami hallway.
The rooms were spacious and clean and offered a wide variety of drinks.
The sumptuous use of wood had a soothing effect on me.
Both the sofa and kotatsu (Japanese foot warmer) were comfortable and I was able to soothe both my body and soul.
Our room was lovely and I appreciated the attention to small detail, such as the frame of a picture (of what looked like the scenery of Hakone) having a stylish frame made of assembled wood.
I was very satisfied with the ample amenity collection.
The only thing that was a bit disappointing was that the bath was small even though the bathing space was spacious.
The meals were all delicious.
We were told that we could bring the fruit that was served as dessert back to our room.
The staff had made the steamed rice that we were unable to finish eating into rice balls, and brought them to our room along with the fruit.
The staff were all kind, especially the staff member that was in charge of our meals. This person was also the one who checked us out and saw us off on our last day, all while exerting the utmost care. We really appreciated this.
The assortment of fruits we received as a welcome gift upon arrival, and the fruit we had for dessert were both rich in variety. I thought that this is something that women would appreciate.
The bed was comfortable and I was able to get a lot of rest.
I very much appreciated that the bath towels and tea sets were replaced with new ones.
It was a very lovely hotel where I was able to soothe my soul.
I would definitely want to stay here again.
My stay here was full of happy memories.
Thank you.
+ More
Jan 2015
We had a relaxed time.
Thank you for the origami bird for our child.
Dec 2014
I stayed at this hotel with my mother so that we could enjoy the autumn colors. It was our first time staying here.
The hotel staff took good care of my aged mom from the moment we arrived and we received our welcome drinks.
The moment we entered our room, my mother told me that she thought the room was relaxed and nice. I was relieved by this.
I was satisfied with the hot spring, the open-air bath, and the public bath.
Each and every one of the meals were delicious. I especially liked Mr. Higashiyashiki, who was in charge of our meals. He was very polite and courteous and provided great service. We were glad that he was the one who was in charge of our meal.
The staff members were all polite, and I was extremely satisfied with this hotel.
I would like to thank the staff, they made my stay here a very lovely one.
+ More
Nov 2014
We stayed at Hanaougi in Hida Takayama before and had a wonderful experience, so we have been thinking about staying here too. This time we will be celebrating my husband's recovery from an illness, so it is our private getaway.
The room was rather small, but had a nice view. The outdoor bath had continuously flowing naturally fed water and sitting in it was nice.
After checking in, because it was a western style bed, it was awesome to be able to roll around on top of the bed. (lol)
Our expectations for the meals were also met.
+ More
Nov 2014
We stayed here to celebrate our mother's 60th birthday with the three of our family. It was very nice ryokan, and the hospitaliy of each staff was amazing. Love to come again.
+ More
Oct 2014
We stayed here for our honeymoon.
This was the first time that we were able to stay in a ryokan (inn) with such a calming atmoshere and were totally able to relax. From the hospitality to the meals, everything was phenomenal.
Our private hot spring bath in our room, with a spectacular view was out of this world.
Due to the fact that it was our honeymoon, they offered us a free photo session, which made our trip very memorable.
We would like to come back here again.
+ More
Sep 2014
This was a family trip to Hanaougi, a place that we have been longing to go. The service, the Onsen (hot spring) and the food were all fantastic.
We have stayed at many different hotels and inns, but there are only a few places that we want to go back.
Hanaougi is one of the places that we want to visit again.
We would definitely like to come back here in the future. Thank you very much.
+ More
Sep 2014
Information
Check-in Time

From 2:00pm to 6:30pm

Check-out Time

Until 11:00am

Tax / Service Charge

Bathing Tax JPY 150 per adult is NOT included in the rates.

Credit cards accepted at this property

VISA / MASTER / JCB / AMEX / DINERS
Children

All children are welcome.Children sharing a bed are charged for JPY 3,240 as accommodation fee.

Pets

Pets are NOT allowed.

Parking

Free of charge for guests; Capacity 13 vehicles; No Valet Parking Service

Other policies & conditions

Non-Smoking throughout the property. Smoking is allowed only at designated area outside the entrance.; Please note that Gora Hanaougi is not able to offer vegetarian or any religious meals.