Gyokusui
Enjoy the exclusive services and the atmosphere of relaxation in the extraordinary; The pristine nature and the beautiful garden in a quiet woods where nature and humans live together, the building filled all over with the fine concept and great intentions, the meal with the seasonable materials from Izu in which the skillful art of the master chef is applied.
- VAT is included, but bathing tax (around JPY 150 per adult) may NOT be included.
- Price in USD is based on the exchange rate as of today and might be different from that of the booking date.
Foods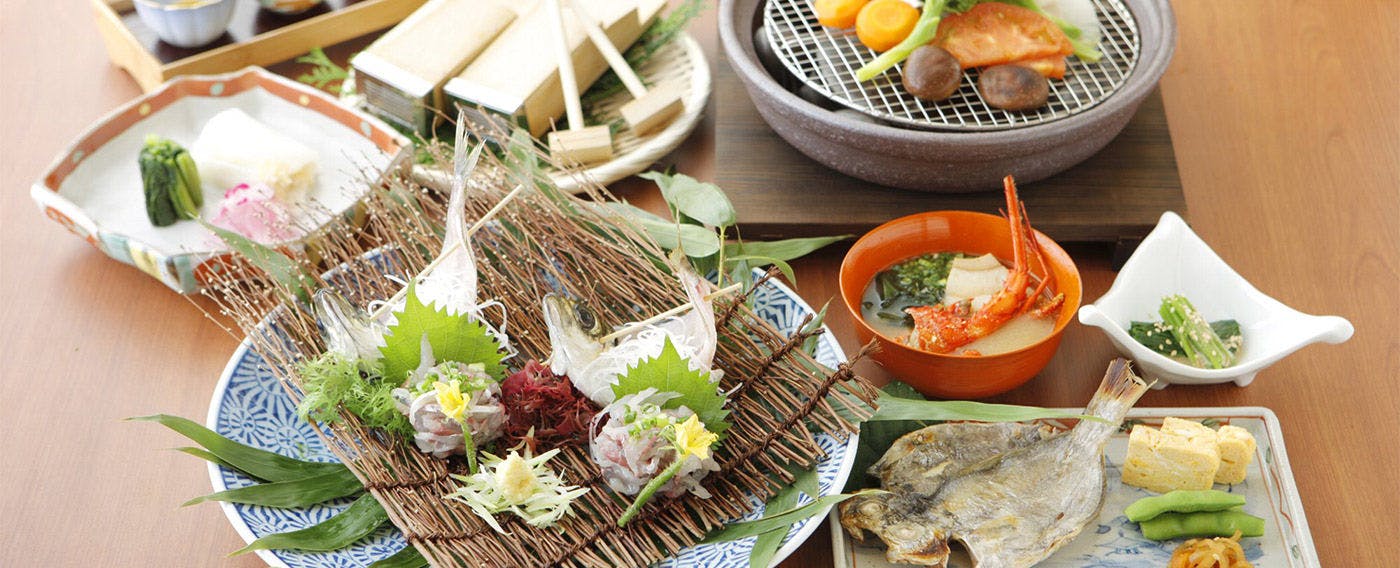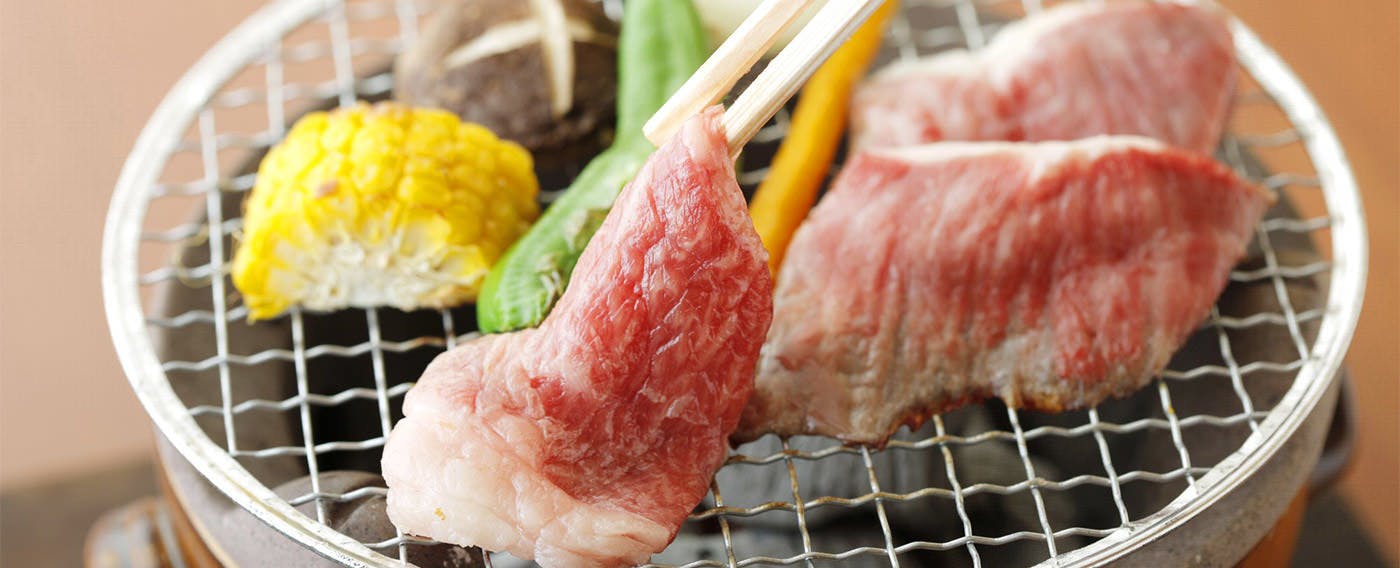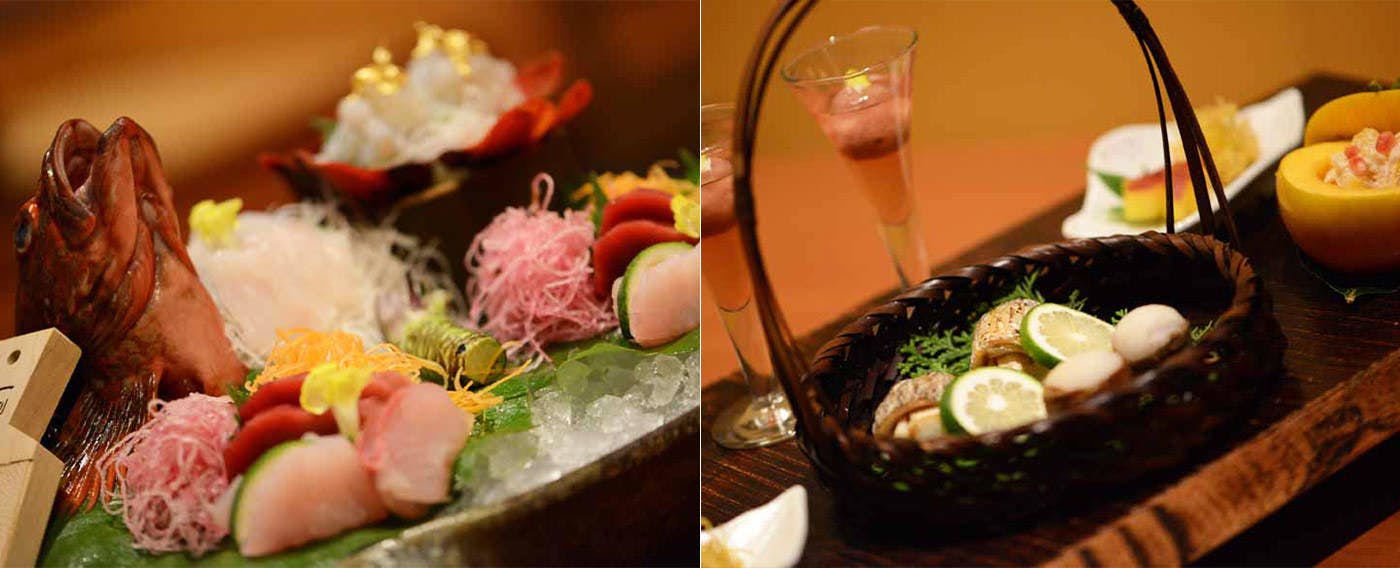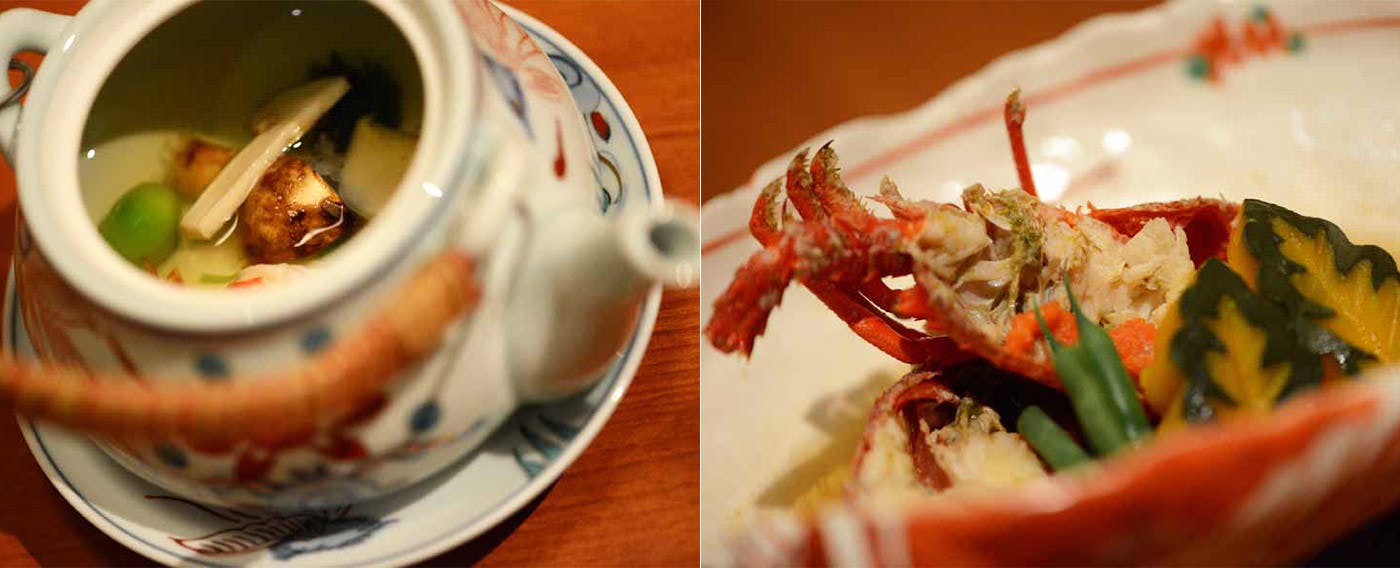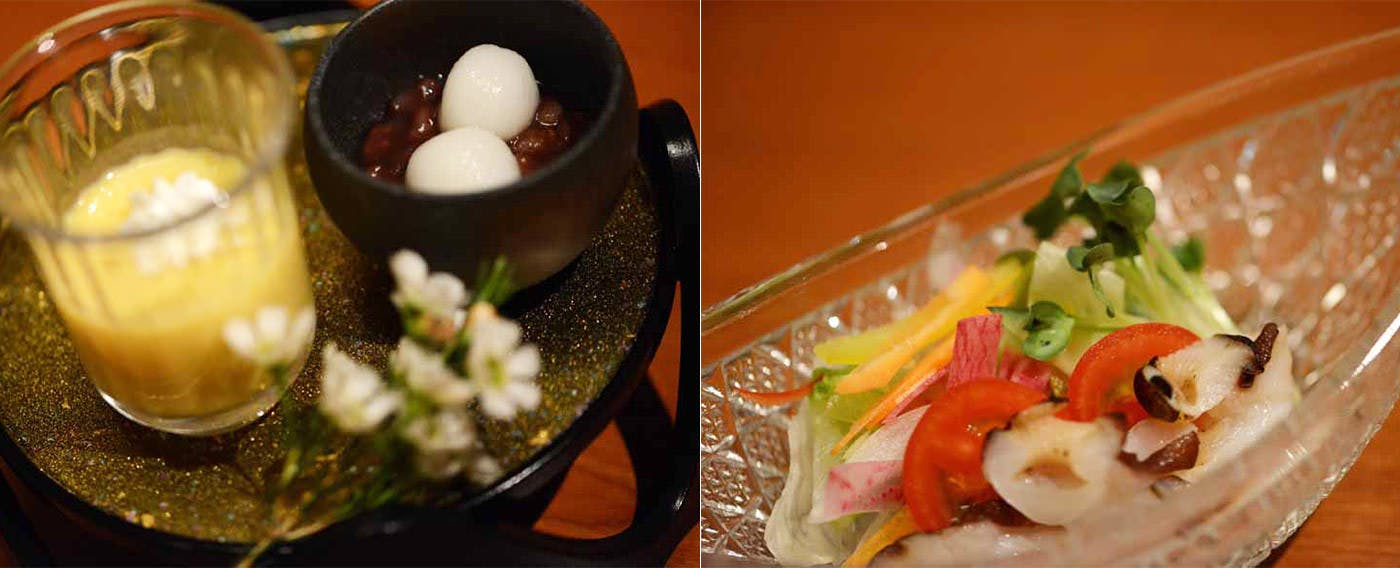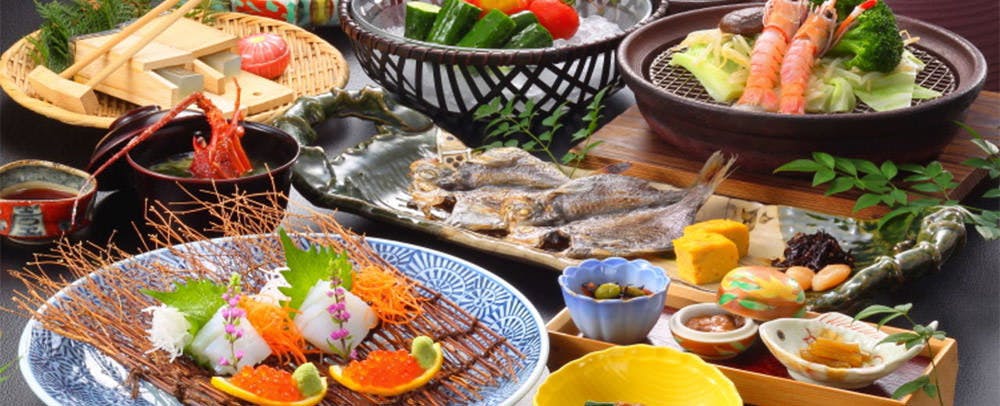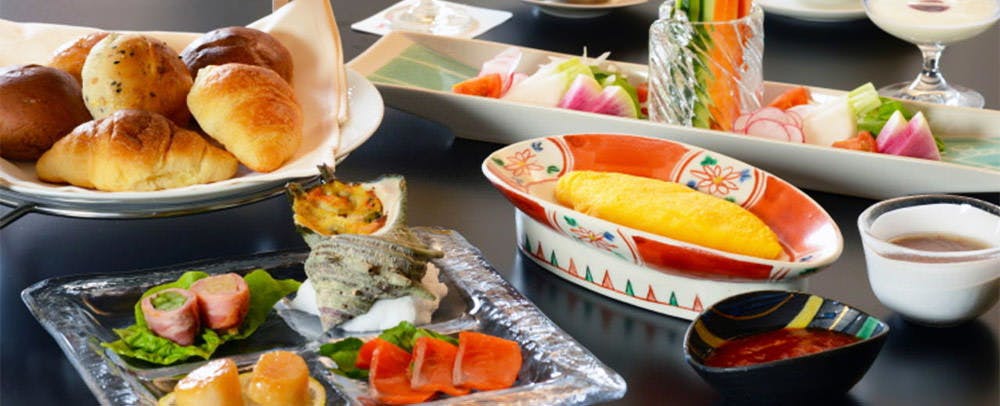 The dinner is a set of multiple course dishes that changes seasonly, served with the local seasonal materials of Izu, such as lobster, abalone, splendid alfonsino.
The type of breakfast can be selected at the booking; either from Japanese breakfast or European style breakfast (served only to 5 groups per day).
Baths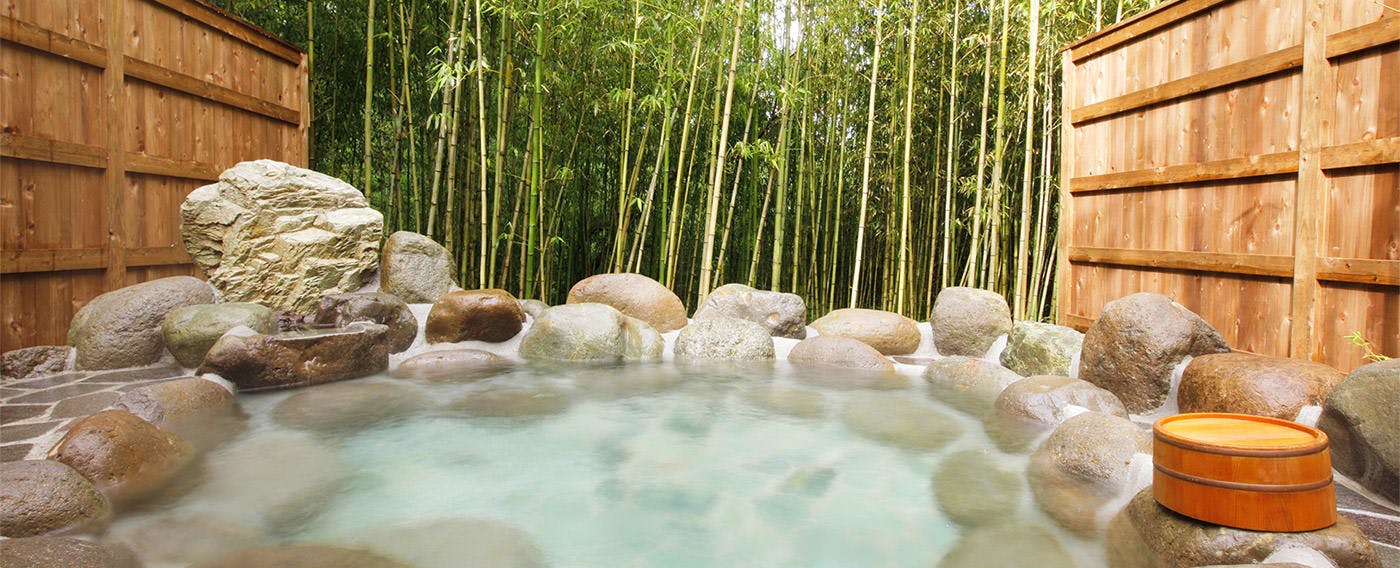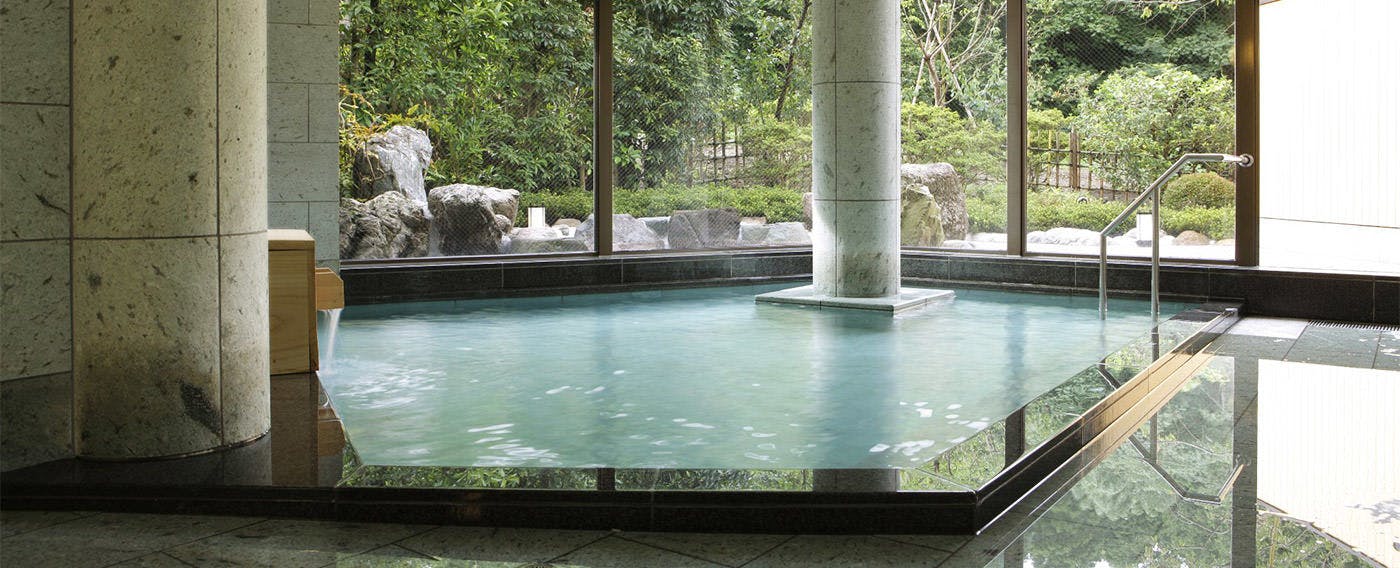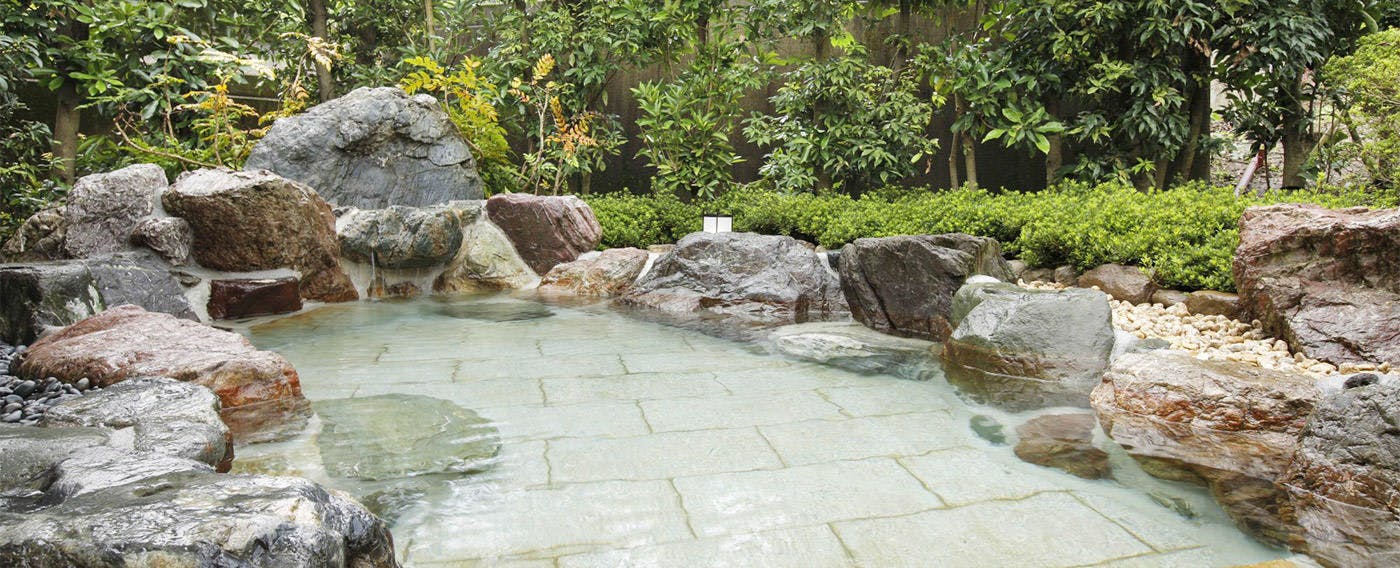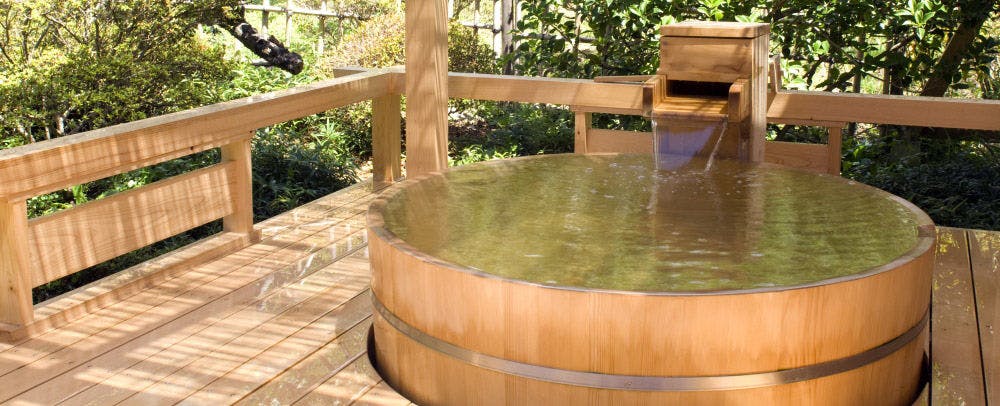 Enjoy the onsen flowing constantly to bath tubs from the spring source, Narashi no Sato which was mined by ourself. It has a great view of the seasonal scenery from the large communal baths and outdoor bath shaped with rocks.
There are 2 private intimate outdoor bath, free of the charge for 50minutes per room. (please book a slot in the reception at check-in)
The onsen attached to the room is open for all through the stay.
Facilities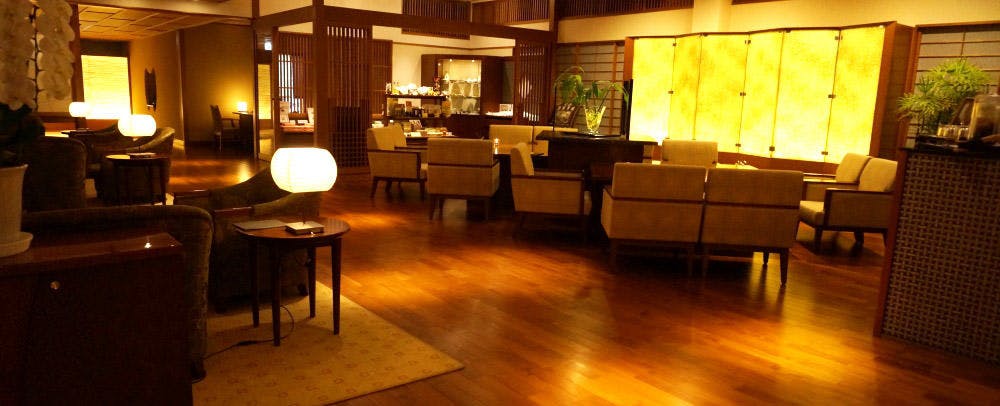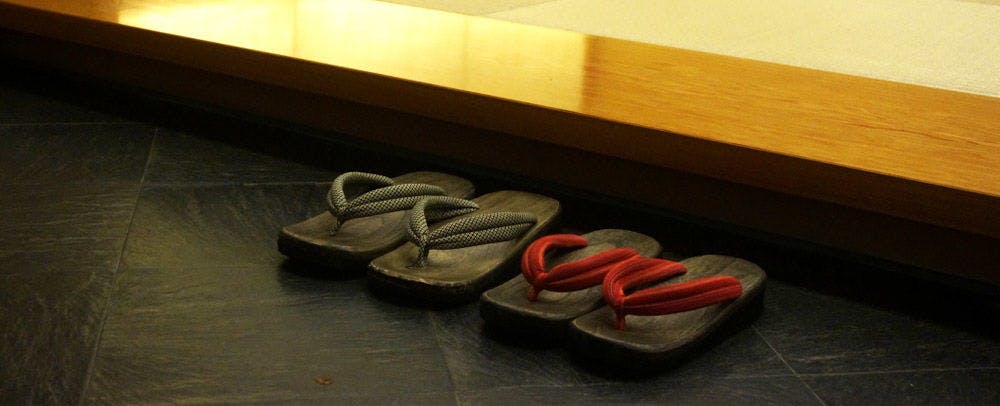 The facility of the house including the guest rooms has our concept and intention in every corners, and it creates a graceful atmosphere to spend time. Lounge
There are spaciously located sofas and carefully selected interiors. Enjoy the space for a cup of coffee in the morning or a glass of alcohol in the night.
Entrance
At the moment of entering the building, refreshing yet peaceful space with the taste of modern Sukiya style unfolds.
Access
39-1, Naramoto, Higashiizu-cho, Kamo-gun,Shizuoka,413-0302,JAPAN
By Car
From Tokyo(Tomei Expressway) to Atsugi IC (Odawara-Atsugi Road)to Odawara(Toll Road)to Atami(National Route: R 135) to Izu-Atagawa

By Train
2 hours and 15 min from Tokyo to Izu Atagawa by JR Limited Express Izukyu Odoriko:
2hours from Tokyo to Atami by Shinkansen Kodama/Hikari, and then to Izu-Atagawa by Local

Free pick-up is available at Izu-Atagawa station.
The bus arrives in every 20 minutes between 14:20-17:30.
Please book your place in advance by phone
Reviews
I stayed with my family 3 days ago. I could see instantly the high quality of the services by hotel staffs through their responses and great considerations to the guests. Moreover, the facilities and the rooms are kept clean and that impressed me and even my daughter who works in hospitality industry. We had a plenty of delicious meal on excellent tableware with the main dish of Shabu-Shabu hot pot with thin slices of Splendid Alfonsino. The water of the onsen is flowing constanly and had a right temperature to bathe. We had a restful time throughly. It is a small remark but I would like it better if the entrance of the restaurant would have a separation to the corridor, with sliding doors or so, and not with the shop curtain. This is the Ryokan I would like to visit once again.
+ More
2016/10/25
This was our trip to Izu after several years for we had stayed in Karuizawa in our late summer holidays over the past years. The stay started with their warm welcome at the parking lot, the service of a cup of Matcha and sorbet at the lobby. We had a gracious plenty and delicious food, and a quality time in the private Roten-buro, even our children had a great fun in the foot-bath in the room. it was great that they have 2 indoor and outdoor baths for the onsen lover like my daughter and myself. Their warm care to children was particularly remarkable. Especially the room attendant treated our requests very kindly, explained the menu perfectly, even kind to our children. My daughter misses her now. We were filed with gratitude to their hospitality. When we left they even gave us bottles of water for the way and saw us off at the parking lot, although it rained heavily at that day, due to the typhoon approaching. We could have wonderful time staying at the inn with the nearly half from the cost that we usually spend in Karuizawa. Thank you very much. We would definitely love to stay here again when we visit to Izu and would like to recommend it to our friends.
+ More
2016/09/27
we visited together with my 2 years old daughter, my sister and my parents for our family trip. We spent in an annex, but it seems for 2 people, after all, and was a bit too small for 4 people. It made me think that I would like to visit with my husband when my child will be grown up. The meal was all fantastic, plenty of the amount and even beautiful to the eyes. Sashimi and vegetable stemed in teapot were remarkable. Also Shabu-shabu with pork was delicious and the meat did not create scum in the pot. Although we are picky when it comes to the food, we were so content. Although I had not ordered any course meal to a child, I felt gratitude to their kindness of bringing a bowl of rice and the seasoning for it, shortly after they served us. The water in the bath had a very good quality, and made me feel like coming back soon. There were herbal tea and Japanese barley tea served in the bathroom and in the lobby. The herbal tea has a fresh taste and it matched well with the bath. I would like it very much if a jug of tea or water would be served in guest room. I had sound sleep on their bed and I liked their pillow much. I even wanted to buy one for myself but it wasn't sold there. This Ryokan has the great degree of considerations in every details and it allows you to have great time spending there. I would like to visit here again.(it seems there are many repeat customers in this Ryokan. I heard one of them talking in the lobby.)
+ More
2015/10/21
it was our first visit to this Ryokan and we had a great time of rest. I used the foot bath attached to the room many times and it was much greater than my expectation. The meal was made with abundance of local materials, in a authentic way. We enjoyed the meal and filling our stomach without being surprised from the menu. Only one suugetion I would like to give was that I prefer the welcome drink at the lobby to be chilled in this season and the sweets to be served at the guest room. This is a great Ryokan to spend at ease in onsen, and to enjoy delicious meal throughly. I myself would love to visit again.
+ More
2015/08/14
I stayed with my wife for a night. We were so content with being able to take a great time-off. The good intention of the staffs wanting to serve the guest, which I could sense everywhere, allowed us to just relax. Not only the facility or the services but their meal was also great. It was satisfying to have a great Washoku meal in which you could feel the strong presense of Dashi broth in every dishes, without covering the taste by adding much salt. Actually what struck me the most was simple boiled dishes and not sashimi. I would like to stay here when we visit Izu again.
+ More
2015/12/24
Information
Check-in Time

From 2:30pm to 6:00pm

Check-out Time

Until 11:00am

Tax / Service Charge

Bathing Tax JPY 150 per adult is NOT included in the rates.

Credit cards accepted at this property

VISA / MASTER / JCB / DINERS
Children

For children above the age of 1, it will be charged 3,000 yen (tax not included) as in-house usage fee even if meal / futon is unnecessary. Please inform us the number of infant (no meal, no futon) as special requests at the time of making your reservation.

Pets

Pets are NOT allowed.

Parking

Free of charge for guests; Capacity 11 vehicles

Other policies & conditions

About Accommodation fee for child:The facility fee of JPY 3000 to children above the age of one will be charged (tax, meals and bedding excl.). Please comment you are with child(s) (including age of child).