Run of House

Breakfast included

Japanese futon bedding

See Details
From $340.66
for 2 guests /night
- VAT is included, but bathing tax (around JPY 150 per adult) may NOT be included.
- Price in USD is based on the exchange rate as of today and might be different from that of the booking date.
Foods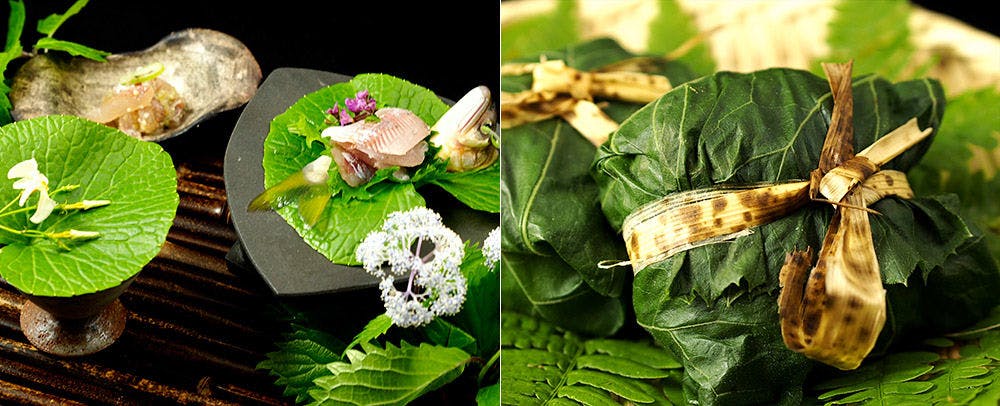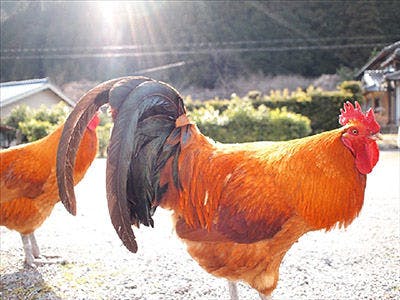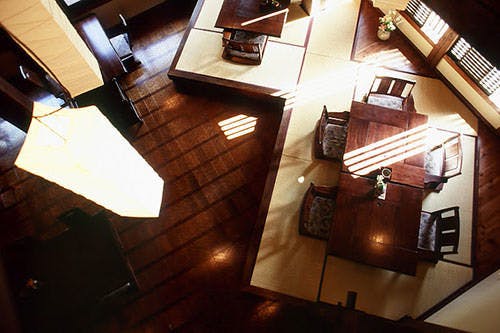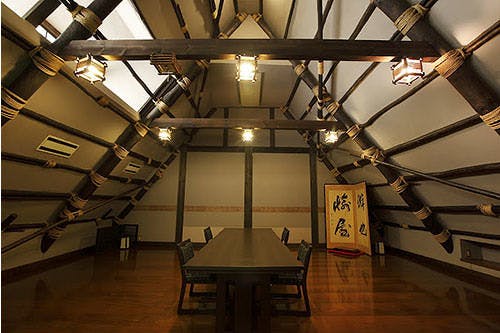 All items lovingly hand-made You will enjoy the flowers handpicked by our master chef on the Oku Mikawa mountain near to Hazu Gassyo.
We are waiting to share with you the one and only flavor of the mountain.
Many customers come back for the Hazu Gassho breakfast and dinner.
Ayu sweetfish, prepared by hand and dried overnight, Japanese style omelets from Nagoya Cochin chicken eggs, carefully cooked with soup stock.
Please enjoy fresh cooked local terrace grown white rice.
Dining Halls
There are two dining halls similar to the guest rooms, each with traditional Gassho style and atmosphere. These dining halls are also open to the public for lunch.
Baths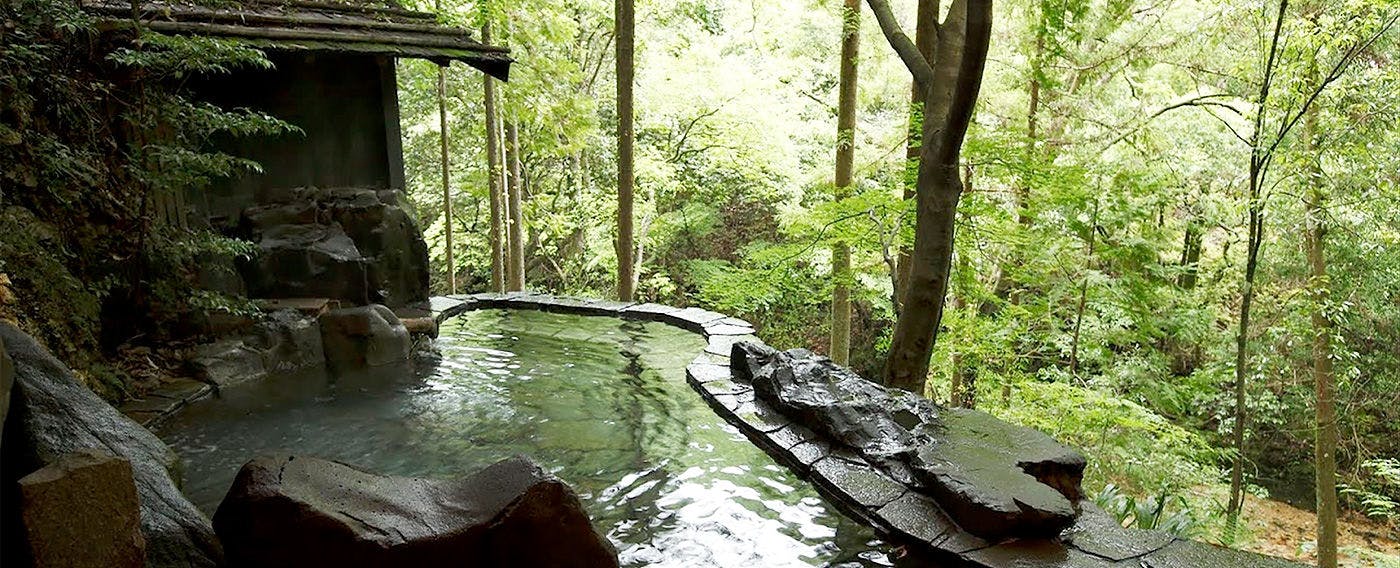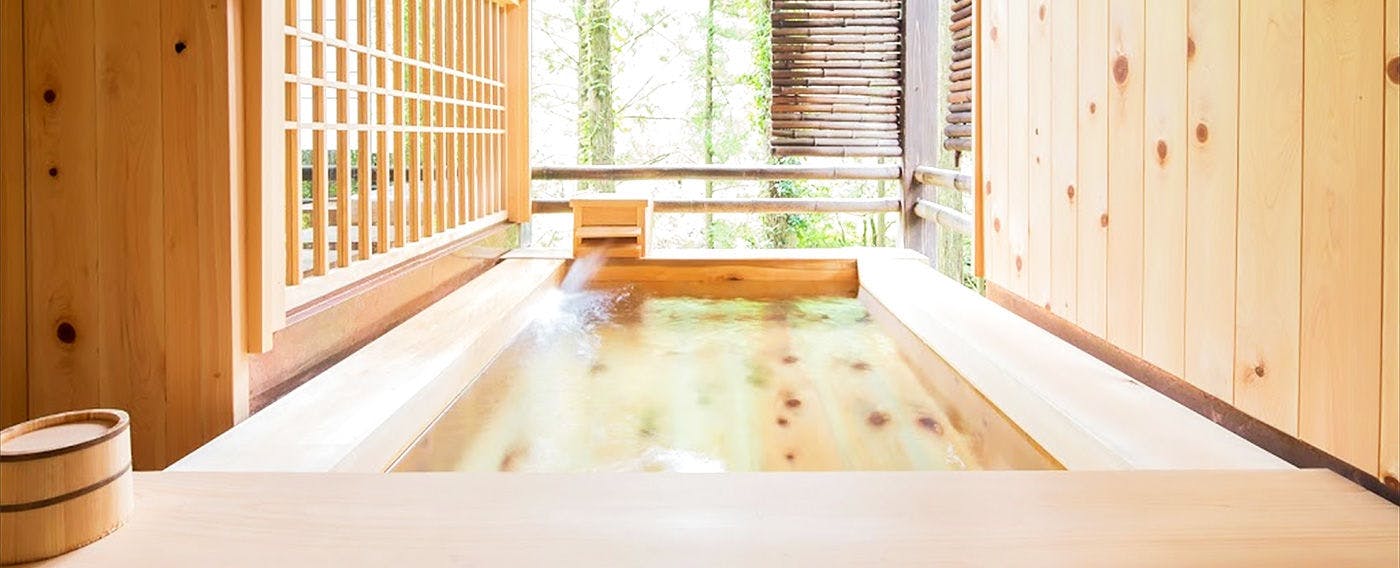 Yakuzen (Chinese herbal healing) open-air bath overlooking the valley
Hazu Gassho's baths are all medicated baths (infused with Chinese herbal medicines). This famous open-air bath lies on the bedrock overhanging the valley, so you see the Makihara Valley spread out in front of you. In the quiet stillness let loquat fruit water infuse your body while you savor the four seasons of nature.

Hinoki (Cypress) open-air bath
Gassho style (steeply rooved) cypress half open-air bath. Feel the light breeze over the cypress scented hot water, a calm comfortable atmosphere coupled with the attraction of a beautiful view. Enjoy bathing along with the heavy beauty of Japanese Gassho architecture.
Access
18-1, Minamidaira Toyooka, Shinshiro city,,Aichi,441-1631,JAPAN
【Directions by car】
Nagoya IC → (Shin-Tomei Expressway approx. 45 min)→Shinshiro IC→(R151 Turn right toward Iida/Toei about 11 kmapprox.15min)→YuyaOnsen/Nishinomiya→(Shin-Tomei Expressway approx. 2 hours 40 min)→Shinshiro IC→(R151 Turn right toward Iida/Toei approx. 11 km 15 min)→Yuya Onsen

【Directions by train】
Tokyo → (Shinkansen 2 hours 16 min)→Toyohashi→ (JR Iida Line 1 hour 10 min)→Yuya Onsen Station/Iida → (JR Iida Line 1 hour 30 min)→Chubutenryu→(JR Iida line 50 min)→Yuya Onsen Station

【Directions from airport】
Nagoya Airport → (1 hour 45 min 15 km by car) → Makihara Valley
Reviews
It was wonderful! This time we purposely planned to stay here, but it turned out to be a trip beyond our expectations. Time went by slowly in nature. In spite of the unfortunate rain, I was able to relax on the terrace with a free drink. In some places the "free drinks" become free cups only as the drinks are not refilled, but here there was none of that, they always kept their eyes on it. Because the building only had 5 rooms, I was able to relax stress free anywhere, on the terrace or in the baths etc. The open-air bath and the Hinoki (cypress) bath each had their own flavor, I enjoyed them in the day and in the night and in the morning, all while watching the flow of the river. Also, the food, everything was both delicious and beautiful to the eyes. Although neither TV nor entertainment facilities were available, it was a wonderful trip relaxing and forgetting about time. Thank you so much. Also I've added it to my list of place I want to come again.
+ More
2016/09/22
Although it was my second time here, I was even more comfortable perhaps because I was used to it. I got a discount because I booked only a few days before. I feel a bit sorry because the cost performance was so good. The atmosphere of the ryokan and the staff also get top grades. The meal was also delicious, but I was a little disappointed by too much sweet taste, for example the dipping sauces at breakfast, but it was enough for both my eye and my tongue to enjoy. I got off at the Shinshiro interchange, which was very close. The interchange is near Mokkulu Shinshiro which has a nice buffet. It's nice to check in after having lunch there and then relaxing in the room or the bath. You can check in from 1:00pm which is so unusual for a ryokan or even a hotel, please keep this up! I will be visiting again.
+ More
2016/07/16
I was worried because they were closed for a while, but they reopened after renovating the Hinoki (cypress) bath. I think I have stayed here 5 or 6 times, but every time the food is not only tasty, but it's impressive. Because there are only 5 rooms as well as the baths, it's very personal and relaxing. Although I marked 4 stars for the baths because they are not hot-springs, the rustic atmosphere is such that you feel nothing is lacking. It was in the rainy season but the weather broke and it was nice, we could see fireflies at night, from the room we could see fresh greenery and hear the babbling of the river, also the call of the cuckoo bird, all this along with the smell and texture of an old Japanese wooden house made for delight to all our 5 senses. Every time I go they say, "welcome back!!" and I think it's one of the few places that I really do want to come back to again.
+ More
2016/06/27
I'm always satisfied when I come here. I think the first time I came was in winter. It's wonderful to look as the Gassho architecture, especially the fireplace with a fire. Thinking carefully, it's very luxurious to watch flames indoors. This time I stayed on the second floor in a Japanese style room. Amazing beams make the room impressive, and though the window is not big, that makes it feel more cozy. I couldn't make up my mind to stay on Japanese style or Japanese-Western style, but it turned out well. It seems that this spring the Hinoki (cypress) bath was renovated. I spent a lovely luxurious time here. Thank you so much.
+ More
2015/12/25
I planned this hot-springs trip as a present for my parents to celebrate their longevity. Because my parents are somewhat disabled, I searched for and booked a place with an outside bath with the room, but actually here you can book the rock baths for family only, so they were also able to into that too. In the calm sturdy atmosphere of the Gassho style buildings, I felt nostalgic, although it was my first time. While listening the murmur of the water, we relaxed and enjoyed digging up old stories (of when my parents were young and we were children) at the hori-gotatsu (a kotatsu built into the floor to warm your feet), my mother even read some of her hobby haiku poems, we really enjoyed slow passage of time. The food was beautiful to look at as well as delicious, and the various little serving dishes and utensils made it amusing. Also for the longevity celebration they prepared flowers and decorations, as well as the food and meal preparations, I was so glad everything was done for us. The meal and the services were sophisticated like an urban retreat, they always responded politely when we requested something, but there was also a feeling of being let alone so we could relax and enjoy our time freely. We asked the staff to take a picture of our family of 4, and my parents have extensively decorated their house with this. It has become a really good memory, thank you so much.
+ More
2015/10/27
They answered so nicely in spite of the fact that our reservation was last minute. It seems the Hinoike (cypress) bath was rebuilt this year, it smells so good and the bath is clean and nice. We spent such a luxurious time here, I felt very lucky. After taking a bath, the free drinks included beer, sparkling water, juice and so on, it was very nice and I enjoyed a relaxing time on the terrace. From the contents of the meal we can understand that the chef is doing a very fine job. The breakfast is especially wonderful, the dashi maki tamago (rolled omlet) from Nagoya Conchin eggs is superb. I decided to come again just for this breakfast. Such a unique place in the countryside as this ryokan I have never seen elsewhere. A Japanese Gassho style inn nestled deep in a mountain village. Polite hospitality from a lady who looks like she could be in a post card, the contrast of the simple countryside and the sophisticated, gorgeous meal. I would certainly like to go again.
+ More
2015/08/28
Information
Check-in Time

From 2:00pm to 6:00pm

Check-out Time

Until 11:00am

Tax / Service Charge

Nothing in particular

Credit cards accepted at this property

VISA / MASTER / JCB / AMEX / DINERS
Children

We regret to say that we do not accept guests under the age of 12, so thank you in advance for you understanding.

Pets

Pets are NOT allowed.

Parking

Free of charge for guests; Capacity 8 vehicles;

Other policies & conditions

Nothing in particular