- VAT is included, but bathing tax (around JPY 150 per adult) may NOT be included.
- Price in USD is based on the exchange rate as of today and might be different from that of the booking date.
Foods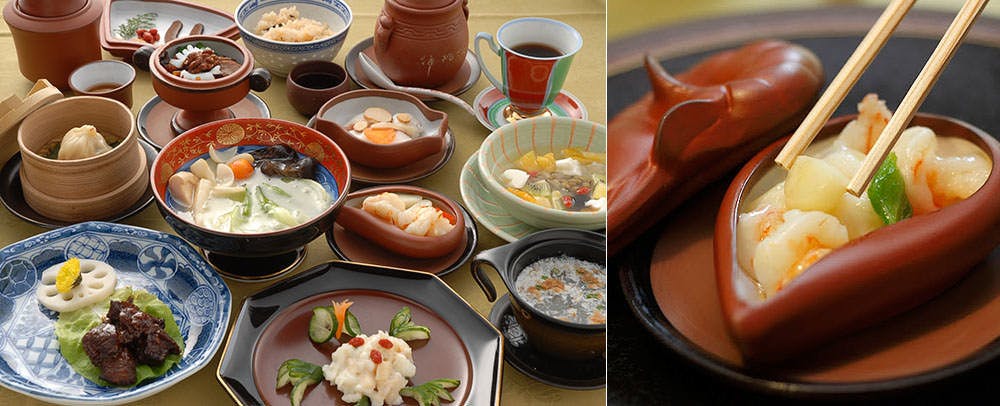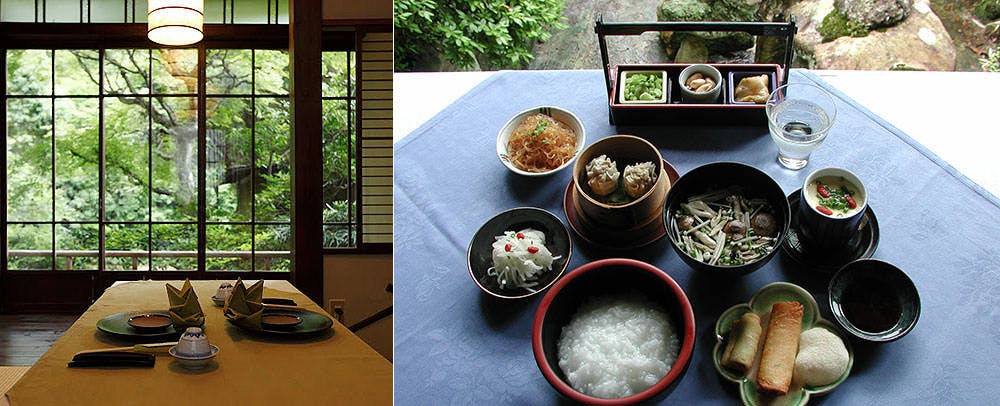 Our Yakuzen Kaiseki (Cooking based on Chinese herbal medicine) uses 30 kinds of Oriental herbs to make the body beautiful from the inside out. In Chinese history regarding medicine and food ingredients, the characters for Kampo, (Chinese herbs) already existed during the Shang/Zhou dynasty three thousand years ago, and the theory and practice of using herbs in cooking is said to have been established during the Han dynasty in the cuisine of the royal court.
Not only is it delicious, but this healthy herbal cooking is the perfect diet for modern people suffering from stress and irregular lifestyles.

Of course, Yakuzen for breakfast too!
For breakfast, we have a Kampo rice porridge. Made of a mixture of four kinds of rice along with Happosai (chop suey), pickled plums, pickled Nozawa vegetables and pine nuts. The flavors blend and change as they are mixed together.
Baths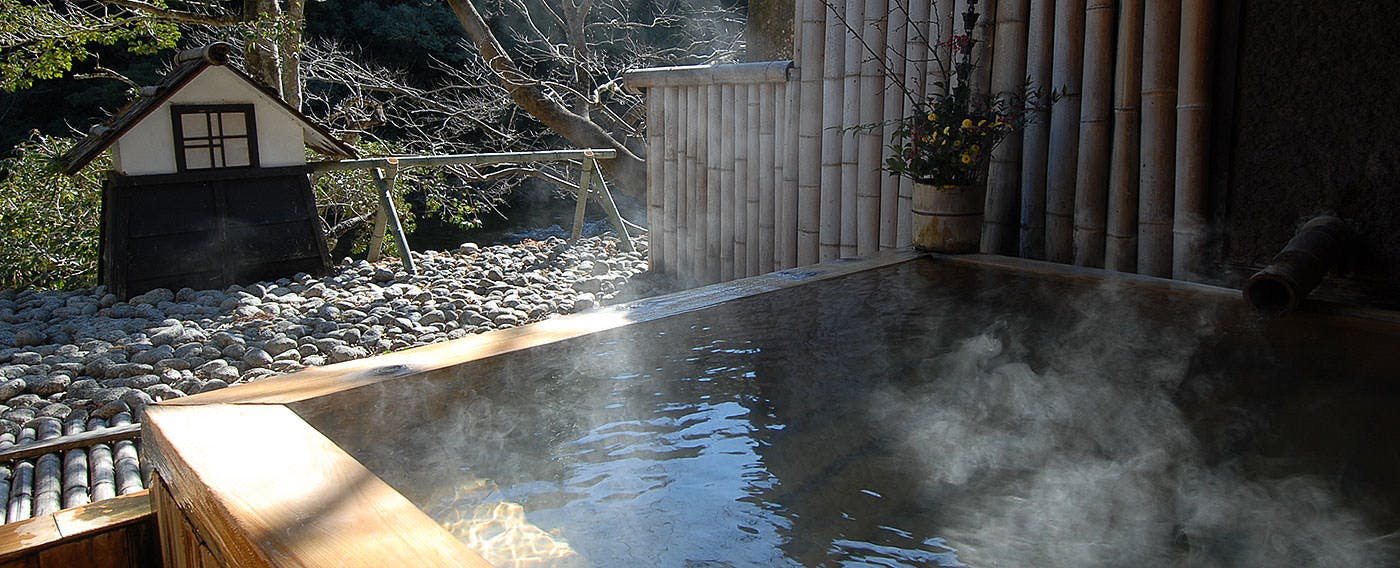 The Hinoki (cypress) open-air bath (Depending on the time, this bath alternates between genders) The cozy Hinoki (cypress) open air bath alongside the river is always overflowing with hot water, from it the changing scenery of the seasons will heal you from your traveling tiredness. Listening to the flow of the river, while relaxing in the outdoor bath makes for a blissful moment. The indoor bath and the outdoor bath alternate between men and women depending on the time, so you can enjoy two different baths, and the unique atmosphere of each.
Access
45-1, Takigami Toyooka, Shinshiro city,Aichi,441-1631,JAPAN
【Directions by car】
Nagoya IC→(Shin-Tomei Expressway approx. 45 min)→Shinshiro IC→(R151 Turn right toward Iida Toei about 11 km approx. 15 min)→Yuya Onsen/Nishinomiya→(Shin-Tomei Expressway approx.2 hours 40 min) →Shinshiro IC→(R151 Turn right toward Iida Toei approx.11 km 15 min)→Yuya Onsen
Iida IC→(R151 2 hours 30 min)→Yuya Onsen
【Directions by train】
Shin Osaka→ (Shinkansen 1 hour 35 min)→Toyohashi→(JR Iida Line 1 hour 10 min)→Yuya Onsen Station
Iida→(JR Iida Line 1 hour 30 min)→ Chubutenryu→(JR Iida line 50 min)→Yuya Onsen Station
【Directions from airport】
Nagoya Airport → (1 hour 45 min 15 km by car)→Yuya Onsen Station
Reviews
Both the atmosphere of the building and the attitude of the staff were relaxing. It was impressive to see this well maintained historic Japanese building. The hot springs water is slightly brownish and cloudy, it's a little thick but nice hot water. There is an outside bath and an inside bath, they rotate between being the men's bath or the lady's bath, but both are about the size of a family bath I guess? It was a little cold to have an outside bath. There was a nearby affiliated hotel where we could use the hot-springs bath too, but I didn't go. When I got out of the bath, there was gokokucha (fermented grain tea) warmed in hot-springs water and cold yuzu honey available, it was delicious, I appreciated this service. There were various kinds of tea in the room and I tried them all in turn. They were all delicious. The staff were friendly and polite making a comfortable atmosphere. I was surprised when a pretty bug (kamemushi) appeared in the room, but the staff took care of it. It was the first time for me to try Yakuzen cuisine, it was crisp, and there were many things that are good for the body, and it was delicious. My body was practically glowing! There were three types of local sake to compare, they were all different but all delicious. The amount was enough to that even the girls in their 40ies managed to eat it all, but there was no heaviness that makes the stomach feel sick, and I woke up the next morning feeling fresh. Somewhat of a minus point was that the washroom and toilet in the room were narrow and dark, and the pillow didn't suit me so I twisted my neck while asleep. It was like going to your grandma's place in the countryside, a very at home feeling.
+ More
2015/12/27
It is a small ryokan but just right for a cozy stay as a couple. I felt like I slipped back to the time when I grew up in the country side. I really had a calm, relaxing stay. My thanks to everyone at "Hazuki" who took care of me. Thank you. It's nice when you leave the bath because they have prepared two kinds of drinks, gokokucha (fermented grain tea) and Yuzu tea at the entrance area. Before arriving, I wondered a little about the Yakuzen cuisine, but it was delicious and didn't feel medicinal at all. From the veranda of the room I enjoyed the scenery and the cool breeze made me feel calm. Next time I'd like to go in a different season. May happiness come to everyone in Hazuki who provides warm hospitality!
+ More
2015/12/26
A lovely inn with a warm wood atmosphere, it reminds me of the Showa era. The corridors made a sort of nostalgic creaking as I walked. If we had been a month later I think we would have enjoyed watching the autumn leaves falling from in the room. Both the meals, breakfast and dinner were delicious, I felt like my body was refreshed from the Yakuzen cuisine, the healthy herbal ingredients. The staff were also so polite and they were hospitable without being overly familiar. I think the stairs were a bit hard for my elderly mother, but overall I was pleased and we would like to go and be refreshed again. Thank you so much.
+ More
2015/10/22
It's a very calm and quiet ryokan. The sight of it reminds me of my Grandma's house. I was touched by how they cherish the antique furniture. The Yakuzen cuisine reminded of the importance of good food. Also, the importance of spending time in a beautiful space. I was really happy about the thoughtful hot water bottle provided too.
+ More
2015/08/14
From Nagoya to Toyohashi it was only 30mins in the bullet train, and from there it's another hour of being bounced along in the local train. Although it was far, the ryokan itself was quiet, calm and relaxing. My husband didn't like being so far away, but he said many times: "I want to come back here!" actually I thought I just want to live here.
+ More
2015/12/04
Information
Check-in Time

From 2:00pm to 6:00pm

Check-out Time

Until 11:00am

Tax / Service Charge

Bathing Tax JPY 150 per adult is NOT included in the rates.

Credit cards accepted at this property

VISA / MASTER / JCB / AMEX / DINERS
Children

Children who will share a bed with you are free of charge.

Pets

Pets are NOT allowed.

Parking

Free of charge for guests;Capacity 5 vehicles

Other policies & conditions

Nothing in Particular