Takefue
"Takefue has just 11 lodges within 32 acres of rich nature land nestled in the lush bamboo forest. Experience its hospitality and nature which you cannot have anywhere but Takefue. All of the rooms has different type of sink over source bath style and you can enjoy your ""private space"" where nobody cannot disturb you. Deference to Forrest Gump, Takefue maintains what matters most, the ultimate comfort of each guest so you'll feel ""welcome home""."
- VAT is included, but bathing tax (around JPY 150 per adult) may NOT be included.
- Price in USD is based on the exchange rate as of today and might be different from that of the booking date.
Foods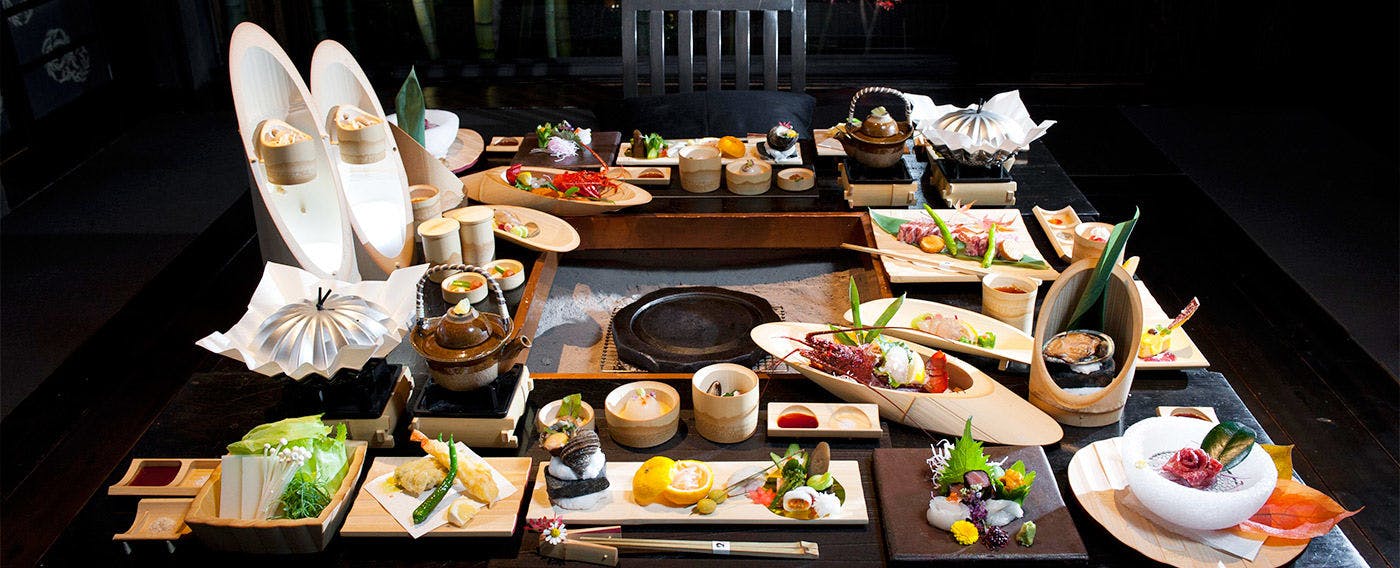 Original Kaiseki Cuisine
Creative cuisine at Takefue Please enjoy breakfast and dinner in your room for guests.
Takefue provides seasonal food materials and fresh Kumamoto local ingredients for original dishes on each month. Enjoy the extremely refined delicacy of "creative cuisine at Takefue" to the full.

Please tell the ryokan beforehand about foods you cannot eat, such as due to food allergies or religious belief.
Baths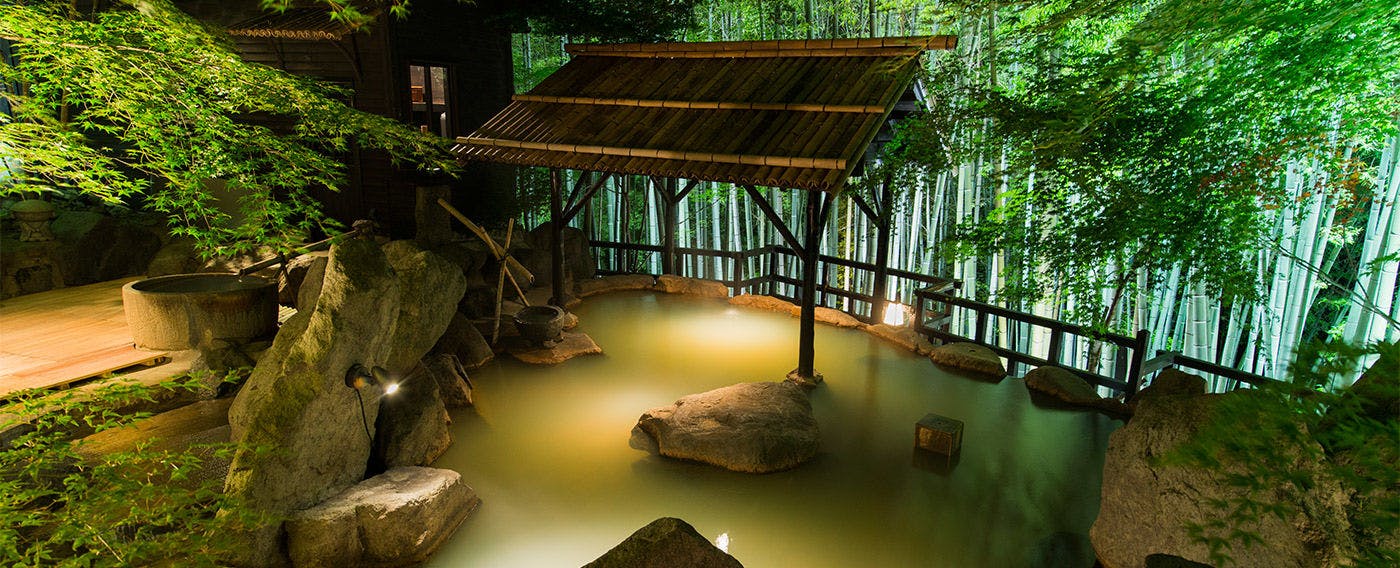 Open-Air Bath 'Chikurin-no-yu'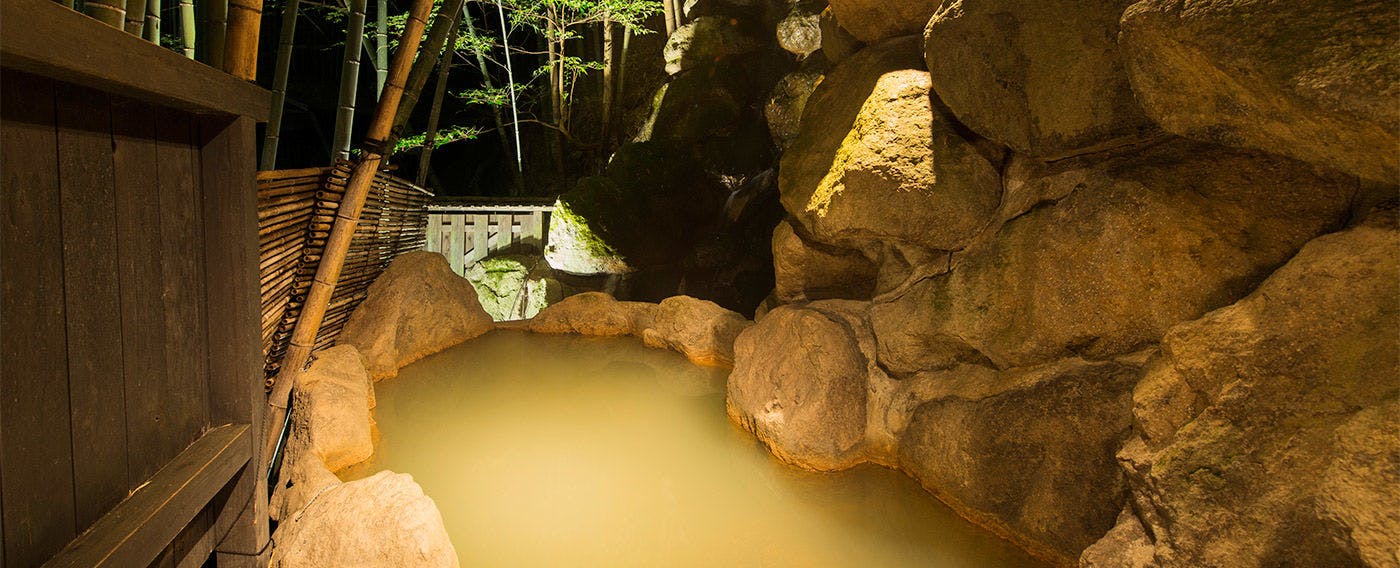 Bath 'Oku-no-yu'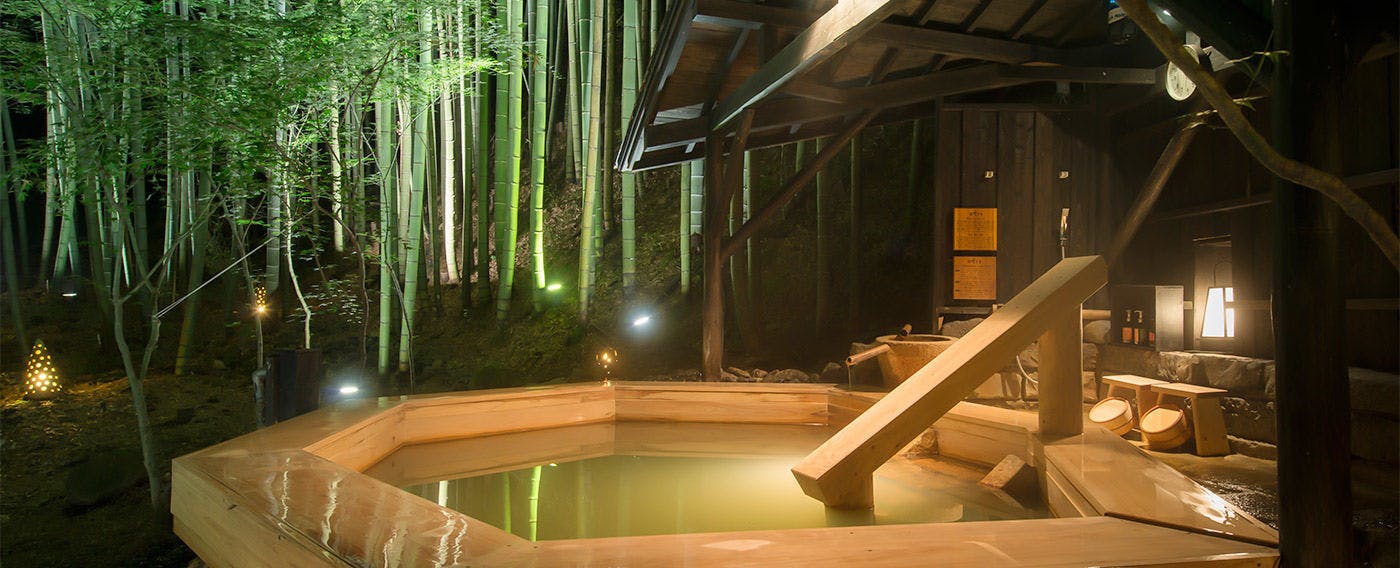 Bath 'Sasabune'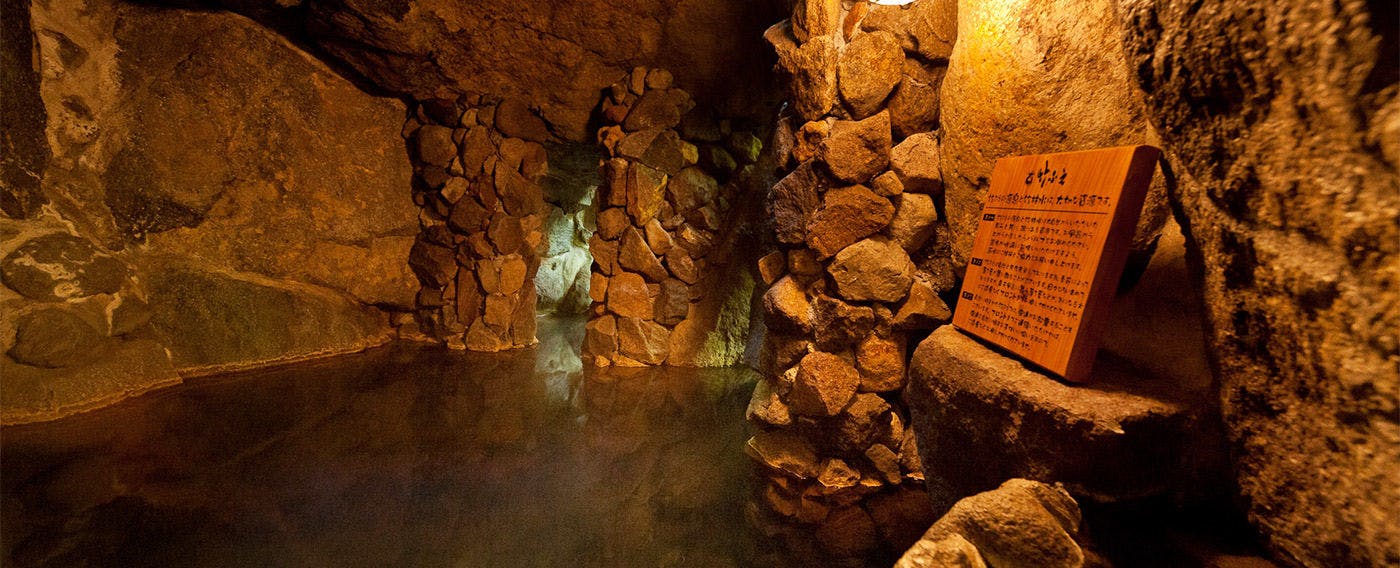 Private Open-Air Bath in Cave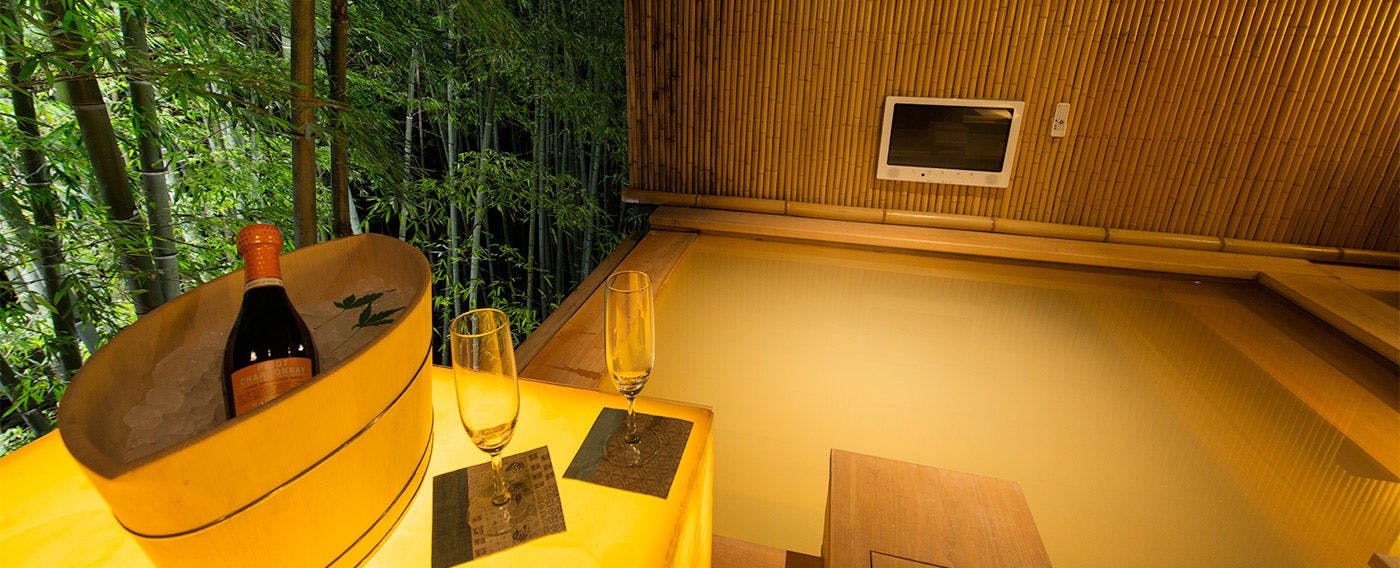 Private Bath 'Tenku-no-hinokiburo'
Open-air bath Takefue has various 4 private baths. These are also 100% sink over source. Its hots spring water temperature is 68.1 degree C.
Takefue doesn't add water to adjust the temperature but regulate water volume. Everyday, its staff cleans inside and outside of the bathtub and replace hot water with new one completely. Please enjoy luxury bath time surrounded by natural bamboo forest.
Facilities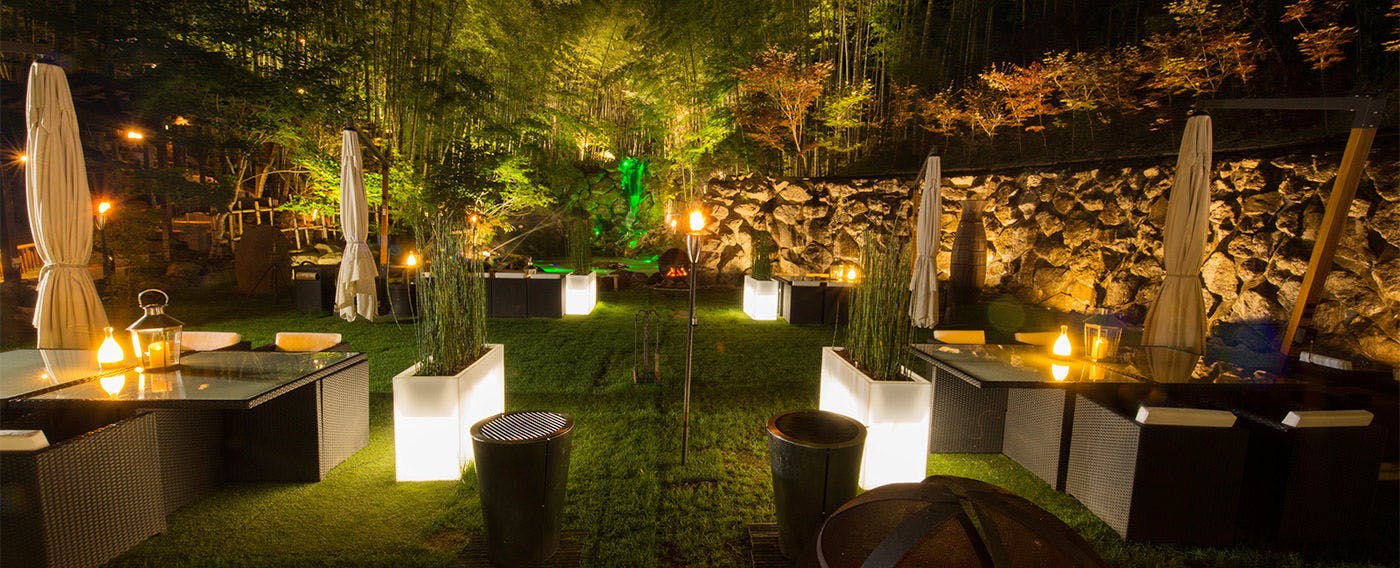 The Garden Takezono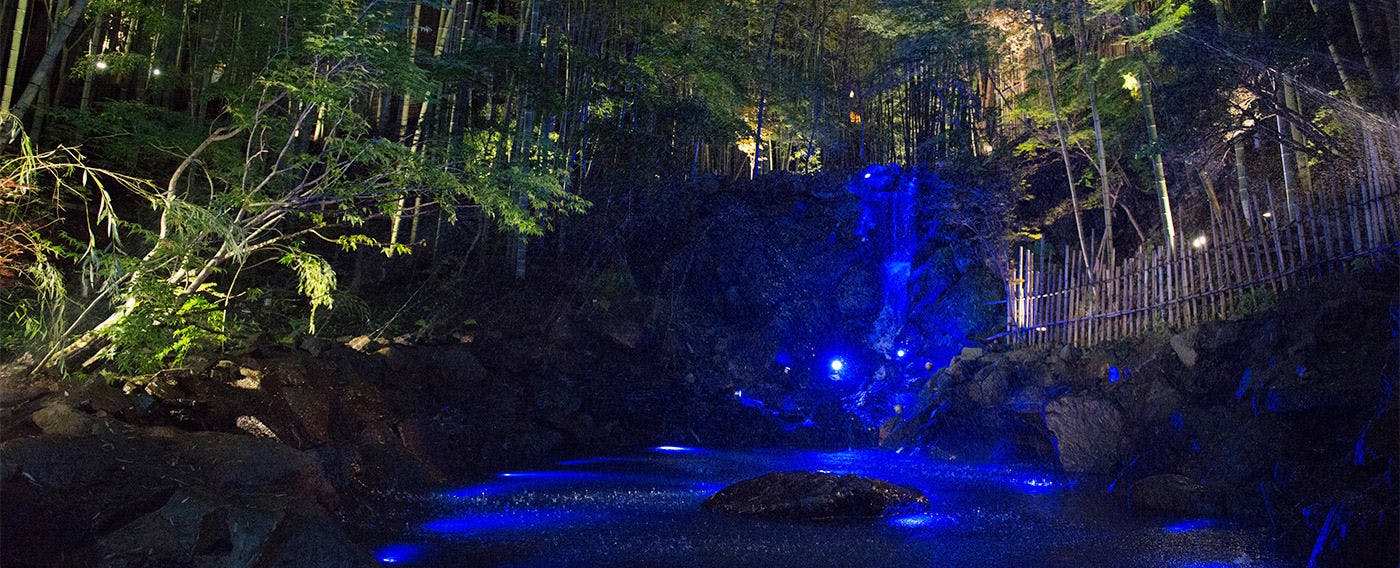 Zen Spa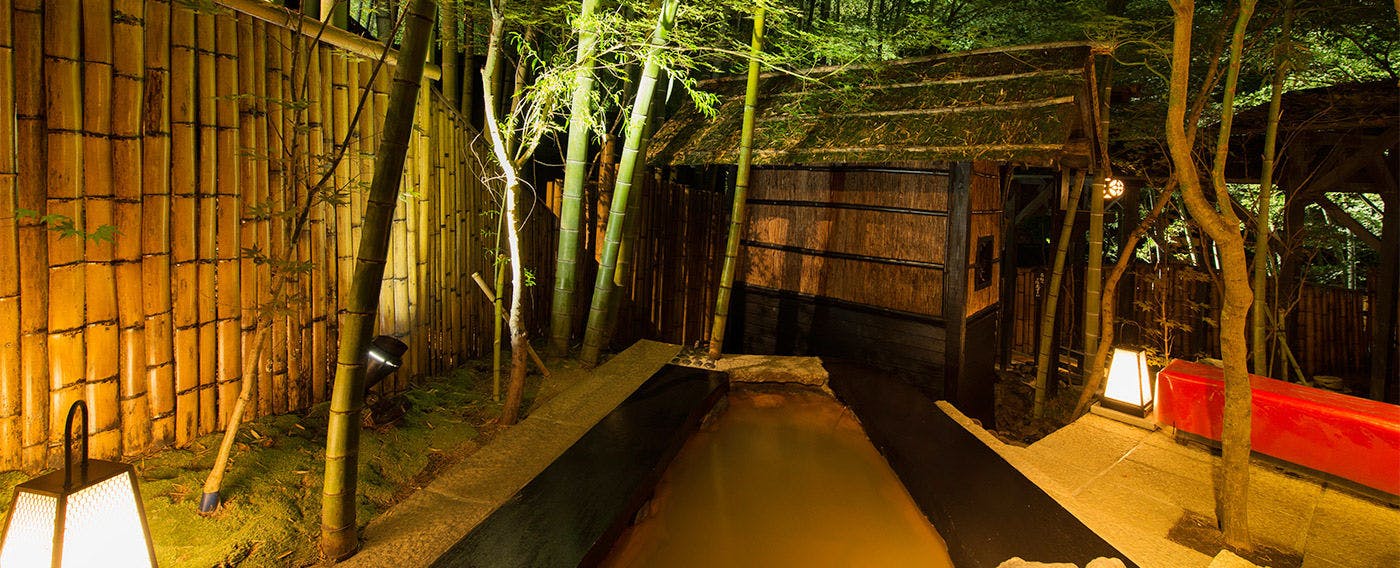 Foot Bath
Zen Spa After you get open minded to the vast nature of the Takefue, please raise your body to open. You will feel the world of "treatment" beyond the "healing" at Zen Spa in Takefue.
Access
5725-1 Mangan-ji, Minami-oguni-machi, Aso-gun,Kumamoto,869-2402,JAPAN
BY CAR
From Hita IC Exit: 1hr by car
From Beppu-city: 1hr 30min via Yufuin IC Exit and Yamanami Expressway
From Kumamoto IC Exit: 1hr 30min

BY AIR
From Fukuoka Airport: Take bus to Kurokawa-Onsen Stop, and 10min by taxi
From Kumamoto Airport: Take bus to Kurokawa-Onsen Stop, and 10min by taxi

Shuttle service available from Kurokawa-Onsen Stop with prior reservation.
Reviews
I was surrounded by Mother Nature, and It was a luxurious time. It was very good. I wish to visit again. I would like to stay for several days consecutively in the season of autumn leaves or snow when there are less insects.
+ More
Sep 2015
I am absolutely satisfied with this accommodation. The amenities were great, first of all And the bath in the room was big, the chartered bath was big, too, so I even felt guilty as they were too good. I could float a tray with a sake bottle on top in the bath which I was longing for. The staff members were not unfriendly but not too friendly, thus I could spend my time quite comfortably. It is a bit far from the center of Kurokawa-onsen area, but it is very quiet and relaxing as it is not on the route of hot spring hopping. The saxophone performance out in the garden was exquisite, too. I could feel quite elegant. Also, drinks were served everywhere (free-of-charge, of course), so many that we didn't know what to do lol When we leave, a drink was served even for our taxi driver, who we had booked personally, and this made us all quite impressed. This is the accommodation we definitely want to visit again. Thank you very much. I wish I could go to Mt. Aso the next time....
+ More
Sep 2015
We stayed here with very high expectation since the hotel was highly rated in the reviews from any website. I note a few points that concerned me. I was asked about allergies that I have in the final confirmation call and became anxious, since I had sent an e-mail and mentioned about my allergies beforehand. I would like them to be careful because in some cases this could be a life-threatening matter. The e-mail response is slow. I thought the e-mail reply should come basically within 24 hours so I was shocked. I recommend you ask questions via telephone if you wish to have a quicker response. I wanted to rent a DVD because it was the room of Sayo, however after arrival I was told I could not use it and was surprised. I believe it should have been notified beforehand. At dinner, I received the apology from the manager and a bottle of tea, however I felt a sense of discomfort that they claimed the usual price for a room where some things cannot be used. At the same dinner, they forgot to serve my husband one dish. I wonder if they do not check the number of dishes at preparation. The cleaning does not seem to be enough...and I found a contact lens fallen on the floor of the room. I have commented so far with expectations for the hotel to get better in the future, but the view from the bath in the room is nothing short of spectacular. I understood why this room is hard to make a reservation of. We could feel the care clerk woman was working hard and she left us a good impression. I liked the room attendant more than one of "Typical veteran room attendant" that is common in hotels. 1 night stay went really quick. This is a place to stay for 2 nights. I would like to visit again when I get a chance. Thank you very much.
+ More
Sep 2015
I stayed at a lot of inns, but I couldn't find such a perfect one like here before. I thought I wanted to visit each season. I can absolutely recommend this inn.
+ More
Sep 2015
Firstly the location of where the ryokan was built was definitely the unexplored region. It was on the slope of the mountain, and the hotel and the hot spring were scattered across the street. I was amazed and wondered how they built it here. There was an indoor bath inside the room and when I opened the door I could see the courtyard too. The walls and the threshold were carefully constructed and I could enjoy the view without being seen from outside. The bamboo forest was being lit up outside and it was a very magical world spread out there. There were drinks (alcohol) not only inside the room but in the bath and the hallways as well and they were to be taken freely. It was a bit surprising. Also the maid in charge of our room was beautiful, young and openhearted. One more thing, my child is left-handed but they prepared the chopstick rest for a left-handed person. My wife loves alcohol, and she held herself back from ordering a bottle of wine and ordered a glass instead, but there was a lot of wine in the glass. I felt grateful for their natural kindness. They were dealing with allergies and taking a time for cooking, and the taste was absolutely nice. When we left, the staff sent us off outside the restaurant until they couldn't see us. 5 out of 5 about everything. I'd like to stay there again.
+ More
Aug 2015
I stayed here after 4 years, and the service got even better than before, so I spent a really wonderful time. Both the staff at the reception and the staff responsible for the rooms did everything for my comfort, so I have to say is thank you. The facilities in the room, such as the onsen (open air and internal bath) and the amenities invited us guests to an extraordinary world, so we didn't even turn the TV on while our stay, and just relaxed. I'd like very much to stay here in a different season. Thank you very much for everything.
+ More
Jul 2015
I booked a hotel for the 60th birthday of my father I love. I was moved by the warm congratulatory words from the staff and I was pleased to have chosen Takefue seeing my father glad about it. I am glad that we spent a memorable time at Takefue. Thank you very much.
+ More
Jul 2015
It is the hotel where I stay when I have time. The service of the staff is always courteous and I can profoundly relax. I had a BBQ for dinner this time. The meat was tender and the seafood was delicious and the illumination of the waterfall in the garden was so beautiful. The maid in charge of my room told me that she/he had just joined the hotel, but she/he worked hard and made me remember how I was when I first started working. I look forward to seeing her/him when she/he becomes professional in the future.
+ More
Jul 2015
This time I traveled with my mother. We booked a spa plan however since we could not reserve the spa at the requested time so we changed it to the plan to stay in the separated room. It was a room where one could enjoy the extraordinary and I was glad that I chose the separated room. My mother had bad knees and as I told the hotel so beforehand, the maid in charge of our room helped her walk putting her/his hands on my mother after arrival until we left and I am grateful for that.
+ More
Jul 2015
As my friend had recommended, I decided to stay at Takefue. From the moment I got there until I left, I agreed with my friend's recommendation. The staff acted very naturally in every moment, like in the reception and farewell, and it was really pleasant. When there's too many people receiving or seeing me off, I often feel awkward, but the way Takefue treated me was perfectly natural, not one bit patronizing, so I managed to relax without getting nervous. I received a service that was as good as that of a ryokan. Thank you very much.
+ More
Jul 2015
We stayed at Takefue. As it is often said to have a marvelous view, the powerful bamboo forest and the maple trees with the leaves turned red in all seasons were wonderful. I felt free both mentally and physically in the open-air bath surrounded by nature. I ordered a "guinomi" set which is Takefue's original to enjoy drinking while viewing the moon. I was satisfied with the thoughtful service from the staff. Next time, I would like to come back on some anniversaries.
+ More
Jun 2015
Information
Check-in Time

From 3:30pm to 6:00pm

Check-out Time

Until 10:30am

Tax / Service Charge

Bathing Tax JPY 150 per adult is NOT included in the rates.

Credit cards accepted at this property

VISA / MASTER / JCB / AMEX / DINERS
Children

All children are welcome. Children of 0 to 6 years old are charged JPY 2,000 when sharing a bed with adults.

Pets

Pets are NOT allowed.

Parking

Free of charge for guests; Capacity 11 vehicles; No Valet Parking Service

Other policies & conditions

Please tell the ryokan beforehand about foods you cannot eat, such as due to food allergies or religious belief.; Check-out time differs depending on room type. 10:30am for Takekiri, Tsukikage, Sasane, and Mone. 11:00am for Sayo, Amato, Yutsukiyo, Shienan, Kokyuan, Omachian, and Bijoan.