Kutsurogi-no-Yado Nanakawa
Nanakawa is situated in Yufu in the Oita Region, just 1-minute walk from Kinrin lake and a 5-minute drive from JR yufuin station. We have only five guest rooms in total, so it's able you to have a quiet and relaxing time.Guests will stay at a private maisonette typed room. All rooms have an outdoor hot spring bath, a private terrace and a Japanese-style living room.
Japanese-Western-Style room Maisonette 50㎡

Half board included

Japanese futon bedding

Non-smoking

Room with open-air bath

See Details
From $561.09
for 2 guests /night
- VAT is included, but bathing tax (around JPY 150 per adult) may NOT be included.
- Price in USD is based on the exchange rate as of today and might be different from that of the booking date.
Foods
Meals can be had at either of the adjoining sister inns, "Tanokura" or "Santokan."
A passageway connects each respectively, so coming and going can be done easily at one's leisure.
There are a large number of dishes lavishly crafted using an abundance of brilliant seasonal ingredients. Amongst these, the beautifully marbled Bungo beef is one undisputed masterpiece. One can become fully satisfied with an ample sampling of our proud shop's flavors.
Baths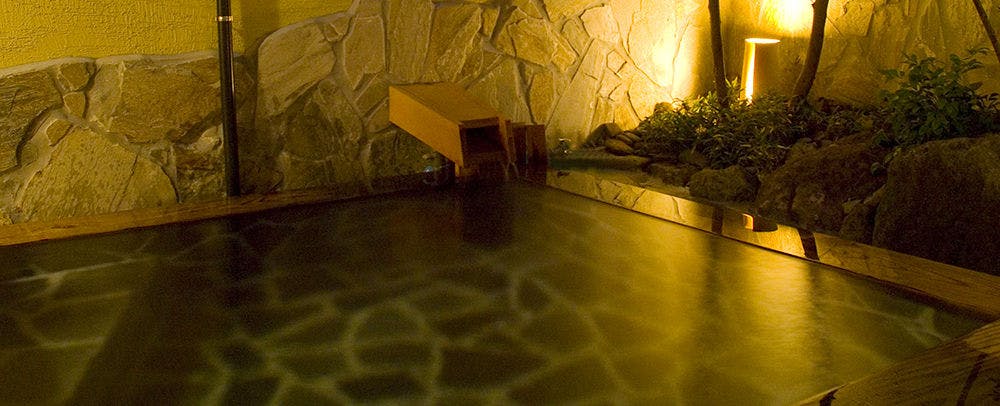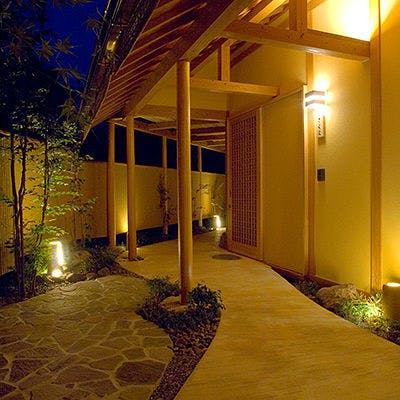 Stirred by the warm water, calm one's aching body with the rustling breeze and the bubbling of the brook. In addition to a partial open-air bath, guests can also make use of the large bathing facilities located in Nanakawa's adjoining sister inns, "Tanokura" and "Santokan."
Facilities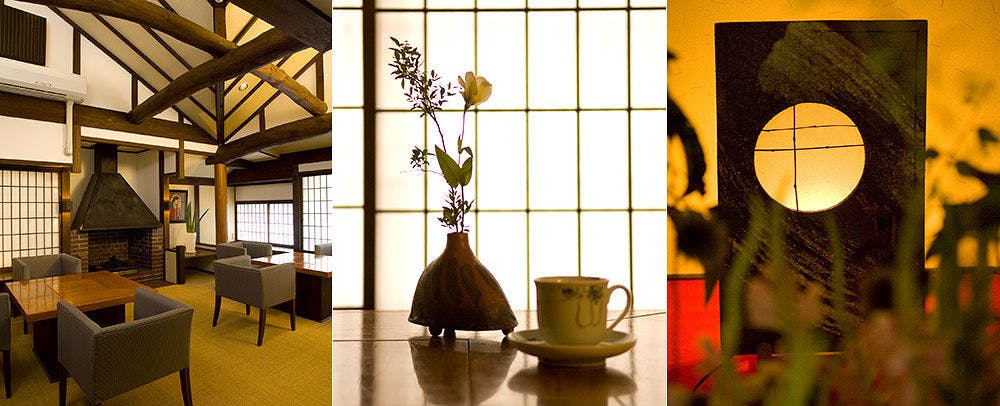 Surrounded by natural beauty, springing from the fount of the river, time passes slowly. The hot spring village "Yufuin" stretches out at the foot of Mount Yufu. The Oita River that flows through the center is fed by the "Kinrin Lake."
Come and spend a little slow, relaxing time alongside the natural waterfront landscape.
Access
1551-8 Yufuin-cho Kawakami, Yufu-city,Oita,879-5102,JAPAN
By Train:
2 hours from Hakata station or 1 hours from Oita station to Yufuin Station by JR Express train
From airport:
1 hour from Oita Airport to Yufuin Station by JR Express train.
Reviews
It is awesome. The open-air bath attached to the room feels amazing. Since the balcony was spacious and you could smoke, after taking a bath I had myself a drink and a smoke out there and generally had a rip-roaring time. The meals were also extravagant, and with these services at these prices, I think it is more than reasonable. I'd definitely like to go back again.
+ More
2016/06/09
First trip back to Nanakawa in over a year! The people who welcomed me, even remembered that I'd stayed there 1 year ago! Since it's such a popular ryokan inn, I knew there was no way they'd remember me, but I was really pleased when they calmly greeted me with a "Long time no see." I was impressed and realized that I guess it's what one should expect from a place that really values interpersonal connections. I could hear the elegant sound of flowing water from the open-air rotemburo bath and the room was spacious. Looking up at the night sky while soaking in the open-air rotemburo bath was also a high point. Without careful daily care, I don't think there's any way it could stay sparkling clean like this for 1 year. About which plan I chose, well of course, I did the Bungo beef plan. The hina doll motif hors d'oeuvre not only looked pretty, but tasted great! The freshness of the sashimi, including sekiaji horse mackerel and sea bream, was simply astonishing! If I could, I wanted to ask for seconds... Then at last came the long-awaited Bungo beef! Just too good! It was perfectly cooked and from the moment it entered the mouth, the tender flavors of the beef burst out, and it was truly delicious!! Nanakawa really sets the bar high for cuisine, and my whole family left feeling satisfied. By the way, even my grandmother in her late 80s had to agree that it was "Scrumptious." It was my second stay there, but Nanakawa really is pushing the bar of excellence in terms of everything, rooms with attached open-air rotemburo bath, large bathing facilities... Best of all I guess was being remembered from my last stay and the warm and friendly service we received. It really is the sort of ryokan inn that makes you think from the bottom of your heart, "I'm glad I came." If you should have the chance to come to Yufuin, why not take yourself and check out Nanakawa at least once?
+ More
2016/04/02
This was my place to stay on the second night of my time in Yufuin. I had a bed on the 2nd floor of a maisonette. The open-air rotemburo attached to the room felt great. Since I could also use the large bathing areas in "Tanokura" and "Santokan," it was that much more of a great time. Dinner was brilliant. Each individual dish was elaborate, looked beautiful, stimulated to the appetite and really like no room for complaint. Even my husband who tends to be rather close-mouthed about cooking kept saying how "great" everying was. Being as rare as it is, it really made me happy since I had picked out this inn. It is very close to Kinrin Lake and everyone on staff was friendly and polite. We were more than satisfied, and it was an inn I think I would like to return to.
+ More
2015/11/13
I went just the other day with my mother. We'd come by car and figuring out the parking lot was a difficult, but when we called on the phone someone came out immediately to welcome us. The inn is very near to Kinrin Lake, and pedestrians from Chinese and Korean tour groups had taken over the road, and in any case it was a struggle to reach the parking lot... Once we entered the lobby, the hostess showed us to our room and took care of our morning and evening meals. Though she had apparently only been working at this inn for the last half year, she was such a friendly, polite, and talented conversationalist that she really put us at ease and made sure we were able to have a pleasant stay. Our room was also sparkling clean and spacious, and the food so good that on the last day of our 3 night 4 day trip, we both said we were happy we'd decided to come to this inn. The only thing that could have been better was the manager (?), who was completely expressionless and a bit of a let-down.
+ More
2015/11/12
I've been to Yufuin any number of times to stay, but in every respect Nanakawa really is the highlight. I had reserved a maisonette room, which was beautiful and still had the fresh scent of hinoki cypress wafting in. It had indoor and open-air rotemburo baths, and was spacious and all-around very hygienic feeling. The spring water was a little on the hot side, but since you can add cooler water it was just right. Since I had read all the reviews I was really looking forward to the food, but somehow it even exceeded my expectations and was stunningly delicious! The presentation was wonderful of course, but the Bungo beef steak was so tender and succulent that it's hard to put into words. The explanation of all the dishes was also thorough, and I felt the thoughtfulness and care that went in. And let me tell you that finishing all that's offered is not a task for the faint of heart. It's so good that you're not going to want to leave anything, but the quantity may cause you to throw in the towel. I really think you'd better come at it with a totally empty stomach. Ours was a family trip with grandmother, but with thanks to the lovely Nanakawa we were able to create some really great memories. Also, since you can freely make use of the open-air rotemburo baths in Tanokura and Santokan it's a lot of fun. Definitely come and give Nanakawa a try.
+ More
2015/04/01
Information
Check-in Time

From 3:00pm to 6:00pm

Check-out Time

Until 11:00am

Tax / Service Charge

Bathing Tax JPY 150 per adult is NOT included in the rates.

Credit cards accepted at this property

VISA / MASTER / JCB / AMEX / DINERS / UNION PAY
Children

We have the rate for child. Please inform us if you bring your children.

Pets

Pets are NOT allowed.

Parking

Free of charge for guests; Capacity 10 vehicles; No Valet Parking Service;

Other policies & conditions

Nothing in particular.