Amayadorino Yado Ujo Soan
When it rains suddenly, you take shelter from rain. Someone kind lend you an umbrella, and sometimes you share an umbrella with someone… It is a nostalgic scenery. In busy days, there are something warm that you were forgetting. Japan has a culture of loving the rain since the distant past with many words. Tango is the town with tons of raining. The town where people can enjoy the rain and feel warm and nostalgic atmosphere of Japan. This ryokan is the place for adults. Spend some relaxing time like taking shelter from the rain at 1 of 5 villas with each different elegance.
Japanese-Western-Style Villa (Open-Air Bath) 70 - 73㎡

Half board included

Japanese futon bedding

Non-smoking

Room with open-air bath

See Details
From $896.48
for 2 guests /night
Japanese-Western-Style Suite (Open-Air Bath) 108㎡

Half board included

Japanese futon bedding

Non-smoking

Room with open-air bath

See Details
From $1,626.17
for 2 guests /night
- VAT is included, but bathing tax (around JPY 150 per adult) may NOT be included.
- Price in USD is based on the exchange rate as of today and might be different from that of the booking date.
Foods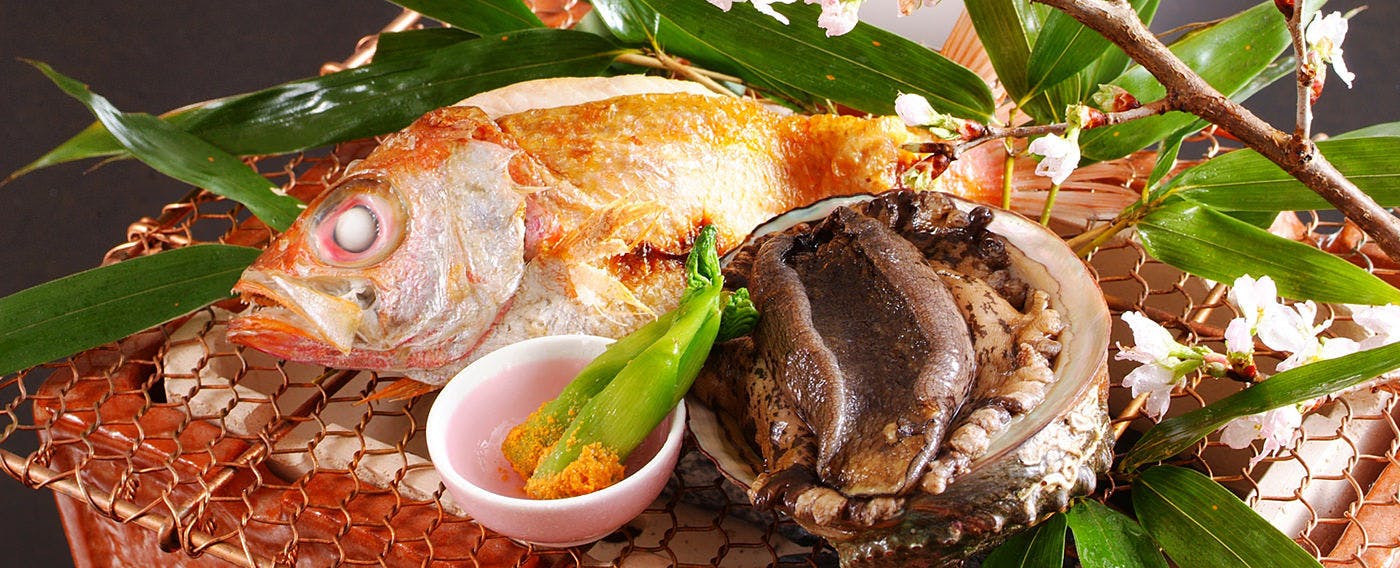 Foods in Spring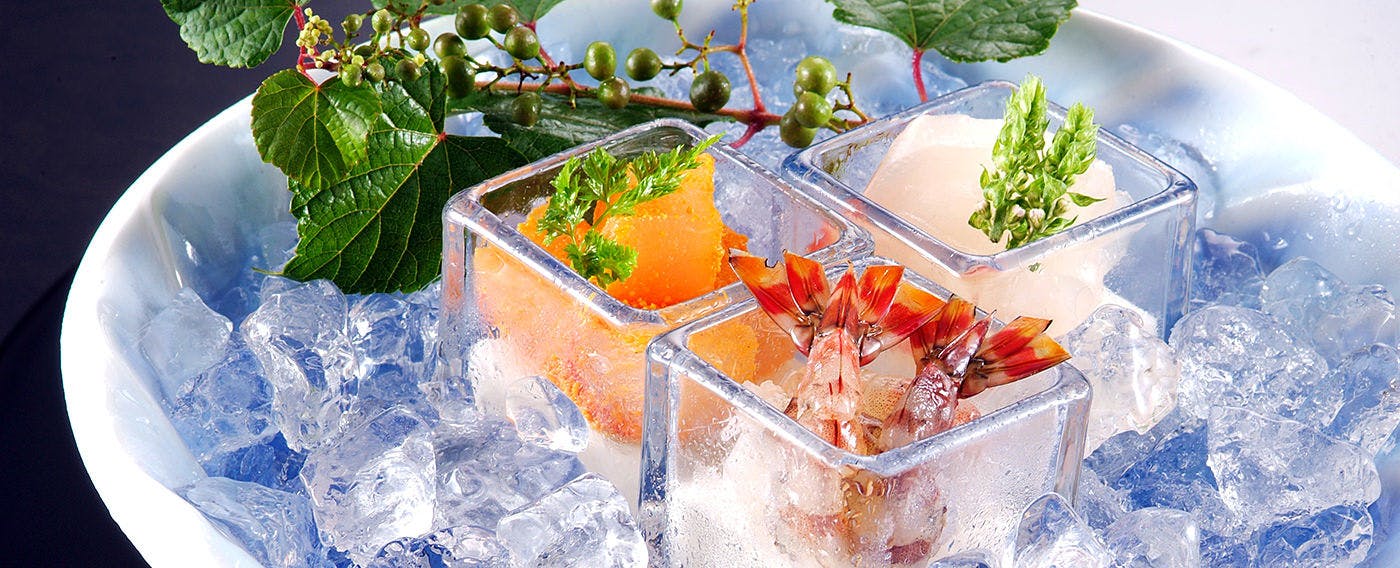 Foods in Summer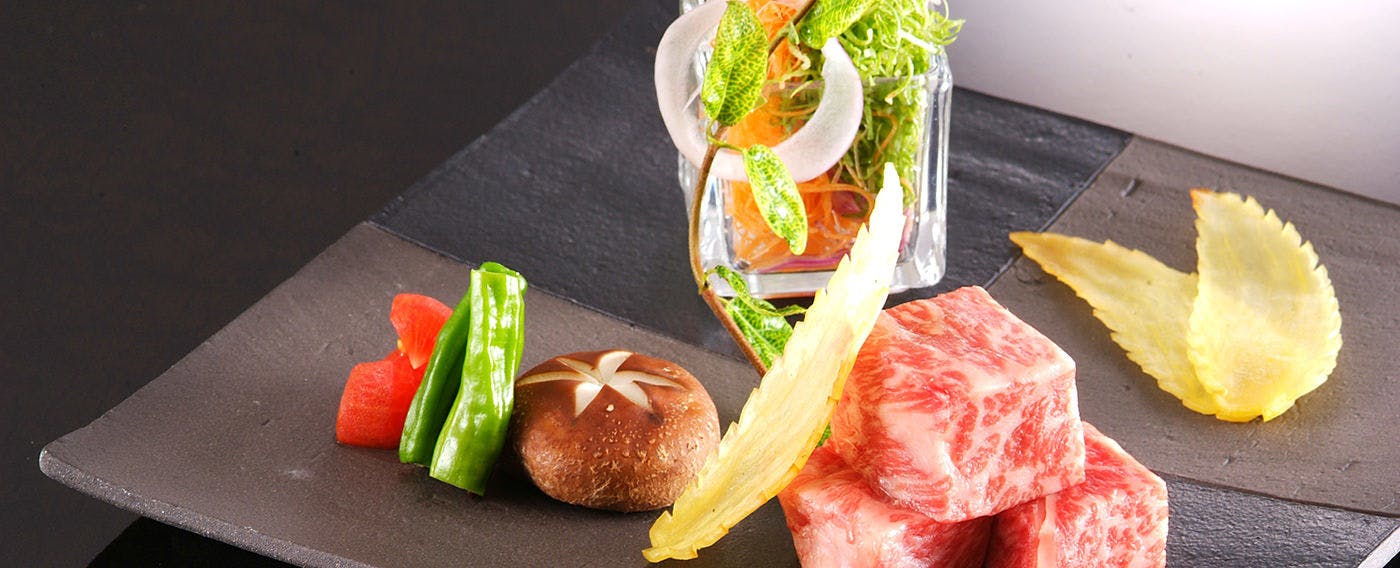 Foods in Autumn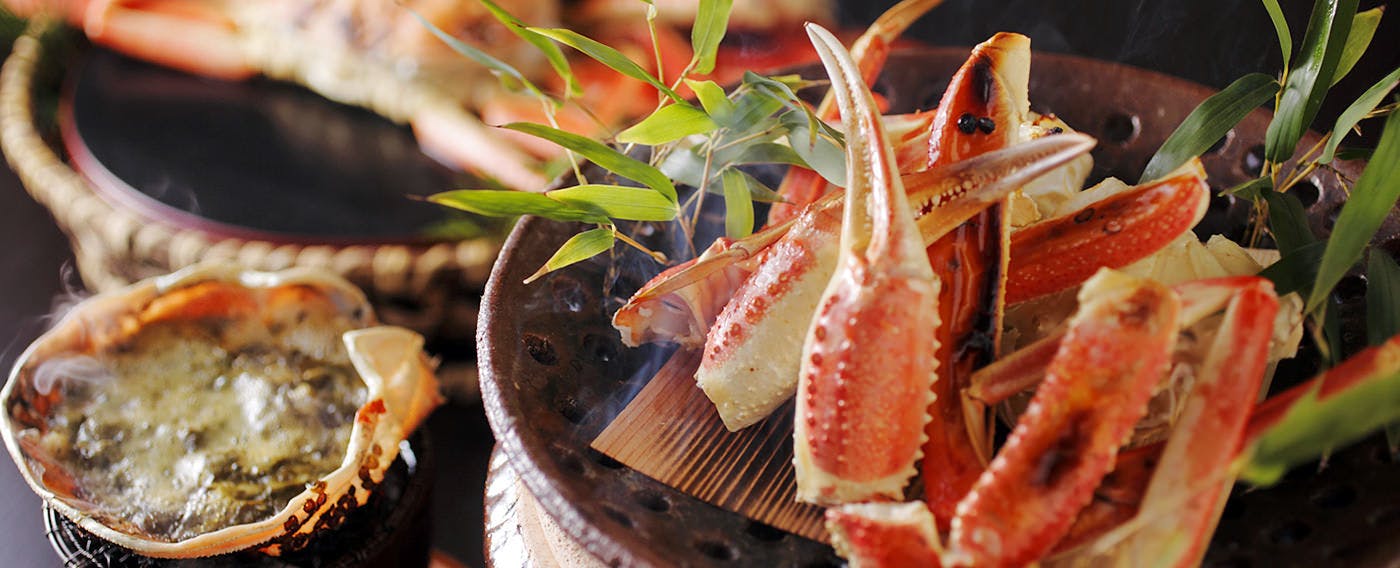 Foods in Winter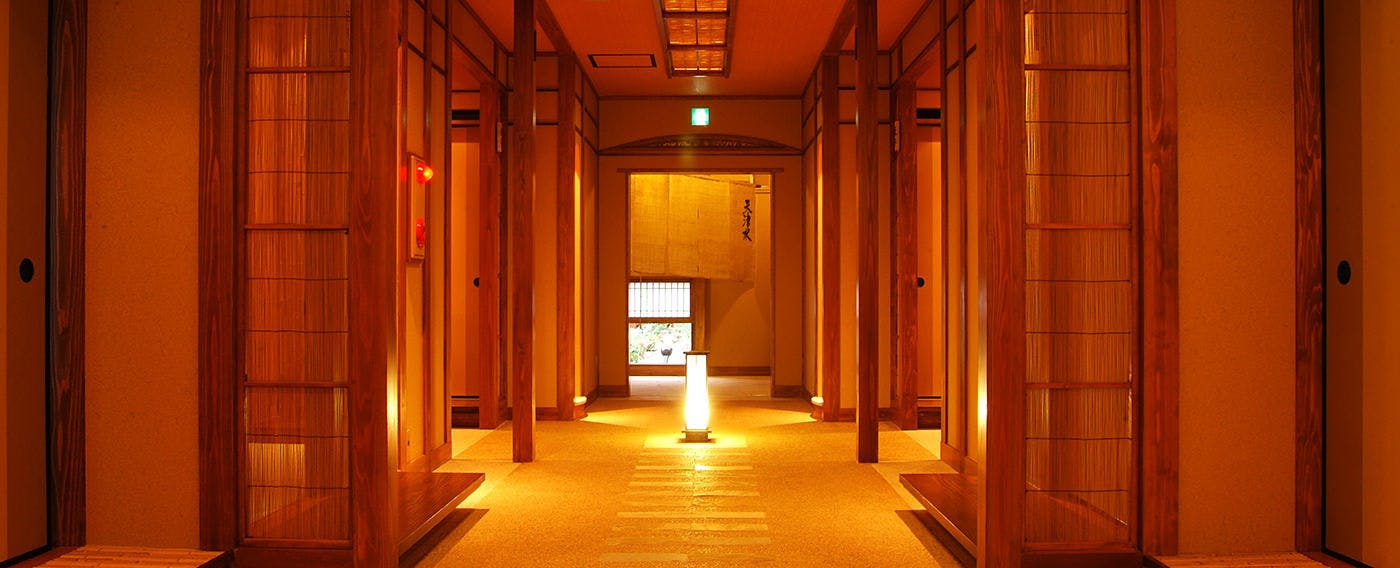 Restaurant 'Amatsumizu'
Relishing seasons of ocean and mountains, basking in a blissful time… Ujo Soan is surrounded with rich ocean and mountains. In each season, a variety of seasonal flavors are made into wonderful dishes. Refined but dynamic cuisine with rich taste of each ingredient. Enjoy at the restaurant "Amatsumizu" with private room only.
Baths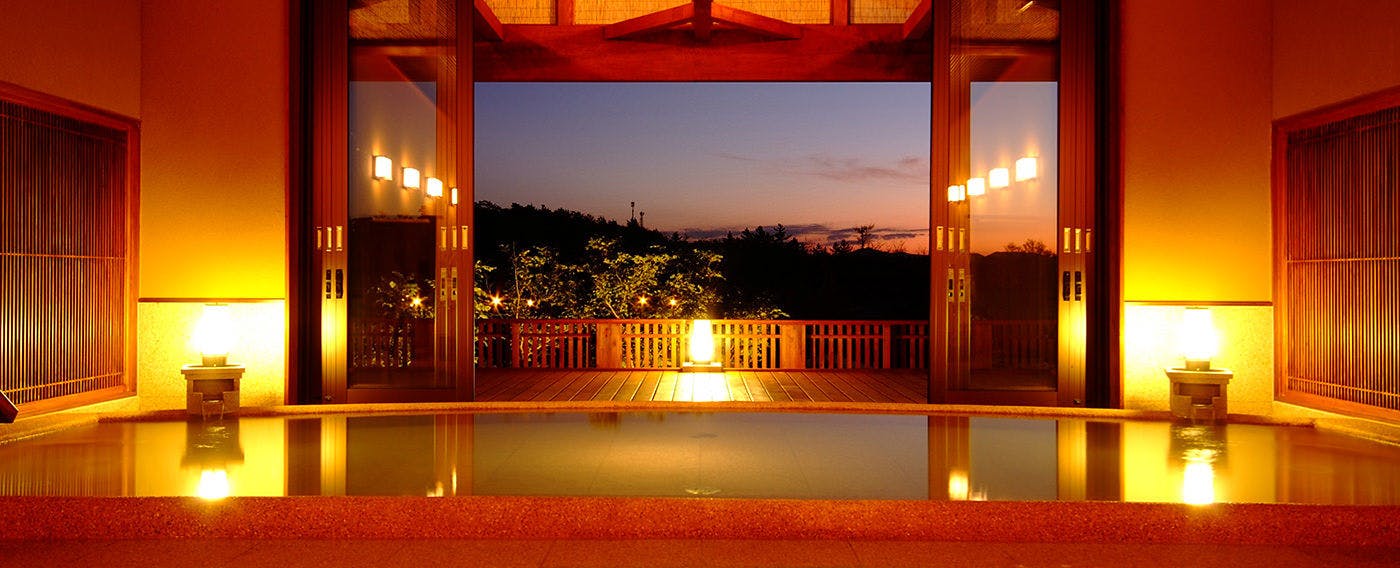 Public Open-Air Bath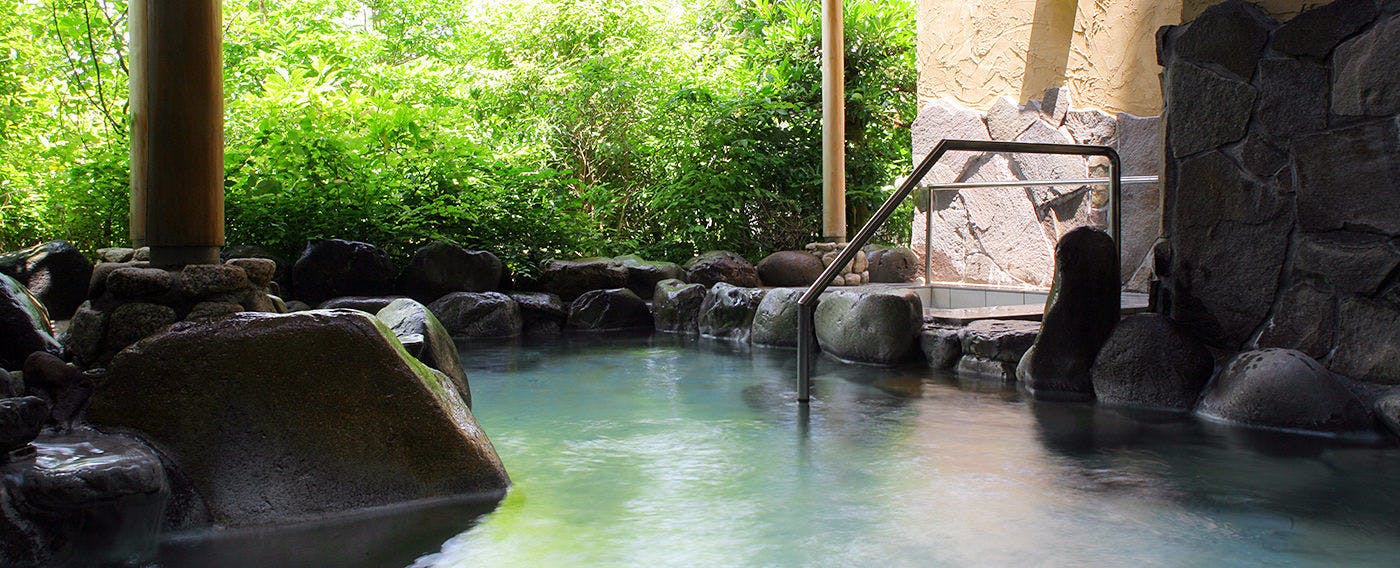 Large Public Bath with Sauna and Jacuzzi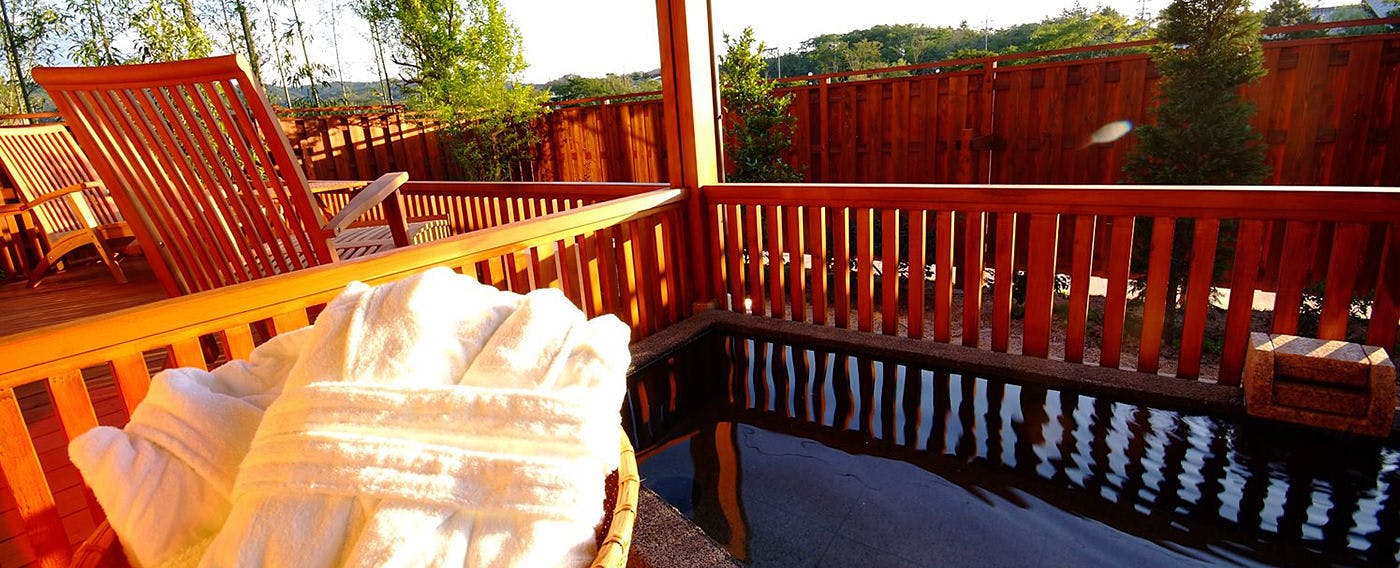 Open-Air Bath, Guestroom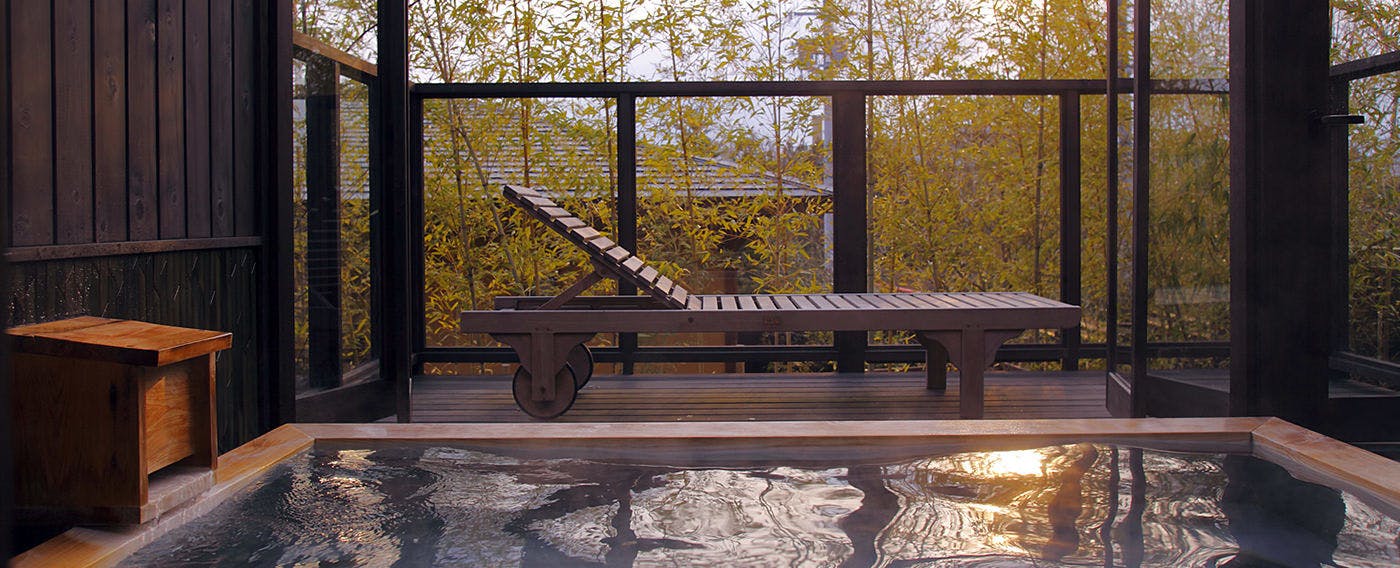 Open-Air Bath, Guestroom
Cradled in 'hot spring of beauty', the best hot spring from the Yuhi-ga-ura bay… Under the sky full of stars... in the rain making your cheeks wet... in the snowflakes fluttering down... The "hot spring of beauty" from the Yuhi-ga-ura bay makes you relaxed while you are covered with seasonal scenery. In open-air bath of each room, have some special time, only for you.
Facilities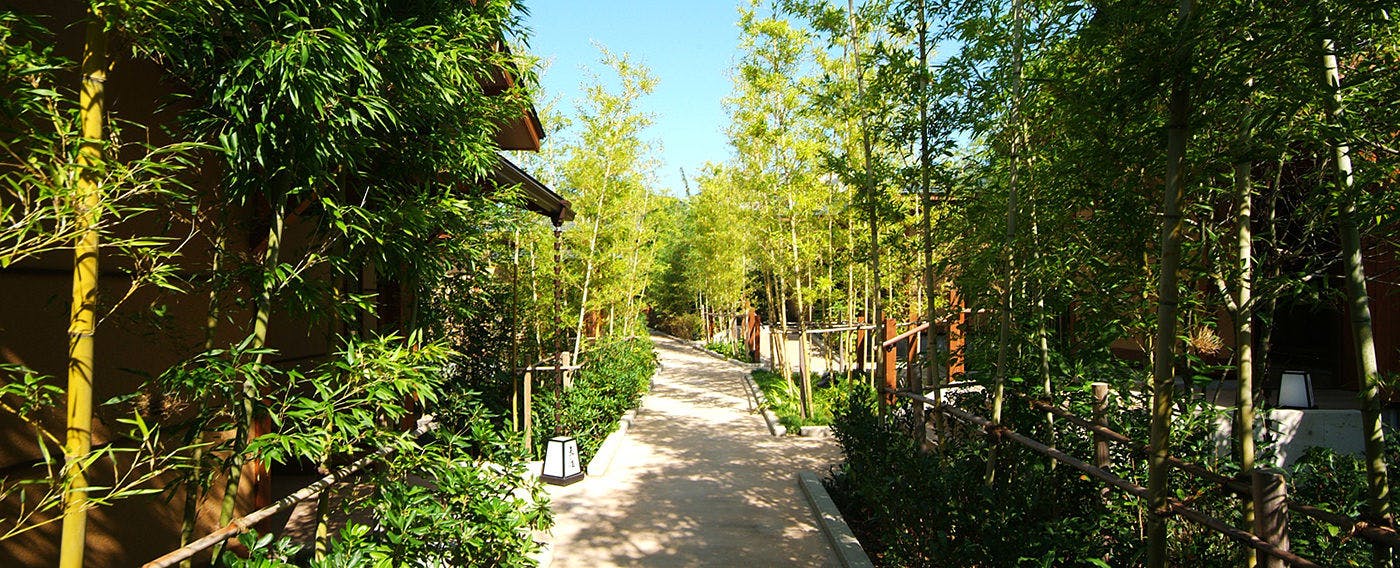 Facilities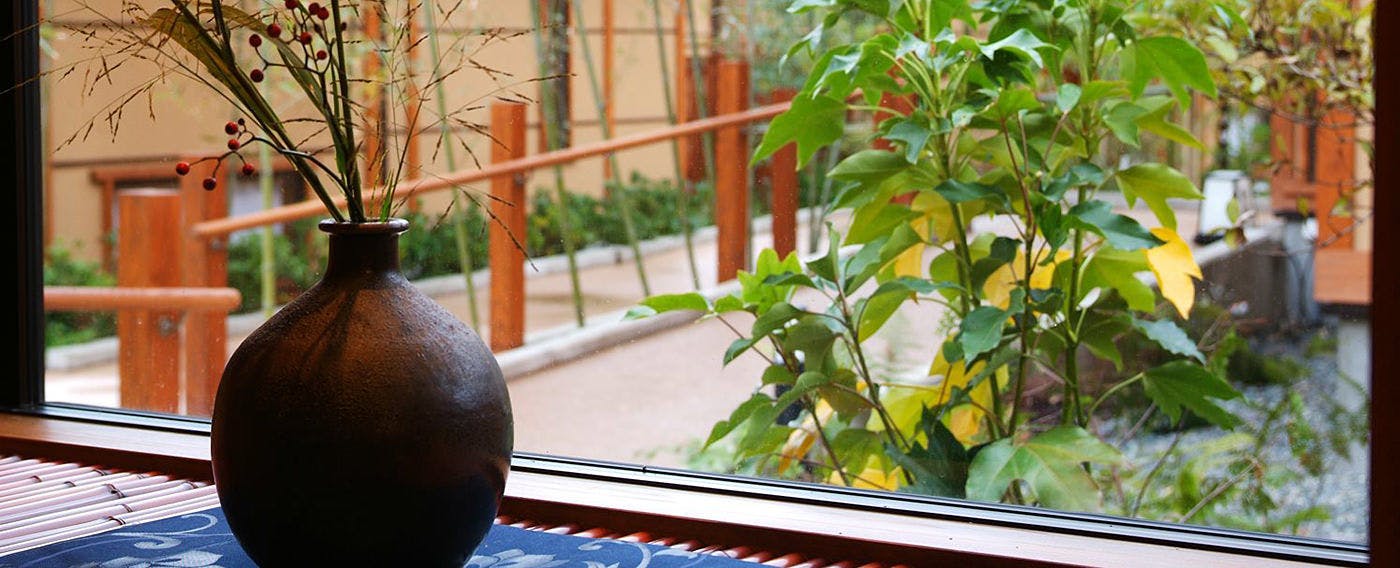 Facilities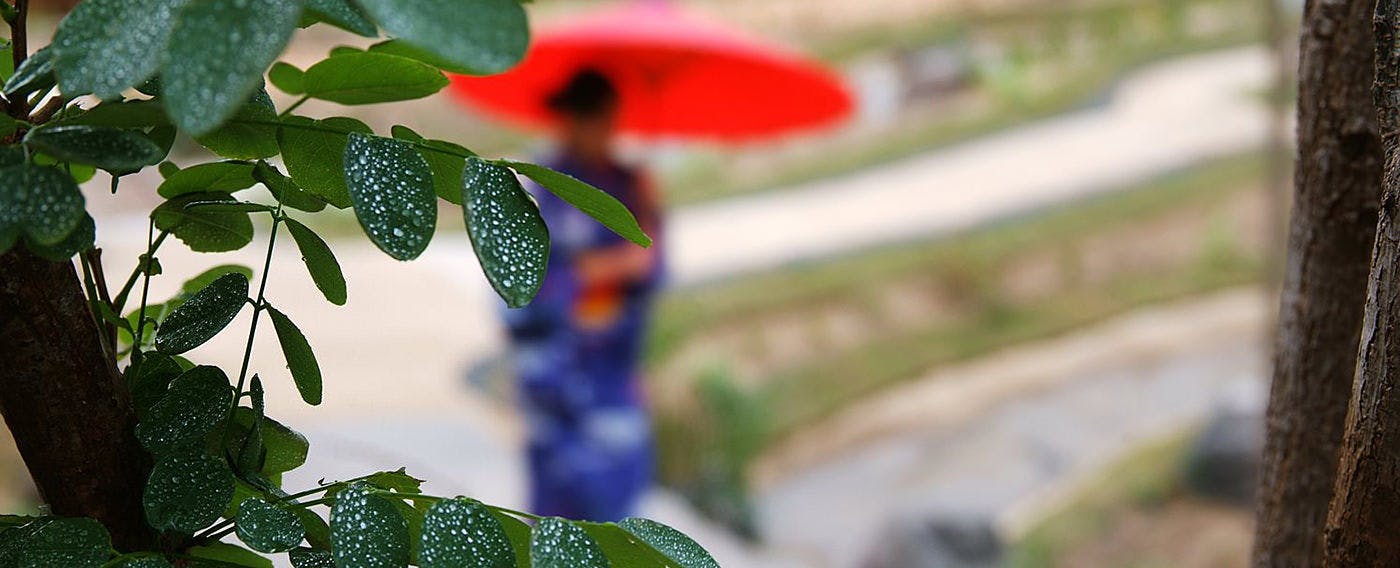 Facilities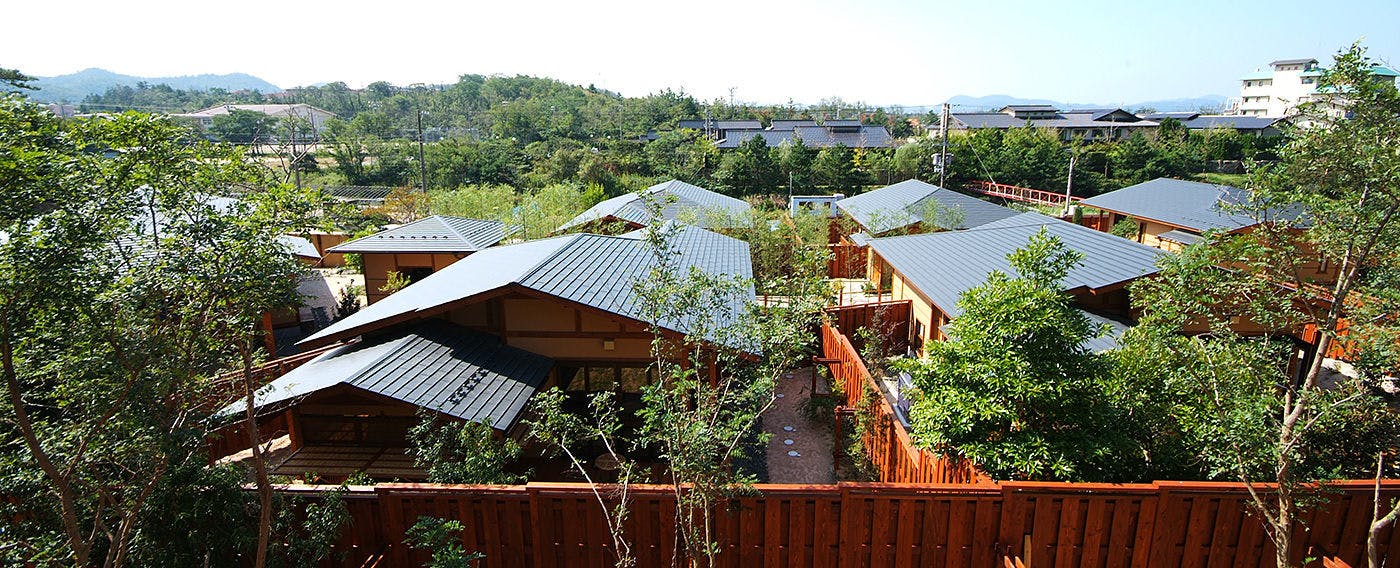 Facade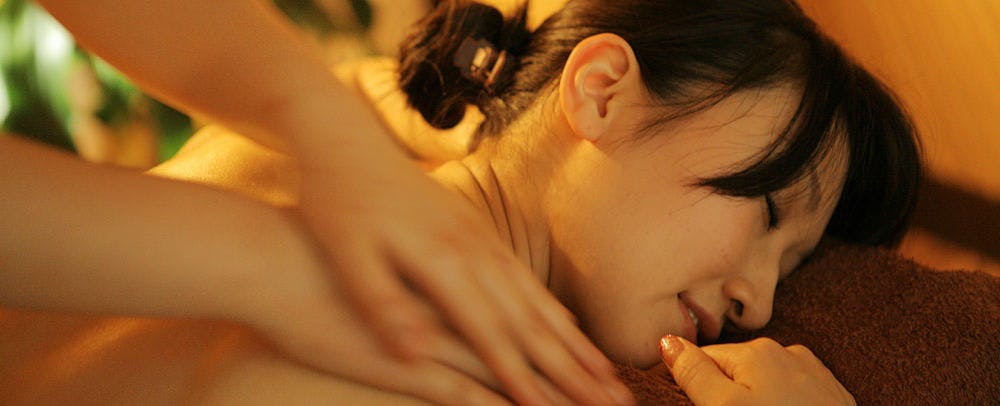 Spa Treatment
Spa Treatment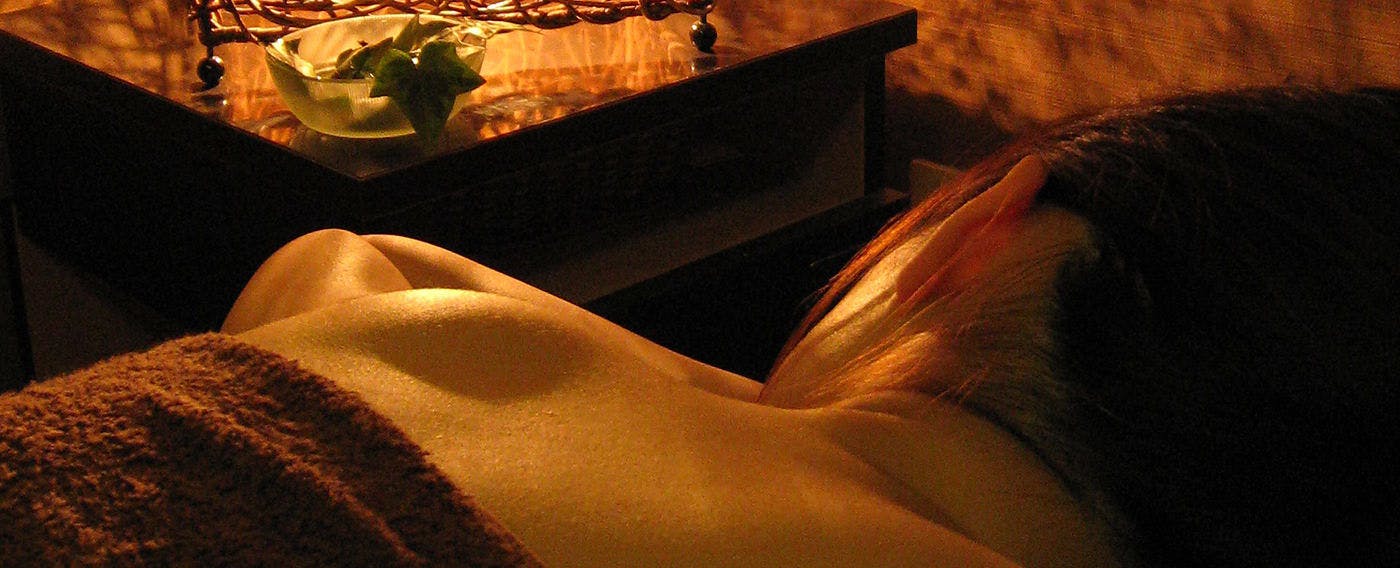 Spa Treatment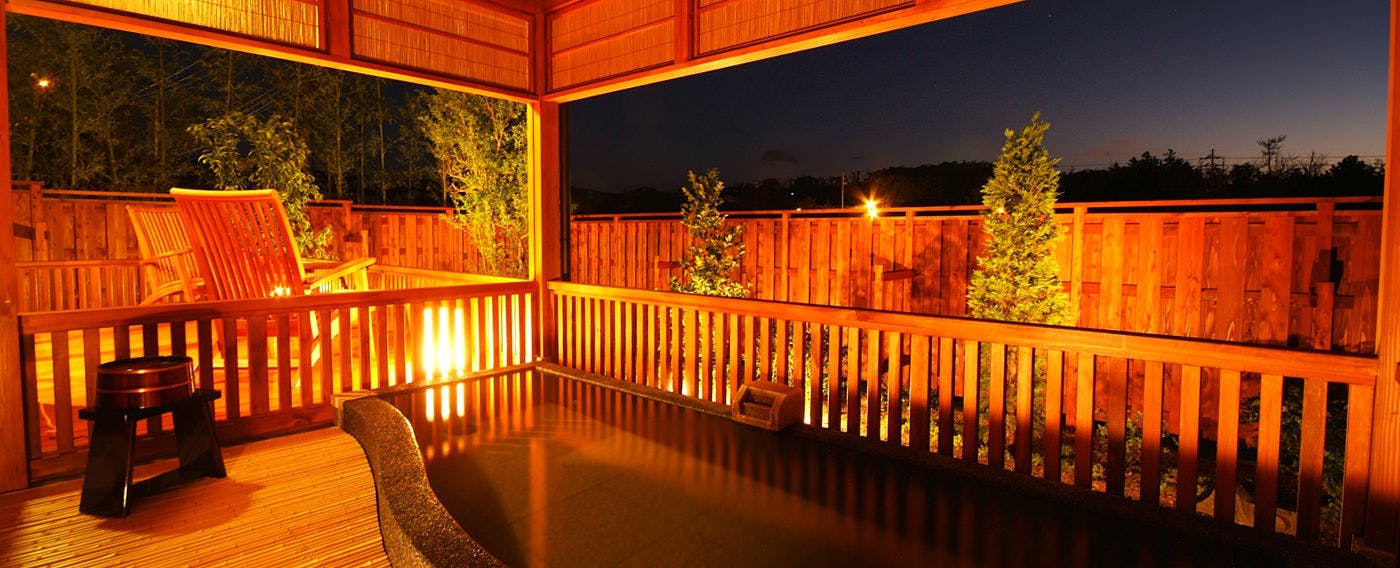 Hot Spring Bath after Spa Treatment
Another Kyoto for those with experiences Japan has a culture of loving the rain since the distant past with many words. Tango is the town with tons of raining. The town where people can enjoy the rain and feel warm and nostalgic atmosphere of Japan. Here you can find another Kyoto, which is open and bright, and just a little bit different the elegance of Kyoto.

Beauty salon treatment
Private beauty salon makes your time relaxing. Enjoy superb time by hand techniques while you are filled with scent of aroma.

Reading lounge "Kusamakura"
Lounge over the path from the garden. Get comfortable as you like.
Access
247 Kitsu, Amino-cho, Kyotango-city,Kyoto,629-3241,JAPAN
BY TRAIN
From Osaka Station/Kyoto Station: Take JR Express to Amano-Hashidate Station or Toyooka Station, and take Kita-Kinki-Tango Railway to Kitsu-Onsen Station (3hr trip)

BY CAR
From Osaka/Kyoto: 2hr 30min by car
Please be informed that children under the age of 12 are not allowed to stay here. Thank you for your understanding.
Reviews
11 Reviews
Northern Kyoto was quiet after summer holidays, and I could have a restful time. The open-air bath in my room was spacious and the temperature of the bath was a suitable temperature, and I was very much comforted by breathing in the smell of winds and trees a lot though I was bit bothered by the smell of chlorine. About meals I was very much content with both dinner and breakfast, but was moved by the original cuisine using ingredients in the area. Not only bowls and platters but the arrangement of food was nice. Once more the number of my favorite inns was increased, but if I would make one request, I would like you to cut branches of trees in the yard. They touched my face when working at the walkways and stairs. Next time I would like to visit in the season of crabs.
+ More
Sep 2015
I visited here in my honeymoon. The room and the meals were truly fantastic. The food was especially wonderful. Not only did it taste marvelous, but was visually entertaining too. We loved it. But... I don't know if that's exactly the concept, but I felt a lack of explanation in the beginning. Information such as the location of the large public baths or the hours of the breakfast of the next day should definitely be given, but there was none. Although there was a written explanation in the room, it was hard to understand. In the end, we ended up looking for it walking in the rain... In the end, we asked the directions to a staff member and somehow managed to get there, but... It was hard to understand that men's and women's bathroom was separated in outside and inside, and we had no idea that it shifted between night and morning. A staff at the main building explained that to us, but I wish they had explained that upon our check-in. The path from the room to the large public bath was very romantic and wonderful, but it was a very rough pathway, and even though I had told I was pregnant, there wasn't a single comment like "Please mind your step". I wanted to hear something like that. Another thing is that, as my hobby is reading, as soon as I heard there was a reading room, I dashed to that place so excited, but right in the entrance there was a huge spiderweb, giving an impression that the building didn't have much maintenance. My husband and I got very disappointed... Exactly because all the other things were so great, these two things felt even worse, sadly.
+ More
Sep 2015
It's an extremely relaxing inn with a great service. As there were signs of rain that day, it matched the name of the inn ("Amayadori" means "shelter from the rain.") The hydrangea created a good atmosphere too. And I think I did not have to take a narrow road if I could have confirmed where to check in when you gave me the contact prior to our stay... However when I contacted the hotel, you came to pick me up right away Thank you for that Regarding the cuisine, I was very satisfied I appreciated that the head chef himself made me shabu shabu It was very delicious I was very glad that there was a thermal gel in the bento box for the next day, too The point I was concerned about was the door of the shoji-where a safe was- being a bit rickety and I think that it would be better to have it fixed I also think the faucet of the washroom was a bit damaged as well Overall it was a great hotel and I would like to visit next time in the season for crabs. Thank you in advance for your help.
+ More
Jun 2015
I stayed in the hotel with my mother who has a leg problem. The bed was placed a bit higher and there were two sets of bedclothes on it, so I was worried about her getting into and out of bed, but it was possible to first sit on the bed from the side facing the Japanese-style room so it was alright, and my mother could get out of her bed at night all by herself, so all was well. If 4 persons come to stay in a hotel, many hotels have 2 of them sleep in futons (on the floor), and up to now I have mostly had unpleasant memories of uncomfortable futons. In this hotel the futon was as comfortable as the bed, so even if many people come to stay, nobody will suffer from a sense of unequality. The room that accompanied the outdoor bath was on the same premises and was facing the hotel, so it was visible from the hotel's windows, which was a bit embarrassing. I thought the reason was there's not full of leaves on the deciduous trees yet because of spring season. The window was half hidden among the bamboo leaves I wish they could hide the room somehow. If there were evergreen trees, it's no problem. If it is in summer, trees grow densely, so I guess that's fine. The food was not a cab due to April, but we enjoyed the local fish prepared lavishly. I was very satisfied as the other reviews said. The dishes fully used the great taste of fish were wonderful, and they also had tasty meat dishes, but I thought it would be excellent even if the menu was only fish ones. My friends were also happy and told me it was the best dish ever, so I was relieved as a organizer. It was an inn which I wanted to visit and enjoyed the food each season.
+ More
Apr 2015
It is just the best. It impressers me from the beginning to the end. I felt that everything from the ryokan, the service to the food was served with consideration and thought I want to visit here with no failure when I go to Kyoto. I hope I could stay longer next time. Thank you from the bottom of my heart.
+ More
Mar 2015
The room was designed to be able to relax, and I liked the big open-air bath. As for meals, although we came for crabs, we enjoyed the other dishes as well. I was satisfied with the breakfast in the right portion, which was not too much. I would like to come back.
+ More
Feb 2015
The bath in the room and the sunroom were very good. I chose a full-course meal not only with crabs but also with abalone and beef and I really enjoyed it. It was pity that the big public bath and the reading room were not well equipped but if you would like to spend most of the time in your room, you would be satisfied. It is located a little bit far from Tokyo so I slept in Kyoto the night before and I would like to visit again in the same way in the season of crabs.
+ More
Jan 2015
Like the catchphrase "Array of crab dishes", I really enjoyed extra-big crabs as much as I wanted. It was pity that the washing place was a little bit small but the hot spring was really nice and I had a relaxing time. It was worth going all the way as the spirit of hospitality of the staff was wonderful.
+ More
Jan 2015
The Kitango during winter is pretty. The weather is clear and beautiful. And delicious. I couldn't find the words to describe the travelers' sentiments I felt when I alighted at Kitsu-Onsen Station which is 6 hours from Tokyo. I felt at ease with the hospitality at Amayadori Souan. And the crab dish. The amazing chef from the big city truly made it delicious. But, frankly speaking, this is indeed the best place to go to when you want to eat plentifully and deliciously. I warmed up at the onsen, received warm hospitality on top of that, and even ate a dish of well-prepared crab. I had a quiet sleep after that. This is not possible at a traditional Japanese restaurant. The most luxurious once in a year. This time, I made an unreasonable request to change the pillow and ingredient. They were glad to comply it almost made me feel sorry. And thankful. If I would have good health next year I will visit again. I look forward to it and thank you in advance.
+ More
Jan 2015
"Labeled Matsuba crab" meant one labeled Tsuiyama crab per person and the rest of the crabs were of Hamasaka unfortunately. There was one crab per person however every crab was huge and it made me full. The service was polite and filled with the spirit of hospitality. The bath situated in the room was big enough for 3 people to go in altogether and although the water there was circulating it was very satisfying. I managed to relax and enjoy without having to go to the large public bath in the annex. It had some distance from the road and was very quiet, which made the right environment for the theme of the hotel "amayadori" (taking shelter from the rain).
+ More
Dec 2014
This trip we have planned to relax while having delicious crabs ended up very satisfying for both of us. Not only crabs but also the dashimaki tamago (rolled omelet) we had for breakfast was tasty... Thank you for the meals. It was the first time I took a bath three times in the morning before checking out. Both the meals and the bath were perfect, but the best thing was the consideration shown by the room attendant. Thanks to her, we were able to take time enjoying the crabs with which we have always struggled. We enjoyed the lunch box and the boiled eggs at a Service Area on the way back. Thank you for your hospitality.
+ More
Dec 2014
Information
Check-in Time

From 2:00pm to 5:00pm

Check-out Time

Until 11:00am

Tax / Service Charge

Bathing Tax JPY 150 per adult is NOT included in the rates.

Credit cards accepted at this property

VISA / MASTER / JCB / AMEX
Children

Children are NOT allowed.

Pets

Pets are NOT allowed.

Parking

Free of charge for guests; Capacity 5 vehicles; No Valet Parking Service

Other policies & conditions

Bathing Tax JPY 150 per adult is NOT included in the rates.; Please contact the hotel in case of arrival after 5pm.; Please note that the final slot of dinner start time is 7pm.; Cancellation fee is charged after booking confirmation, according to the cancellation policies.; The hotel contacts guests to confirm reservation.; Please make sure to tell phone number to receive calls from the hotel