Masuichi Kyakuden
"At one time when visitors came from afar they were entertained in the tatami-floored kyakuden, literally ""guest hall,"" of the Masuichi estate. When a visitor came to Obuse, way out to the country, it felt like a small festival not just to the master but the entire household and servants as well. That was the perfect opportunity for intellectual stimulation and a place where all sorts of valuable information could be gathered.The Masuichi Kyakuden was born from a desire to once again realize a place for exchange and fraternization in Obuse, restoring history in a modern framework. All of its services are based on the feeling that guests should be entertained at its own houses. Enjoy the sights of Obuse and the chestnut orchards as if it was your own backyard."
- VAT is included, but bathing tax (around JPY 150 per adult) may NOT be included.
- Price in USD is based on the exchange rate as of today and might be different from that of the booking date.
Foods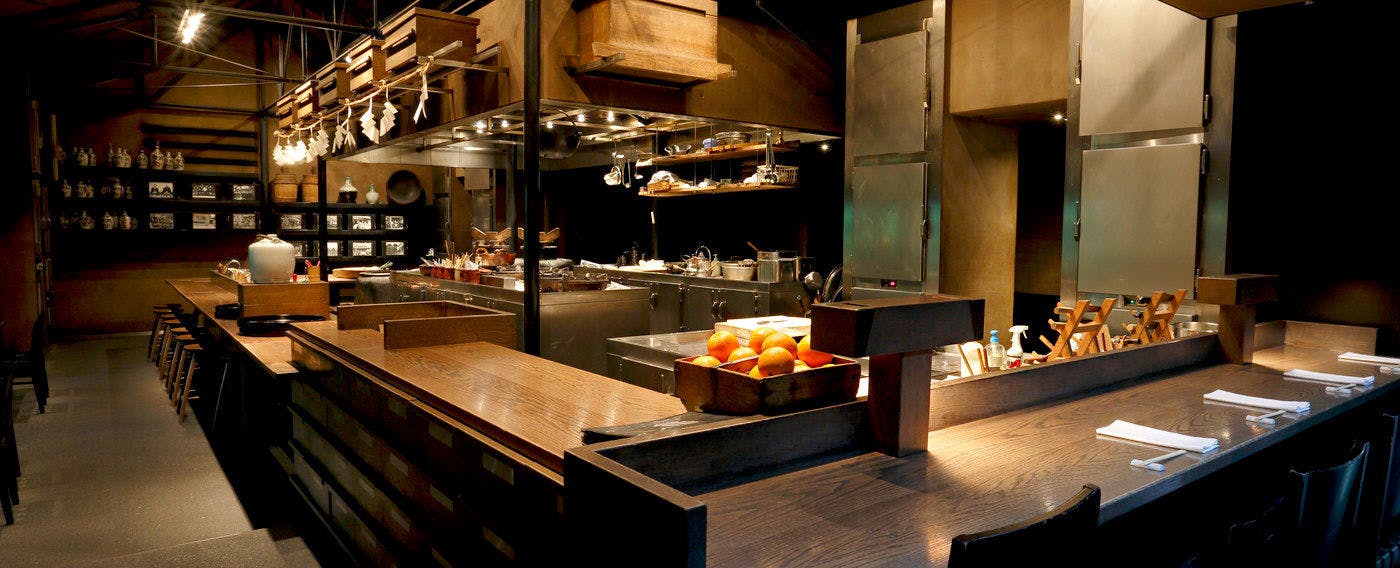 Japanese Restaurant 'Club'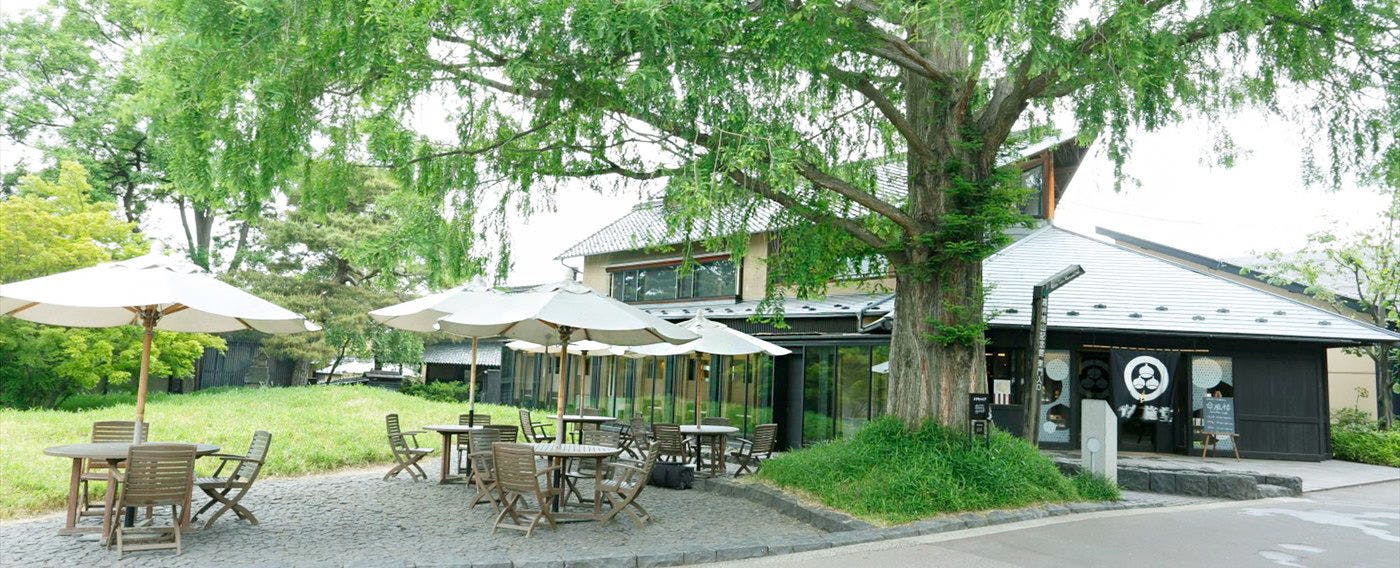 Restaurant 'Sanpuro'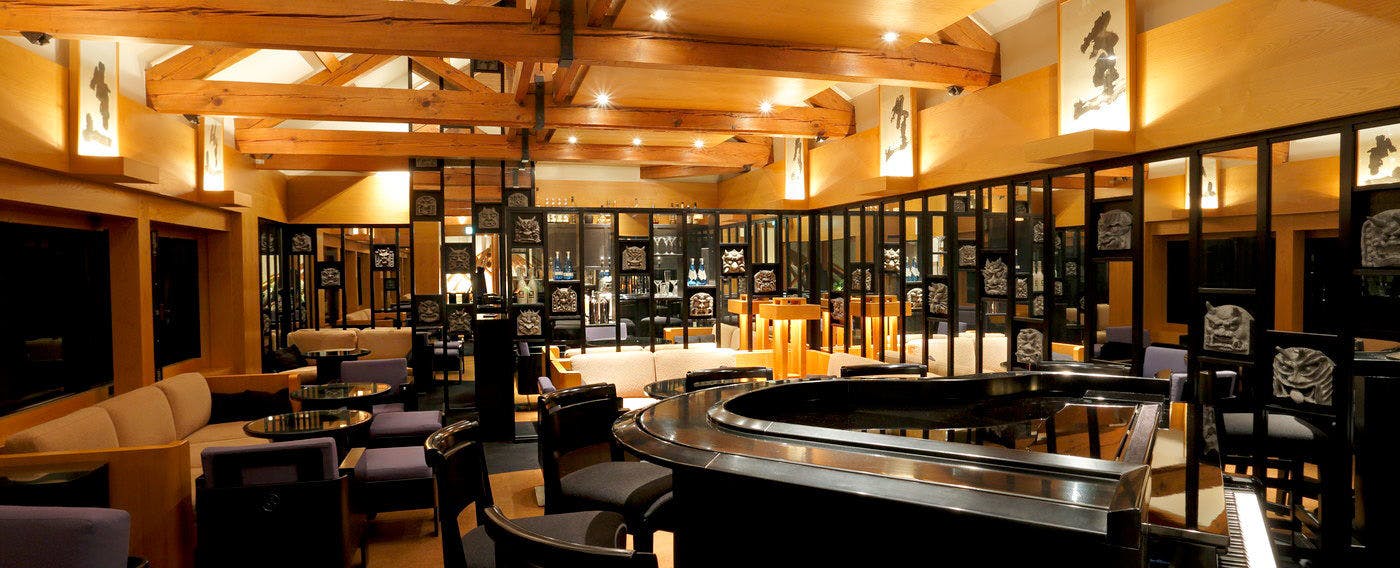 Bar 'Oniba'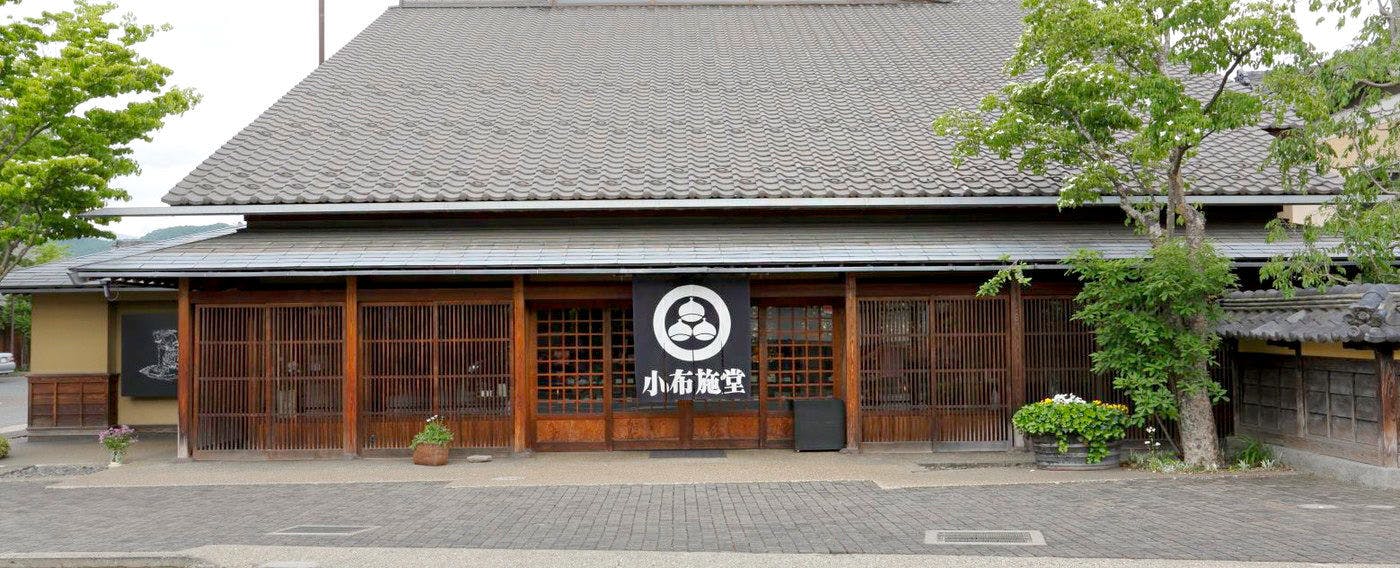 Cafe & Restaurant 'Obusedo Honten'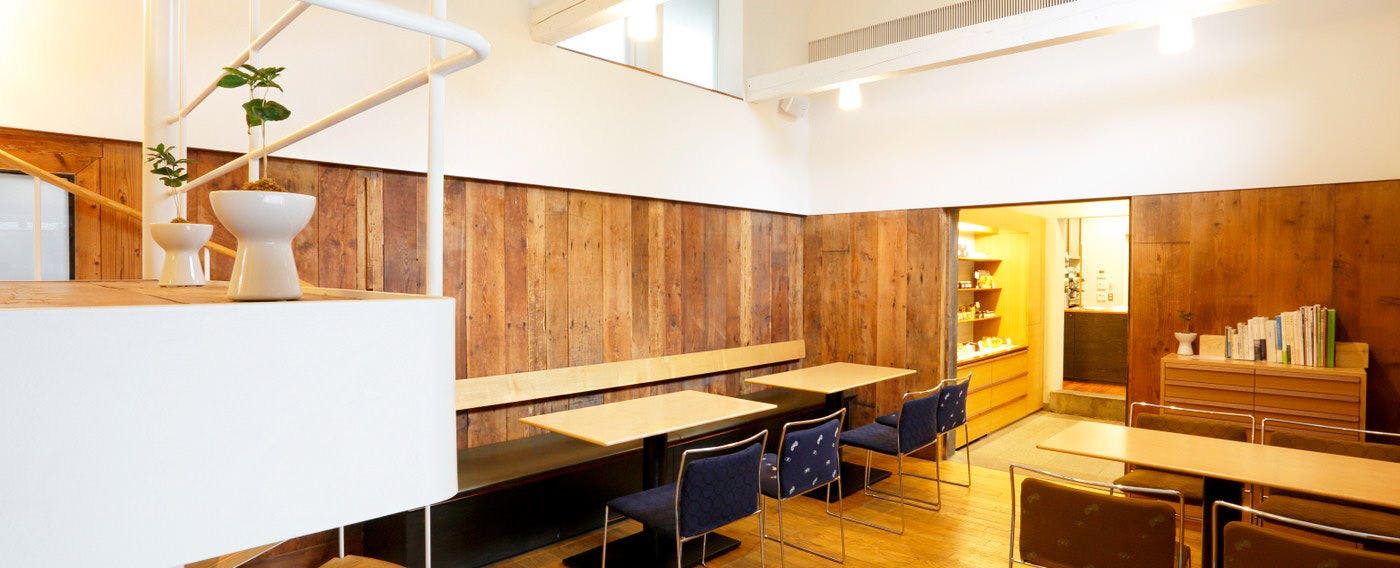 Cafe 'Entotsu'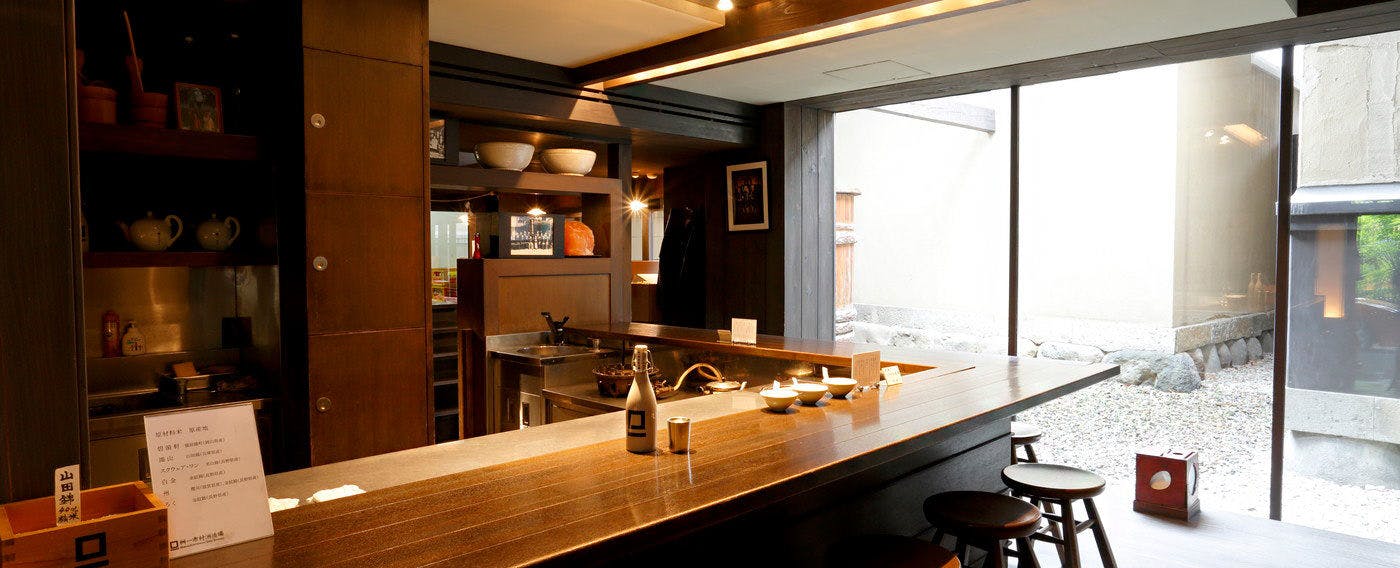 Sake Bar 'Teppadai'
3 restaurants with different styles and bars Meals at Masuichi Kyakuden may be taken at any of the three restaurants connected to the garden and road.

There is "The Club," serving the traditional food of the sake brewers and the home cooking passed down through the Ichimura family.
There is the Italian restaurant "San Poo Loh" which uses freshly-picked vegetables and foods of Shinshu.
Then there is the "Obusedo Honten" restaurant which serves teatime style Japanese food.

After dinner, please relax at "Oni Bar" overlooking the bamboo grass garden. You can also try the different sake of Masuichi at the Masuichi Honten "teppa" counter, open until evening.
Baths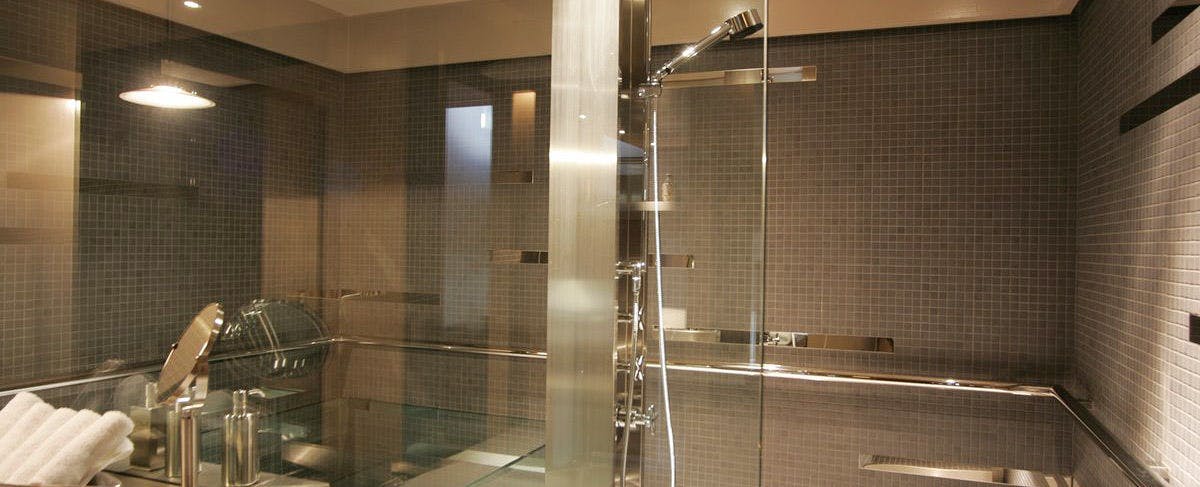 Bath
In-room bath Relax in the bathroom with guestroom.
Facilities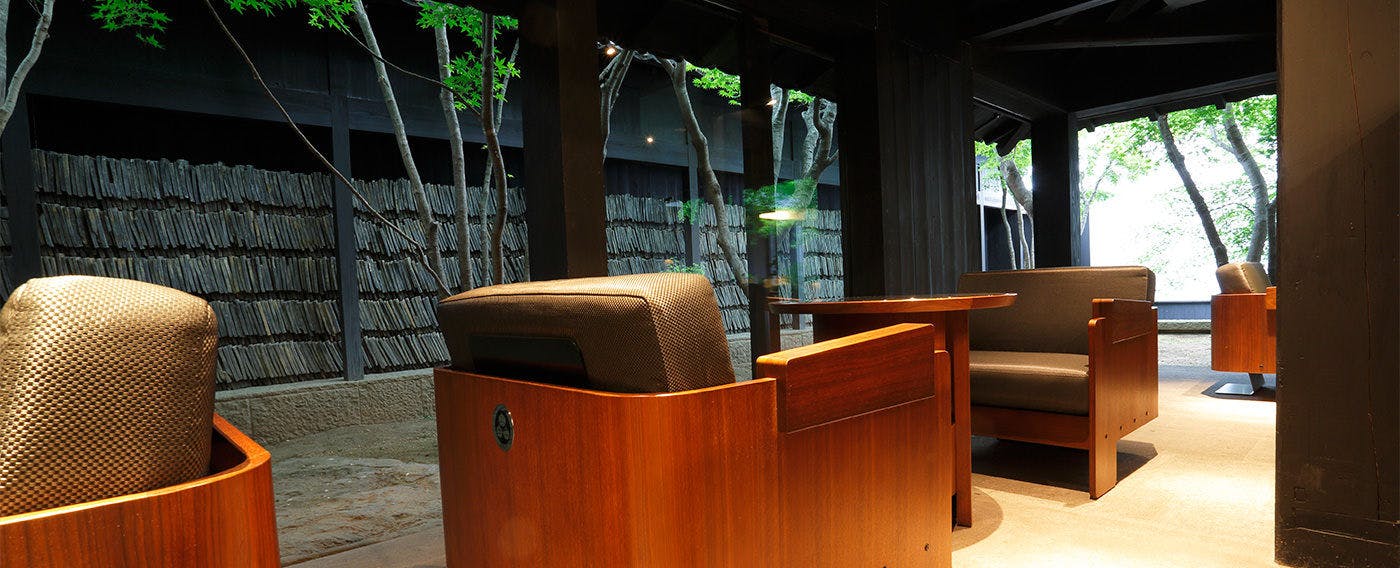 Lobby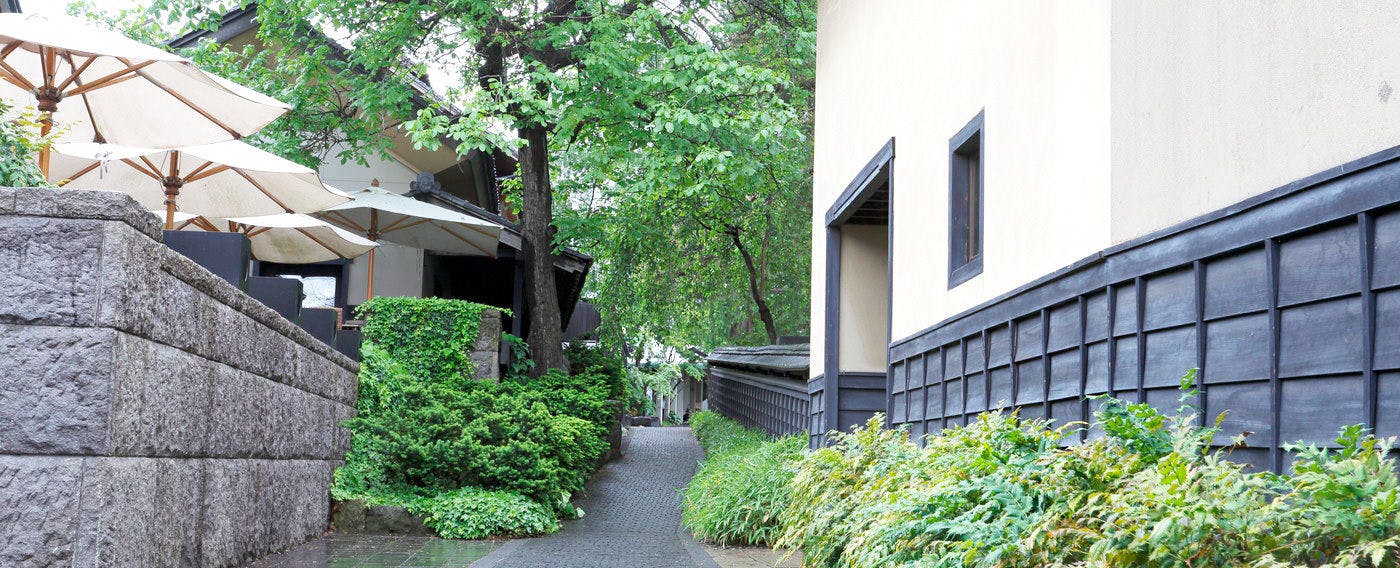 Stroll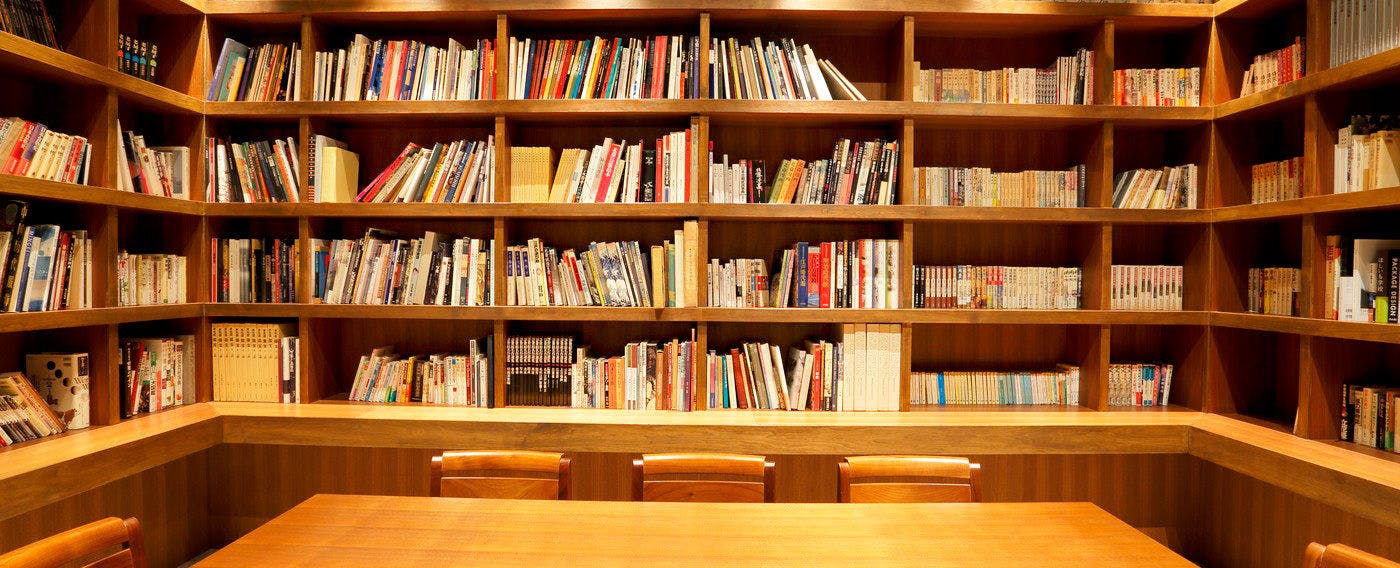 Library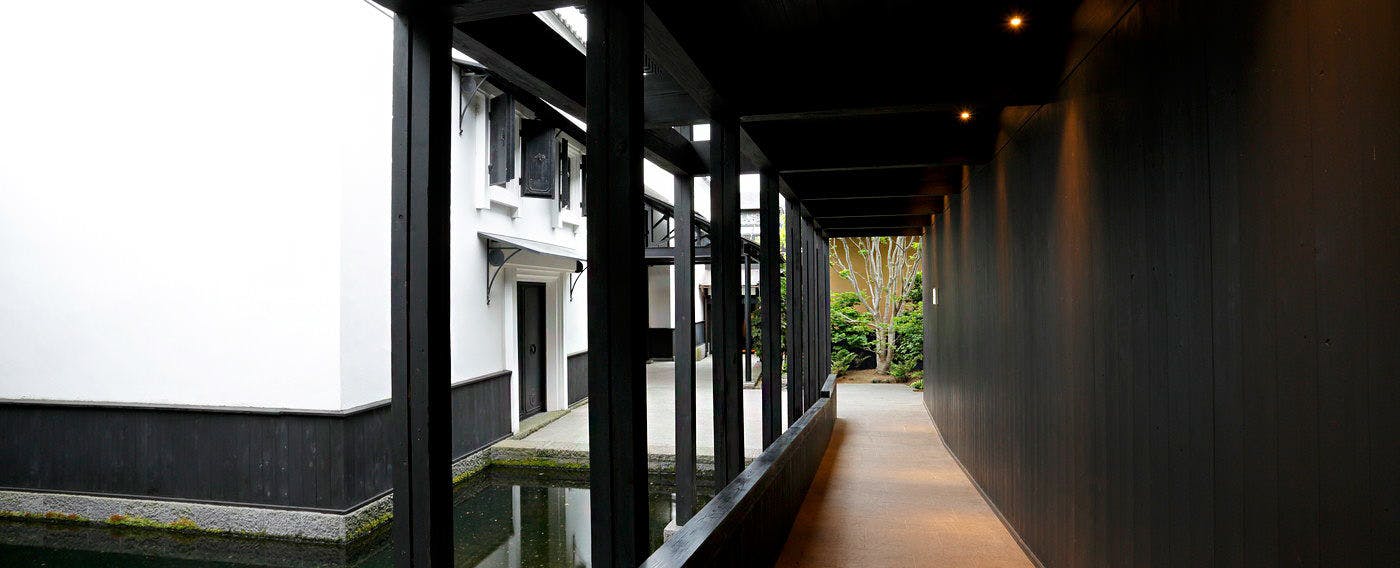 Corridor with Pond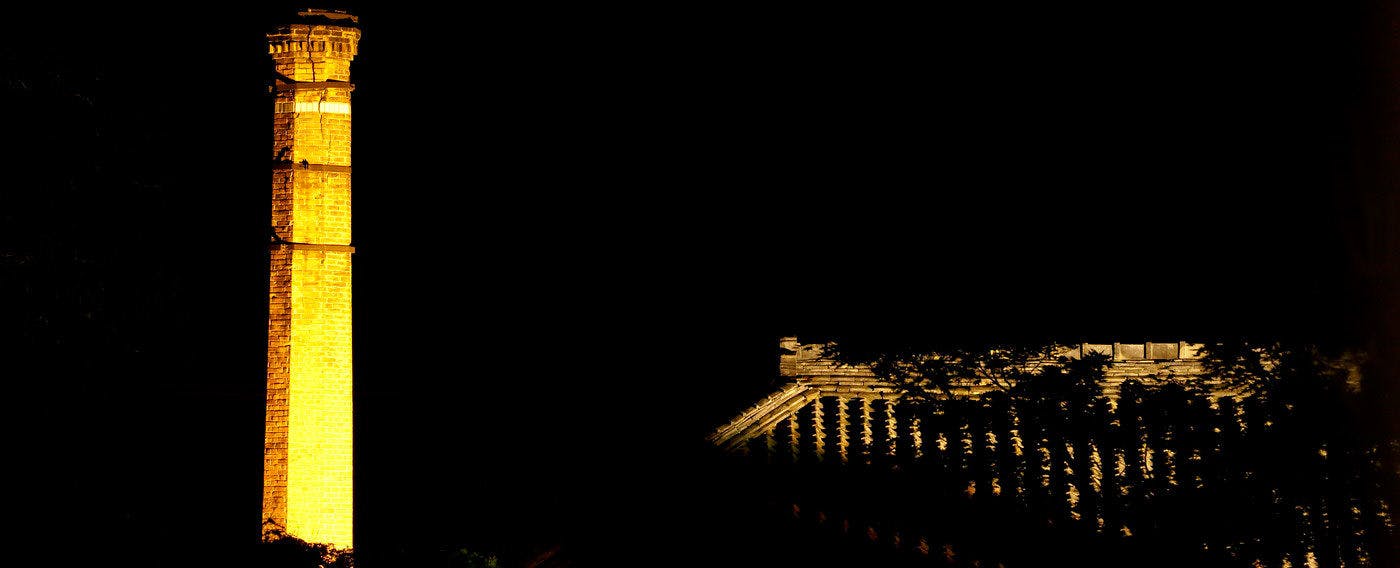 Chimney
Invite visitors from afar to their own home To invite visitors from afar to their own home and cherish the opportunity for new encounters and exchange... that is the spirit of Ichimura family hospitality which has been passed through the generations to this day. They support you in your stay at the Masuichi Kyakuden with the hospitality and manners of Obuse.
Access
815 Obuse, Obuse-machi, Kamitakai-gun,Nagano,381-0293,JAPAN
BY TRAIN
From Nagano Station: 30min by Nagano Electric Railway (Nagano Dentetsu) to Obuse Station, and 10min walk

BY CAR
From Suzaka-Nagano-Higashi IC Exit (Joshin-etsu Expressway): 15min by car
From Shinshu-Nakano IC Exit (Joshin-etsu Expressway): 7min by car
From Obuse Smart IC Exit (Joshin-etsu Expressway): 5min by car
Reviews
11 Reviews
I used it this time last year too and spent relaxing time. A good thing is the guests have priority to receive 朱雀. The manner of dealing with people is also very good. Only the bath tub is too unusual, and I cannot be content.
+ More
Oct 2015
I had determined in mind to stay at this inn during my long desired trip to Obuse. The scheduled check in was 5 PM, but since I arrived an hour early, I asked if I can leave my luggage at the inn and go out on walk, but they kindly checked me in as the rooms were prepared. It was very thankful of them. I was a little tired, but the kindness of the staffs and the wonderful room cheered me up, and went out to stroll right away. I thought it may be nice to go stroll around and go out for breakfast, but may be a burden on a rainy day. Everything in the breakfast was so delicious that I wanted to have another cup of milk in the end, but I was so full that I had no choice but to give up! The towels were thick, large and were completely dry, so it felt good to use it, but I missed a basket or a box to put the used towels and bathrobes. It was such a lovely room, but we formed a pile of used towels on a corner, and as there was no place to hide it, we didn't know what to do with it. In another hotel where I stayed, there was a large basket that fit under the sink, to throw the used towels into. It would be handy if there was something like that. (or maybe I just didn't find it. ) It's an adorable hotel that I would like very much to stay again.
+ More
Oct 2015
I prefer a shower head that is not a water-saving type. That hurts too much on people with sensitive skin. I wish smoking was prohibited in the entire building. Please make it possible to smoke outside the building.
+ More
Sep 2015
We used this hotel for a family celebration and the three generations of our family, both parents and children, came to stay. It is a good hotel, so I thought we'll feel tense and will be ill at ease here, but the staff who were all male, dressed in a uniform resembling a chief brewer's attire, were open-hearted but also very careful about every detail, which impressed me greatly. Especially the person at the front desk has cordially helped us with the celebration, so it was the best family celebration. I thought that the room reminded me about a room in a Park Hyatt hotel, and it turned out that the same person worked on this room as well, and there was an additional Japanese-style feature related to sake brewery in this room's design, which made it really wonderful. Because the hotel offered much opportunity to spend some relaxed time, we changed out plans and stayed there until the check out at 12 o'clock. Concerning the food, the evaluations of the reviewers differ, but this time I chose a light course and was very satisfied both by its appearance and its taste. The dish that used a whole seasonal round eggplant obusemarunasu was so good that my son who is a primary school student ate all of his portion. It was also good that the dinner was served by austere male staff, while the breakfast was served by lovely looking female staff. Both of these were good, so we have changed our plan and stayed for lunch in the club as well. The front desk staff accomodated all these reservation arrangements, and we were very thankful for this. There was one more wonderful thing, and it was the library inside the brewery, which was very well located and full of books about history, architecture and art. We were very satisfied. There are other hotels that have libraries, but this brewery's library was overwhelming. There is one more thing which is not included in the stay plan, and it was shaved ice of the main store of Obuse-do which was the best I tried in my entire life I want to express again my gratitude for this stay that turned out to be the best family celebration. (If I may, a trial set of various sake for dinner would have made me even more happy)
+ More
Aug 2015
The townscape around the hotel was enjoyable with a variety of buildings, and I felt the appearance of the well-cared-for site was refined and made me feel good. The quietness inside the storehouse where the hotel is gave me peace of mind. Also I felt the thoughtfulness from the plates and the settings of the dinner served with care, and enjoyed it; the taste was of course fantastic.
+ More
Aug 2015
It was my second visit. Because it was a little too dark in the room on the ground floor with little sunshine coming in last time, I booked a room on the second floor this time. I had a pleasant time on the second floor with more morning sunlight coming into the room. The room was very stylish and modern. However, the bathtub was made of acrylic glass or something, which made it looked like a transparent fish tank, and it wasn't very easy to use. I would prefer a normal bathtub. It would be great if it had a hot spring bath as hot springs are nearby. It was a little troublesome to go out to eat as only breakfast was served. I liked the breakfast. All the staff members in the hotel were male, which is unusual, but the service was polite. The soft adzuki‐bean jelly with chestnuts we had on our arrival was very good, and it made me realize that I came to Obuse.
+ More
Aug 2015
I was looking forward to staying at this hotel, as it was the hotel I had wanted to stay for a long time. It was a nice and comfortable place beyond my imagination. I was impressed by the staff working efficiently. Especially the bath was pleasant, and I spent for hours there drinking sake. There were plenty of towels provided in the room, which I enjoyed. The taste of the food was sophisticated, the portion was just right and the menu went well with Sake. It is an excellent place where I would like to go back soon. I would like to stay for a few nights next time.
+ More
Jul 2015
I stayed at this hotel for the first time. I was impressed by the service of the staff. The warehouse had been reconstructed in a new location and it was a nice atmosphere. So I was disappointed that the menu at the restaurant for the guests in the premise was atrocious and very expensive. (The system of the hotel is that they only offer plans with breakfast and there is no other restaurants around so the guests have no choice but to have dinner at this restaurant. When your reservation is accepted, they call you saying that you have to reserve a dinner apart from the Ikkyu plan. ) As a result, the hotel charge of one night stay at this hotel became more expensive than at a luxury resort hotel. As I like Obuse very much, I usually stop there when I go home in summer but I was really disappointed this time because I stayed a night at Obuse for the first time.
+ More
Jul 2015
I was surprised by the gigantic bathtub, but I was very happy that I could stretch out my limbs in it. After the meal, I was going to enjoy an alcoholic drink in my room, but there's hardly a place that sells them (I can't find any convenience store), which was my mistake. Other than that, I had a pleasant time at the inn. Thank you.
+ More
Jul 2015
I used the plan with breakfast only since I checked in late this time, and had dinner at Suzuka instead. I had breakfast of delicious bread and eggs, while ordering without hesitation Obuse milk, apple juice, orange juice and coffee at the end of the meal for drinks, at Sanpooloh and it made me full from the morning. It was at the center of Obuse and I had nothing to complain except for the fact that the bath is not a hot spring. There was a day spa nearby (5 minutes by car) as well so I went there before dinner and early in the morning. I would like to use the plan with dinner next time.
+ More
Jul 2015
It's an impressive stylish hotel with a bathroom with a glass bathtub, and the outward appearance designed with the image of sake brewery. The room was spacious and comfortable, but inside the room was a bit too dark even during the daytime as it had almost no windows. The dinner at Obusedo Honten was designed to go with sake, which was sophisticated and very delicious. No wonder the restaurant is owned by Masuishi-Ichimura Sake Brewery. For the breakfast next morning, we had delicious bread and egg dishes at the casual Italian restaurant, Sanpooloh. After breakfast, you have plenty of time to stop by at Hokusai-kan in front of it, and also take a little stroll in the town of Obuse before going back to the hotel to check out. Although I got exhausted after watching gokaicho in Zenkoji which was crowded by many people, I was able to relax and restore my energy at Obuse.
+ More
Jun 2015
Information
Check-in Time

From 3:00pm to 12:00am

Check-out Time

Until 12:00pm

Tax / Service Charge

No tax or service charge is applicable except for VAT.

Credit cards accepted at this property

VISA / MASTER / JCB / AMEX / DINERS
Children

All children are welcome.
Breakfast is charged to children of elementary school or older. When sharing a bed with adults, children of high school or under are free of charge for bedding. Feel free to contact the ryokan about bedding arrangement for children.

Pets

Pets are NOT allowed.

Parking

Free of charge for guests; Capacity 12 vehicles; No Valet Parking Service

Other policies & conditions

N/A