Kotohira Kadan
Konpira Onsen Kotohira Kadan was built using the classic Japanese architecture, Sukiya style, which is wonderfully harmonized with modern housing. It is located in a garden with natural beauty.There is a Japanese-style garden using the slope of a mountain, which is very unique for inns or hotels. You can take a walk around the site and enjoy the relaxing view. In addition, you can see the cityscape of Kotohira and "Mount Ino" known as Sanuki Fuji from the large communal bath.
- VAT is included, but bathing tax (around JPY 150 per adult) may NOT be included.
- Price in USD is based on the exchange rate as of today and might be different from that of the booking date.
Foods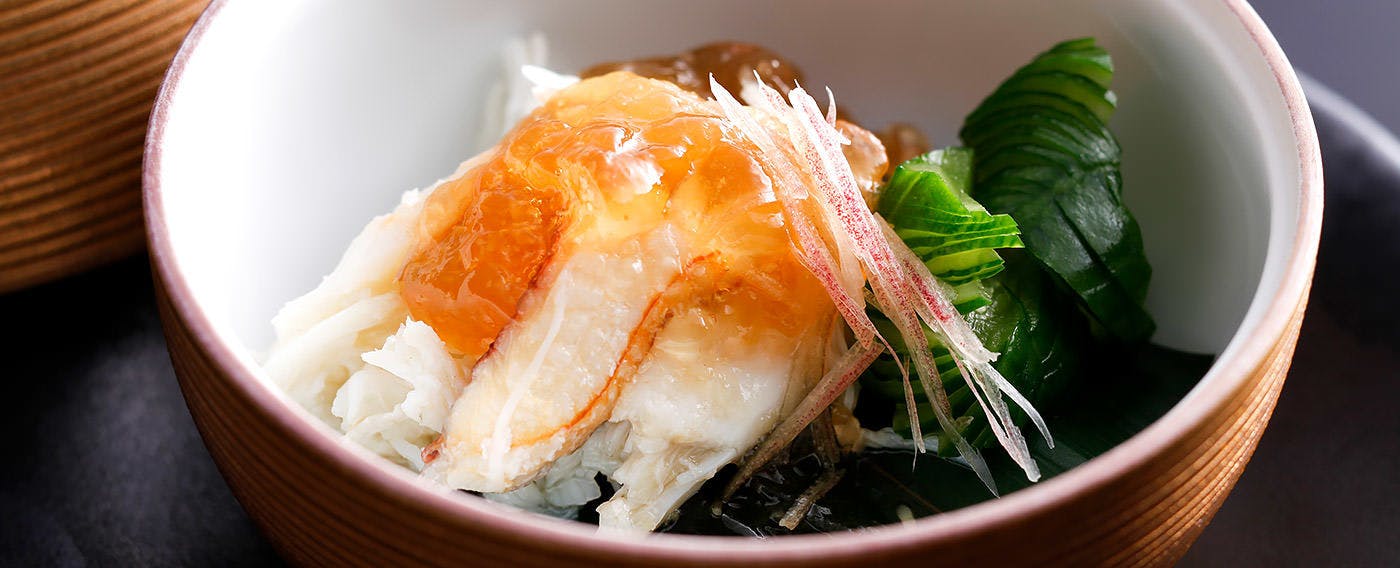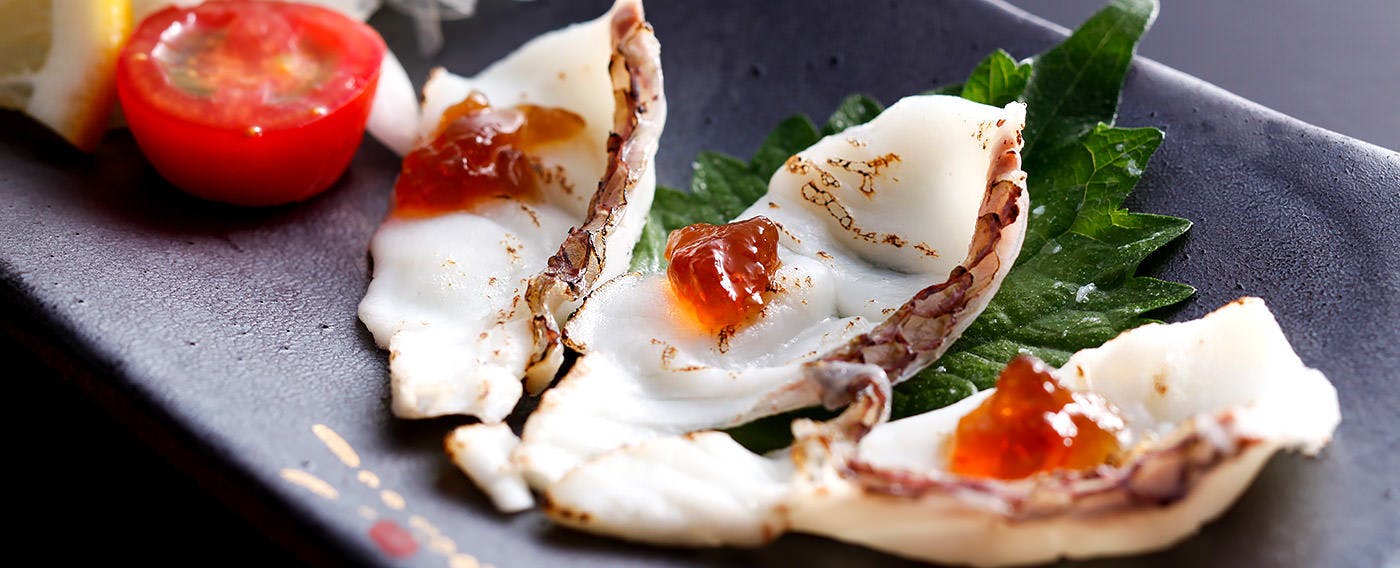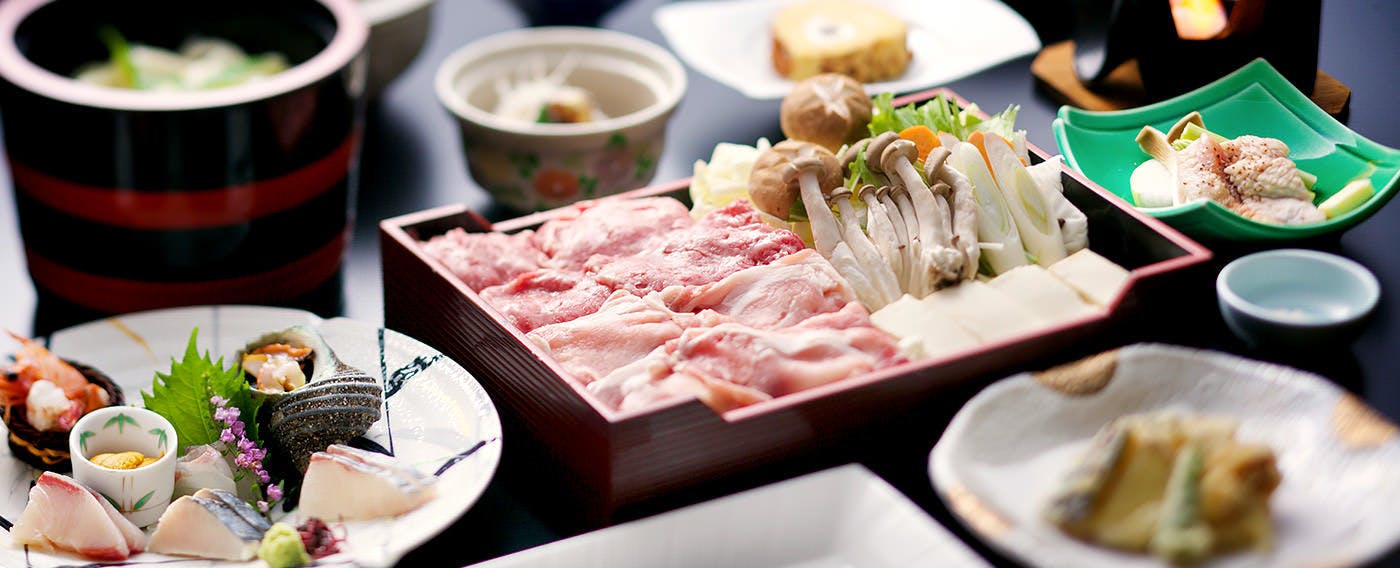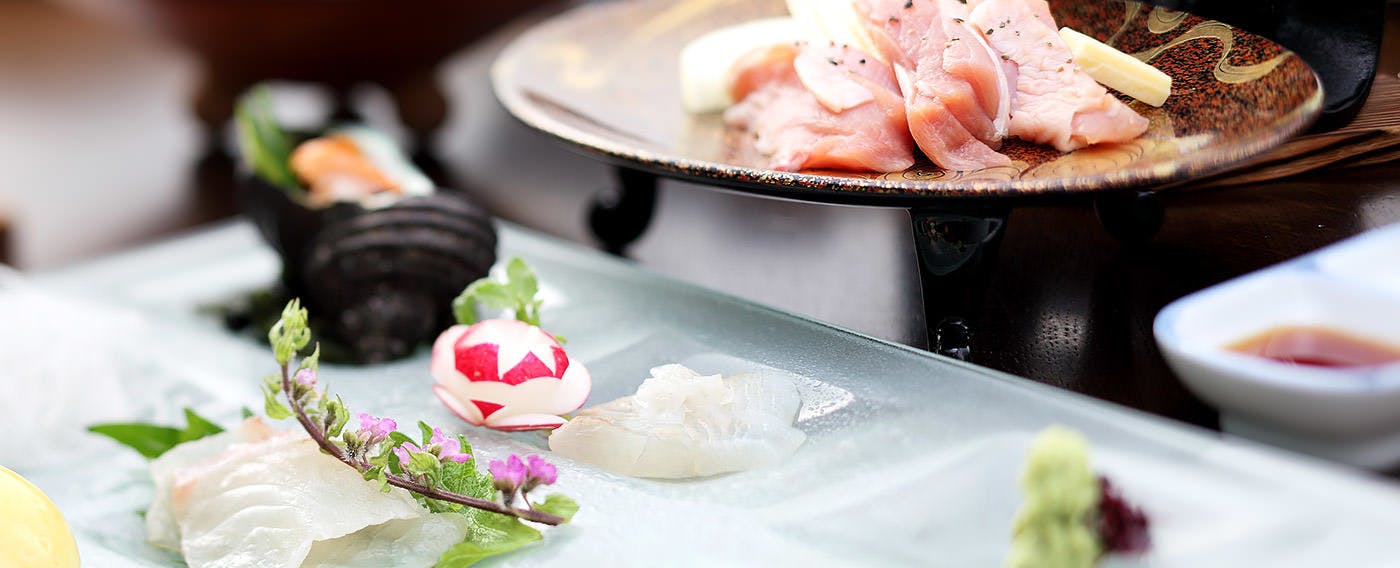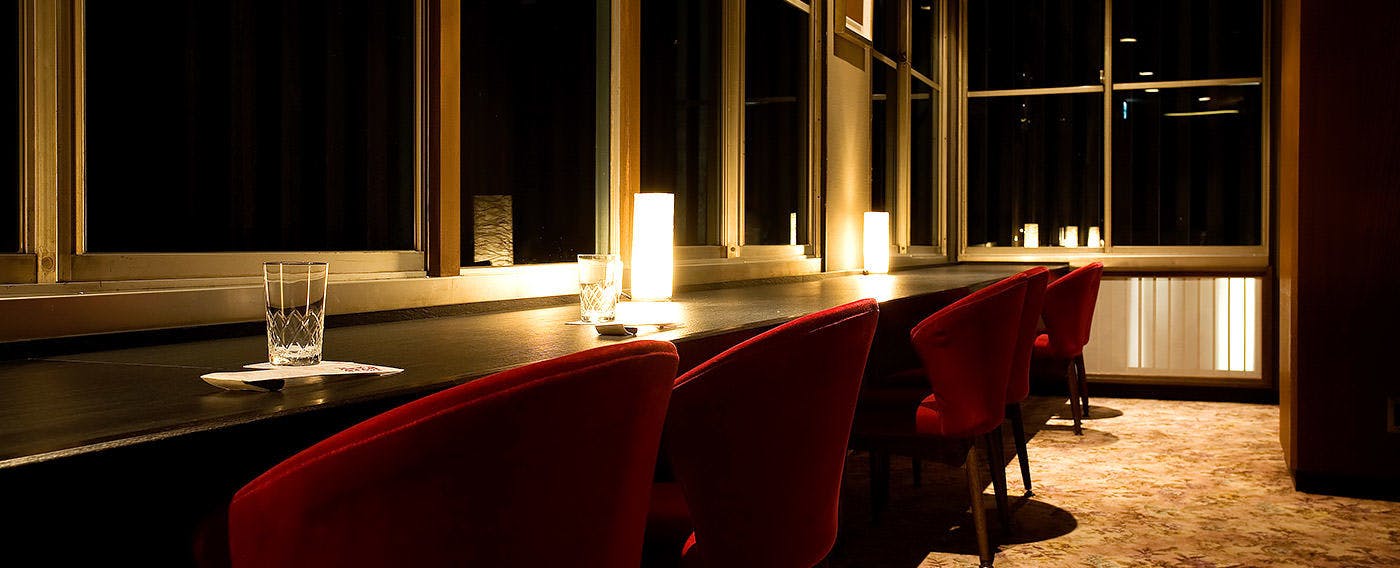 Seasonal Delicacies from Sanuki`s mountain villages and seafood from the Seto Inland Sea Guests can experience all of Kagawa`s finest culinary offerings, from representative Sanuki beef to healthy Sanuki Cochin chicken, as well as freshly-caught seafood from the Seto Inland Sea, all prepared delicately by gourmet chefs.
Baths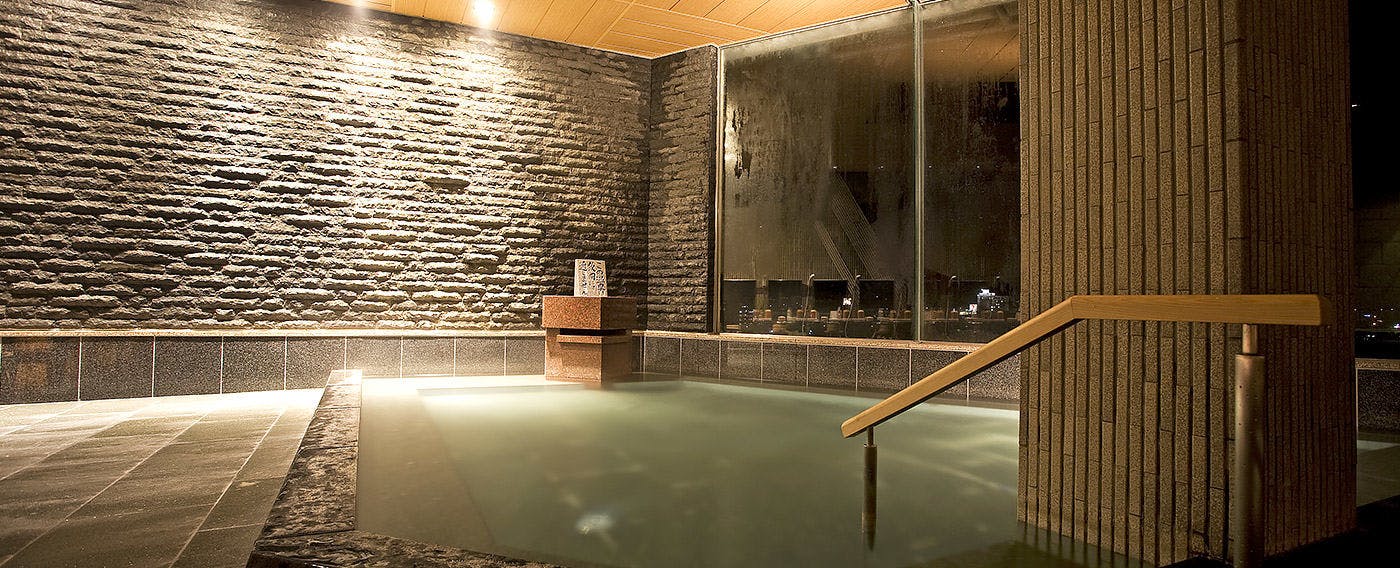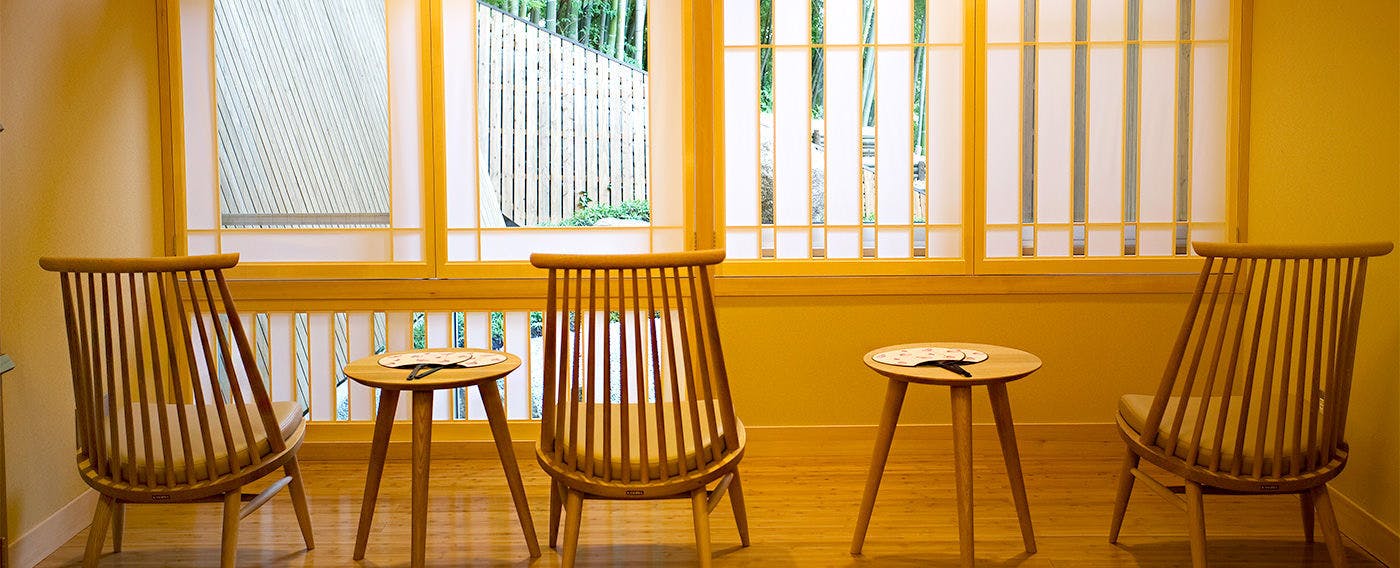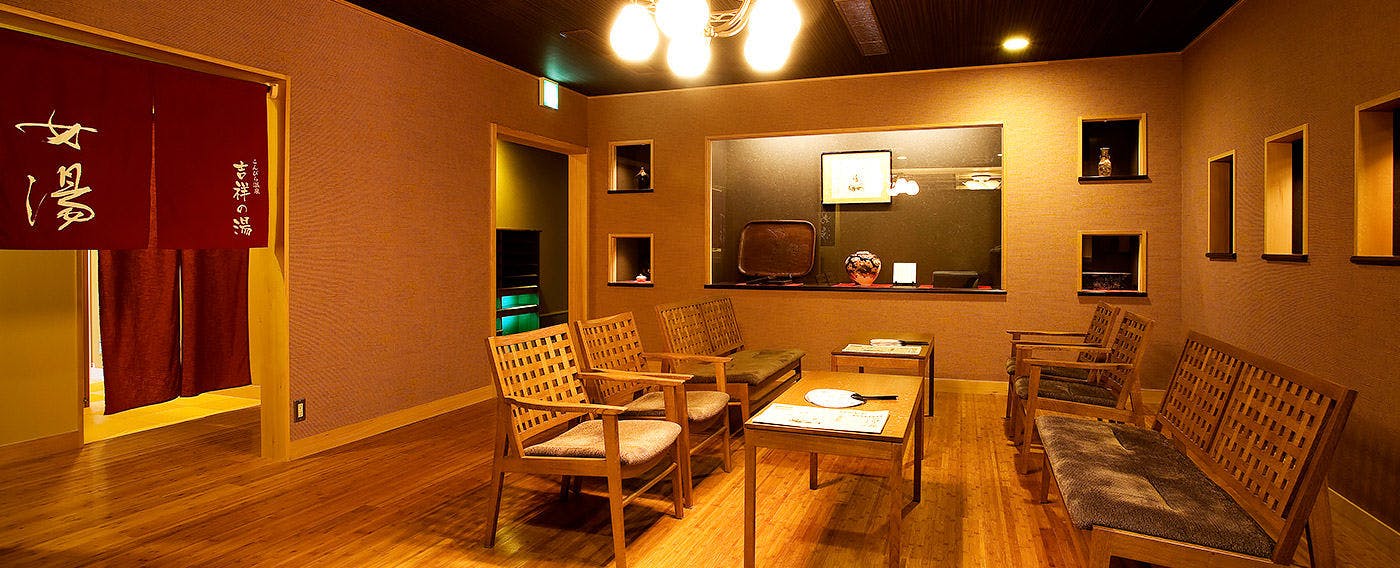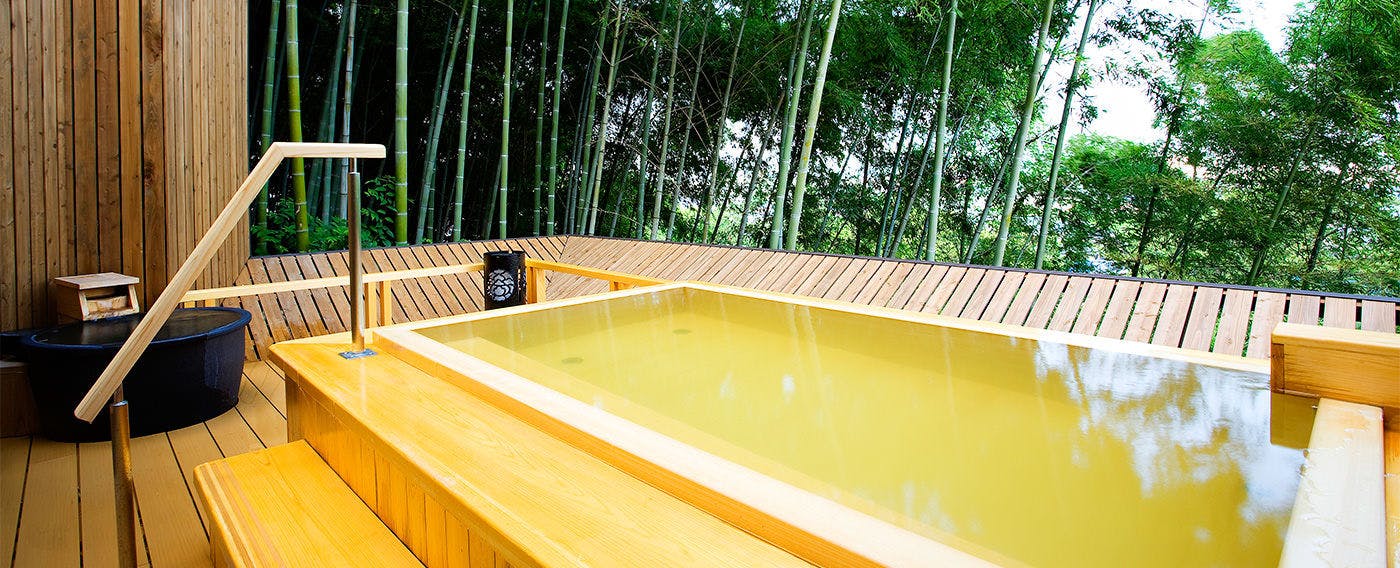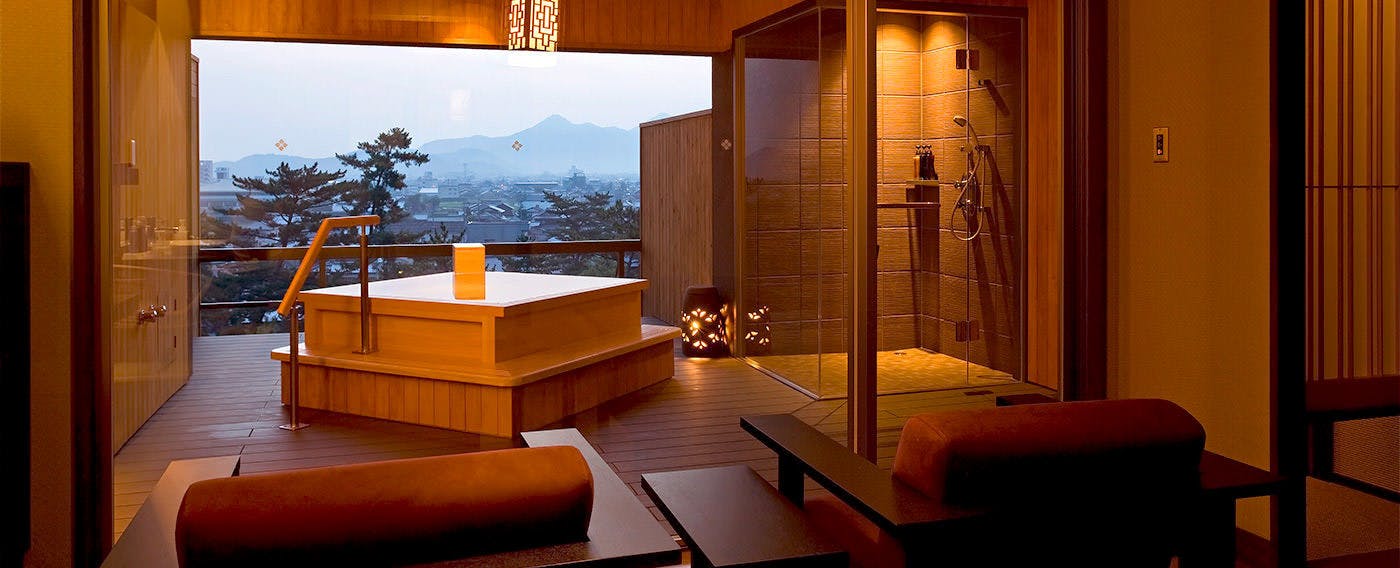 The public bath "Kissho no Yu" overlooks Kotohira Town's streets lined with old, traditional houses, and it also offers a superb view of distant Mt. Sanuki Fuji. Bathers can see the panorama of the Sanuki Plain, Mt. Sanuki Fuji and the Asan Mountains right from the bath in "Kissho no Yu," and pleasant breezes drift in from the nearby bamboo grove. It is an entirely different way to enjoy the fantastic atmosphere of Mt. Kotohira`s natural beauty.

Private Open-air Bath "Nagomi-yu"
Enjoy the fragrance of a Japanese cypress wood bathtub with a view of Kotohira Town and the Sanuki mountains. This is a private space with various amenities such as a component stereo and a detached shower booth.
Facilities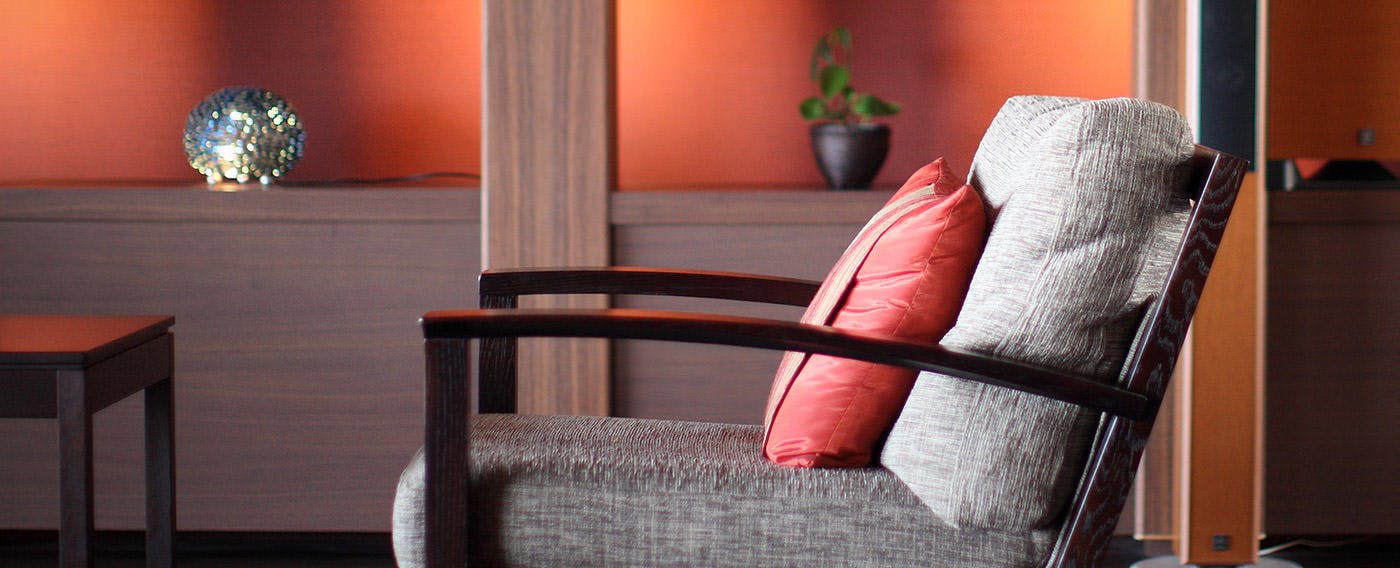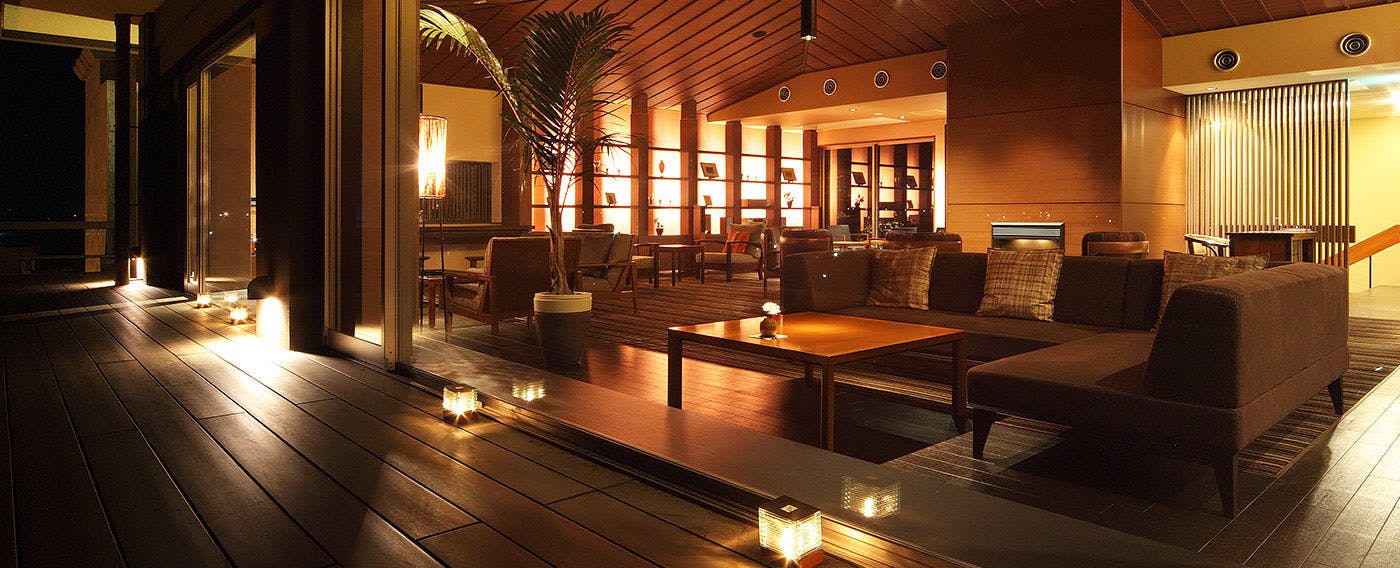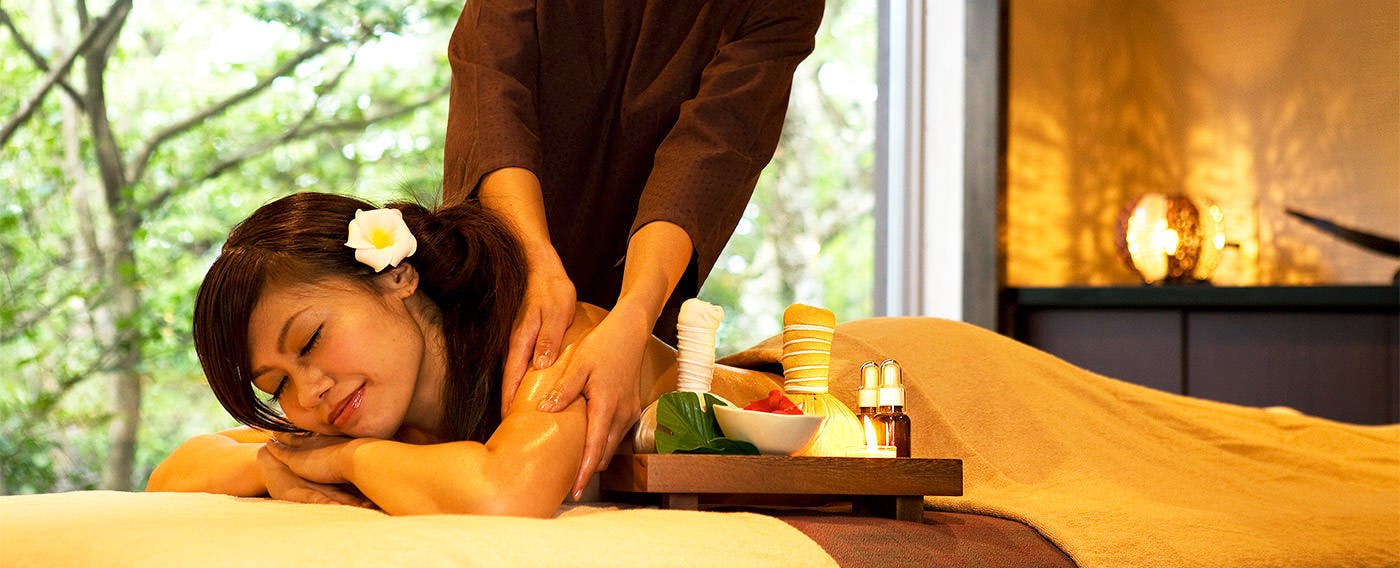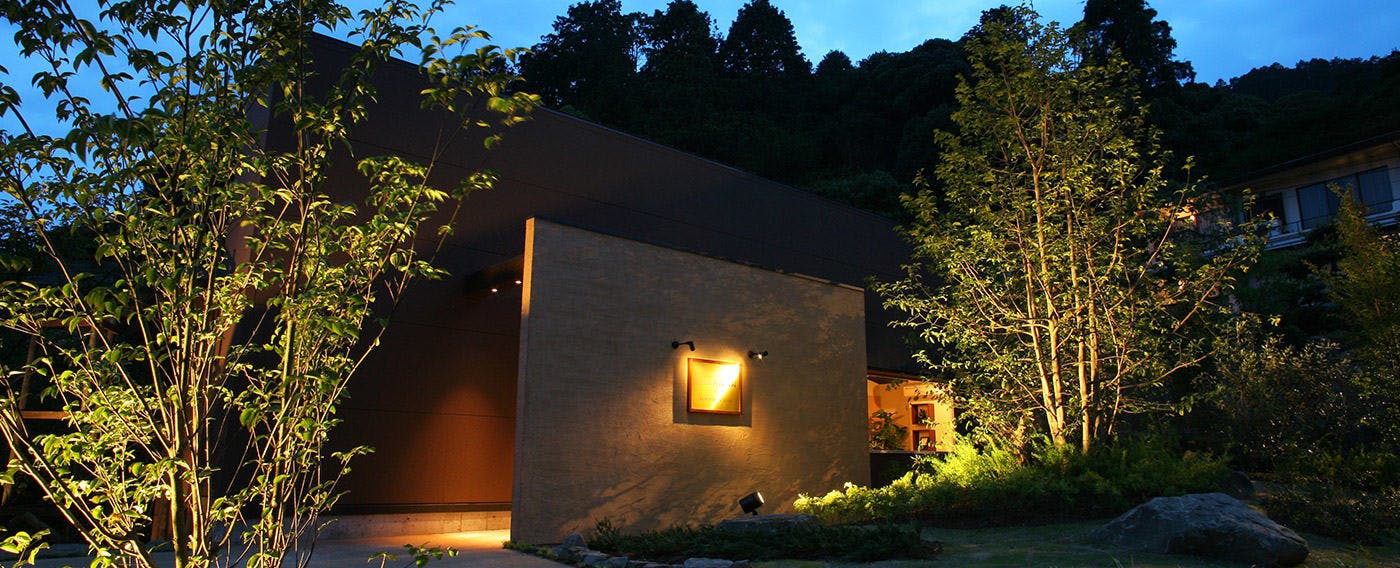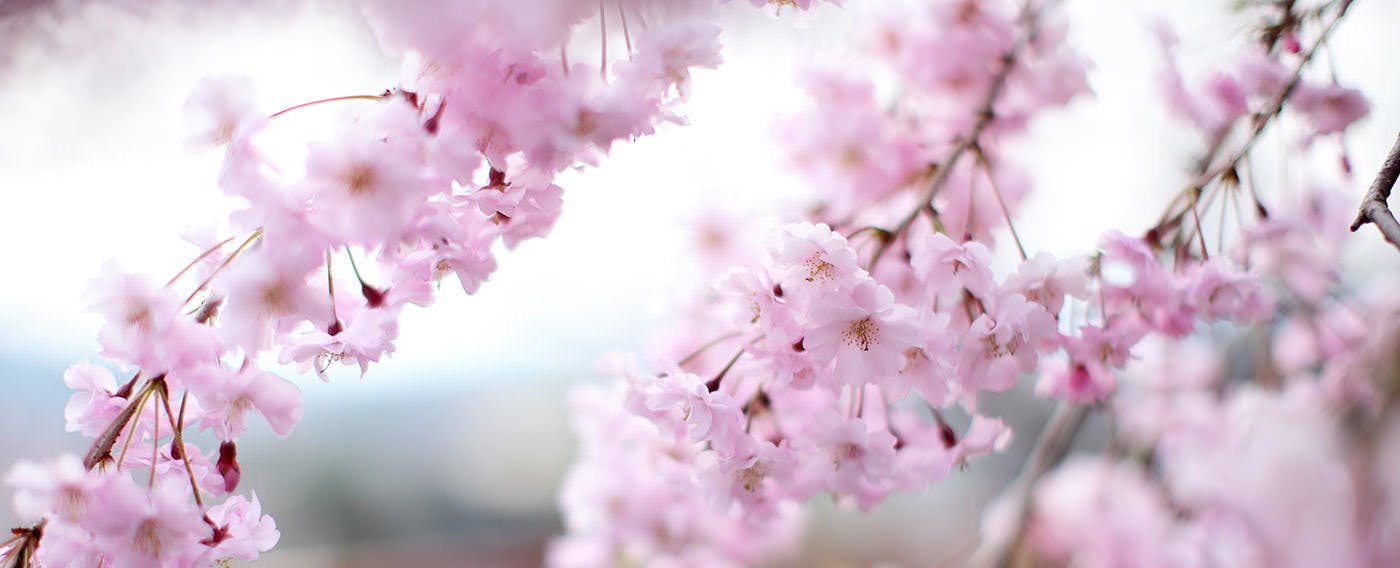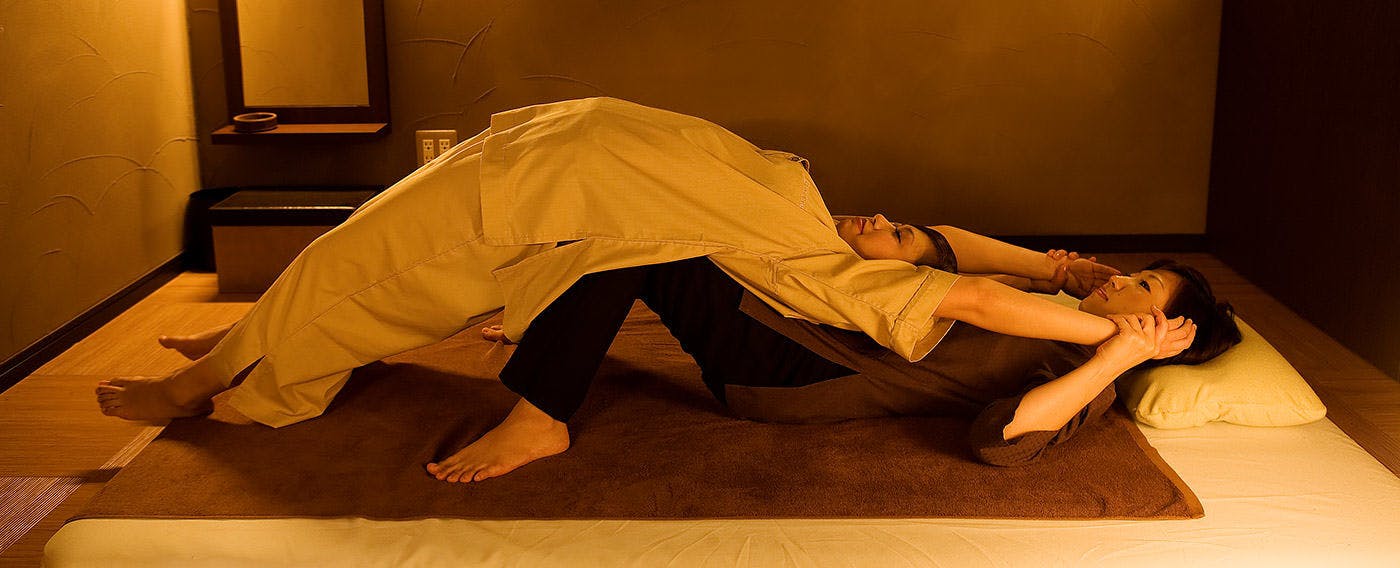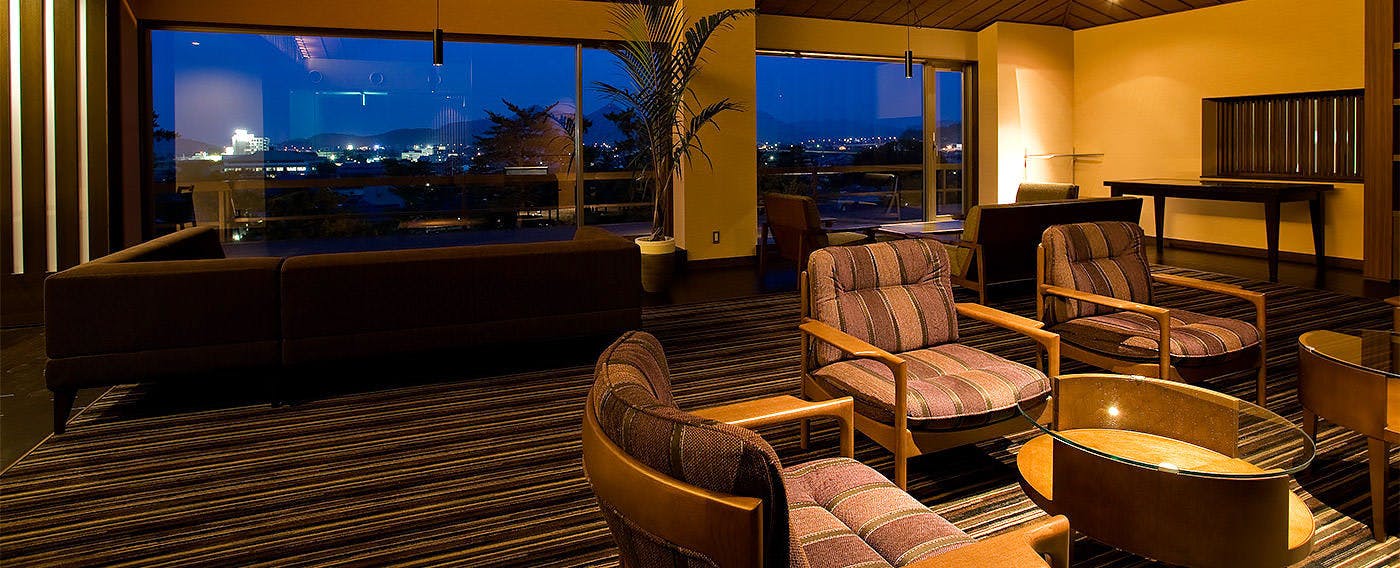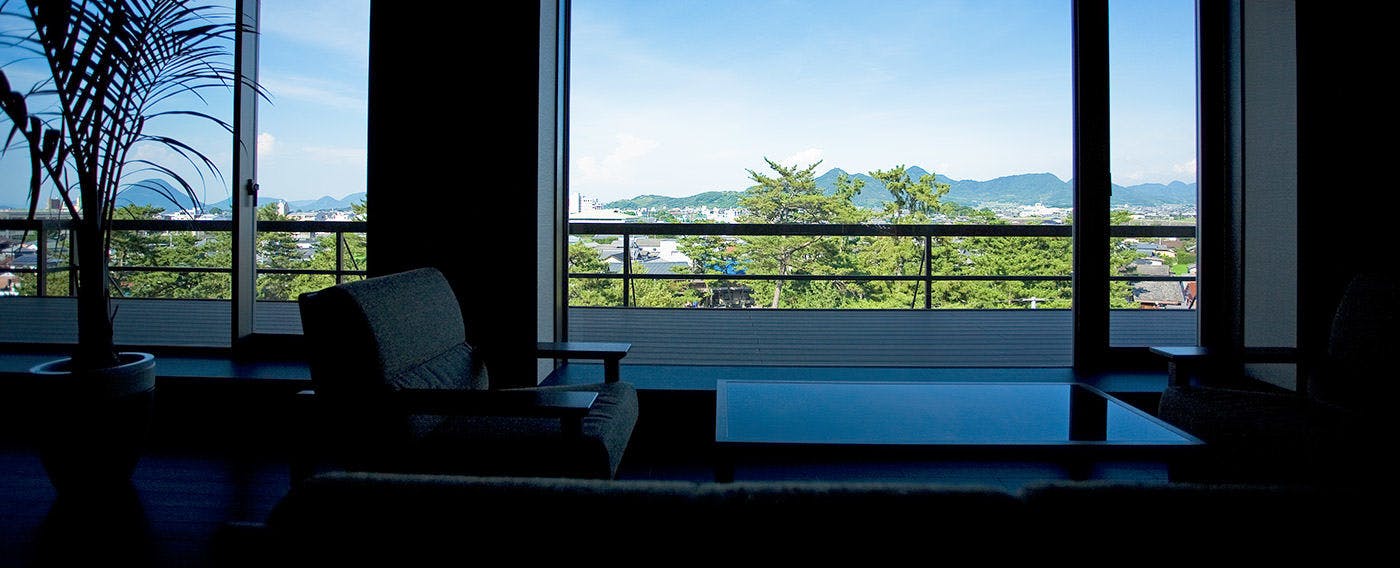 Thai Traditional Massage ASHIYA Bankunmei Relax and Refresh at Sacred Kotohira
With over 2500 years of history and tradition, the art of Thai massage has been perfected to improve the stagnated flow of the body`s essence and bring out each person`s vitality. It also is known to beautify the skin, help reduce weight, detoxify the lymph system, and adjust hormone balance. It is the perfect way to purify and relax in luxury surrounded by the lush nature of Konpira.
Access
1241-5 Kotohira-cho, Nakatado-gun Kagawa,Kagawa,766-0001,JAPAN
From Takamatsu Airport:
About 40 minutes by Kinkuu Bus to JR Kotohira Station
From Osaka Station:
About 2 hours by train to Kotohira Station via Okayama Station.
From Hakata Station:
About 3 hours by train to Kotohira Station via Okayama Station.
*Pick-up service is available from Kotohira station (JR/Kotoden) to the hotel. Reservation required.
Reviews
It is very easy to access to the Kinpira-san Mt. and the room was wonderful. We were three but could spend a very nice day. The quality of the hot-spring water was very satisfying. The service when serving the food was very good. The staffs were kind and talked to us so we enjoyed our meals very much.
+ More
Aug 2016
It was a sudden reservation but you exceeded my expectations. It is a place with hisoty that has been very well maintained. The fresh staffs has been well trained so their attention was very good that we could have a very pleasant time. The food we had at the room was very delicious with an appropriate quantity for us who are over 65 years old already. The next morning, we went walking inside the shrine of Kotohiragu and got later than the check-out time but you still gave us such a satisfactory attention so we could enjoy our trip at the Kotohira as much as we could until the end.
+ More
Jul 2016
Good views from the open-air bath of the room. We were able to spend a very relaxed time. The staffs were very kind and polite so we enjoyed talking with them. We were very happy that you came to pick us up to the station. After visiting the shrine, thanks to the spa massage of Thai, we did not got tired at all.
+ More
Jun 2016
We upgraded our meal, and got very satisfied with the food. The place for eating was of good atmosphere, we enjoyed talking to the man who was serving drinks as well. Since the open-air bath was a little narrow, if there is an opportunity I would like to book and use the private open-air bath next time.
+ More
May 2016
This time, we enjoyed watching the Kinpira Kabuki and stayed at the Kotohira-Kadan. We arrived by car earlier, parked, and watched the Kabuki. As we arrived, the staffs gave us a very detailed description, that made us feel very comfortable. The hotel was very different from the last I stayed last time. I would like to stay here again. Maybe the next year in the season of Kabuki. The food was also good and a very adequate quantity. Hot-springs were also good, clean and quiet. We could relax a lot.
+ More
Apr 2016
At the entrance my friend I looked to each other and we thought we have made a good decision looking only the good environment!. The hotel was more than expected. Because it was a special room, we could get coffee in the lounge at any time. Also we had an attached open-air bath so we could relax so much. The large public bath was very clean and had many amenities. The open-air bath was light-up in the night and had a very good atmosphere with a very gentle warm water. We had a tiger puffer course, and it had a fin sake as well so we could enjoy it as much. After eating we went to the lounge, and drank the sparkling wine that was part of your free service. The attention there was also good. The staff in charge was talking with another customer so it took a bit of time but nothing irritant. One star is lacking because the miso soup at breakfast was too salty that we could not eat it. It maybe a custom around here but it was too boiled so it was very dense. All the other things were perfect. This time I came with three friends, and we got very satisfied. I would like to recommend to other friends as well because it is worth it.
+ More
Jan 2016
Information
Check-in Time

From 3:00pm to 7:30pm

Check-out Time

Until 10:00am

Tax / Service Charge

The hotel will charge 150 yen per night per adult as the hot spring tax.

Credit cards accepted at this property

VISA / MASTER / JCB / AMEX
Children

All children are welcome.
Children sharing beds with you are free of charge.

Pets

Pets are NOT allowed.

Parking

Free of charge for guests; Capacity 50 vehicles; No Valet Parking Service

Other policies & conditions

- Check-out time is extended to 11:00 a.m.- Guests staying in semi-Western detached and special rooms in Fujimi-dai can use the private "Nagomi-yu" bath for a complimentary 45 minutes. - All guests may enjoy 10% off at "Bankunmei" traditional Thai massage. - Japanese yukata and/or gowns are provided for each guest.- Aromatherapy pots are prepared for each room.- A private room in the Garden Lounge is to use free of charge for up to two hours. - A free glass of sparkling wine is available from 9:00 p.m. to 11:00 p.m in the Garden Lounge.