Tocen Goshoboh
Old style hot spring ryokan, with 800 years of existence, since the Kamakura period. Even in Arima hot spring village, where the wave of modernization is closing in, tocen Goshoboh feels like another world. How about enjoying the idyllic and rustic charm of Yamaga cuisine while listening to the murmuring of Kiyotani river, which master writers Junichiro Tanizaki and Yoshikawa Eiji loved? For Goshoboh, the most important thing is to fill the bathtub with hot spring water as it comes from the source..
- VAT is included, but bathing tax (around JPY 150 per adult) may NOT be included.
- Price in USD is based on the exchange rate as of today and might be different from that of the booking date.
Foods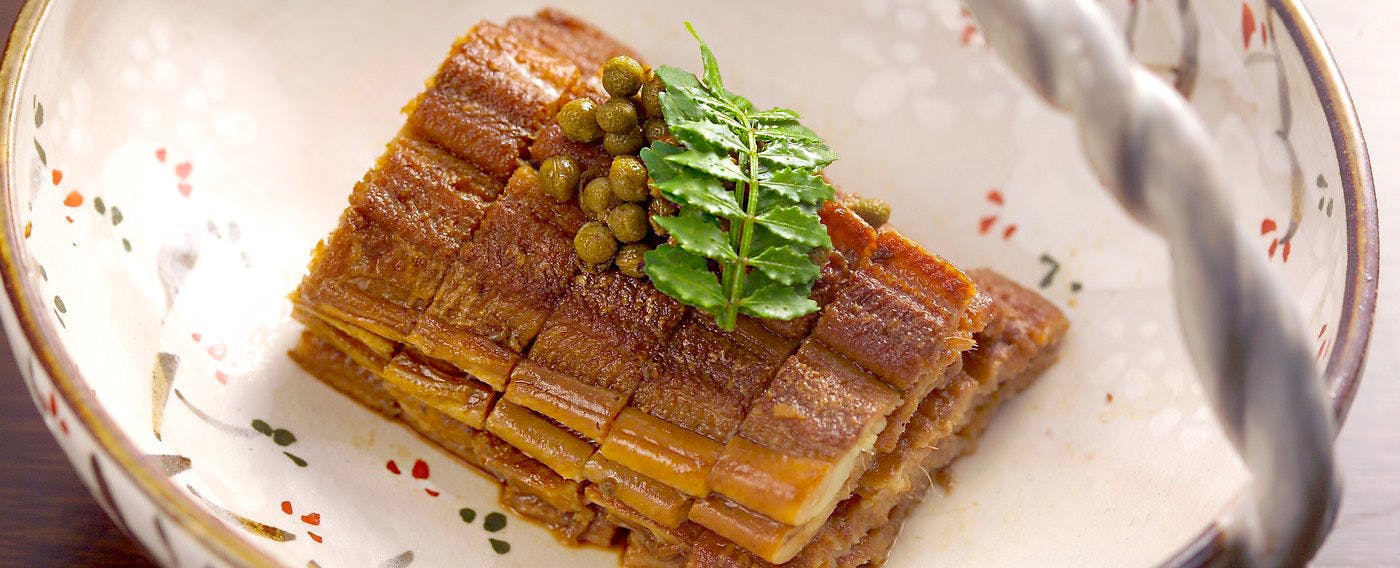 Foods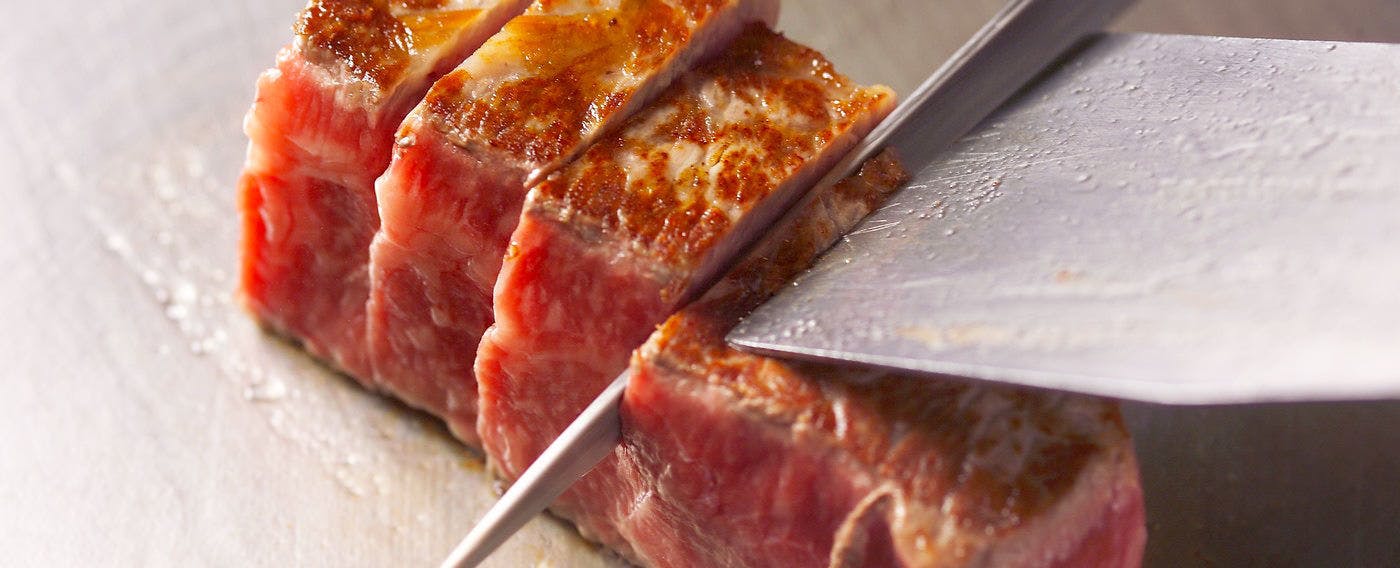 Foods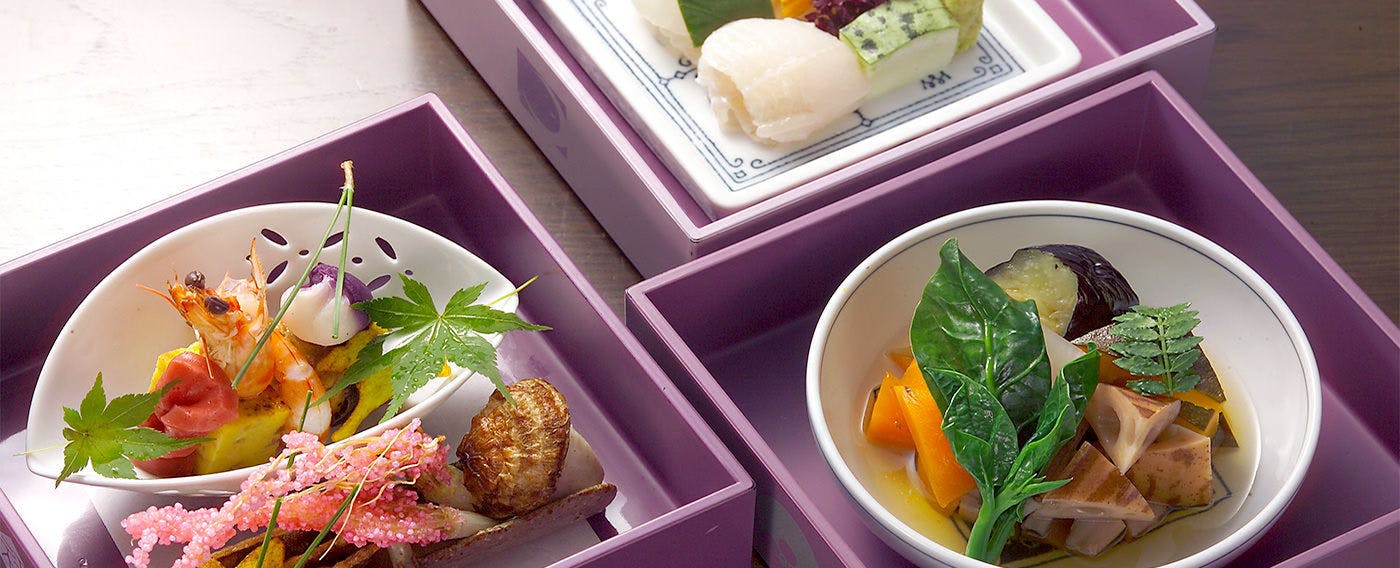 Foods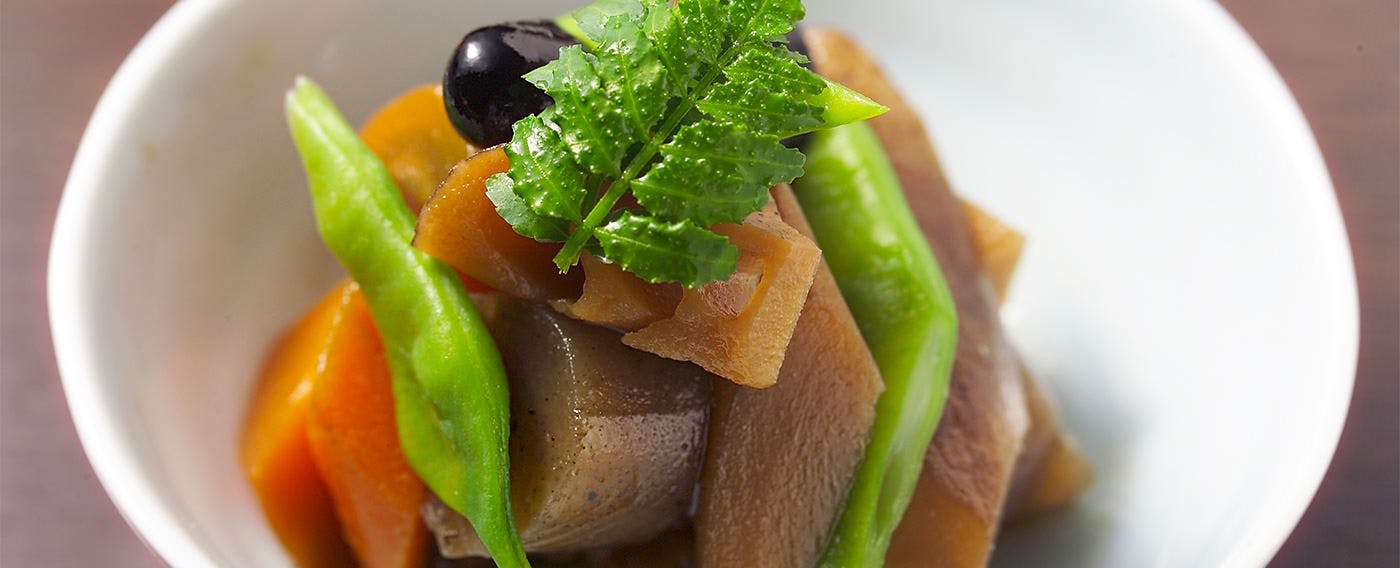 Foods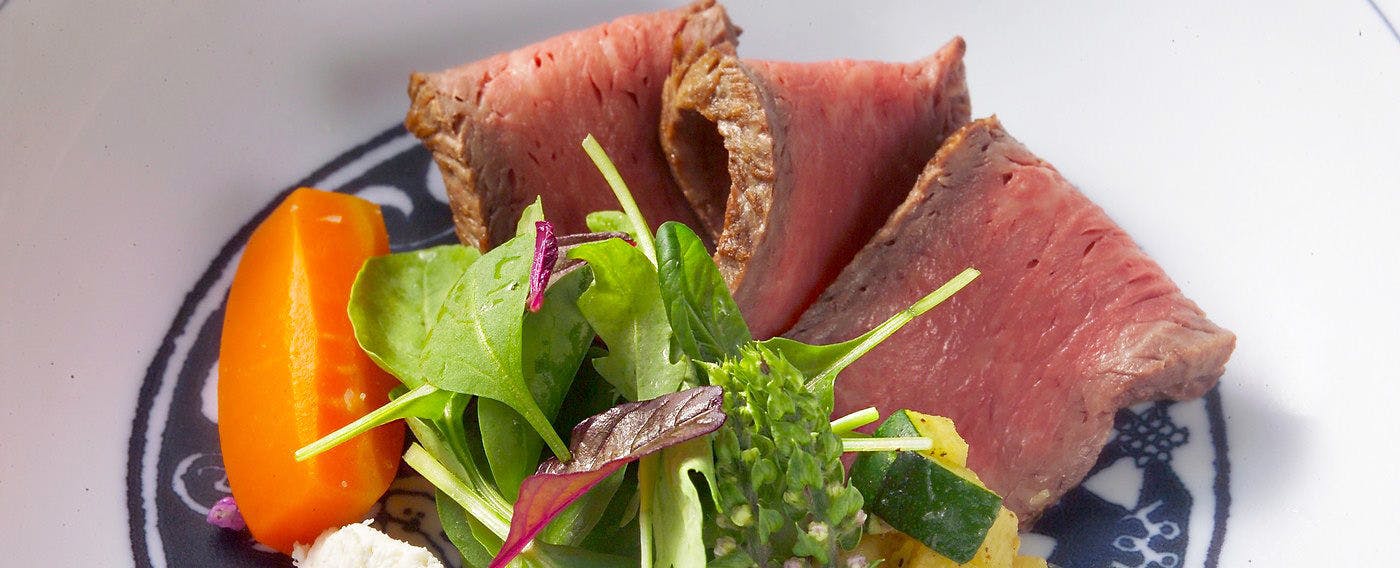 Foods
Yamaga Cuisine tocen Goshoboh offers "Yamaga Cuisine", an idyllic and rustic dish which has its origins in Kamakura period, the same era of Goshoboh's foundation.
Baths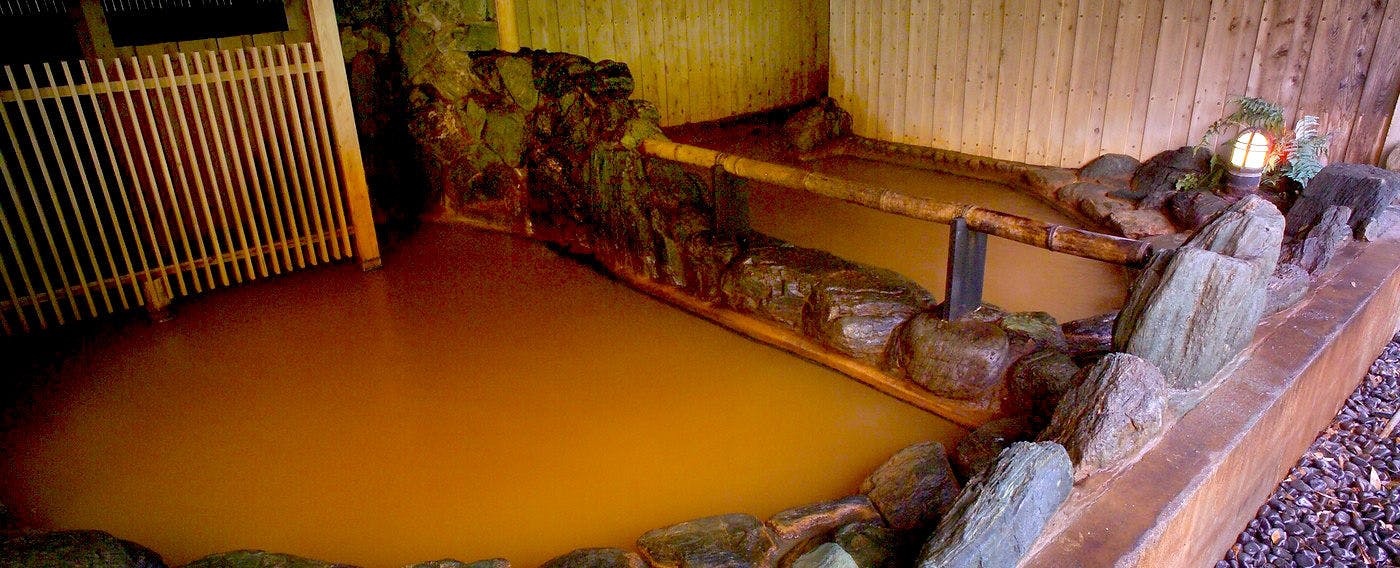 Natural Hot Spring 'Kongosen'
Japanese-Style Spa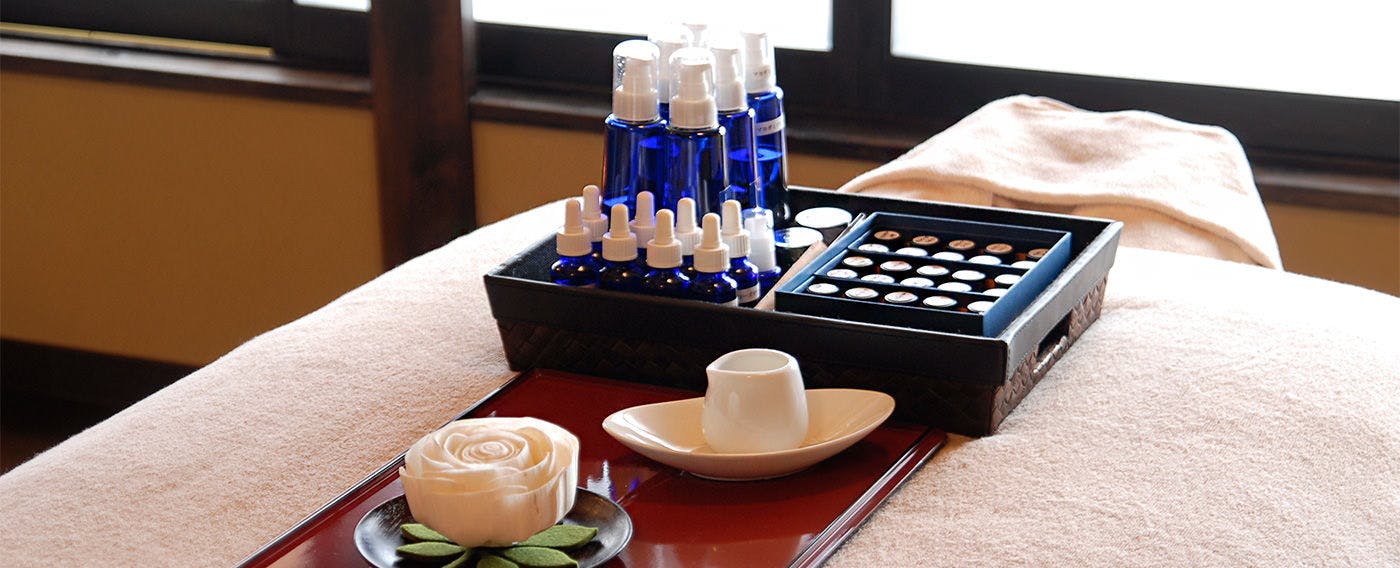 Japanese-Style Spa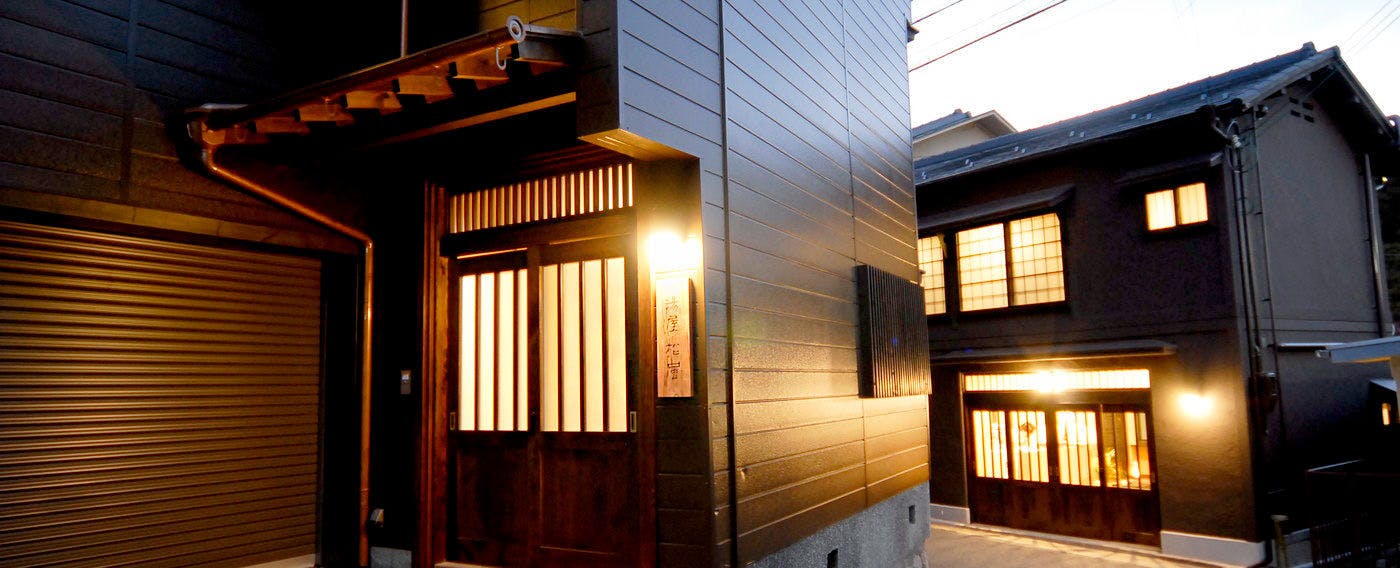 Private Bath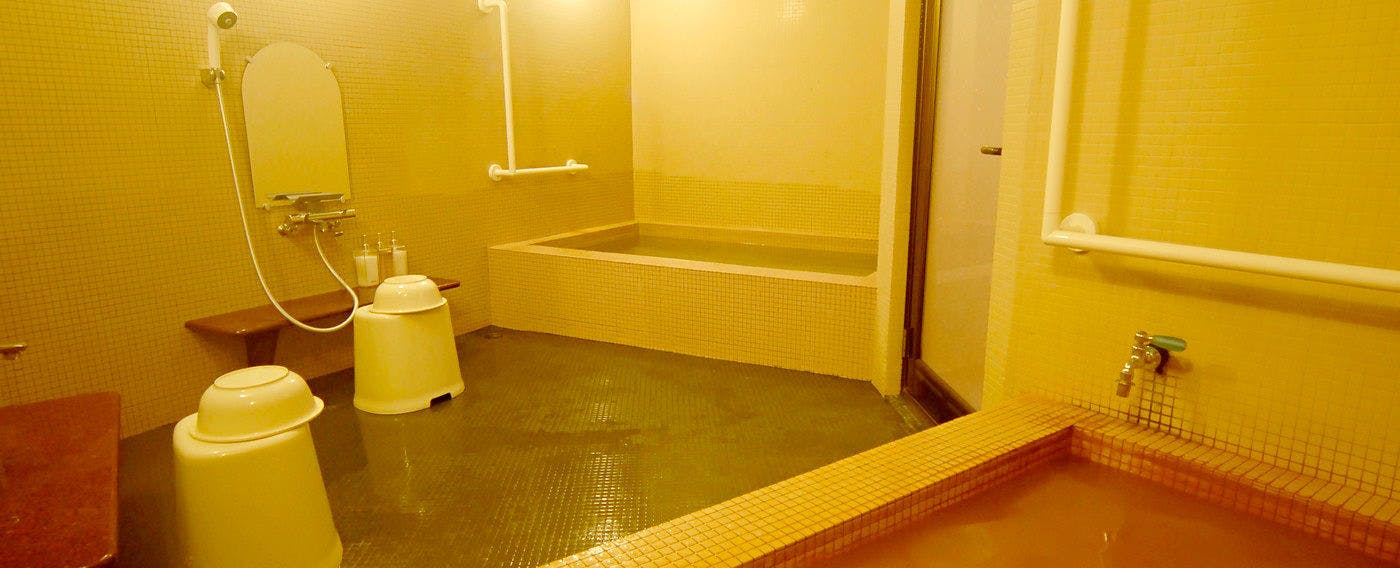 Private Bath
Kongosen hot spring tocen Likewise Hanakoyado Hotel/Arima Sanso Gosho Bessho, Goshoboh uses the hot spring from Gosho and Uwanari sources.
As you can see in the picture, the threshold on the window-side of male and female bathtubs is low, allowing families to enjoy their bath while seeing each other faces. What makes it possible is "Kinsen", an opaque reddish-brown hot spring typical of Arima. You can also enjoy the view of Arima mountains.

Across from the private bath "Yuya Matsukaze", Aroma Therapy B&I is available. A two-story private house was modified to give birth to a Japanese-style SPA. This is a collaboration with LIBRA, which assigns massage therapists to first class hotels.

Private bath in hot spring wing
5 minutes-walk from Goshoboh. While strolling through the energetic main street, you will reach the hot spring wing ("onsentoh"), where you can enjoy the private bath.
(JPY 3,200 for 2 guests / JPY 4,200 for 3 guests)
Facilities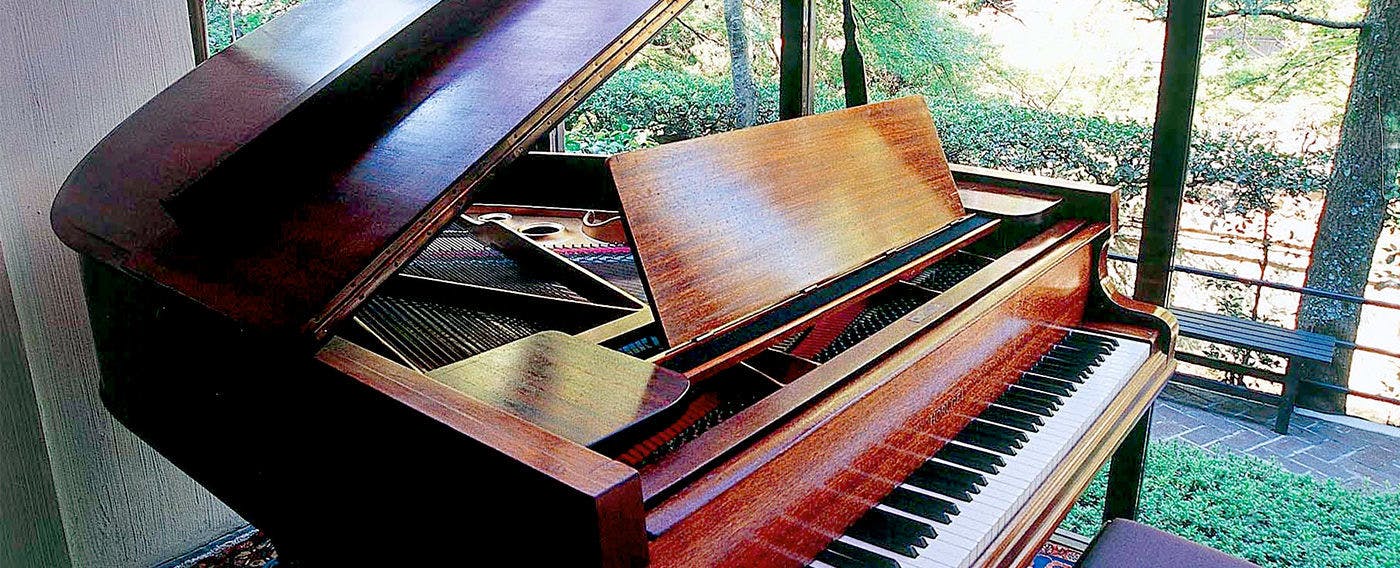 Facilities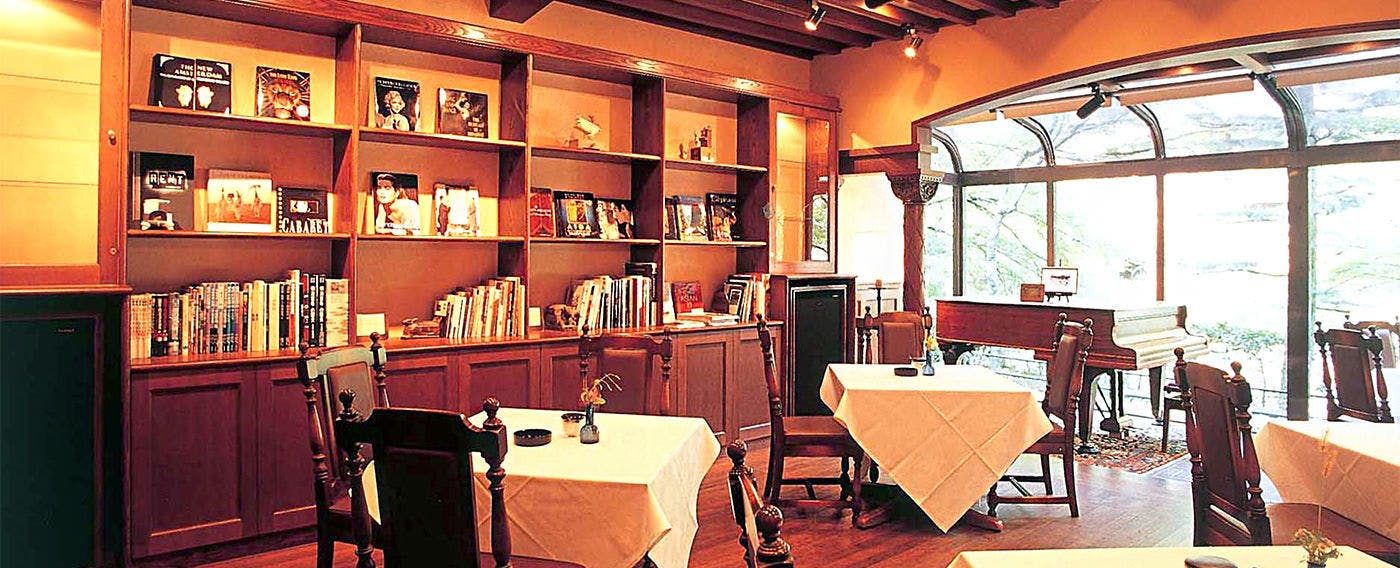 Facilities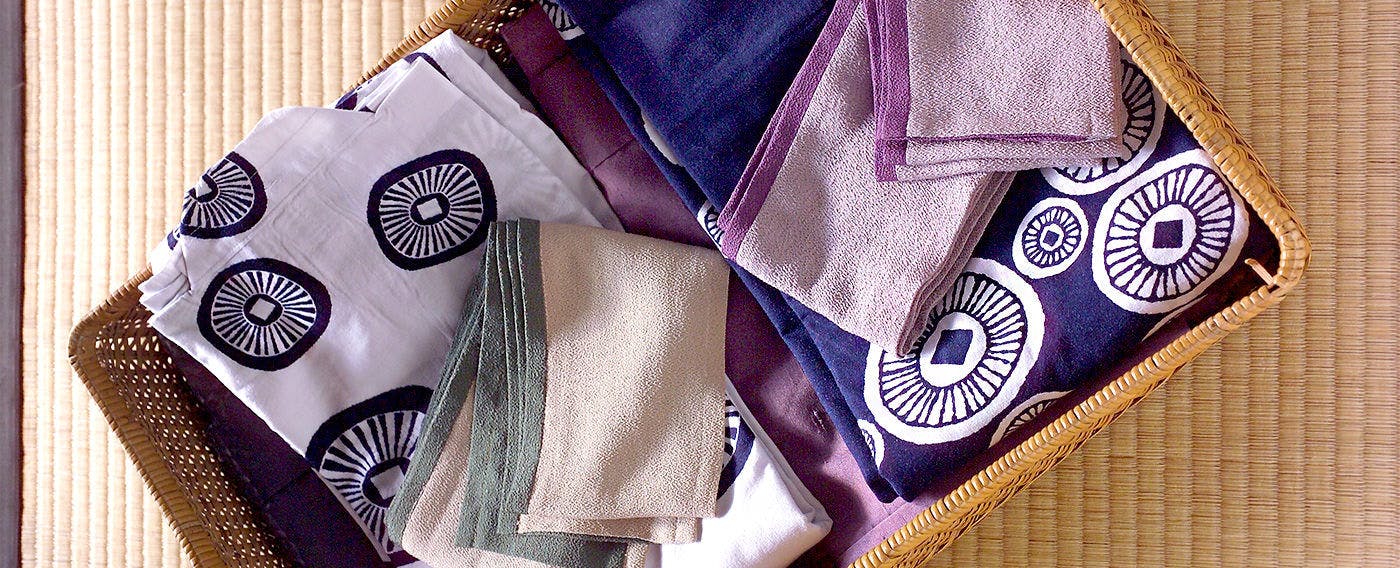 Facilities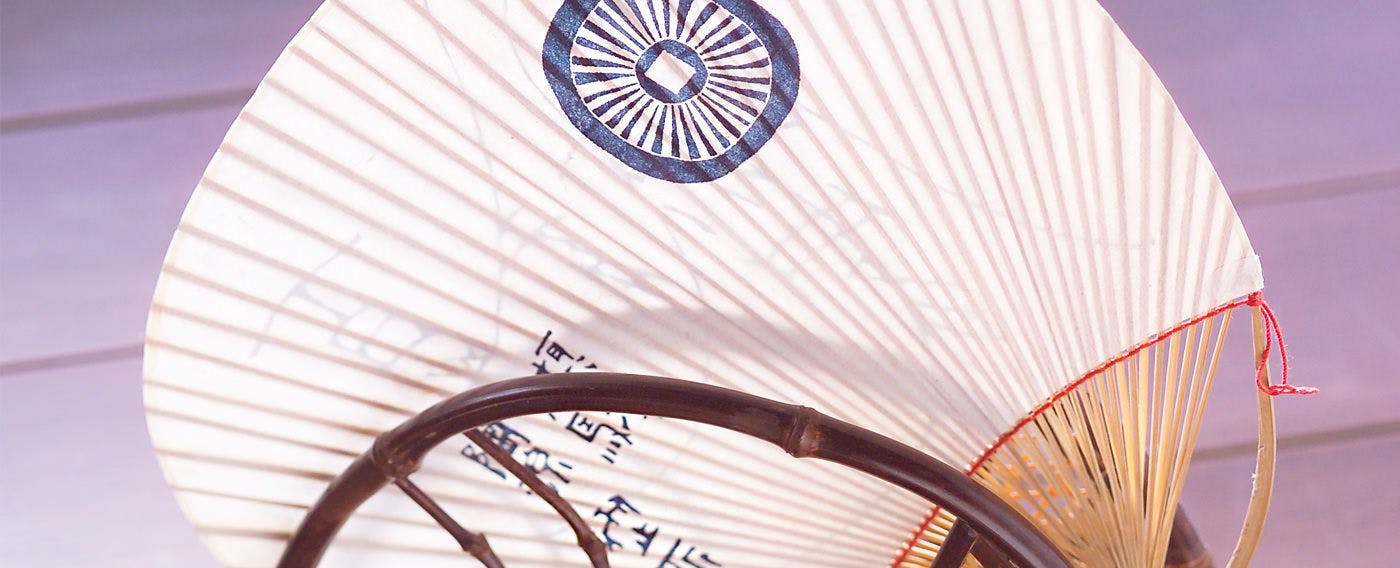 Facilities
Salon Recently, "Select Yukata" have been gaining popularity, but tocen Goshoboh keeps to the comfort of cotton, the original fabric of yukata. It is colored with indigo with a classical dying method called "Chusen". It gives importance to the texture of the material that touches your skin right after your bath. But one weakness of cotton is that it does not have a sharp look as synthetic fiber yukata. Also, as it easily shrinks, it is hard to find an adequate size. Despite these weaknesses, the comfort of cotton yukata is recommended.
Access
858 Arima-cho, Kita-ku, Kobe-city,Hyogo,651-1401,JAPAN
BY TRAIN
From Shin-Kobe Station: 30min train to Arima-Onsen Station, and 5min walk or shuttle service available
From Shin-Osaka Station: 50min by bus to Arima-Onsen Stop, and 5min walk or shuttle service available

BY AIR
From Kobe Airport: 40min by car
From Osaka Itami Airport: 40min by car
From Osaka International Airport: 80min by car

Shuttle service available with charge from Shin-Kobe Station (JPY 10,000/return trip) and Kobe Airport (JPY 14,000/return trip)
Reviews
I have been to Arima hot spring for the first time. Although it was close to Kobe, the atmosphere was totally different, and I was impressed by the emergence of a classic hot spring town. I raised my expectations particularly for Goshoboh as I felt something historical soon after entering its hallway. We were relieved by the refreshment offered during check-in. I was ushered to the room without waiting for a long time. We were fully satisfied with their services, which were even too good for an elderly couple like us. I had a chat on various issues with a Nakai or a waitress in charge (Nakai may sound too old for her) and were impressed that she was well-educated and well-trained, and became interested in the Taisho (proprietor) and Okami (female manager). A designer called Watanuki-san is in charge of the furniture and the tableware, and the calligrapher's way of thinking is detailed, which can be said that it produces the comfortable image and atmosphere of the study and has established its brand. There is a surprise that you are doing this much. About the meal, I am quite satisfied with the cooking, the timing to serve it, and the quantity. I sensed the good communication between the cook and the waitress in charge. I was very much impressed by you as you changed the original menu from deep-fried food to heated vegetables for considering we are old. In addition, I was more than moved and felt like crying about the system that the waitresses take care of everything from check-in to check-out. The hot spring is quite all right. This can also be said the ultimate hot spring. Defects are that there is no elevators, there are many staps at the stairs, and that the curtain doesn't suit for the atmosphere of the room. I was very much satisfied.
+ More
Sep 2015
It was a very comfortable atmosphere. The service of the staffs were wonderful. We had a bed without meals plan, but since the hotel had such a nice atmosphere, we requested for a breakfast after checking in, and were able to take breakfast there, too. Thanks to the hotel, we were able to spend a nice holiday. I would like to spend the night there again. Thank you very much.
+ More
Sep 2015
As I like old constructions, I found this inn very lovely. What disappointed me was the dinner and the bath. As I chose the Kawazashiki plan, there was no dinner served in the inn, which was awful. I think that when they create plans like this, they lower the rank of the inn. I felt hungry and miserable. About the bath, it was unfortunate that there was only one. The mustiness of the dressing room was unpleasant. A few days prior to my stay, I had got in contact about the Kawazashiki plan, but in the end it couldn't be changed, and as they gave me no advice, it ended as a disappointing trip.
+ More
Sep 2015
I had a fun stay there every time, but I got the worst result this time. They were having many Chinese customers, so I had an unpleasant presentiment, but anyway, they were acting like wearing a swimsuit or wrapping a bath towel around without even tying their hair up and with it hanging down when they were taking a bath. More shockingly, they brought their smart phone to the inside of the bath and were taking pictures. They were wearing a swimsuit, but we Japanese people were all naked. I hurryingly got out. It was at the level that we should report to the police, wasn't it? I submitted a complaint to the hotel, but they made an excuse that they were teaching such customers. The service was good and the food was delicious, so it's a pity.
+ More
Aug 2015
I visit Arima hot spring sometimes, however it was the first time in 20 years that I visited Goshoboh. It became more beautiful than how it was in the old times. The food et cetra was good. The maid seemed to have little experience and although she worked hard she seemed to be off the point somewhat. I believe the guests can the reservation-only private bath Shihoan with the staying plan, however there was no announcement when I arrived and I did not remember it until late at night and ended up not being able to use it after all. I hope they would have let the guests know. The level of satisfaction was much higher 20 years ago. It was a bit regrettable.
+ More
Aug 2015
I was amazed to be able to see the garden from our room on the third floor. As the large bathhouse was close and opened in the middle of night, I enjoyed taking a bath at Kinnoyu many times. The view from the semi-mixed open-air bath was nice as well. In this hotel, the meals were very good. Especially, as the Tamba beef steak is cooked by the chef on the grill in the open kitchen in front of you, you can have a freshly made one. We relaxed and enjoyed breakfast, listening to the music. The udofu using Tamba kuromame beans was very good. I found it was nice to have yudofu even in summer. Although the bar looked very nice, I was to sleepy to go unfortunately. I would like to go to the bar next time if I get a chance.
+ More
Aug 2015
The building itself was wonderful, it was like entering into the world of Junichiro Tanizaki's novel. Antique furniture made in United Kingdom was also well, it was good. The waitress was kind, she was beautiful just like came out from Yumeji's painting. I was lucky to be able to stay on Saturday at the weekday rate. I would like to come back.
+ More
Jul 2015
I am really thankful to stay at the inn as it is a wooden building that reminds me of old Japanese history. It is a tasteful ryokan and I was satisfied with the onsen and the food. All my family members said they would love to visit again. Thank you very much for everything.
+ More
May 2015
It was the second time. And, as it happened before, it was very disappointing that I could not sleep because of noise. It was too bad because my room was an inner room and very good. A guest who stayed in the room above me started making heavy footsteps from 3:40 a.m. in the morning. The TV's volume was moderate, I guess? Even so, I could hear clearly the voice of a TV announcer. Guests staying there were those who had no morals, which sufficient considerations for other guests at night and early in the morning were required. In other words, the quality of guests was bad. My room was an innermost room and comfortable, but it was cold, very cold. On the other hand, when I put a heater on, this time it became dry, very dry. That was well and good to some extent because the inn was old, but the quality of guests was just bad. A young person, who was not a guest, said in a biting tone without hesitation to an employee something like letting him take a bath or eat a meat dish at a restaurant. Stopping by to take a bath? I thought he had a lot of nerve. But I can only think that the inn is a mess. The inn is really good with a great ambiance, so I could say it was really a pity, and I think it's better if they raise their threshold a little. At an inn somewhere, I was reminded to be considerate with the noise as the inn is housed in an old building when checking in, and I think they should have went through with that. Though I came with my child, it was quieter at my side. On the other hand, the conversation with the head cook felt a little troublesome, but I didn't get them to call the landlady out because of the food which was really delicious like the previous time. The quantity is more than enough, though we tried our best to finish them up as everything was delicious. It was a really good inn, but it's a pity they couldn't do something about the noise for the moral of the guests. No comment on the quality of the bath as it felt pathetic compared to Kusatsu or Beppu. It's just a saline spring. But the town and accessibility are wonderful. But there are hardly a good place in Arima, maybe I should place my hope on Goshobettei next?
+ More
Jan 2015
I stayed here as a party of 5 with my mother and 2 sons. Goshobo which I visited for the first time provided me the space and time to feel the history, with kind hospitality and beautiful arrangement everywhere. The decoration of kasane mochi (a small rice cake plead on top of a bigger rice cake) for New Year was beautiful, and so was ikebana (arranged flowers) of pines and nankins. The amount of the food felt too much, however my sons seemed to find it just enough. Since it was the stay during the busy season at the end of the year, I would like to stay on 31st next time. Is it possible to reserve a room a few months prior to the stay? The only points that bothered me was that I could not control the air conditioner well and that the quality of the staff service seemed to vary among individuals, and other than that it was a great hotel.
+ More
Jan 2015
I've been here and used this bath as day trip visitors before. I became quite fond of the building and the special half-open-air bath on that occasion and decided to stay and enjoy the relaxing bath next time and finally made it happen this time. As a result, the expected level was a bit lower than I expected (Maybe I was expecting too much). Especially at the very end when I was checking out, I had to wait so long to pay the bill and to received my shoes even though there were 6 to 7 staffs at the pay desk, and I am sure it has lot to do with leaving a bad impression on me. Having said that, the drink (sake) I ordered during the dinner was never served and I also heard the loud sound of the vacuum cleaner near my room, so It doesn't mean that the hospitality is bad making me feel uncomfortable, but I felt that the atmosphere was incredibly busy and hectic. The bath was wonderful, just as I expected and the meal was also delicious, but I should have been more impressed if I paid that much. I understand that they charge you relatively high for single-use, however, even thinking about it, I have been impressed just the same at a different place for a lower rate, so my expression may be a bit harsh.
+ More
Jan 2015
Information
Check-in Time

From 3:00pm to 7:00pm

Check-out Time

Until 10:00am

Tax / Service Charge

Bathing Tax JPY 150 per person(over 6 years) is NOT included in the rates.

Credit cards accepted at this property

VISA / MASTER / JCB / AMEX / DINERS / UNION PAY / DEBIT CARD
Children

All children are welcome.

Pets

Pets are NOT allowed.

Parking

Free of charge for guests; Available from noon to 5pm; Capacity 40 vehicles; No Valet Parking Service

Other policies & conditions

Thank you very much for your reservation. The detail of your credit card will be required later for guarantee to fix your reservation. Until then, your reservation is perceived as tentative reservation. Thank you for your understanding and cooperation in advance.