- VAT is included, but bathing tax (around JPY 150 per adult) may NOT be included.
- Price in USD is based on the exchange rate as of today and might be different from that of the booking date.
Foods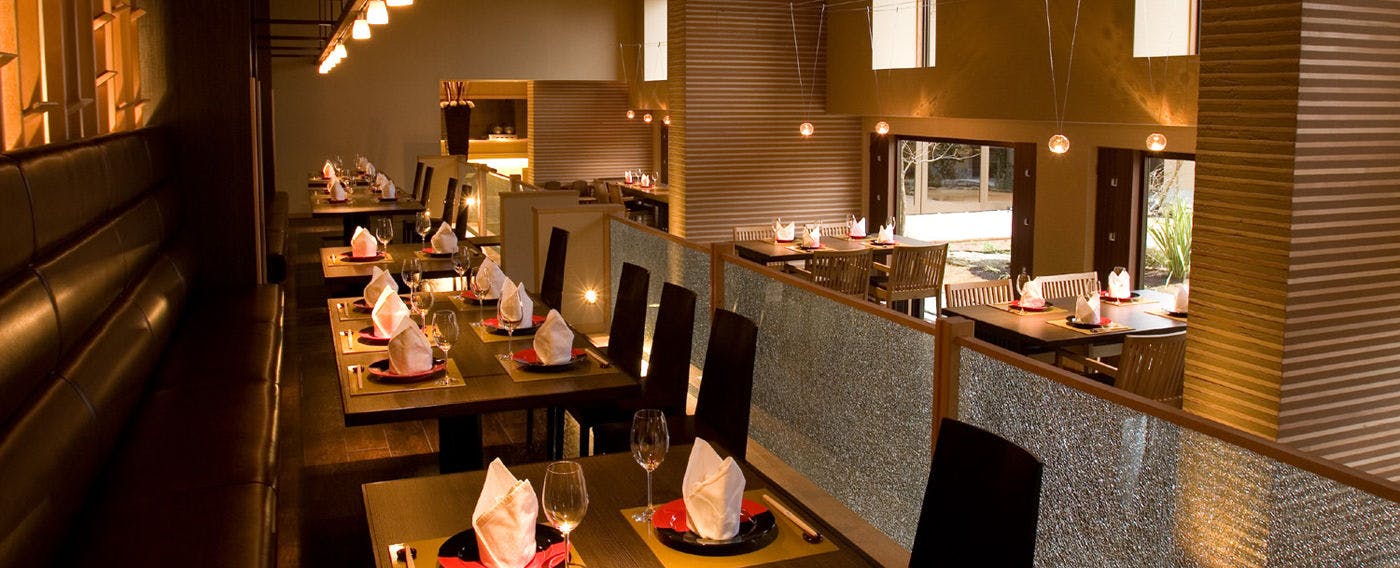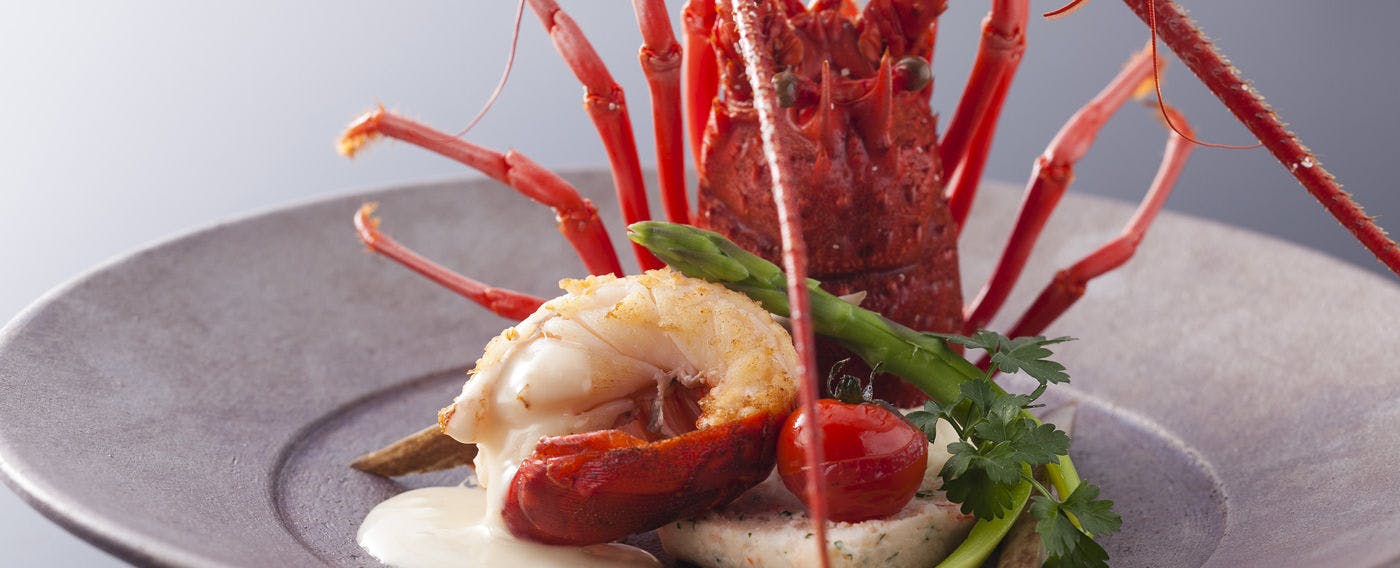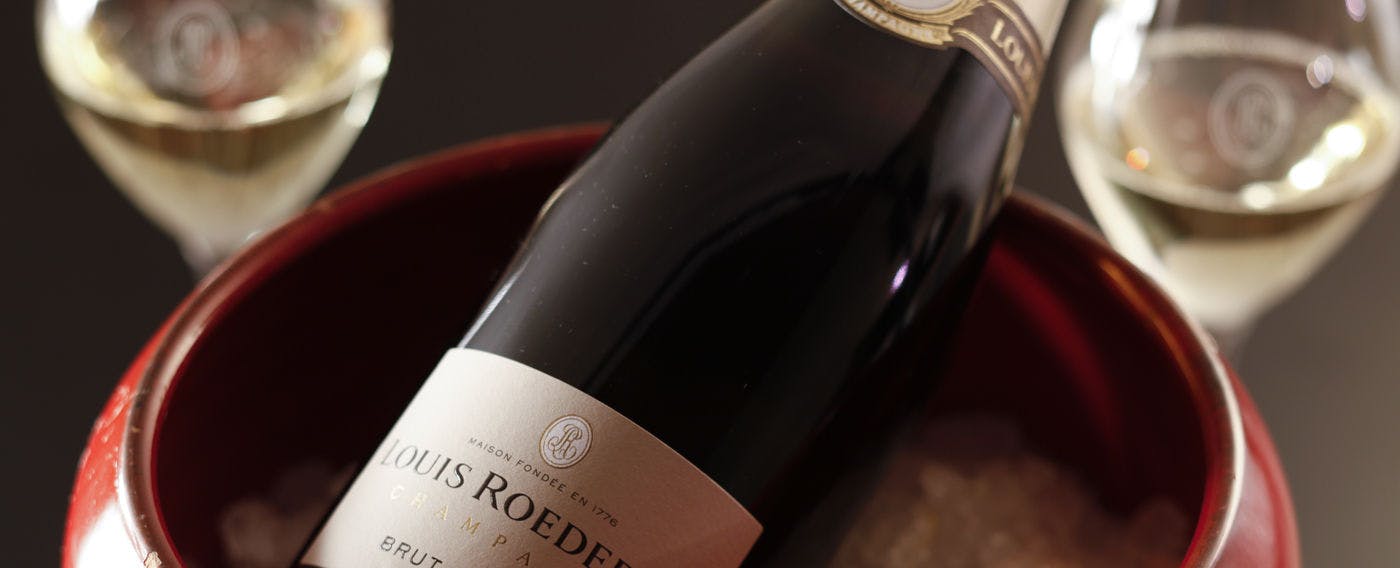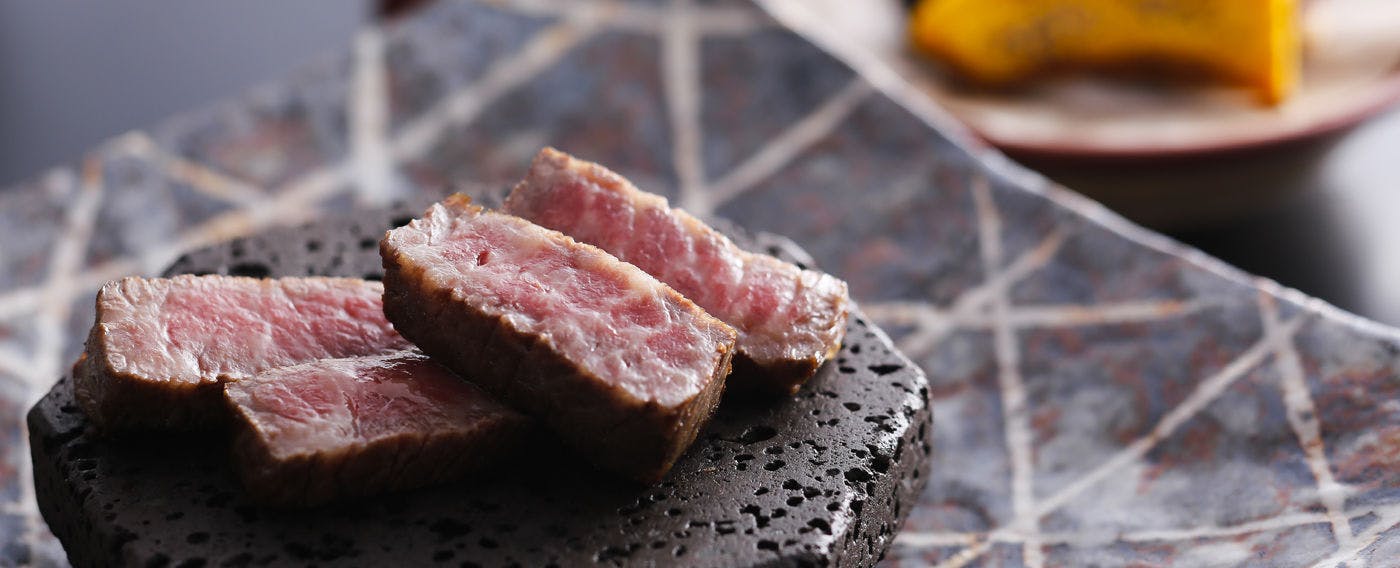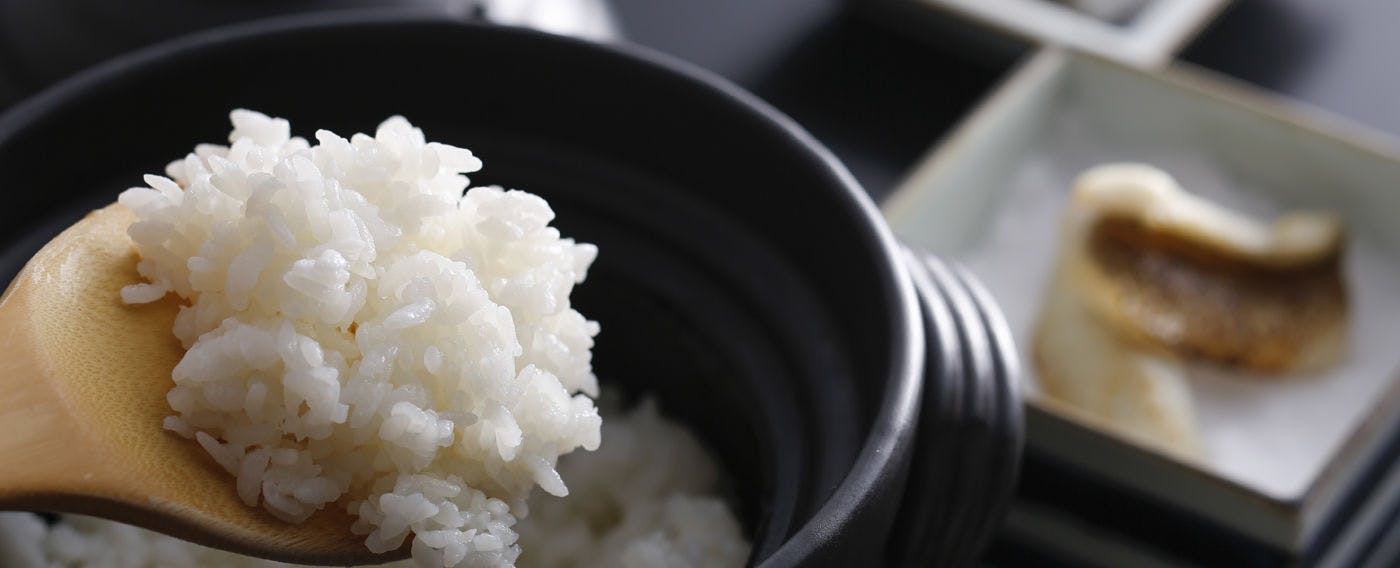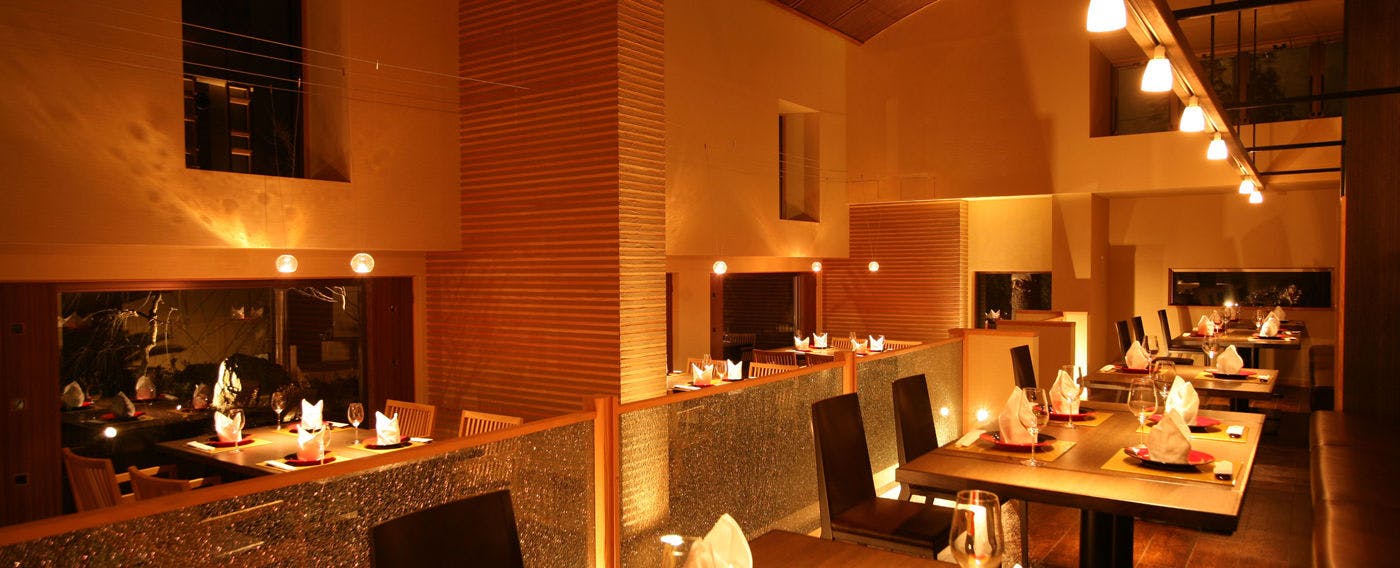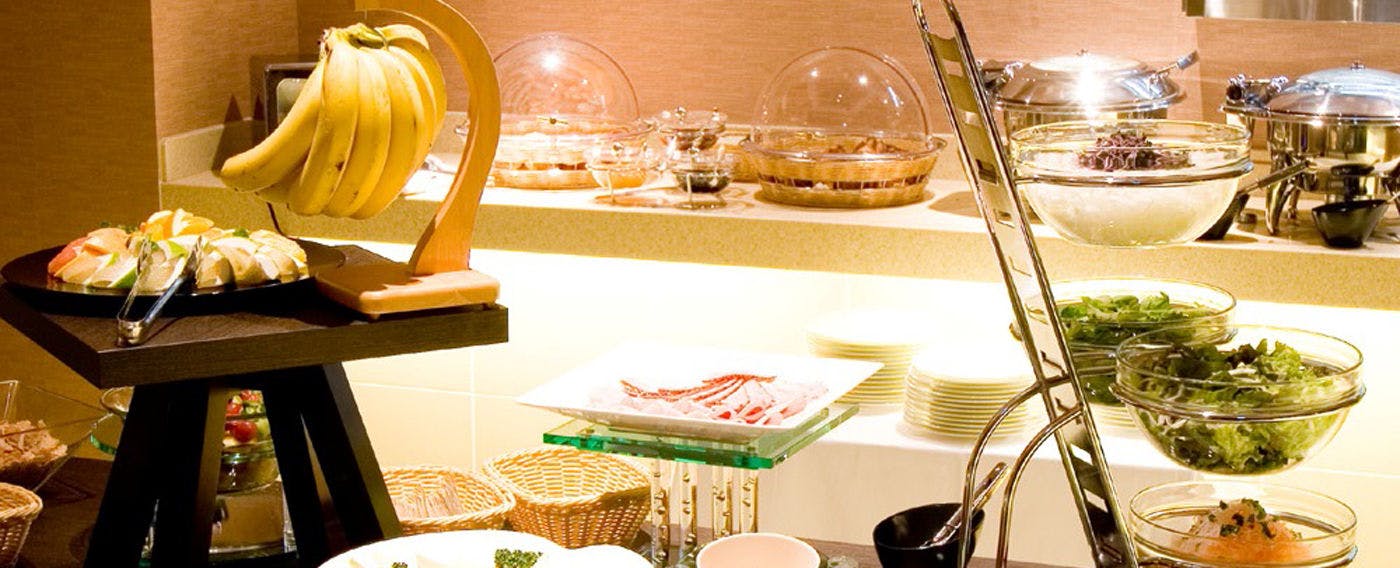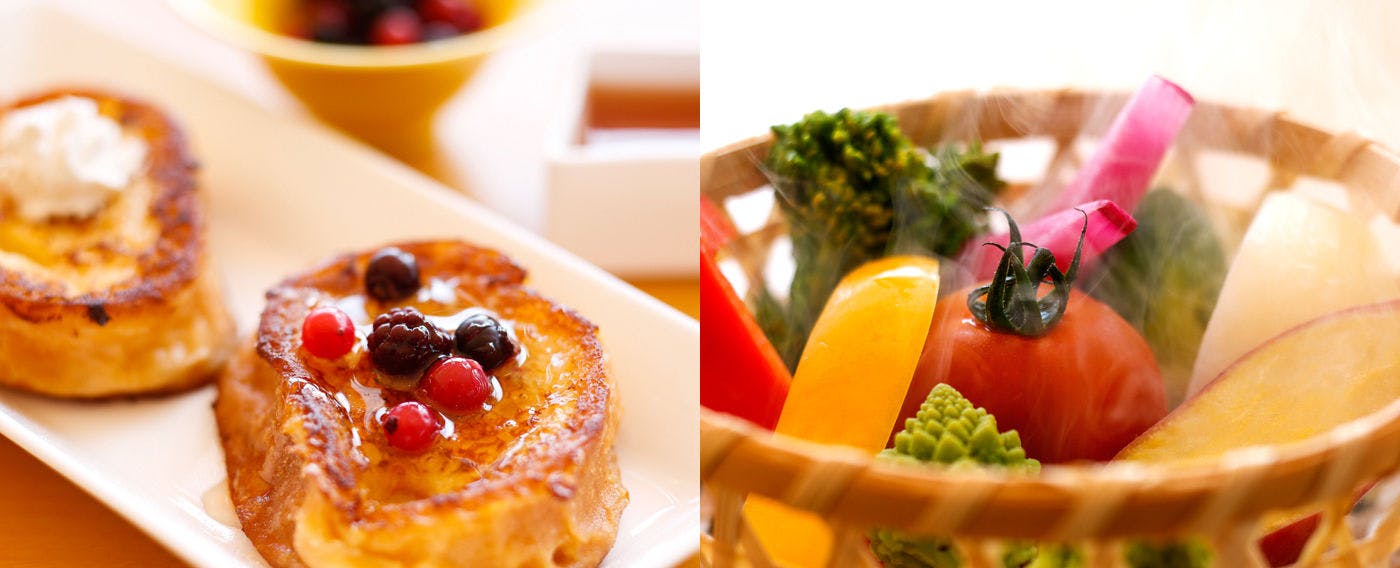 Feast of the Island In poems of the ancient Manyo era, the "Mikemukau" () was used many times. This means there has been a very deep connection between history and food in this region. Surrounded by the sea, There is nothing to say but this island has been blessed by God because its environment does still have great ​​food resources.
In Amahara, we have always tried "local production for local consumption" and provide the taste of each season to our cutomers, emphasising always on the delicious Awaji Island ingredients. The creative cuisine here has fused Japanese and Western-style food in its menu. You will definetely enjoy our dishes.

Main dining place "Shunbo Tanetsu"
First your appetite will be stimulated by the fragrance of the place, later your eyes will be pleased, and last you will feel the taste with your tongue. All the ingredients has been selected depending on its best season very carefully. We have tried to make the most of each ingredient without hesitating in all dishes and we will serve them according to your requests.
Open hours:17:30-22:00 (Last Order 21:00)

Buffet-style Breakfast
To start the day, you can enjoy your breakfast at the "Shunbo AwaEtsu" with a gentle morning sunshine lighting it. We will prepare a buffet-style breakfast of Japanese and Western-style food for you to enjoy. Please enjoy talking with your family or friends while tasting different dishes using local ingredients particular of each season.
Baths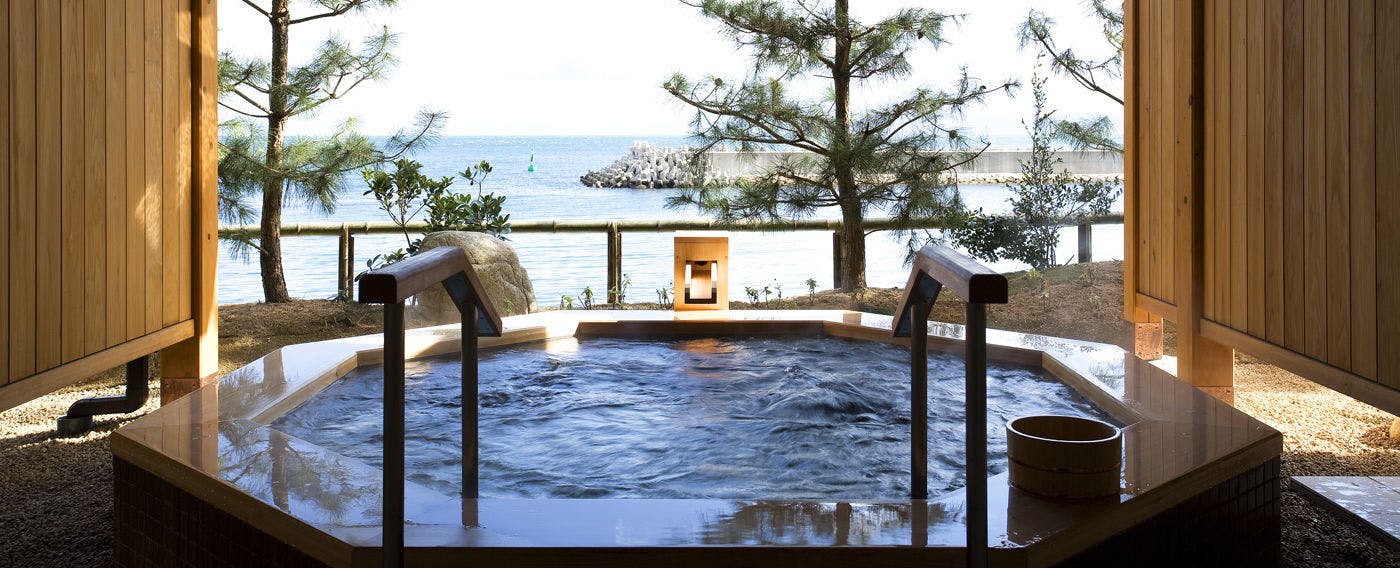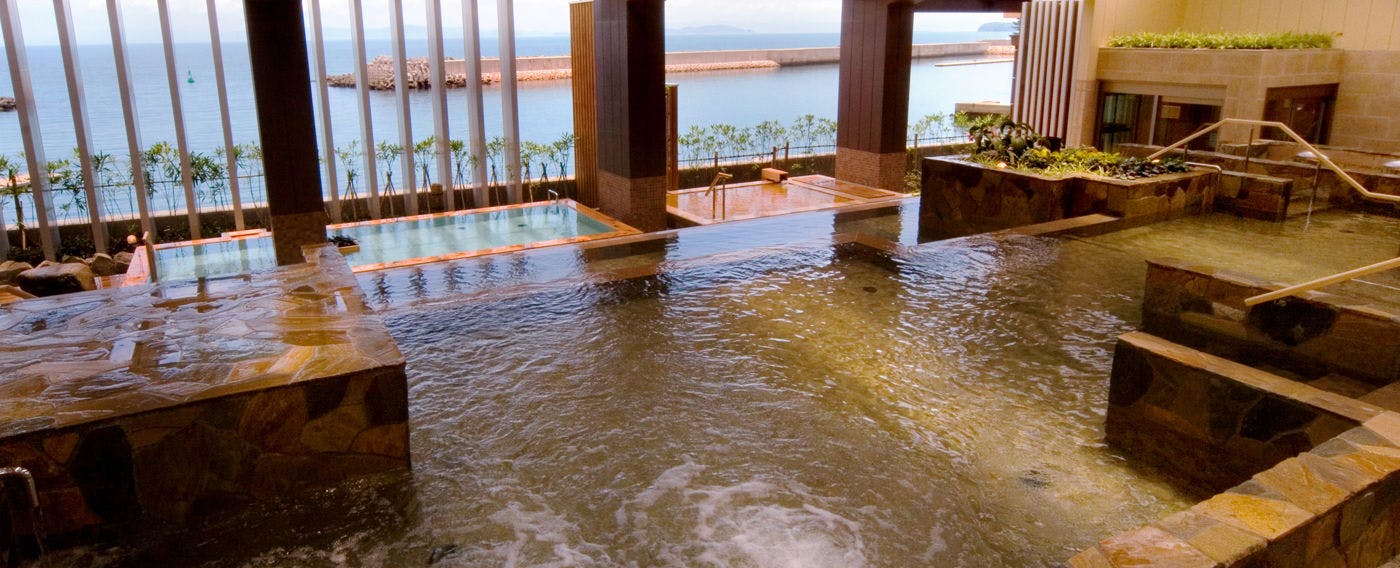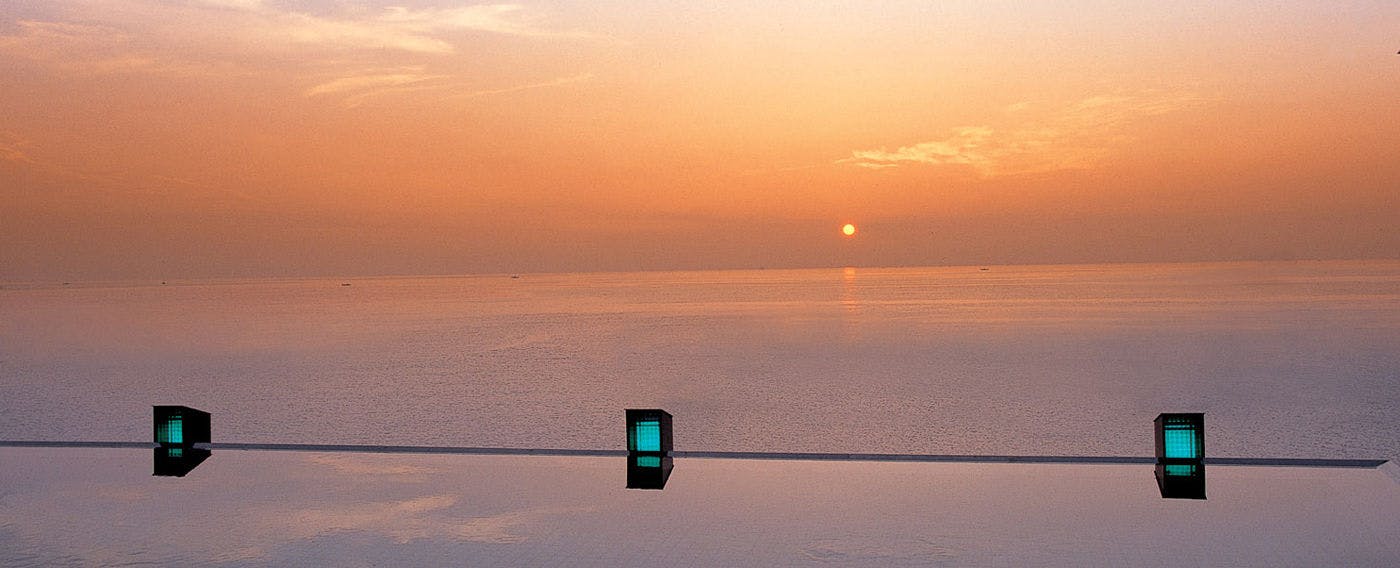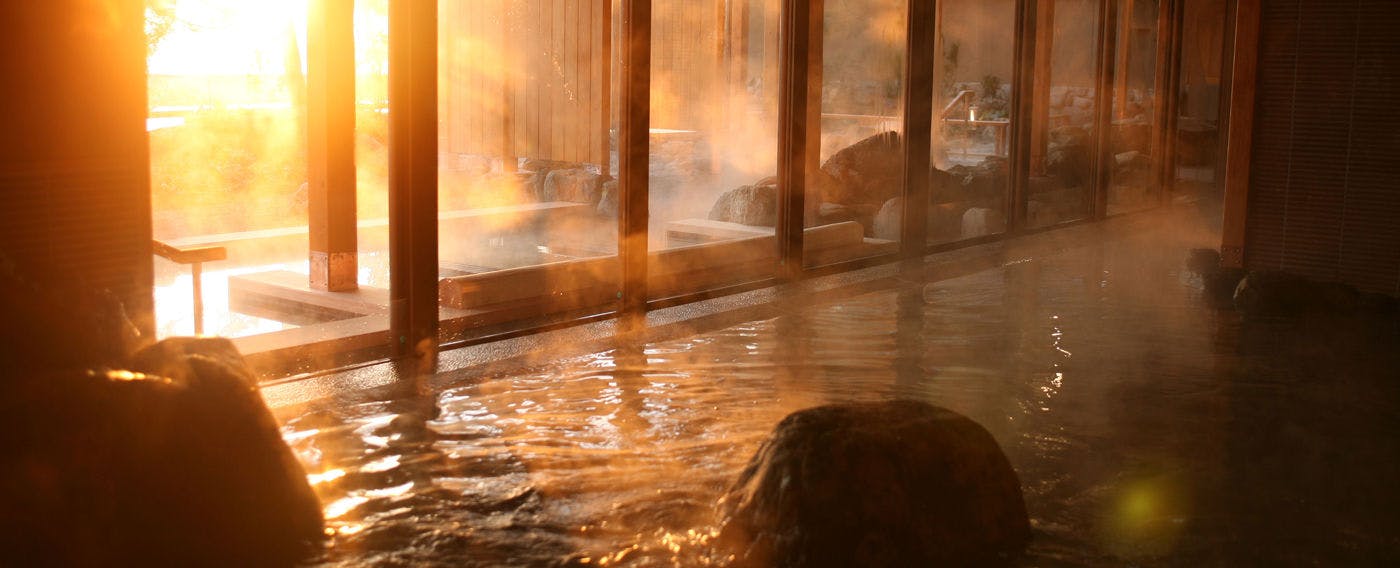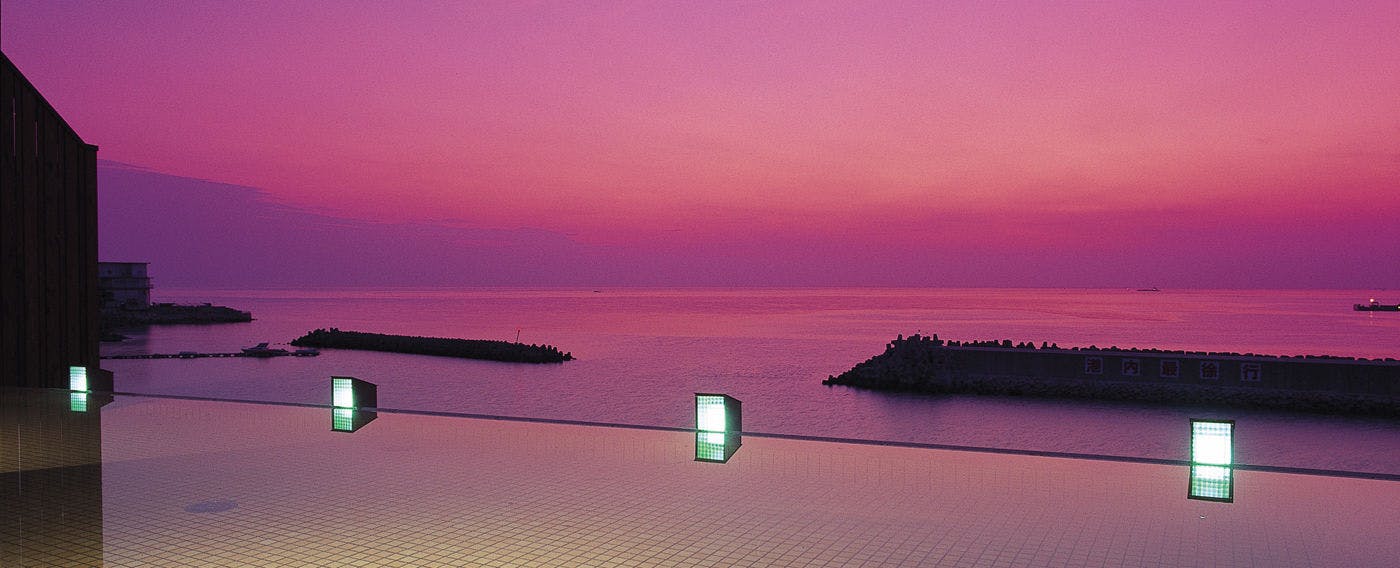 Gaze at the ever moving sea, rest your mind, and tour around hot-springs along the seaside. Facing the Kitan strait, "Sumoto Onsen" is based at the foot of mount Mikuma, on the east coast of the Awaji Island off the Seto inland sea, a place where traditional mythologies of Japan have naturally been passed down. The quality of the waters at "Sumoto Onsen", sourced from natural springs at the foot of mount Mikuma, is velvety to the touch, also known to have medicinal qualities with traces of radon. Your whole body feels a very familiar comfort from the moment you immerse yourself in the hot water. Also, the naturally sourced Akayu's "Komoe Onsen" (with natrium salt rich water) known for its muddy red water is abundant in natural minerals due to its proximity to the sea. After you come out of the bath, it gives you a soft velvet-like feel like no ordinary onsen can provide.

Crossing the cloister from the beachfront, Hotel New Awaji, part of Group Hotels, you can enjoy the hot springs of "Spa Terrace Mizuki" and Awaji Yumesenkei "Tenkyūno Shizuku".

A bath like from a mythical tale. Kuniumino Yu (Spa Terrace Mizuki)
Kuniumino Yu is a bath that uses motifs to exemplify the two founding gods, "Izanagi" and "Izanami", as told by the tales of ancient Japanese tradition. Refresh in this serene space decorated with plenty of trees and rocks and take a deep breath of the air with a hint of incense.
You can experience a variety of onsen and baths here including the medicinal hot spring "Sumoto Onsen", that sources its water from mount Mikuma's springs, the "Komoe Onsen", that is sourced on site having mineral rich water, the jacuzzi baths and baths with head-rests amongst others.
Hours of operation:
12:00 to 24:00 (Women), Sunrise to 11:00 (Men)

A three stage bath made in the image of a rice field. Awaji Tanadano Yu (Spa Terrace Mizuki)
Rice fields awaken a sense of nostalgia in the hearts of the people of Japan.
The place prides on Awaji Tanadano Yu, a three-stage bath that recreates the image of rice-terraces that still remain on the island's natural landscape.
According to ancient historical records, the island of Awaji "Awajino Hono Sawakeshima" has been best suited for rice cultivation, and till this day the rice cultivation is active as usual. The bath captures the essence of the the atmosphere of these rice terraces.
Hours of operation:
12:00 to 24:00 (Men), Sunrise to 10:00 (Women)

The sea, the sky and the hot spring waters mingle: Yuhinkaku Tenkyūno Shizuku (Awaji Yumesenkei)
Yuhinkaku Tenkyūno Shizuku, a place where you can enjoy two hot-spring sourced on-site at Awaji Yumesenkei, "Komoe Onsen" and "Sumoto Onsen". Enjoy this maisonette type onsen where the sea, the sky and the onsen become one. The second floor maisonette offers a magnificent view of the great open-air bath (Sumoto Onsen), it truly is a space encompassed by the sea, the sky and the hot springs.
Right on the earth's surface (maisonette, first floor) reaching out to the sea, bringing out the rustic beauty in the waves in an open-air bath, relax in Akayu's natural spring sourced bath "Komoe Onsen", rich in natrium salts, while listening to the sound of the sea in a calm atmosphere.
Hours of operation:
12:00 to 24:00, Sunrise to 10:00 (Men)
12:00 to 24:00, Sunrise to 11:00 (Women)
Men-Women baths swap.


Facilities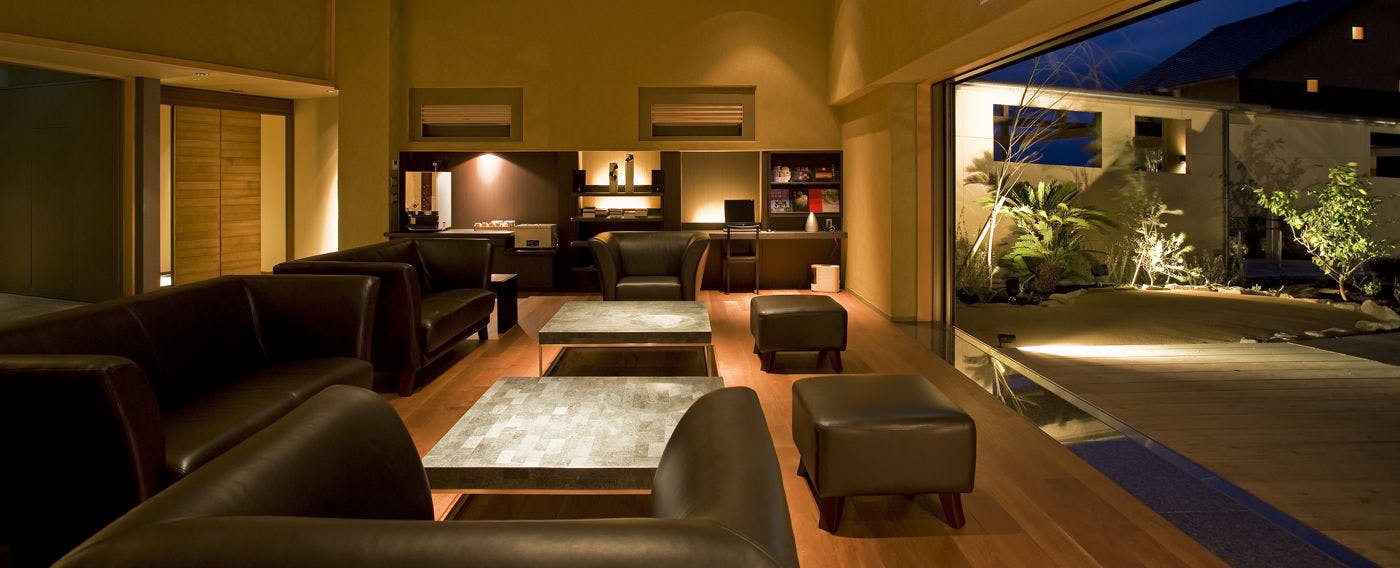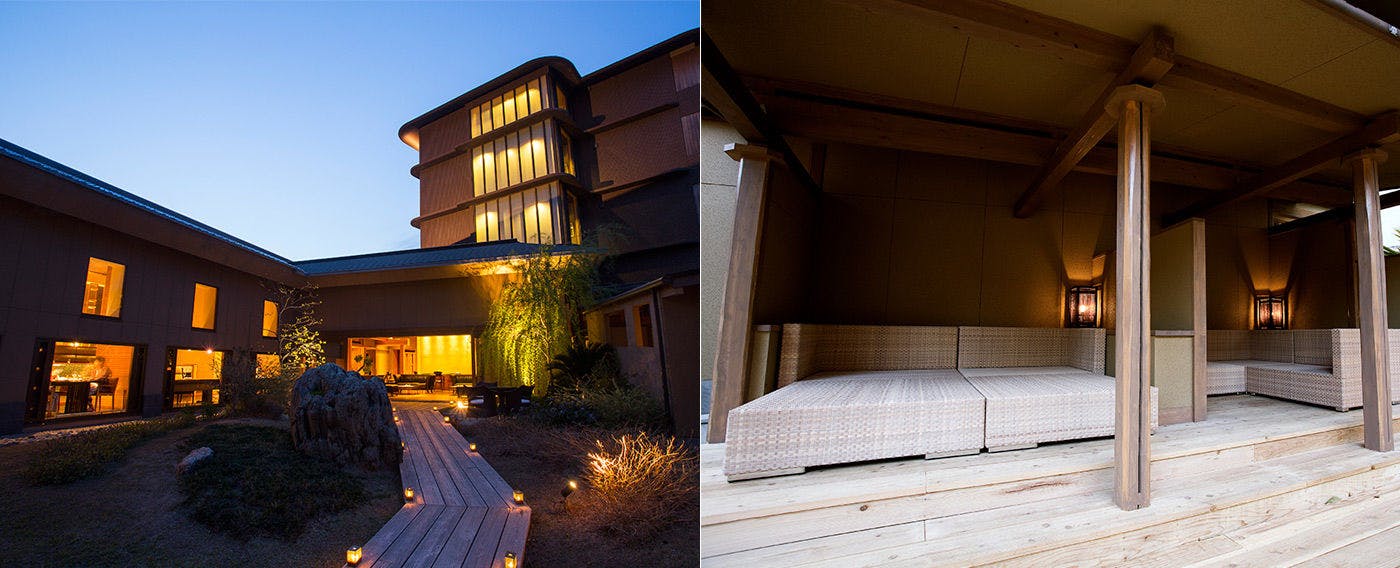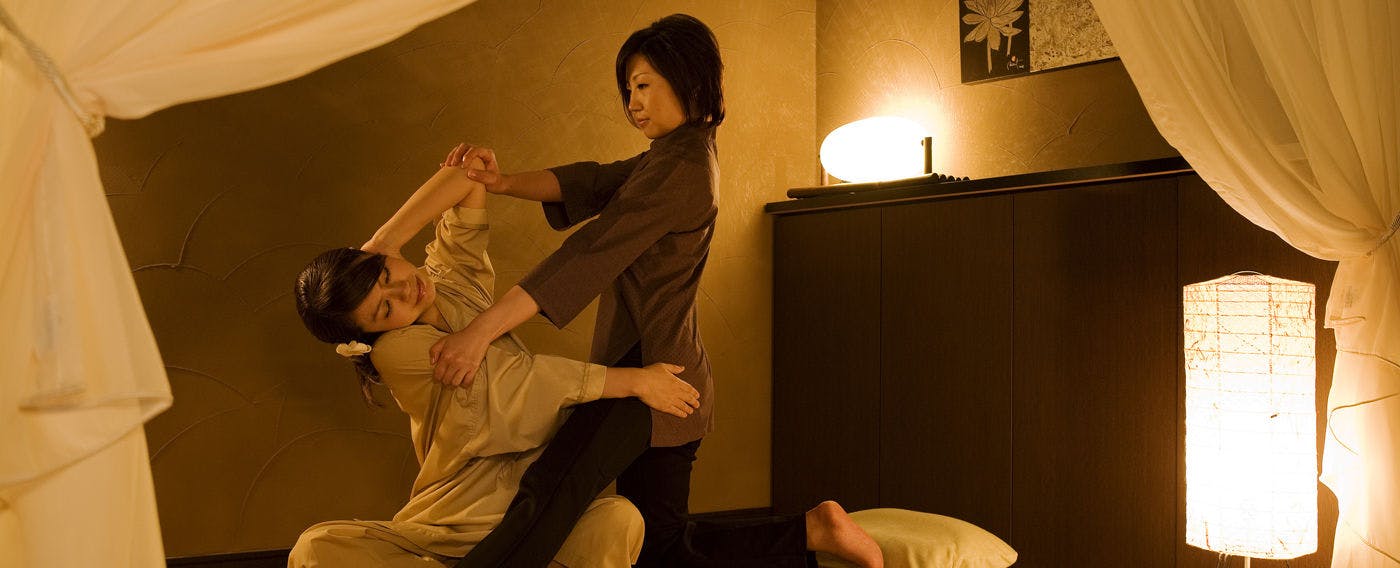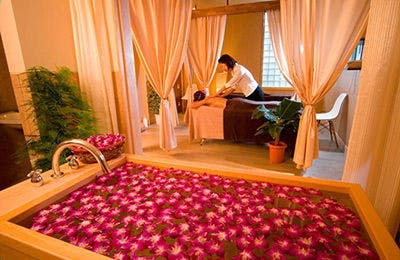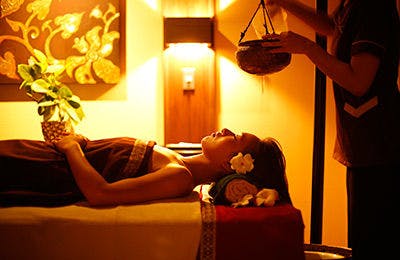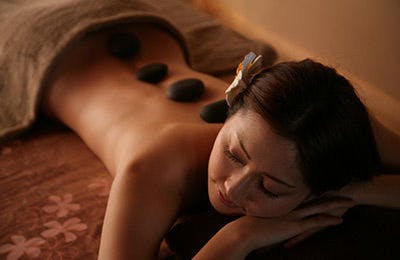 Amahara guests private Garden Lounge Your story starts at the Garden Lounge. It is a space with a variety of services such as espresso machines, tea, after meal digestives, Internet environment, libraries, and so on.
Feel the pleasant sound, smell, and light, and spend your unique holiday without any hesitation.

Heal Garden
In the somber light of the gathering dusk and under silence and peace falling like leaves, with a story echoing like footsteps beneath the trees.
Unlike relaxing in the room, changing its expression with the passage of time, a flowing luxury different from the everyday life.
And, early afternoon wrapped in balmy sunlight take a stroll in teh heal-garden or along the shore. Feeling the air full of scent and warmth of the sun and trees swaying and rustling in the breeze enjoy a siesta on your day-bed...

Traditional Thai massage "ASHIYA Bankunmei"
The Thai traditional massage is a therapy that combines the SHIATSU and yoga stretch to loosen the stiffness. It is referred many times as the "most pleasant massage in the world. A Thai technique which 2500 years of history and tradition. The treatment is made to the approximately 10 pieces of energy lines (sen) that flows through the body to improve the blood flow. It has been confirmed that it has dozens of effects such us beautiful skin, slimming, detox effect, hormone balance improvement, etc. It awakes the power of beauty and life that sleeps inside your body leading you to an stable mental and physical condition. This condition increases your natural healing power giving you mental and physical health.

Treatment Spa "Komoe"
It is inside the "Spa Terrace Mizuki" in the adjacent Hotel New Awaji,. We use Swiss luxury natural cosmetics: "Cell cosmetics". We recommend especially the rejuvenation facial and flower bath menu.

Thalasso treatments "Linospa"
The "Rinospa" is in the Shimahana hotel, a sea view hotel. For the French-born marine therapy "thalasso therapy", we use different marine ingredients, such as sea water, seaweed, sea mud, to improve your natural healing power by activating the cells from inside the body. There is also a Ayurveda course menu. This therapy has about 5000 years of study history in India and it has also given a big impact to Tibetan medicine and ancient Greece and Persia medicine.
*Guests of the hotel New Awaji can use it as well.

Lomi Lomi Salon "Kanaloa"
The Lomi Lomi is a traditional healing method that has been carried out as a medical treatment by Hawaiian in the very past. Currently, it is considered a relaxation massage. It is also said to be "one of the most spiritual healing massage in the world" as "mana" energy from the earth is transmitted from the therapist to liberate you from mental and physical tension.

Access
Oroshidani 1052-2, Sumoto-city,Hyogo,656-0023,JAPAN
BY AIR
From Kansai International Airport:
Take an Airport Limousine to Sumoto IC (2 hrs) & 15 min by taxi
From Kobe Airport:
Take Port Liner to Sannnomiya Station (18 min), transfer to express bus to Sumoto Bus Center (80 min)
From Osaka International Airport:
Take Airport Limousine to Sannnomiya Station (40 min) & take express bus to Sumoto Bus Center (80 min)
*Pick-up service is available from Sumoto Bus Center to the hotel. Reservation required.
Reviews
The room and its bath were very clean so we were able to spend a comfortabe relaxed time. Since you prepared both breakfast and dinner to be able to eat in the room we could enjoy the meal without having to worry about the people around. I would like to stay here again. At our arrival it was raining and because of the information we were offered our luggage got wet. That was a pity.
+ More
Sep 2016
It was really great. We were just satisfied with staying here in Kamahara which is a premium hotel hidden from the city. We enjoyed walking the hotels on both sides after taking a bath. People fishing near the embankment and fishing ponds, children swimming in the pool with a slider, families in the small beach, everyone was laughing and seemed very happy. I thought "This is a real resort hotel". It was like being in a dream. It is far from the Kanto area, but I would like to come again and stay two nights or more. The facilities, food and staffs hospitality were perfect.
+ More
Sep 2016
I spent a very happy time here. Thank you very much. I used the large bath of the building but the bath in the room was the best. Wide enough. I could use it any time and it did not smell like chlorine.I could not see the sunrise but enjoyed in the morning the open-air bath. The mount of food was too much so I had to give up some (I drank too much maybe?). I should have chosen a normal dish not the specialite. For breakfast I had dried conger eel and it was soft and delicious. Steamed vegetables were also delicious. Just like the reviews on internet. I could travel after a long time but could spend a comfortable day.
+ More
Aug 2016
It was compact so we could relax very much. The meals, dinner and breakfast were really delicious. Especially the dinner was made with great efforts I guess. All the dishes quantity was not too much all my family which has small appetites could eat without any problem. There were different type of baths. I thought that it would be better if you can provide amenities such as lotion and milky lotion. The beauty salon was also very comfortable. We would like to thank you again for making our trip a funny one.
+ More
May 2016
I traveled with my mother. The puffer fish was delicious. The the open-air bath in the room was very comfortable and we could enjoy the sunrise next morning in the large bublic bath. My mother enjoyed it very much as well. Thank you very much for letting us use a barrier-free room as we had asked. We could spend a very nice time.
+ More
Mar 2016
Information
Check-in Time

From 2:00pm to 7:30pm

Check-out Time

Until 11:00am

Tax / Service Charge

Bathing Tax JPY 150 per adult is NOT included in the rates.

Credit cards accepted at this property

VISA / MASTER / JCB / AMEX / DINERS / DEBIT CARD
Children

All children are welcome.


Pets

Pets are NOT allowed.

Parking

Free of charge for guests; Capacity 30 vehicles; No Valet Parking Service

Other policies & conditions

Cancellation penalty is as below. No-Show or cancellation on the day: 100% of room rate. 1 day before arrival: 50% of room rate. 2-3 days before arrival: 30% of room rate. 4-14 days before arrival*: 10% of room rate(*Applied only in Dec 31 to Jan 3, May 2 to May 5, Aug 12 to Aug 15). Please note that 100% of room rate is charged as penalty when the reservation is modified during the cancellation penalty is charged, and cancelled later. Please contact the hotel for reservation of 15 guests or more.