Japanese-style Room with Reading Room (10 mats)

Half board included

Japanese futon bedding

See Details
From $782.46
for 2 guests /night
Sukiya-style Japanese Room with Semi-Outdoor Bath 90㎡

Half board included

Japanese futon bedding

Room with open-air bath

See Details
From $1,103.47
for 2 guests /night
Japanese-Style Room w Outdoor Bath (20 mats & Secondary room )

Half board included

Japanese futon bedding

Room with open-air bath

See Details
From $1,464.61
for 2 guests /night
- VAT is included, but bathing tax (around JPY 150 per adult) may NOT be included.
- Price in USD is based on the exchange rate as of today and might be different from that of the booking date.
Foods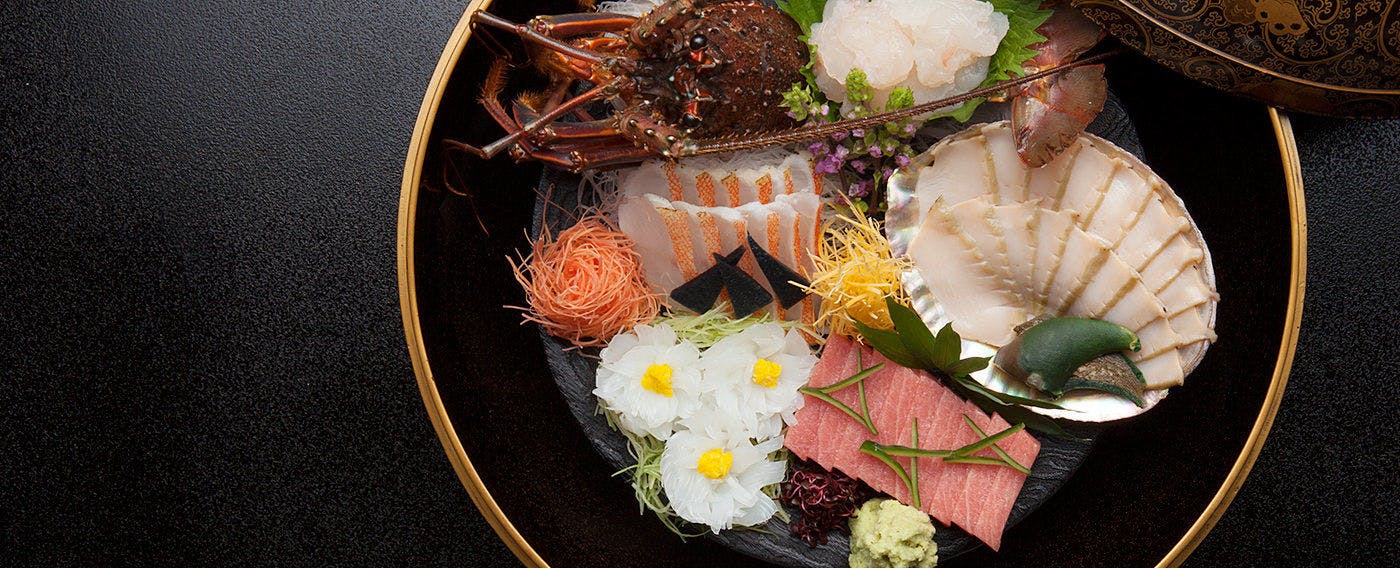 Sashimi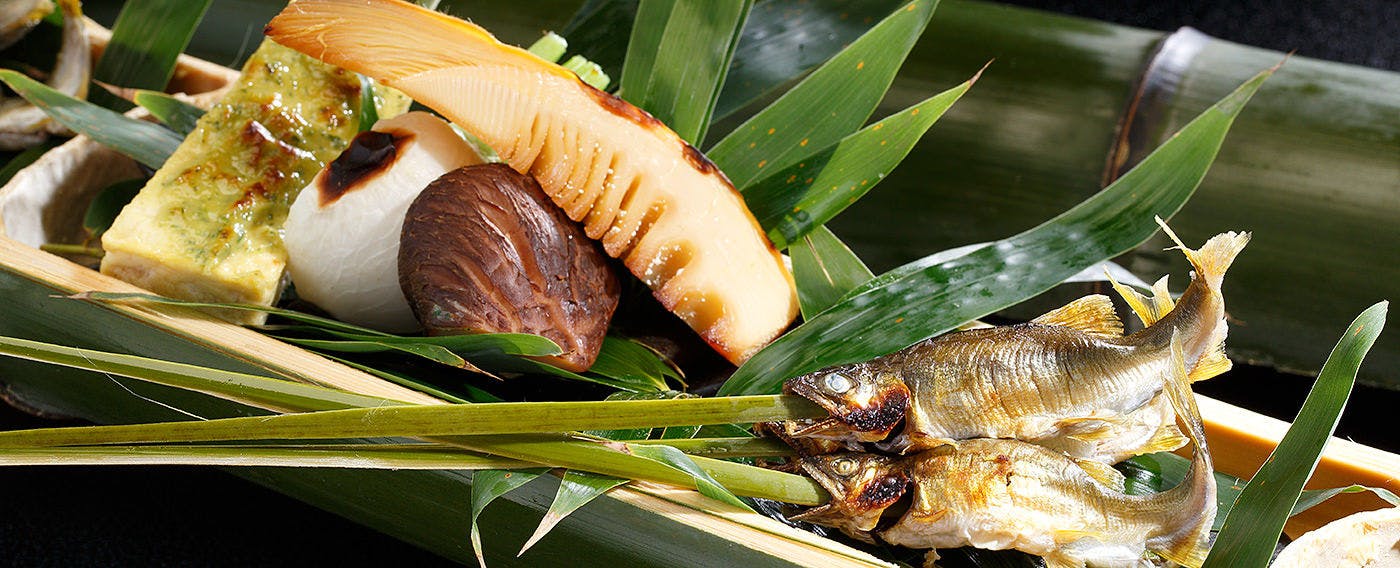 Foods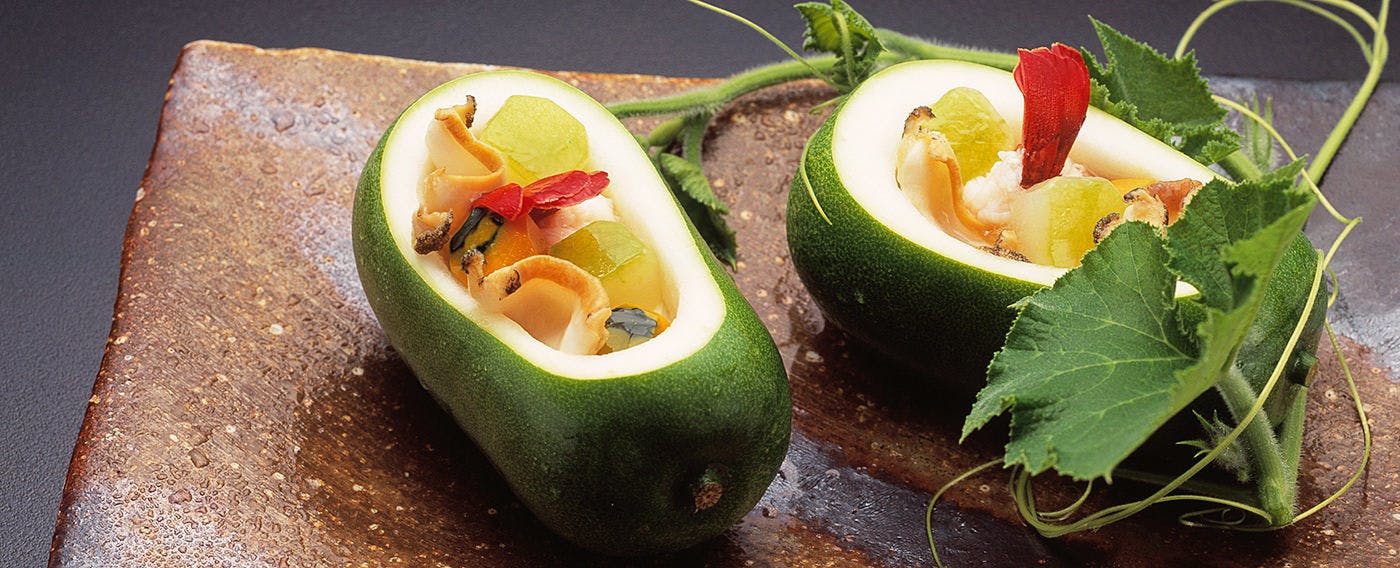 Foods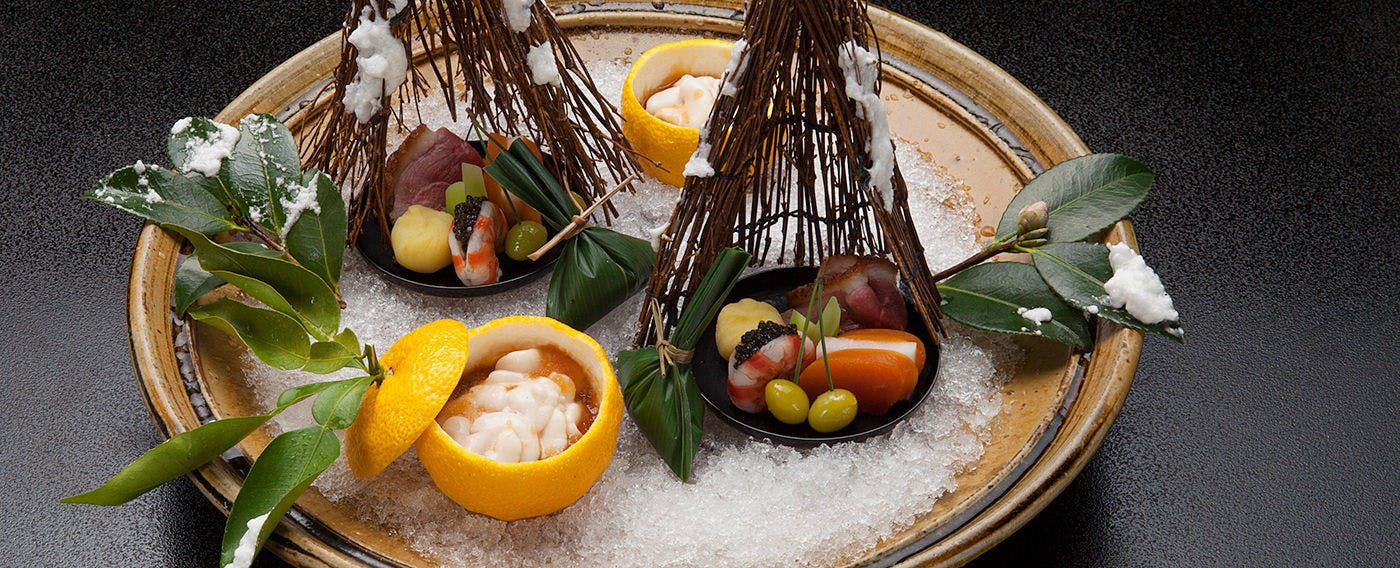 Foods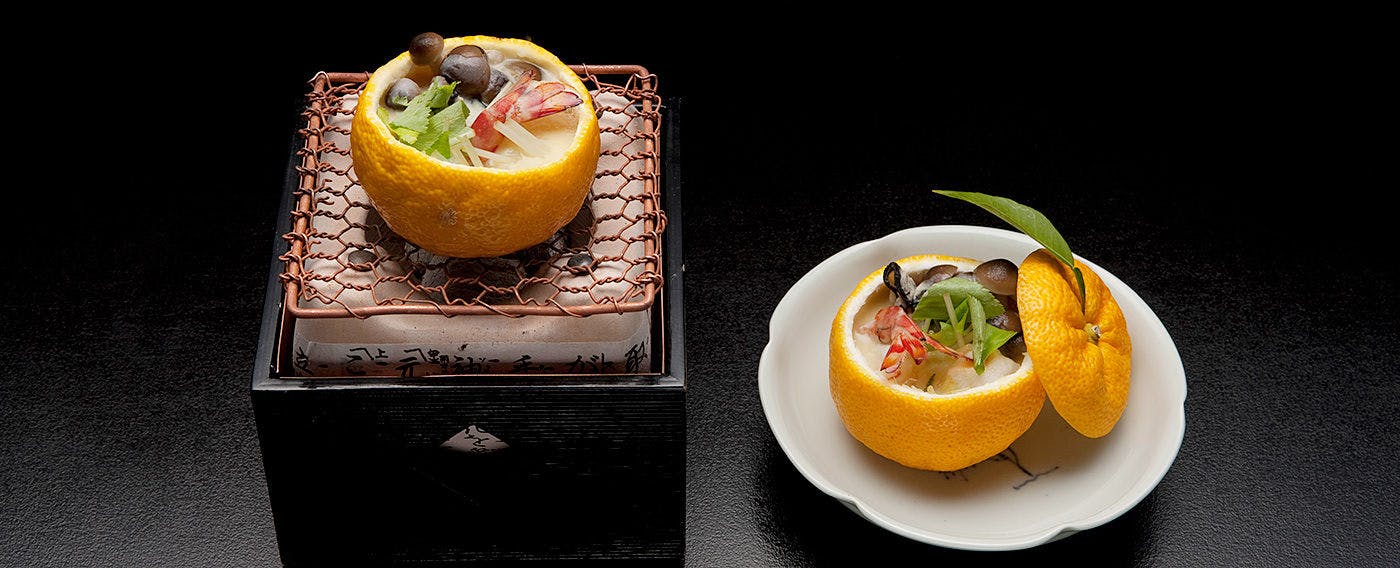 Foods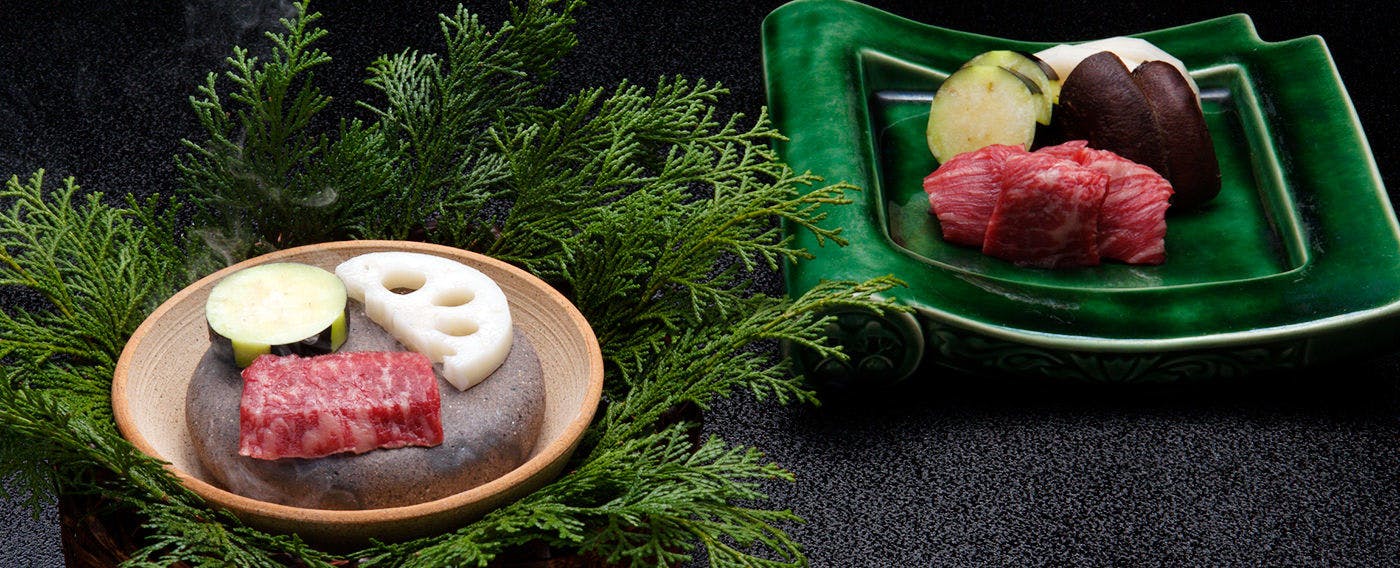 Stone Grill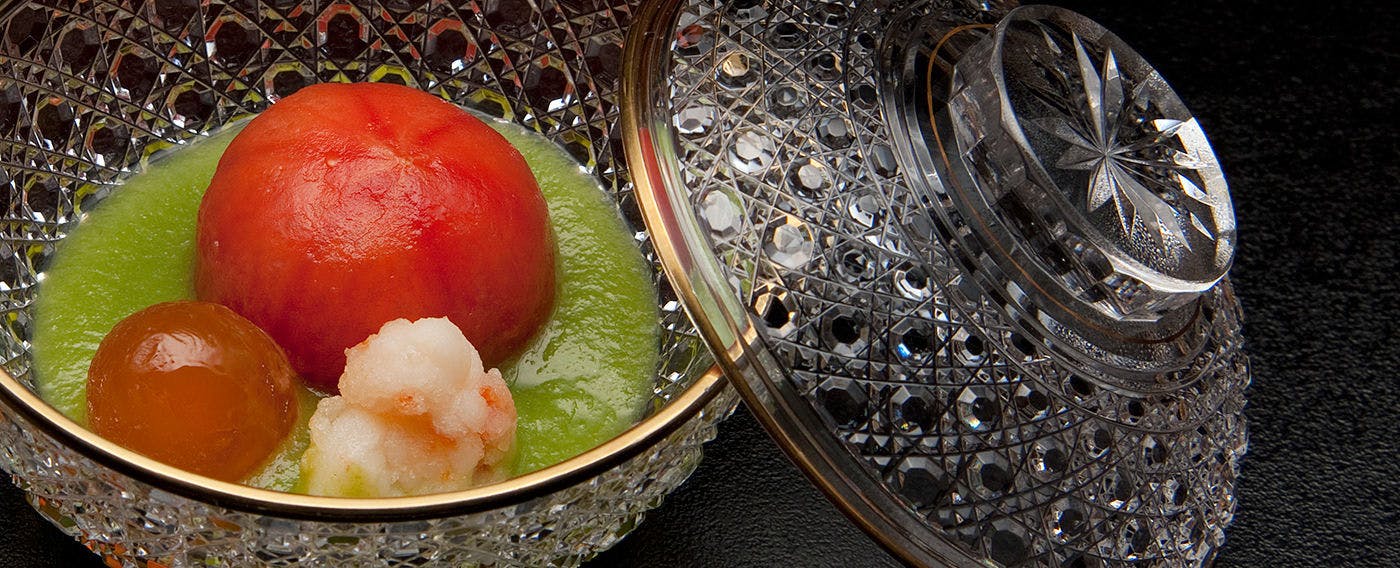 Foods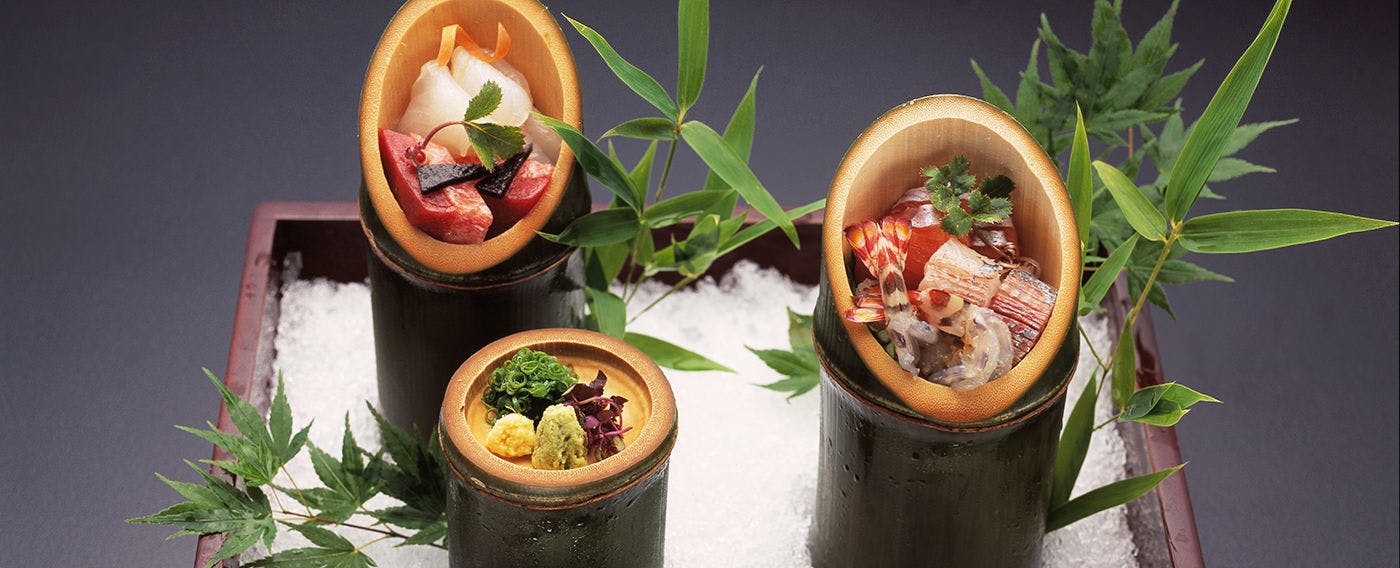 Foods
"From its beginnin as the traditional Kyoto-style kaiseki restaurant Yagyu of Shiba Shirokane in Tokyo, Yagyu-no-Sho has sought excellence in Japanese cuisine, This philosophy started with Yagyu's first Head Chef Katsuo Matumiya."

"We adhere to the basics of cooking - what should be hot is served hot, and what should be cold is served cold. We also incorporate local produce and seasonal items into our menus. Above all, in our meticulous meal preparations, we take pains to retain the natural quality of the ingredients and create menus that are seasonally appealing."

- Third generation head chef, Takashi Shibayama
Baths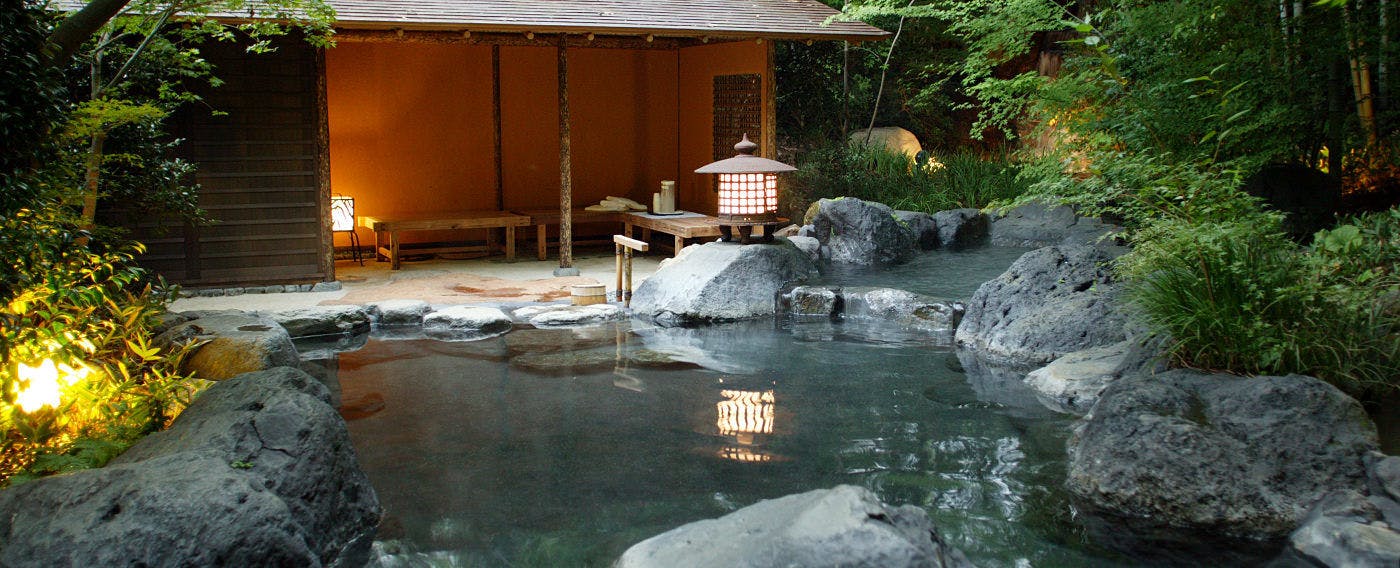 Open-Air Bath 'Musashi-no-yu'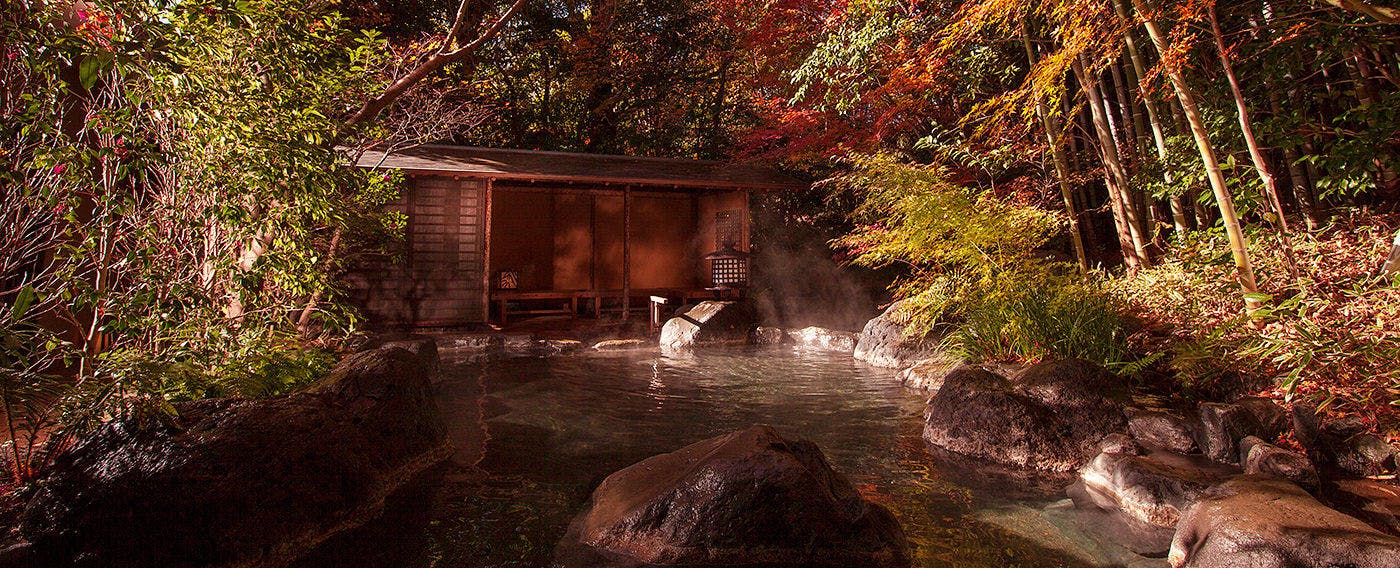 Open-Air Bath 'Musashi-no-yu' in Autumn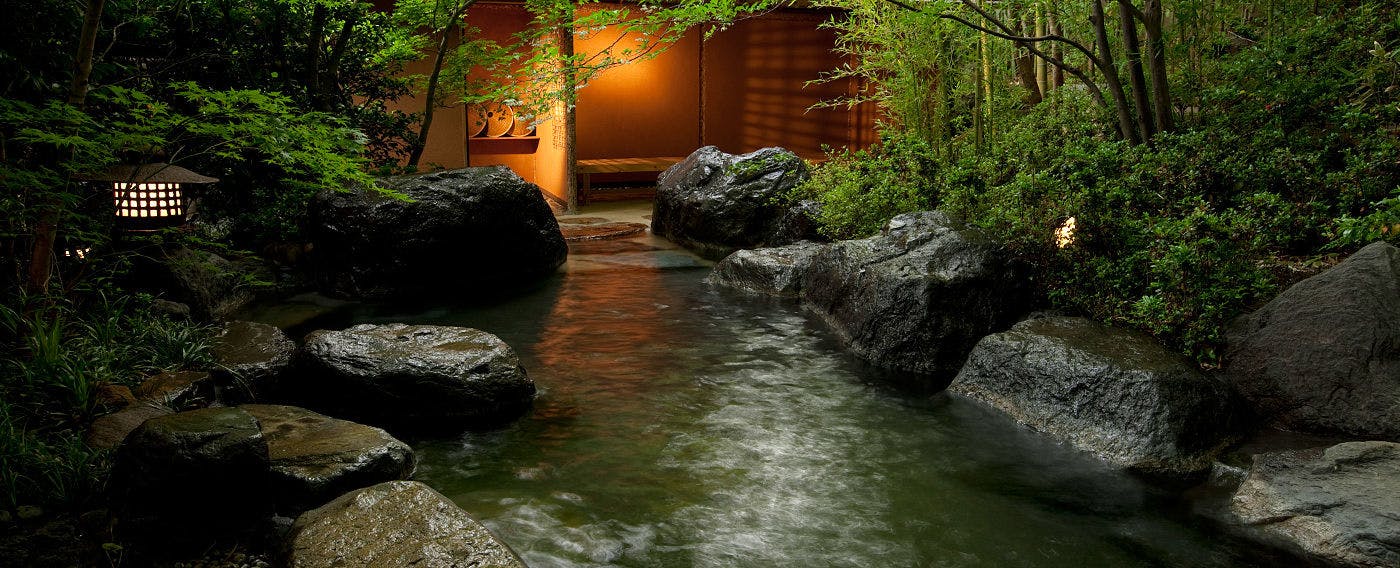 Open-Air Bath 'Tsu-no-yu'
Yagyu's baths For use by all guests, there are two large outdoor baths: Musashi-no-Yu and Tsuu-no-Yu. They are alternately assigned to male and female guests respectively during different times of the day so that our guests can experience them both. As part of the 2009 renovations, an azumaya cottage was constructed near the baths where guests can cool down from bathing sipping cold spring water. The water comes from a natural hot spring on the ground of Shuzenji Temple. It is "soft" water that is also known as "spa water for beautiful skin.
Facilities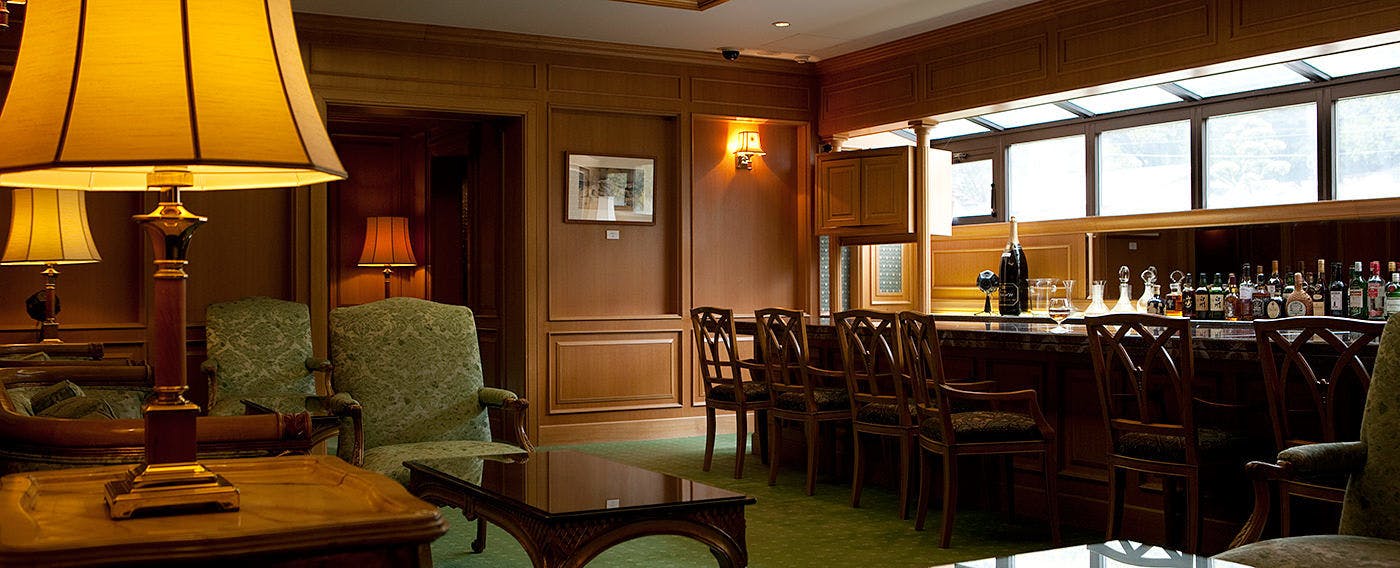 Salon du Yagyu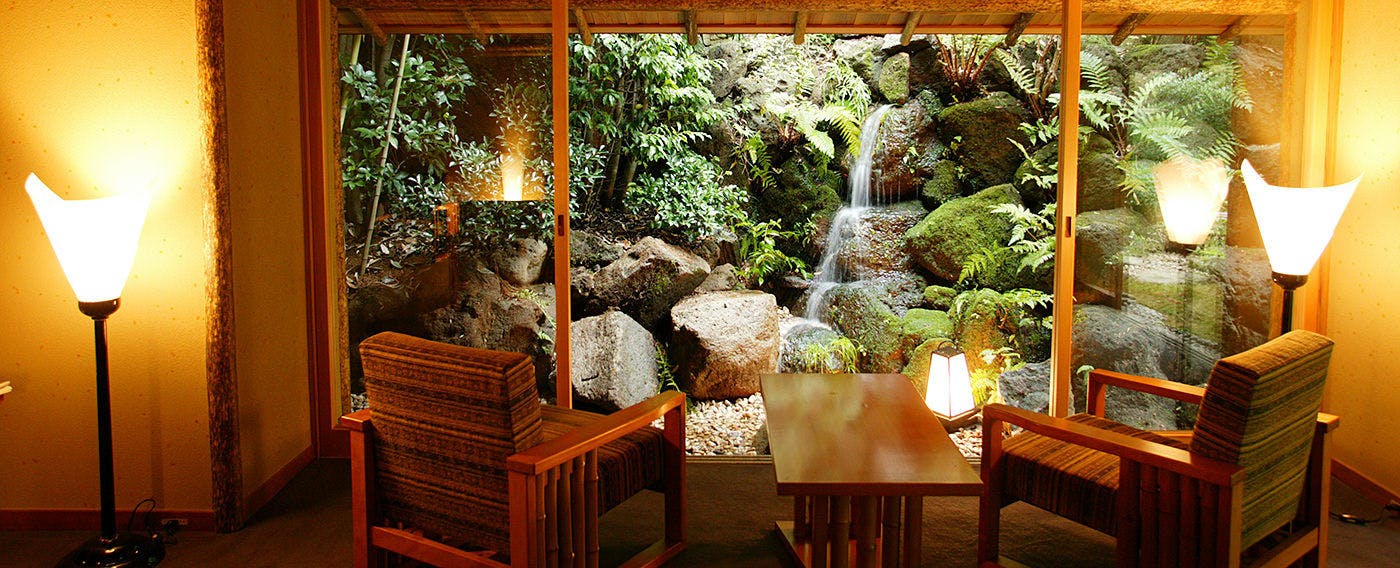 Lobby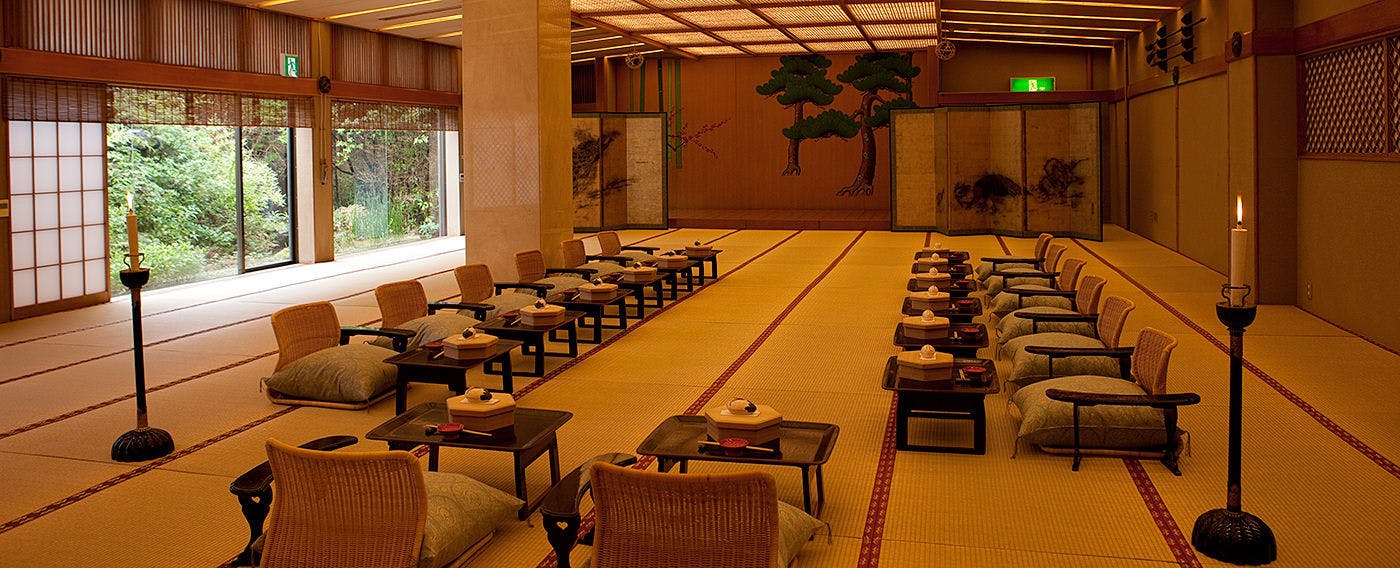 Banquet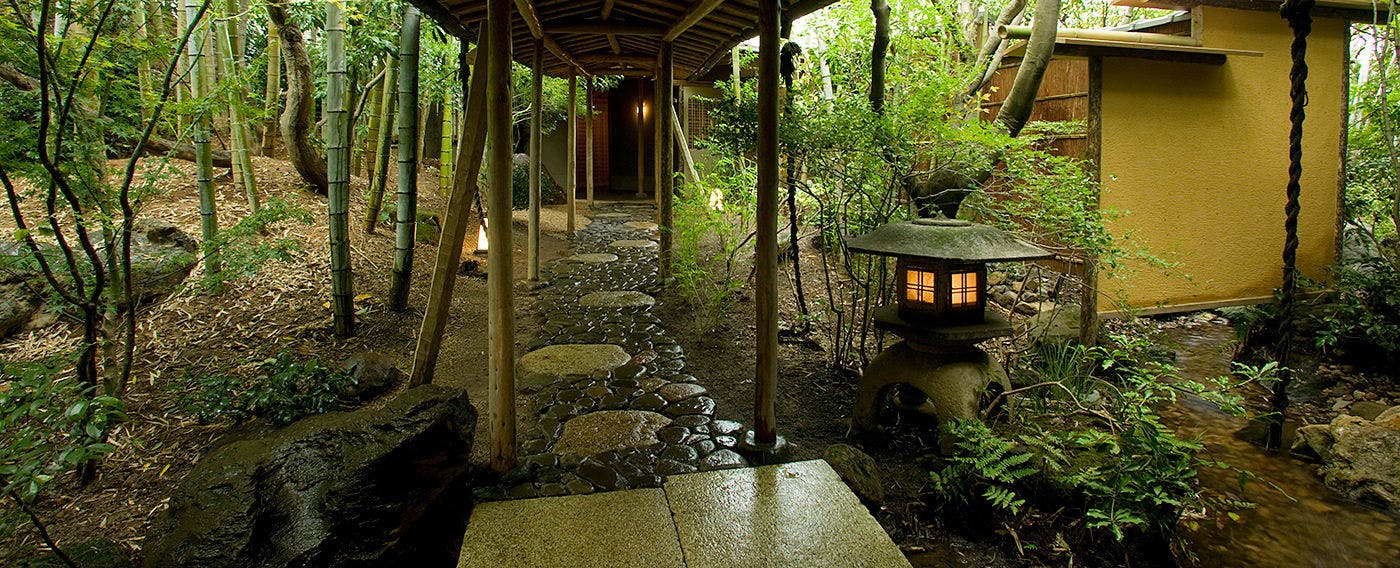 Interior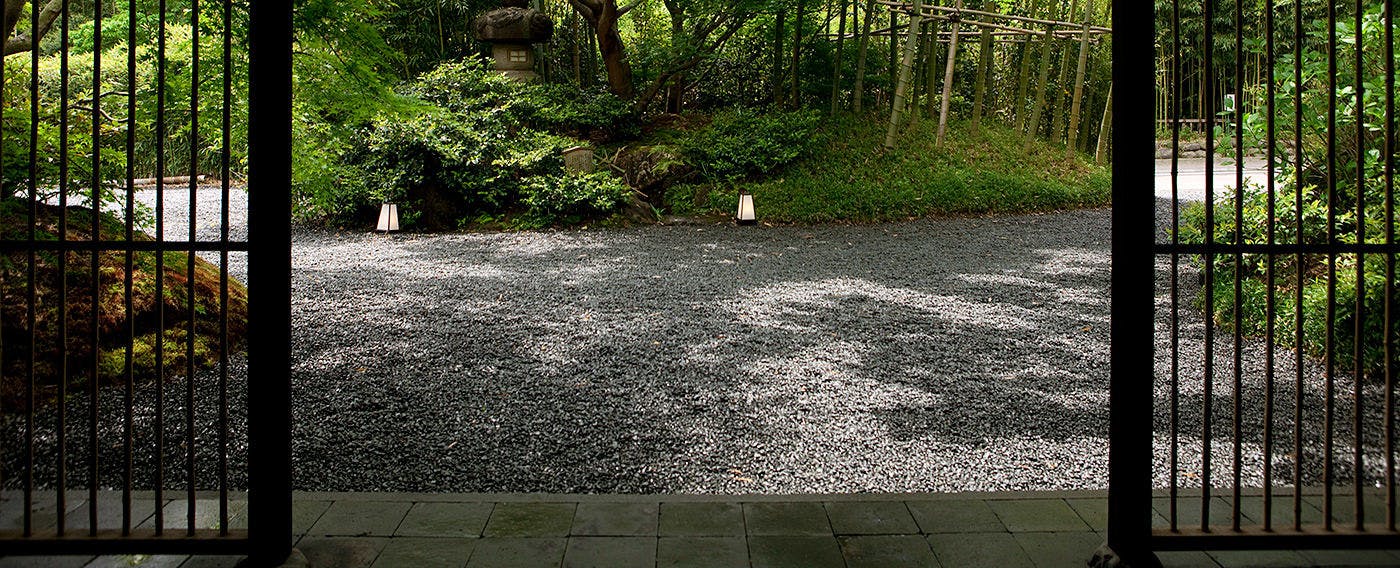 Entrance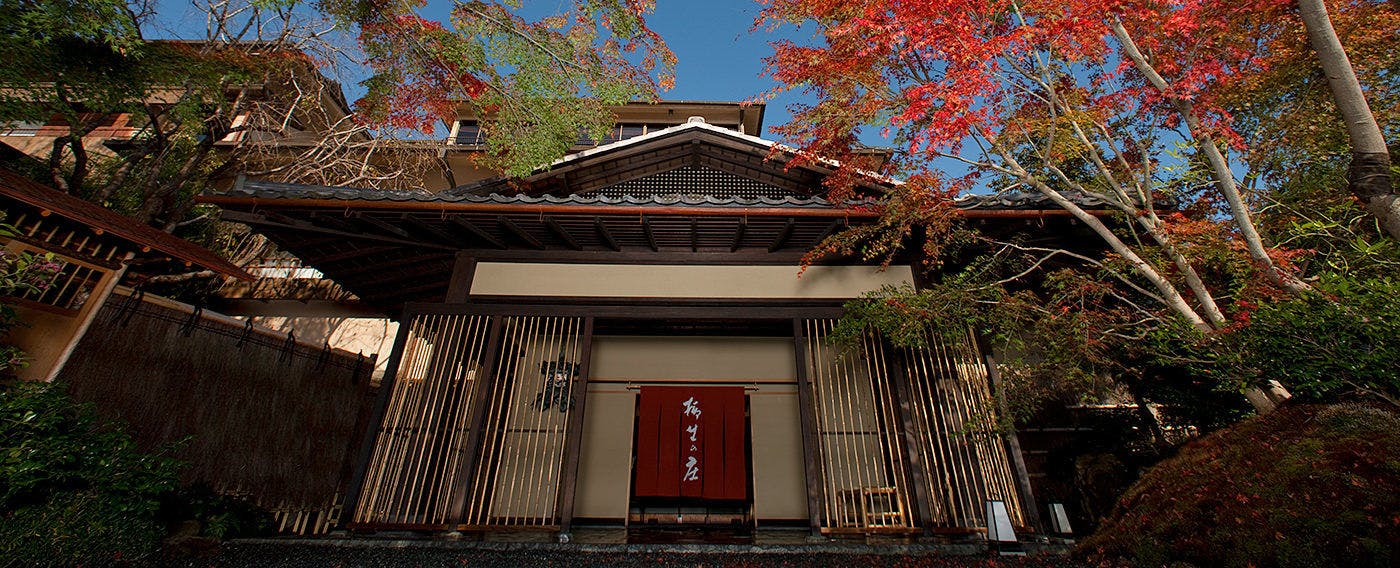 Entrance in Autumn
Extraordinary space, away from your daily life True Japanese sukiya-style (tea-ceremony house) ryokan. Seasonal foods and dishes, open-air bath among the natural forest, Japanese-style paintings... Enjoy the culture of hot spring ryokan.
Access
1116-6 Shuzenji, Izu-city,Shizuoka,410-2416,JAPAN
BY TRAIN
From Tokyo Station: 2hr by express train (Odoriko-go) to Shuzenji Station*. Or 1hr by Shinkansen to Mishima Station, and 30min by Izu-Hakone Railway to Shuzenji Station*
From Shin-Osaka Station: 3hr by Shinkansen to Mishima Station, and 30min by Izu-Hakone Railway to Shuzenji Station*

BY CAR
From Numazu IC Exit (Tomei Expressway): 30min by car via Shuzenji IC Exit (Shuzenji Road)

*Shuzenji Station is 10min by taxi to Yagyu-no-Sho.
Reviews
Thank you for everything while I stayed. The spring quality was fairly good and even the onsen fans can be satisfied. I personaly prefer the big bath as it was larger than the one in our room and thus I could relax more. Both dinner and breakfast were fairly good, but the dinner worths special mention. The meal prepared with taking season in advance and with style was luxury and sophisticated finish, and I personally thought it was perfect including the way they served. The guest room was showing the age, but it was spacious enough and clean, so unless the guests don't do well with Japanese rooms with Tatami-mats, it will be a satisfactory room. However, the amenities were ordinary. I received the very real Japanese Inn hospitality which was perfect and in details. Thank you. We will be back, so please look after us well again.
+ More
Oct 2015
I visited there with my friend. It was the most economical plan among all the famous ryokan which I wanted to visit. And Yaryu-no-sho did not disappoint my expectations. The meal was wonderful and delicious. One of the things I was impressed was foie gras. I eat is often in French cuisine, but the chef prepared Japanese food with this ingredient in fine style. The pressed sushi of Sanma (Pacific saury) did not have smells of fish at all. As the size of this dish was large in its own way, I was worried to eat so many, but I could not leave it as it was really delicious. I wondered why they could remove the smell of Tokobushi (species of abalone) liver to this extent. The taste of plum mixed in Fish Somen which was served as Hashi-yasume cleaned my mouth and the splendid taste of fois gras was favored by this dish. I will not comment about raw sea urchin eggs and Matsutake mushroom, as it is obvious that they are delicious. Sauce of beef grilled in a hot stone was also quite rare. And plates and utensils. A lidded ceramic ware on which pressed sushi of Sanma was placed. The ware inspired by bamboo basket was creative. Finally, letters of the menu. It was written by a well-schooled hand, so I it too embarrassing to show my letters to the master chef. I understood the thoughtfulness of the waitress from futon. I am sensitive to cold while my friend is sensitive to heat, and a waitress came to our guestroom to fold up futon while I was taking a bath. Then she noticed that I had used two futon and she was worried if I had not felt cold. Thoughtful attention and delicious food... I want to visit again. Given that Japanese well-established inns have been disappearing recently, I sincerely wish them not to let Japanese culture go out. I am sorry for my boorish feedback for the bath with legitimated hot spring water, but the reason why I classified the bath as 4 stars is because I really like sauna, If there were a sauna, I could enjoy the bath much more. It was just only for that reason. Next time, I will visit the inn with my husband.
+ More
Sep 2015
This was my first visit in more than 10 years. This place never disappoints me. So much stability. There are no demerits. Oh, too bad, no excitements. Then I'll see you 10 years later.
+ More
Sep 2015
The room is known as "Wakatake room" and has an anteroom. I had requested to lay out the futon beforehand, so I could rest right after my arrival. The valet service was also smooth so I left my car with them with ease. The waitress for my room was cheerful and had a pretty smile and I really appreciated it. The timing for the meal was just right and the breakfast, in particular, was very delicious. Because I wished to stay a little while longer, so I'm happy that the checkout was 12 pm... As this visit was a lone trip by myself, I wish to visit again with my friends and family. As for my personal preference for food, they served asaba and sekiyou, but the gentle, calm and tasteful ambiance of the room is more charming than anything else. As the menu changes every month, I will visit again to unwind one day.
+ More
Aug 2015
We visited there for our first wedding anniversary. I visit there for some kind of anniversary. I was fully satisfied with the delicious food, although my visit was again not the best time to prepare food with a sense of the season. The waitress was careful and Okami (female manager) was full of grace, and what was surprising was that our car, which got dirty from the previous day's rain but not cleaned due to my husband tight schedule, was thoroughly cleaned by the general manager (?) upon departure on the following morning. The service level is impressive. After all, this accommodation is the best for me in Japan, surpassing "Asaba" across the street.
+ More
Aug 2015
I understood the reason of it's popularity. In the hotel, the meal, the hot-spring, the room was all really wonderful. The only thing I can say, that the amenity was ordinary. I had my 4 months old child with me, but they took care of us very well, including the details. That's why I think this is a place where parents with children can come with ease too. I would like to come again in another season.
+ More
Jul 2015
It was a wonderful inn. This time, I brought my two stepdaughters to their first trip to Japan, and when I asked them among of their 10 days of stay where was their favourite inn, this inn was their answer. The beauty and cleanliness of the facility was perfect. My husband who is very touchy about sounds and smells was even impressed and said "What a wonderful smell", while walking the passage. I think it was the smell of the clean tatami, and the smell of the woods. My husband also took a liking to the equipped pajamas, and bought one as a souvenir. It is a nice pajamas with a pleasant touch. With great service and food, it was a truly comfortable inn. The open-air bath had a beautiful illumination, and I could still hear the sounds of the waterfall stream. I personally think hot spring inn must be clean above all, and this inn had a very attentive cleaning which was way above the others. The facilities had taste and I took a lot of pictures of them. I was satisfied with the greatness of the Japanese "omotenashi". Thank you very much. My daughters became to love Japan and I think the experience at this inn had a lot to do with that.
+ More
Jun 2015
This is my first visit and it was a memorable anniversary (birthday) for me. The food, room, and half open air bath was especially amazing. The fine seasoning of the Japanese style cuisine tasted great, and the bath was great as I could soak in it any time with its moderate temperature. The extraordinary performance under a slightly dimmed light was again pleasing. I would love to visit again. Thank you very much for looking after me.
+ More
May 2015
The service of a room attendant in charge of my room was good.
Apr 2015
It was such a rich trip which I could be satisfied with all including the room, the meal, and the bath. I would like to visit again.
+ More
Mar 2015
It was my first reservation through Ikyu, but we have stayed here twice before, and this was our third time. This is a great hotel representing Izu, in which everything from the facility to the service is wonderful. Especially, the open-air baths each located in one of the two large bathhouses were very comfortable, where men's and women's baths switch according to the scheduled time. The entire building was somewhat degraded from aging, but it didn't bother me too much as it was clean and organized. Although it is located in the Kanto area, the light taste of the food was more Kansai style, and I enjoyed it, and the amount of food was just right for me. I would like to come back if I have the opportunity.
+ More
Dec 2014
Information
Check-in Time

From 2:00pm to 6:00pm

Check-out Time

Until 11:00am

Tax / Service Charge

Bathing Tax JPY 150 per adult is NOT included in the rates.

Credit cards accepted at this property

VISA / MASTER / JCB / AMEX / DINERS
Children

All children are welcome.

Pets

Pets are NOT allowed.

Parking

Free of charge for guests; Capacity 20 vehicles; No Valet Parking Service

Other policies & conditions

N/A